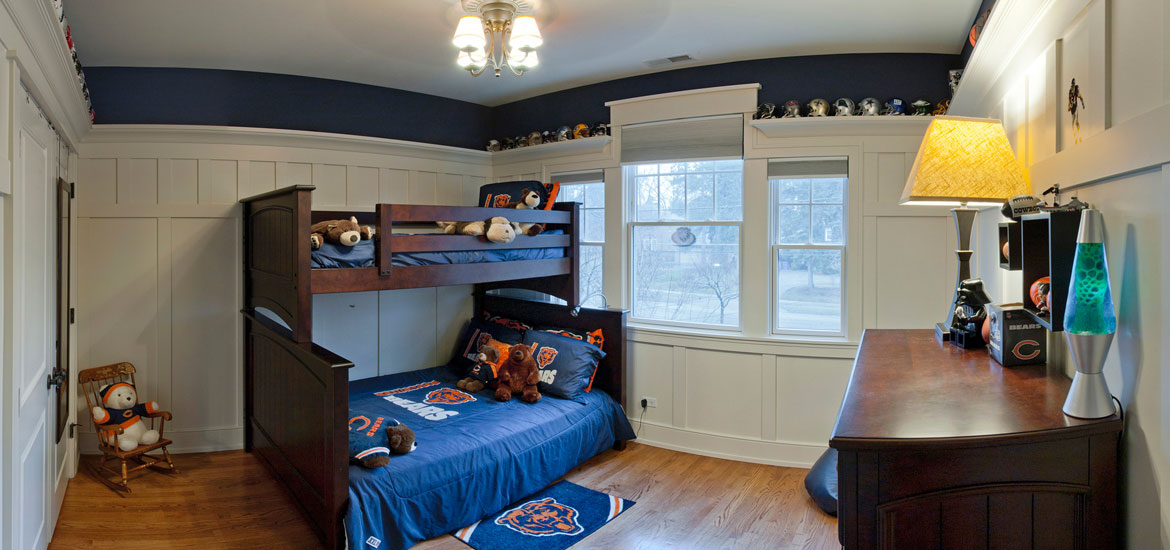 There are few spaces in the house as personal as the bedroom. This does not apply to adults only; even kids take their bedrooms as their personal sanctuaries. They want their personality, hobbies, and passions to be reflected in the décor of the room. This is something to consider when you are undertaking a home renovation or building a new house.
Instead of the usual bedroom design, make it pop by using a theme. One common idea is to deck out a kid's bedroom in a sports theme. It can be football, soccer, hockey, racing, or a combination of sports. If your kid loves sports, this is the dream bedroom. It does not even have to be expensive. A great sports themed bedroom just needs good planning and some creative thinking before starting your home renovation.
PENNANT PERFECT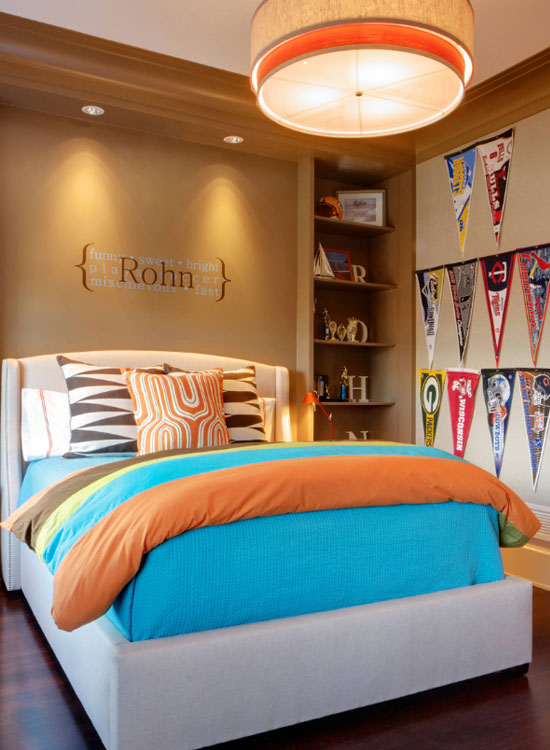 This Soucie Horner, Ltd bedroom design's lighting appears cozy and fun. The little patterns on the wall are also very attractive—such a stylish and elegant setting. The colors and cleanliness are stunning! Nice lighting design.
SKATEBOARD
Are you looking for a beautiful, sophisticated bedroom layout yet concerned about space constraints? There is a sense of tidiness and sophistication to the entire presentation—the bedroom design by Alina Druga Interioras, which is notable for its efficient use of available square footage.
SURF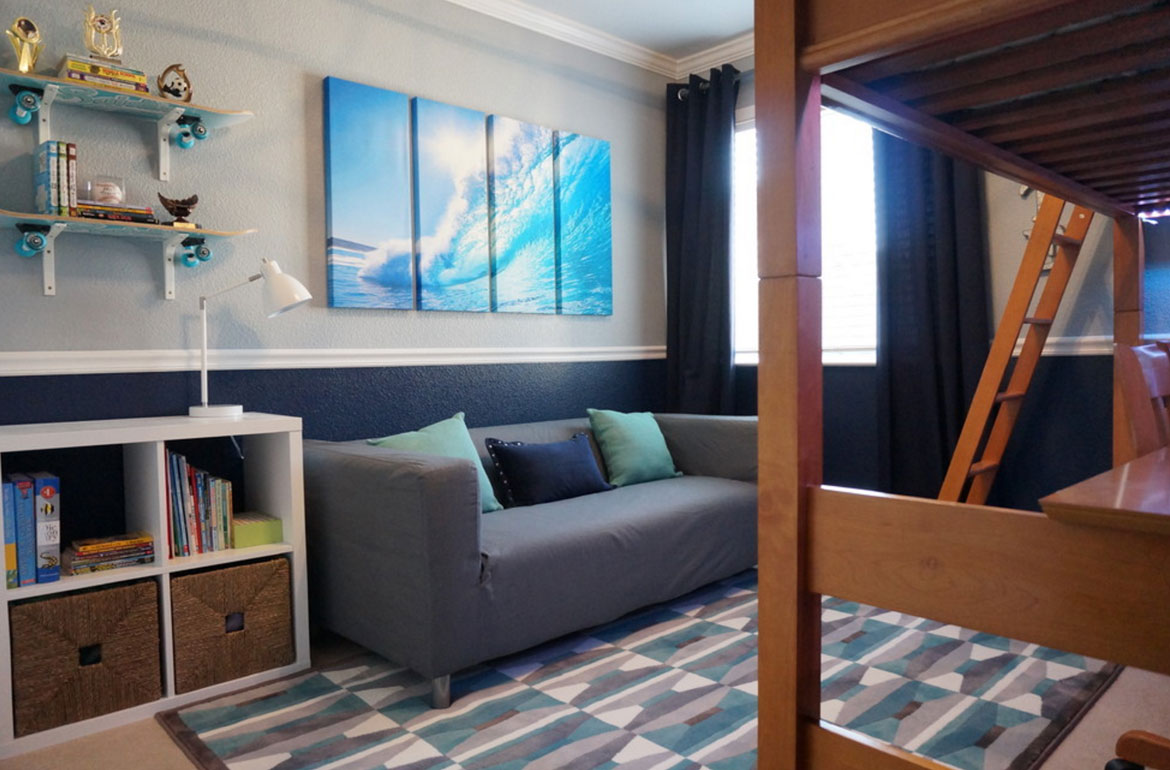 Want a bedroom that seems so finished and polished? This bedroom, designed by Alina Druga Interioras, has everything you could want, from a living room to a bedroom, to indulge your passion for surfing. The shelves are wonderful, by the way. Lovely hues.
GAME POINT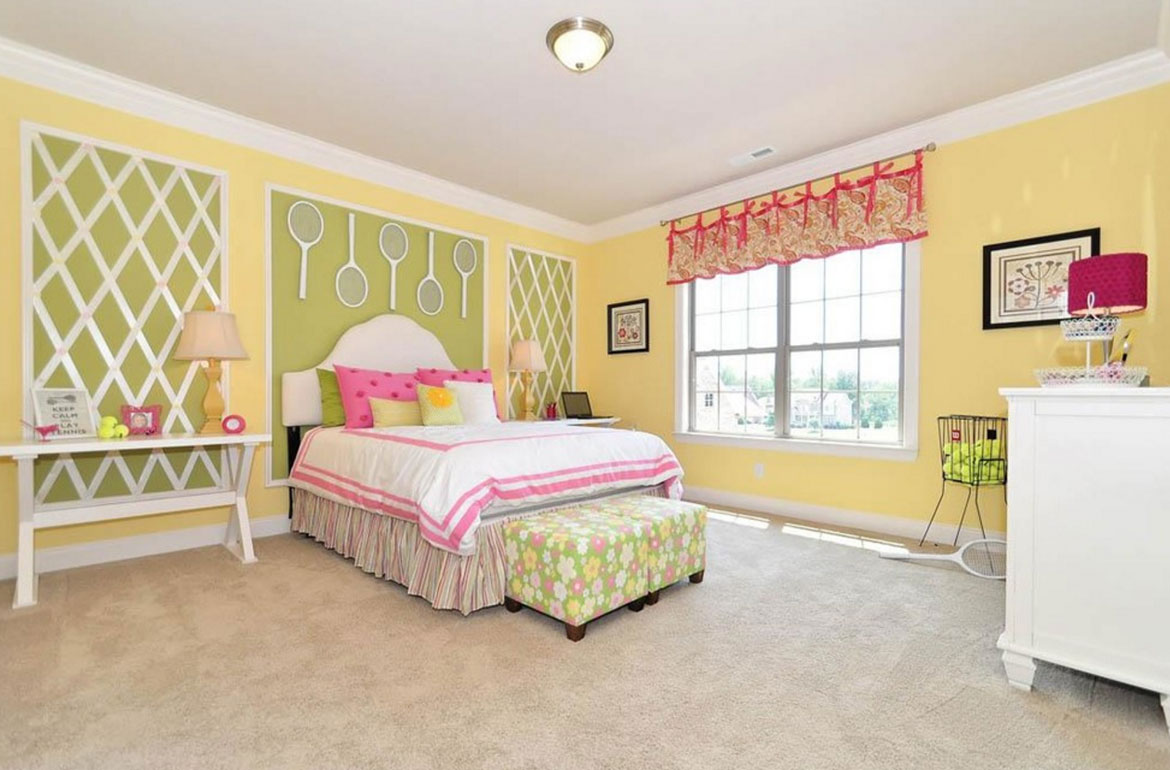 Everyone will concur that this bedroom design is feminine and appears straightforward and bright. This M/I Homes bedroom design with a tennis motif is nice. A bedroom decorated in the sport of tennis. Vibrant and happy!
COOL HANGOUT
Do you want a cozy bedroom and a hip location to hang out? This one is simultaneously comfortable and toasty. Garrison Hullinger Interior Design did a fantastic job with the bedroom design. What a cozy and hip room for a teenage lad.
FOOTBALL PANELS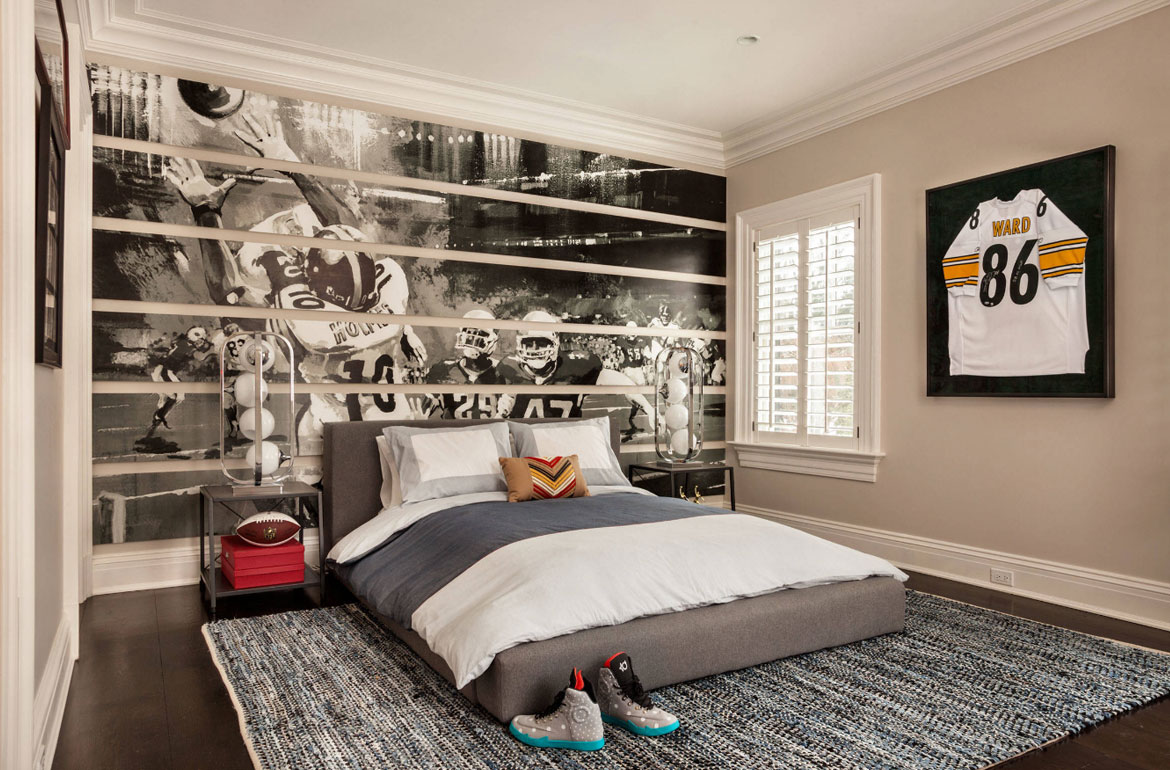 This is a cool, modern bedroom design by Garrison Hullinger Interior Design with a football theme. Cool mural–like how it is done in panels. The room feels a little more sophisticated than a standard sports-themed room.
Who Is it For?
Anyone. You can use a sports theme in your master bedroom if you want and if your spouse or partner is okay with it. But for this guide's sake, we will consider bedrooms for kids and teenagers. While most people automatically think of a boys sports room, girls are not to be left out. Essentially, it depends on what your kid loves. Therefore, the first step is to make sure that a sports bedroom is what he or she wants.
TOP GUN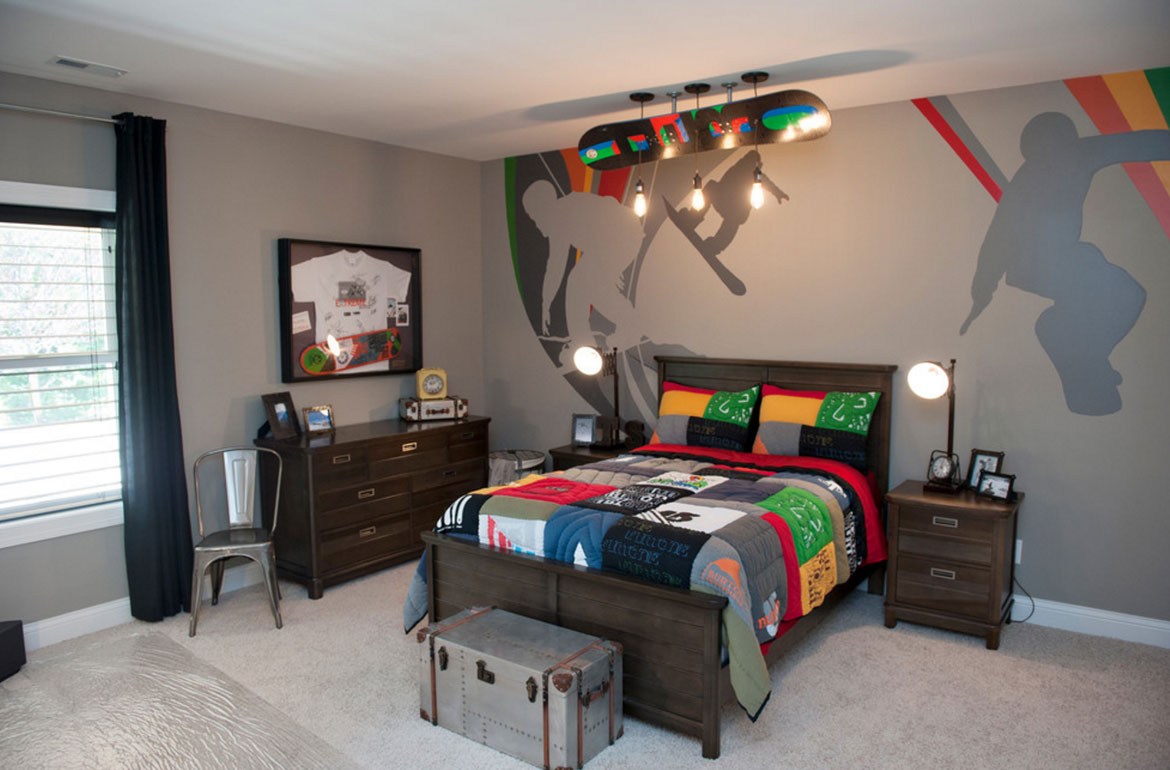 Do you want your favorite sports to make you feel like you are in a well-designed bedroom? This bedroom design has a vibrant and fashionable aesthetic all at once. Stunning bedroom design by Kimberly Fox Designs. Amazing murals and lighting.
FORE!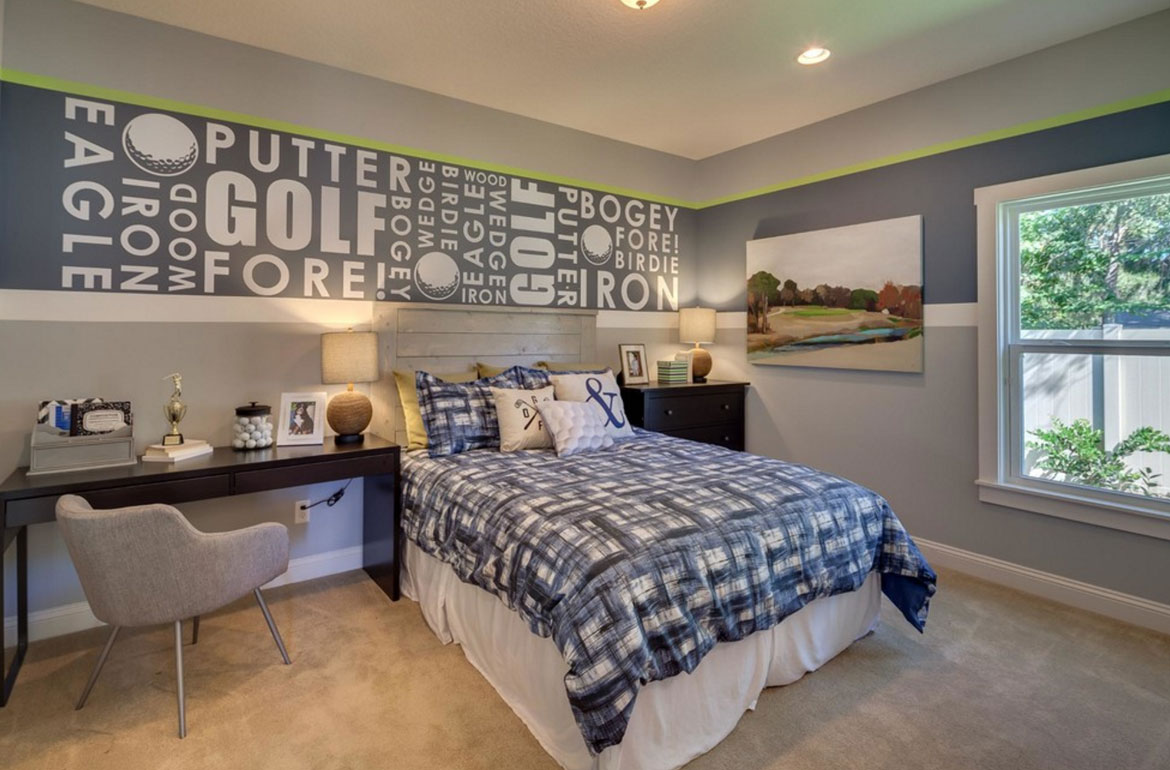 Are you a golf enthusiast? Everything in this bedroom design with a golf theme appears chic and contemporary. This Dream Finders Homes bedroom decor is distinctive—a gorgeous golf-themed room with lovely colors and great wall details.
BLEACHER BEDS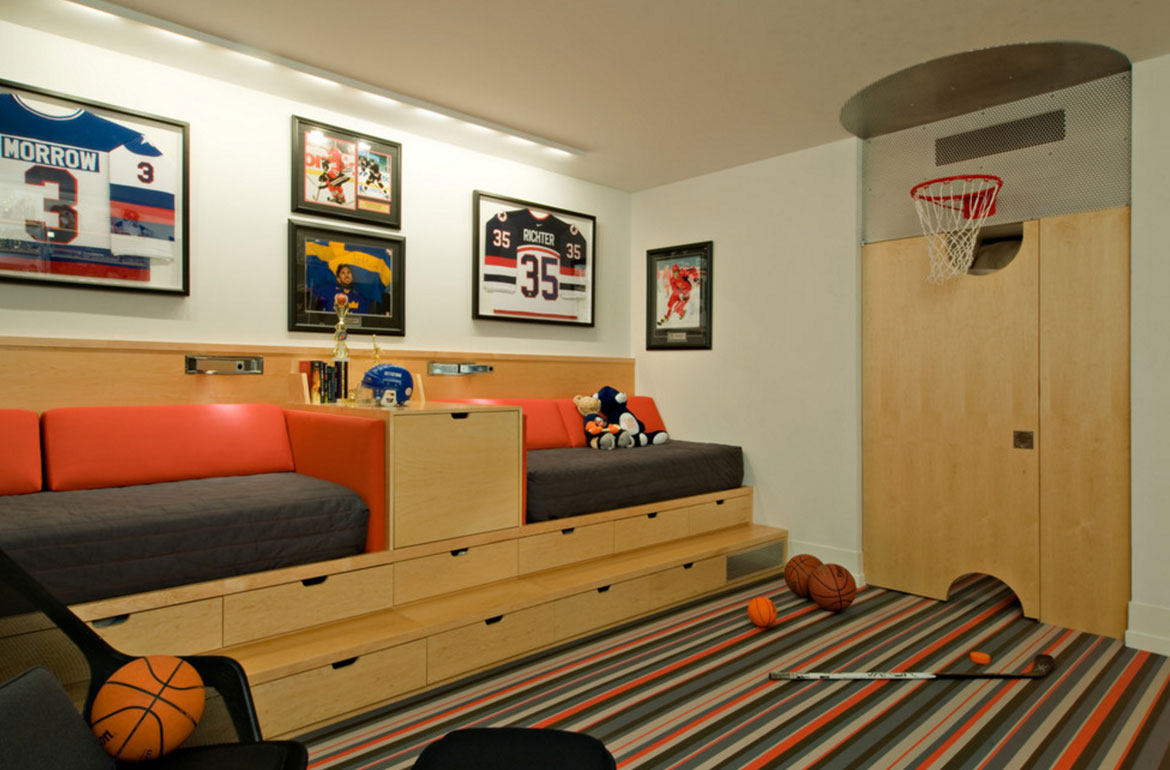 You won't ever consider this to be a mere bedroom. In this basketball-themed bedroom by cmcdesigner.com, everything appears to be so contemporary and colorful. I adore the bleacher feel of those mattresses—an excellent bedroom with a sports motif.
LOOK UP!
Everything in this bedroom design looks very athletic! The ceiling is covered in much information on the sports you enjoy. In this bedroom design by Weidmann Remodeling, you can enjoy yourself. Very beautiful the detail on the ceiling is.
BEST BOARDS
This bedroom layout is full of life and color, just the way you like it. This bedroom by J&J Design Group, LLC, is perfect for any skateboarding fan. My favorite parts of this room are the textured teal wall and the skateboard art.
You can also decide to take the sporting to the bed itself by using themed bedding. You can choose sheets and blankets in their favorite team colors or choose a pillow that shows passion for a certain sport. If the bedding is not enough, consider decking out the entire room, including flooring and walls, in a team's colors.
The possibilities are endless. You can go as far as recreating a mini hockey or football field on the floor or on the wall. You can even include a large sports mascot. You could also use sports art to create a sporty bedroom. It can be anything from a large painting on the wall to a blown up picture of a special sports moment.
GREEN WITH ENVY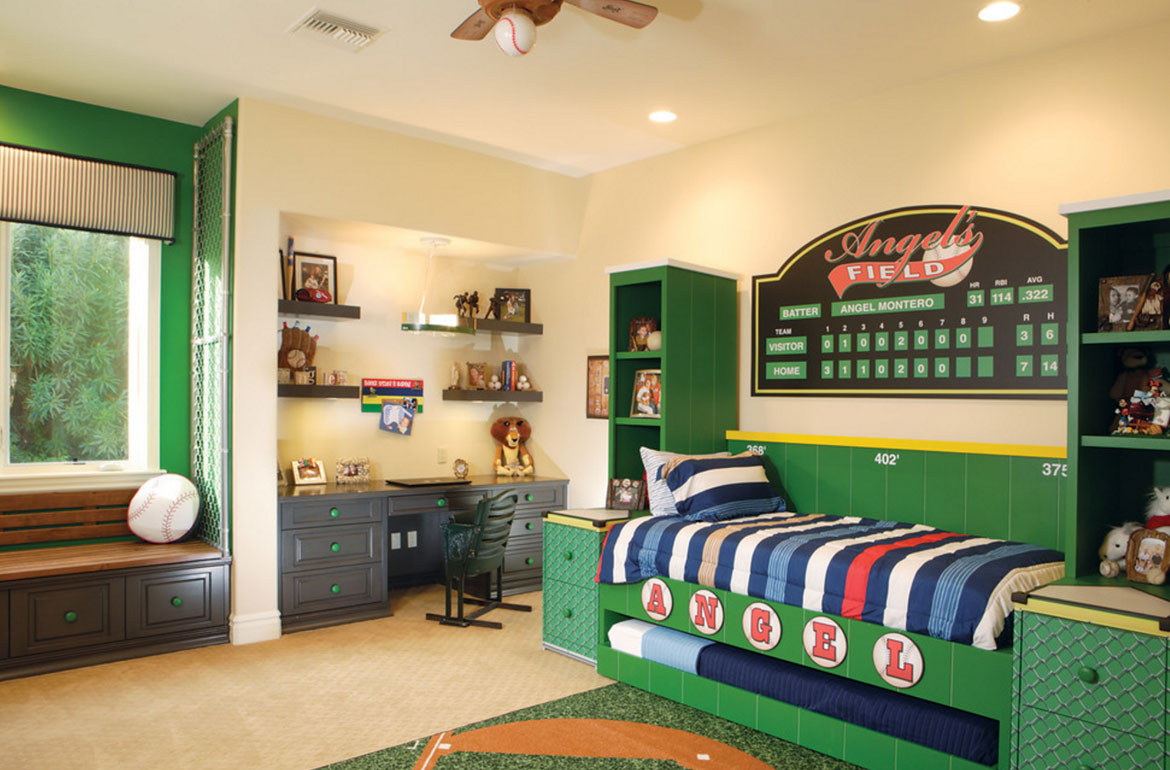 Want to create a baseball-themed bedroom for your kid? With this enormous bedroom design by Eagle Luxury Properties with many green touches, everything appears open and contemporary. Ideal for the little baseball enthusiast.
SPORTS GALORE
This expansive bedroom design by Perianth Interior Design has everything looking so intriguing. Even more, space is available for playing. The shelf offers useful storage. For the sports lover, this fascinating bedroom has a little bit of everything!
SKATEBOARD CHIC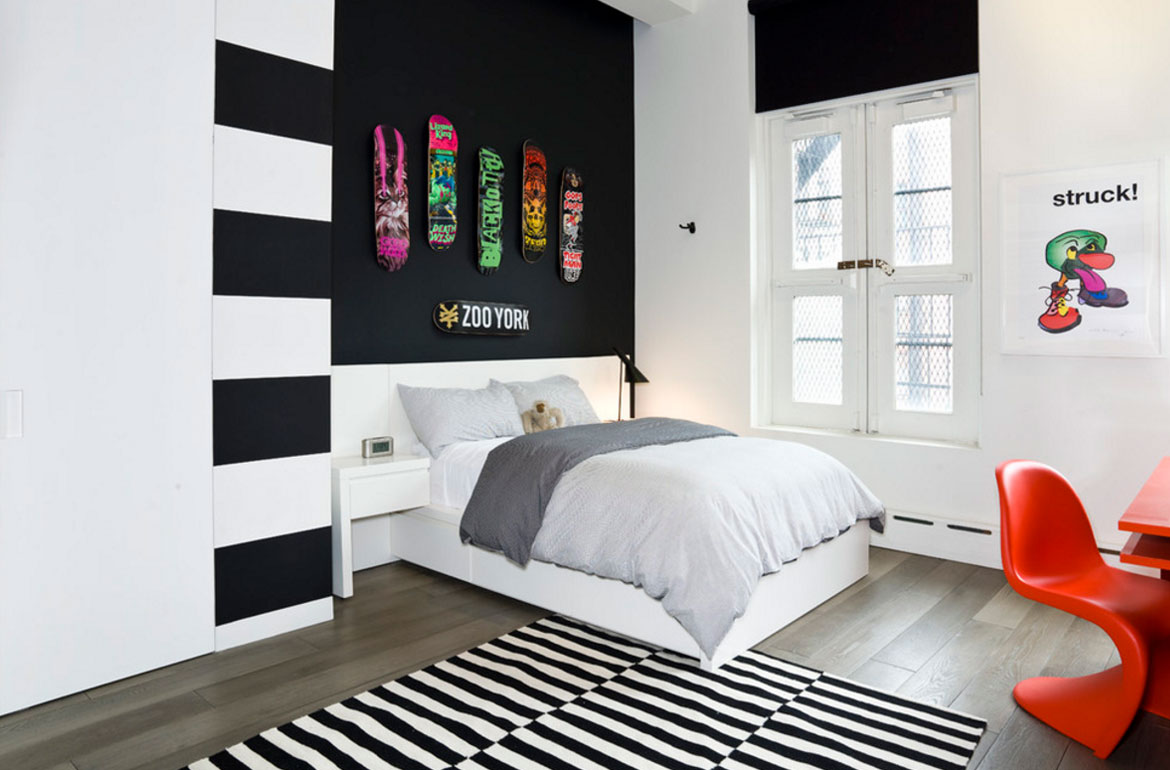 You'll acknowledge that this bedroom's design exudes positivity in the morning. This bedroom's motif's bright and white hues complement the skateboard theme. Skateboard-themed room by Grade New York is cool and modern.
SKIING
This is the ultimate vacation bedroom, with its cozy decor and inviting atmosphere. Wow, DESIGN Associates outdid themselves with this bedroom. Pleasantly snug, bright, and one-of-a-kind. A comfortable bedroom fit for a ski vacation.
Here are a few additional things to remember as you choose the right sports theme for the bedroom:
Involve your child. Asking for your son or daughter's opinion will make them a part of the decorative project. They are more likely to love the new style if they helped create it. As a parent, you do not always know what your kids love. Let them express their wishes and desires. This includes asking them what kind of sports colors they would love to see in their room, what sports items to feature and anything else they would love to add.
If the bedroom is shared and both kids love different sports, consider incorporating two different themes. You can find a creative way to split the themes between each side of the room. If the room is shared by more than two kids, you can find a single theme all of them love or allow each to select uniquely themed bedding.
Do not do anything permanent. When you are choosing materials and items to decorate the bedroom, choose those that can be removed or painted over easily. As they grow, kids change quickly. They may love football this year, but are all about basketball the next. Some may even abandon their love for sports especially as they grow into their teenage years. With this in mind, do not make any permanent changes unless absolutely necessary.
Be careful not to overdo it. Choose the colors carefully to prevent the bedroom from getting too overdone. It still needs to be a space that encourages rest and sleep. Kids can be especially prone to too much excitement. Generally, try to avoid too many bright and clashing colors. Use more of cool colors such as blue and gray.
Leave space for more. Do not fill every inch with sports-related displays. Chances are that your kid will collect even more stuff along the way. So leave some room for more additions in the future.
Designing Your Sport Themed Bedroom
We are confident that you will transform your child's uninteresting environment into a lively location where he may relax and enjoy his private times with some of these sassy sports-themed bedroom ideas. As you see above, you will discover a plethora of photographs of such chambers where the walls have been decorated with a sporting theme, such as baseball players.
Baseball themed bedrooms abound, as it is one of the most popular sports not only in the United States, but worldwide. Designers have no shortage of options when it comes to beautifying your kid's bedroom with one of these great sports bedroom décor ideas. You can either have a few baseball accessories, such as a bat, gloves, helmet, and balls, in one corner or on a shelf, or you can have a wall mural depicting baseball players playing the game.
Baseball isn't the only sport that appeals to young boys; hockey and soccer are also popular across the globe. If your kids are fans of the game, you may sometimes go outside the box and build a hockey goal net within the bedroom. Attaching large rubber play mats to the wall is another possibility.
Signed autographs of famous athletes can also be framed and hung on the walls of bedrooms to add extra fun and zing to the athletic theme. Soccer-themed sports bedrooms are also quite boyish, and there are many different themes to pick from.
Incorporate Other Sports
American football or rugby also appear frequently in bedrooms in the form of furniture such as ottomans, seats, or sofas shaped like rugby balls. Some photographs demonstrate how a sports-themed duvet and bed cover may transform a child's bedroom. There are many various colors to select from, so think about what you want.
Sports like karate and other martial art themes can enrich the décor of your kid's bedroom. Other alternatives for bedroom ideas include snowboarding and swimming, which are commonly seen on the walls of teenage males.
The options range from simple sports bedroom ideas to more flashy ones, and reading through the page will undoubtedly help you make a final selection. Before you choose a certain sports bedroom décor for your child, take a close look at the really fun sports-themed bedroom ideas above.
Away from sports themed bedrooms, there are many other places you can deck out with sports art and memorabilia. For adults who love sports, ideas for sports themed rooms include your den, man cave, woman cave, or cinema room. If you have a basement, you can design a full room dedicated to your love for sports where you can store your memorabilia, put up your art and watch your favorite sports.
As always, we are here to help with anything you need. Whatever kind of renovation you are planning, we are here to offer any assistance we can. Send us a message with your comments and we will be happy to help.
This is an image roundup post, curated to showcase and promote other reputable contracting companies' and their amazing work. To have any of the images removed, please reach out to us and we would be happy to do so.
Other Great Articles to Read: