There are few spaces in the house as personal as the bedroom. This does not apply to adults only; even kids take their bedrooms as their personal sanctuaries. They want their personality, hobbies, and passions to be reflected in the décor of the room. This is something to consider when you are undertaking a home renovation or building a new house.



Instead of the usual bedroom design, make it pop by using a theme. One common idea is to deck out a kid's bedroom in a sports theme. It can be football, soccer, hockey, racing, or a combination of sports. If your kid loves sports, this is the dream bedroom. It does not even have to be expensive. A great sports themed bedroom just needs good planning and some creative thinking before starting your home renovation.
Who Is it For?
Anyone. You can use a sports theme in your master bedroom if you want and if your spouse or partner is okay with it. But for this guide's sake, we will consider bedrooms for kids and teenagers. While most people automatically think of a boys sports room, girls are not to be left out. Essentially, it depends on what your kid loves. Therefore, the first step is to make sure that a sports bedroom is what he or she wants.
Choosing the Right Sports Theme
There are tons of sports ideas you can use when decorating the bedroom, as you will see in the images below. You can use actual sports items such as balls, a basketball basket, or hockey sticks. Instead of physical sports items, you can paint them on the walls. Another idea is to put up sports memorabilia around the bedroom. It would be especially great if you had signed memorabilia such as a ball, racket, or jersey to place in a display case.
You can also decide to take the sporting to the bed itself by using themed bedding. You can choose sheets and blankets in their favorite team colors or choose a pillow that shows passion for a certain sport. If the bedding is not enough, consider decking out the entire room, including flooring and walls, in a team's colors.



The possibilities are endless. You can go as far as recreating a mini hockey or football field on the floor or on the wall. You can even include a large sports mascot. You could also use sports art to create a sporty bedroom. It can be anything from a large painting on the wall to a blown up picture of a special sports moment.
Related: 45 Amazing Luxury Finished Basement Ideas.
Here are a few additional things to remember as you choose the right sports theme for the bedroom:
Involve your child. Asking for your son or daughter's opinion will make them a part of the decorative project. They are more likely to love the new style if they helped create it. As a parent, you do not always know what your kids love. Let them express their wishes and desires. This includes asking them what kind of sports colors they would love to see in their room, what sports items to feature and anything else they would love to add.
If the bedroom is shared and both kids love different sports, consider incorporating two different themes. You can find a creative way to split the themes between each side of the room. If the room is shared by more than two kids, you can find a single theme all of them love or allow each to select uniquely themed bedding.
Do not do anything permanent. When you are choosing materials and items to decorate the bedroom, choose those that can be removed or painted over easily. As they grow, kids change quickly. They may love football this year, but are all about basketball the next. Some may even abandon their love for sports especially as they grow into their teenage years. With this in mind, do not make any permanent changes unless absolutely necessary.
Be careful not to overdo it. Choose the colors carefully to prevent the bedroom from getting too overdone. It still needs to be a space that encourages rest and sleep. Kids can be especially prone to too much excitement. Generally, try to avoid too many bright and clashing colors. Use more of cool colors such as blue and gray.
Leave space for more. Do not fill every inch with sports-related displays. Chances are that your kid will collect even more stuff along the way. So leave some room for more additions in the future.
Sports Bedroom Ideas
If you are not sure where to start, we have some sports themed bedroom ideas to get your creative juices flowing. We have tried to include as much variety of sports bedrooms as possible. Whether you are planning for a girls or boys sports bedroom you will find plenty of sports room ideas to borrow from. Dig in.
SURFS UP!
That picture is just amazing. The colors are relaxing–at the same time the room is bright and cheerful.
SIMPLICITY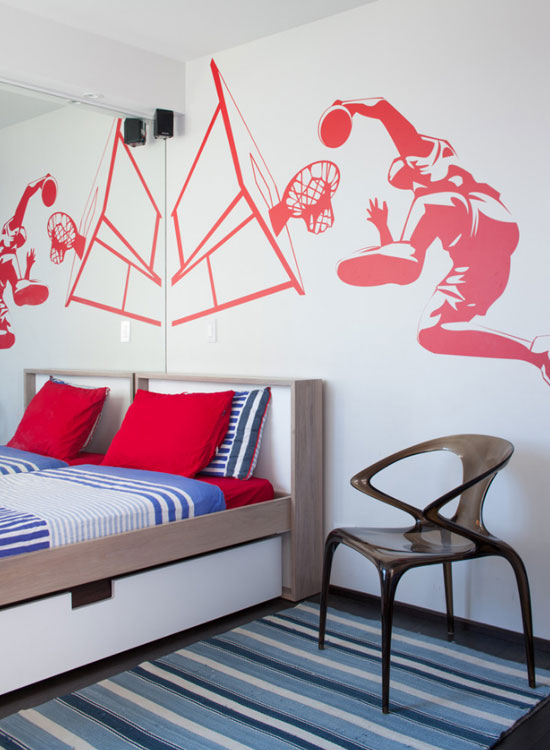 Simple, yet just enough to give it a little extra style.
TENNIS ANYONE?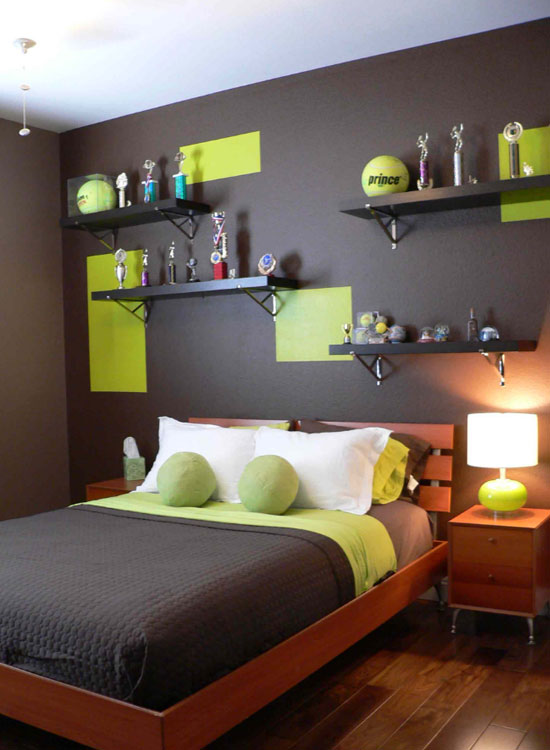 Love the choice of wood tones–pretty floor. The charcoal gray with the tennis ball yellow is cool. Unique, stylish and fun.
PENNANT PERFECT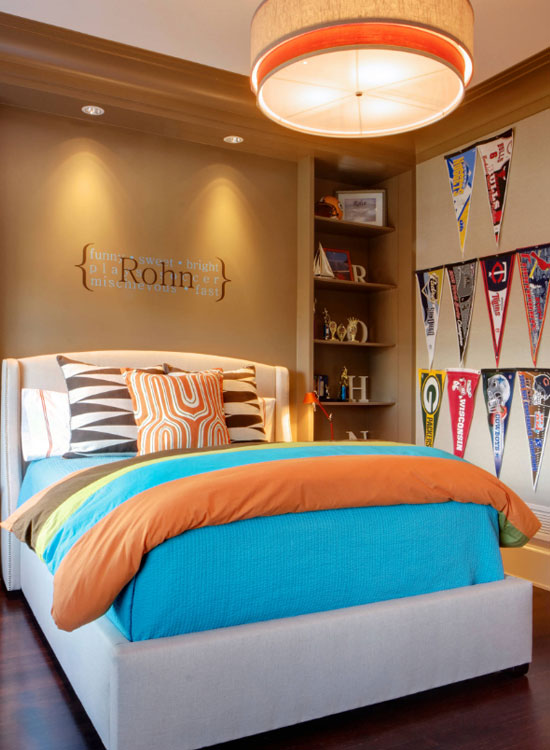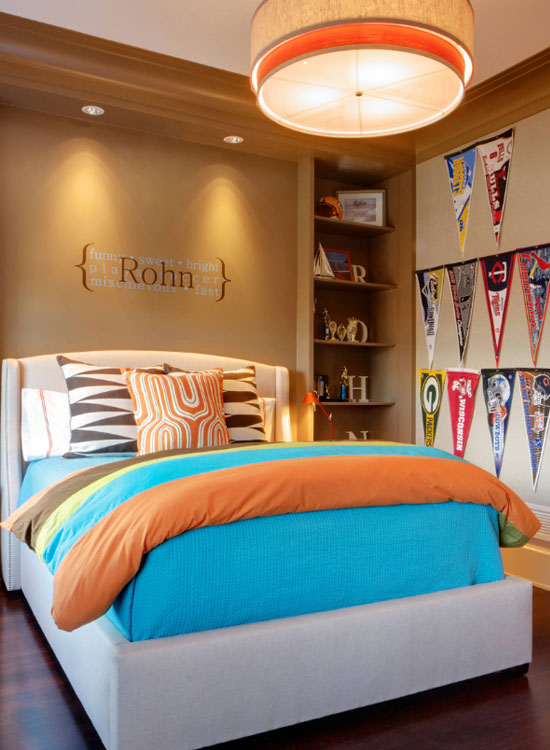 Such a chic and classy space. Love how clean it looks and the colors! Nice light fixture.