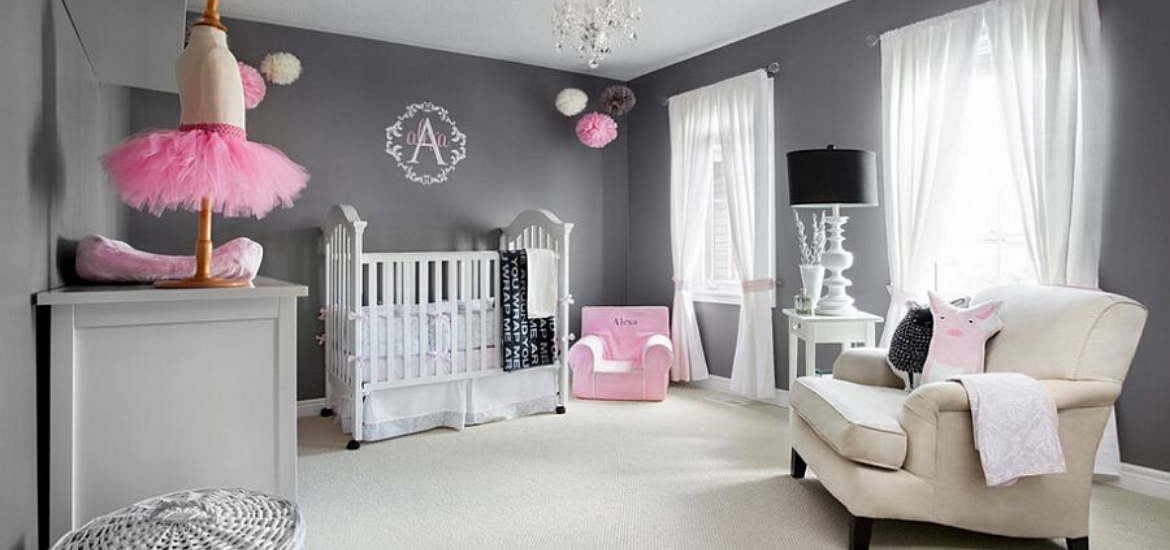 Featured Image Source: decoist
Are you expecting a new child soon? Are you getting excited about bringing your baby girl into the world? Manifest your excitement with these cute baby girl bedroom ideas!
Whether you are a fan of the traditional pink baby girl bedroom ideas or you are looking for something modern and neutral, there are plenty of ways to keep your baby's room cute and inviting. This is a great opportunity to decorate your child's nursery to best prepare for the birth of your sweetie. Make it a great room for them to spend the first few years of their life in.
A HINT OF RED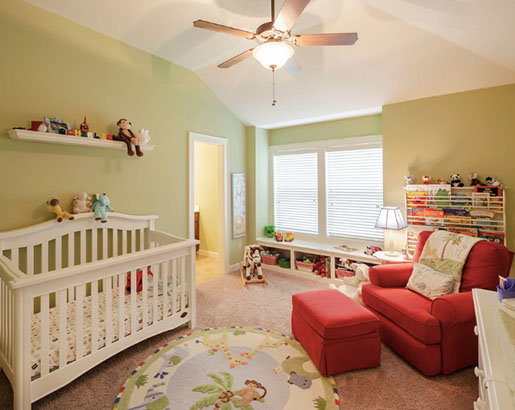 This nursery and bedroom by Starr Homes is the epitome of feminine cuteness. Add a stunning splash of color to your classic nursery with this. For this girly bedroom, a splash of crimson was the perfect finishing touch.
PORPHYRY PINK
McCroskey Interiors did beautifully with this nursery and bedroom's bright pink decor. Behind the curtain, everything takes on a mystical quality. We love this "Porphyry Pink" wall paint color by Farrow and Ball.
SHABBY-CHIC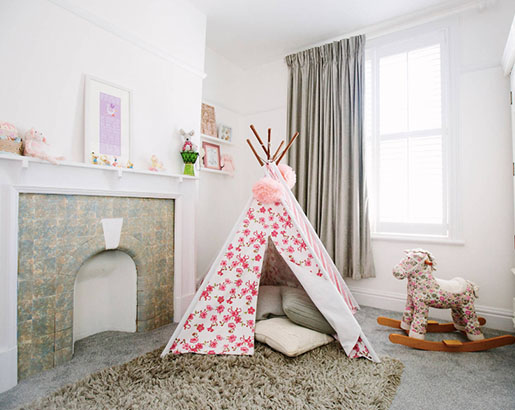 While the gray curtains and walls keep the baby girl's bedroom neutral, the hint of color and baby décor makes a fun environment for the baby. Pink and grey go wonderfully together. Perhaps it's because they are on opposite sides of the color wheel, but also because they are both soft. Make sure you choose muted pinks and greys, which look extra cute. Pink blankets and grey pillows. A pink room with one grey accent wall. Pink drapes cover a grey window frame. There are a lot of ways to make this two-toned theme work! This is such a good design by My Bespoke Room.
BUTTERFLY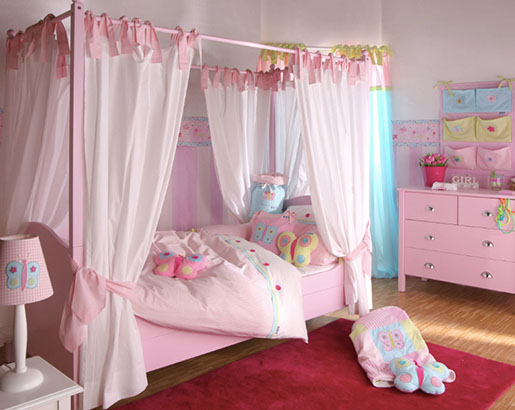 Your princess will love to grow in this pink baby girl bedroom with butterfly accents. Butterflies represent beauty, growth, and transformation. It's the perfect cute creature for your baby girl's bedroom ideas! It can be as simple as adding paper butterflies to the wall in a flight pattern or giving your baby a huge butterfly pillow. Take inspiration from the striking colors you can find on butterflies, and decorate the room with them. What an incredible design by Toks Aruoture.
SWEET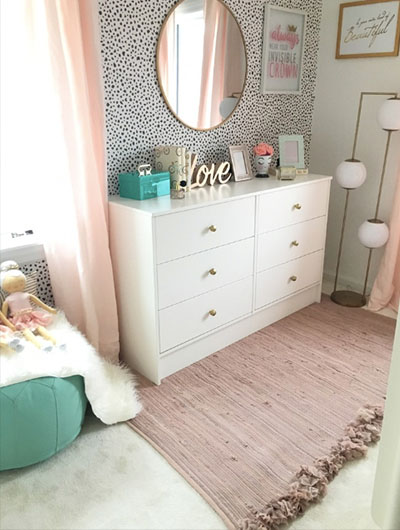 Just picture your kid happily playing in her new nursery and bedroom. The dressing table mirror is quite girly. That's a really cute bedroom layout by Vi-Design. Thanks to the sophisticated black and white wallpaper, your little girl will want to grow up in this room.
GLAMOUR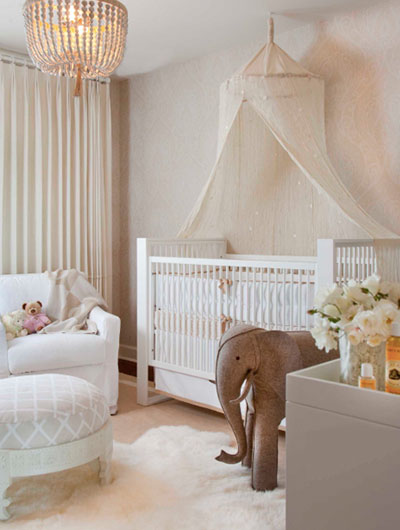 This nursery and bedroom scheme is very comforting and uncomplicated. Everything is sweet and peaceful due to the light pink and white theme colors. Lori Gentile Interior Design did an amazing job with this glamorous baby's room and bedroom. The room is wonderful, thanks to the elephant, canopy, and another decor.
ANIMAL WALL ART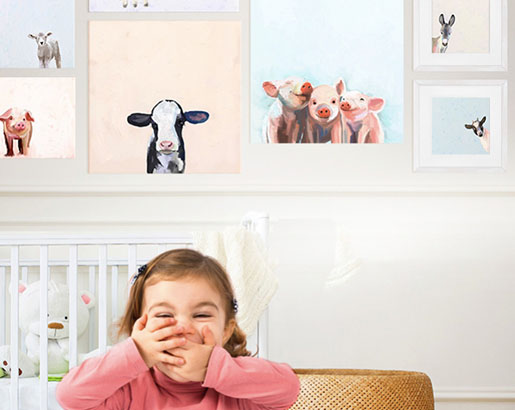 The wall art depicting animals is vivid and full of life. Your kid's growth will benefit from this. Oopsy Daisy, Fine Art for Kids, has done an outstanding job decorating nurseries and children's bedrooms. Avoid spending a lot of money on a room renovation by decorating the walls with things your girlfriend likes.
UP UP & AWAY!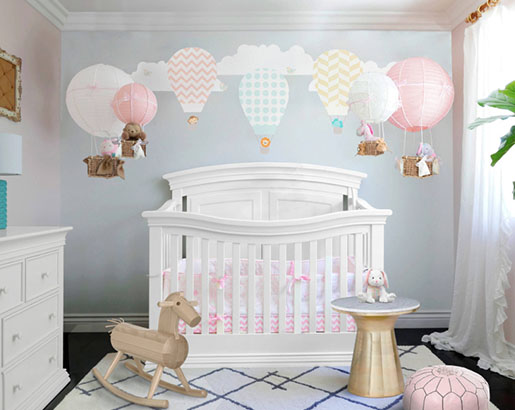 What a sweet and simple layout for your baby's nursery and bedroom! Transform your little girl's nursery into a whimsical oasis with a hot air balloon motif. The setting is so enticing and revitalizing that you can almost see your infant enjoying a good time there—great baby room by Billy Kien Designs.
CORAL-PAINTED
Envision your baby's nursery or bedroom decorated in this cheerful and vibrant style! The lanterns hanging from the ceiling set the mood—awesome baby room by Megan Leith-Menard Interior Design. Paper lanterns add a romantic touch to this Jenny Lind crib painted in coral.
LITTLE SPARROW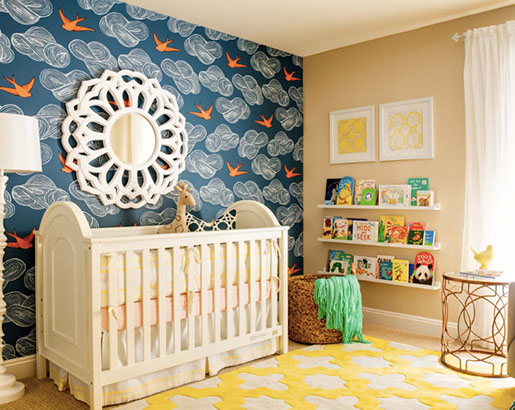 Use cute sparrow wallpaper to decorate your baby girl's nursery and make it more cheerful and girly. The use of yellow flooring is both adorable and cheery. The wall was rendered more useful by the addition of built-in shelves. The room's white curtain complemented the light decor. J & J Design Group, LLC did a fantastic job with this adorable baby's room and nursery.
SOPHISTICATION
This lovely nursery for a little girl looks chic and cheery. House of Ruby Interior Design looks stunning. Those hesitant to paint their walls a more daring color can accent their space with vibrant accent pieces instead.
FIT FOR A PRINCESS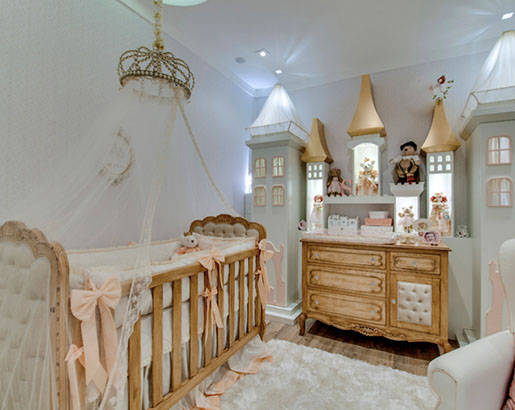 Because your little princess deserves nothing but the best. What do new parents want more than anything? For their precious girl to be treated like the royalty she is! Some simple design ideas in this nursery room by Andrea Bento include adding a thin veil canopy over the crib, hanging pictures with gold frames, and using crowns as decoration.
VIBRANT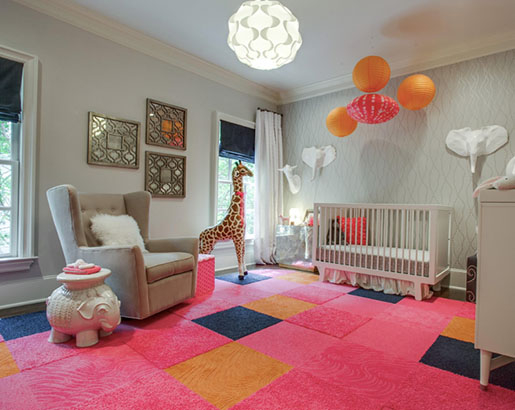 Wow, Blu Sky Living stepped it up with this baby's nursery. Design a beautiful, vibrant room that will soon become your toddler's play space. This baby's room has been designed with a focus on simplicity, as it is spacious and colorful.
SOFT PASTELS
Do you want to create a pastel-themed nursery for your adorable baby girl? Accent your baby girl's room with sweet and delicate touches to make it feel like a palace. Design Loves Detail did a wonderful job with this bright and cheerful baby's room.
ECLECTIC
This baby's room is adorable because it is so uncomplicated and cozy. As your daughter develops, she will appreciate looking back at the mementos you've kept on display. Despite its apparent order, it's aesthetically pleasing. Designed by mollieQUINN Rad Rooms for Baby & Kids, this baby girl's nursery epitomizes cuteness and vibrancy.
CONTEMPORARY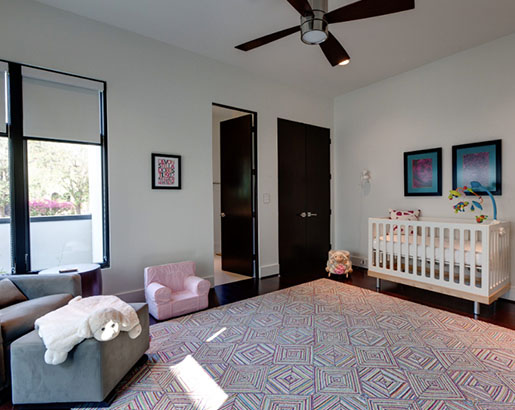 A room captured by Connie Anderson Photography that your baby girl will love to grow into! Just because you are having a baby girl does not mean the room must be covered with pink, pastel, or floral themes. You can add a unisex piece of furniture to the room that is classy and still works well with your baby. A simple white cabinet with yellows, blues, and oranges is a good neutral piece that your child will love. Decorate it with pictures of zoo animals for a little extra fun!
BABY-TO-TODDLER
You can keep using Simply Home Decorating's exquisite nursery room design long after your baby has outgrown it and possesses a crib that can transform into a toddler bed. The bed became a dream thanks to the curtain.
PAINTED WALL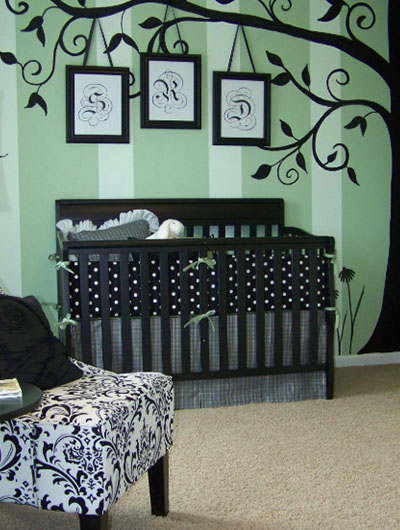 You can get the same wall art in this nursery room design by Anita Roll Murals in 36 colors from Anita Roll's website. Nature is simple, serene, and part of your baby's world. It's one of the best baby girl bedroom ideas. Bring nature's soft and light elements into her nursery with fun animal patterns, simple decor, and plenty of toys. Big windows with lots of natural light will bring out the best in your baby.
TWIN GIRLS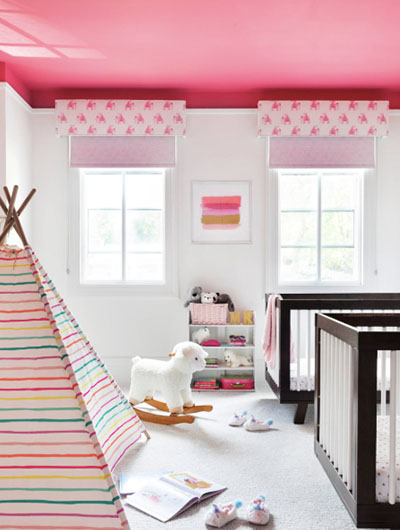 Contrasting beautifully against the all-white walls are the espresso and white cribs. Everything seemed more feminine, thanks to the pink ceiling. This room has been marked as the twin girls' nursery. Think Chic Interiors did an adorable job designing this nursery.
FUN & COLORFUL
Even though MK Kids Interiors had little room to work with when designing this nursery, they packed in as many fun details as possible without overwhelming the space. Use bright, eye-catching colors to keep your baby entertained.
Ideas For Decorating A Baby Girl's Bedroom
Every woman who has ever had a kid or is currently pregnant understands that designing a nursery is a magical experience, especially if you're expecting a girl. When you're expecting a new addition to your family, there's just so much wonder and grace in the air. As a result, preparing your nursery is critical; but, if you're a first-time parent, you know your mind is full of thoughts that do not seem to go together correctly. If such is the case, we are here to assist you! The nursery decoration ideas that follow are as whimsical and wonderful as your newborn girl will be.
Keep It Simple
Okay, so having minimal décor may not be your first thought, but it may be just what the room requires. This is true if you've got a limited amount of space. When it comes to a basic nursery, you want to have everything you need on hand, such as a crib, changing table, diaper pail, rocker, and so on. The aim is to have everything on hand, so you don't have to go looking for anything. Furthermore, to achieve that whimsical sense, you'll need an accent item, which we recommend as a soft light or an intriguing wallpaper. Either option will instantly give your room a new look.
Florals & Blush
Nothing says "baby girl" like a blush hue as the dominant color and florals as the accent pattern. Blush is one of the most gorgeous soft pink tones you'll ever see; it's easy on the eyes while still making a statement. Furthermore, it comes to life when matched with a floral accent. Whether you choose a bright, flowery accent wallpaper or floral bits to decorate the rest of the room, you want to make sure your floral and blush parts are as intertwined as possible.
Bring On The Colors!
A bright nursery can be just as stimulating as one with patterns and prints. Bringing your kid into a vibrant environment can help lift their spirits. It's been scientifically shown that bright, joyful colors make people feel happier; it's a game-changer in specific ways. The trick is to use colors that complement the rest of your décor. You want a vivid display that adds to the room rather than detracts from it. Use vibrant colors in the center of the room to ensure that your place, regardless of size or attractiveness, feels trendy and put together.
This is an image roundup post, curated to showcase and promote other reputable contracting companies' and their amazing work. To have any of the images removed, please reach out to us and we would be happy to do so.
Other Great Articles to Read: