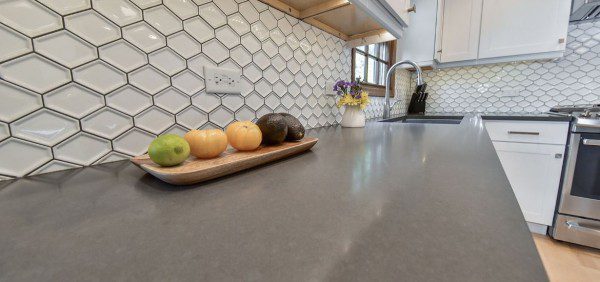 For decades, the backsplash has been an important working part of any kitchen remodel. In addition to protecting the walls above a work area, it would complement the countertop as well. In the early years, backsplashes were often colorful with fruit and vegetable graphics adorning 4×4 ceramic tiles. Thru time we have undergone many changes. Today we have the luxury of installing a variety of materials like natural stone, glass, mirror, metal, brick and wood. Backsplash design has become more creative and artful with design to incorporate textures and different shaped tiles.  Today, you will find a mixture of traditional and contemporary backsplash designs with personal touches sprinkled in. Below, we look at 8 backsplash design trends that should gain popularity in the past.
Trend #1. Ceiling-Height Backsplash – Take it to the Ceiling
What area comes to mind when you think of backsplash tile? The space between the countertop and the underside of the wall cabinetry. If there was no wall cabinetry above the countertop, then it was common to still place the tile straight across in the same location as if there had been wall cabinetry there. Perhaps by instinct or tradition. But it's time to break the mold and bring that tile all the wall to the ceiling.
We expect to see the continued trend more and more of as more and more homeowners do away with wall cabinetry for open shelves or windows. Ceiling-height backsplashes can give classic tile a fresh and modern look by highlighting a single area of the kitchen, creating a focal point, or help a large patterned tile sing loud and proud. Higher backsplashes will unite all aspects of the space, and brighten up the space with the reflective qualities of the tile itself. Especially if you are using white subway tiles.  Not to mention that tile can create a visual break from all the cabinetry making the kitchen feel more open by adding surface area. creating a stunning background for your work area.
Feel free to play around with a combination of colors, textures, and patterns to create an even more luxurious look.
Trend #2. Larger Subway Tiles – Not Just 3" x 6" Subway Tiles Anymore
The most common size for Subway tiles is 3" x 6", which have remained popular for years.  A true testament of design & function. But as a result, homeowners are left craving something a little different. With subway tiles still being a hot trend for kitchen backsplashes, it's not surprising that we are seeing the emergence of larger sizes. Homeowners love them still, for their clean classic look and super easy maintenance. But a few changes are in the air as we travel into a new year.
Specifically, we are beginning to see manufacturers produce subway tiles in larger sizes. The standard large format size is 4″x 8″ or even a 4″x 12″ though you can check what sizes are available at your local dealer. A large format subway tile backsplash can be especially helpful for a small kitchen where the large tiles create the perception of space. Large format subway tiles can also help in creating a feeling of continuity especially if you are extending the backsplash to the ceiling; besides, let's not forget the ever favorite…fewer grout lines to clean.  Take a look at our remodeling ideas page, which is a selection of our best work.
Trend #3. Mirrored and Metallic Finishes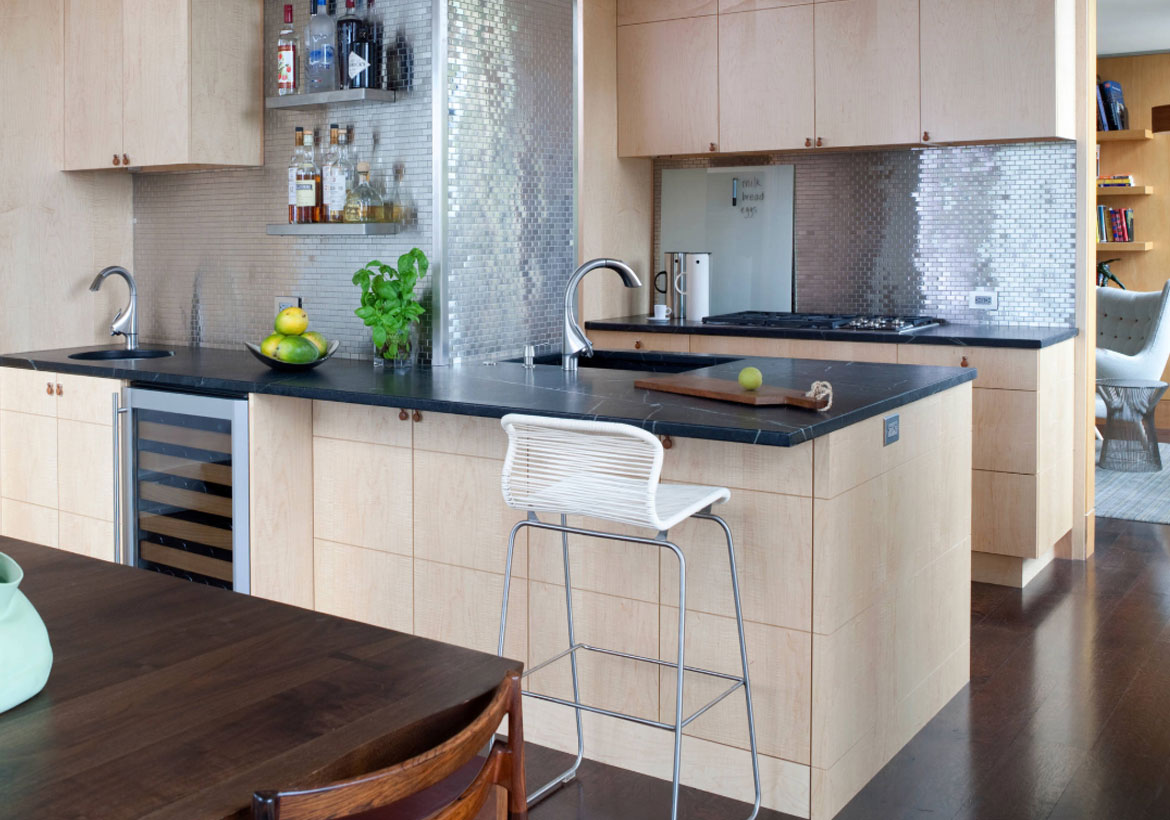 These two types of tile finishes are bound to pick up in popularity in the past as homeowners seek unique but subtle styles for their kitchen or wet bar backsplashes. The mirror finish gives tiles a glossy reflective surface, which is highlighted even more when struck by natural light. The mirror effect is even stronger when you extend the backsplash to ceiling height.
With a mirrored subway tile backsplash, use lighting to bring out a dramatic effect. During the day, make sure there is plenty of natural sunlight falling on part of the backsplash. The reflected light really brightens up the kitchen. At night, position some of your fixtures (e.g. under cabinet lighting) to take advantage of the glassy backsplash. The light reflection can make for quite a dramatic look.
If the glossiness is too much for you, try a metal finish. Tiles are finished in a look and texture that resembles that of real metals. You can choose from different colors, finishes, and treatments. A metal finished backsplash gives your kitchen an unstated "strong" feel. It can bring in an industrial feel, which can be enhanced by extending the backsplash across the entire wall height. You can also use smaller metal-finished tiles for a dramatic accent.
Trend #4. Patterns and More Patterns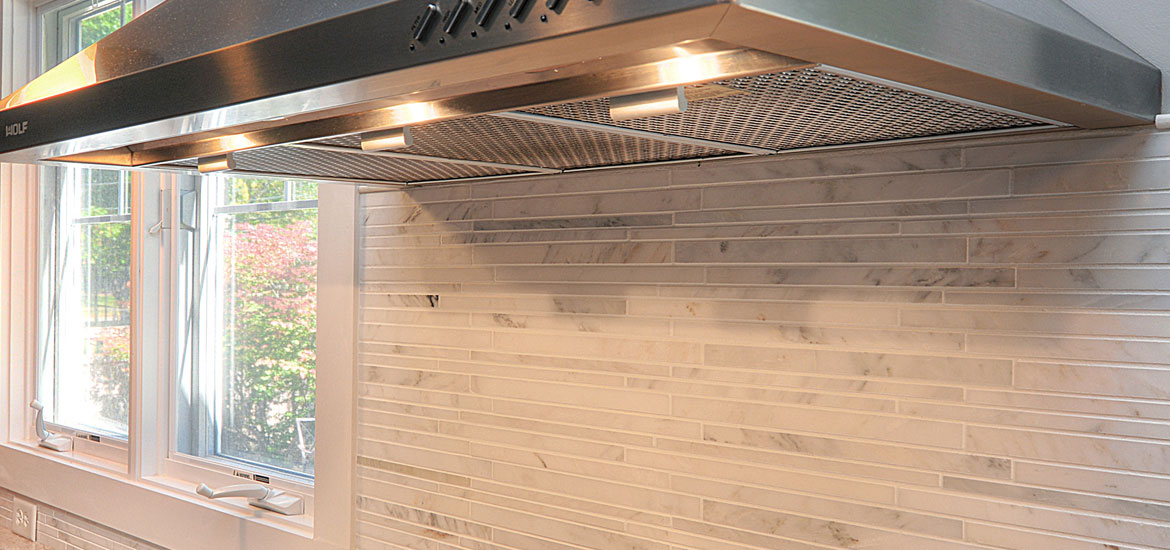 With the neutrality of quartz countertops, it is no longer enough to have a plain tile backsplash; more homeowners want something that turns heads and creates an interesting focal point for all to admire. Many are beginning to experiment with various tile patterns. Upcoming  tile patterns include: chevron, herringbone, Moroccan fish scale and laser cut tile among many others.
One of the hottest upcoming trends involves the use of graphic print or large pattern tiles in big, bold colors. These oversized patterned tiles have the punch to liven up any space to make any homeowner proud.   Keep in mind th