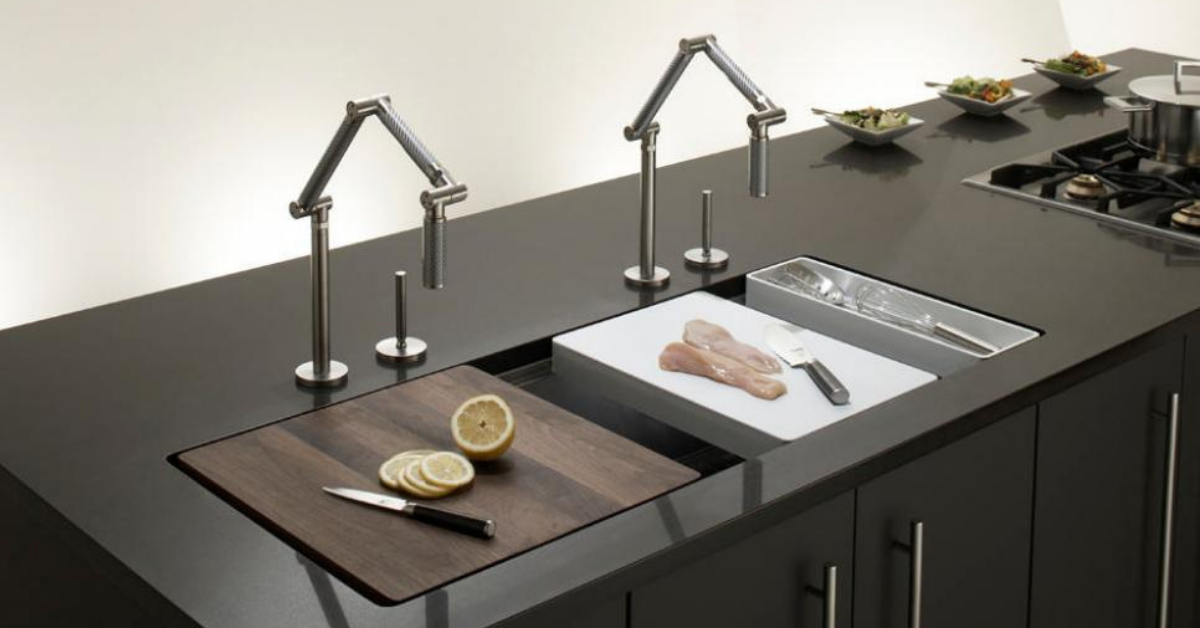 Featured Image: HGTV
The kitchen sink could be regarded as the kitchen's focal point. It is, of course, one of the kitchen's most frequently utilized features.
Cooking and cleaning can become more difficult if the sink is out-of-date or badly built. To ensure that your daily cooking activities flow smoothly, it is critical to select a sink type that is both functional and attractive. If you don't know where to start, these kitchen sink ideas 2023 can help you.
So, how can you know which style is best for you? We have outlined five of the most popular kitchen sink trends for 2023.
Stainless steel kitchen sinks never go out of style!
1. Stainless Steel Material
In the kitchen, stainless steel is definitely the material of choice since it is long-lasting, stylish and easy to clean. This is number one in our kitchen sink trends. Stainless steel is a timeless material that never goes out of style.
Wire trays are generally installed at the bottom of the sink to avoid damage to the metal because it scratches so easily.
2. Single-Basin Sinks
Next in our kitchen sink trends is the single-basin sink. With no partitions, this sink is a single large, deep basin. Large amounts of meal preparation and dishwashing are made much easier by the kitchen's large size. For multitasking in the kitchen, such as washing your hands while food soaks in the sink, a single sink can be a little difficult.
3. Undermount Sinks
These kitchen sink trends are situated below the counter and provide a clean aesthetic. It's a modern kitchen sink. Cleanup is easier and more hygienic due to the lack of a seam on the edge of the sink. If you have a solid-surface countertop like composite, granite or marble, you can use these sinks.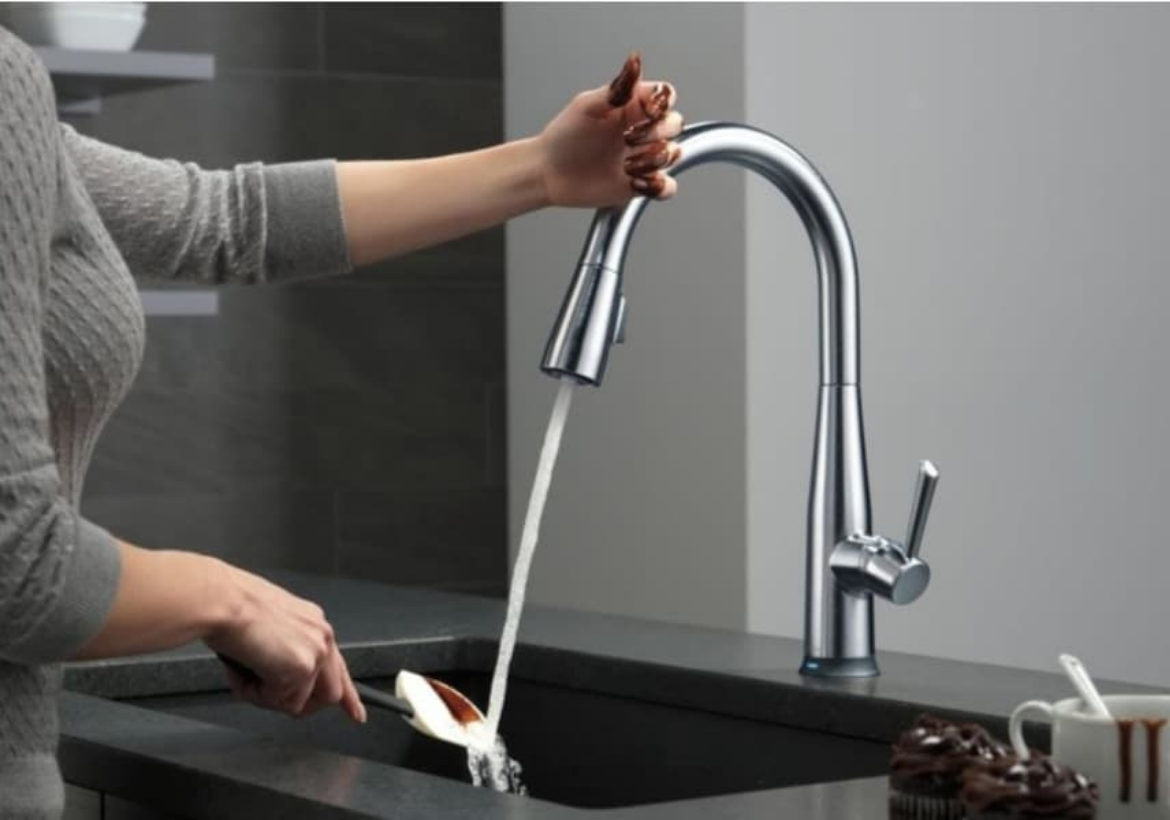 Touch-activated sinks are perfect for modern kitchens.
4. Touch-Activated Sinks
For today's modern kitchens, hands-free faucets are a must-have. Touch-activated sinks are definitely part of our kitchen sink trends. They make a kitchen more useful and practical. Besides that, they're great for people with dirty hands when cooking and tiny children who can't quite get their hands on the handle of a kitchen faucet.
5. Two-Sink Design
With two sinks in the kitchen, houses with "too many chefs in the kitchen" have a much-needed solution. An island sink, for example, provides additional prep and rinse space for veggies, while the main sink may be utilized to wash dishes and prepare larger entrees. There will be no more squabbling about who gets the sink!
Kitchen Sink Trends: Factors To Consider
If you're not starting from scratch, it's likely that you'll want to keep your new kitchen sink in the same spot as the recent one in order to save money on the expense of moving the plumbing and drains. Considerations such as how the sink is mounted and the best material, color, and kitchen sink design to match your newly renovated kitchen come into play even when replacing a sink in the same location. Here are some factors to consider as you navigate through kitchen sink trends.
Undermount Vs. Top-mount
When it's time to replace your kitchen sink, there are a variety of mounting options to consider. "Top-mount" sinks, often known as drop-in sinks, and undermount sinks are the two most prevalent types of sink. It all relies on the sort of countertop you have and the type of sink material you select.
Top-mount sinks are often preferred because they are the most straightforward to install and can be used with any countertop material. As the name suggests, this sink is a drop-in kind that rests on top of a precut hole in the countertop. These sinks can also be called "self-rimming." For added stability, some top-mount sinks have clips or screws. Because top-mount sinks are easier to install, they tend to cost less than undermount sinks.
In addition, an undermount sink describes a sink that is fitted beneath the counter. When using solid-surface countertops, such as granite, this eliminates the lip or rim on the top of the sink. With an undermount sink, countertop waste may be easily brushed into the sink, making cleanup a lot easier.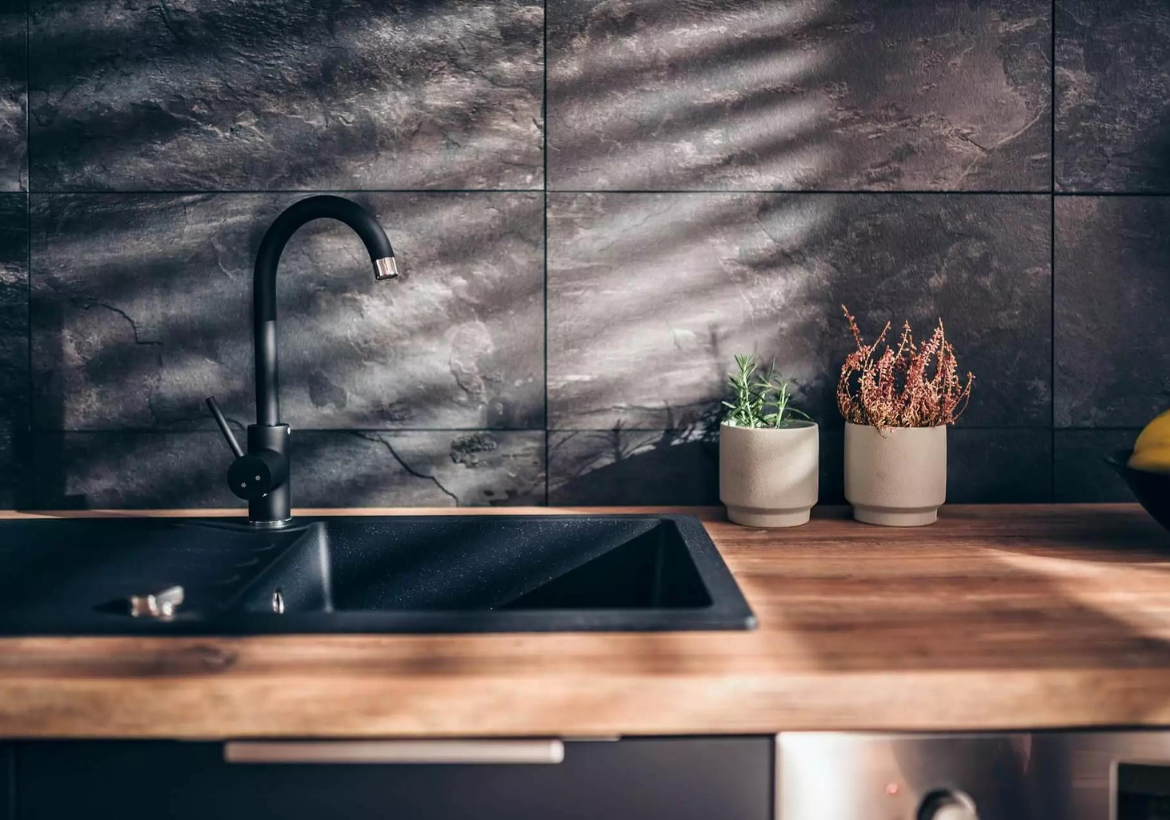 Modern and stylish hardware makes all the difference in the kitchen sink!
Style
However, there is no one-size-fits-all answer for kitchen sinks, which come in a variety of shapes and configurations. Kitchen sinks come in various sizes and shapes.
Two basins or bowls - One bowl is often used for soapy water, while the other is used to rinse dirty dishes. Another option is to use one bowl for soaking dirty pots and pans and the other for doing the usual washup. New advances in double-basin sinks include a double-bowl, low-divide sink, which has the benefit of two basins but can also fit pots with long handles.
Farmhouse/apron front - The farmhouse sink, also known as an apron-front sink, is a historic design that has seen a resurgence in recent years. It's common for these to have a wide, deep single bowl, an open front, and an attached faucet. When it concerns cleaning large pots and pans, this approach is the best. Because of the sink's size and construction, it can be more expensive than other types of sinks. A specific base or cabinetry modifications are required for a deep basin, which increases costs.
Drainboard. Sinks with built-in drainboards, which allow you to prep veggies and let them drain without cluttering up the counter, are another classic that is once again becoming popular. It is also possible to use the drainboard to empty pots, pans, and kitchen utensils. There is only one drawback when it comes to adaptability: the drainboard takes up valuable counter space.
Island/bar/prep. An island or bar sink is a tiny, additional sink that can be used to make drinks, prepare meals, or prevent cross-contamination of different types of food. Premium stainless steel is commonly used for these little supplementary sinks, which can be found either in a different part of the kitchen or in an entirely other room.
Corner. Consider an L-shaped or rectangular form if your kitchen has room for a corner sink. Corner sinks allow for a more versatile counter arrangement and additional storage space under the sink.
Workstation. "Workstation sink" refers to sinks with a variety of attachments that allow you to transform the sink area into food preparation and serving environment. Cutting boards, colanders, drying trays, warming racks, and other things enhance the sink area's versatility without occupying additional counter space.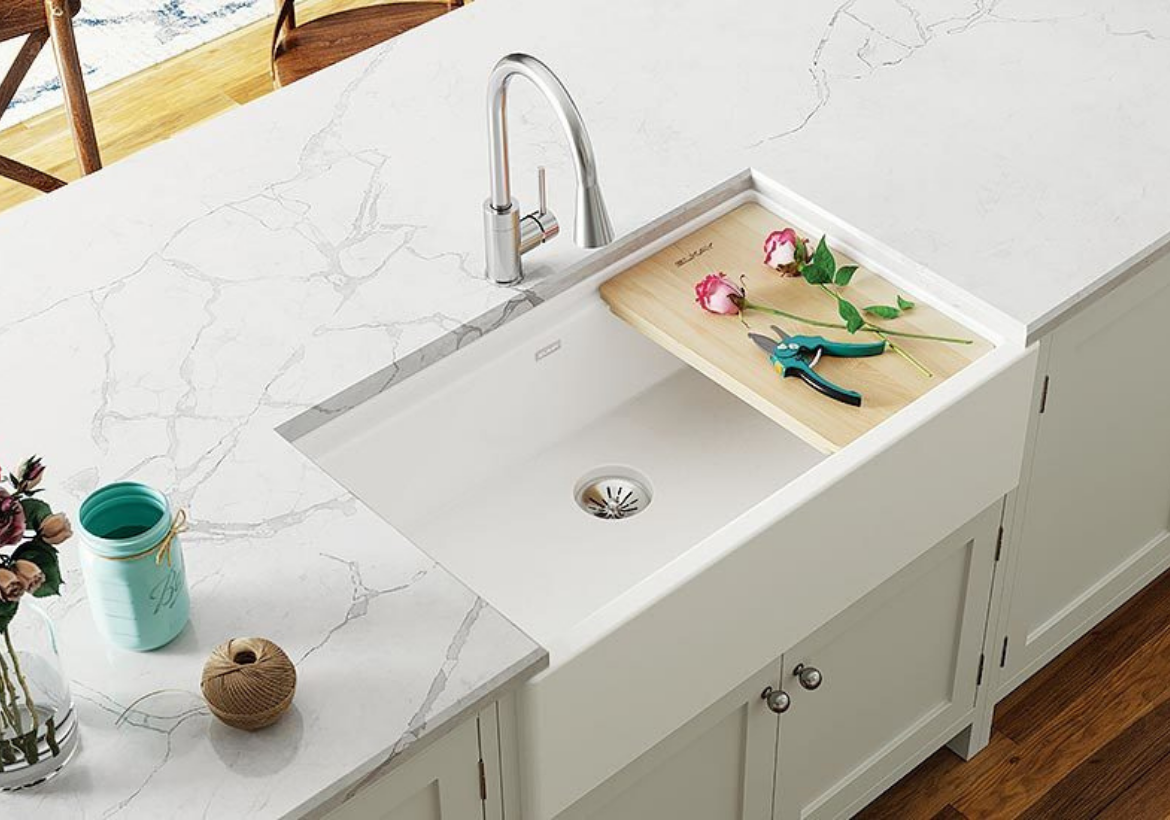 Cute and dainty sink for a lovely kitchen design.
Size
The size of a kitchen sink is typically a factor in determining the sink's form and style. A kitchen remodel may be constrained by a lack of available space. There are three dimensions you need to take into account: length, known as side-to-side; width, known as front-to-back; and depth.
Kitchen sinks, whether single bowl or double bowl, can be as short as 22 inches or as long as 48 inches in the farmhouse design. Depending on the width of the supporting cabinetry, they might be anywhere from 24 inches wide to 32 inches wide. Bar sinks, also known as prep sinks, are typically 10 to 22 inches long by 8 to 10 inches wide, making them ideal for use on a kitchen island or nook.
A conventional kitchen sink depth ranges from 8 to 10 inches, but if you're prepared to sacrifice under-sink storage space, you may choose a deeper sink that measures between 12 and 15 inches deep.
Material
Customers may now select from a wide range of materials for their kitchen sinks, as well as from a variety of prices. Many different materials can be utilized to create the desired look, from natural stone to man-made porcelain. Here are the most popular materials for kitchen sinks:
Kitchen sinks made of stainless steel are the most common. Stainless steel is a low-cost, lightweight, long-lasting, and low-maintenance material that may be used in various interior design styles. The gauge of stainless steel is referred to as the thickness; the thinner the gauge, the more expensive the sink. Many various finishes are offered, including bright mirrors and lustrous satin appearances. Steel is a low-maintenance material, but the finish can get dull and damaged with time.
Granite, quartz, and granite composite are quite popular, although natural granite sinks are the most expensive. Water spots can also be seen on mirror finishes. Due to the many minerals that make up granite and quartz, the stones have a beautiful, variegated appearance. The two materials are typically used together in kitchen sinks and countertops. It is possible to break, chip, or damage the stones if they are abused. In granite composite, which is typically 95 percent stone and 5 percent resin, the beauty of a genuine stone is combined with the strength of synthetic resin. The epoxy increases the sink's hardness and durability, making it more resistant to dents, scratches, and cracks. In addition to being heavier than many other options, granite and granite composite sinks may necessitate specific installation.
Kitchen sinks were the norm, but cast iron covered in a thick enamel coating has fallen out of favor as other materials have become more fashionable. Enamel-coated cast iron is heavy, long-lasting, and easy to maintain. A wide range of colors is available for tinting the enamel. Enamels in lighter colors are more susceptible to staining than enamels in darker colors, but nonabrasive commercial stain remover is usually sufficient to remove stains. Typically, these materials have a more rustic look. They're long-lasting and easy to maintain, but they're also prone to chipping and hefty. Initially only seen in bathroom sinks, vitreous china is increasingly being used in both the kitchen and the bathroom.
A beautiful metal, copper, can be hammered or sculpted into many different designs, making it a charming accent to many different decorative styles. Health-conscious customers are increasingly turning to copper for its inherent antibacterial properties. Copper is a great option for a bar or island sink if you're looking for something more affordable. To maintain its luster, copper necessitates more care and attention. Cleaning and waxing are necessary to retain the sheen of the material over time, as it will oxidize.
Acrylic, polyester, and fiberglass are examples of manufactured materials sometimes referred to as "solid surfaces." To resemble natural stone, they are usually composed of resins or epoxy. It's possible to rub out scratches on solid-surface sinks, particularly resistant to chipping and scratching. Although the materials are resistant to stains, they can be harmed by exposure to intense heat.
Concrete is a new material for kitchen sinks that offers many of the same benefits as granite but at a fraction of the cost. Because concrete may be poured on-site by contractors, sinks of any size or shape are possible. Precast options are also available to consumers. On the other hand, concrete is a weighty material that may necessitate custom cabinets. Staining is also an issue with this material.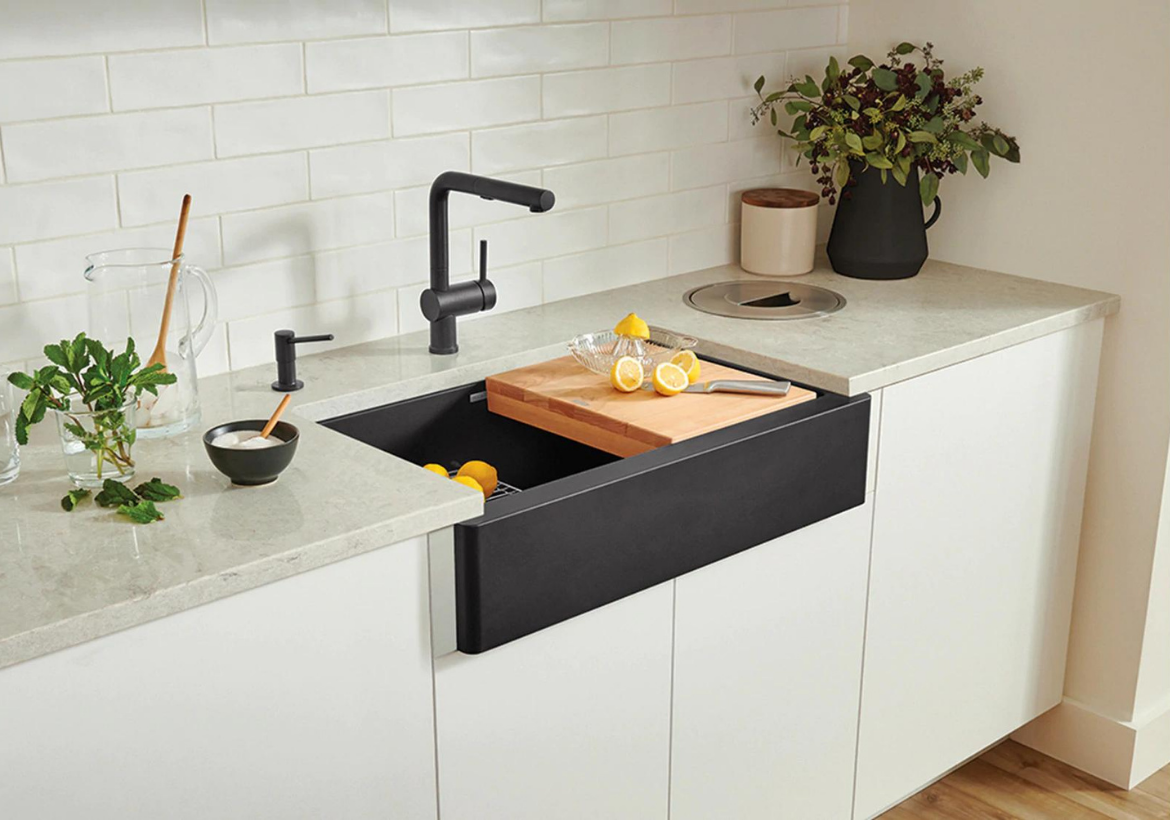 A jaw-dropping sink will instantly be a focal point!
Color
Stainless steel is the most popular color for kitchen sinks since it is the most popular material. Kitchen design is still dominated by stainless steel fixtures and appliances, although dark-colored natural stone finishes, such as granite and quartz, are becoming more popular.
The most popular colors for enamel-coated cast iron and fireclay or china sinks are white, off-white, beige, and sand because these neutrals go well with a wide range of décor styles. Darker colors like navy blue and black have been part of kitchen sink trends in recent years.
Installation
Kitchen sink shopping may be both enjoyable and scary because of the numerous installation factors that must be taken into account. The first thing to think about is the overall size of the object. If you're replacing the sink in the same spot, you'll need to take precise measurements of the existing opening. Whether you're moving the sink or starting from scratch, the size of the kitchen will play a role in your decision on cabinetry and countertops.
Another consideration is the type of mounting holes for fixtures in a kitchen sink. Faucets, sprayers, and soap dispensers are often mounted using four holes in the sink. Some feature a separate drinking water faucet hole. Some sinks don't have mounting holes. Thus, the faucets have to be wall-mounted.
We hope these kitchen sink trends will help you in your next kitchen remodeling project!