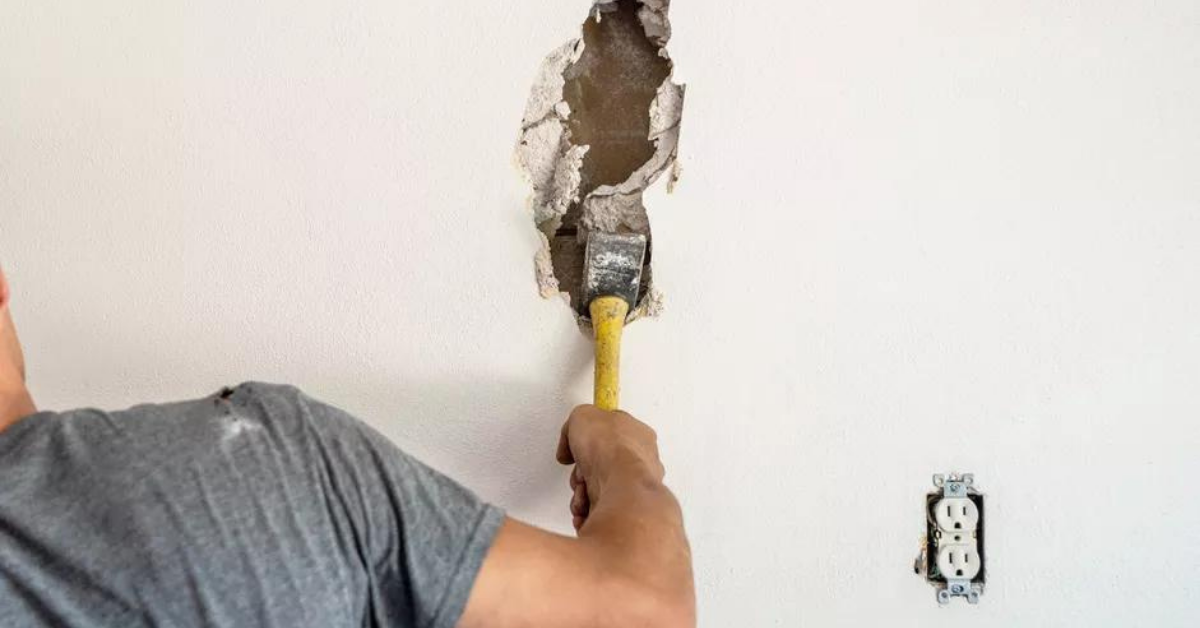 Demolition can be a messy and dangerous aspect of any home improvement project. Taking down that wall to get the desired open floor layout may not be as simple as it seems. While it may be tempting to attack the wall with a sledgehammer, this is not always the wisest course of action. Demolition generates a lot of dust, broken drywall, splintered wood and brick, and other debris. Depending on what you're destroying, you may need to utilize various demo tools to complete the task. However, unlike carpentry, most demo work can usually be completed with the best demolition tools.
Whether you're demolishing a 1980s-style bathroom, transforming the kitchen and living room into an open floor plan, or doing any other remodeling project, you'll almost certainly have to rip a few things apart to get the job done.
Demolition may include slamming through walls, tearing up old floors, or cutting through rusted metal pipes. You'll need a solid set of the best demolition tools since you won't be performing any of those things with your bare hands.
If you're planning on doing some renovation or building an extension, you'll definitely need some pro tools demo. Here are some of the most helpful demolition hand tools of all time. Learn about some of the best demolition tools below, including concrete demolition tools and bathroom demo tools.
Demolition Jackhammers
You've manually demolished walls using a ripping bar, a framing hammer, and a sledgehammer at home or on the worksite. You also used an oscillating multi-tool and a reciprocating saw, but it took a long time to complete the work. These instruments are fantastic for destroying light materials, but for thicker and stronger materials, nothing but the sheer might of a demolition jackhammer will suffice. Thus, we're putting the jackhammer first in our best demolition tools list. Jackhammer is one of the best concrete demo tools.
If you're seeking for a strong and dependable jackhammer and don't mind paying a premium, consider the Bosch 11335K Jackhammer Kit. This tool has a powerful 15-amp motor and a strong impact force, allowing you to destroy concrete, bricks, and other hard materials quickly and easily. Because the jackhammer has 2-way bit retention, you may use either a conventional 1 1/8′′ air steel or a Bosch 1 1/8′′ hex steel.
See our Best Demolition Jackhammers review here.
Work Pants
Purchasing a pair of work pants is not as straightforward as buying a pair of normal daily trousers or even a pair of dress pants. When purchasing a pair of work pants, you must consider many variables, including the fit, the fabric used by the manufacturer, the general comfort provided by the pants, and whether or not they are water-repellent. Another element to consider is the number of pockets on the pants and their durability.
Every six months or more, a roofer or plumber will go through several pairs of pants. You want jeans that are water-resistant and will last longer than the standard pair you purchased a few months ago. Then you can choose the Caterpillar Men's H2o Defender Pant. The pants are comprised of a cotton, polyester, and elastane combination. Cotton makes the pants breathable and comfy, while polyester strengthens the fabric. Elastane gives the necessary stretch for optimal comfort while working.
See our Best Work Pants review here.
Work Boots
The most apparent reason for wearing safety boots during demolition is that they are expressly intended to keep you safe. Worksites are filled with hazards at every step.
Even the most careful individual can tread someplace they are not meant to. Without a good pair of work boots, a simple stumble can result in a trip to the ER.
Carhartt Men's CMF6366 Composite Toe Boots are an excellent option for the most comfortable work boots. Whether you work on a rough and dusty construction site or as a mechanic, you'll discover certain characteristics here that will come in handy. Let's start with the materials of the boots. The upper is composed of heavy-duty full-grain leather that is water-resistant and has certain parts with multiple seams. It's worth noting that these boots are merely water-resistant, not waterproof, so you may want to reconsider wearing them in the rain or in a flooded basement.
See our Best Work Boots review here.
Step Ladders
Step ladders are essential pieces of equipment at home or on business-building projects. No building site would be complete without the greatest step ladders. You can live without a ladder for a while, but you won't understand how important it is until you have a project that requires one.
The Delxo three-step ladder, which weighs just 8.3 pounds but can support 300 pounds, is ideal for most homes. Its enormous top step (9.84 in x 9.84 in) lifts the user 25 inches above the ground, enabling them to stand comfortably on both feet while bracing their knees on the handgrip for balance.
See our Best Step Ladders review here.
Reciprocating Saws
With the proper blade, a reciprocating saw can cut through almost any material, including wood, iron, plaster, plastic, and stone. Because of its flexible cutting capabilities, it is the perfect power tool for practically any home repair job that requires demolition.
Because of its amazing performance and mobility, the DeWalt DCS367B 20V Max XR Reciprocating Saw is one of the best reciprocating saws.
This reciprocating saw's length is barely 14 inches. Its tiny form allows you to move it into tight spots that larger saws cannot reach. It is quite light, weighing just 5 pounds.
See our Best Reciprocating Saws review here.
Wire Strippers
Most individuals may think that purchasing a wire stripper is unnecessary since this item can be readily replaced with a pocket knife or even a pair of kitchen scissors. However, these cutting instruments are incapable of performing the functions of the greatest wire strippers. When cutting and sheathing, use a pair of wire strippers to guarantee that the wires within the insulated sheath are not damaged. The state of the unsheathed wires will almost certainly decide the quality of your repair job. In addition, faulty wiring might result in electrocution or fire.
The Klein Tools 11055 wire remover is ideal for dealing with stranded and copper wires. This versatile tool is small and lightweight, and it will make your life simpler. Because of the handle form, it is easy to do complicated wire tasks.
See our Best Wire Strippers review here.
Oscillating Multi-tool
Although demolition and renovation may be brutal work, there are times when accuracy is required. Here comes the oscillating multi-tool. It cuts cleanly through wood, metal, and plaster in difficult places.
It's simple to understand why the PORTER-CABLE PCE605K52 Oscillating Tool Kit is one of the market's most popular and best-selling multi-tools. The strong 3-amp motor in this corded oscillating multi-tool offers a variable speed setting. The motor is shielded from dust and the weather by a heavy-duty body, and the housing is textured to prevent it from slipping from your hand during operation.
See our Best Oscillating Multi-tools review here.
Circular Saw
The circular saw seems to be a fairly simple power tool since it just rips a workpiece apart. But nothing beats the circular saw in terms of raw power, accuracy, and adaptability. Circular saws of the highest quality can cut through everything from balsa to walnut to extremely tough ironwood. Saws are great tile demo tools and floor demo tools.
If you're searching for a trustworthy circular saw but don't want to spend a lot of money on it, consider the SKIL 5280-01 7-1/4-Inch Circular Saw. This is one of the most economical circular saws on the market, which is ideal if you're a hobbyist looking for more bang for your buck.
See our Best Circular Saws review here.
Impact Drivers
Most home improvement enthusiasts and professional builders begin their power tool collection with a conventional drill. However, when you scale up your projects, you'll discover that certain tasks, such as driving lengthy screws into solid materials and extracting stripped screws, are beyond the capabilities of a standard drill. You'll need a more powerful and durable power tool for these jobs, particularly an impact driver.
Any contractor or woodworker would appreciate the Makita XDT131 18V Cordless Impact Driver Kit. It can offer the torque and power you need to get the job done, whether it's long screws, drill bits, or lag screws. It boasts a strong motor that can provide up to 1,500 in-lbs of maximum torque. It includes a variable speed option that allows you to achieve a maximum of 3,400 RPM and 3,600 IPM in addition to its torque.
See our Best Impact Drivers review here.
Work Gloves
The Occupational Safety and Health Administration considers work gloves to be necessary personal protective equipment. However, you cannot just put on any old pair of gloves for work, particularly if you work in construction, metal fabrication, manufacturing, and other work that needs you to operate in dangerous conditions. What you need are the finest work gloves that will protect you against cuts, abrasions, blisters, and punctures. These gloves may also shield you from dangerous substances and provide some protection from harsh temperatures.
If you're constantly on the hunt for a pair of tough gloves that protect your hands from cuts and abrasions and are also comfortable and don't restrict your mobility, you might choose the CLC Custom Leathercraft 125L Handyman Flex Grip Work Gloves. These gloves are cushioned and constructed of synthetic leather to protect your hands from cuts and abrasion. The cushioning also keeps your hands warm in the winter.
See our Best Work Gloves review here.
Conclusion:
It's difficult to emphasize how much fun demolition can be, but keep your wits at all times.
The idea is not to gut your home (unless that is your desire) but to prepare the workspace. And the purpose of excellent demolition is to leave as little repair—and as many fingers—as possible after the event.
We hope this best demolition tools list helps!
Other Great Articles to Read:
To view our Amazon Associates Disclaimer, please click here.