The red color generally symbolizes love, which means it's an incredible decision for a bedroom that you love. You can opt to use red as an accent color, or you can make it the highlight of the room by utilizing red furnishings and painting your bedroom walls red. In case you are ready to include a fiery color scheme to your house, these red bedroom ideas will ignite your senses and get you going with your long-overdue bedroom remodeling.
Red is passionate, so including it in your design plan can bring some heat to your bedroom. When you combine red decor with white, it becomes sharpened and crisp, while black brings drama to the room. On the other hand, shades of grey with red tame the look, while blue makes it energized, and gold enriches the area. Red can bring a variety of looks to your bedroom, and none of them lacks confidence. In case you've been thinking about a bold and daring design scheme for your bedroom, check out these red bedroom decor ideas. Learn about the different ways to include this bright yet flexible color, from full red bedroom walls to red accents, bedding, furniture, and paint techniques.
MODERN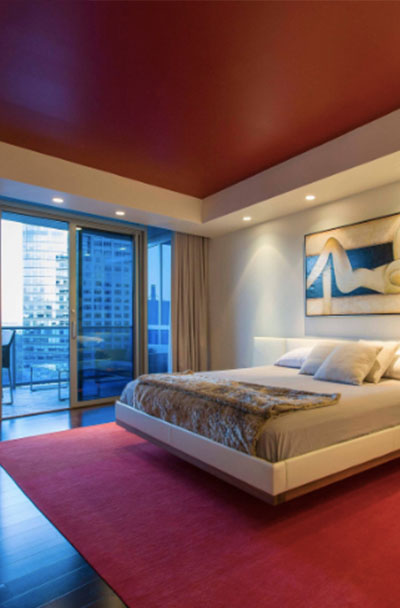 There will be universal agreement that this design resembles a hotel suite. It appears to be highly elegant and contemporary. Red ceilings and carpets are ideal alternatives to red-painted walls. This design by FORMA Design is really amazing.
MEDITERRANEAN
Do you want your bedroom to have a red theme that appears both cozy and stylish? Everyone will like this one's magnificence. This crimson color is welcoming and friendly. The decorations are really lovely. With this appealing design from Dunn-Edwards Paints, you can have fun.
STYLISH
Everything about this bedroom decor is incredibly elegant. It's obvious that this is for a stylist. This trendy adolescent bedroom has a whimsical bookshelf and dreamy watercolor artwork. This bedroom design by Urbanology Designs is really creative and lovely.
MIDCENTURY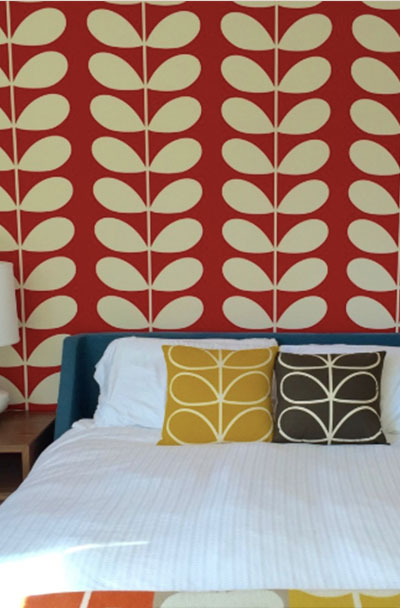 Want to decorate your bedroom in a classic and patterned style? Red walls with yellow and grey throw pillows complement the design. This seems like it belongs in a magazine! Erin Ellwood Design created the most amazing bedroom design.
TRENDY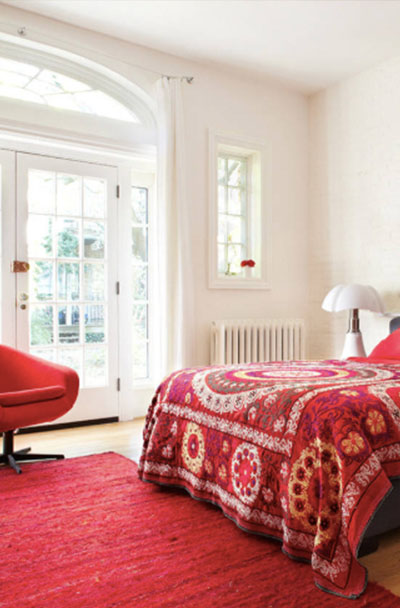 Never imagined that red and white would look as amazing together as they do. Stylish crimson bedroom furniture that will capture hearts. This bedroom decor was shot by Lisa Petrole Photography, and everything appears very current.
GRANDKIDS' ROOM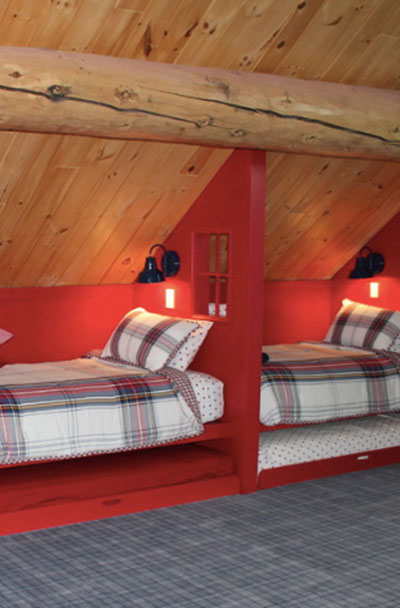 Want to provide all of your grandchildren with access to a space in your home that appears so inviting and finished? Grandchildren of the owner's bedroom in the manner of a bunkhouse. This bedroom design by Tim Kulin Cabinetry will be loved by your grandkids without a doubt.
Red Is Indeed Not For The Faint Of Heart
The red color symbolizes fire, passion, and love. It is not for the faint of heart, and only the fiercest interior designers know how to apply it to their bedroom for the maximized yet unforced impact.
Contrary to widespread belief, red can bring a warm and welcoming vibe to your bedroom, inviting visitors with a guarantee that while things truly won't be dull, they will, in any case, be a solace and delight.
Indeed, even in its subtlest form, a red bedroom establishes an unforgettable impact. From intense scarlet tints to rustically brick accents, your red bedroom represents a fondness for the bold and daring yet refined. Red isn't just a color the gets attention, but it also reflects a grand, brave character. It is no surprise that red also indicates royalty like the purple color.
From rich wallpapers to indulgent beddings, the red bedroom demonstrates that a burst of color can go a long way, but that is even more motivation to go somewhat further. From cherry Art Deco style to more tamed designs, there is certainly no restriction on the possible outcomes red brings.
Many avoid sensational hues, especially in the space of rest and relaxation. If light blues and creamy whites don't work for you, these red bedroom ideas are perfect for those dream chasers, adventure seekers, and passionate lovers.
VINTAGE
Everything in this retro room design appears to be so practical and creative. Toys in this room are decorated in a retro style, and the bedroom has crimson drapes. With this fantastic bedroom design by Overmyer Architects, you can undoubtedly have a wonderful time.
SOPHISTICATED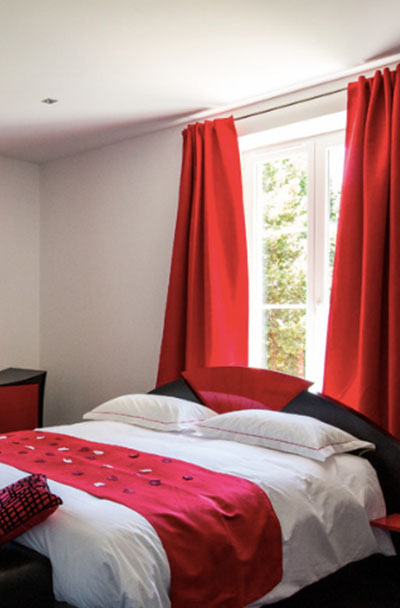 Who would have thought that the colors red, black, and white would go well together? This Red Black And White Bedroom appears classy and refined. It has a very modern atmosphere. A3Design created the most amazing red bedroom design.
ASIAN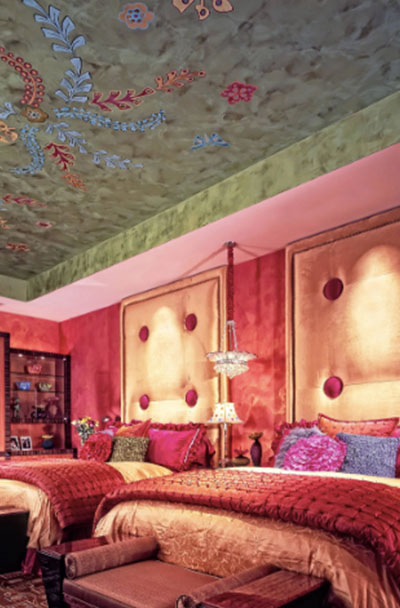 I wonder where you can find a bedroom like this. This one resembles a bedroom from an Asian film! With its ornate ceiling and scarlet bedroom carpets, this space is beautiful. Everything appears to be both distinctive and conventional at once. Such a stunning bedroom layout was created by Debi Weber Design, LLC.
What Red Can Do For Your Bedroom
Since people often regard red as the color of passion and romance, red is a decorating tool that ignites the senses.
Red can feel modern, traditional, contemporary, timeless, or rustic, based upon the shade and setting. Indeed, a pop of red is able to warm up a cool blue and white bedroom, or include dramatic effect when utilized as the primary color in a small area like a powder room.
From fire-engine red to crimson, to rust and merlot, there are unlimited approaches to utilize this warm shade to establish a mood.
In particular, utilize red on the walls to cause a space to feel more personal, or paint one wall only to modify the extents of a long, narrow bedroom visually. Also, various patterns and shades of the color red can combine to liven up a neutral bedroom.
Moreover, when paired with other colors, red provides even greater flexibility. An earthy red, for instance, when utilized with wood tones is able to warm a bedroom. In addition, red combined with soft gray and hints of fuchsia can cause a space to feel comfortable, feminine, and delicate.
Based upon the texture, dark reds may absorb light while more splendid reds permit light to bounce off walls. On the other hand, red with a hint of purple or brown will appear warmer than pure red with traces of pink.
In a tiny room, a red wall can give a decent background for a gallery wall for photos or paintings, with the red appearing in pieces rather than in a solid block. Gold tones in your beddings and carpet can likewise give balance and bring a luxurious look.
RED + BLACK
Everyone would assume that a master bedroom for couples would look fantastic in the color scheme of red and black. This bedroom's layout does not disappoint with that idea! Beautiful bedroom furniture in red and black was provided by More Space Place – Jacksonville for this classic bedroom.
ZEBRA
That looks amazing, another Red Black, and White Bedroom. Everyone will concur that the bed's zebra design makes everything seem at once ultra-modern and distinctive. This bedroom design by Katie Scott Design is really cutting-edge.
How To Decorate A Red Bedroom
With regards to red, "less is more" is frequently the case. Small pops of red can cause to notice different features or decorations in the room, so it's an excellent color for accent walls. Thus, you can paint stripes with red and another color on a plain wall, which can cause you to notice the bedroom's other features. Moreover, you can also paint the floor red if you like since your furniture and bed will cover a lot of it.
If you decide for a solid red wall, it will look great in case the burst of color appears from behind painting, mirrors, and different features; otherwise, there not be sufficient contrast between the hues. Dark wood furniture, in general, doesn't look great against a solid red wall, so pick black, white, or light-colored items. In addition, you can likewise offset red with more subtle hues like a grey rug or carpet. Also, white is additionally an extraordinary balancing color to match with red, as it pulls in the intensity of red.
On the other hand, red can work great for both traditional and contemporary styles. For instance, pick vibrant red for a modern look, and think about matching it with white, black, or even shade. Meanwhile, for modern bedrooms, pick more earthy reds with burgundy or brown undertones to combine with your wood furniture, which will, in general, look lost and unappealing beside solid red walls. However, for a more conventional style, go for dark reds with black undertones; while for a country vibe, turn to muted or dusty hues, or attempt a lighter shade with a trace of blue.
RED + GREEN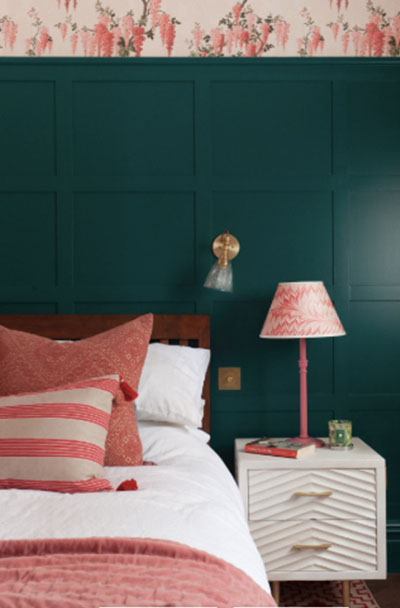 Nobody would have predicted that the color scheme of red and green would result in such a lovely bedroom decor. This transitional bedroom features dark green walls and red wallpaper with floral accents. Brooke Copp-Barton | Home Interior Design created the most amazing bedroom design.
ELEGANT
Everything in this bedroom design seems so refined and airy, making it ideal for a well-educated owner with good taste. Luxurious bedroom in red, black, and white with a swirling pendant light. This is such an amazing bedroom design by Nest Design Studio.
Style Options For A Red Bedroom
When you like everything to be great and perfect, room decorating options can be endless. Color assumes a significant role in the general design. Red, for instance, is an incredible color and adding it a room's design theme is particularly challenging when you're utilizing it on the walls. Here are a few tips and ideas to avoid going overboard.
Complementary Colors – If you are planning to have red walls in your room, attempt utilizing complementary hues like sky blue to make a contrast. You can keep the color of the beddings and other accessories in uniform to retain the appeal of the room. Adding such a large number of brilliant hues when the backdrop is red can result in chaos so try to stay away from them.
Furniture – Wooden furniture is perhaps the best option when you have red bedroom walls. Dark wood is frequently ideal in this case. In the event that you want to get the shade of modernity in the room, try using black furniture. The blend of red and black is exceptional and can make a fantastic vibe.
Retro Look – The color red that can give a retro look to the room and there are numerous choices to select from. Placing a black wooden frame against the red wall can be stunning.
Consistency – If you want a red accent wall in your room, you should get the color somewhere else in the room utilizing beddings and decorative embellishments. Attempt likewise to make contrasts using the traditional black and white combo.
Little Hints Of Red – In case you think painting a whole wall red is excessive for your taste, you can paint a couple of red stripes. You can even make fascinating geometric patterns.
Color Combinations For Red Bedroom
Red And Black Bedroom Set
Utilizing a red and black bedroom set is truly an exemplary mix. It particularly offers the space a retro vibe, suggestive of classic race automobiles and smooth Art Deco decors. Use smooth, polished finishes and Art Deco-style details in case you are going to utilize red and black in your room. In general, it makes a masculine look and is an extraordinary choice for a bachelor who needs an alternate kind of style.
Red And Grey Bedroom
Red bedroom decor looks excellent when matched with grey. Also, it is a modern look that transforms your room into a personal sanctuary. Moreover, a soft grey primary shading, usually painted on the walls, makes red bedroom decor truly stands out. Those red accessories will bring life to a bedroom that may appear to be dreary or excessively delicate. In addition, you can utilize red bed covers, blankets, artwork, area rugs, and throw pillow.
Other Popular Mixes
Red and Gold Bedroom
Red and gold are an extravagant blend, particularly when combined with stylish decor and furniture. Paint the walls a delicate, rich vibrant yellow, then include red textiles and decoration. Fancy wooden furniture causes the space to feel grand, as though it belongs to a fantasy castle. For a theatrical appeal, utilize long red velvet curtains.
In order not to overwhelm the lavishness of gold, you can include some red patterns or swatches of red wallpaper for wall accents.
Red Black And White Bedroom
Utilizing just red, black, and white in a room is a very modern technique. You can have the walls painted with white or off-white. Utilize black decorations, then finish everything off with red accents. This makes an austere yet vivacious look.
This is an image roundup post, curated to showcase and promote other reputable contracting companies' and their amazing work. To have any of the images removed, please reach out to us and we would be happy to do so.
Other Great Articles to Read: