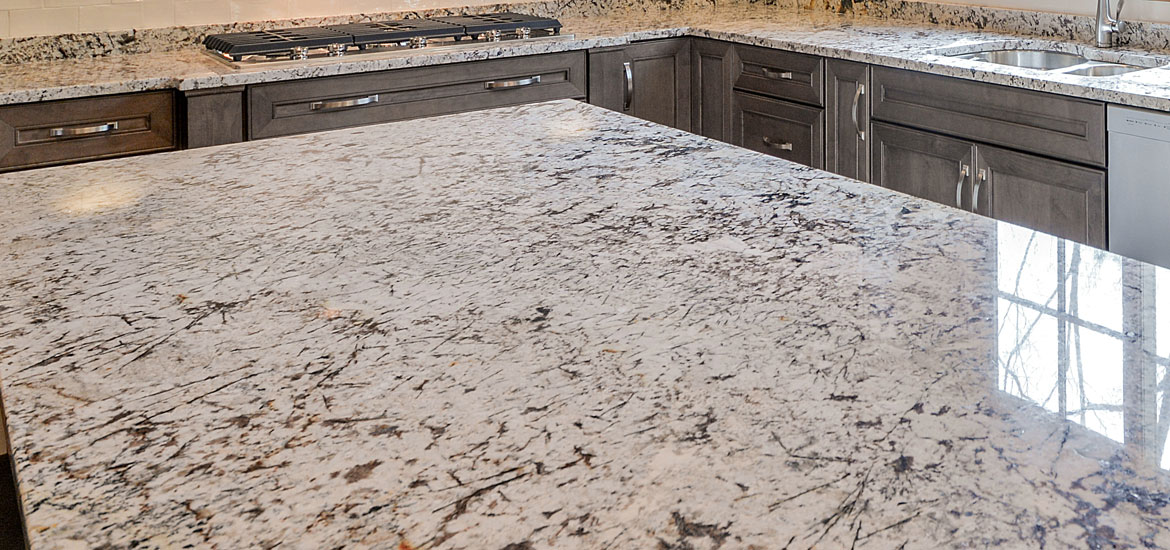 The countertop is an essential component of the kitchen. It is where all the important kitchen work takes place. But more than that, the countertop is the bedrock of kitchen décor when doing a kitchen renovation. It bears the burden of setting the tone and feel of the space.
Seeing its importance in kitchen décor, it matters a lot what material, finish and design you choose for your countertop. We have put together the hottest countertop trends for 2017 to give you ideas for your own kitchen. As you would expect, these trends focus heavily on color and material choices. Spoiler alert: quartz is still king of kitchen countertops.
1. Quartz is Here to Stay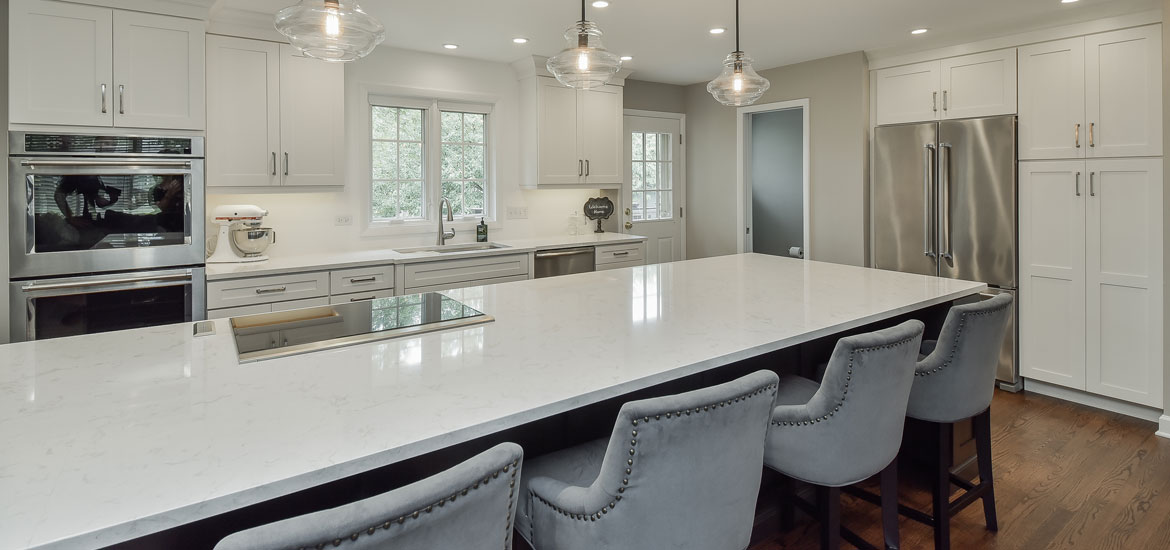 Quartz was introduced as a high-end alternative to granite, check out our granite vs quartz article.  Granite a natural rock, has for years dominated the countertop scene especially for homeowners who want something strong, durable and good looking. But it has a downside… It is porous. This means that liquids like water, wine, and oils can seep through the surface causing staining. Even worse, it encourages breeding of dangerous bacteria that could leave your countertop unsanitary.
The porous issue can be resolved by sealing the granite surface with a non-porous sealant. But the sealant wears off with time & wear, so the countertop has to be resealed at least once every year.
Quartz on the other hand, is completely non-porous and does not have to go through regular re-sealing. This means it is highly resistant against staining and is one of the most hygienic countertop options for homeowners. Add to that the fact that quartz is extremely strong, making it super durable and you can see why it is not going anywhere soon as the countertop material of choice for many homeowners.
Quartz now comes in many styles and colors, that give it a granite, marble or natural stone look.  In 2017, Kitchen quartz countertops will remain king not just for the year but for quite some time to come.
Related: Cambria Quartz Countertops Pros & Cons.
2. Countertops are Getting Thinner
In keeping with modern décor's love affair with low profile designs, thinner countertops are getting more popular. Traditionally, homeowners have opted for a 3/4 inches countertop thickness. The maximum thickness is often 1 1/4 inches.
In recent years, sleek modern designs have taken over the kitchen and the entire house. It was therefore just a matter of time before countertops fell to the chic, low-profile trend of modern décor. In 2017, kitchen countertop trends are moving towards slimmer 1/2 inch countertops.
As with the popularity of neutral colors, it feels like there is an increased focus on muting the countertop as much as possible in favor of highlighting other components such as the backsplash. From the color of quartz to its slab thickness the definition of stylish is changing.
A super slim countertop makes a kitchen feel trendy, cool and urban. It also has the effect of increasing perceived space. So if you have a small kitchen, slimmer may actually be better.
To add a twist to the new style, some homeowners are creating floating countertops. This is where the slim slab sits on a raised substrate. The countertop seems to be floating, which tends to enhance its slim look. It also creates a nice shadowy effect along the edge of the cabinetry.
Another of the popular 2017 trends in countertops involves combining extra slim with extra thick slabs. You might find the main countertop measuring half an inch in thickness while the island countertop could be as thick as 5 inches. Both profiles create bold statements with the combination of the two extremes creating a stylish twist to your kitchen.
If you are planning to install a thin countertop in 2017, check whether you can find the right one at the local home store. Most manufacturers nowadays have expanded their catalog to include a wide variety of countertop thickness. So whether you are looking for slim quartz, marble or ceramic countertops, you will most likely find them in the dimensions you desire.
3. Countertops With Character – Veining and Patterns Get Popular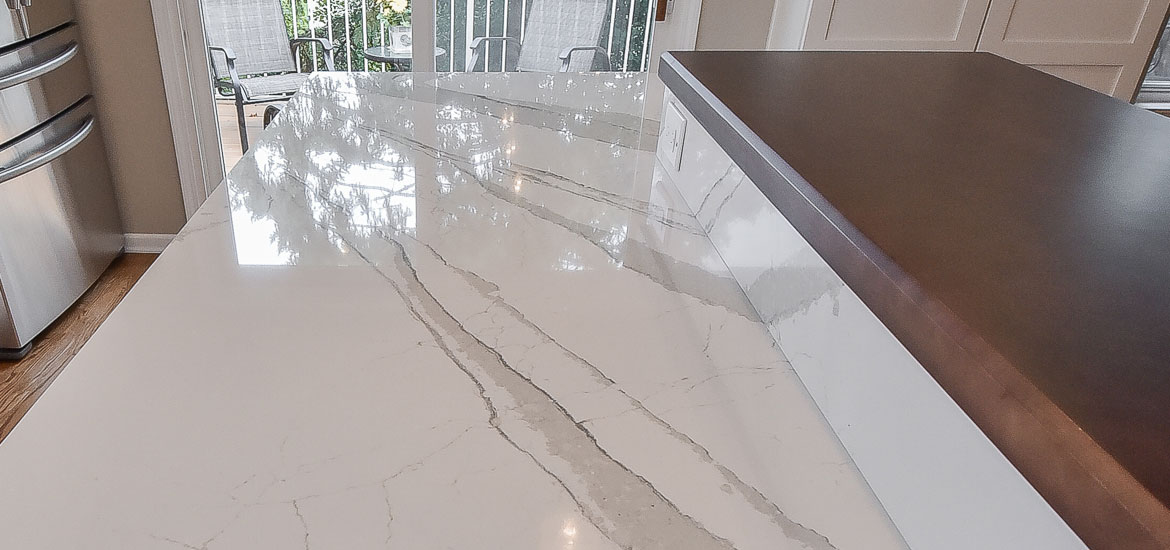 Homeowners are seeking a bit more character in their countertops. Thankfully, technology is there to offer creative solutions. Today, countertops come in a wide variety of patterns unlike the plain styles of years past.  Say goodbye to the round particulates of countertops past and hello to realistic veining.
Materials like quartz are being designed to resemble slabs of natural stone, like granite & marble. This involves creating veins in interesting patterns swirled into the countertop slabs. This added boost to your creative personality in your kitchen will wow.  Want something even more realistic; then no need for a polished piece–honed and leathered finishes have the durability needed for the kitchen but have a drastically different look in the space.
These varied finishes make for an interesting match up with other kitchen elements including the flooring, walls, cabinetry and backsplash. It also adds a twist to your cooking, creating a nice visual background for the multitude of kitchen activities.
4. Integrated Kitchen Sinks
The countertop is getting the modern treatment and the sinks are not being left behind. In 2017, the favorite look for homeowners is a sleek continuous style from the countertop and down into the sink. The integrated sink with countertop has become another trend in kitchen countertops for 2017.
Integrated sinks are made from the same material as the countertop. So the two blend seamlessly between the countertop and the sink. What you have is a smooth flow from your working surface to your sink, resulting in a chic modern style, take a look at Houzz for more ideas.
Away from the style, this new style makes maintenance a breeze. The lack of a break allows a smooth and proper wipe down of your work area. You do not have to worry about dirty water and food bits getting stuck in the space between the countertop and the sink. A quick wipe is enough to eliminate any marks and stains on the countertop.  Integrated kitchen sinks work for any kitchen style. They fit in perfectly in a modern home and work as a wonderful complement to more traditional elements in a country or farmhouse kitchen.  Also and adaptation to this are different material sink, like stainless steel, vitreous China, and quartz that have a flange made of the same countertop material  giving it that seamless integration from sink to surface.  The possibilities are endless.
5. Neutral Tones the New Norm as Bright Colors Fall Out of Favor
Preference for soft neutral tones is a common theme running throughout the home in upcoming décor trends. The bright bold hues of Art Deco and mid-century styles are gradually losing place in the kitchen in favor of more laid back tones.
Instead of a bright blue or jet black countertop, you are more likely to find soft grey, white and beige tones in kitchens in 2017. There is more focus on highlighting captivating individual components using neutral backgrounds. So you might find a beige (or the new greige – grey + beige) countertop, with a ceiling-high mosaic pattern backsplash standing out against it.
Homeowners might also experiment with other tones, though still maintaining the overall neutral style. Some of these slightly different quartz colors include dull browns and light blues (almost gray). Other than that, more and more homeowners are opting to stick to off-whites, ashy grays and neutral beige.
Interestingly, this shift to neutral tones comes at a time when kitchens are opening up to natural lighting. Super large windows, skylights and folding glass door wall systems are getting more common in kitchens. The result is an enhanced bright and airy feel that shouts modern. At a time when small spaces are getting popular, the combined effect of natural light and neutral tones really helps in expanding perceived space.
6. Backsplash Tiles are Becoming the New Backsplash
When installing a backsplash, homeowners typically used a 4″High slab of countertop material on the wall with paint or tile above. Now we are seeing the disappearance of that 4″piece to make way for decorative tiles only.  It seems to be the go to style in recent years. In 2017, we expect backsplash tiles to remain the most popular choice as homeowners seek a backsplash style that stands out more.
It is a sort of a parting of ways between the countertop and the backsplash. As the countertop goes low-profile with neutral tones and thin slabs, the backsplash has become a canvas to try out bold and captivating styles. With the tendency for homeowners to extend the backsplash to the ceiling (instead of just below the wall cabinetry), the backsplash has become something of an accent wall, forming the visual focal point for the kitchen.
A variety of backsplash tile styles have come up to satisfy the need for more attention-capturing backsplashes. The traditional subway tile backsplash kitchen is still popular though with a few twists such as multi-colored tiles or larger size subway tiles. Tiles with exotic finishes resembling wood, marble, brick or natural stone have also gotten popular as homeowners look for something different from the ordinary.
The difference in style between the countertop and the backsplash has a surprisingly harmonious result. The countertop tones down to highlight the backsplash, with both complementing each other perfectly.
Conclusion
The countertop has always been a big part of kitchen décor. Through the generations, we have gone from style to style as homeowners seek the perfect look for their main cooking space. In modern times, variety is the theme of the day. Homeowners have an almost endless selection of materials, styles, sizes and finishes to choose from.
For now, laid back countertops seem to be winning. The modern kitchen in 2017 will feature neutral colored countertops with thin 'delicate' slabs and sleek integrated sinks. By all indications, it seems these trends will extend even beyond 2017.
Check Out Our Other Great Articles: