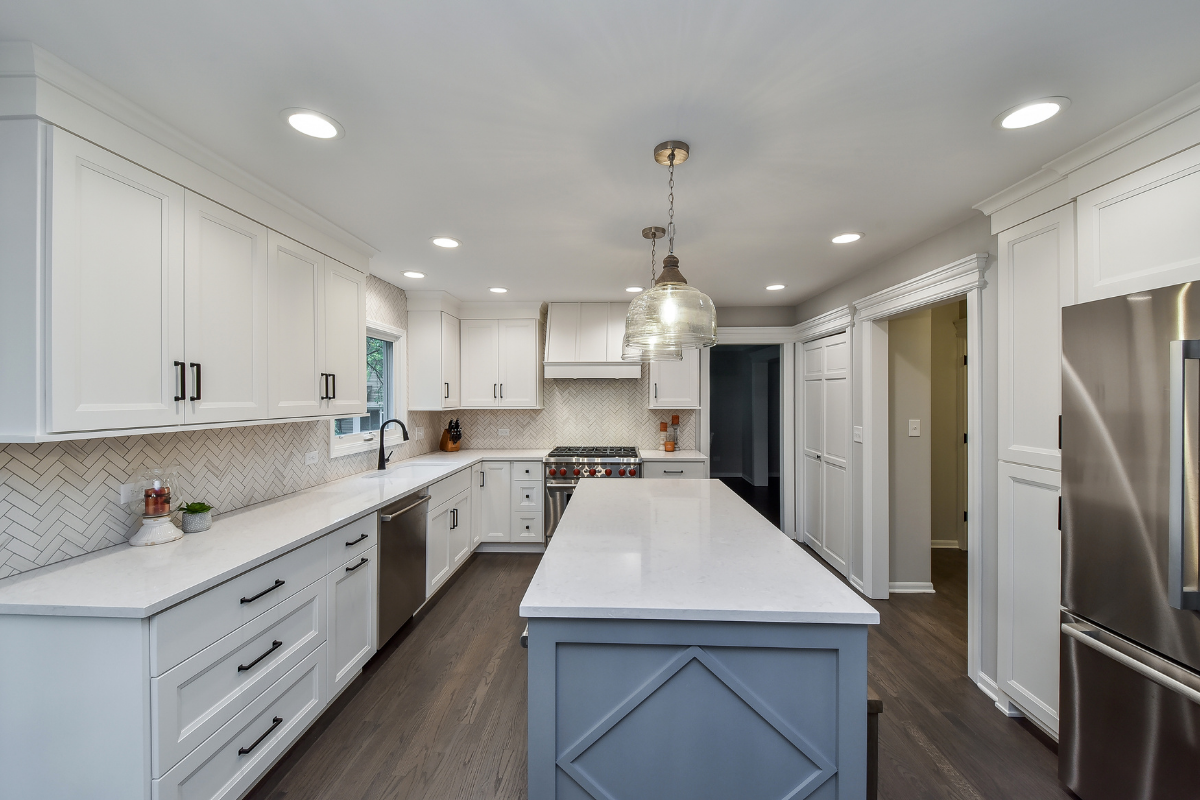 White quartz countertop with a smooth finish for this beautiful kitchen.
The countertop is an essential component of the kitchen. It is where all the action takes place. But more than that, the countertop is the foundation of kitchen décor when doing a kitchen renovation. It bares the burden of setting the tone and feel of the space.
Seeing its importance in kitchen décor, it matters a lot what material, finish and design you choose for your countertop. We have put together the hottest countertop trends for 2023 that will give you ideas for your own kitchen. As you would expect, these trends focus heavily on color and material choices. Spoiler alert: quartz is still king of kitchen countertops.
Trend #1. Quartz is Here to Stay

Sebring Design Build
White quartz countertop with grey movement throughout.
Quartz was introduced as a high-end alternative to granite, check out our granite vs quartz article. Granite a natural rock, has for years dominated the countertop scene especially for homeowners who want something strong, durable and good looking. But it has a downside–it is porous. This means that liquids like water, wine, and oils can seep through the surface causing staining. Even worse, it encourages the breeding of dangerous bacteria that could leave your countertop unsanitary.
The porous issue can be resolved by sealing the granite surface with a non-porous sealant. But the sealant wears off with time & wear, so the countertop has to be resealed throughout its lifetime.
Quartz, on the other hand, is non-porous and does not have to go through regular re-sealing. This means it is highly resistant against staining and is one of the most hygienic countertop options for homeowners. Add to that the fact that quartz is extremely strong, making it super durable and you can see why this low maintenance material is not going anywhere soon as the countertop material of choice for many homeowners.
Quartz now comes in many colors, patterns, and finishing techniques that mimic's the look of natural stone. One of the most current and trending finishes right now is matte. In 2023, Quartz manufacturers will continue to impress us with manufacturing improvements to keep this countertops option king. Not just for this year, but for quite some time to come.
Trend #2. Honed vs. Polished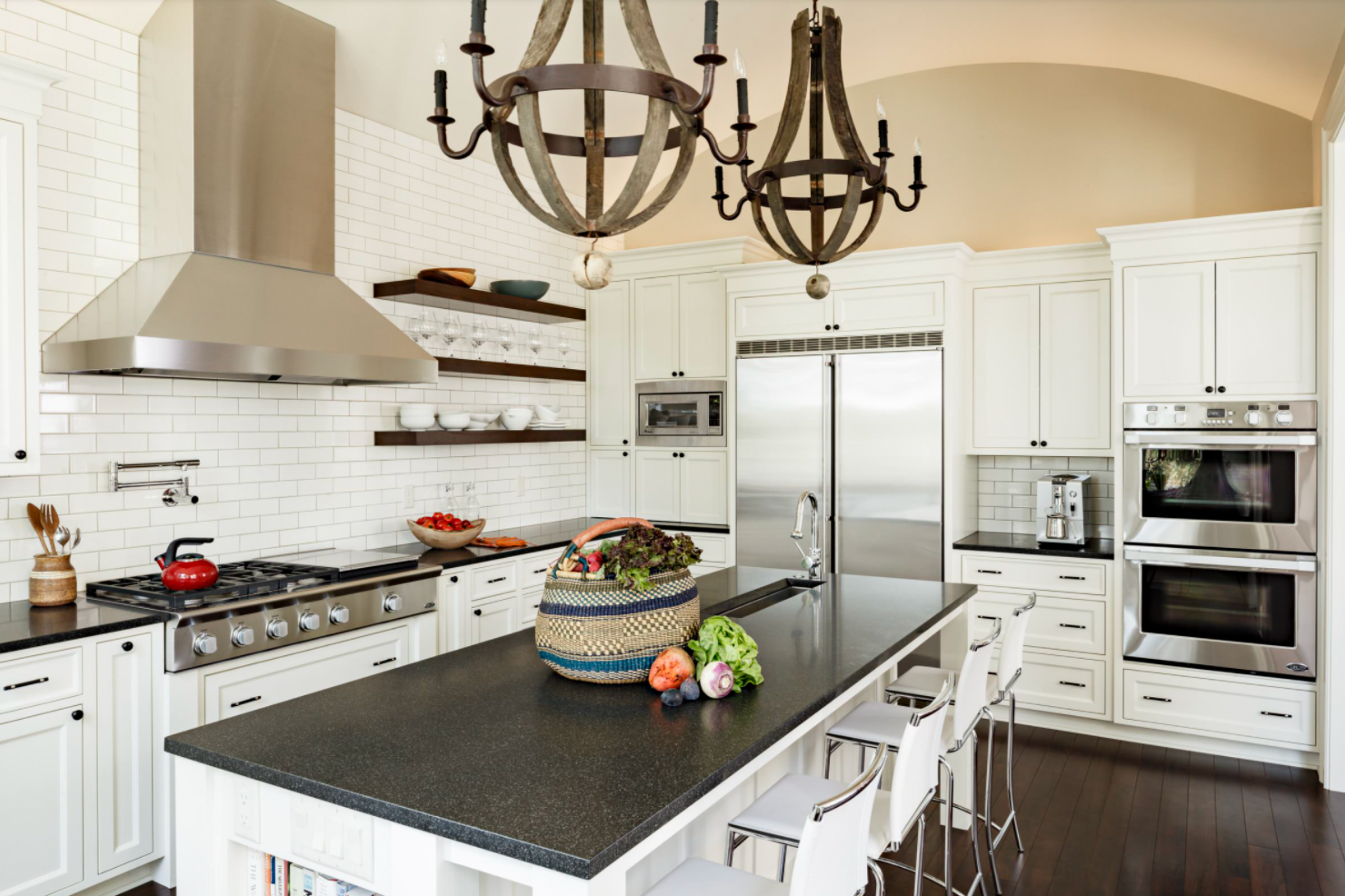 Contemporary white kitchen with black accents.
Since we have been experiencing a design movement using more textured and tactile surfaces, why not consider it in countertops too. Honed and leather surfaces are the most common and can be applied to many different materials, such as granite, marble, and quartz. Even though polished is still the most popular, there are advantages to these two others.
Honed finish is a matte finish with little to no shine. The overall look will vary depending on the stone type, but it should have a low sheen and a smooth surface. Honed finishes work well with marble, since its lack of shine conceals any flaws or scratch marks more readily.
Leathered finish is a newer style of treatment that has become more popular in recent years. It has a soft sheen, that is less glossy from a polished slab, and to the touch has a different feel. The leather finish retains the stone's natural color giving it a more sophisticated look than honed. It also hides fingerprints and water spots remarkable well, which is very appealing to many.
These are just a few finishes to consider when choosing a countertop.
Trend #3. Countertops With Character – Veining and Patterns Get Popular
Smooth and silk-like veining brings character and style.
Homeowners are seeking a bit more character in their countertops. Thankfully, technology is there to offer creative solutions. Today, countertops come in a wide variety of patterns unlike the plain styles of years past. Say goodbye to the round particulates of countertops past and hello to realistic veining.
Materials like quartz are being designed to resemble slabs of natural stone, like granite & marble. This involves creating veins in interesting patterns swirled into the countertop slabs. This added boost to your creative personality in your kitchen will wow. Want something even more realistic; then no need for a polished piece–honed and leathered finishes have the durability needed for the kitchen but have a drastically different look in the space.
These varied finishes make for an interesting matchup with other kitchen elements including the flooring, walls, cabinetry, and backsplash. It also adds a twist to your cooking, creating a nice visual background for the multitude of kitchen activities.
Trend #4. Kitchen Sink Styles To Get Excited About
Slate undermount apron front sink.
The countertop is getting the modern treatment and the sinks are not being left behind. Last year home owners couldn't get enough of integrated sinks, however, those days are behind us. 2023 is bringing different finishing's, sizes, and styles to kitchen sinks and we're super excited about it. This year we're seeing matte black sinks and sink fixtures as well as gold and brass colors take over. These finishes stray away from your typical silver metal sinks. These are also popular faucet color choices foe 2023 bathroom trends!
Oversized sinks are also gaining popularity this year. This is great in terms of functionality. Oversized sinks pair lovely with an oversized fridge! As the kitchen area continues to expand in area and accessibility, it only makes sense that it's appliances do as well. Elegant and modern styles of sinks are also coming in hot this year and will be highly sought after. Expect to see all these types of sinks as part of 2023 kitchen countertop trends.
Trend #5. Bold & Dramatic
Black countertop makes an interesting contrast to the light colored cabinets.
Bold and dramatic counters, especially dark counters, can easily seem very gothic in certain circumstances and also perfectly harmonious in others.
If you seek to create a statement with your home renovation, bold colored countertops are a great solution. The style is not merely for contemporary spaces (although black stone or maybe Corian counters certainly look sophisticated and sleek, particularly when combined with sharp white cabinets). A bold and dramatic color also functions well in a conventional kitchen; black marble or granite surfaces put gravitas to rustic wood racks or a colorful tile backsplash. On the other hand, dark counters, whether matte or glossy, will help make your dishes, flowers, and linens pop out.
Trend #6. Beautiful Backsplash Trends
Backsplashes can be a fun part of the house to decorate as there always seems to be new trends and styles. With all the constant change, who can keep up? We are here to help, with your guide to 2023 backsplash trends and styles.
Basic subways tiles are out! Okay maybe not completely, but if homeowners are using them these days, then they are using larger ones. Or even patterned ones! People are moving on to larger slabs of tiles and tiles with various textures or patterns. The color choices are endless here. It just depends on the other colors you choose in your kitchen and of course personal taste. A pop of color would be very trendy right now and allows you to get more creative with your design. Neutral patterns with natural texture are another option for those looking for a classic look.
Another big changes we're seeing in tile backsplashes are their size and the portion of wall they are covering. Large slabs are taking over. These slabs can be marble, quartz, wood, copper, stainless steel, glass…. the list goes on forever! Regarding wall coverage, backsplashes are rising to the ceiling. With upper cabinets on their way out, homeowners are left with more wall space. When it comes to decorating this space, tile backsplashes are a popular choice.
Trend #7. Choosing Sustainable Materials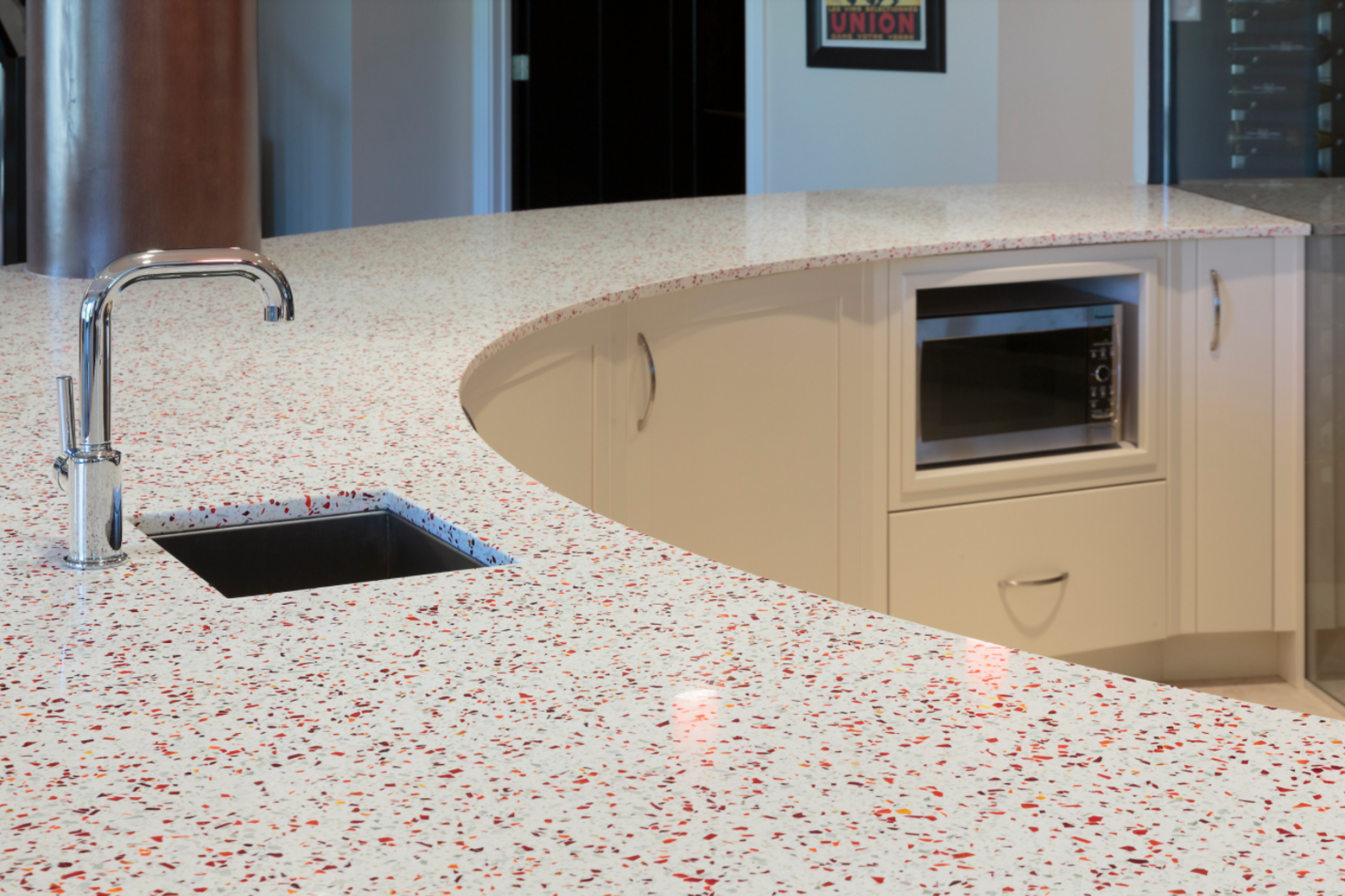 An environmental-friendly countertop made of broken glass.
Wanting to choose sustainable materials for the kitchen not only makes you feel good about your decisions and reduces your carbon footprint, but it also is getting easier to find options. Made up of a combination of 75% recycled glass and white cement. This product is also free of VOCs and plastic resins. Recycled glass surface colors range from neutrals to bold jewel tones. Besides the green aspects, the material is durable and an alluring option for your countertop. These surfaces can bring your vision to life elegantly and responsibly.
Trend #8. Concrete Demands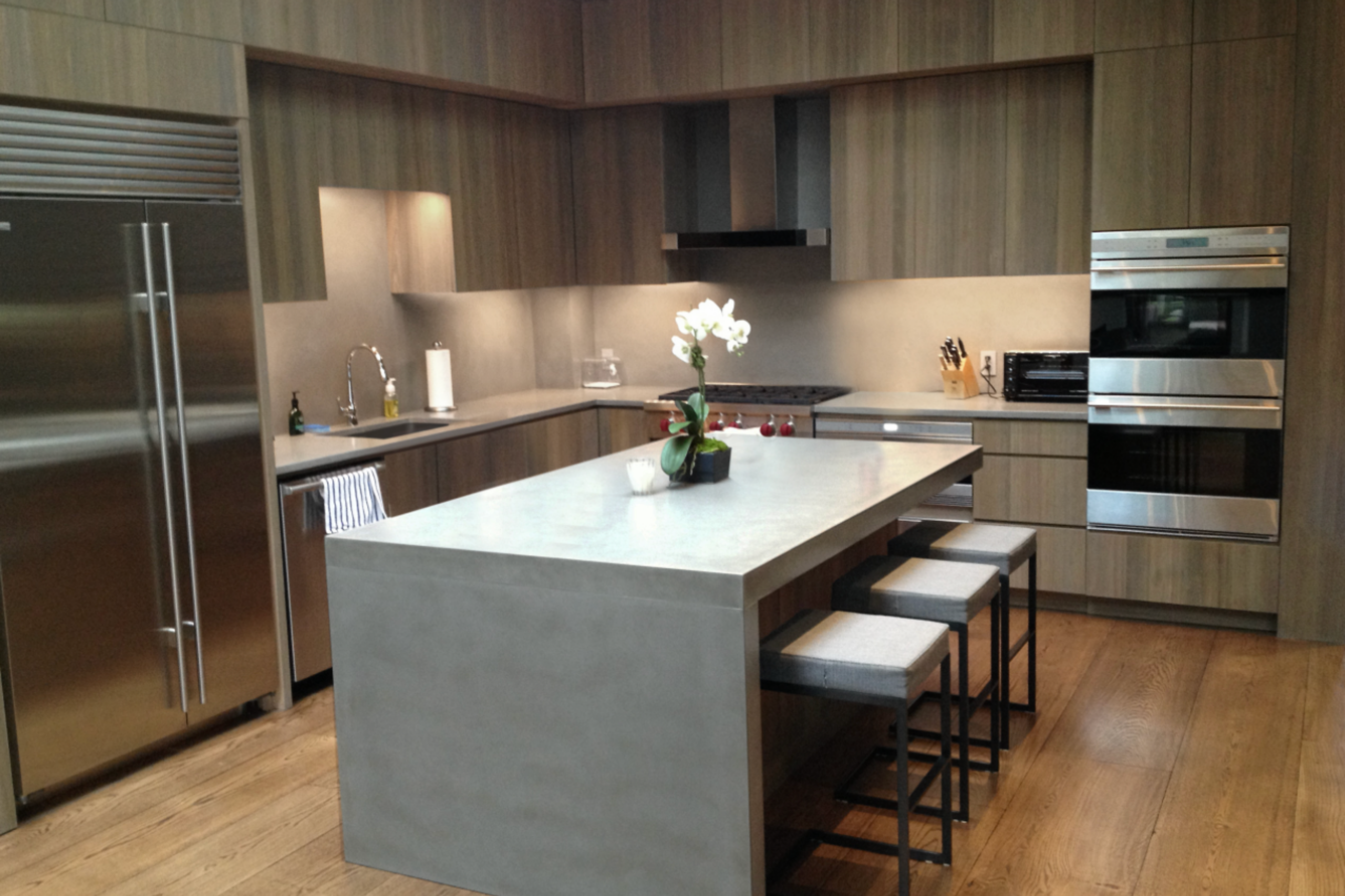 This kitchen looks modern and industrial at the same time because of countertop.
The beautiful concrete designs, in a quartz world, are entering new territory but meeting the ongoing demand for a refined Urban aesthetic that lends itself to industrial design. Instantly recognizable even though texture, colors, and patterns can vary quite uniquely from a cloud-like patina to multi-layer monochromatic tonal variations, or flecks of contrasting colors giving you the feeling that you are looking at a slab of art. The concrete colors in kitchen and bathrooms make a lovely backdrop to stunning design. Plus, who would want the added benefits of quartz, to real concrete? No need to reseal to avoid stains, cracking, or fissures over time. Making it easier to keep clean and a merger of the best of both worlds for your home.
Trend #9. Outdoor Countertops
Entertain guests and family on this rustic patio countertop.
In an outdoor environment, inferior craftsmanship is going to deteriorate quickly. When picking outdoor kitchen countertops, your priority should be durability first and appearance second. Or else, you will find your investment vanishing in an instant.
An outdoor countertop must be durable, waterproof, easy to clean up, and gorgeous. There are almost as numerous material selections for outdoor counters as there are for indoor ones. Tile, concrete, and granite are some of your options. Stay away from manufactured countertop materials like quartz (although CaesarStone just came out with a quartz line called Solaris that is strictly for outdoor use) and Corian since they're not created to resist fading when subjected to UV rays. Keep these in mind when selecting countertop materials.
Conclusion
The countertop has always been a big part of kitchen décor. Through the generations, we have gone from style to style as homeowners seek the perfect look for their main cooking space. In modern times, variety is the theme of the day. Homeowners have an almost endless selection of materials, styles, sizes, and finishes to choose from.
For now, laid back countertops seem to be winning. The modern kitchen in 2023 will feature neutral colored countertops with thin "delicate" slabs and sleek integrated sinks. By all indications, it seems these trends will extend even beyond 2023.
Check Out Our Other Great Articles: