Oak Brook Kitchen, Bathroom and Basement Remodeling
Chicago Suburbs | Dupage County
Oak Brook Remodeling and Oak Brook Renovations
Perfect homes do not just exist in magazines and at the end of home renovation TV shows; they also exist in real life and could happen to your home. For homeowners in Oak Brook, getting that perfect home you have been dreaming of is just a renovation away. Whether you want to renovate a single room, several rooms or carry out a whole house remodel, Sebring is here to help.
Oak Brook Home Remodeling Project Pictures
Naperville IL Master Bath Remodel Project Photos
Bryan Sebring
2023-09-25T13:34:25-05:00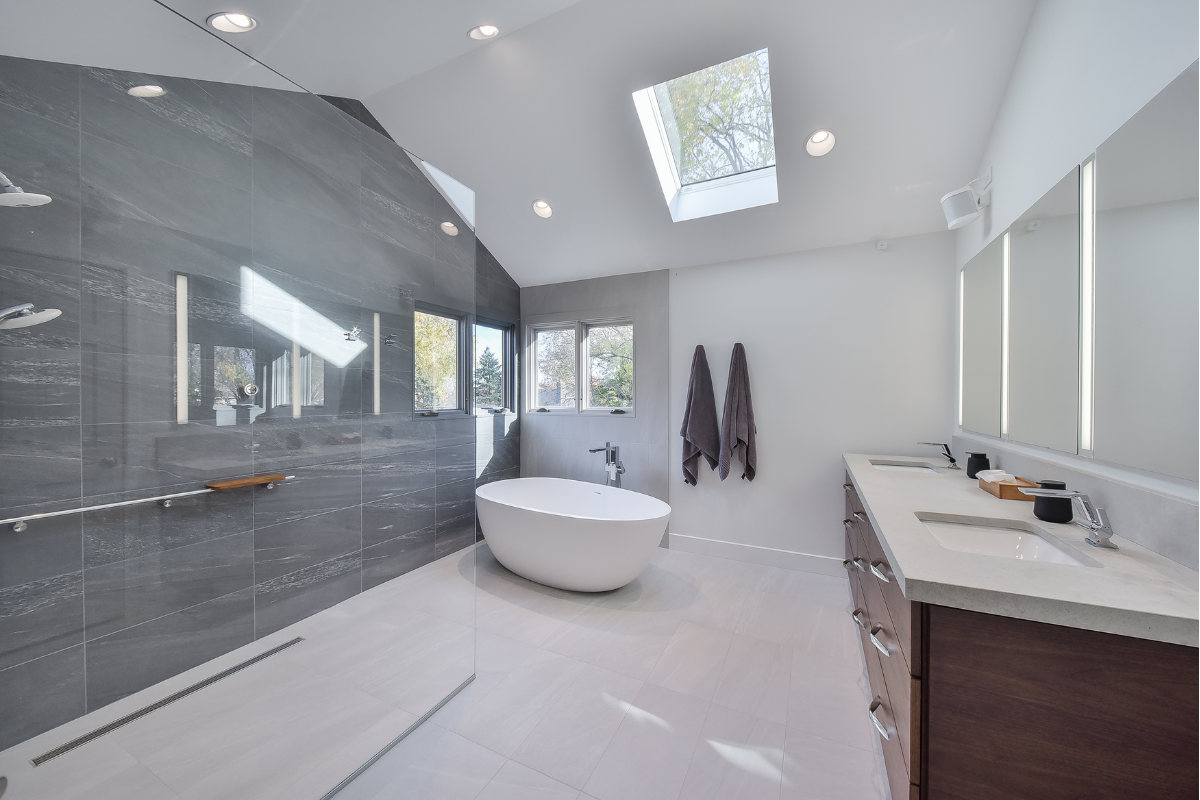 Oak Brook Remodeling Reviews
" As soon as I had a meeting with Bryan Sebring and he drew up an initial proposal, I knew I was done shopping for contractors. When you meet someone that you know you can trust implicitly to assist you with major decisions and send you to good suppliers, and whose staff you can trust in your house for 8 weeks without any homeowner supervision, your decision transcends price… "
" I would highly recommend Sebring! All those that were involved in my home remodel were both professional AND nice. Bryan provided all services that were expected and on some occasions went beyond with what was necessary just to make us happy. Thanks Sebring! "
" My experience with Sebring felt right from the start – I felt comfortable and at ease from the first meeting and throughout the entire project. The entire team was extremely friendly and professional and always helpful! They were prompt in answering questions and returning calls and very accommodating. They were clean and courteous and respectful, which I truly appreciated. I would definitely recommend using Sebring!! "
" We used Sebring to remodel our bathroom. They were very professional and the end result is just beautiful! Everyone was prompt, courteous and very skilled. The price was very fair. Justin, in particular, went out of his way to make sure everything was perfect! I highly recommend Sebring! "
Oak Brook Kitchen Remodeling and Design
The kitchen is home to plenty of special moments. Whether it's those sweet moments of sipping afternoon tea over a lazy conversation or funny memories of burning the Thanksgiving turkey, the Kitchen is a truly special place. Make your Oak Brook kitchen even more special by renovating it to fit your style. Replace the aged and dull look with a fresh and warm style that makes the space feel like home.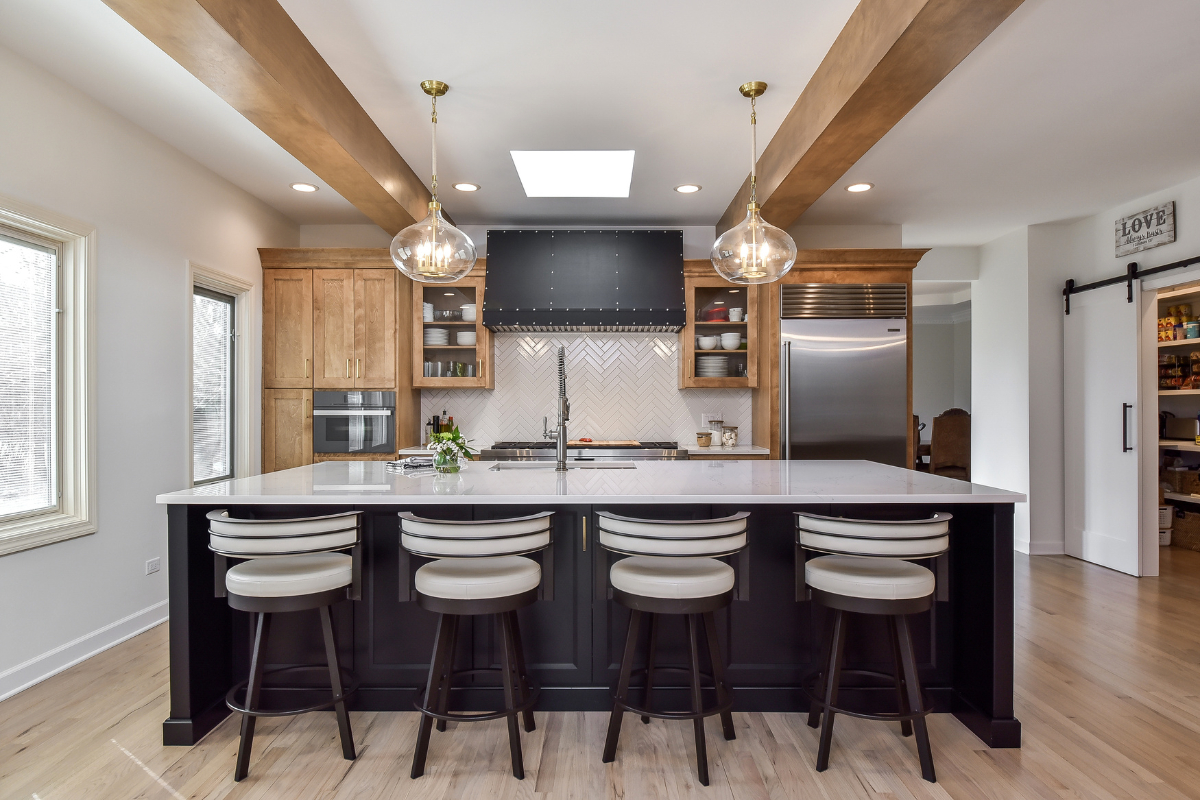 There are various ways to change one of your home's most popular places, whether you're seeking for simple or large kitchen makeover ideas. Perhaps you've spotted some current kitchen styles and want to include small touches to make your kitchen seem more contemporary.
Simple adjustments like painting your cabinets a new color, changing out your hanging lighting fixtures, or redesigning your backsplash may make a great difference. If you choose to adhere to more conventional country kitchen ideas, there are various restoration strategies that will modernize your kitchen while still making it seem comfortable.
If you're short on space, try incorporating some innovative kitchen island ideas, such as hanging vintage lighting above or utilizing an unorthodox island, such as an old bakery table. You may want to get started right away since there are so many wonderful ideas for quickly updating your kitchen.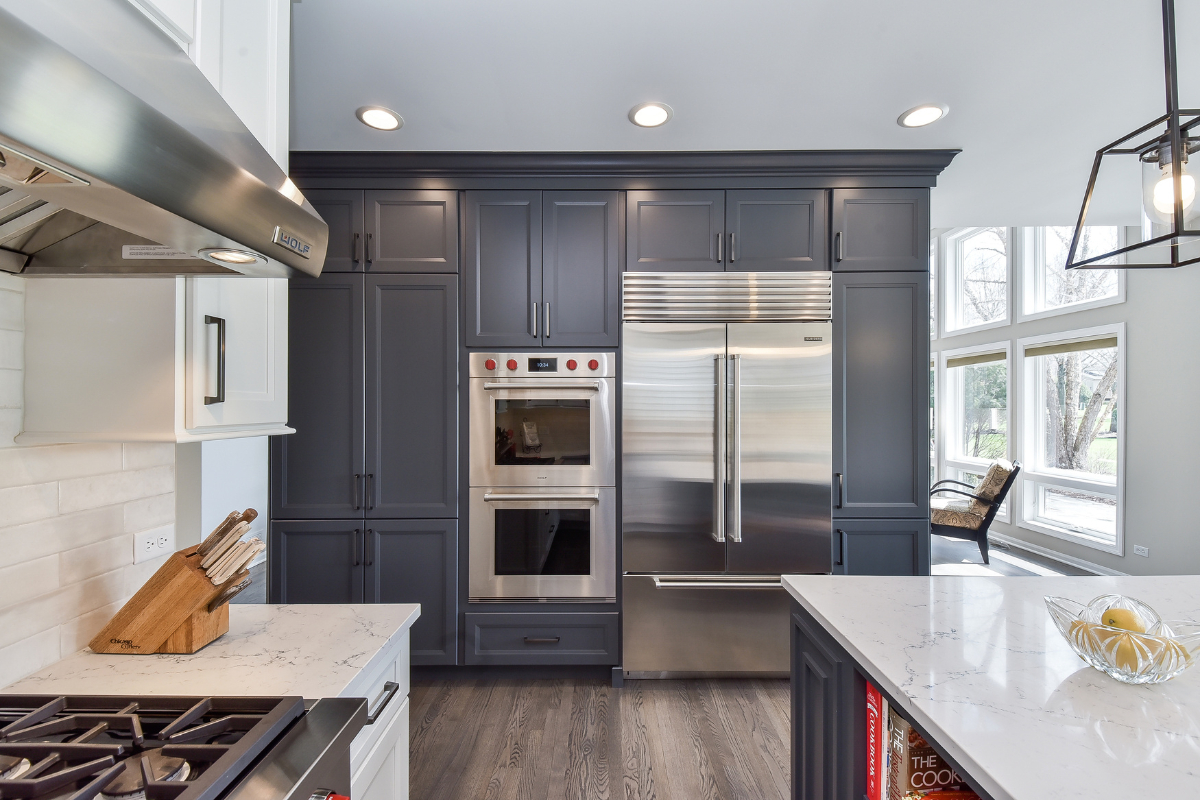 Planning Your Oak Brook Kitchen Remodel
The kitchen is one of the most complex and varied spaces. Its look and style is made up of numerous aspects including the flooring, walls, appliances, backsplash and kitchen cabinets. A renovation project therefore needs a lot of planning to get right. One of the most important parts of planning your Oak Brook remodeling is determining which areas of your kitchen you want to work on.
The walls cover the largest surface of your kitchen and have a big impact on the overall kitchen décor. One the simplest changes to make are changing the wall colors, or creating a wall accent.
The flooring is another major part of your Oak Brook kitchen remodel. For a warm feel, most homeowners opt to install hardwood flooring. There is so much variety available, including wide plank flooring, dark wood, and distressed. If your budget allows, you can opt for more expensive options such as marble or slate.
Cabinets are another obvious target for your renovation. When choosing cabinets, do not just think about your storage needs, consider how they will impact the décor. Make sure that the wall and floor cabinets work well with the rest of the kitchen.
Two other important areas to take into account when renovating include the backsplash and cabinet tops. Here you have to make many choices including color, style, and materials.
There is also lighting to choose, which is extremely important to the function and look of your kitchen. Let in more natural light to make the kitchen more stylish and create the perception of space. You can enlarge the windows, knock down a dividing wall for better flow of light or install a skylight. At night, make sure your lighting options are well placed for the best lighting and décor. Some ideas include adding more light directly above the work area and adding smaller lights under the cabinet.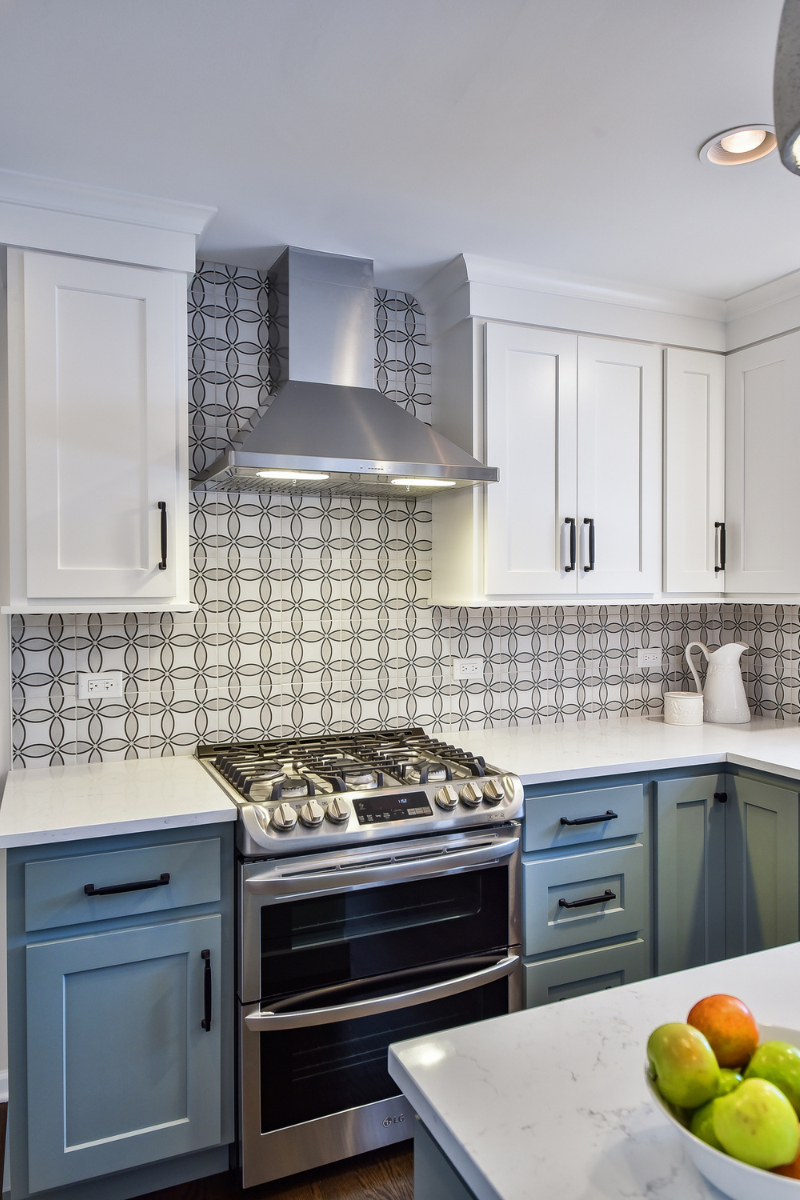 Get Your Oak Brook Kitchen Remodeling Project Started
In every remodeling, you need a professional contractor like Sebring Design Build, Bradford and Kent, etc. Get in touch with construction manager Jim today to get your Oak Brook kitchen remodeling project underway. We have a designer on staff to help guide you through every step of the way, from the planning stage to completion. Whether you need ideas on what kind of design trends to use in your kitchen or you need advice on how to incorporate materials and colors together, do not hesitate to contact us. Our kitchen designer understood that this matters to every client.
We have a pricing guide available to help you through possible costs and plan your budget. We are Oak Brook's best contractor. We are your best bet to remodel kitchens. Call us anytime or visit our showroom, even if it's Saturday or Sunday.
Oak Brook Bathroom Remodeling Design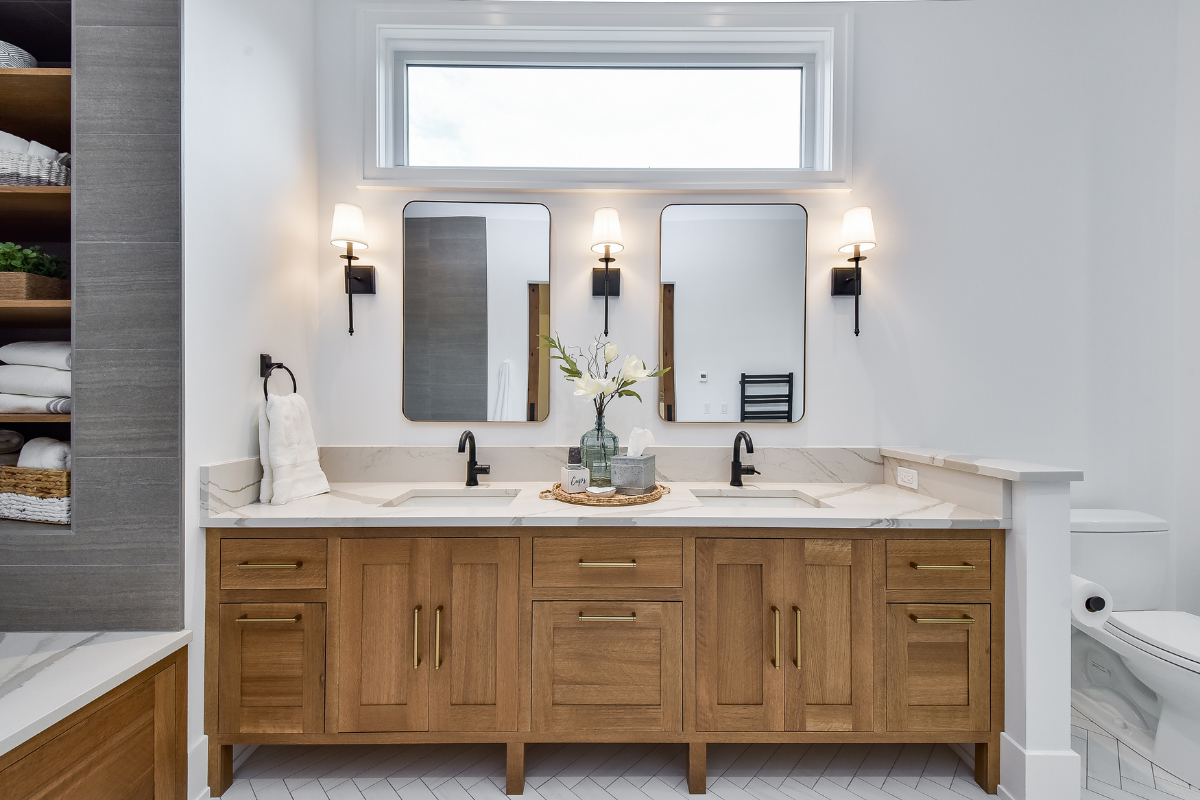 Most people start & end their days in the bathroom, yet this commonly used area is typically ignored when contemplating home upgrades. When friends come over, do you feel ashamed about your outdated bathroom? Then maybe it's time to rebuild!
Taking on a bathroom redesign is both exciting and terrifying. For many homeowners, it's a status symbol and one of the first opportunities to add a significant personal touch to their property.
However, it is a significant investment, large enough to make most individuals think twice before rushing in blindly. If you're ready to redesign your bathroom but don't know where to start, we're here to assist.
Does any of the following sound familiar? The shower area is too small to enjoy a good long relaxing shower. The floor is old and cracking. The walls are dull and peeling. The showerhead and faucets are old and rusted. The bathroom in your Oak Brook home feels dated and you dread spending time in there.
It does not have to stay that way! A bathroom renovation can turn the worst of spaces into a beautiful personal haven that rivals the best of spas. Sebring is an Oak Brook home remodeling company that has over 15 years of experience renovating bathrooms for homeowners in Oak Brook. In every Oak Brook bathroom remodeling project we have undertaken, our sole aim has been to turn our customers' dreams into reality.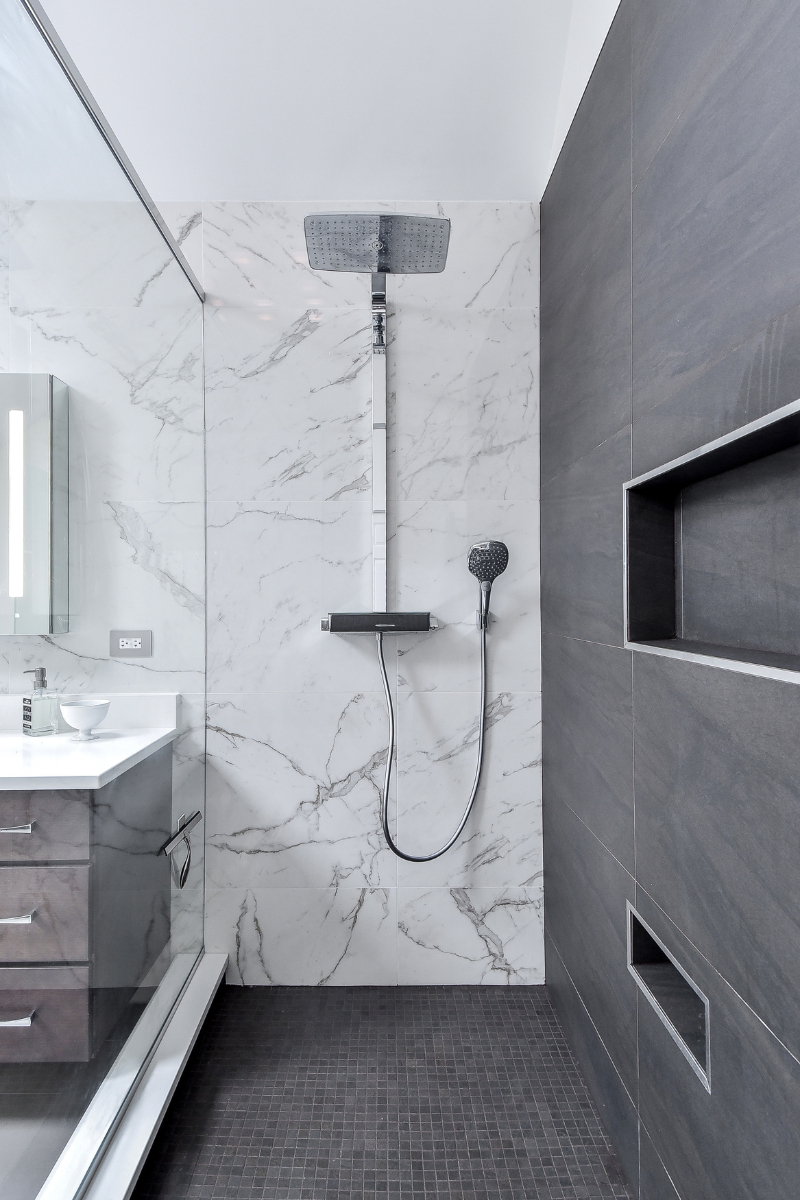 Oak Brook Bathroom Design Process
Every great Oak Brook renovation project begins with a solid plan. This includes laying out details on issues such as the budget, materials, design and timetable. Planning is the first step we take for any project we take on. We will work hand in hand with you to create a comprehensive strategy that ensures a successful project.
Before you even hire a contractor, it is important to have an idea of what you want your bathroom to look like. Start by thinking about your preferred theme or design. For master bathrooms that are connected to the master bedroom, you want a style that mirrors that of the bedroom. This creates a seamless transition from the bedroom into the bathroom. Since you are the only one using the bathroom, you could also decide to be unique, opting for unusual styling that appeals to your tastes.
For a guest bathroom, you might want to go for a more neutral design that will work well for most of your guests. What you might consider appealing may not to another person. For a kid's bathroom, opt for a whimsical, fun and child-friendly space. Start with important features such as a non-slip floor and accessible faucets. Keep the colors bright; mixing them up with fun colorful artwork.
Consider Durability
Water is plentiful in the bathroom, and it is essential to consider the resilience and durability of whatever materials you use. For materials that are not naturally waterproof, make sure they are treated to repel water. This will keep your bathroom looking good for years and keep your maintenance costs down.
Bathroom design ideas are limitless. Whatever you have in mind, we can work together to make it a reality. Your bathroom is your personal sanctuary. It is the place you come to wash off the grit of the day while re-energizing your body. It deserves to look good.
Do not put up with a tired and dull bedroom that gives you more stress than it takes away. Call us now to begin the journey to creating your dream bathroom. We will schedule a free consultation to discuss your ideas and consider available options for your bathroom renovation.
Oak Brook Basement Finishing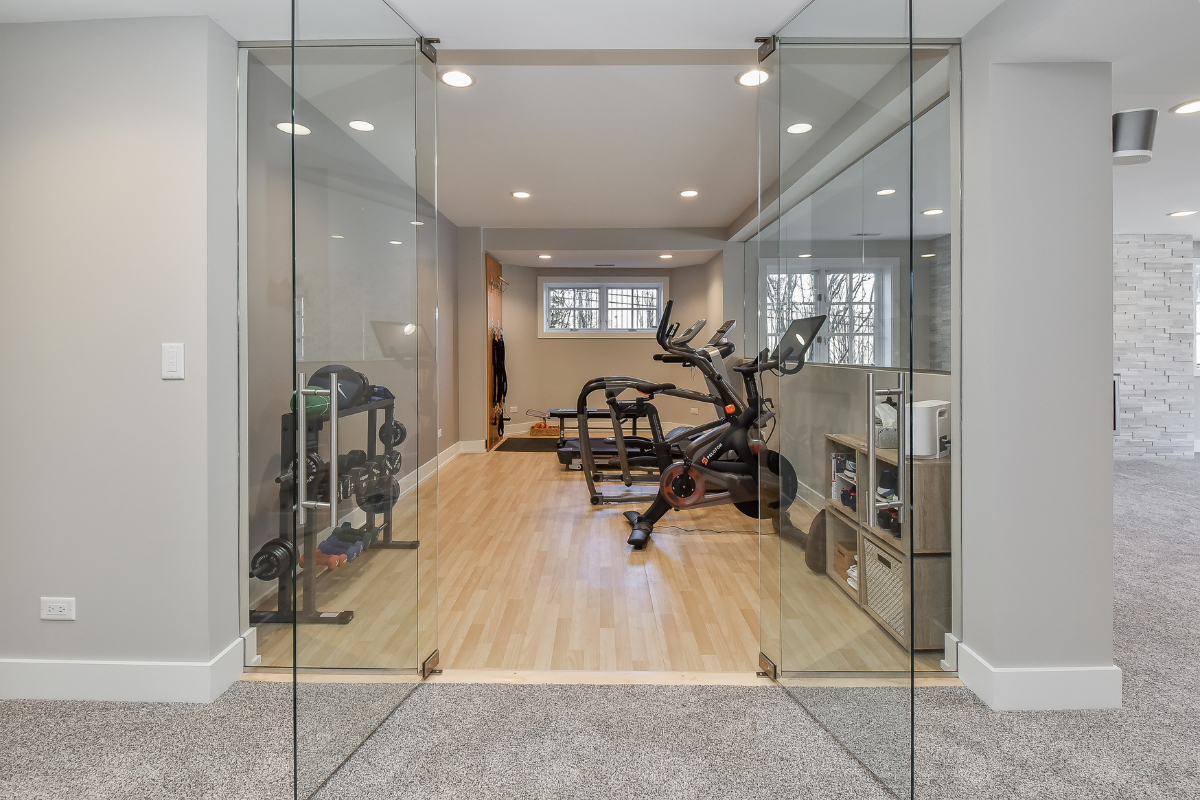 One of the best and most beneficial home improvement projects you can undertake is a basement renovation. The biggest benefit is obvious space and lots of it. Most Oak Brook basements have an open layout without many walls to shrink space and inhibit movement. In most cases, a full basement will have a similar (or almost similar) layout as the main floor of the house. This is prime real estate that is often underused. Remodeling the basement can add a lot of valuable and livable space to the house. For homeowners planning to sell, this can even add some value to the sale price.
If you want to fully enjoy the benefits of a remodeled basement, it is extremely important to plan well. One of the very first actions homeowners should take is an analysis of the current condition of their Oak Brook basement. An expert can help you check for issues such as moisture issues. The aim is to make sure that the basement is in good condition. If there is a problem detected, you might need to resolve it first before proceeding with the renovation.
Another important early step of the renovation process is determining what you are going to do with the basement. The basement can be used to add much needed living space to the house. For instance, an extra bedroom in the basement can come in really handy when you have guests over or if your family is expanding.
You can also turn the basement into a nicely organized storage room. You may decide to install storage cabinets for things like seasonal clothes, extra linens and home supplies. This frees up plenty of space upstairs and keep it neat.
What is your greatest need? If you cannot find a quiet space to work, consider turning it into a home office. If you cannot find a place to let your creativity flow, you can design a craft room. If the kids do not have anywhere to play with their toys, the basement is the perfect playroom.
There are also plenty of other fun and creative basement remodeling ideas for our friends in Oak Brook. Here are just a few:
Turn it into a personal art/memorabilia gallery.
Use it as a personal music or photo studio.
Turn it into a spa and steam room.
Create a wine cellar.
Turn it into a bar with a connected gaming area.
Be as creative as you want; Sebring will make your dream a reality. With over 400 basement renovations under our belt, we definitely have the background to help design your dream Oak Brook basement.
Contact Sebring to Get Your Oak Brook Remodel Started
We look forward to your call. Contact us and we will schedule a free no-obligation consultation to discuss your ideas and plan your dream basement. You are assured of the highest level of integrity, honesty and professionalism. Our track record is well known in Oak Brook and surrounding areas. Our customers love us for the splendid results we always deliver in every basement renovation project we take on.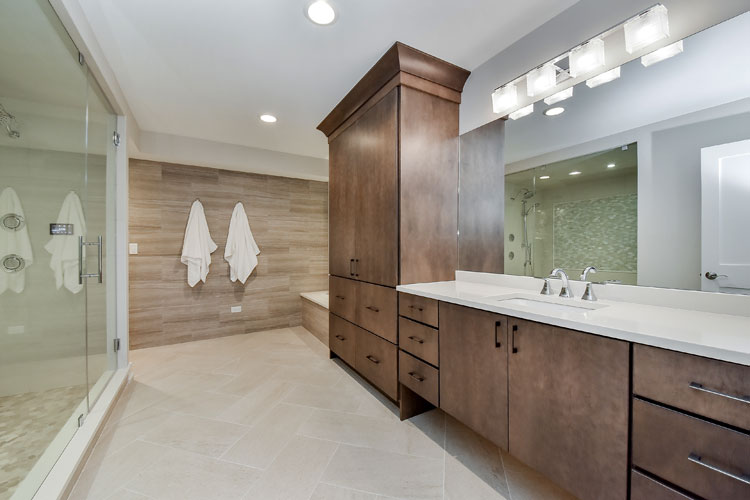 Construction Project Management
Our project management team will assist you from demolition to final inspections. Our online construction management software will help you stay organized throughout the entire project. All communication including material selection choices, change orders, the construction schedule, questions & answers are neatly organized so no detail gets forgotten.
If you are looking for a home addition contractor that can make the process of adding a home addition enjoyable and successful, please contact us at Sebring Design Build. Or, if you need help in finding the right contractor, download our free E-book: Remodeling 101.
Why Choose Sebring for Your Oak Brook Remodel
Our experience in home renovation consists of unparalleled skill and knowledge. We know what it takes to turn dated homes into places of immense beauty and warmth. Our passion lies in witnessing our clients' happiness when they see their dreams become reality.
In a home renovation, planning is extremely important. You need to know exactly what changes you want to make, what materials you will need, how long it will take and how much it will cost. When you use our home remodeling services in Oak Brook, we will work with you to create a comprehensive plan that covers every aspect of the project.
In planning a home renovation, it is best to go from room to room, detailing out what needs to be done in each space. At the same time, remember that all the rooms need to work together to create the perfect home. Here are a few things to consider for different areas of your home.
Oak Brook Living Room Remodeling
The living room is all about warmth and friendliness. Being the first place everyone sees when they enter the house, you need a design that shouts "Welcome". Go for warm relaxing colors, infused with your preferred style: traditional, cottage or contemporary.
Being a high traffic area, consider getting resilient flooring such as hardwood or tile that can withstand constant foot traffic. It will reduce the rate of wear and tear while also lowering the cost of maintenance.