Sectional sofas can be a great addition to a living room design when they are well-chosen, properly configured, and executed. While they are a great option for small spaces and social gatherings, they can also feel stilted and awkward when they are not approached with the care they deserve.
The right design and the right configuration of a sectional sofa should feel like an extension of your own living room. The right configuration should also put your best foot forward without feeling like you're sitting on the edge of the couch or in an awkward half-moon.
That's why when it comes to designing your ideal sectional sofa, you should keep these design considerations in mind.
Plan The Space
Before you do anything, it's important to measure the space you want to furnish and plan out how the space will be configured. When considering inexpensive sectionals that meet your needs, you'll need to think about how your furniture will be laid out concerning windows, doors, and other surfaces.
You must also consider what kind of layout is necessary for the size of the room and whether or not there are any specific features that need to be accommodated, like a fireplace or corner nooks.
Know Before You Go
Size and shape are two of the most important considerations when it comes to sectional sofas. If you have a large space, many people would recommend using an L-shaped configuration or even an asymmetrical configuration.
With an L-shaped sectional, one arm can be tucked behind the other and put in a corner, which saves space while still allowing for optimal comfort. An asymmetrical configuration would have one arm facing the TV while the other faces the living room entrance.
However, if you have a tiny space, then you might want to consider using a U-shape configuration with an ottoman on one side. This will create more floor space but still allow for good conversation and comfort among guests.
Height, Length, And Width
Additionally, there are three dimensions to consider when designing your ideal sectional sofa: height, length, and width.
The height of your sectional should be proportional to your furniture (e.g., cocktail table, coffee table). It should ideally be at least 18 inches high—any lower than this could make it difficult for taller people to get up from their seats without disrupting the person next to them.
It's also important that your sectional is long enough for all of the seats to comfortably fit those who will be sitting in it. This means that if your couch is going in front of a fireplace or window wall, you'll need more seating room on either side of the couch than if it were just hugging a wall by itself.
Dimensions Of Sectional Sofa Design
Width: Sectional sofas come in different widths, and the width you choose will depend on your space. Generally, a sectional sofa should be no more than three feet wider than the length of the room.
The widest point of a sectional sofa should be at no more than two-thirds the length of the room to allow for ease of movement around it.
Depth: Depth is another factor to consider when designing your sectional sofa, as this will determine how many seats are available on each side of the configuration. To maximize all seating options, opt for depth over width if space allows.
Layout: It's important to consider layout when planning your sectional sofa as it is where you'll situate all three dimensions in relation to one another.
A basic living room may have one couch across from a chair and an end table, while others may feature 2 or 3 couches or a large "L" shape with both ends facing outward and an occasional chair or ottoman for seating options.
Design Secrets: There are some design secrets that can help make a sectional sofa feel like it's an extension of your own living room, so keep these in mind when configuring yours.
Create symmetry by placing two sofas at either end of the room and position them perpendicularly to one another with no less than one seat on each side facing outward; also, take care not to angle them inward toward one another.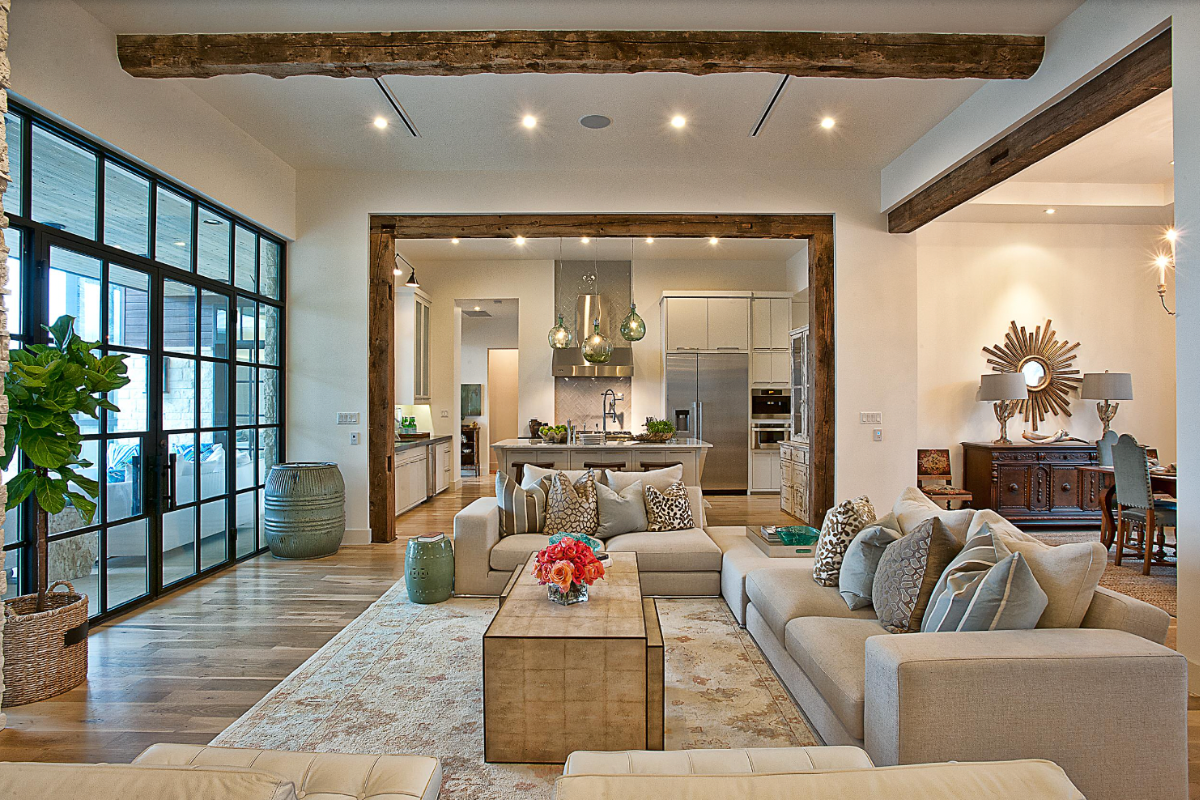 Plan The Layout
You should always plan your sectional couch layout before your purchase. You will want to consider where your sofa will go, what the shape of the room is, and how many people can comfortably sit on it at once.
Also, take into consideration how far you are from a power outlet because you'll need to plan for that, especially if you plan to have end tables and lamps nearby.
Don't Forget The Pillows
When it comes to sectionals, don't forget the pillows. It may seem like a small detail, but when you walk into your living room and see that awkward gap between the right and the left side of the couch, you will likely regret not including some cushions for your guests.
There are many different things you can do with pillows on a sectional sofa. If you have an L-shaped sectional sofa, make sure there is a pillow at each end so everyone has their own space.
If you have a corner sofa, then put pillows in each corner or use one big square pillow at the center of the couch. You can even use large decorative pillows as accent pieces along the back to show off your design style.
Additional Considerations
Choosing the ultimate sectional is a task that requires thought and consideration. There are three key design tips to keep in mind.
The first one to think about is size. If you have an open space with minimal furniture, then you can go with a large sectional sofa. However, if you have a smaller space, then it would be wise to get a smaller one that's still comfortable but doesn't take up too much space.
The second design tip to think about is the layout of your room and furniture. For example, if you already have a coffee table in the middle of your living room, you might want to place the sectional sofas on either side of the table or along the walls of the room.
You'll also need to consider how other furniture in your living room is positioned because this will affect where you put your new sectional sofa, as well.
The third tip for designers looking for the perfect sectional sofa design is comfort and style. The most important thing when it comes to picking out your ideal sectional is that it should feel like an extension of your own living room.
That means it should fit in with your current style and be comfortable enough for social gatherings or when you're just lounging around and watching TV.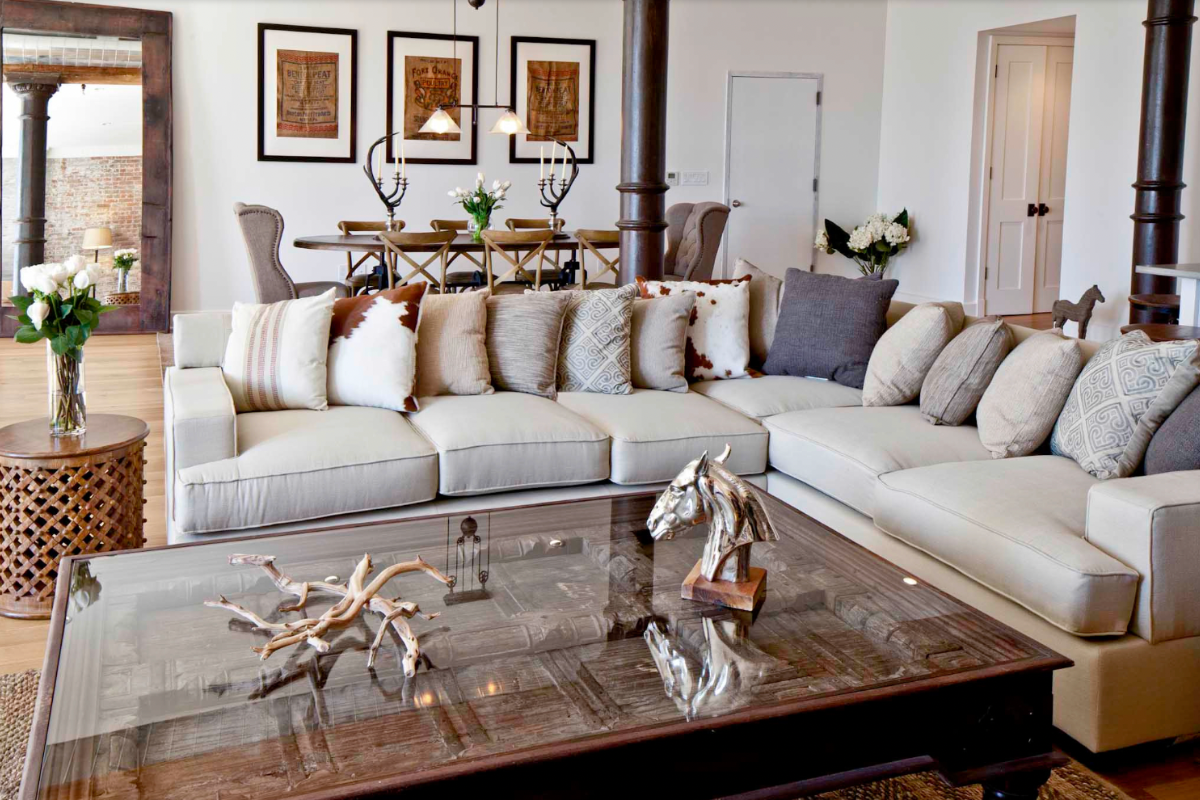 Choosing The Right Sectional: Know Your Dimensions
While some people prefer ultra-wide sofas, others prefer a sectional couch that seats at least a few people. Choose the right dimensions, and you'll be able to find the right style to suit your space. Read on for more information about what to consider when choosing the right dimensions.
Sectionals account for a good chunk of the sofa market in the U.S., showing there's plenty of demand for them. The key to choosing the right one is to understand their different styles and the situations they're best suited for.
The Right Dimensions For A Large Corner Sofa
If you want plenty of space for guests or just need a lot of room in your living room, then a large corner sofa is the best choice.
Corner sofas are spacious and traditionally have three seating areas: one on the right-hand side, one on the left-hand side, and one in the middle. Corner sofas typically measure 106 inches wide by 116 inches deep.
The Right Dimensions For A Regular Size Sectional
Before you decide which sectional sofa to choose, it's important to know what size is right for your living room. If your living room is not very large and all the furniture looks too big, you should look for a sectional with a smaller overall size. Here are some different dimensions for a regular size sectional:
The length of the couch can be anywhere from 95 inches to 100 inches long.
There are many different lengths in between that work, but the most common length is about 98 inches long.
The width of a sectional sofa is typically between 69 inches and 87 inches wide.
As long as there's enough space in your living room, any width will be fine as there are many sizes available.
The depth of a sofa can vary depending on the style. A deep sofa would typically be around 36 inches deep, while a shallower sofa would only measure around 23 inches deep.
Take the necessary measurements ahead of time so that you can easily narrow down the most suitable sectional for your space.
The Right Dimensions For A Compact Sectional
A compact sectional is great for small living spaces. One of the best ways to save space in your living room or home is by going with a small sectional sofa.
These sofas typically seat three people and are designed to take up less space than a traditional sofa. When you're shopping, you'll want to make sure that the dimensions of the sofa are appropriate for your space.
For example, when you're shopping for a compact sectional, you want the front of the couch to be no more than 18 inches from the walls. You also want there to be at least four feet in between the back of the couch and any other furniture item like a loveseat or coffee table.
If you have an open floor plan and high ceilings, this may not be as big an issue for you. However, if your floor plan is smaller, these dimensions will be important for finding a suitable couch that will fit into your home.
The Right Dimensions For A Short Couch
If you have a small space, you'll want to look for a shorter couch. This will help save floor space and keep your room from feeling cramped. If your sectional sofa is too tall, it can seem overwhelming in your small space. A shorter couch will provide more comfort as well.
If you're searching for a sectional sofa for a small living room, the best dimensions are:
Length: 84 inches
Width: 36 inches
Depth: 40 inches
A short couch will maximize the size of your living room by not taking up too much floor space. It also provides enough seating while still keeping the room open and aesthetically pleasing. The dimensions listed here are perfect for any small living room or apartment that has limited space.
The Right Dimensions For A Long Couch
If you have a large living room, you should consider purchasing a long sectional sofa. Long couches are best suited for larger rooms because they take up more floor space and offer more seating options. If your living room is small, you might want to stick with a couch that does not extend so far into the room.
Sectional sofas are available in many different shapes and sizes. So, depending on your home's layout, the age of its residents, and other factors, there are some general guidelines for what type of sectional sofa will work best for your home.
In Closing
The good news is that there are various styles, dimensions, shapes, and sizes of sectionals to choose from. The bad news is that your search will take longer than necessary if you don't take the time to plan properly.
You can avoid potential hang-ups and mishaps by using the information in this guide to your advantage. Be sure to measure your living room accordingly to know which options will work and which ones won't.
Along with your measurements, it's important to consider your existing décor. You want your new sectional to match your walls and other colors well. So take notes of the different furniture pieces and items in your living room.
It's also helpful to take pictures, as they will make it easier to compare colors, styles, and designs as you research different sectionals.