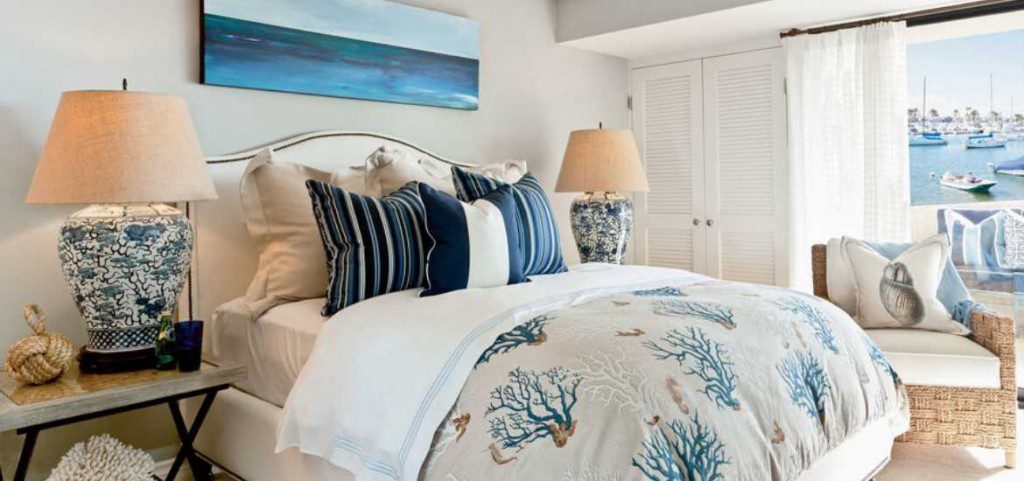 Over the years, most homeowners opt for a beach themed bedroom when they are decorating vacation houses. However, a lot of people nowadays are looking into having this kind of interior when they want to create a more relaxing feeling at home. Alongside spa-like interiors, a beach bedroom can also have a peaceful and tranquil vibe if you will be able to maintain the right amount of frills that you will put into your room.
A beach house bedroom usually creates a feeling of calmness that is why a lot of people want to recreate it for their own homes. What you need to learn is to get the right pieces that will work for your bedroom. Being careful when incorporating your own personal touch can make the difference, doing this theme right will need a mindful use of what can be considered suffocating decors. The right display of shells, ropes and ship decor collections will  create that perfect theme you always wanted.
AESTHETICAL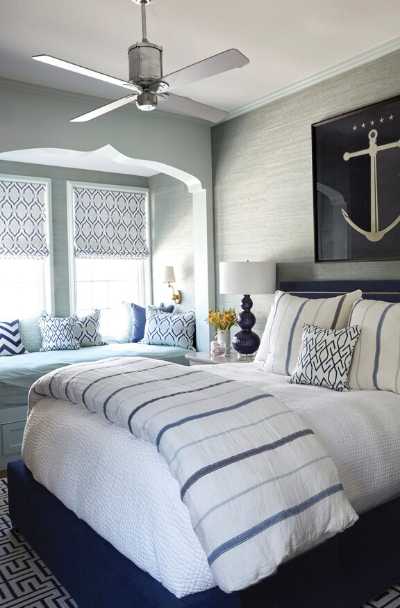 Not going all out with the accessories and getting the right hints of a nautical theme into your interior makes it more classic and aesthetically pleasing.
ROOMY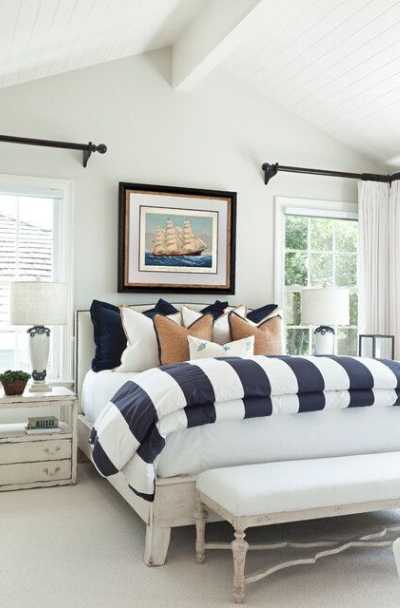 When you put less ornaments, the mood can be very relaxing and refreshing. This wide bedroom with huge windows and amazing views proves it.
ELEMENTS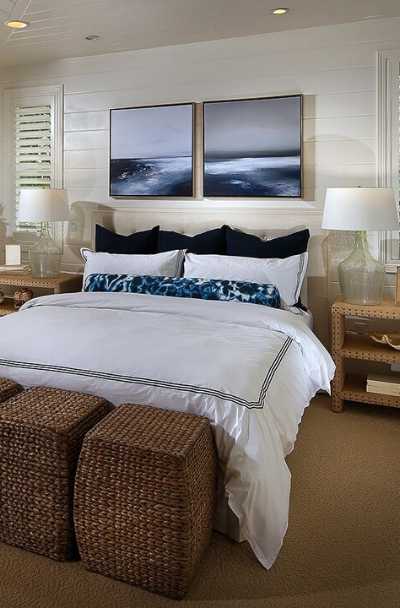 Deciding on the color tones and keeping it faithful to the theme is what makes a room cohesive. Stick to the theme like this great bedroom design.
AQUAMARINE
Aquamarine and sea themed design pieces go along well with the beach theme. Adding texture on your rugs will complete the look you want to create.
UNDERWATER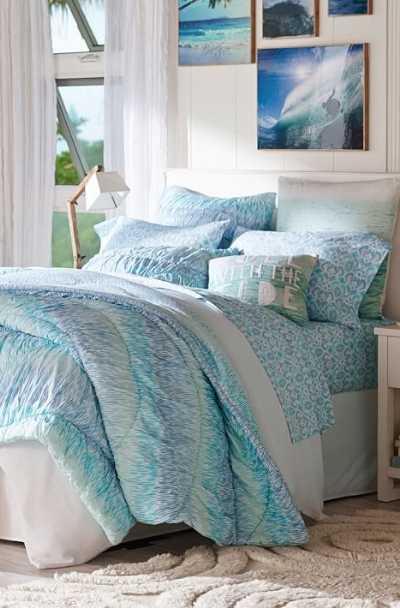 Putting up a couple of framed underwater or beach photos that compliments your bedspread can create the desired relaxing feel into your room.
ADEQUATE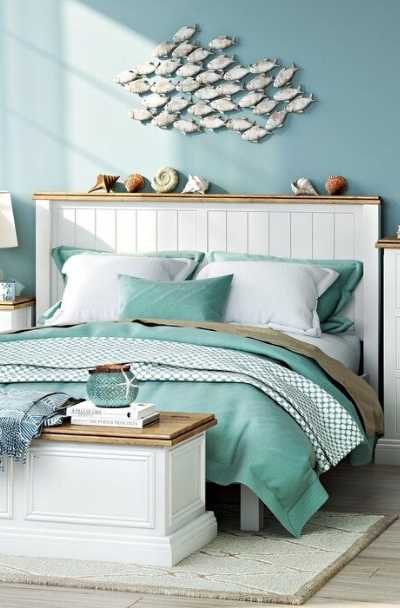 This beach bedroom's focal point all focused on the wall above the headboard but it still does not scream of excessiveness. Try it for yourself too!
SLOWING DOWN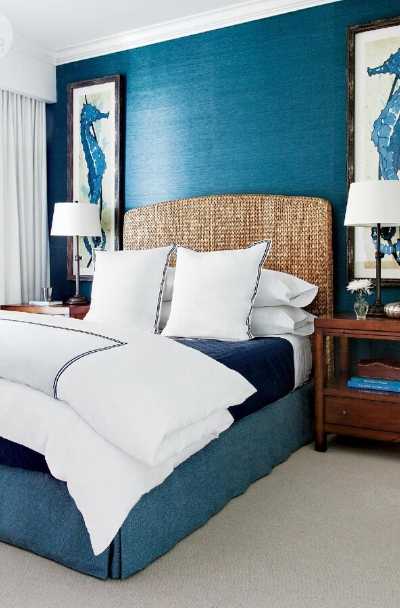 A creative mix of some accents and furniture along with great looking paintings creates an atmosphere that you will look for when you want to unwind.
VACATION HOUSE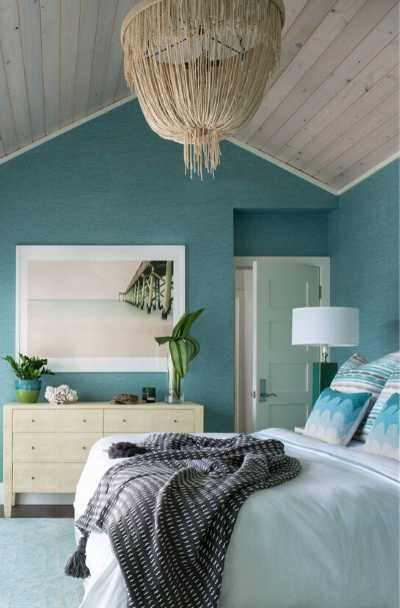 Getting accessories and painting your walls with beach colors that will perfectly suit your bedroom will have the calming effect of your sea themed room.
COTTAGE LIKE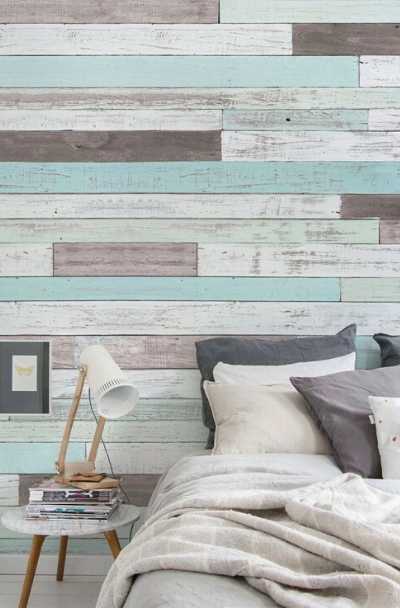 Shiplap boards with mixed beach colors for bedroom walls create a mood that you always get in relaxing cottages and summer houses. You can give it a try!
SURF LOVIN'
Understanding why a surfer likes playing with the waves all day will definitely give you this paradise of a bedroom, all comfortable and relaxing.
How to Create a Beach Themed Bedroom
The usual interest in creating a beach theme bedroom is because of the reflective feeling that the beach usually invokes. This kind of atmosphere alone is the best reason why you want to try it as a bedroom interior inspiration. Aside from just relying on the accessories there are also a lot of other ways for your bedroom to completely reflect the beach.
Color Palette
The best aspect of choosing a beach interior design for your bedroom is the color palette that you can actually choose from when you decide to repaint your walls. Since the beach is always associated with the sun's warmth, the cool breeze of wind and the relaxing feel of the sand on one's feet, you can recreate this environment by using the colors that would invoke the said elements. 
Choosing a color palette for your sea themed bedroom needs to reflect the colors that we usually associate it with, that is why you need to work with the cool colors of blue and white as base. If you don't want to stay with having a monochromatic room, you can always add contrasting colors of brown, green, yellow, orange and other shades that can help you recreate the beach environment. You can also try to be creative with the use of other colors that you want for your beach themed room as long as it will create that harmony that you want to achieve.
Have a Simple Layout
If you are doing a remodel of your own room, you need to decide if you want to keep the old layout of