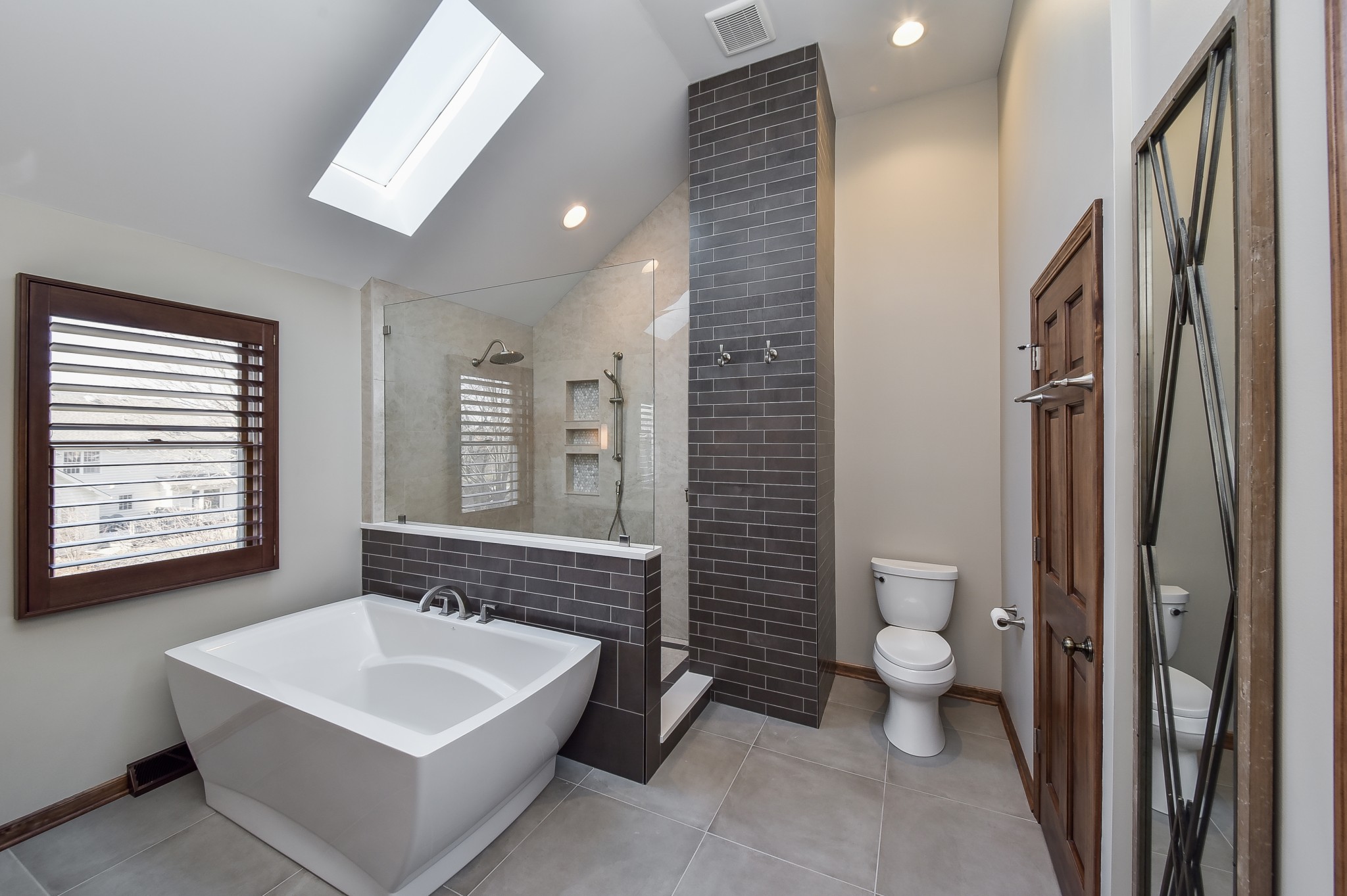 You heard it right, 2021 trends are finally here! To kick off the batch of articles we will be releasing over the next couple months is our 2021 Bathroom Design Trends. Get the inside scoop on the most up to date styles in the industry and find some inspiration for your next bathroom remodel! From bathtubs and showers, to sinks and vanities, we got you covered. The newest textures, patterns, prints, finishes, and styles of all sorts are here for the coming year. This round-up contains the hottest designs that can give you the right type of inspiration you didn't even know you needed. Whether you are building a new home or planning a renovation, the list is sure to spark some creativity. From chic and modern to industrial and vintage, whatever your personal style may be, 2021 is your year for bathroom remodeling.
Trend #1. Black Is the New Grey
Grey may have been one of the most popular styles in previous year bathroom remodeling projects, however, that's all about to change.We're moving on to bolder, darker styles this season. Grey is great, but black is better! In our Top Trends for Bathrooms article we stated that darker tones were starting to pick up and that it would continue to gain popularity. Well guess what? Their time is now! That's right, darker tones, specifically black, are here. We saw so many grey bathrooms this past year, but expect to see an increase in black bathrooms.This trend is most popular in light fixtures, vanities, mirrors, and other fixtures- especially with matte finishes! Since some homeowners may be hesitant when it comes to adding these even darker tones to their homes, grey may continue to be a top choice for those looking to stray away from a classic white or neutral color, but aren't quite ready for the boldness of black.
Trend #2. Bathrooms of the Future
Last year we talked about smart toilets, but this year the whole bathroom is getting a high-tech upgrade. In previous articles we discussed high-tech toilets increasing popularity as a trend lead by Japan. The toilets saw things like seat warmers, automatic lid openers, adjustable air dryers, built-in deodorizers and more. If you were impressed with that technology, just wait till you hear about the rest of the bathroom. In 2021, bathrooms will see smart showers, mini fridges, and automatic sinks. We recently remodeled a home that allowed for the homeowner to set his shower to start automatically. This means by the time he got home from work, his shower was hot and ready! Another more common trend is the built-in blue tooth speaker system. Now you can easily jam out or wind down with the sounds of your shower. Voice activated features for lighting and temperature, smart mirrors that talk to you, and increased TV installments are just a few of the other fun trends we've seen, but the possibilities are endless. Modern day bathrooms are transforming into personalized day spas, and these technologies make the experience more relaxing and convenient than ever before.
This shower setup allows users to easily customize their lights, temperature and more!
Trend #3. Brass & Gold With A Vintage Comeback
Gold fixtures are back and better than ever! Shades of brass and gold are taking over sinks, toilets, and basically anything and everything in your bathroom this year. Erase the memories of your Grandparent's bathroom brass faucet, because this lovely new warm toned gold plumbing fixtures will become your new go to, adding just the right amount of depth, dimension, and luxury feel to any space.
Homeowners love the change to warmer accents with the brass/gold toned bathroom fixtures versus the traditional shiny polished chrome which conveys a more cool, modern, and sleek feel. Offered in new finish options like in satin, matte, and spun gold this subtle change is just what was needed to add that classic traditional element to any space.  With the added bonus of keeping fingerprints and water spots hidden.
This warmer tone has become the accent pieces of a room, with complimenting hardware, light fixtures, and mirrors as well.
Look around and you will find more gold tone items than you think.  The reason for the comeback–it just looks great in so many different style settings.
This image by Society Hill Modern Bathroom perfectly encompasses the idea of golden fixtures making a vintage statement in a modern day setting.
Trend #4. Industrial Styled Sinks & Vanities
While this style may not be for everyone, it's very current and you should expect to see an increase in popularity for this type of design with the coming year! With all the metal finish possibilities, wooden accents, and funky tile patterns, it only makes sense that the industrial vanity is in. Its sleek and modern look fits in perfectly with this edgy, yet classy remodeling trend. Industrial sinks can be matched with pop's of colors, gold or brass accents, matte black fixtures, and fun tile patterns to modernize the look even more. Industrial vanities are a great look for smaller apartments or your hall bathroom. This urbanized and trendy style is sure to make a statement in 2021, so don't miss out!.
Trend #5. Tile Patterns & Shapes That You Will Love
We have already seen how technology is allowing manufacturers to create all sorts of designs using basic tiles, but now they are going beyond the colors and graphics to change the traditional tile shape into something more interesting.
We are seeing a resurgence of the once beloved tiles of decades past, plus a few new designs. No longer are we content with just a subway tile or a large format tile on the wall.  We have lots of tile shapes to choose from once again.  So, look for new and improved hexagon, arabesque, diamond, Moroccan fish scales, or chevron patterns in new colors & textures.  These eye-catching shapes will not just grace the floor either; they will also be used as bathroom backsplashes, on shower walls, and possibly ceiling accents to create the bold accents we so desire.
If you are looking for a safe way of livening up your bathroom, this is one of the best trends to try out in 2021.
Trend #6. Wood Accents Are Back & Trendier Than Ever
As mentioned early in this post, grey is slowly making it's way out of home remodeling trends. With this comes the return of warmer tones and accents- specifically wooden ones! Various shades of wood can compliment white, blue, green, and darker colored bathroom. Practically anywhere! Wood accents pair nicely with vintage and industrial trends so it's no surprise that they're popping up again. This look adds a classically traditional style to you other wise trendy and modern bathroom. We're seeing it in unique styles too! Some of the pictures below showcase just a few of the possibilities available when choosing wood tones for your 2021 bathroom remodel. Check it out!
Trend #10. Get Comfy! Big Bathtubs & Open Showers
As the bathroom changes, the possibilities for expansion and more space come to mind. In fact, the goal of having more space is oftentimes the number one reason why home owners choose to remodel. This includes the bathroom too! With compact storage options, you give yourself more room to expand on the bath or shower.
The bigger the bathtub, the more space and relaxation will be available to you. Homeowners deserve a place to wind down after a long day, and what better place to do so than their own bathrooms? While Jacuzzi styled tubs aren't necessarily are popular as they used to be, we're seeing a shift in preferences to other large tub styles.
Open showers appear to visually increase the size of your bathroom, while also giving it more space and providing convenience for users. Long gone are the days of worrying about slipping over the edge of the tub while you're trying to get out and dry off. While some may find this design has a lack of privacy, others enjoy the accessible openness and increased shower space.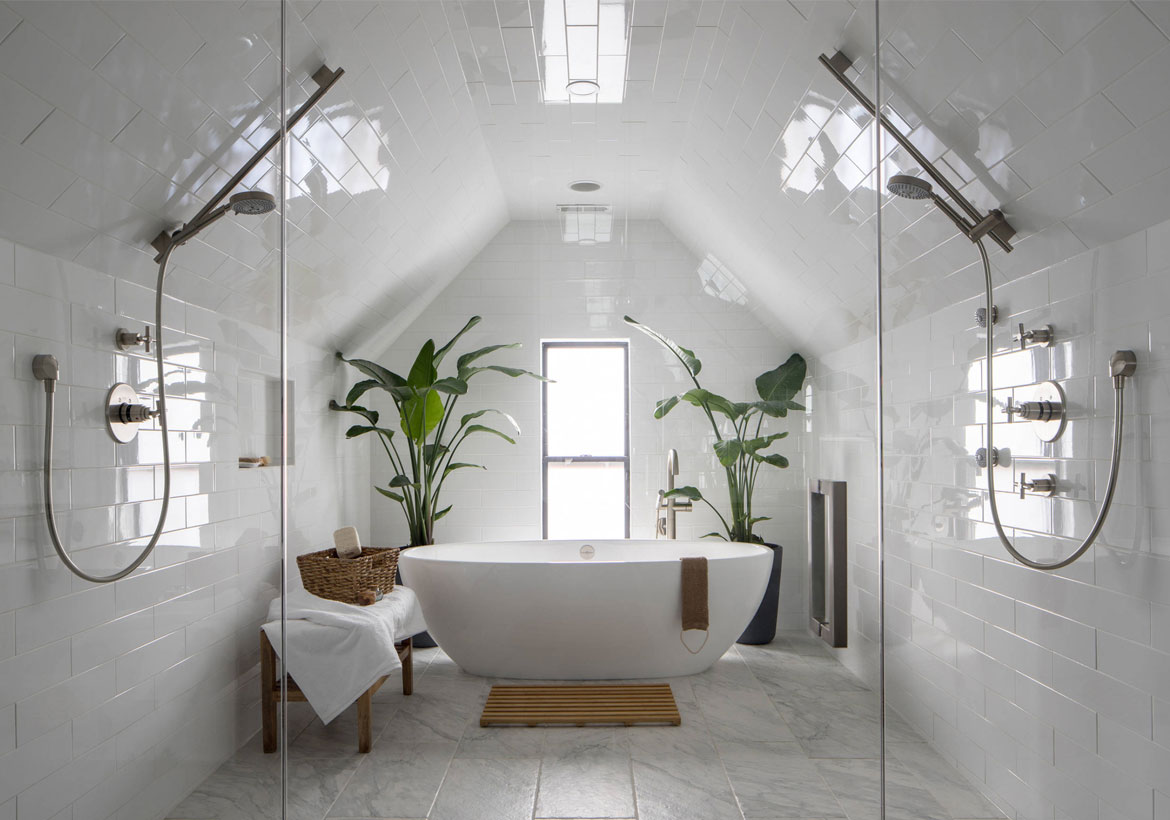 Have a spa-like experience with this zen bathroom.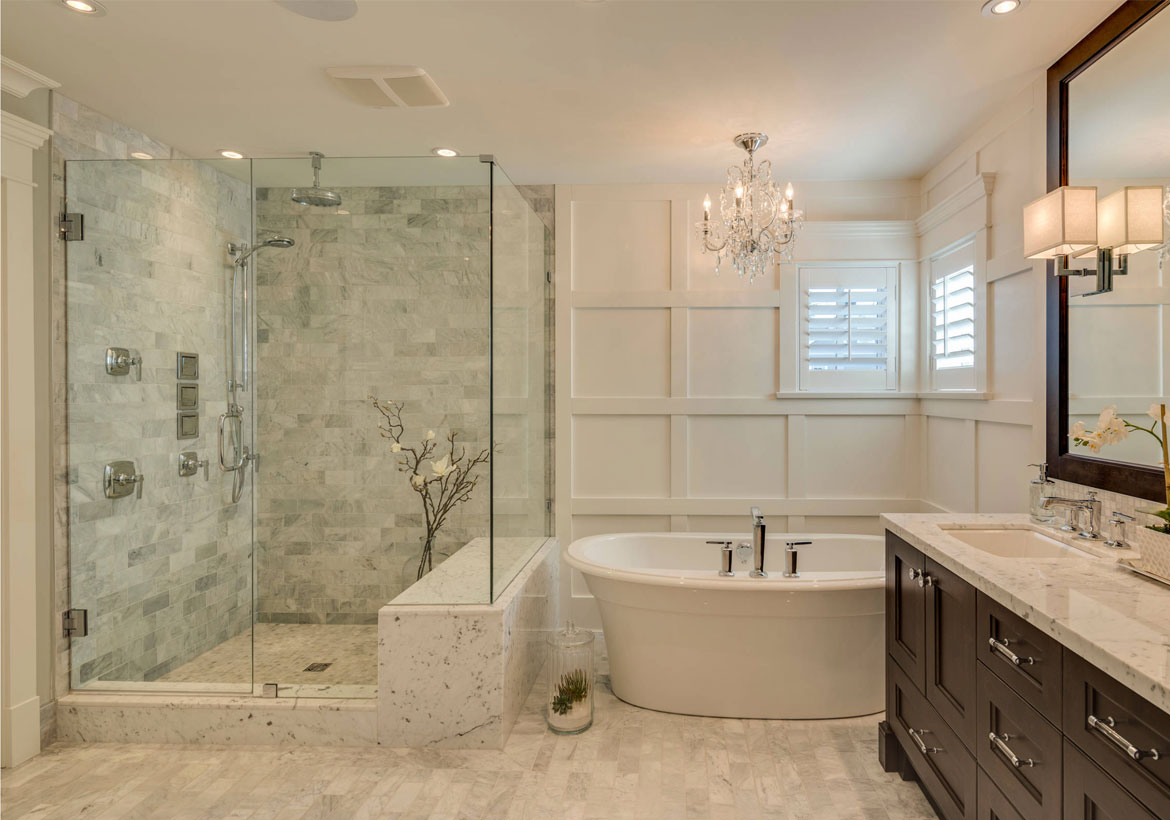 Trend #11. Asymmetrical & Advanced Mirrors
Asymmetrical Mirrors are here and better than ever before. Unique and geometric mirror shapes are all the buzz, but that's not all! Mirrors, just like the rest of the bathroom are becoming smarter. Mirrors can have anti-fog technologies, smart touch abilities, USB charging stations, and just about anything else you can imagine. Long gone are the days of plated mirrors. With shaped frame options taking over, you have the ability to get as creative as possible when it comes to picking out the exact style. And we have not forgotten about the most important detail of bathroom mirrors- lighting. It's all about the lighting. Getting ready in your sleek and stylish bathroom would mean nothing if you didn't come out looking flawless,  right?! While we all love the idea of fun shapes and gadgets, functionality is at the top of our list. This is why we are seeing contemporary back lit mirrors as well a front lights increasing in popularity. Back lit mirrors are a more subtle option that will allow for optimal lighting. Lights in the front allow for more creativity, but may distract away from an asymmetrical mirror shape.Keep scrolling for some photo inspiration!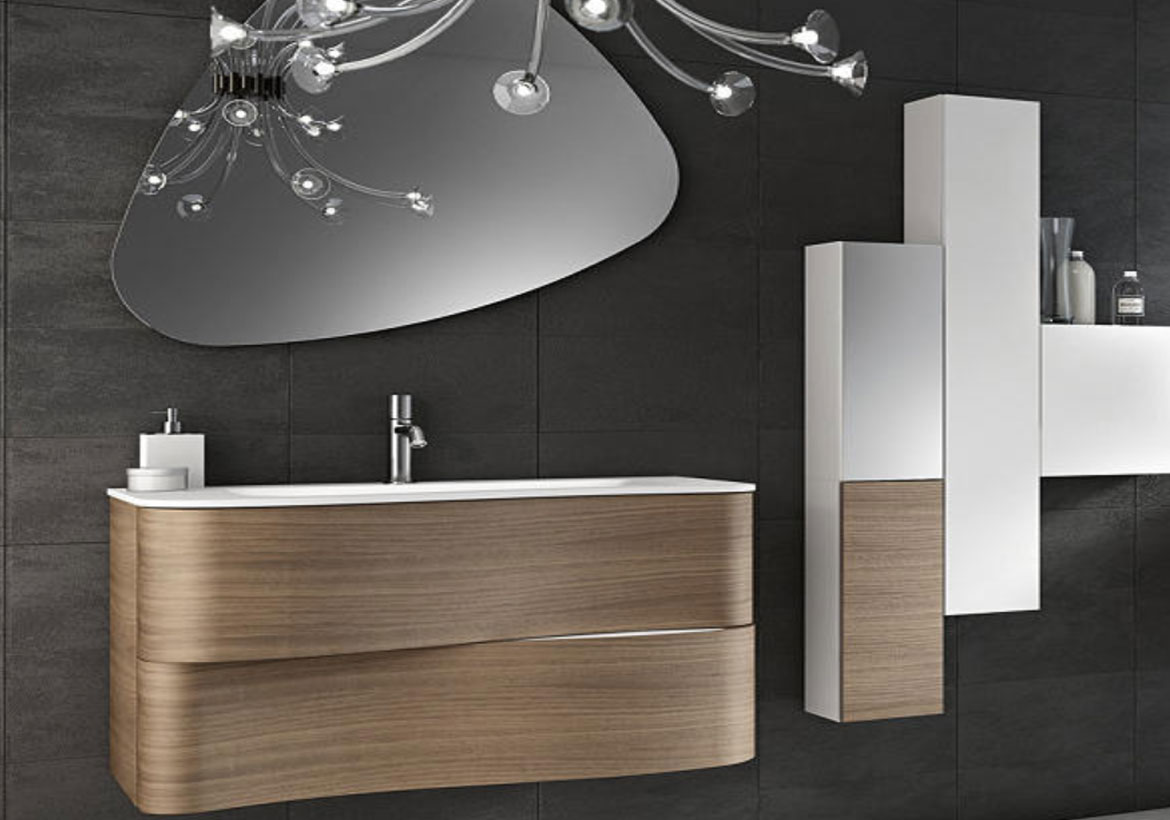 Modern and sophisticated bathroom with black walls.
#12. Stay Warm This Winter With Underfloor Heating Systems
If you bought a pair of slippers just to escape the cold sensation on the bottom of your feet while walking across your bathroom floor; then it might be a good investment for you to consider adding a heating system under your floor.  When the temperatures outside are dropping–your wish could become a reality.  Underfloor heating can be used with a variety of flooring options like:  tile, concrete, vinyl, and wood to name a few.   But in a bathroom, the cold tile can transform into a beautiful soothing warm floor.  Heating systems not only provide heat, but they can also reduce noise levels and possible allergic reactions since there are no air currents disturbing dust.
More and more technology is being included in bathrooms, which means more small appliances are being integrated.  For instance, some luxury bathroom designs now feature a beverage center or under counter refrigerators near the makeup area or vanity for your medicines or organic facial remedies.  Or you may find some home bathroom designs featuring warming drawers for linens & robes. Aside from the traditional dryers in the makeup area, you can also have wireless music systems, TV's, cooling or warming systems, and so on.
The bathroom used to be the place where electric appliances were a no-no. Now, it can rival the kitchen in the number of gadgets and the amount of tech in it.  This trend will continue in 2021, especially in master bathroom designs.
#13. Floating Bathroom Vanities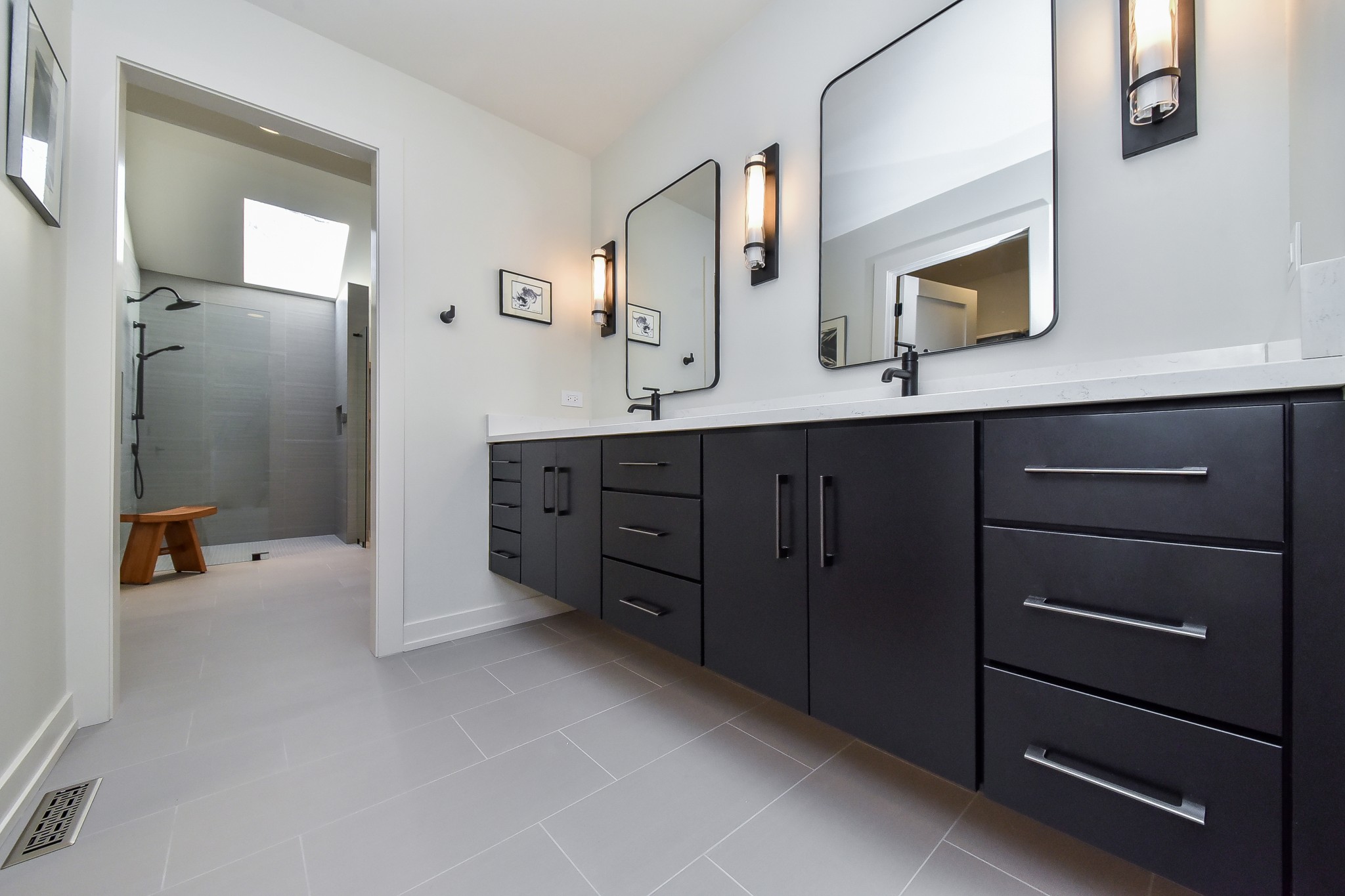 His and hers sink for this sleek and stylish bathroom.
Floating bathroom vanities used to be synonymous with contemporary design for years. But with the simplification of life styles, new design aesthetics & trends, and sometimes simply just the square footage available that makes floating bathroom vanities the essential extra touch needed to float your bathroom to the next level. This look helps reduce the visual weight of the cabinetry and offers the visual break needed to let the coordinating materials be the star in the room. No need to worry about your storage needs either, since you can add built-in organization compartments into the cabinetry or add baskets underneath that offers some artful utility.
#14. Wallpaper Is Back With A Bang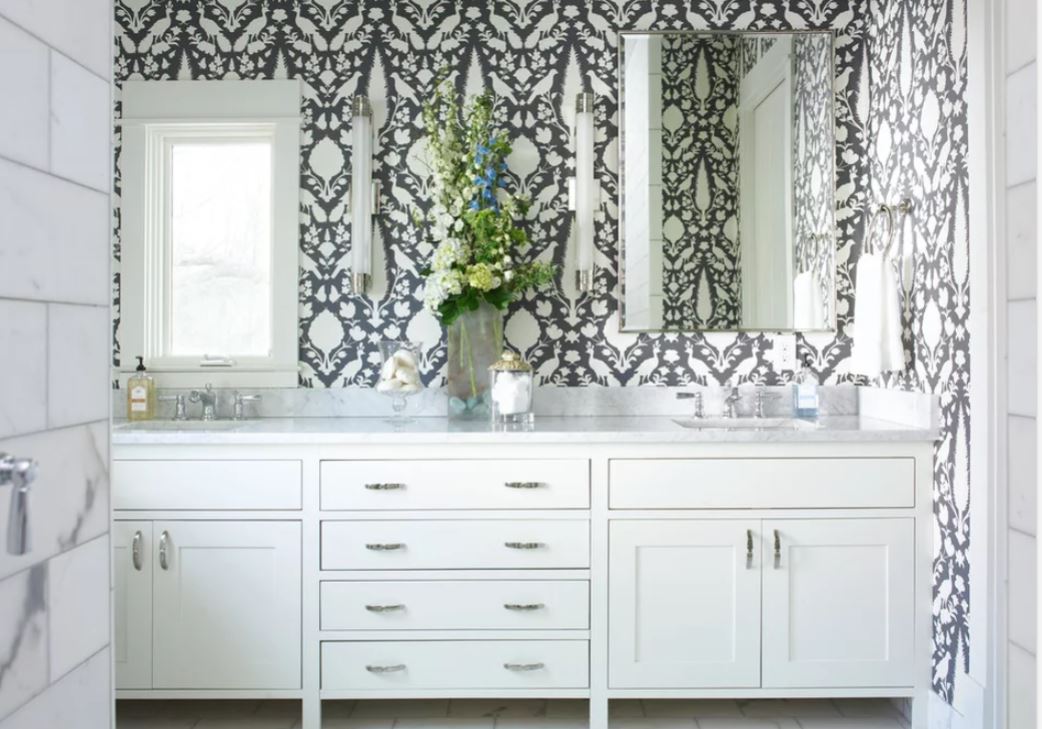 Lovely floral wallpaper for this dainty bathroom.
Some of you may cringe, others will rejoice when you hear the word wallpaper, but one thing is for sure, wallpaper evokes emotion! And it is not your Grandmother's wallpaper we are talking about. Big, bold, colorful patterns, murals and graphics that are so interesting and so impactful that you will have to have it for your house as well. Newer versions are even peal & stick, so there is no glue clean up and it's definitely more forgiving for the 1st timers. Ready to take a chance and add some life back into your neutral house? The powder room is a great place to start since it's a smaller space, not moisture issues, the door can be kept shut, and easily changeable if needed. Surprise your guests next time they are over with a stunning new powder room with wallpaper that dazzles.
Other Great Articles to Read:
Simplifying Your Life: The Benefits Of Downsizing Your Home