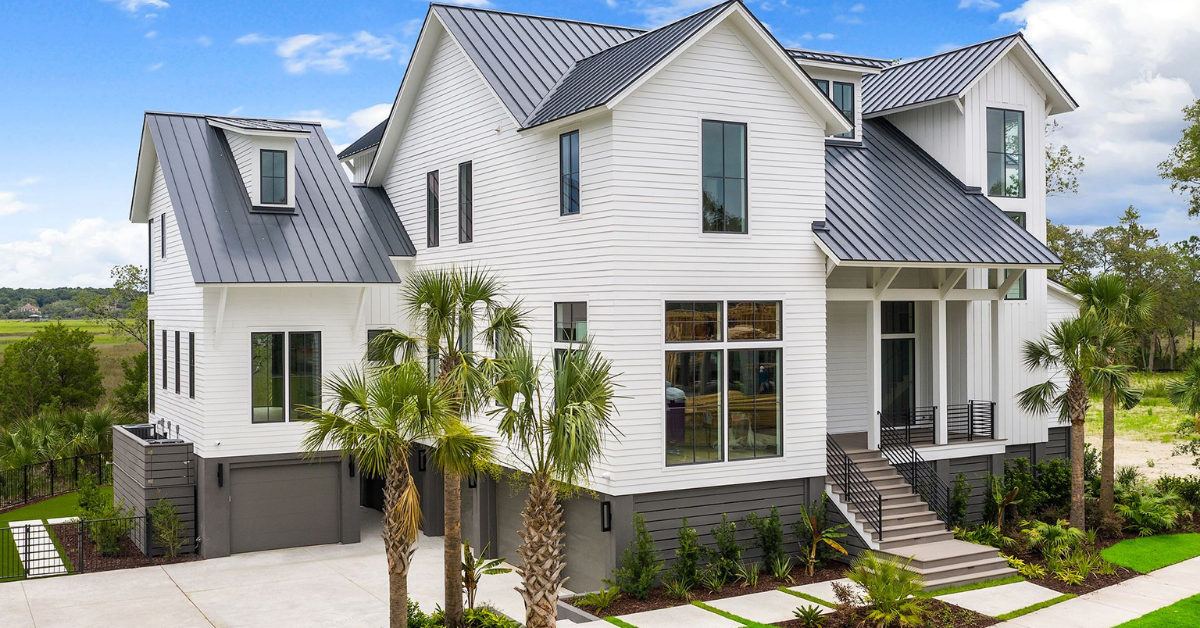 Featured Image: Nichiha
One of the most essential aspects of any property is its curb appeal. It is an important component in selling a property, and homeowners must enjoy the way their house appears every day when they come home. The siding is one of the most important and frequently disregarded aspects of a home's exterior. If you haven't thought about your siding in a while, now is a good opportunity.
Much of the siding is ancient, weathered, and perhaps rotting. Vinyl and wood siding on older houses has an expiry date. Maybe your paint isn't looking so great anymore, and you think it's time to change. Upgrading siding, altering accents, and repainting a house may make a world of difference in terms of feel and attractiveness.
Here are some 2023 house siding trends.
Dark, Earthy Siding Colors
Siding is a simple technique to improve the appearance of a home's façade. Exterior siding trends in 2023 are expected to favor dark, earthy hues that indicate power, energy, and stability—all of which are great for making a home seem more like a haven. Maroon, navy blue, burgundy, forest green, and dark brown are just a few of the stunning dark siding colors that will be trendy in 2023.
Variation Within A Color Family
Another exterior home design trend for 2023 is to avoid stark contrast in favor of a more subtle approach to harmonization. This implies picking accent colors for trim and roofing from the same color family. Light grey siding with dark grey trim, for example, or light brown siding with dark brown trim—this strategy of sticking within a single color family will provide a new option to update a home's exterior in 2023.
The Color White Is Back
Siding color trends in 2023 included a lot of pure white exteriors. That trend has returned to 2023 house siding trends and seems to be here to stay for the foreseeable future. Gone are the days of bright hues and dull drab. People want a conventional white palette that may be accented with colors and styles that reflect their own identities.
As more individuals replace their original paint with white, white is expected to continue to dominate the exterior siding industry. This may be accomplished simply by repainting or whitewashing existing brick or stone. The range of whites will grow as white continues to dominate siding color trends. Instead of only white, there will be off-white, cream, eggshell, and pure white.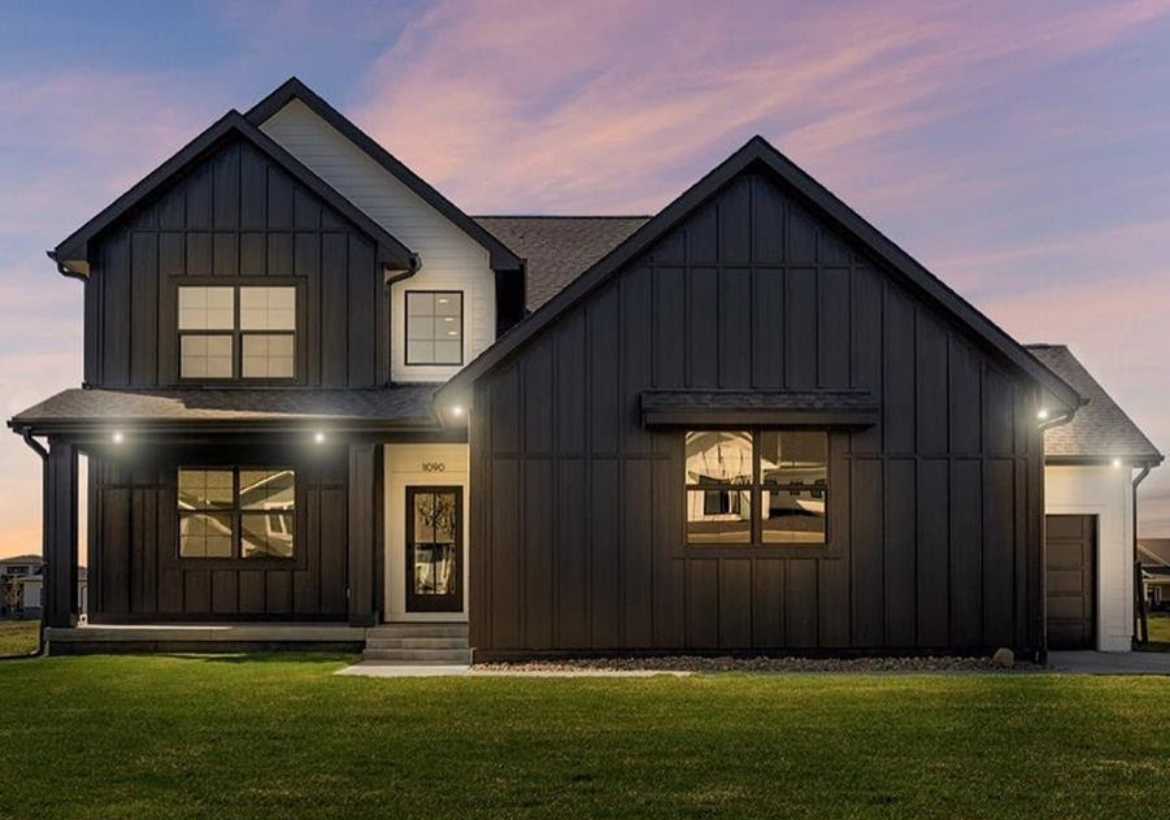 And Black Too!
Along with white, black is making a return. As a counterpoint to the siding color trends that have primarily supported mostly white exteriors, there is another set of individuals who like black or extremely dark exteriors. Black may be used as a primary or accent color.
There has been a rise in individuals who want to paint the majority of their homes in black, charcoal, or dark brown and those who like their homes to be brilliant white. This two-color trend allows for a lot of diversity and versatility within communities.
Black is also becoming a popular accent color and is increasingly being requested as a trim color. Windows with black accents and trim are becoming increasingly popular. This is also owing to white's prevalence in exterior color trends. Black accents and trim look well with white siding and provide a clean, stunning look. This design trend is expected to dominate the future year.
Serious Outdoor Living Spaces
The days of a single pair of rocking chairs on the porch sufficing to create a decent outdoor atmosphere are long gone. Elevating outdoor living by constructing expansive outdoor living spaces that can accommodate a multitude of activities is by far one of the hottest 2023 house siding trends.
Seating is still significant, including rocking chairs, swings, and outdoor couches, but other outdoor furniture settings will see a boom such as kitchens, sinks, grills, and dining areas. Covered places, such as pergolas and shaded lounges, will be popular this year. Essentially, more robust outdoor areas that can handle extended periods outside will be critical to 2023 house siding trends.
Brick's Popularity Is Back
Brick is still a popular choice for siding. Many homes are constructed with classic lap siding or board siding, but many are asking for a return to brick or trying to acquire residences built with original brick. Brick exteriors are more popular than ever, and individuals are even adding brick accents to contemporary houses to give them a more traditional appearance.
People are interested in brick because of its historical beauty and texture, not because of its color. Brick is being painted at an unprecedented pace. Homeowners and designers don't want the harsh brick-red tint when it comes to brick. Brick is being painted white or whitewashed, in line with siding color trends from last year. However, additional hues are being considered as well in 2023 house siding trends.
Cement Siding Upgrades
If you want to replace your siding this year, there is one product that is the industry leader. Because of its durability and endurance, cement siding has become the standard for new buildings.
Vinyl or wood siding was used in the past. Neither of these materials is long-lasting. Vinyl splits and fades in the sun, but wood is susceptible to termite infestation, water damage, and decay. Cement siding does not have any of these drawbacks. It is resistant to pests, corrosion, water, and the sun since it is comprised of cement and fiber. When cement siding is installed on the house, it protects it while yet preserving the traditional wood siding aesthetic.
Cement siding is both adaptable and long-lasting. It is available in many forms, including lap, board and baton, and shingle. That means you may use the cement board to create whatever design or aesthetic you choose. It has the advantage of being readily paintable or pre-painted.
If you want your home to be up to date on the newest siding color trends, you may choose a color from a wide range and have it pre-painted. The factory paint is baked in, which saves time and effort. This is an excellent option to repair your siding while also adding stunning new color to your home.
Heightened Glasswork
In addition to taking indoor activities outdoors, 2023 house siding trends include bringing outdoor illumination inside with enlarged windows that let in plenty of natural light. Floor-to-ceiling windows and skylights are expected to be prominent in house siding ideas, as homeowners desire to maintain a connection with the outside even while they're inside.
Add A Touch Of Texture
Texture is a big aspect of the modern house siding ideas. Not only are individuals interested in adding brick for its texture, but they are also interested in adding texture in other ways. Accent gables, accent walls, and textured trim are all appearing in the most recent designs to break up the monotony of identical siding. Shake siding, fish-scale shingles, and wood grain textures are being added to the gables, peaks, and walls to pull attention away from the curb.
Previously, most siding ideas for house were basic, homogeneous, and centered on the trim rather than the texture. People now want something to break up the monotony. To properly distinguish the texture from the rest of the home, this texture is often paired with an off-color or altogether different color.
Additional Accents
Texture is simply one of the 2023 house siding trends, which asks for greater accents in general. Designers are now obsessed with accents. Accent colors, textures, lighting, and landscaping are all being chosen to accentuate certain parts of the home's façade right now.
Accent colors are often used in contemporary siding color trends. Stains and natural wood are used on the columns. The hues on the upper levels are completely different from those on the lower floors. Window trimmings are chosen for their bright accent colors rather than their utility. Look for houses with a range of contrasting, often conflicting, colors to emphasize different sections of the façade.
This emphasis on accents has also influenced how people choose front doors. Front doors are an integral feature of the exterior and often go hand in hand with siding. People are no longer satisfied with a mostly glass or white door. People prefer a bright accent color or a dramatic splash of color to bring the attention to the front of the house. Expect to see lime green, blush pink, or dark blue doors mixed into contemporary designs.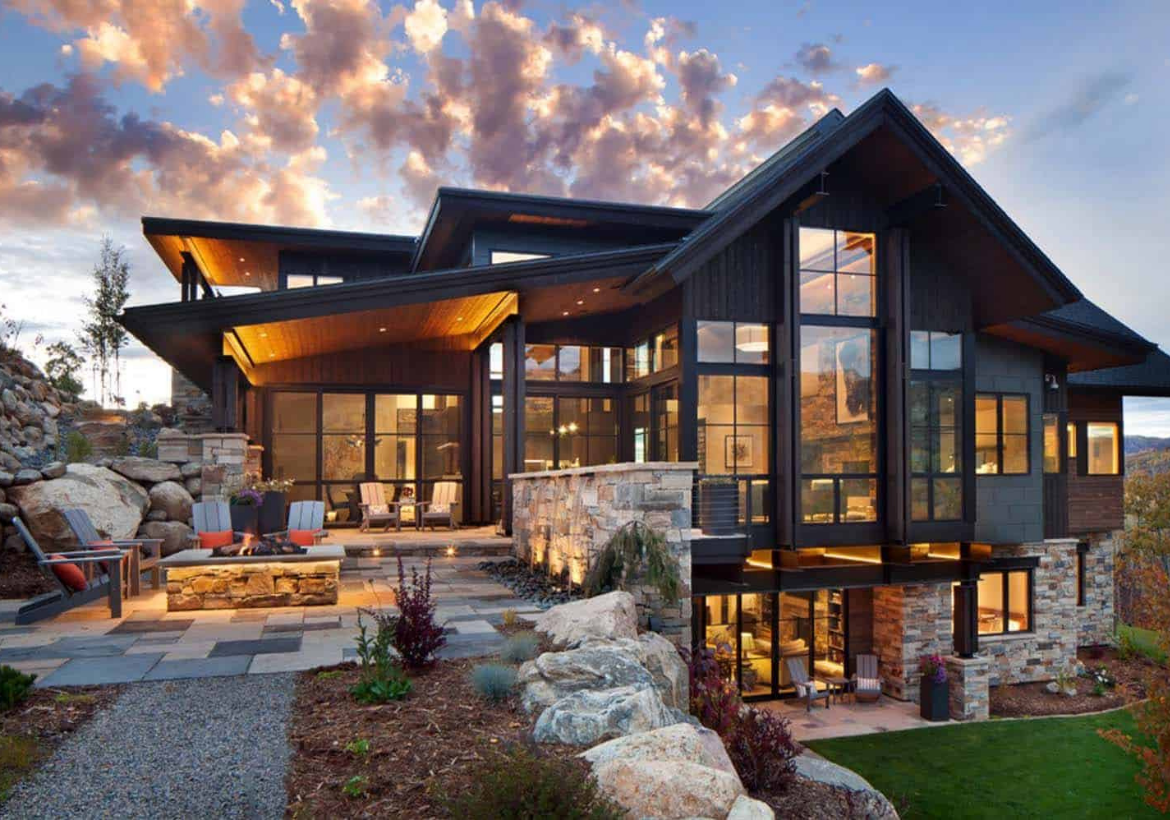 Window Boxes
The most recent siding house ideas all embrace nature, greenery, and an abundance of plants. This has spread to the siding business, where customers are asking for flower boxes and window boxes for their exteriors. If you want to update your exterior in tiny, basic ways, adding some plants to your siding will offer your property that much-needed curb appeal.
Make space in your design for flower boxes and planters, whether you are repainting, having a complete siding repair, or just patching some old spots. Adding green vines, vibrant flowers, or even little bushes to your home may give it that additional pop of nature that truly pushes it over the top.
Are you not interested in plants or gardening? Not an issue. Many individuals are using artificial flora in their designs. Designers understand that many people are busy or live in cold areas, making it impossible to maintain vast quantities of plants. Just because you're busy doesn't mean you can't keep up with the current trends. Fill your boxes with realistic-looking artificial vegetation. Nobody will tell the difference.
Long-Lasting Materials
Finally, favoring long-lasting construction materials above inexpensive, short-term items that will need repair or replacement very soon—has been a consistent trend in recent years, and it is expected to continue in 2023. The housing market continues to show that homeowners are searching for quality elements in exterior house designs and materials that are made to endure and work consistently. What's better than long-lasting materials? Durable and low-maintenance products will be significant winners for homeowners remodeling their exteriors in 2023.
Conclusion:
Do not disregard your home's siding. There are several methods to improve the utility and appearance of a home's façade. Now, black and white homes are really popular. Designers emphasize clean lines and dramatic details to create a well-put-together aesthetic. Cement siding is new material on the market that promises flexibility and durability.
There is a myriad of options to enhance your exterior siding to stay up with the newest trends and daring design selections, whether you simply want to put up a flower box beneath a front window, repaint your door, or entirely renovate your home.
Other Great Articles to Read: