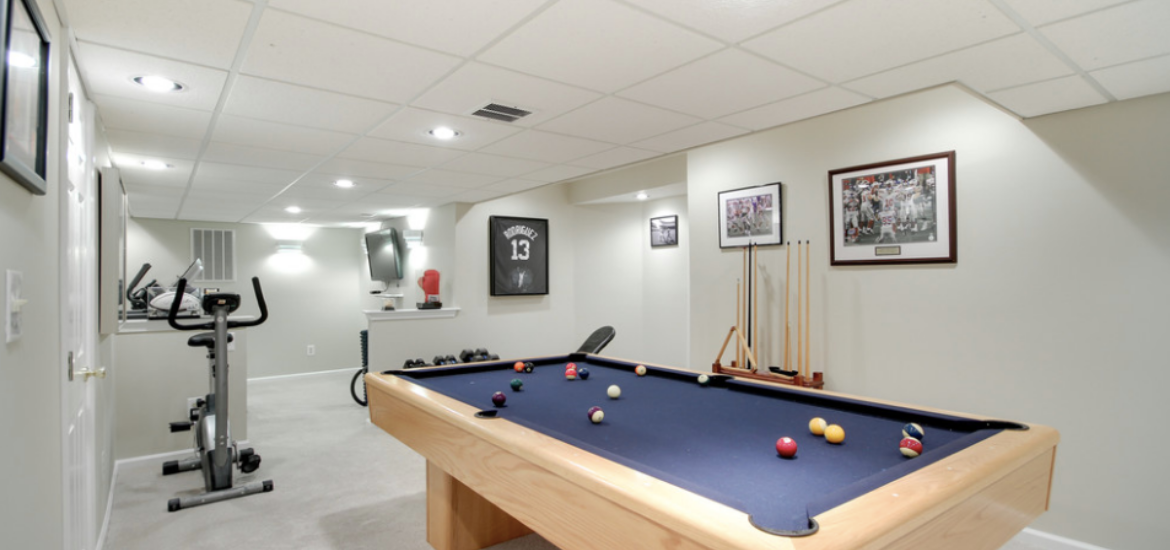 When you've got a large recreational room – or family room, as they call it in the UK – you want it to achieve a perfect blend of fun and functional. A lot of thought goes into the style, design, layout, and furniture of such a dynamic room.
A recreational room is a relaxing and fun space for everyone. No matter how large or small your family is, and how much space you have to work with, make sure your ideas for your downstairs recreational room are something that everybody can enjoy. The following concepts and examples can serve to further inspire your rec room design. There's a lot to be considered, and the below ideas and images will help to give you a visual reference to support your ideas – or give you new ones.
TRADITIONAL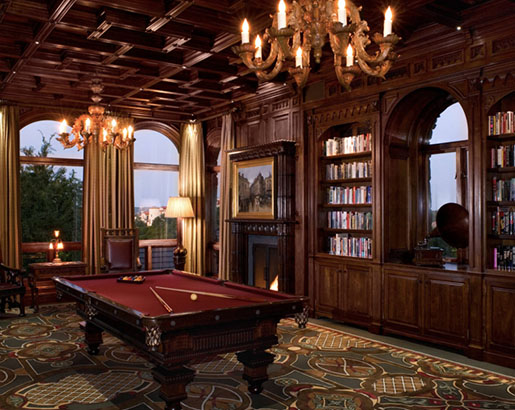 In this dining room design by Cravotta Interiors, everything is so rustic and classic. The room's gloomy atmosphere shouts elegance. Beautiful dark red-stained checkerboard ceilings can be found in this space.
TROPICAL FAMILY ROOM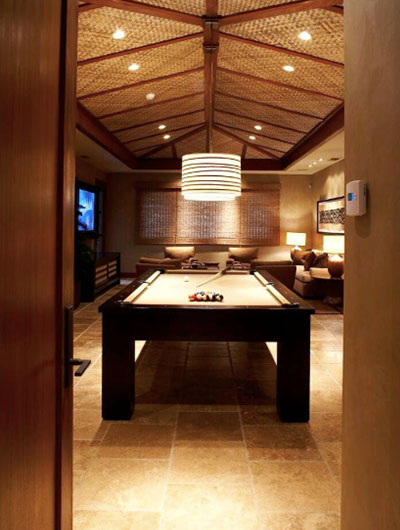 This design for an eating room with a recreational focus is good. The overall atmosphere screams Willman Interiors' combination of classic and homely. It is the ideal combination of solitude and elegance.
FARM GAME ROOM
This recreation area's brown color scheme gives the entire space a crisp, conventional appearance. The design of this game area by LDa Architecture & Interiors is excellent—an excellent place for socializing and entertaining guests.
POOL HOUSE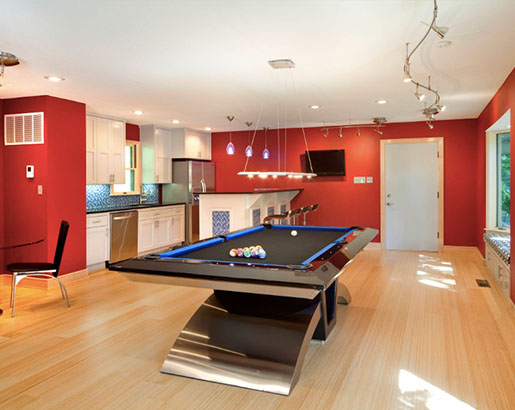 Want your recreation area to reflect your appreciation of the color red? This pool house design by Architecture Plus, Inc. is extremely elegant because of the red hue. This is a fun space that makes the pool table stand out.
FAMILY FUN
I've recently discovered my inner child. No kid, and perhaps some adults, would want to leave! This recreational space has several game devices, which is so much fun—such an excellent plan by Tyner Construction Co Inc.
Recreational Room Basics
If you're a homeowner who has never planned out a rec room before, there are few key things to consider first. Before jumping right into your color palette and furniture style, it's important to understand where the recreational room is going to go, and what purposes it will serve.
Consider such factors as:
The location of your rec room can play a part in what role it plays. For example, many homeowners plan their recreational room ideas in their basement, which is a nice way to add a touch of privacy to the room. That way, the room feels a little separate from the rest of the home, for those who want to have somewhere to escape to from time to time. That isn't to say that other locations in the home won't work as well; garages and empty bedrooms are also common locations for recreational rooms.
What ultimate purpose is your recreational room going to serve? Do you want to transform it into a dynamic game room where all of your family and friends can have fun and play together? Do you want it to be an at-home gym, equipped with workout equipment and mats to stretch on? Or, perhaps you need a quiet escape, and you want your rec room to be your private reading room with plenty of comfy chairs and good lighting. How you plan on using the room will determine what kind of furniture and decor to put in it.
Of course, you should think about your budget as well; however, there is a lot of flexibility in cost when it comes to building and decorating your recreational room. It is more important to make sure the room meets your design and utility needs. Make it a room you love and enjoy spending time in. It doesn't require you to pour a good chunk of your bank account into it. The beauty of recreational rooms is that there really is no minimum or maximum limit on cost. Make it a space that gives you what you want.
OCEANFRONT
This nice recreation room design seems like an entire vacation; everyone will agree. The way the beams are shown and matched to the other wood in the space is gorgeous. This entertainment room was beautifully designed by Frank Shirley Architects.
CONTEMPORARY
Jacob Lilley Architects created this classic and eco-friendly recreation area for your hotel. The atmosphere is simultaneously warm and energizing. Gorgeous wood that highlights the warmth in the space.
Creative & Fun Recreational Room Ideas
Hopefully, the following recreational room ideas for your home will inspire your design ideas. Take a look at these inspiring ideas.
1. Family Gaming Space
Who doesn't enjoy family game nights? Use a quiet corner of the rec room and install a round table. This can be the perfect spot for card games, board games, or trivia games. You can choose a color that pops or go with something more neutral-toned to keep the calmness of the room at a reasonable level.
2. At-Home Gym
This is an ideal design for a large downstairs recreational room. If you have the space to work with, consider installing a mirror along one of the walls to recreate the look of a real gym. Add your favorite workout equipment, and don't forget to set aside some space for relaxation as well. Put a TV in the viewing range of your treadmill so you can be entertained while you exercise. Or, add a lounge area to the corner of the room where you can cool down with a drink after your workout.
3. Built-In Bar
Are you the type that loves to entertain? You can turn your basement or garage into a dynamic and hip space by making it into a bar. Add a television for entertainment, and get some secure display cases to store all of your alcohol. Imitate the look of a real bar, and turn the classiness factor up a notch. Add some funky bar stools to complete the look. If the space is big enough, you can add a brightly colored pool table or a dartboard to give the room an extra pop.
4. Second Living Room
Again, some people just need a home away from home—at home. One of the most popular ideas for a downstairs recreational room includes transforming the space into a second living room. Another idea is to make it an open-concept plan so everything is easily accessible. Add some comfortable furniture, decorate the ceiling with elegant lighting, and install hardwood floors to make it feel like a natural part of your home. Hardwood—or vinyl hardwood—is a good flooring idea for a recreational room due to its value. It can immediately make any room look better, especially if you are trying to go for a more classy or chic look. Plus, hardwood is easier to clean than carpet, saving you some extra time without giving you a whole extra room to clean.
5. Space for Work and Play
So much time is spent focusing on the function of your rec room, but why not make it a multi-purpose space? A big garage can easily be turned into a workspace for your startup or team-based business. You can host meetings in rooms with warm lighting and lots of free space to walk around. Add a pool table to give you and your guests a fun team-building game to play during your work meetings. Offer refreshments and some comfortable places to sit. It's now your home studio or office!
6. Bean Bag Chairs for the Kids
Give your kids a fun space to hang out when it's too hot to play outside. When they are on break from school, they will be excited to have a playroom all of their own. Bean bag chairs make for comfortable seating options that also offer up-close viewing of the TV. This is especially helpful if your little ones love to play video games or watch Netflix. You can even install a mini-fridge or a snack bar, so they have everything they need to play and rest comfortably.
MODERN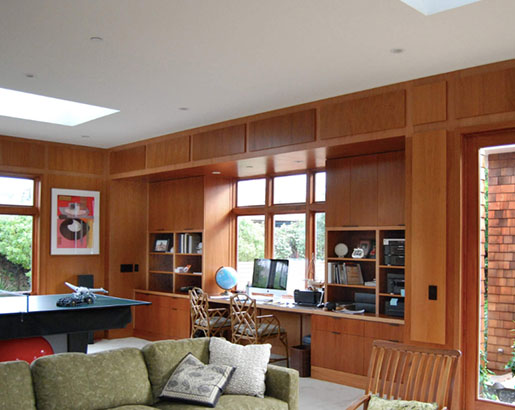 This ultra-contemporary entertainment room designed by Rossington Architecture is so stylish you could even use it as an office. Lovely for a morning boost! Storage built-ins made of beautiful, practical wood.
FITNESS
DES Home Renovations renovated this entertainment area, and everything looks so fresh and bright thanks to the white color scheme. A dedicated space for your love of exercise! Excellent gym space with all the necessary equipment.
7. More Flooring Ideas for Your Recreational Room
Don't like the hardwood or vinyl look? No problem! There are plenty of useful carpet options to complete the look of your room. Commercial carpets often found in office spaces are flat, without any plush feel to them, and can be a solid option for your rec room floor. This is especially true if you have moving pieces of furniture—an office chair on wheels, for example. Make sure to get a carpet protection pad if you are using the room as an additional workspace. Find different colors and patterns that can complement the other decor in your recreational room.
8. If Natural Lighting is Your Thing…
A number of recreational room ideas work excellently with lots of natural lighting. If your rec room isn't below ground level, you can use it as an opportunity to build the large window you've ever wanted. Your home may have a stunning view in a certain direction, and if the rest of your home hasn't taken advantage of the opportunity to build a window, use this new recreational room design to open up the space. Not only does it make the space appear larger, but it also brings in a lot of warm natural light to an otherwise dark and stuffy room.
9. Industrial Style Accommodations
The rustic or industrial style of modern design is wildly popular when it comes to hosting parties and events. If you're as in love with this look as many homeowners are, you can use it as a recreational room idea when planning out your space. Industrial lighting and furniture can really go a long way. Hanging up old art or building your own lighting systems out of reclaimed metal offers a unique sense of value to your home. Plus, your guests and fellow partygoers will really dig it.
10. Make Billiards the Star of the Room
Billiards brings everybody together. It is a universally loved game, and it goes without saying that pool tables are quite beautiful in construction. They look nice to have in your home, especially in a recreational room. If you love playing games with your family or friends, then it's hard to pass up an opportunity to install a billiards room in your house. You can get custom carpeting on top of the table that matches the bold or calm colors in the rest of the room. For example, those who want to make a room pop might add a splash of red with the billiards table.
11. Home Theater
Go big with your recreational room ideas. An in-home theater is the perfect epic installment that you can add to your ultimate relaxation room. Treat your family to a night at the movies every night in the comfort of your own home. This requires some wall space for the biggest flat-screen TV you can get, and it might be worth investing in a surround sound system as well. The result will be well worth it. Bonus recreational room ideas include adding theater-like seating with plush upholstery and cup holders or a bar behind the seating area so guests can drink and watch at the same time.
12. Dream Library
If you want your rec room to resemble something on the quieter side, why not build your own home library? A personal reading room can be one of the most relaxing and rejuvenating spaces to be in. Allowing yourself to have a quiet space with relaxing furniture and a pleasing color palette can do wonders for your health. Another one of the most popular ideas for a downstairs recreational room is to turn the basement into a study space, away from the rest of the home, so there are no interruptions or distractions.
ENTERTAINMENT
Seeking a spacious entertainment space for your gatherings and meals? Douglas Design Studio created a recreation plan that is so expansive and beautiful. A beautiful entertaining area will be the buzz of the neighborhood.
Designing A Recreational Room For Your Family
Recreation room ideas assist you in making the most of your spare space to make it more functional. Large areas, such as the basement and attic, can be transformed into recreation rooms for your family.
Because this is a space for recreation, you must choose the layout, style, and furniture set based on the objective of your recreation room.
Recreation rooms aren't just for you; make sure that all of your family and friends are happy as well. After deciding on a theme for your leisure area, it must be nicely structured for your guests to feel at ease.
Designing a leisure room in your house allows you to create a haven for family fun and interaction. Consider the age and entertainment preferences of the people who will use the room.
For example, if you have a game-playing family, you can designate a room, particularly for video games. If the film is more in your style, an entertainment room constructed as a home theater may be more appropriate for your lifestyle.
Begin with a blank canvas room. The subject or primary purpose of the room must be reflected in the design of the room's walls and floors. If you want to create amusement rooms, wooden floors, wood-paneled walls, and thick curtains will help set the tone.
Consider low piles that are easy to clean, office-style carpets, and bright colors for the primary wall and window coverings if you intend to arrange spaces around billiard tables and antique arcade video games.
Furniture And Accessories
The furniture you select for your entertainment area should mirror the space's concept and overall use plan.
If you are a gamer, you need floor pillows, beanbags, and rocking chairs, but soft sofas, comfy leather backrests, and occasional tables are more appropriate in a lounge setting.
Vinyl sofas and soda fountain-style benches may be found in the vintage gaming area, while home theaters will feature theater-style chaise lounges, candle lighting, and adjacent beverage trays. Choose furniture that is well-made and easy to clean to enjoy it for a long time.
The accessories you use must be in keeping with the overall theme of your equipment. Tavern-like settings are appropriate for neon signs and taxidermy mountains. Still, family game rooms should have decorative shelving for holding board games, reading task lamps, cozy throw blankets, and framed family photos.
Vintage movie posters or velvet ropes and shelves on the walls stocked with cinema sweets may be found in movie halls. A television, laptop or computer desk, stereo system, and a snack fridge are also required for recreational area amusement.
Select odd features for your entertainment space. You can choose from whole wall murals produced from maps or even exploding family photos, an extra-large aquarium with unique fish, a retro fridge or old-fashioned pop-stand popcorn, or a jukebox filled with family favorites.
If your family is a sports lover, create a place dedicated to your favorite team. Showcase displays, clothing, or even prizes won by family members in your athletic activities.
If you're a lover of superheroes, you could frame the cover of your favorite comic book & utilize it as wall art, decorate with your famous superhero symbol, or use a color scheme that fits the profile of your favorite superhero.
Small Recreational Room Ideas for the Home
Are you trying to make the best out of a tiny space? Those who don't have full rooms to work with can still achieve the ideal rec room look. Small spaces can be used to relax in comfortably. It might be worth considering having a small set of lounge chairs or a loveseat in front of a wall-mounted TV. Add a lamp for lighting, and a couple of small decorations, as well as a side table to set down food and drinks. That's all you need to have a relaxing, intimate, stay-at-home evening with family or friends.
Transform Your Rec Room with These Simple Ideas!
Turning your basement, garage, or spare bedroom into a recreational room is a great idea for those looking to add more function in their home. A rec room can expand a homeowner's opportunities to invite neighbors and family members over for a relaxing time. The style and design you choose is up to you, and a lot depends on what role the rec room will play in your home. Will it serve as a relaxation space for you to have some alone time? Will it be a gaming and entertainment space for late-night parties? Or, will it be a relaxing video game hangout area
for your kids?
The opportunities are endless, especially when it's a homeowner's first time designing a rec room. Any kind of remodeling or renovation project is going to take time, thought, and budgeting before the physical work can begin. If you are looking for more information about starting your own remodeling project to build the ideal rec room of your dreams, Sebring Design Build can offer custom consultations.
This is an image roundup post, curated to showcase and promote other reputable contracting companies' and their amazing work. To have any of the images removed, please reach out to us and we would be happy to do so.
Other Great Articles to Read: