This kitchen is perfect for entertaining!
Decades ago, the kitchen was hidden in the back of the house. It was a place where meals were prepared and dirty dishes were washed. Fast forward to 2023 and the kitchen has a much different role. Today, the kitchen is the focal point of the home, the place that brings everyone together at the start of the day or after a long day way. Now instead, the kitchen is paraded in all its beauty and warmth at the very center of the house.
Kitchens have changed a lot over the decades and planning for your kitchen remodel is very important. Technology advances and changing social dynamics have contributed greatly to the rise of the modern kitchen. There is a far bigger focus on open concept homes, like these houses in Vancouver, CA that revolve around the kitchen so everyone can be together. As with any modern design trend, clean and simple styles have become favorites for homeowners with natural light becoming an essential aspect of the overall look and function of the kitchen space.
With advice from design experts, here are the top 10 trends in kitchen design we expect to see in 2023.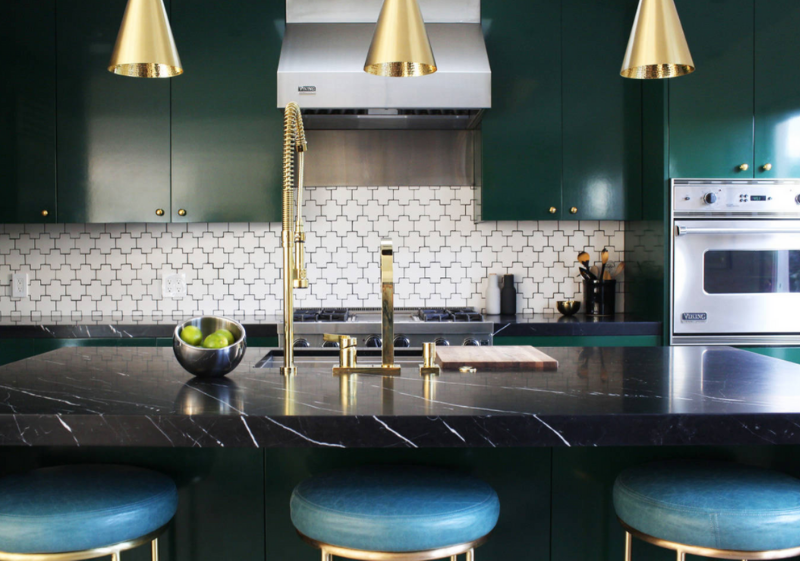 Super sleek and stylish kitchen with dark green cabinets.
#1. Smart Kitchens
Technology has entered the kitchen in full force and not just in the form of fancy gadgets and appliances. Today, you can have a kitchen with technology integrated into every function and appliance–from the faucets to the fridge to the lighting. This is what we call a smart kitchen.
Houseace, told us that "Smart kitchens are an evolving aspect of design. In fact, a lot of kitchens today are built smart from the ground up. For older kitchens, sensors, smart gadgets and other devices can be added to for convenience to the homeowner."
Easy add-ons are motion sense-equipped kitchen faucets that can sense the presence of hands underneath and will come on automatically or try a one-touch feature. Refrigerators that can alert you when your groceries items are running low or a coffee maker programmed to have your coffee ready when you wake up. There is also a gadget that monitors your eggs, telling you which ones are almost going bad. Do not forget to update your lighting system–allowing you to control all the lights from your smartphone or tablet.
Technology integrated kitchens are becoming more popular as homeowners experiment with novel technologies. This is one of the biggest trends going into 2023.
For busy moms, smart kitchens are a must and a great help organizing the kitchen.
#2. Cabinet Colors: Dark Colors Are Finally Here & White Is On Its Way Out!
Although white cabinets are a classic look that can be used in almost any kind of kitchen style, we are slowly starting to see them on the way out! We expect white to start declining in popularity throughout 2023 .To break up the all-white kitchen expect to see islands in a variety of different paint colors or wood stain colors. The mixing of finishes create a needed accent piece and additional pops-of-color for the brave of heart.
These pops-of-colors will be most popular in shades of blue and green. In addition to these neutral nature shades is another color palette that is making its way into the kitchen–dark jewel tones: black, navy, emerald green and even plum. It will surprise you at how well dark kitchen cabinets can work in and/or enhance a kitchen space with its dramatic and luxurious feel.
Dark kitchen cabinets portray full-on elegance and a deep rich luxurious atmosphere that the other options just don't. They cast the kitchen in a subtle dramatic essence. However, you have to be careful that it does not overpower the room, making it feel perpetually dark. But more and more homeowners are getting bolder and opting for a kitchen with dark cabinet colors in 2023. Expect to see tons of black and darker color shades in the trendiest home of 2023.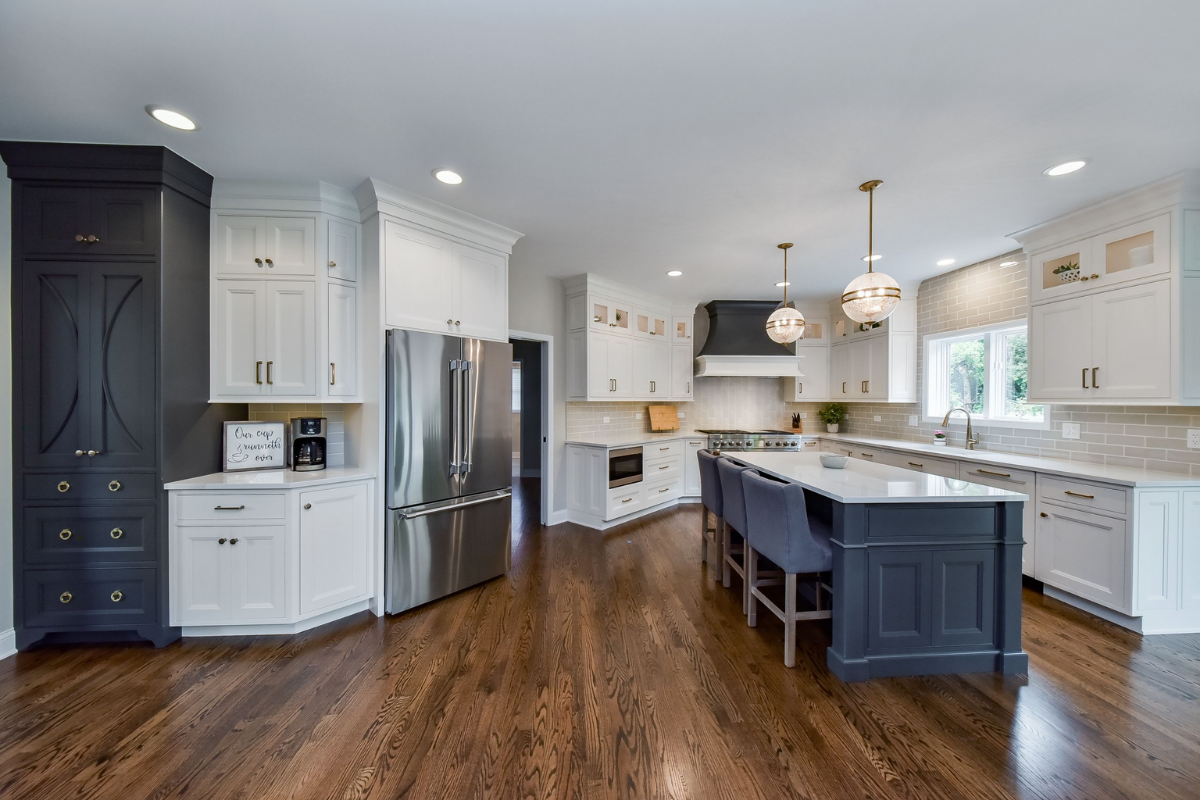 Eat-in kitchen with white cabinets and blue lower island cabinets.
#3. Streamlined Designs, Materials and Textures
While styles like farmhouse and mid-century modern are still popular, homeowners are getting more streamlined in their overall aesthetic, designs and alternative materials for kitchens. Stress-free environments are what you would like to come home too, and drown out the day to day stresses of life. Which usually means, simplicity. Simple looks are all about modern clean lines. They will continue to be a huge hit throughout 2023. Take a look at our home remodeling portfolio for design ideas.
Removing upper wall cabinets has become a growing trend in the last few years since it opens up the visual space making the kitchen appear much larger and brighter. It allows you to utilize the countertop space more productively. Not to mention, most people can't reach what is on the top shelves of the cabinetry anyway. Although open shelves would be a great alternative if the added storage space is needed or a focal point element was desired.
When we say streamlined, we don't want to equate that with boring. So, consider materials with texture. If you are using open shelving, rough cut wood to bring in natural elements or metal tubing for a more industrial attitude. Floor tiles in a natural stone or backsplash tiles that are sculpted, beveled, or stacked make for the perfect focal point. These interesting textures are very different than the usual polished or glossy finishes we see everywhere. You may even want to consider a ceiling treatment to bring in that added punch. Coffered, tray, and wood beams are the perfect choices to consider.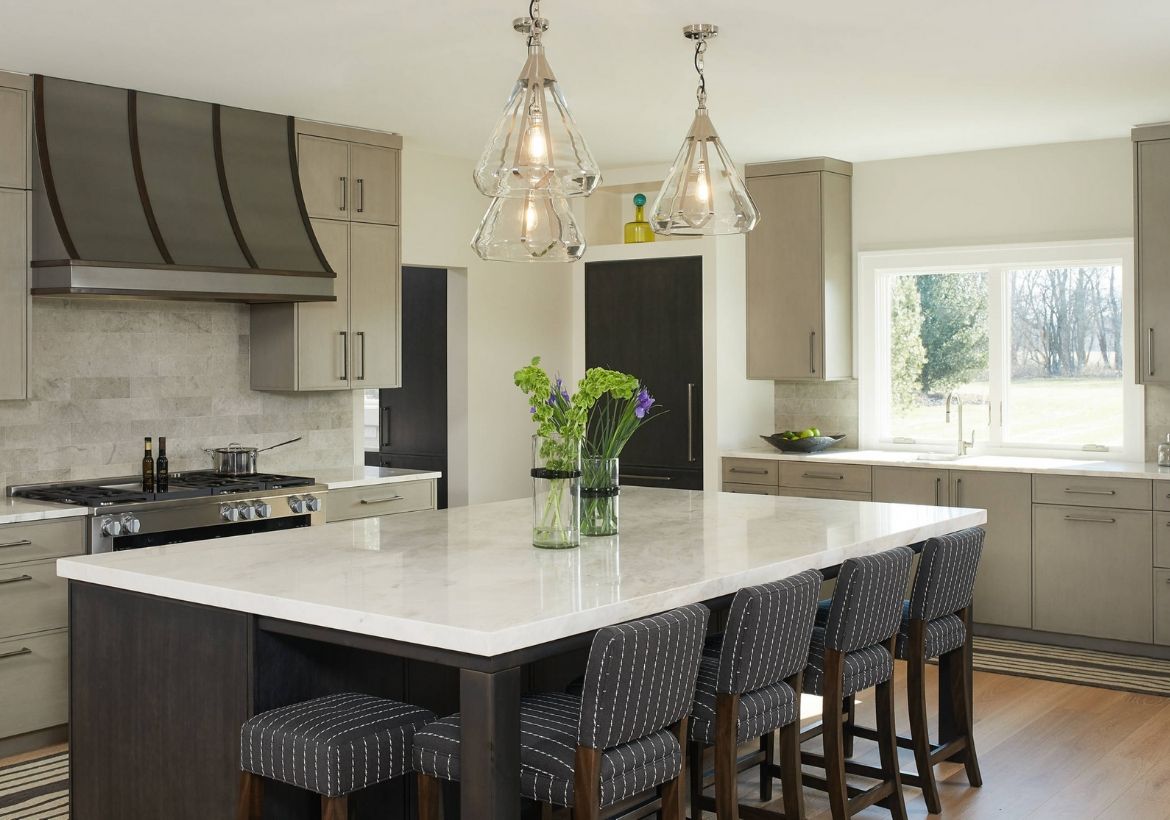 Keep it simple and elegant with fine countertop and lighting.
#4. Quartz is Still King
For high-end kitchen countertops, quartz still reigns supreme. The material is extremely hardy, can last virtually forever, is a breeze to maintain and is anti-microbial. Granite, the main competitor in the high-end bracket, requires slightly more maintenance.
When quartz countertops first came into the market, the main worry was lack of variety in terms of colors and finishes. But with time, thanks to technology, manufacturers have provided a wide range of colors to choose from as well as realistic stone patterns. You can even get quartz finished with elaborate swirls and large veining to imitate other materials like natural stone. These unique styles have become immensely popular.
But there is a notable trend toward softer and more neutral colors. More and more homeowners are opting for colors like: grey, taupe, creamy or white finishes. The pattern preferences have changed to veining from particulates that we've seen in past years. This definitely follows the trend towards cleaner styles seen in most home spaces.
While we are still on the topic of countertops, it is important to mention the rising popularity of composite sinks. These are sinks made from the same material as the countertop. This creates a cleaner uniform look and makes cleaning and maintenance much easier. However, it is going to be a tough battle against the still very popular stainless steel and farmhouse sinks.
#5. Effective Storage Solution Cabinetry
One of the biggest annoyances with kitchen cabinetry is the unnecessary waste of space. The way the basic shelves and drawers are structured leaves a lot of wasted space. Worst of all, available space is often too small for some of your larger things or the opposite: it's too wide and does not give you a way to properly and efficiently organize the space.
One of the foundations to a functional kitchen is kitchen storage. If it is inadequate or ineffective, you will be faced with endless frustrations and challenges. To counter these storage challenges, homeowners are starting to look for better storage solutions within the cabinetry. These can include: appliances garages for small appliance, drawer dividers for cutlery & utensils, pull-outs for spices, tray dividers, roll-out trays and caddies for pots & pans; as well as wastebasket cabinets for garbage and recyclables and/or deep drawers. These will make it easier to store foods, drinks and small appliances.
2023 will also see a range of new kitchen storage options throughout the whole kitchen–focused on making daily lives more effortless and making cooking fun.
Keep your pantry organized by having storage jars and labels.
#6. Hardwood Flooring is Still the Shining Star but Ceramic Tile is on its Heels
Hardwood flooring is still very popular when it comes to kitchen flooring. But the second most popular option, ceramic flooring, is about to get more attention. Thanks to technology, ceramic flooring now comes in a wide variety of designs and styles and sizes.
For example, you can get ceramic tiles that look exactly like hardwood flooring. So if you want to retain the hardwood look but wanted a material that is easier to maintain, consider using ceramic. In addition to wood, ceramic tiles can be designed to resemble a range of other materials including natural stone. Even the surface texture is changed to mimic these materials.
In terms of size, you do not have to go for traditional sizing any longer. It seems like the sky is the limit with variety and larger format tiles. You can get single plank tiles that resemble actual wide planks of hardwood once laid down on the floor. Or you can get custom cut tiles to create a uniquely patterned kitchen.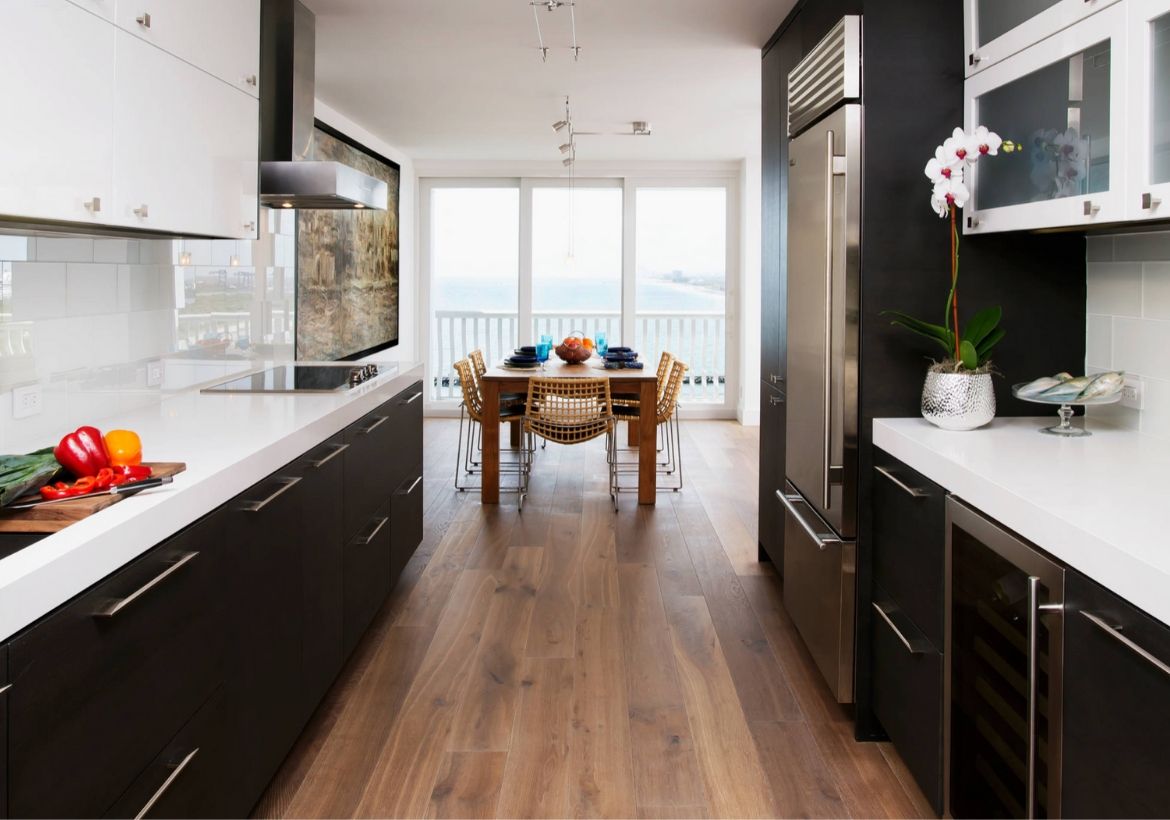 Who wouldn't love eating here with that view?
#7. Single Level Multipurpose Kitchen Islands
Kitchen islands are no longer an afterthought or something small to squeeze into the space. They have become focal points and the hub of the kitchen. One of the changes emerging is the single level larger sizing, serving multiple uses; especially since we are seeing less wall cabinet space in kitchen design. The kitchen island is meant to create an impact, and its design must make a statement.
The 2023 larger kitchen islands will become the jack-of-all-trades. They will have storage solution cabinets and be fitted with various under-counter appliances while also providing seating–serving as a casual dining and/or drinking bar. To accommodate the increased size, we are seeing a tendency for the kitchen island to extend into living room spaces in homes with open plan designs. This ensures the kitchen island can be multi-functional without cluttering up space in the kitchen.
Grey with a pop of blue is the perfect combo for this luxury kitchen.
#8. Beautiful Backsplash Trends
Backsplashes can be a fun part of the house to decorate. However, these tile backsplashes in kitchens always seem to have new trends and styles. With all the constant change, who can keep up? We are here to help, with our guide to: The Top Trends in Kitchen Backsplash Design.
First things first, subway tiles are out! Okay maybe not completely out, but if homeowners are using them these days, then they are using larger ones. People are moving on to larger slabs of tiles and tiles with various textures or patterns. The color choices are endless here. It just depends on the other colors you choose in your kitchen and of course personal taste. A pop of color would be very trendy right now and allows you to get more creative with your design. Neutral patterns with natural texture is another option for those looking for a classic look.
Another big change we're seeing in tile backsplashes are their size and the portion of wall they are covering. Large slabs are taking over. These slabs can be marble, quartz, wood, copper, stainless steel, glass…. the list goes on forever! Regarding wall coverage, backsplashes are rising to the ceiling. With upper cabinets on their way out, homeowners are left with more wall space. When it comes to decorating this space, tile backsplashes are a popular choice.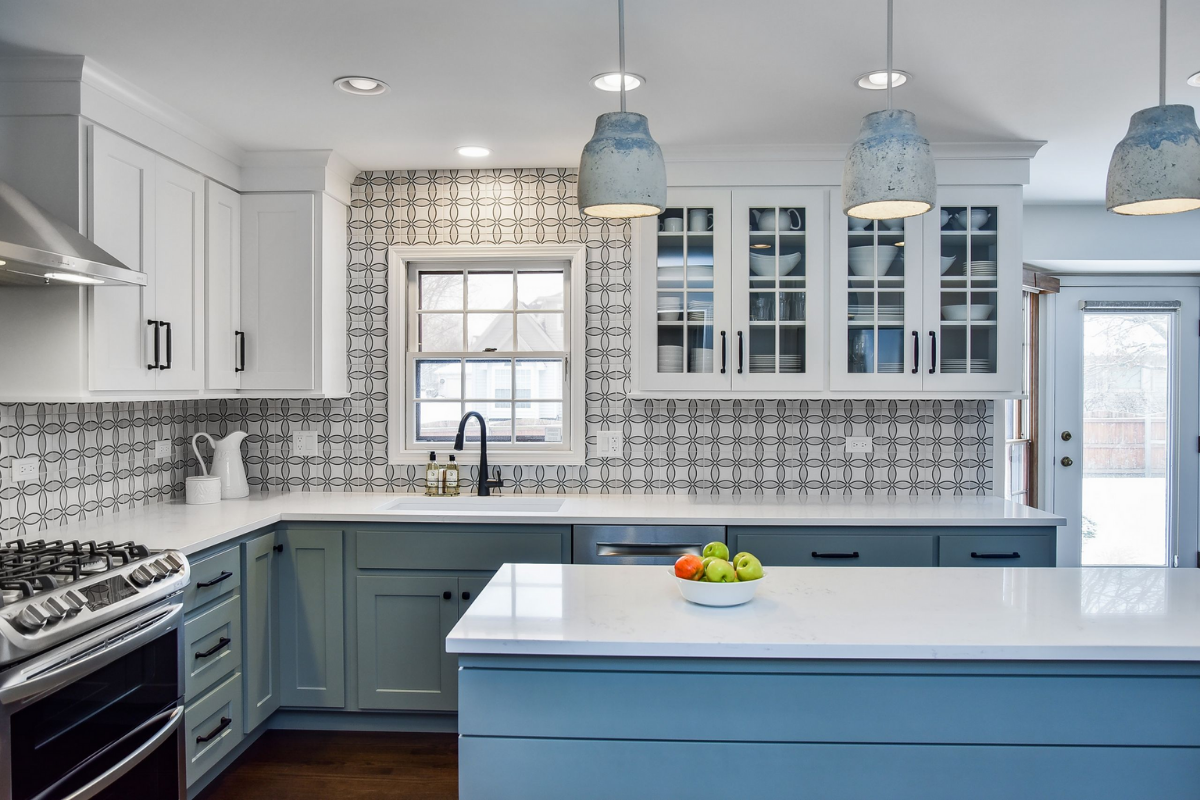 This patterned backsplash stands out in this kitchen.
#9. Connecting With The Great Outdoors
Literally! Homeowners are connecting the kitchen to an outdoor space or patio. They are also adding entry points from the kitchen to outside entertainment areas. By installing a glass door in your kitchen, you can easily connect these two spaces in your home. The other thing we are designing a lot lately is removing the existing small window by the sink and installing 5-6 foot wide windows. This requires some re-framing and removal of the wall cabinets, which is on trend.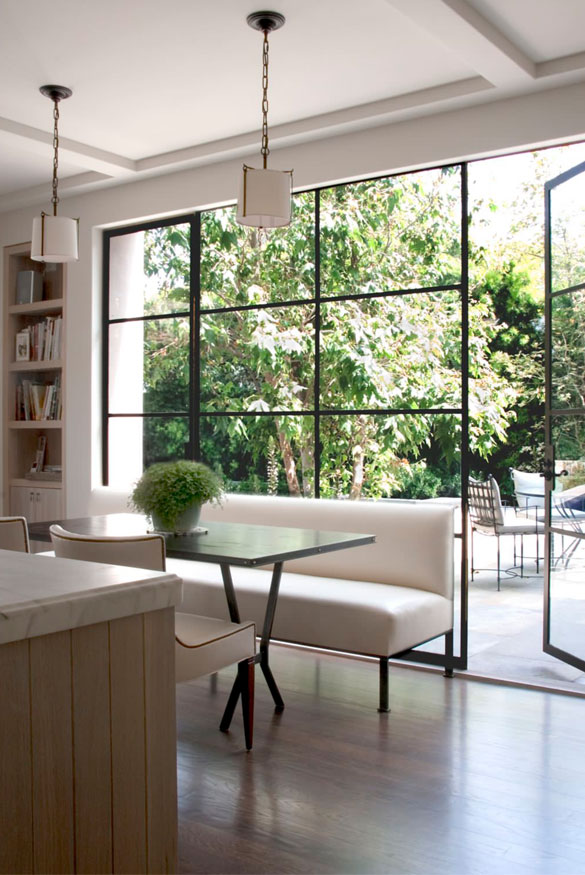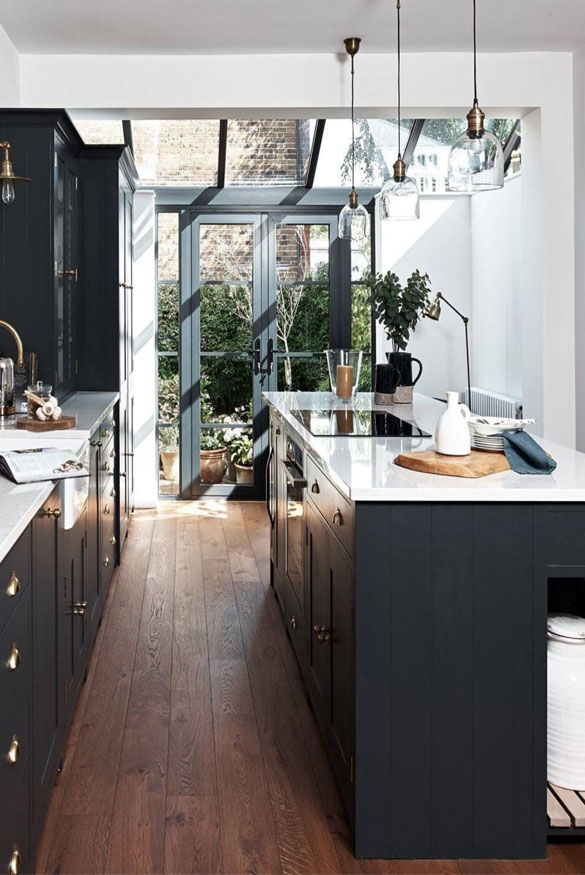 Enjoy the scenery and great lighting with large windows.
#10. Adding a Pop of Color
As mentioned above, white will always be in style. It seems as though more and more people are wanting to experiment with colored cabinets in their space, especially the kitchen. We spend most of our time in this area of the house, entertaining our friends and family, so why not put our favorite color in the space? We have and will be seeing this on islands, hutches, and even one full wall as pops of color, but not typically the whole kitchen. The colors that we will be seeing in 2023 will be the colors of the earth, such as nautical blues and bold greens. It doesn't stop there, many cabinet manufacturers have also come out with pale pinks to add a hint of femininity into the space. What color do you see in your space?
Related Articles: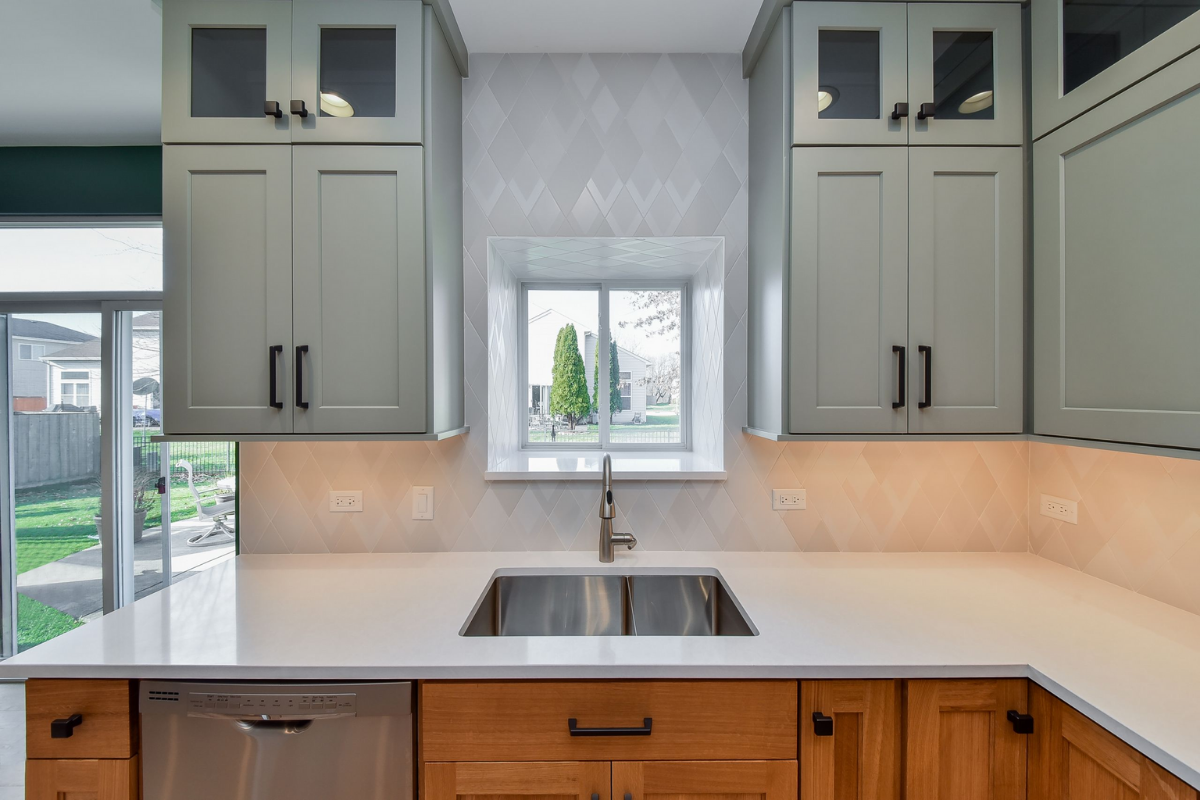 This shade of green helps bring warmth into this kitchen.
#11. Mix and Match Metals
We get this question a lot: is it okay to mix metals in the kitchen? The answer is YES! Mixing metals adds character in the space, especially if it is done correctly. We will be seeing more of an eclectic style in 2023. Keeping spaces "matchy-matchy" is no longer in trend. If you love gold fixtures, but don't want it all over your kitchen, add a soft gold faucet with black or nickel hardware. Light fixtures can be a completely different metal altogether, while having hints of the same metal you are using elsewhere.
These pieces are the finishing touch to the space. Make them stand out! Another way to mix in metals, would be in your furniture selections for kitchen tables chairs or island stools. These can be easily interchangeable when you want to change things up a bit! Textured metals that are the same color as other pieces in the kitchen are a nice way of adding a different element, while not getting too crazy. Plumbing manufacturers, such as Moen and Brizo, are coming out with more options for faucets that have mixed metals. The faucet arc might be one, like matte black and the handle could be a soft brass or chrome.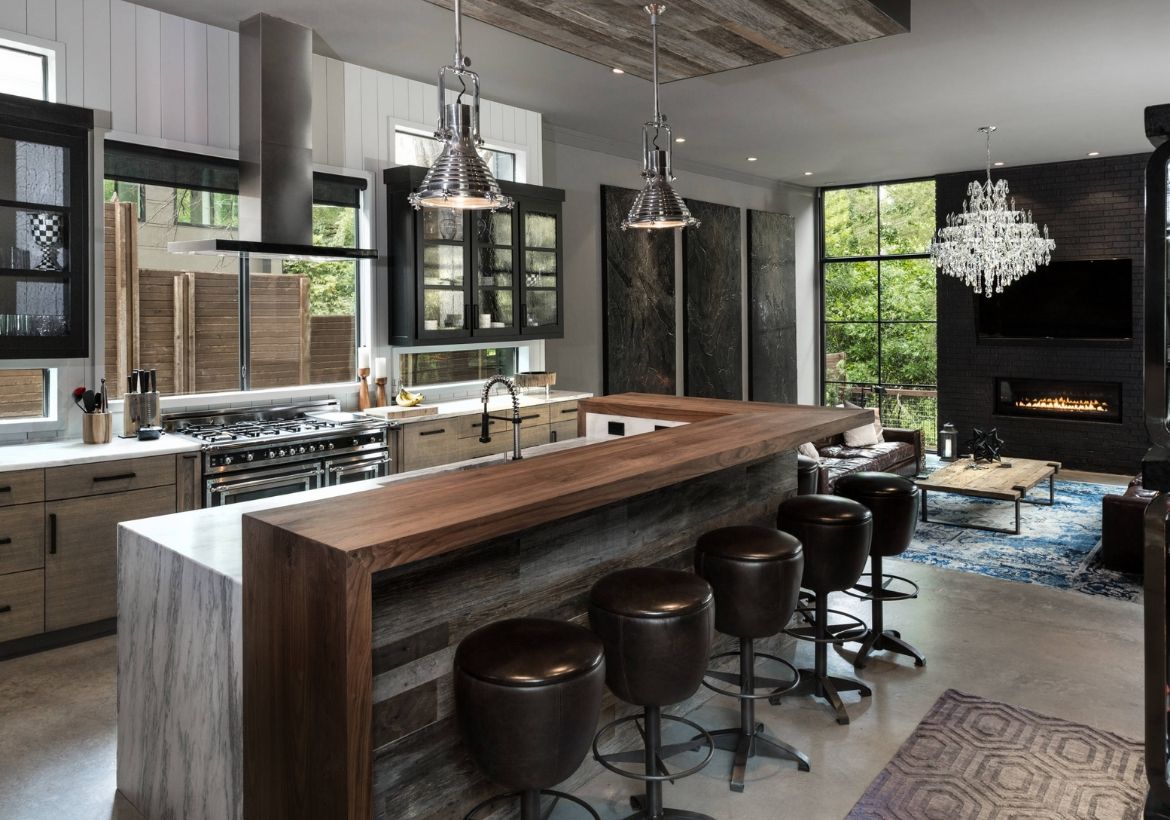 The combination of materials in this transitional kitchen works superbly!
Trend #12. Decorative Exhaust Hood
Gone are the days of a classic stainless steel hood. Today, homeowners are asking for more decorative options. Everything from wood, plaster, brick, or mixed metal hoods. Customization is key, so that it showcase and shines in a beautiful kitchen.
In 2023, we will be seeing homeowners focus on their hood designs. This piece can be a major focal point in the space, especially depending on the layout of the kitchen. Most of the time, we design the space with the range and hood on a wall that is seen from other rooms in the house. Why not make these beast of a piece a statement? Custom steel hoods are a way to add in a breaking point to a long row of wood cabinetry. These are a really nice feature, but they do come with a cost. Custom steel hoods can range anywhere from $5-7,000 plus, but they sure do make a beautiful addition to your new kitchen, so make sure you budget for this correctly. Lets get rid of those boring matching stainless hoods and be creative with your space! This is your chance to add in a mixing metal!
Trend #13. Walk-In Pantries & Outdoor Kitchens
Walk-in pantries have become a necessity, with the open concept's increased popularity, window walls, and open shelving. These pantries can be opened, exposed, or behind doors, but they are becoming more of a showpiece to be seen with painted or wallpapered walls and cheerful colors. Some even have become a "second kitchen" holding extra appliances like a dishwasher or beverage refrigerators. These spaces help keep the kitchen looking clean and organized.
After the worldwide pandemic, the outdoor kitchen has become a "like to have" space to a "must-have" space.
Conclusion
Let these upcoming trends serve as design ideas for your 2023 kitchen renovation or new home construction. These ideas combine the best in functionality and aesthetics to create the ultimate kitchen.
Check Out Our Other Great Articles: