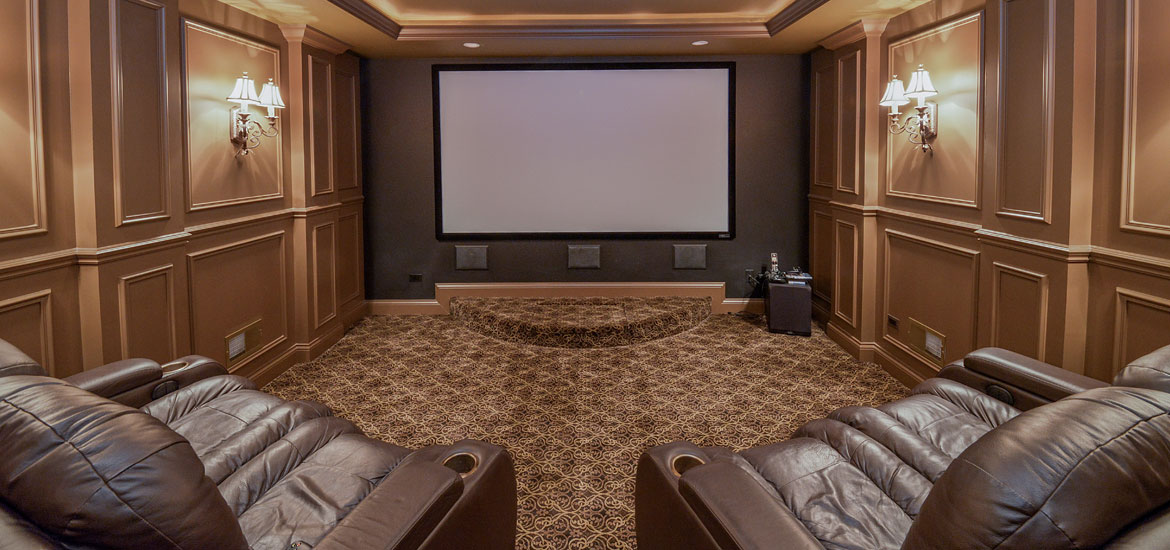 A man cave is a personal sanctuary where you can indulge your hobbies and guilty pleasures with freedom. It provides personal space for much needed me-time especially if you have a big family and busy days. The best thing about it is that you have complete control over the aesthetics. So however crazy or unique you want the design to be, you can have it all.



There are three important factors to consider when planning a man cave; location, style and furnishings.
Location
The location of your man cave will depend a lot on where you can get extra space in the house. In many cases, the basement makes a perfect location. When properly refurbished, it is cozy and well insulated from the racket of the kids above. If you have no basement in your home or if it is being used for another function, there are plenty of great garage man cave ideas too. You can also use an extra room, an unused bedroom, or a secluded area in the house. If you have limited space to use as a man cave, don't worry, there are some creative man cave ideas for small rooms below.
Wherever you locate it, what is most important is the feeling of privacy and personal space.
Man Cave Room Ideas
This is the most important part of the man cave. Be as creative, as crazy, and as unique as you want. The most common starting point is to decide what theme you want dominating the room. This will depend on your hobbies and activities. Some create replicas of submarines or airplane cockpits. Some fill their man cave with film or music regalia. It all depends on your passions. The trick is to create a theme that feels right at home with you, one that makes your heart race a bit every time you step inside the man cave.
Make sure that everything from the wall color, to the style of furnishings, to the flooring are aligned with a specific theme. While we have numerous man cave room ideas below to get your creative juices flowing, you should also check out our home remodeling ideas.
Furnishings and Accessories
A man cave is a home within a home. As such, it must be well accessorized to become a livable space. Furniture such as a sofa and recliner are a must. Also consider putting in a fridge, microwave, drinks bar (if size allows) and bar stools.



If you are a sports or movie lover, make space for a large screen TV. A pool table, poker table, or dart board are also great additions especially if you plan on having guests over often.
Other accessories include sports memorabilia, wall art, and personally crafted items.
Time to dig into the cool man cave ideas we have collected below and start planning for your own man cave.
ECLECTIC CONVERSATION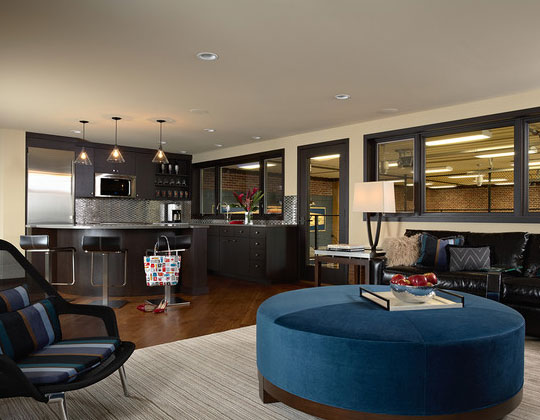 What a great conversation and bar area that is off a car collector's garage. This space also connects to a basketball area.
MEDIA MOGUL #2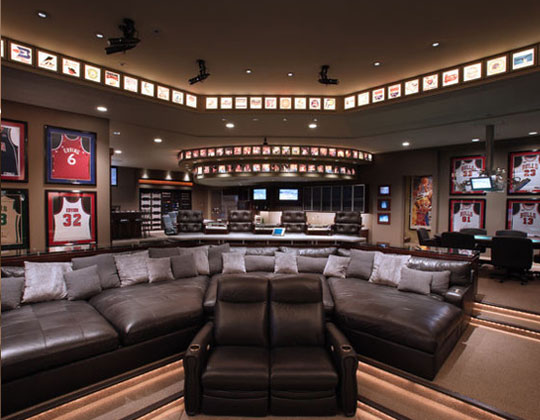 Seriously, just an exquisite space.
VINTAGE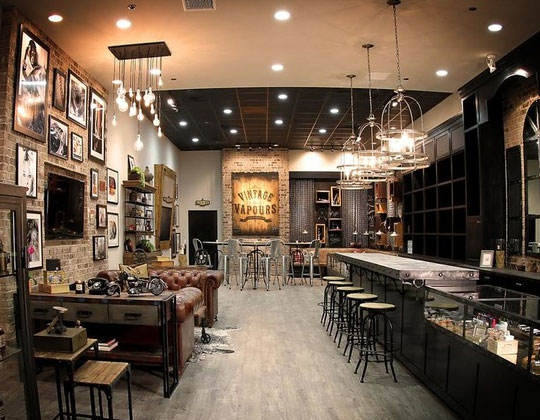 I really like the vintage look to this space. There are so many unique design elements that add interest to the room.
FORE!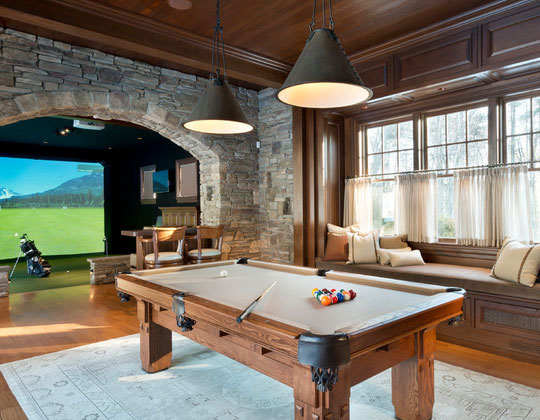 What a great space for the golf lover, but also for family to relax and unwind.
SLEEK MAN CAVE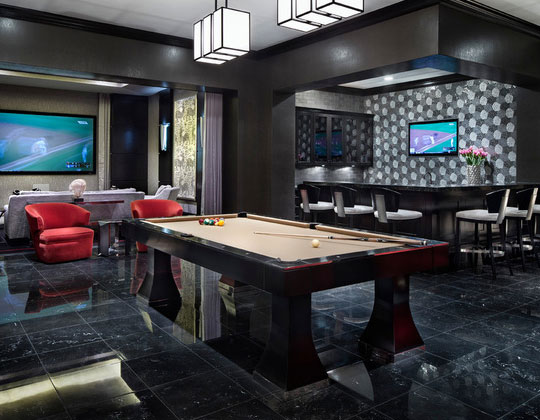 This man cave is so sleek and modern.
SHOWCASE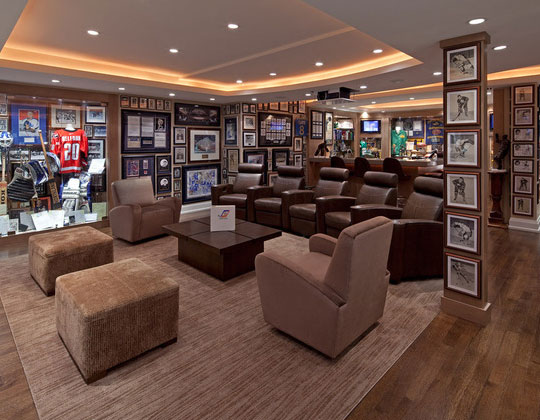 Man cave for a successful hockey player. Great sports memorabilia displays and lush seating area.
HOOPS & HORSEPOWER
Polish up your favorite rides and/or play some hoops with friends.
BACHELOR THEATER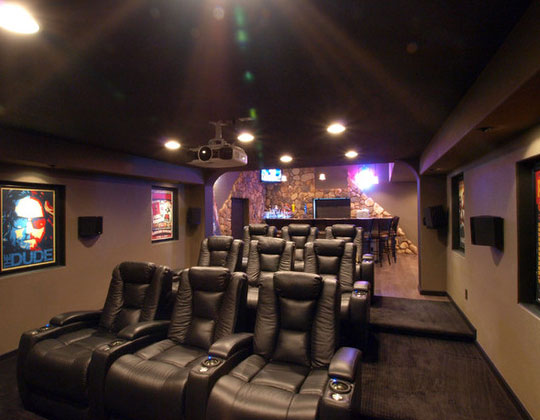 Really cool theater in this bachelor basement.
MAN SPA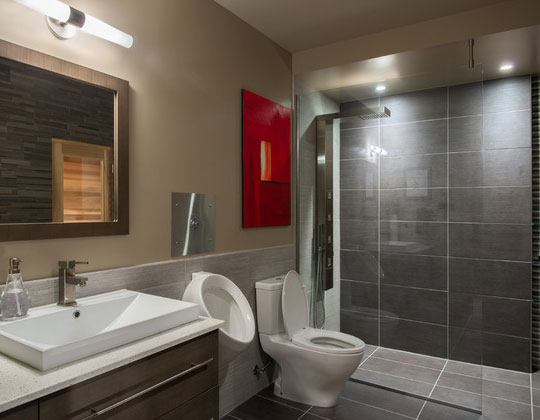 A very contemporary version of a man spa and yes it includes a urinal.
HOLY SCREENS
A sports fan dream!  Look at all those screens.  The hours that could spent in this space is endless.
JAM SESSION
Love the brick wall up at the stage and the detail on the side walls too. A great space to share some music and memories.
MEDITERRANEAN
So beautiful and comfortable–you may never want to leave this space.
RUSTIC MAN CAVE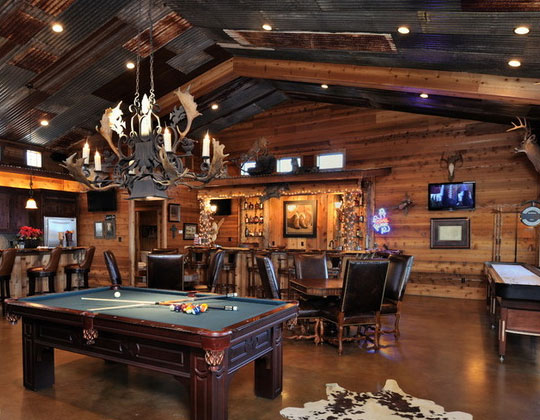 Very rustic. Interesting tin ceiling.
HOME RUN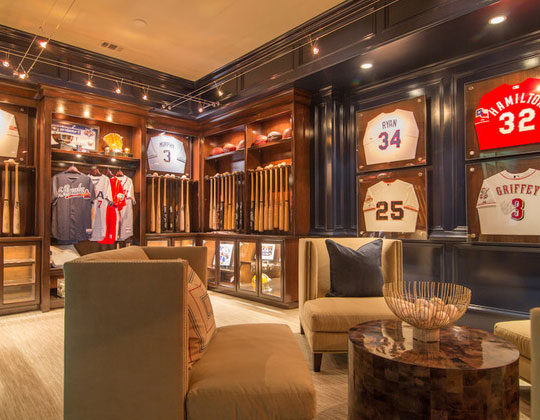 What an impressive use of space for this baseball player and collector. Nice conversation area.
ELEGANT MAN CAVE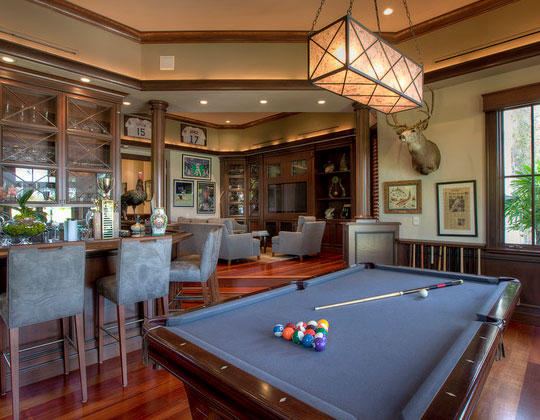 Rich colors and a little hunting memorabilia add to the masculine feel of this elegant space.
BUSINESS & BUDDIES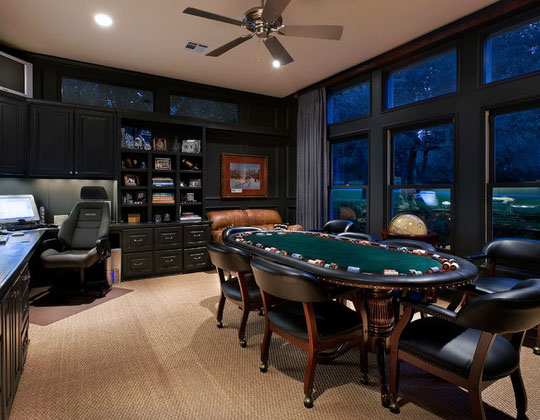 What a nice space. Balance out business and hanging out with your buddies.
TRADITIONAL CAVE
Traditional space that is perfect for relaxing. The stonework is a nice extra feature.
DIAMOND CAVE
Love all the diamond plate in this space. Seems perfect for the car or motorcycle enthusiast.
POKER PARADISE
Poker table, bar, multiple tv screens, what a great space. The room is so rich and warm and I love the detail on the ceiling.
UPSCALE CAVE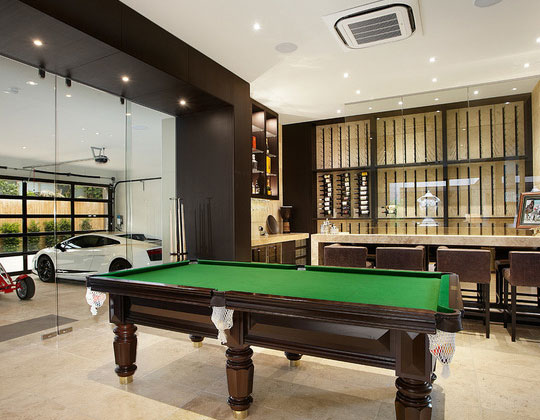 This upscale man cave includes a game room, bar, library, lounge and car display showroom.
MEDIA MOGUL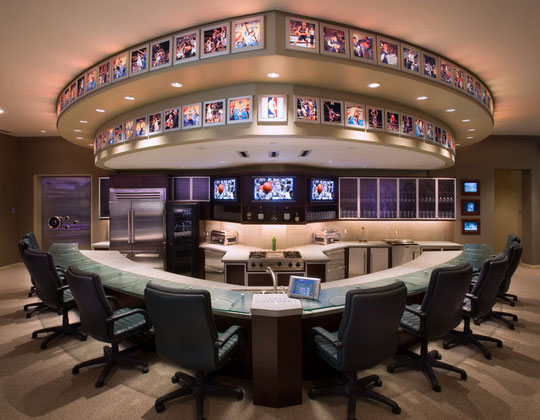 MODERN MAN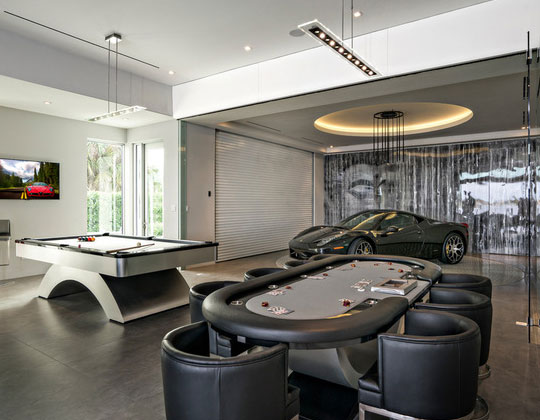 A very modern and masculine space. It reminded me of something you'd see portrayed in the comic book movies.
CONTEMPORARY BAR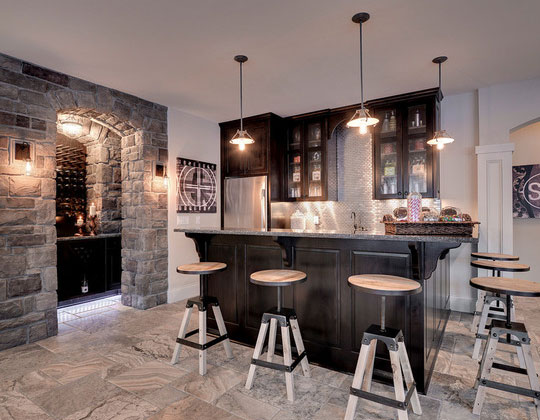 The gray tones within the tile floors and stone on the wall look really nice with the dark wood. Wine cellar area is very eye-catching and the bar stools add a nice touch!
MUSICIAN'S MAN CAVE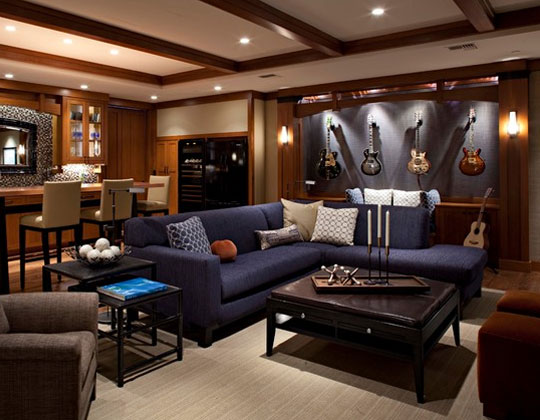 Handsome man cave for the musician.
TAILORED CAVE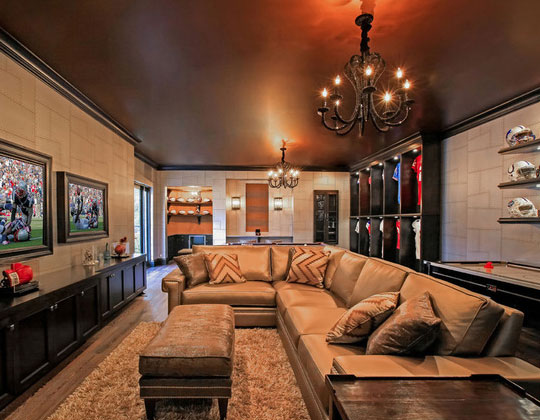 Even though this room is expansive it still feels cozy and comfortable. Attractive ample cabinetry and the frames around the screens are a nice tailored touch.
MEGA MASCULINE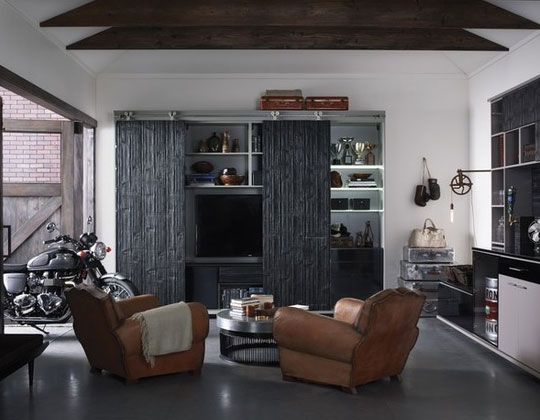 Extremely masculine. The barn doors almost have a cave feel and look to them.
BUILT-IN TV'S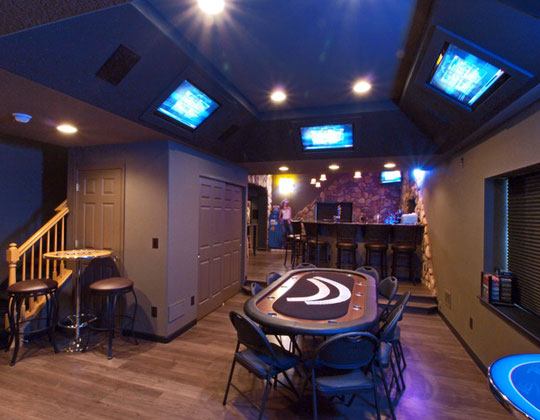 While this area of this bachelor man cave is somewhat simple in design, you can't ignore the great built-in tv screens overhead.
RED CORVETTE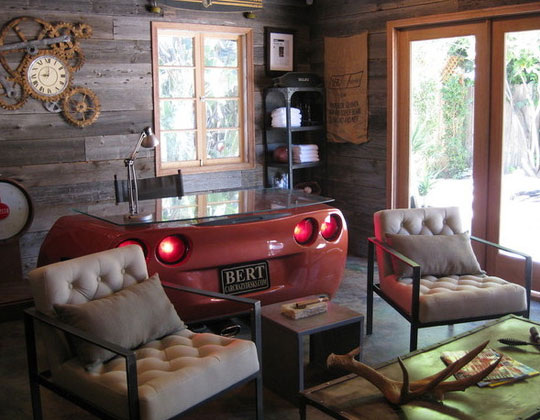 Such a cool concept for a desk!
By now, you must be brimming over with your own man cave ideas, or at the very least, you have found one or two ideas worth considering. If you are ready to go ahead with creating a man cave, we are here to help. We know more than a little about interior design and home remodeling. Our experience and expertise would come in handy in creating the coolest man cave of your dreams. Feel free to head to our basement finishing page for more info.
This is an image roundup post, curated to showcase and promote other reputable contracting companies' and their amazing work.  To have any of the images removed, please reach out to us and we would be happy to do so.