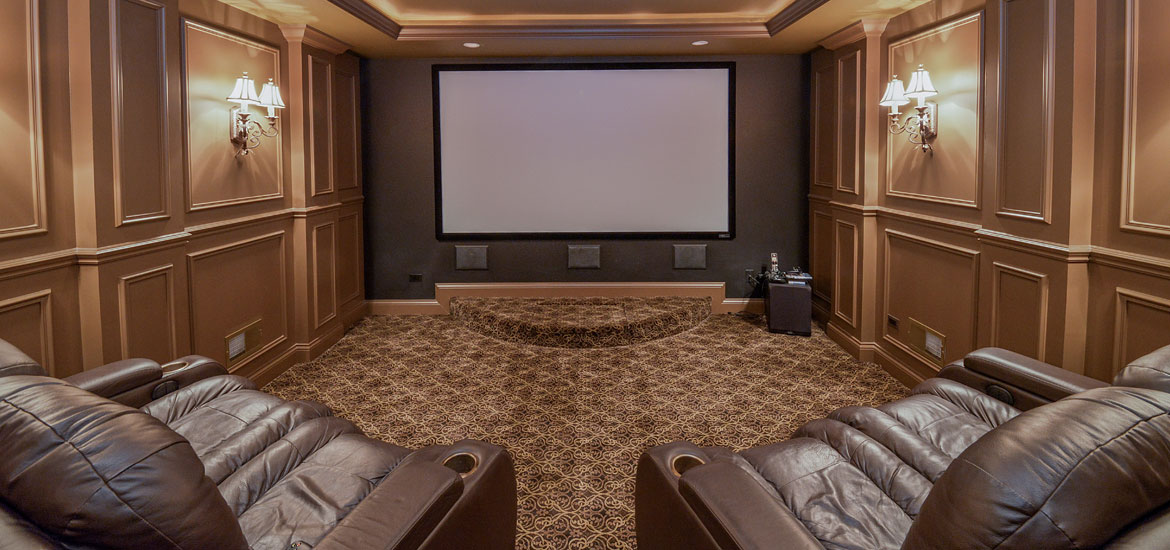 A man cave is a personal sanctuary where you can indulge your hobbies and guilty pleasures with freedom. It provides personal space for much needed me-time especially if you have a big family and busy days, as well as a great selling point for potential buyers. The best thing about it is that you have complete control over the aesthetics. So however crazy or unique you want the design to be, you can have it all.
There are three important factors to consider when planning a man cave; location, style and furnishings.
Location
The location of your man cave will depend a lot on where you can get extra space in the house. In many cases, the basement makes a perfect location. When properly refurbished, it is cozy and well insulated from the racket of the kids above. If you have no basement in your home or if it is being used for another function, there are plenty of great garage man cave ideas too. You can also use an extra room, an unused bedroom, or a secluded area in the house. If you have limited space to use as a man cave, don't worry, there are some creative man cave ideas for small rooms below.
Wherever you locate it, what is most important is the feeling of privacy and personal space.
Man Cave Room Ideas
This is the most important part of the man cave. Be as creative, as crazy, and as unique as you want. The most common starting point is to decide what theme you want dominating the room. This will depend on your hobbies and activities. Some create replicas of submarines or airplane cockpits. Some fill their man cave with film or music regalia. It all depends on your passions. The trick is to create a theme that feels right at home with you, one that makes your heart race a bit every time you step inside the man cave.
Make sure that everything from the wall color, to the style of furnishings, to the flooring are aligned with a specific theme. While we have numerous man cave room ideas below to get your creative juices flowing, you should also check out our home remodeling ideas.
Furnishings and Accessories
A man cave is a home within a home. As such, it must be well accessorized to become a livable space. Furniture such as a sofa and recliner are a must. Also consider putting in a fridge, microwave, drinks bar (if size allows) and bar stools.
If you are a sports or movie lover, make space for a large screen TV. A pool table, poker table, or dart board are also great additions especially if you plan on having guests over often.
Other accessories include sports memorabilia, wall art, and personally crafted items.
Time to dig into the cool man cave ideas we have collected below and start planning for your own man cave.
RED CORVETTE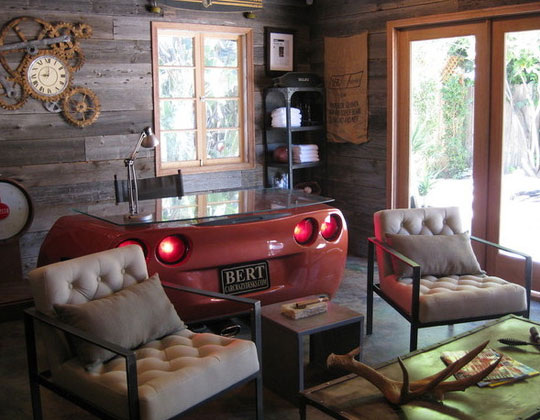 As a desk, a piece of your old car is a neat idea. Imagine saving money by recycling things that turn out to be great designs. This great idea of a man cave is a masterwork of HER Designs.
Man Cave Ideas At Home
When you like to get away from the stresses of contemporary life for a while, nothing beats a relaxing vacation to your man cave. These treasured areas allow us to slow down in a fast-paced environment and recharge our batteries for men. For many men with families, the man cave may be the only place in the house they can genuinely call their own. It is a location that is specifically designed for masculine energy and interests.
Our man caves are also personal sanctuaries where we may honor the various memories we've amassed throughout the years. It's where we keep the things that are most important to us, such as our trophies, photographs, and even the baseball card collection we've had since we were kids. A man cave is similar to a closet. It is an opportunity for you to demonstrate your distinct style and individuality.
Man caves are, of course, great places to entertain. Home theaters, sports rooms with pool tables, and even indoor basketball courts are just a few of the ways that men use their man caves to unwind with friends after a long day at work.
Your man cave may become your ultimate at-home hideaway, whether it's utilized to decompress after a long day at work, watch the big game, hang out with a group of friends, or get in a workout. Check out these ideas for establishing a man cave if you're looking for ways to create your hangout at home!
Where To Put Man Cave Ideas
This is entirely up to you! Your ultimate man cave might be built in a variety of locations, depending on what you want to build and the available space in your home. These are only a few examples.
Attic Or Flex Room
Don't know what to do with an attic or bonus room? Convert it into a man cave! Not only does this make use of previously unused space, but it can also provide your man cave extra privacy!
Basement
Basements offer privacy for your man cave! With a basement, you can have an entirely different décor and atmosphere from the rest of the house, allowing you to personalize it.
Garage
Because there is no carpet or furniture to worry about in this area of the house, a garage man cave can be a fantastic place for a home gym, workshop, or art studio where you can get a bit dirty!
Backyard Or Patio
The backyard is a wonderful place to barbeque, sit by the pool, play yard games, or simply enjoy the weather. If you enjoy spending time outside, a patio or deck could be the ideal location for your man cave!
Outbuilding Or Shed
Your man cave does not even have to be connected to the rest of the house! A detached building in the backyard can be converted into a man shed, ideal for loud activities like cheering at a game, using power tools, or playing instruments.
Extra Bedroom
Do you have an additional bedroom that you aren't using? Underutilized spare bedrooms or other underutilized areas in the home are blank canvases begging to be transformed into a man cave!
By now, you must be brimming over with your own man cave ideas, or at the very least, you have found one or two ideas worth considering. If you are ready to go ahead with creating a man cave, we are here to help. We know more than a little about interior design and home remodeling. Our experience and expertise would come in handy in creating the coolest man cave of your dreams. Feel free to head to our basement finishing page for more info.
This is an image roundup post, curated to showcase and promote other reputable contracting companies' and their amazing work. To have any of the images removed, please reach out to us and we would be happy to do so.