Knowing the gender of the little bump that you will welcome within the next few months will give you the advantage especially when you want a gender-specific nursery interior. Unlike girl nurseries, most baby boy nursery ideas are somehow generic in appearance. The goal of this blog post is to widen your options beyond the use of blue colors. We curated photos which can inspire your creativity when constructing that room for your little one.
A lot of decisions will come along with raising that tiny human, they are almost endless that is why it is better to start with the elements that you can control as parents. The fun part of preparing the room for your baby is the joy that comes when decorating it with adorable nursery themes. This guide will help you discover the most important things that you need to consider in order to make sure that the room which you put together is a functional happy place for the whole family.
AVIATION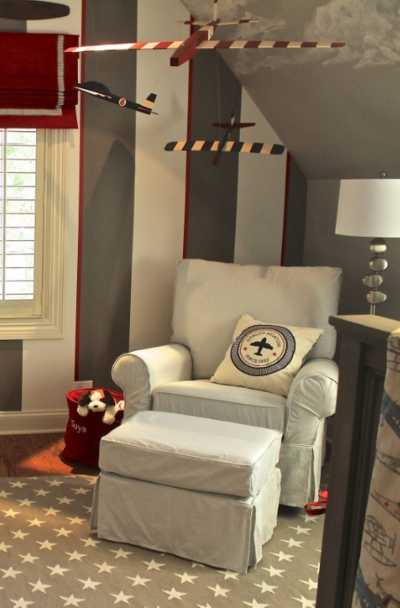 A minimalist and modern nursery by Steffanie Danby Interiors with a monochromatic color scheme, featuring a graphic black and white accent wall and simple wooden furniture. The stripes on the walls match the stripes on the airplanes. The gray furniture looks good with the floors.
ROYAL BLUE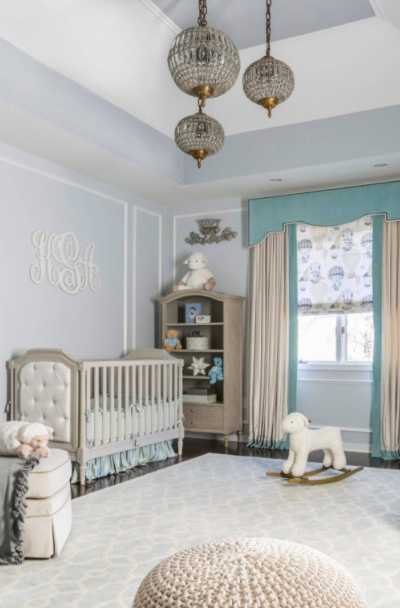 A modern and minimalist nursery by House of Style & Design with a simple white and gray color scheme, featuring a graphic black and white accent wall and sleek wooden furniture. The royal blue highlights the elegant features in this nursery, including drapes, carpet, and chandelier furniture.
HAND PAINTED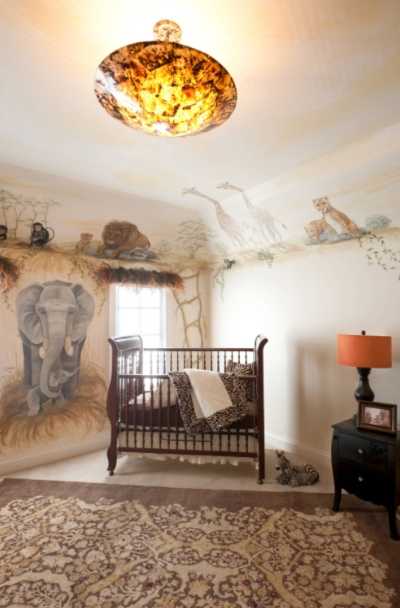 A charming and cozy nursery by Nisha Tailor Interior Design. LLC with a woodland theme, featuring forest-inspired wallpaper, a wooden crib, and rustic accents. The hand-painted safari jungle painting is a great way to add depth and character to the nursery room.
SO NATURAL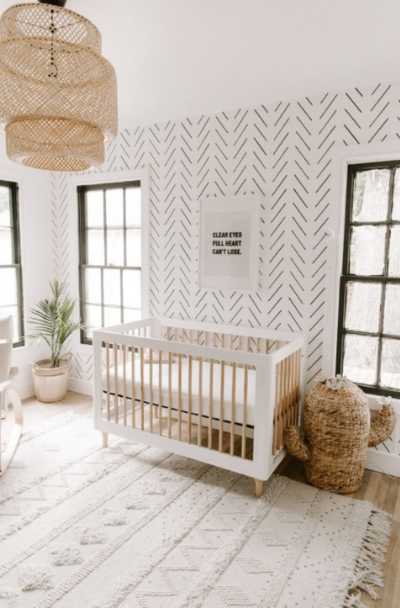 A rustic and cozy nursery with a mix of warm wood tones and natural textures, featuring a wooden crib, a plush rug, and a cute animal wall hanging. The black & white chevron wallpaper by Livettes Wallpaper is a gender-neutral backdrop enhanced with wicker accents.
STRIPS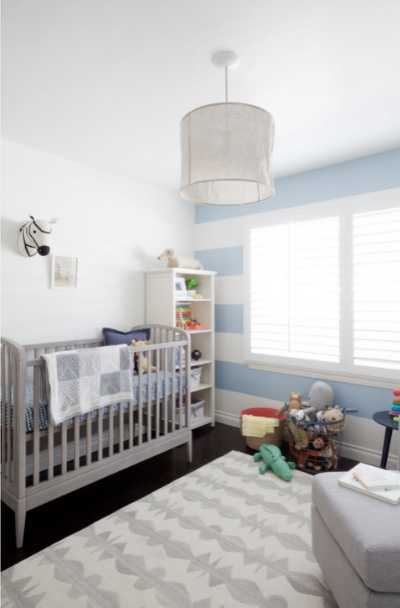 A playful and colorful nursery by Designstiles with a mix of blue and white colors and fun patterns, featuring a striped accent wall, calm bedding, and whimsical wall decor. The blue and white stripes make the room feel bigger. The dark floors and gray furniture tie together.
COASTAL
The navy blue and white bring this coastal theme together. The decor is a perfect touch. A modern and minimalist nursery by Nest Design Studio with a simple white and blue color scheme, featuring a graphic blue and white accent wall and sleek wooden furniture.
Invest in a Quality Crib
One of the most common mistakes that most parents make is not finding a quality crib that can last them for years. The crib should be your investment piece within the whole room. Most kids use their cribs for at least three years, maybe even more. Considering the number of years that this furniture will be in your room, getting a high-quality crib will be worth it. Do not think of the crib as a temporary item especially if you are planning to have more kids, a sturdy crib will surely last through years for your second or even third child.
You can also consider getting a crib that converts to a toddler bed or even to a full-size bed. The cost might throw you off but think of the length of time that this will serve its purpose. You will need to choose wisely on this matter because a crib that converts into a full bed needs to bear a timeless design because it will be a "permanent" fixture in the room. You can choose a crib that matches your personal preference but you might need to reconsider if you are having a theme for the entire nursery. One of the most worthy nursery ideas I read before is keeping the crib gender neutral especially if you plan to have more kids.
Your crib should meet all safety standards. Repurposing your childhood crib might be a great fit for your vintage interior design but do not do it if it does not meet the safety standards. Keep in mind that this is the place where you will leave your baby alone, make sure that it is totally safe. Most baby boy themes for nursery do not involve frills on the crib but you can freely do it as long as there is no element that will possibly put your baby in danger. Having an assurance that your baby is in a safe place will help you consider investing in a quality baby crib.
RUSTIC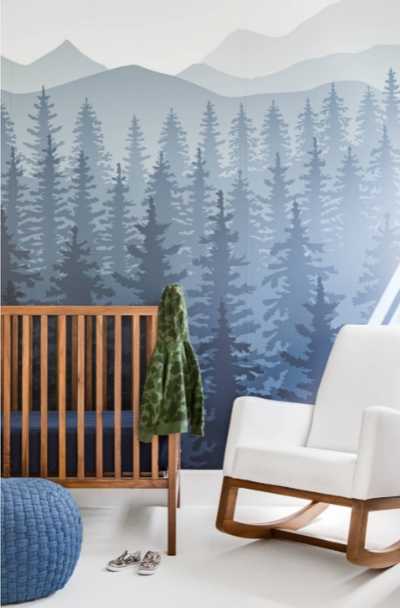 The background wallpaper is perfect to accent the crib wall. The blues and whites bring it together. A charming and cozy nursery by Brandon Architects, Inc. with a woodland theme, featuring forest-inspired wallpaper, a wooden crib, and calming accents.
MULTI COLORED
A modern nursery by Traci Connell Interiors with a clean color scheme, featuring a graphic black and white accent wall and simple wooden furniture. The green, navy and gray colors in the room serve as great highlights to the wallpaper and tall ceilings.
WISE OWL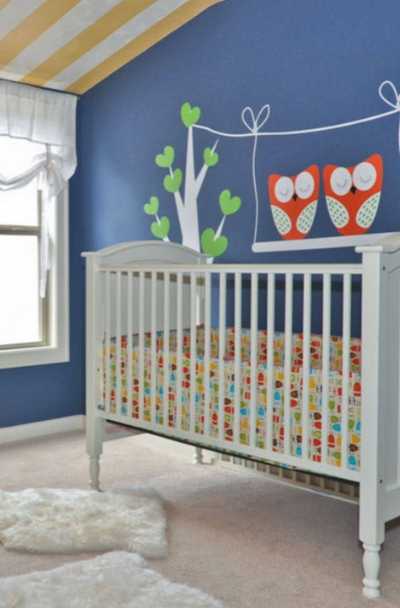 A playful and colorful nursery by Signature Homes with a bright blue and yellow color scheme, featuring a striped accent wall, fun patterned bedding, and playful wall decor. Paint colors make it feel like a nice sunny day outside ideal for owl-watching.
You Need a Changing Table
A changing table will come in handy because raising babies means taking dirty diapers too. The changing table will make you take care of this job in a more pleasant manner because the table will make everything accessible. Most cleaning essentials when taking care of the baby's dirty diapers are placed near the table so you won't need to leave the baby unattended in the middle of cleaning him up. When everything is at close range, cleaning up after the baby will become a more pleasant task.
The space that you will dedicate to the changing table should be somewhere to actually accommodate the activity. You can have a free-standing changing table when the nursery is spacious enough for it. However, when there is no extra space, you can have a changing pad that you can add on top of a dresser in order for you to have a more comfortable location. Both of these options will work as long as it serves its purpose.
Your changing table needs a few additional essentials like bins and dresser drawers for the storage of all diapering related items. Dresser drawers will keep your stash of diapers, wipes, change of clothes, lotions, and more in an organized fashion. Make sure that you keep some baby toys closely so that the baby will have something to play with while you are cleaning him up. Do not forget to have extra changing pad covers. You might be surprised how fast you go through these pad covers in a day so plenty of back-ups will always be needed.
Your freestanding changing table needs to have its life beyond the baby's toddler years. Most parents try to get changing tables that can be repurposed for other fixtures to make their investment worthier. Making it into toy storage or even a bookcase that you can use in your kid's playroom later on is possible. There are a lot of DIY repurposing that you can actually do. It has done its job as a changing table. When you are using a changing top instead of the freestanding table, all you need to do is to make sure that it is secured to the top of any dresser at a comfortable height for you. And the best part is when the diaper phase is over, it can be easily removed and what you're left with is a dresser for your big kid.
OVER THE MOON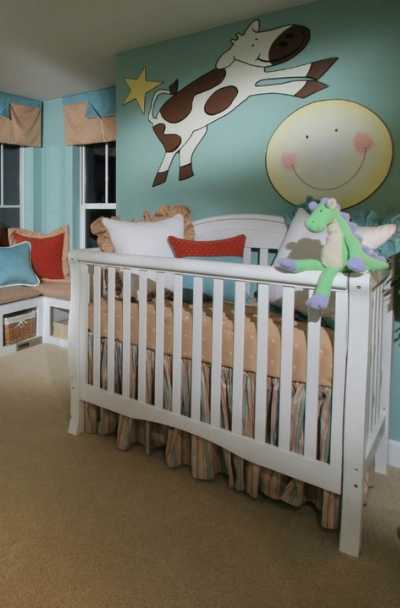 A nautical-themed nursery with a mix of blue and white stripes and cute animal creature accents, featuring a cute crib and throw pillows. Nursery rhymes are the perfect inspiration for room themes like this design by Shanna Shryne Design.
MERRY GO ROUND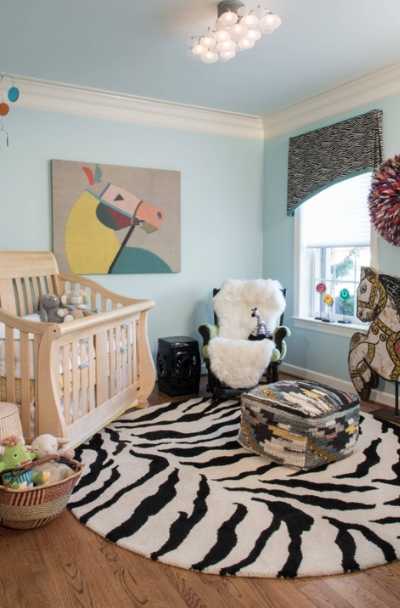 Anyone would enjoy spending time in this carousel-influenced nursery complete with horses. A charming and cozy nursery by Marcia Moore Design with a woodland theme, featuring forest-inspired wallpaper, a wooden crib, and rustic accents.
Decorative Crib Bedding
Most baby room themes feature a generic crib while the beddings are filled with patterns that match the room well. When designed with good looking bedding, the crib becomes a focal centerpiece that advertises the theme of your nursery. Pulling your own style for the bedding is an experiment that most parents are very open to doing when decorating the room. You can easily introduce baby boy themes and other gender related themes to the nursery with the type of bedding that you'll get. It is the easiest place to complete the color palette you are building for the whole space.
Make sure that you have plenty of crib fitted sheets. You'll be shocked at how many you need in a day. Sometimes you will need to change the sheet more than twice a day so you need to have at least 5 or 6 spare sheets unless you want to do laundry constantly. Having spare sheets will make your life more comfortable because doing the laundry is a chore that you need to leave out when the baby is wide awake. Another consideration that you need to look into when choosing beddings is the material. Make sure that it is soft to the touch and is 100% cotton; to make sure that your baby's sensitive skin won't have any reaction.
When you want to add more character to your crib, you can opt to use crib skirts. This crib accessory gives an additional design element to the overall look but isn't always necessary. This is usually added when you want to add a more traditional look into your crib. You do not need to worry about the crib skirt not fitting into your baby boy's room; there are designs which can definitely be used for boys and other gender neutral rooms.
Choose a Comfortable Nursery Chair
The most common option for a chair in a nursery is a rocking chair. Its lulling movement will help lull the baby to sleep easily. It might even make you feel more relaxed that you can also sleep with the baby in your arms. If you already have the perfect chair, the next thing that you need to look into are fabrics that clean easily and holds up to a lot of use. This will keep the chair clean despite the spit and poop it will accumulate from taking care of the baby.
Keep in mind that you need a chair with armrests and is roomy enough for you and your tiny baby. The rests are for your tired arms, it will help you to still support the weight of the baby when you can no longer feel your arms. You also need to see to it that the chair will be able to accommodate not just a tiny baby but also a rambunctious toddler. Another feature that you need to make sure in your chair is a back support with a comfortable height for you and your partner. You might also need to throw in some pillow for additional lumbar support to make sure that you won't get muscle strains.
You deserve a comfortable place to sit. This will be a space where you will do your activities with the baby. You will be rocking the baby to sleep here. This is also the place where you will nourish the baby. Entertaining your baby in the nursery chair will only be enjoyable if the chair does not strain you after the long hours of sitting on it. Reading and cuddling with a baby in this chair might sound like an easy task but you won't be able to properly do it when your back is hurting. The nursery chair will be an instrument to a lot of parent-baby bonding so you need to choose wisely.
Get a Lot of Storage Space
This tiny human being will need a lot of things, so you need to have a lot of storage in order to keep the nursery room tidy and organized. Most of your space will be for toys, diapers, books, clothes and other gear which needs proper places for storage. If you have the space for it, you can make use of large drawers and bins to accommodate all of your baby's items.
A storage that has the ability to fit your needs today and tomorrow will be a great help. You will need to be wise and strategic when choosing cabinets and shelves because they will be fixtures that the nursery will have up to the moment you transition the room into a kid's bedroom or even up to his teenager bedroom. Your baby won't stay forever in diapers, so be sure that the diaper basket can also be used as storage for something once the diaper phase is over.
Final Thoughts
Your nursery room doesn't have to be all "baby-ish." It can be a reflection of your warm family and care for your newborn. Showcasing the love that you have for your baby while setting up this room will be a great journey for you and your partner so you both need to enjoy the whole process. Do not be stressed over the little details as long as you know that the room will keep him safe, your effort for this project is enough.
Now that you have almost all of the functional pieces for your nursery room, you can go full head on getting boys room decor. The tiny details such as the rug, can create a personality for your nursery. This will serve as the place where your baby can explore his room so it will be best to make it child friendly. Having it made from an easy to clean material will be a great added bonus for you not to have a hard time when it is stained with "natural" baby liquids.
When it comes to decor ideas for your baby, there aren't any real rules that you should follow. What we enumerated above are the elements that you need to look into to make sure that you and your baby will be more comfortable during the early childhood phase. Once you are able to fill the nursery space with things, decors, and furniture that will make you happy, we are assured that the end result will make you more equipped in taking care of your baby.
This is an image roundup post, curated to showcase and promote other reputable contracting companies' and their amazing work. To have any of the images removed, please reach out to us and we would be happy to do so.
Other Great Articles to Read: