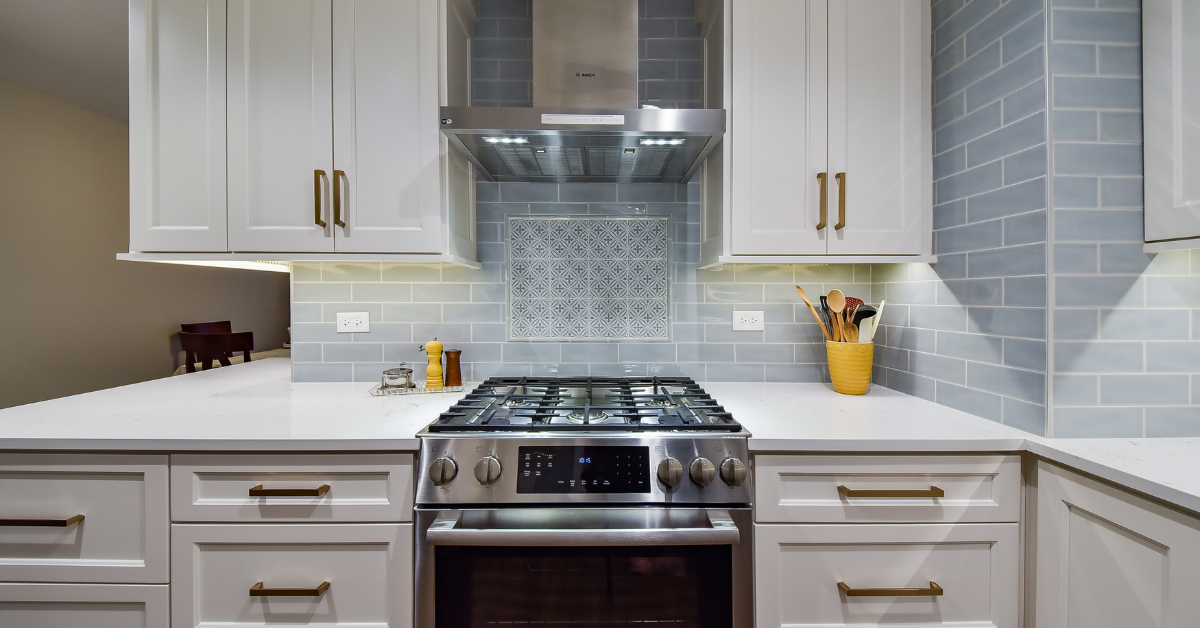 Kitchen hoods are the equivalent of fireplaces in the living room. A natural focal point, custom range hoods should be chosen and designed properly. Kitchen hoods are available in various styles, and we are delighted to share some of our favorite contemporary trends with you.
We have different kitchen hood ideas, such as discreet hoods that blend in with the design, hoods that look like cabinets, decorative metal range hoods, statement piece hoods, wood hoods, and more!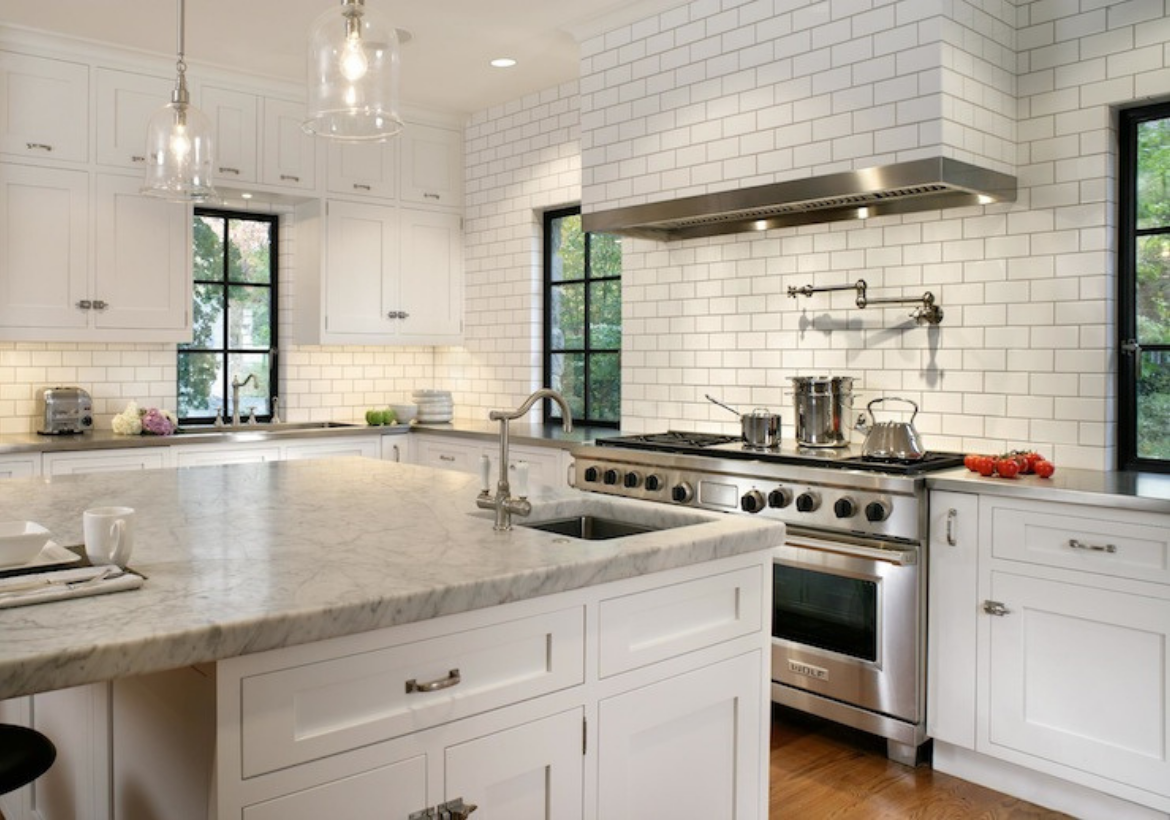 White subway tiles cover the range hood.
Kitchen Hood Ideas
Tiled
Some kitchen hoods are available in totally or partially tiled variants. Tiled kitchen hoods fit in seamlessly with tiled backsplashes. Also, they have a very clean appearance, with exactly parallel lines and sleek colors. If committing to a single tile seems too much for your home, consider only a tiled trim. This offers you greater creative freedom with the range while yet tying back into the backsplash, floor, or countertop tiles.
Painted
Painted decorative metal range hoods have always had a basic and traditional feel to them. Many people find that paneling their kitchen hood to match their cabinets maintains cohesion across the top of the space. If you want to take this style to the next level, try painting the kitchen hood a color that contrasts with the cabinets while still pulling in other colors from the room. You can go for a white kitchen hood, black kitchen hood, or even a gold kitchen hood.
Stainless steel kitchen hood with decorative tile backsplash.
Stainless Steel
Stainless steel kitchen hoods are an obvious choice for more modern homes. They're sleek and gleaming, and they complement the other stainless steel appliances in the area. Many modern types have a flat front, which means their design isn't slanted to cover the entire stone range. For a tidy finish, these frames keep the kitchen hood perpendicular to the cabinets. You can also opt for a brass kitchen hood if you want some color.
Wood Hoods
Wooden hoods look great in any rustic-themed home. They are available in various wood tones, ranging from dark walnuts to light oaks. These wooden-plated fronts are stunning, rustic, and inviting. Consider a kitchen hood with wooden trim if you don't want to commit totally to wooden hoods or just want to add an accent. This enables connections to the remainder of the wooden kitchen's features.
More Kitchen Hood Ideas: Statement Piece Hoods
Gold Kitchen Hood
Golden rims, like wooden trim, provide a basic, minimalistic appeal. Gold trim complements other gold appliances, such as lighting fixtures, wonderfully. Gold accents attract the eye upwards and open up the space. It looks especially magnificent against marble or even black, both of which emphasize gold's inherent style. We love the designs from Kitchen Aid Hood and Wolf Kitchen Hood.
Marble
For a variety of reasons, we prefer stone kitchen hoods. Thus, we're including marble in our kitchen hood ideas. Marble kitchen hoods are fireproof and powerful, ensuring that the kitchen is visually appealing. Our artists have been educated in traditional French carving, ensuring that your one-of-a-kind piece is not only handcrafted but also gorgeous.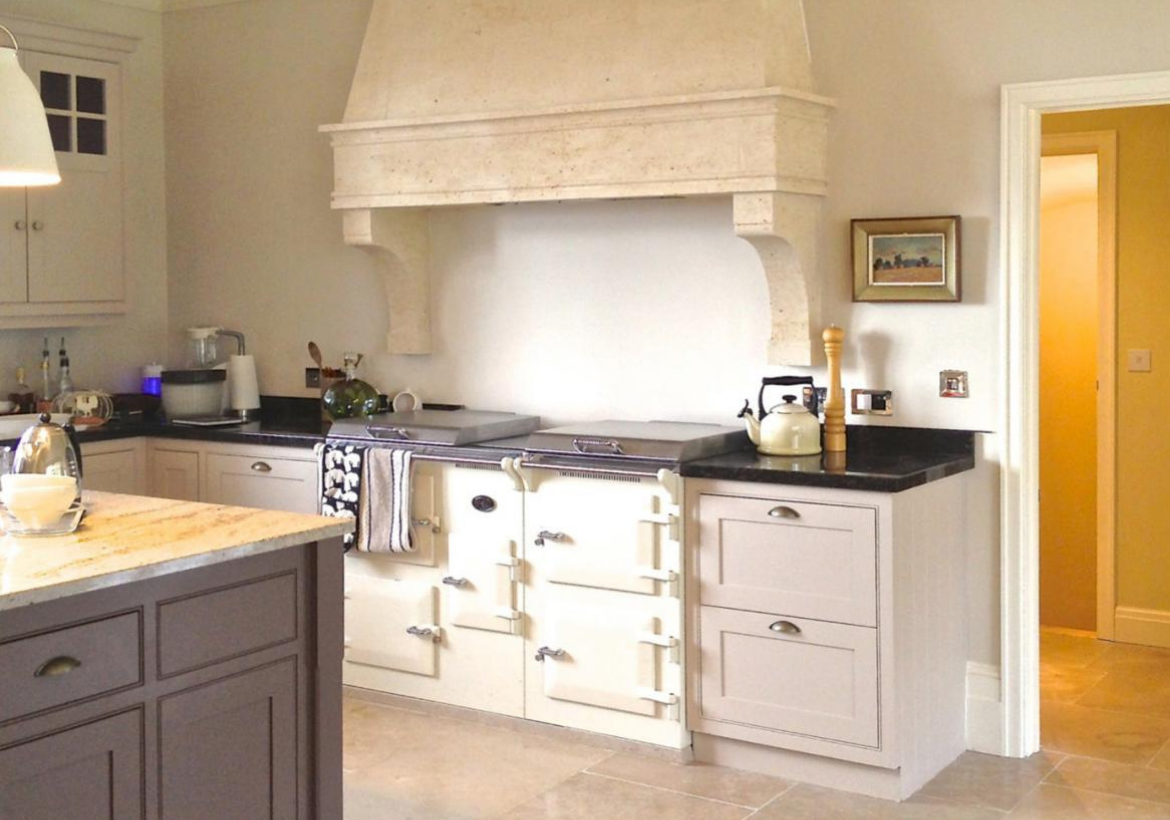 This limestone range hood looks ethereal!
Limestone
The elegance and attraction of European chateaus and French farmhouses are encapsulated in limestone farmhouse kitchen hood. Thanks to our French hand-carving skills, every unique limestone style is exceptionally magnificent. They can embody any existing aesthetic in a room, from large and simple to delicate and detailed. Most notably in neutral-tone kitchens, limestone provides a relaxing and inviting aesthetic.
It's Time To Pick Your Dream Hood
The kitchen is the heart of the home, and a kitchen hood may radically alter the entire atmosphere of the area. We can recommend the best approach to style tiles, terracotta, and stone in your house, no matter how you want to beautify your kitchen hood.
Under Cabinet
The under-cabinet range hood is the most prevalent type. If you don't waste any space in your kitchen, chances are you have cabinets put directly over your range. These hoods are designed to fit snugly beneath your existing cabinets and are ready to absorb cooking fumes.
Wall Mounted
If you have a range against a wall but no cabinets, wall-mounted hoods attach straight to the wall, concealing venting behind eye-catching facades. This basic option will always be a timeless style that suits any kitchen decor.
Make It Personal
Whatever type of range hood you choose for your kitchen, you must first decide whether you require a recirculating kit or a range hood. The real fun starts when you decide on a type of hood. You can limit your options by emphasizing features, forms, and finishes. Others include popular features such as high-CFM blowers and elegantly integrated controls. Choose from geometric shapes with clear lines and warm curved ones that lead the eye up. Stainless steel, satin gold, glossy and matte black or white are available finishes.
Disappearing Range Hoods
It's not surprising that many households have switched to Discreet hoods that blend in with the design. The majority of American homeowners prefer simplified kitchen designs. Everyone appreciates clean lines and an uninterrupted line of kitchen cabinets. So be it. If it means concealing range hoods or extraction devices, so be it.
But, before you decide whether to conceal or integrate your range hoods with the cabinetry, here are a few things to consider:
What is the significance of the disappearing range hood in kitchen design?
The potential of a disguised or built-in range hood to make a kitchen appear less cluttered is something we admire. Hide these stainless steel range hoods in the same way you hide microwave ovens and dishwashers to draw attention to the cabinetry. By concealing the range hoods, you avoid disrupting the line of upper cabinets, giving your cabinets a streamlined appearance. This will be useful in small kitchens. A well-organized kitchen appears to be more spacious.
Does it adhere to a specific design style?
No. A disguised or vanishing range hood complements any kitchen design, whether traditional, country-style, Scandinavian, contemporary or modern.
Today, we see many traditional-styled kitchen designs with hidden range hoods in elaborate and customized cabinets. The enormous case of the range hood draws attention to the stove area, making it the focal focus of the kitchen.
Some kitchen designers even incorporate the range hoods with the rest of the cabinets. The cabinets totally concealed the range hood. Nothing, as you can see, alters the line of upper cabinets. The kitchen appears to be spotless and larger than it is.
How can you seamlessly include these range hood ideas into your kitchen design?
There are numerous ways to conceal range hoods in the kitchen. But first, you'll need to get a concealed range hood. The simplest thing to do is to check with your appliance center or your kitchen designer to see whether these range hoods are available. It is the only method to ensure that your range hoods will be seamlessly connected.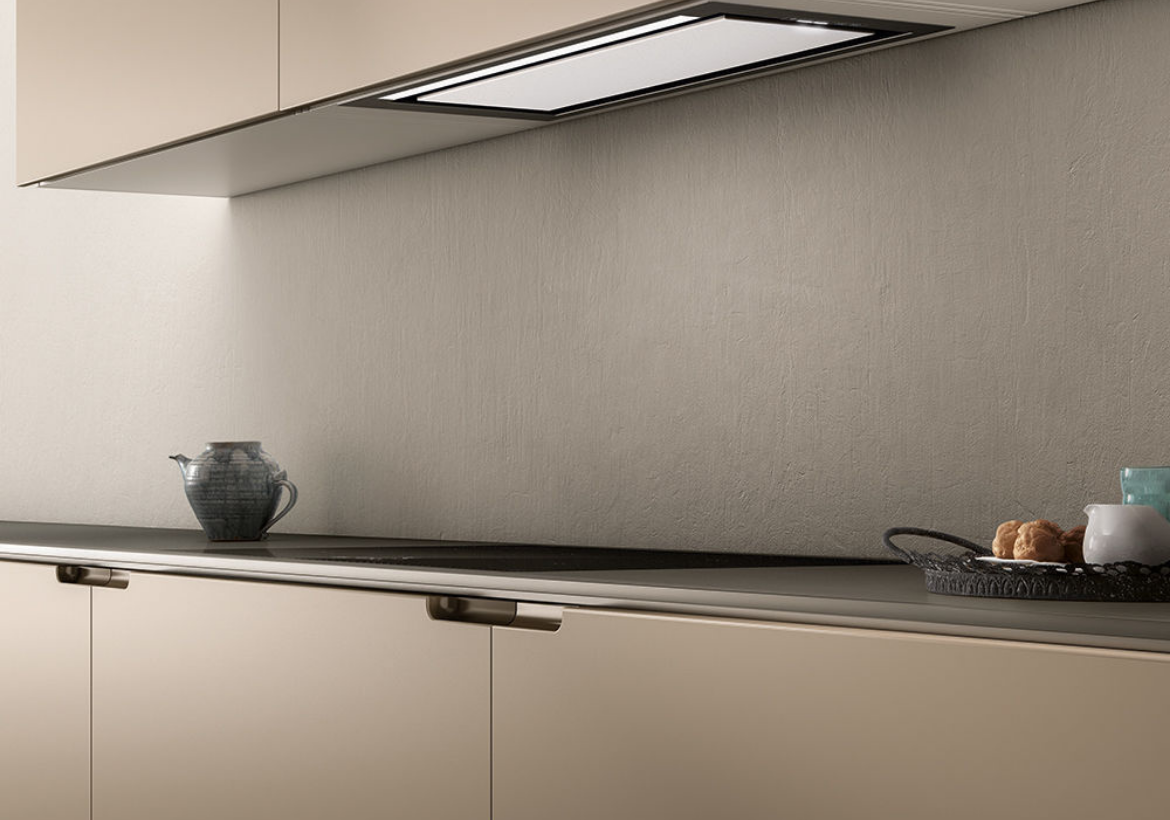 This built-in hidden range hood looks sleek and modern.
Hidden Range Hood Ideas
You might be interested in the following types of range hood ideas:
Under-Mount Range Hoods
This is one of the most well-known. On the underside of the cabinet, just the lower section of the range hood is visible.
Pros: It's entirely unnoticeable, so it keeps your kitchen clean and stylish.
Cons: Because it does not cover the full cook area, removing the steam from all of the cooking may be difficult. Discuss with your kitchen designer the size of your stove and the under-mount range hood.
Wall-Mounted Range Hoods
This range hood is also intended to be concealed within the cabinetry. At the bottom of the cabinet, only the front end of the slide-out is visible. The underside of the cabinets in this case has a stainless steel finish to protect the cabinet material from grease and moisture. Other panels are the same color as the kitchen cabinetry.
Pros: It's the greatest option for apartment dwellers because it frequently comes with a recirculation option. Keep in mind that range hoods in apartments are installed in an internal wall rather than on the exterior of the property.
Cons: Identical to under-mount range hoods.
Canopy Range Hoods
This is frequently referred to as the range hoods above a stovetop (stove in a kitchen island).
Pros: When you're cooking for your family and friends, they can gather around you. It offers a more intimate cooking environment.
Cons: The range hood in the center of the kitchen might be an eyesore, especially if your kitchen isn't symmetrical at the start. You can discuss hiding it in a custom cabinet that complements the rest of the kitchen's decor with your designer. Canopy range hoods become more expensive as a result.
Ceiling Exhaust System
If your stove is on the island, this is another wonderful option. This makes use of a specialized range hood that may be flush mounted to the ceiling. These range hoods are quite effective in sucking up steam, grease air, and food odors in the kitchen.
Pros: Unlike the canopy range hood, this will not hinder any view in the kitchen.
Cons: It's pricey. Some homeowners find it difficult to remove some of the greases that has accumulated on the surface of the range hood.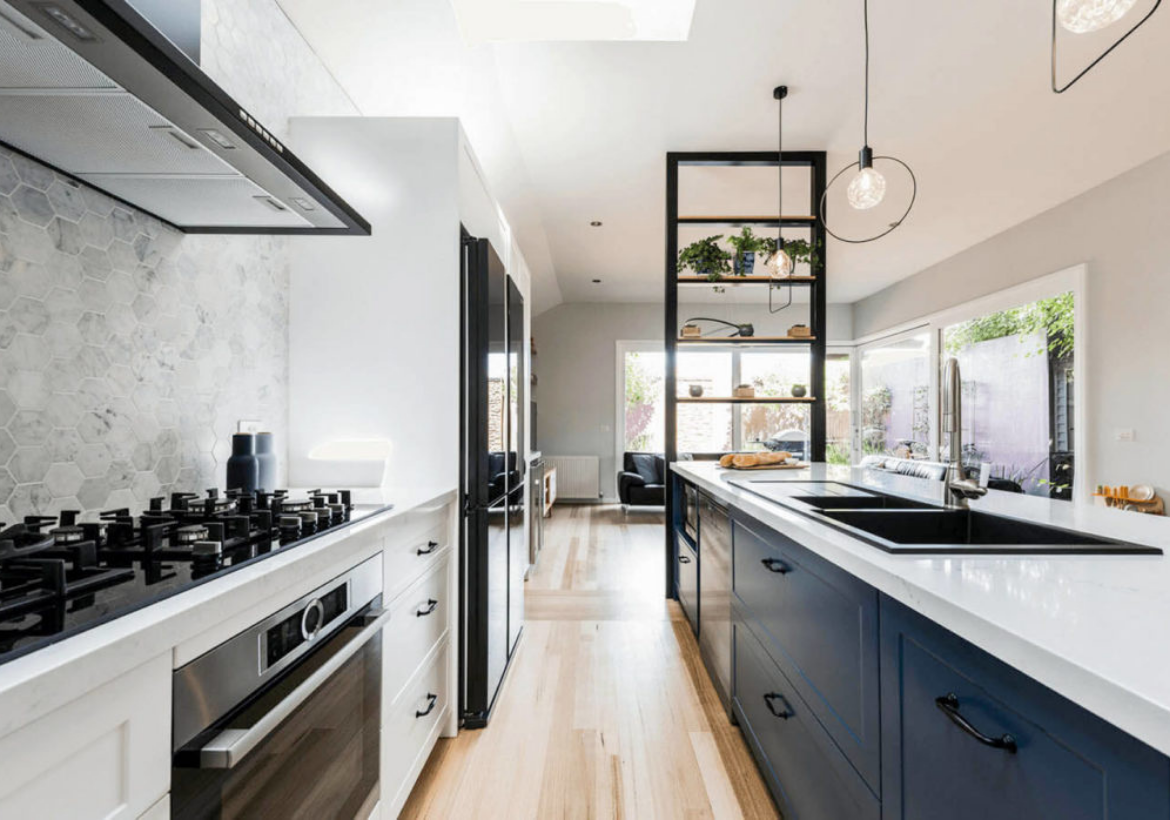 Use a hidden range hood for a sleek design.
Downdraft Exhaust Systems
Another trendy method of installing extraction ranges is to place them on the island bench. The downdraft extractor is concealed behind the cabinetry beneath the benchtop. The extractor will rise from the worktop and suck all the greasy air, and stream from your cooking area with the press of a button. When not in use, it will be flush with the bench. Downdraft exhaust systems are typically installed behind or beside the burner.
Pros: You can store it while not in use.
Cons: It is expensive.
If you opt to install a downdraft range in your kitchen, be prepared to work with your designer longer and more meticulous planning process. There are different aspects to consider, such as integrating it into your existing countertop and ducting the extracted air out of the house. Fortunately, there are high-end stovetops with built-in exhaust systems. If you choose these stovetops, you reduce your designer's workload. They have to worry about funneling the air outdoors or cleaning it before it is recirculated back into the house.
Final Thoughts:
When designing or renovating a kitchen in the US, building designers and builders must adhere to local building codes. Some building codes may not require a range hood, provided the space is well ventilated.
However, many Americans prefer to have range hoods that quickly suction all of the greasy kitchen air, preventing it from circulating into the house.
In case the range hood is smaller than the stove, it must work harder to extract all of the steam and grease air produced when cooking. If not, some of it will still flow throughout the house, affecting the indoor air quality. It's preferable if you can expand the reach of your range hood in some way, similar to how a slide-out range hood can be pulled out to cover more of the stovetop.
Furthermore, enclosing your range in a cabinet may make it difficult for a repairman to repair the range if it breaks down. It's also challenging to find a replacement to fit the cabinet (unless you buy a new model of your old range).
We hope that these kitchen hood ideas can help you with your kitchen remodeling project!
Other Great Articles to Read: