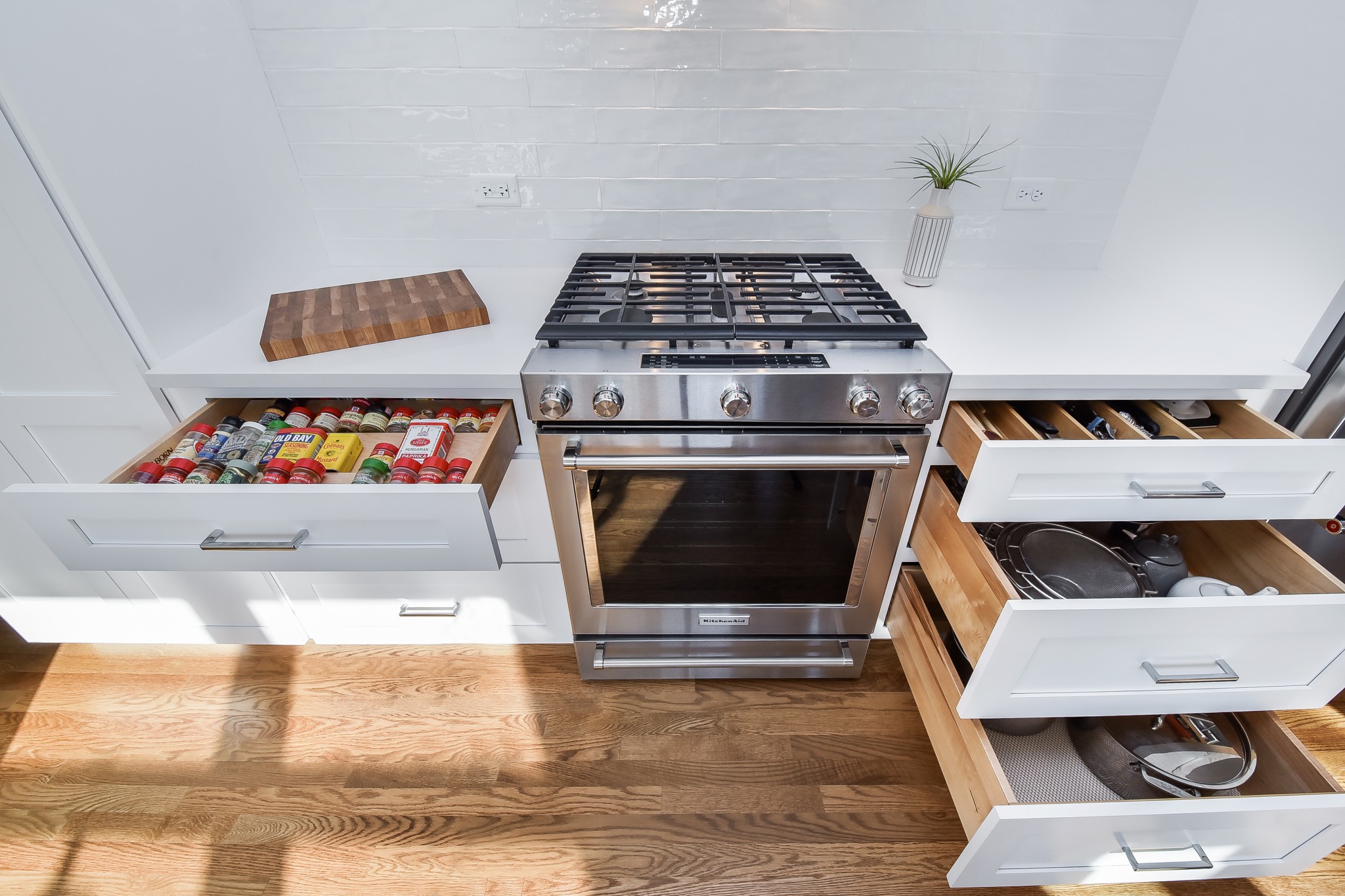 Keep those counters clean by hiding stuff in shelves!
Kitchen cabinetry is not just for storage. It is an essential element to your kitchen's style when doing a kitchen remodel. Cabinetry is the crown jewel that brings everything together. Cabinet design has not changed much over the last few years; at least not as much as other elements such as countertops or flooring. But here are still a few evolutions that have happened to kitchen cabinets over time.
Today, above anything else, there is a rising movement towards a streamlined look that focuses on simplicity and minimalism. Here and there however, you will find some wild and bold options popping up. 2023 will see both styles get their fair share of love from homeowners. While simple clean cabinetry will keep getting popular, some homeowners will prefer unique customized styles that will make a clear statement. To design the perfect kitchen, it is important to understand what is imperative to you and then incorporate the latest trends around that. Here are the 11 hottest trends that will dominate kitchen cabinetry design in 2023.
Trend #1. Open Shelving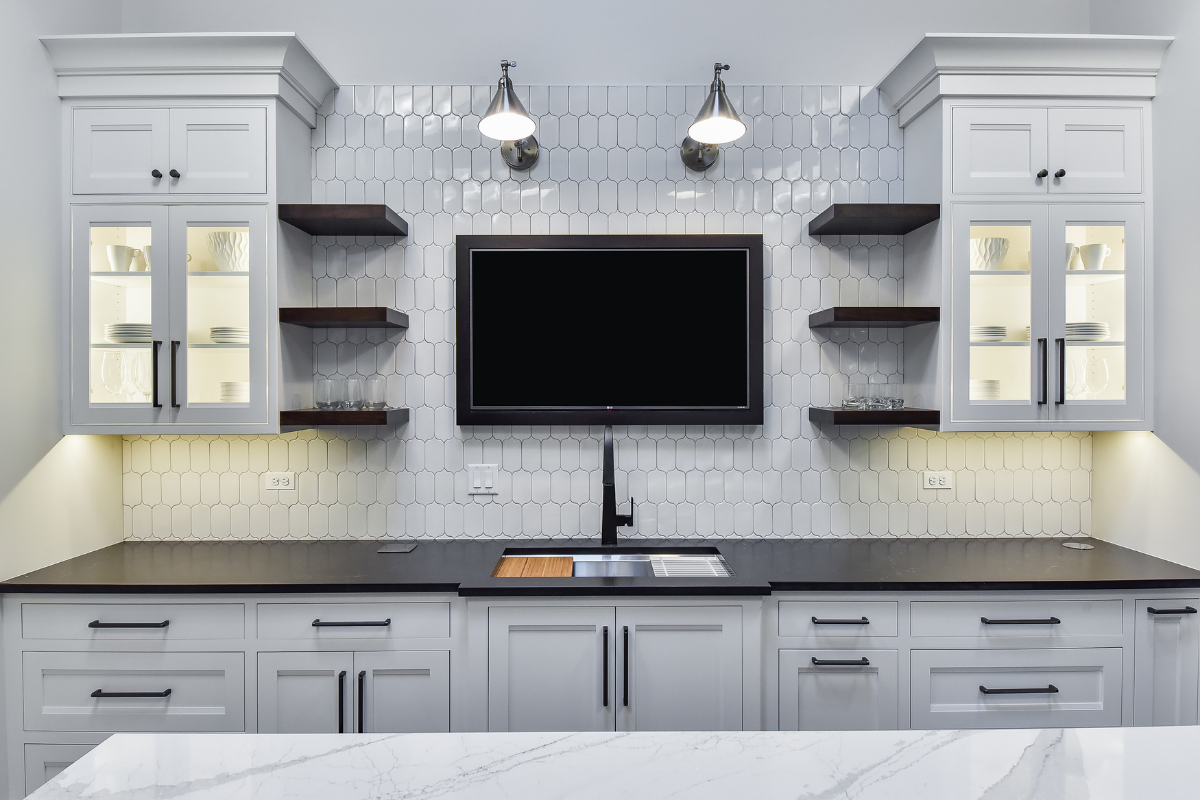 Floating shelves to help balance out the space.
Open shelves look beautiful in the magazines, but not necessarily a "must-have" for most homeowners. Lets face it, you have to have a matching set of dinnerware or specialty pieces you want on display. But with good organization and the right kind of shelves, you can create a really unique cutting edge style for your kitchen. Open kitchen shelves instead of wall cabinetry is becoming an even hotter trend. While you may find it hard to go without your beloved closed door wall cabinetry, open shelving has plenty of benefits. It introduces a light and airy feel offering the illusion of more space which is especially great in smaller kitchens. It's efficient, since you can see and grab what you need without taking the time to open cabinet doors to look inside. Considering everything is out in the open, be thoughtful about whatever you place on the shelves. Every utensil, bowl or glass has an impact on the overall aesthetic of your kitchens look and feel.
Here is where you might find similar-colored utensils that create a more uniform look. You can also use wine bottles, mason jars, and fruit bowls as decorative elements. If you have a favorite coffee mug or special recipe books, use them to make the shelving more interesting. But as you mix and match all these elements, think about their individual colors and styles. Try to create a harmonious look that minimizes the risk of clutter that comes with open shelving. For small kitchens, be careful not to overload the wall shelving. Keep only the bare essentials and place the rest in your items in the base cabinets. Not only will it make it easier to keep everything well organized, it will help you maintain a sharp look.
Trend #2. Color Customization
This gray island cabinet has blue undertone for a more personalized feel.
Homeowners are no longer satisfied with cookie-cutter kitchen designs. They want something unique that builds character and personality or provides a bold statement. Color is one of the most effective ways to take notice. A different color of paint on your cabinets can make all the difference and separate you from the pack. Manufacturing companies are taking notice too. Even though they provide the latest and greatest finish colors, they are still appealing to the masses. So, they have teamed up with paint companies to provide a limitless array of color for you to be inspired by.
For cabinetry, homeowners are favoring customized colors that perfectly fit their kitchen spaces. Neutral colors are currently big favorites with tones like grey, yellow and soft greens but don't count out the darker color pallet. Black, navy, and emerald green has the high-end allure many desire.
There are three major color categories you can choose from: light, medium, and dark. Light tones are mostly the neutrals mentioned above. They are loved for their simple, soft clean look. They project a timeless style, perfectly complementing other elements in the kitchen. Medium toned hues are the most common. Here, standard shades of blue, grey and yellow are popular. On the extreme end of the scale, there are dark shades. Here, emerald green, inky black, navy blue and jeweled plumb tones are common in kitchen cabinetry. Dark shades are the boldest, creating drama and unsurpassed luxury. Still, they are less popular compared to medium and light shades.
Basically, homeowners are seeking out unique colors that not only stand out but work specifically for their kitchen. If you are ordering custom made cabinets, you can choose any color you want. If you already have cabinets and want to renovate them, either get a professional painter or get ready for some extensive DIY painting work.
Trend #3. Increased Use of Oak Wood
Oak wood cabinetry is starting to creep back into the kitchen and bathroom marketplace with Cerused and driftwood finishes. In the 1970's well into the early 90's, they were the cabinet of choice. Usually seen in a honey spice stain, a version of a raised panel cathedral door with wild grain patterns became the mainstay in many homes at that time. After a much-needed departure, the popularity of maple, cherry and a rise of engineered wood alternatives reduced the use of oak cabinet constructions. Materials like wood veneer and painted MDF are now more common in cabinet door construction than ever. But as with other parts of the house, many homeowners are seeking connections to their past and a renewed attention to vintage, with kitchens being no different.
The appeal? Neutral color, dimension & texture, and newfound soft luxury that can be layered into any space creating a blended balance. Oak cabinetry is versatile in its look from seaside or French cottage, clean modern simplicity or a common rustic look. Often creating a connection to the natural element. This is why oak, despite its stigma with the past, is becoming more popular option in cabinetry construction. Manufacturers are crafting a variety of interesting door styles–from recessed panels to flat slabs with an inset detail and finishes using oak. You can use oak in its natural color or opt to give it a coat of paint. Shades of black, blue, & grey seem to be a rising favorite for homeowners.
Trend #4. Minimalism Is The Way To Go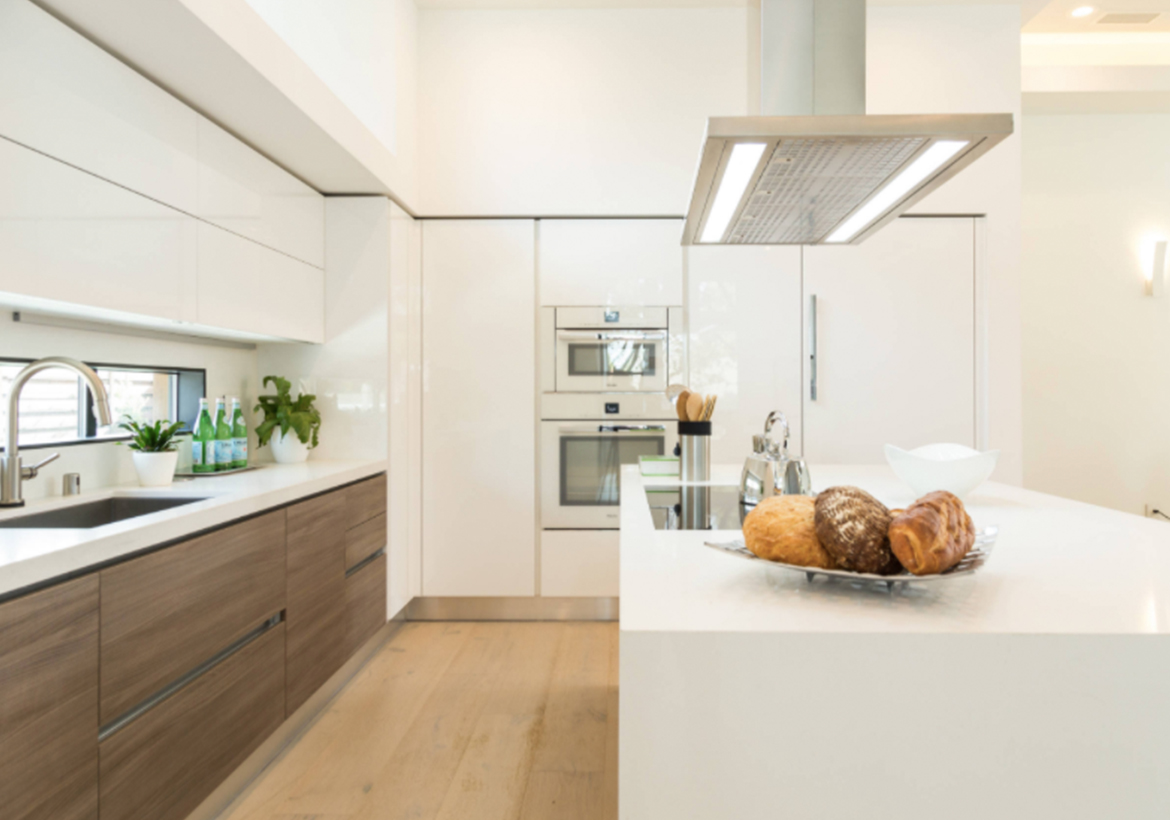 European Cabinets & Design Studios
Keep it simple with white cabinets and minimal appliances.
Minimalism is the perfect style trend of the kitchen area where organization, cleanliness, and efficiency would be the holy trinity. It enables clear, clutter-free surfaces and stylish and sleek materials—what more would you ask for? And minimalism certainly does not have to look boring or unfinished.
Since the kitchen is definitely the workhorse on the house, it may not be easy even to picture getting a minimalist take on one. But simply because less is more with regards to minimalist interiors, this does not mean the area needs to be empty. The appearance must be clean but loaded with luxe stone, gorgeous finishes, and sleek appliances.
Trend #5. Clean Aesthetics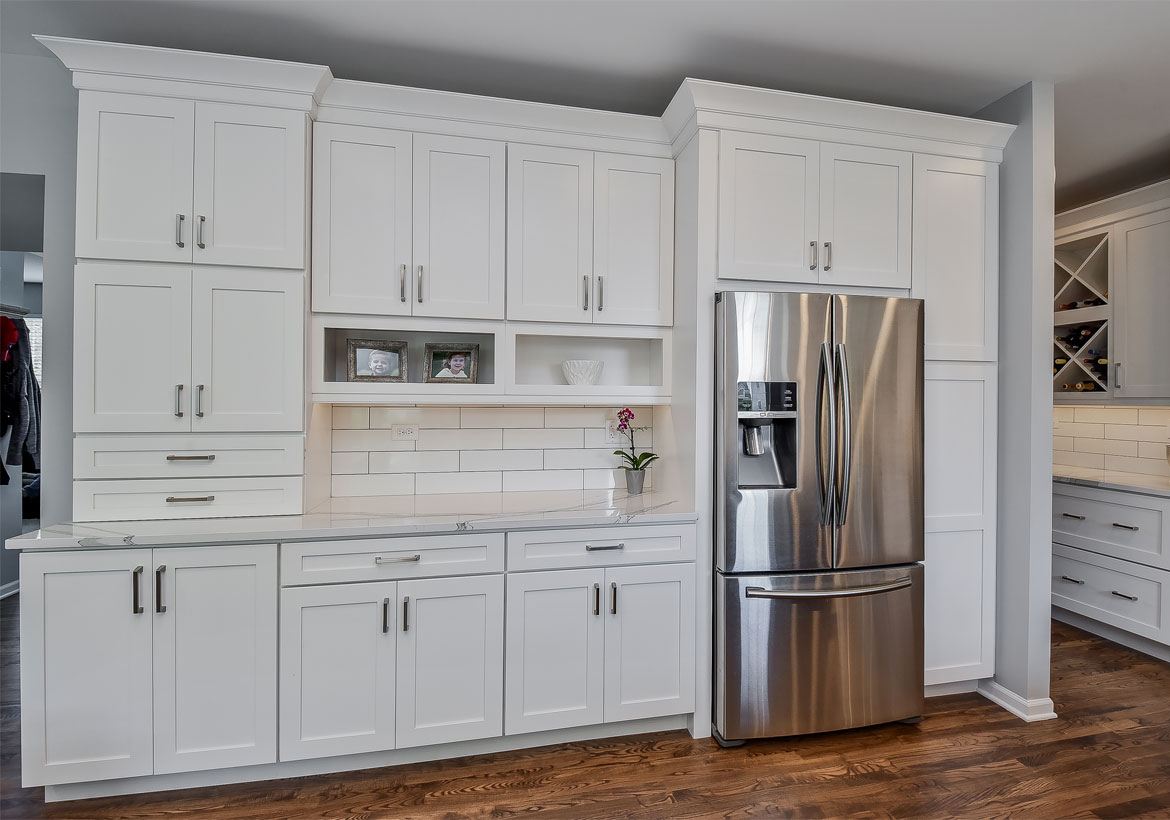 We love the white backsplash that works well with the white cabinetry.
Kitchen cabinetry has not been spared the modernization wave that has influenced home décor in recent years. One of the most obvious impacts has been the adoption of clean aesthetics in cabinetry constructions. This minimalism trend is likely to continue into 2023 and beyond. Modern cabinets are free of the ornate design work often found in traditional cabinet door styles. They feature a recessed panel door with smooth edge profiles and simple clean lines offering only the simplest of design elements. Even the handles themselves come in low profile styles, not demanding too much attention. Essentially, all the clutter has been pared down to the bare minimum. This type of cabinetry works perfectly with a modern styled kitchen, complementing other components like the countertop and the backsplash.
Trend #6. Multiple Finish Colors in One Kitchen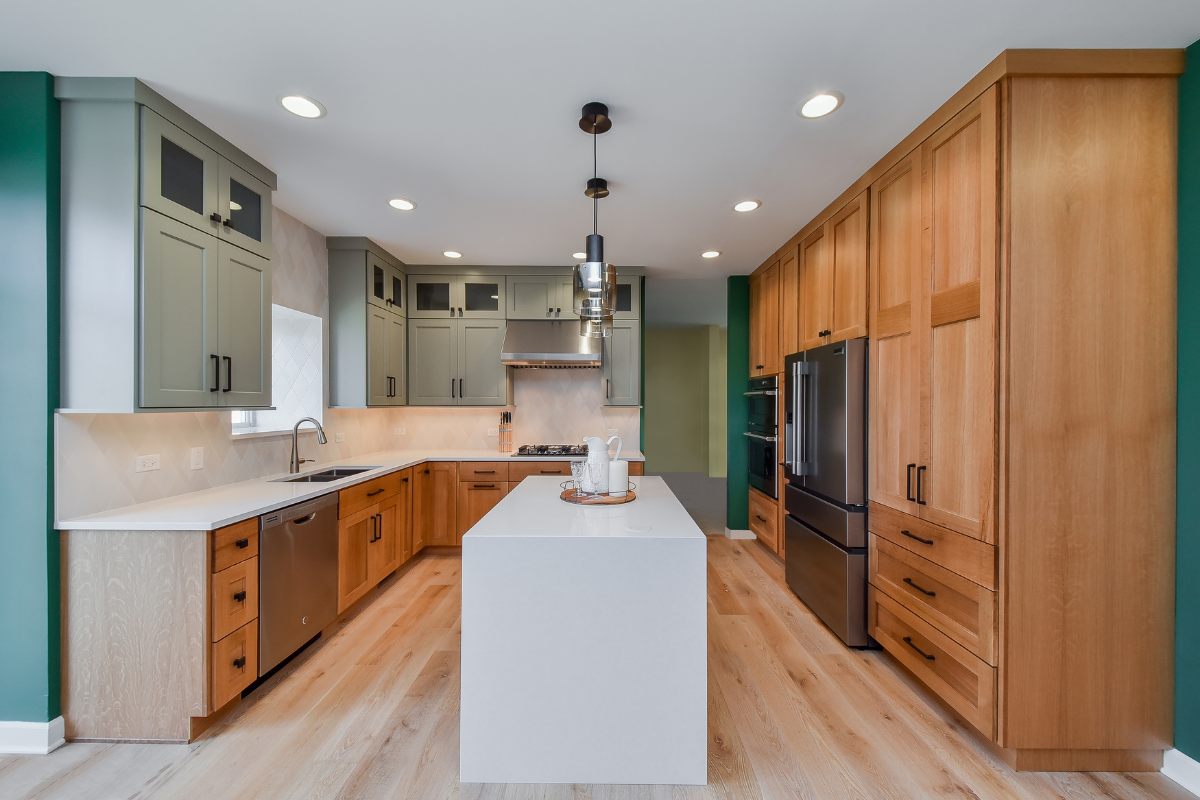 Green tones, oak, and neutrals for this beautiful kitchen!
Thanks to technology, homeowners today have an almost endless list of cabinet finish colors and techniques. From warm browns to weathered gray, the choices are mind-boggling. For more ideas, check out our Dark Kitchen Cabinets article. Homeowners are taking advantage of these unique choices. One of the upcoming trends in 2023 involves mixing different finish colors for a completely unique look. You might have the upper cabinets finished in painted white while the base cabinetry is a natural wood look. It is all about creating an interesting design by combining different bits and pieces.
One easy way is by making the island a different finish color than the perimeter cabinets. Since the island is more like a piece of furniture, it's an easy breakaway piece that you can feel comfortable being bold. We are seeing lots of black, navy, and chocolate brown at this station. But don't just limit yourself to just those options. If you want to take it a step further, you could try mixing two stark colors like black and white or what about going green? As long as there is a wood element in the space you can't go wrong. However, this may require neutral colors for the countertop, walls, and flooring. Like with most other areas of the house, homeowners are looking to create personal styles with bold statements rather than use boring cookie cutter designs. This trend is just an expression of the desire for more personality.
Trend #7. Move Over Double Bowl Sinks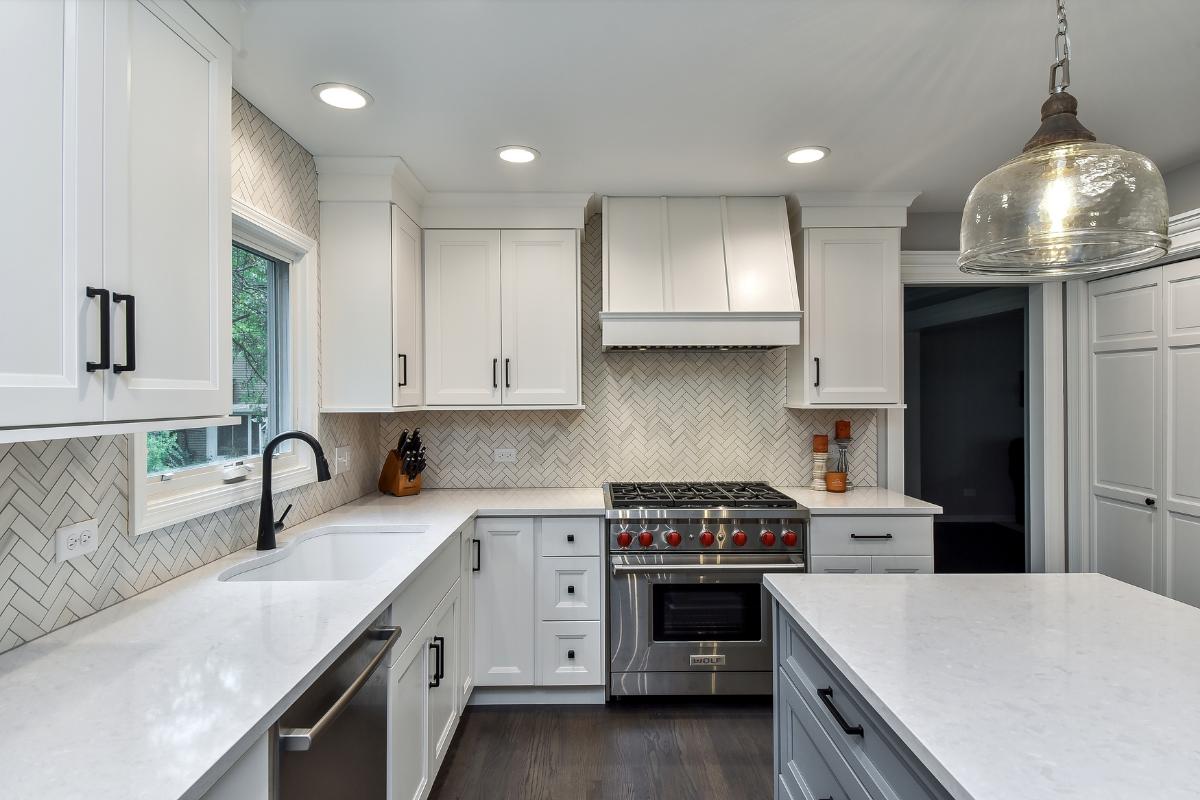 Single sink for this clean and sleek kitchen!
Focused on functionality, today's kitchens are being designed with large single bowl sinks or with multiple sinks. Since handwashing dishes isn't a regular occurrence in households these days, the need for a double bowl sink is less important. In part, the farmhouse design has become extremely popular. Farmhouse sinks are popular mostly for their large deep sizes, that allows for more comfortable use, and style. If the apron front sink doesn't fit into your design, then opt for a single bowl undermount sink in the same width as a double bowl. These sinks are perfect for larger items such as cookie sheets, stockpots, and skillet handles. For those of us that receive unexpected guests, you can quickly stow dirty dishes out of sight in these generous sink basins. In addition to the main sink, you might find an additional prep sink at the end of a run or in the kitchen island. This allows multiple people to work in the kitchen at the same time.
We are also seeing a rise of unique and fun faucet designs. A faucet is no longer just a faucet. Though a relatively small component, a unique faucet can add a pop of style or color to your kitchen. Today, faucets come in all shapes, curves, and twists. Pot filler faucets are mounted on the wall with a long arm that can extend over cooktop to fill large pots. Others come with unique spray mechanisms while others are embedded with sensors to get water flowing automatically. You can even expect to see designs that look like they came straight from your favorite restaurant.
There are all kinds of sink and faucet designs to consider–futuristic, vintage, whimsical, luxury etc.
Trend #8. Storage Solutions for Smart Tech
It was inevitable that technology would find its way into the kitchen. In this day and age, we are inseparable from our gadgets. Thus, kitchen design has changed to meet our gadgetry needs. At the basic level, modern cabinetry should have a charging station for your range of mobile devices. If you use your smartphone or tablet to follow recipes or watch cooking videos when working; consider installing a docking station or device holder. For really high-tech cabinetry, you can have wireless devices built right into the cabinetry. This may include wireless music speakers, televisions, or a tablet.
Trend #9. Creative Lighting
This cabinet under lighting adds an attractive flair to the area.
The lighting in your kitchen could transform the room's appearance and feel, taking it from regular to designer worthy. Along with layering ambient kitchen lighting and task, incorporate a fixture that makes a statement.
LED lighting is popular for a contemporary kitchen and for excellent reasons. Kitchen LED lighting is a lot more energy efficient than other lighting types, making them a cost-saving and environmentally-friendly choice for a room that needs adequate illumination. LED lighting can manifest in many ways in the kitchen. One area which is frequently ignored is underneath the cabinets. Yet another trick to add some LED illumination where space is scarce is using the area under shelving.
You can quickly blend high functionality with minimalistic visuals by selecting modern LED linear suspension illumination in your kitchen. A linear suspension lamp, or maybe a light bar, is perfect for very long, narrow surfaces like kitchen island and counters.
Trend #10. Integrated Appliances
Black and Milk | Interior Design | London
Warm and inviting kitchen with lots of natural lighting.
Designed with the intent of fitting flush and seamlessly disappearing into the surrounding cabinetry, integrated appliances, especially refrigerators and dishwashers are becoming more requested. To achieve this streamlined look and uninterrupted design style, the appliances are fitted with custom panels to hide the original appearance. This type of integration allows a designer more freedom. Providing uninterrupted sightlines, overall cohesion and elevating the whole kitchen aesthetic and grandeur.
Trend #11. Cabinetry With Furniture Flair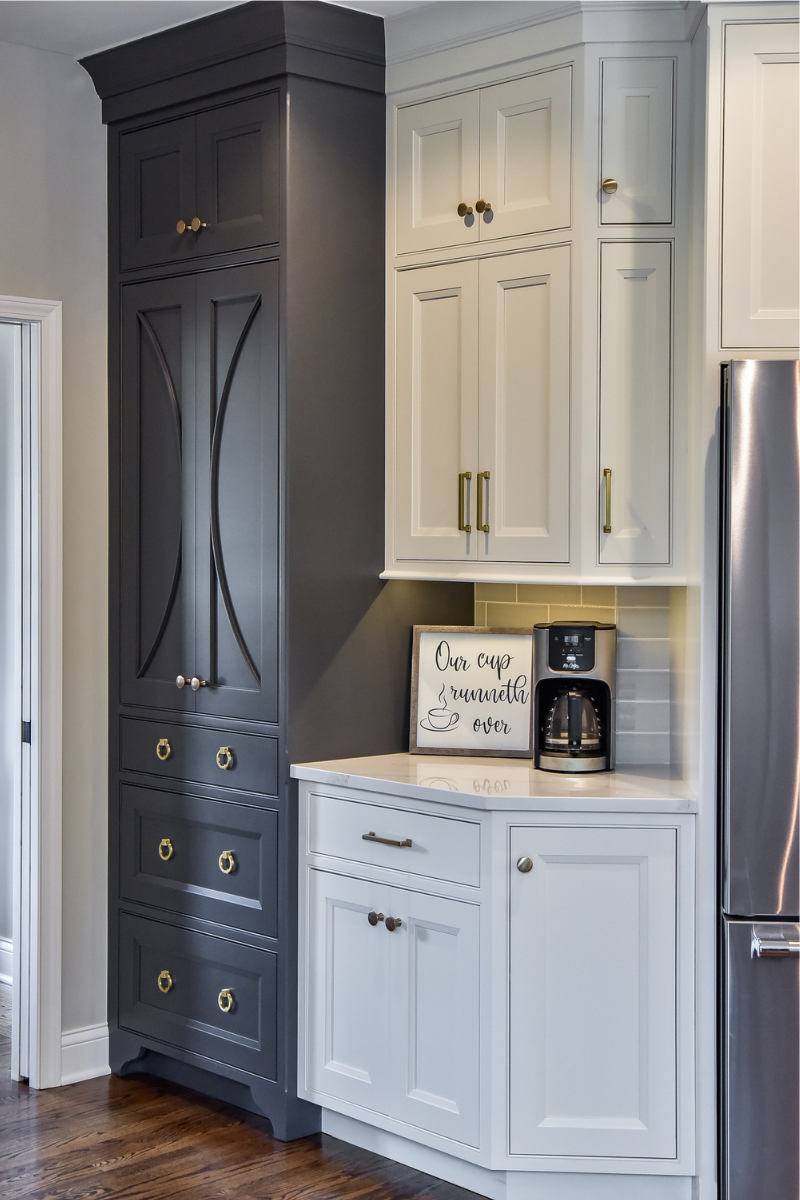 The dark blue pantry features furniture-like feet, hardware and doors.
The cabinetry in your kitchen should never be boring. Especially since it is considered the heart of the home. Make the most of the "extras" and incorporate furniture styling details into the mix for stately statement piece. A regular tall pantry cabinet can be transformed into a hutch or armoire looking piece easily by adding features like decorative wall cabinet doors, lighting, a decorative toebase treatment, and adding a countertop between the base and wall cabinetry. Don't forget to add in those specialized storage options behind the doors & drawers to create your own personalized coffee center, messaging center, or dry bar.
Related: How to Choose The Best Under Cabinet Lighting
Conclusion
In recent years, cabinetry has undergone more changes than at any other time. A rapid change in tastes combined with advanced technology has given rise to a wide variety of styles. For 2023, the general trend is towards personalization. When it comes to color, finishing, and overall design; homeowners want something unique and personal. If you are building a new home or planning a kitchen renovation in 2023, which trends will you opt for?
Check Out Our Other Great Articles: