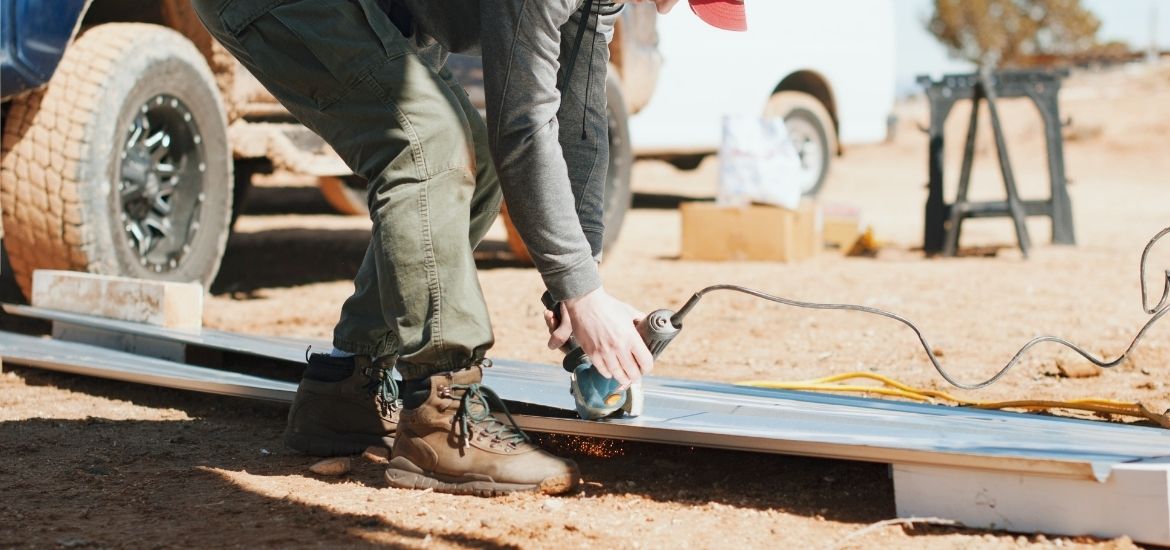 Featured Image: Esquire
Employee sustains fracture after he was struck by falling metal storage.
Employee's toe is amputated after being hit by a falling stone.
These are just some of the examples of injuries sustained by workers that are recorded by the Occupational Safety and Health Administration. The actual statistics, however, paints a grimmer picture. In 2018 alone, the Bureau of Labor Statistics recorded more than 47,000 cases of non-fatal foot injuries. These injuries include fractures, cuts, punctures, chemical burns, and more. That's why it's important to wear the best work boots you can afford. And not just any ordinary work boots for men. You have to find the work shoes that offer maximum protection, as well as optimum comfort, to your feet.
In this in-depth review, I explore the most comfortable work boots available on the market today! When it comes to footwear designed for demanding work environments, striking the perfect balance between durability, safety, and ultimate comfort is our top priority. I believe that spending long hours on your feet in hazardous conditions or challenging terrains should never come at the expense of your well-being.
In this comprehensive guide, I have left no stone unturned in my quest to find the work boots that offer unparalleled comfort without compromising on ruggedness and protection. My team has meticulously researched and rigorously tested a diverse range of work boots, catering to professionals from various industries—be it construction, warehousing, electrical work, or any other field where reliable and supportive footwear is essential.
In this article, we're going to take a deeper look and review some of the most comfortable work boots you can find online and in stores. We're also going to discuss the aspects you need to consider before you pick and purchase the best work boots. Let's begin.
Work Boots Material and Durability
Boots are usually made of leather, nylon, or rubber. But work boots are no ordinary shoes that's why the type of materials used to create these shoes are extra tough, too. There are two main types of materials used to create work boots: full-grain leather and nubuck leather.
Full-grain leather is probably the most popular material used to make work boots uppers. They're durable, beautiful, and unfortunately, expensive. But there's a reason behind the hefty price tag of work boots made of full-grain leather.
Full-grain leather is a type of leather that doesn't go through the usual leather manufacturing process, such as sanding, buffing, and snuffing. The surface of the animal hide, however, is applied with aniline dyes or stains. But because it didn't go through the usual manufacturing process, the leather looks and feels more natural. Full-grain leather doesn't just look different — it feels different, too. Work boots made of full grain leather are soft to the touch, and they even become tougher as they age.
Nubuck is a type of durable leather that comes from the top grain of an animal hide. Peel back the outer layer, and you'll get suede. Nubuck, however, is stronger than suede. The hide goes through sanding, buffing, and dyeing or staining to ensure a more uniform appearance. The process not only hides the flaws but also gives it a luxurious look.
Toe Protection
Steel toes are pretty much self-explanatory. Boots reinforced with steel toes protect your feet from falling objects, puncture, impact, or compression. Steel used to be the most popular material used to manufacture these reinforcements, but these days some manufacturers opt to use aluminum to replace steel toes.
Soft toe boots, on the other hand, are the opposite of steel toe boots. These boots do not come with steel reinforcements inside. Instead, they are reinforced with rubber, TPU, thick fabric, or some other durable material. Soft toe work boots are ideal for jobsites that pose little risk to your feet or where steel toe boots are prohibited by employers.
Soft toe boots can protect your feet from chemicals and germs, but you can't rely on them if you want reliable protection against falling objects or punctures.
If you want to combine the affordability of soft toe boots and the protection offered by steel toe boots, then composite toe boots just might be perfect for you. These boots are reinforced with durable rubber, plastic, or any other tough material that can protect your toes from falling objects or sharp objects.
Overall Comfort
You're going to wear them for eight hours or more so always go for the most comfortable pair of work boots you can find. Make sure that the boots' interior is roomy and wide. This is especially important if you have wider feet or if you want to prevent feet problems, such as bunions or blisters. When it comes to comfort, composite and soft toe boots are the clear winner. Even though they're the safest, steel toe boots are notoriously uncomfortable, and they do not stretch even after you wear them again and again.
Waterproof/Water Resistance
Rain, sewage-flooded basements, and muddy jobsites are the bane of your work boots' existence. Your chosen pair of work boots might look cool and have protective steel toes, but if they're not water-resistant or even waterproof, then get ready for smelly, water-logged shoes.
Lifespan
While every pair of boots on this list is designed to endure a long time—and were at least partially chosen for this reason—some modern work boots have longer lifespans than others. This is due not just to the materials and construction techniques used to produce a pair of boots but also to whether or not they can be resoled, which allows them to be mended as needed and worn for a literal lifetime. In theory, these boots can be passed down to future generations, which can have them resoled as needed.
Special Features
While a regular pair of work boots can be used for a wide range of tasks and applications, for particular jobs, specialty features can be extremely useful. In addition to safety toes, this includes met (i.e., "metatarsal") protection, crampon-compatible work boots, and even pairs with Aramid linings that can withstand chainsawing operations.
Style
There are several work boots that can accomplish the same basic functions, which is why allowing your aesthetic inclinations to guide your pick is frequently a good idea—as long as it takes a back seat to more crucial functions like primary construction and intended usage. Work boots not only come in a wide range of colors, lengths, and constructions, but there are also plenty of thoroughly modern-looking pairs, & ultra-minimalistic items and work-specific pieces of footwear with an undeniably vintage-inspired appearance. Some of the boots in this category have been modeled directly after boots from over a century ago, albeit using more contemporary materials and construction techniques.
Conclusion:
All of the work boots we've reviewed here are considered best in class. Steel toe boots offer the maximum protection work shoes can offer but they can be quite uncomfortable because of the addition of the steel reinforcement. Soft toe boots are great for your toes, but they lack the protection you need if you work in high-risk areas. So we've settled for something in between. Something like the Carhartt Men's CMF6366 Composite Toe Boot.
These boots feature a full-grain leather upper that is not only smooth and supple on the outside but also tough and long-wearing. The seams are impressive, and you'll know even at first glance that they will not unravel easily. The leather collars are padded and snug to provide that much-needed support around your ankles.
Now, let's talk about the most important part: comfort. The interior is spacious, so there's plenty of room for your feet without the shoes being too loose. The boots are reinforced at the toebox and meet electrical hazard requirements. These boots feature EVA midsoles and comfy polyurethane insoles for maximum sole protection against hard and rocky ground. The interior is lined with FastDry® lining that keeps your feet dry.
So there you have it, the most comfortable work boots for men. Make sure to explore the Sebring Design Build website for more informative articles, home remodeling ideas, and more.
Other Great Articles to Read:
To view our Amazon Associates Disclaimer, please click here.