Designing or decorating your home is an enjoyable task. The bedroom and the living room are often the first rooms to get a makeover, but how about the other spaces in your home? Your kitchen and bathroom should not be left behind. The kitchen is probably one of the areas in your home where activities are high – you cook your meals there every day. You should, therefore, make it a place where cooking will be a joy and not a bothersome chore. On the other hand, a bathroom is a place where you do very personal activities, so designing it to give off a vibe that will help you relax is imperative. What do these two areas have in common in terms of the materials used in them? The answer: tiles. Tiles have significant effects on the overall look of your kitchen and bathroom.
Vintage tiles are great to use in the kitchen – whether as flooring, walls, or splashbacks – because you can easily wipe them clean, and they are very durable. In the bathroom, tiles cover almost everything except the ceiling, perhaps. The tiles you choose to use in these spaces will affect the ambiance. With the right tiles, you may feel like walking into a deluxe spa. Aside from the materials, you also have to consider the color of the tiles you will use. We recommend pink tile as the color is calming, letting you chill while doing your activities in these rooms.
SPARKY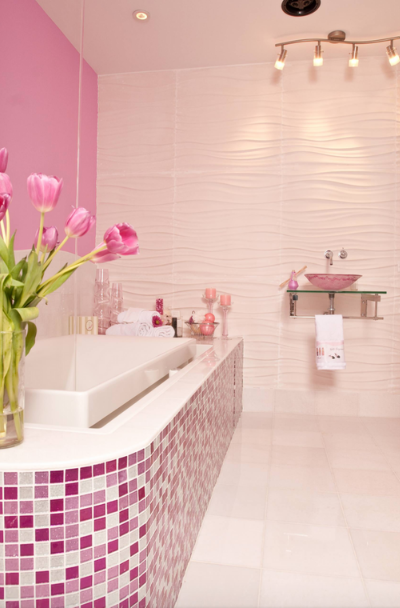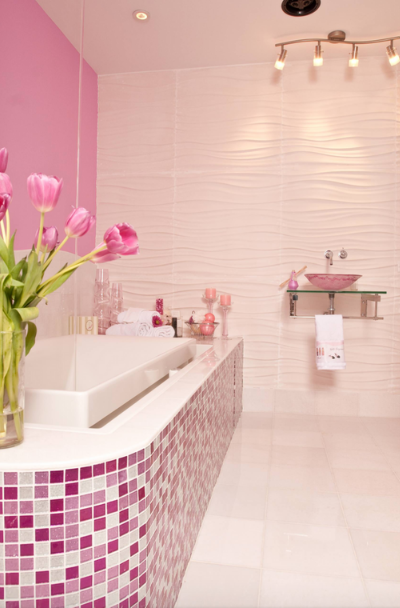 Pink tulips, pink mosaic tiles, and white wave tiles—we are in love! Check this lovely idea using pink bathroom tile.
FARMHOUSE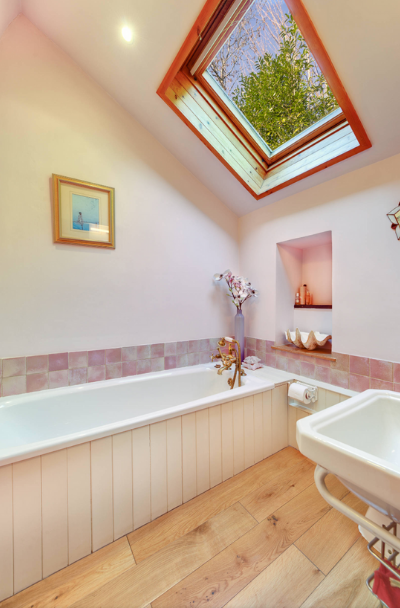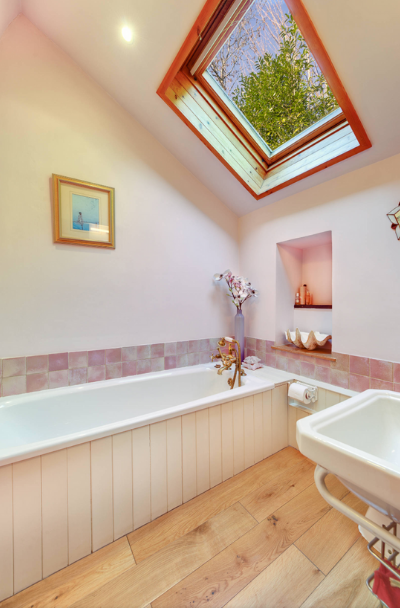 Relieve stress with a relaxing bath on this pink tile bathroom. There's definitely no need to go to spa when you have this kind of refreshing bathroom.
MEDITERRANEAN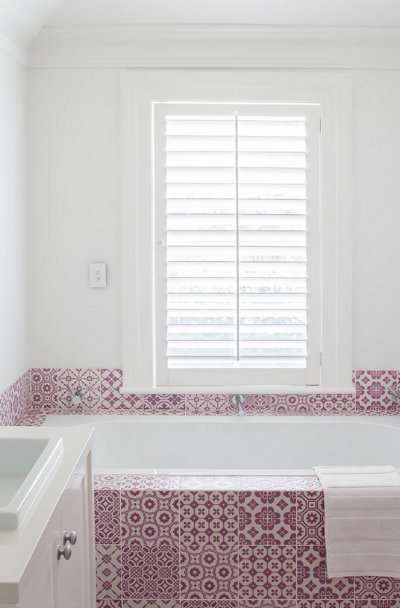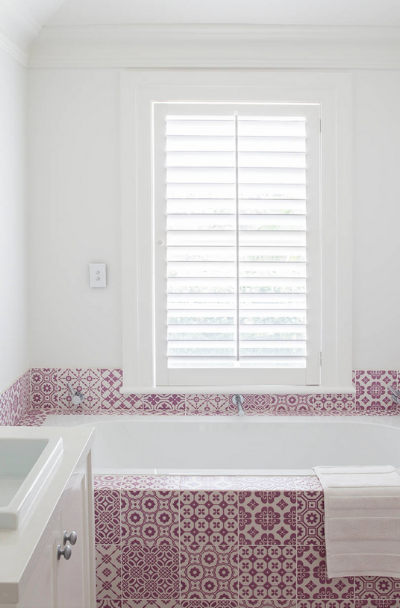 You don't need to go all out on pink if you don't want to. Just look at this one! Lovely pink patterned tiles add character to this white-walled bathroom.
FAIRYTALE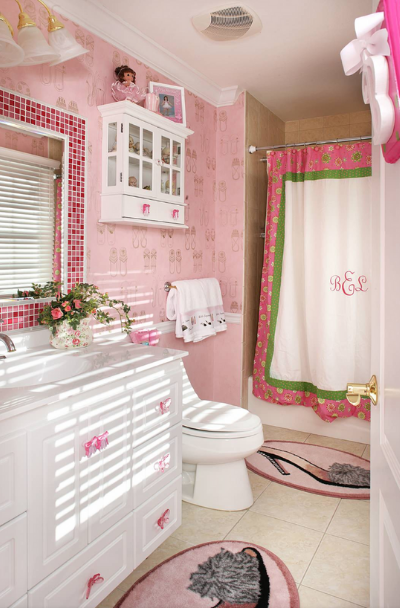 Whether she is Beauty or Cinderella, your little girl will surely adore this fairy-tale inspired bathroom.
BRIGHT
The addition of pink tiles in the bathroom makes it warm and bright. We also love the fact that the owner used different materials to add texture and style to this bathroom.
SOPHISTICATED
Pink tiles with black hardware make an elegant and sophisticated bathroom. With this kind of bathroom, you don't really need to put too much decor to make an statement.
BLACK + PINK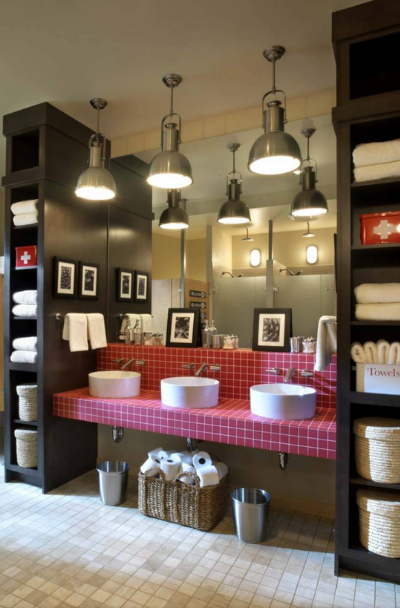 What an amazing storage system for all your bathroom essentials! We also love the utilization of black paint over the shelves and pink tiles for the bathroom vanity top.
TRADITIONAL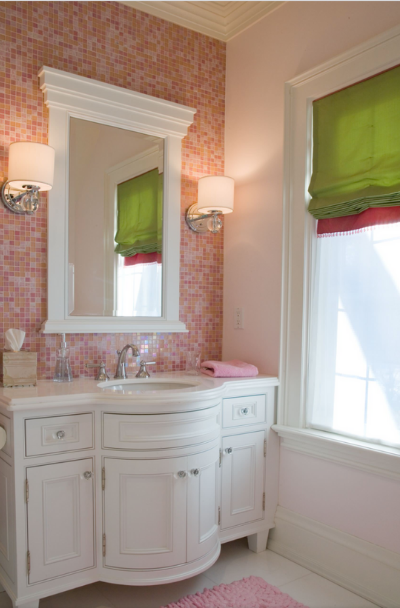 Dainty and sweet for this pink and white bathroom. The green curtain is able to catch attention without overpowering or distracting the overall theme of the bathroom
SUBTLE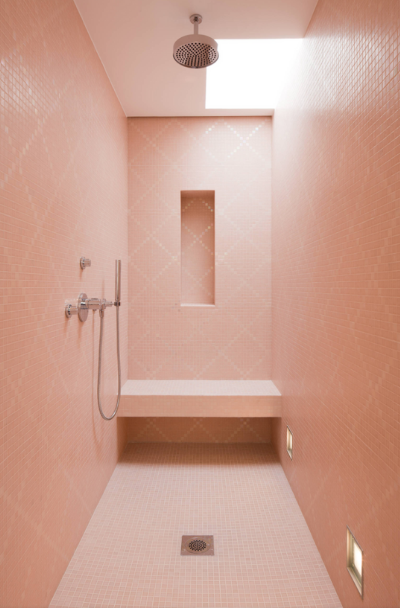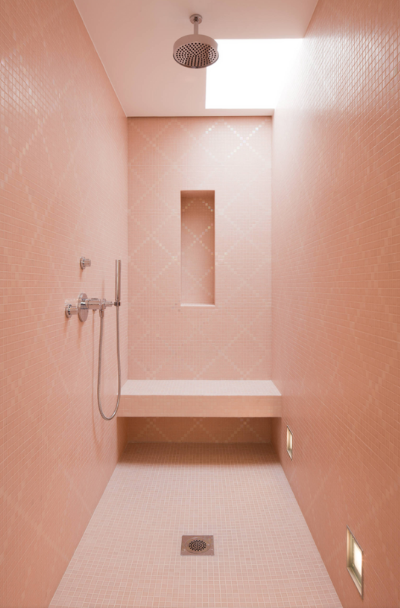 VINTAGE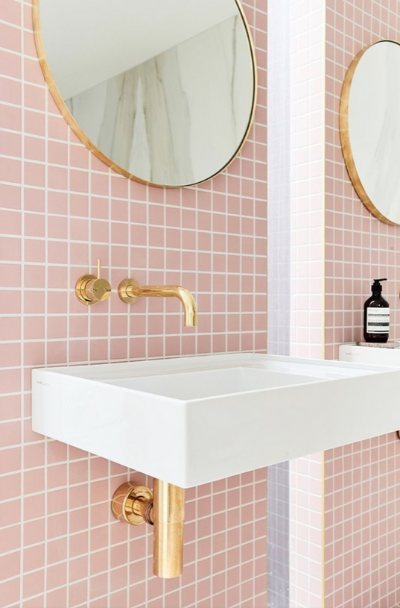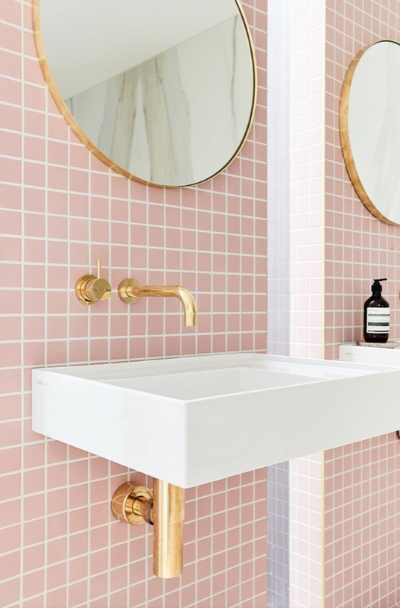 Use pink, white, and gold for an elegant and luxurious touch for your bathroom.