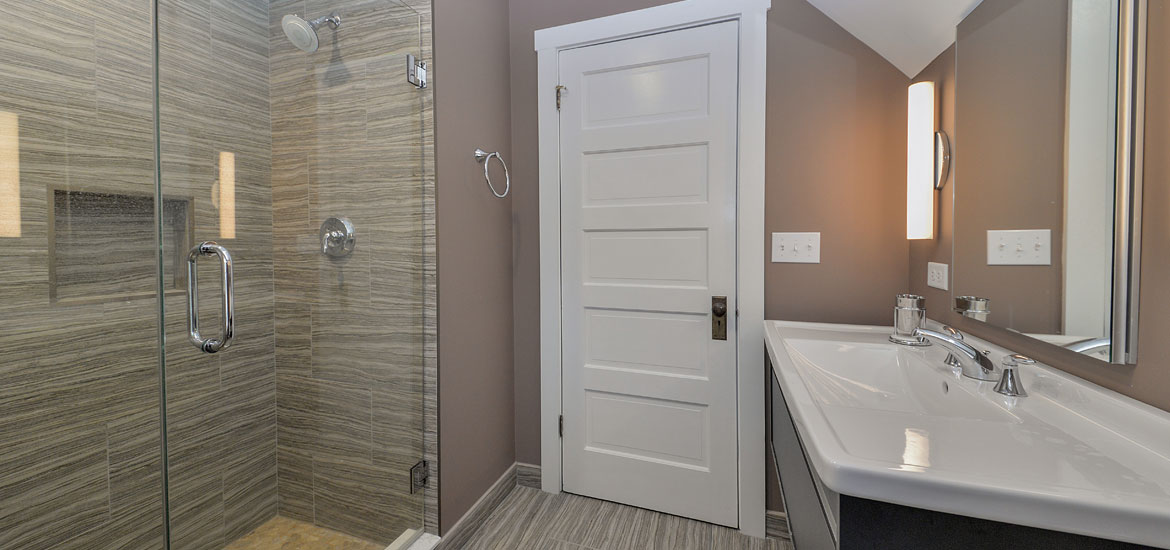 One of the things a lot of homeowners often wonder when creating their dream house is what flooring material would be better for their kitchen, bathroom, and the like. Should they opt for porcelain tiles, or ceramic tiles? Which one would be more practical and durable?
These people are aware that porcelain and ceramic tiles each have their own unique characteristics. What they cannot determine is what makes one better than the other, and that's what we're going to discuss in this article.
The Difference Between Ceramic Tile vs Porcelain Tile
Despite the fact that ceramic and porcelain tiles look very similar, there are plenty of noticeable differences between the two. For one, porcelain tiles are known to be denser and less porous than ceramic tiles. What does this mean? Basically, porcelain tiles are better for both indoor and outdoor use, as well as hard wearing. Also, they appear to be denser, because of how they are manufactured.
Although ceramic tiles are highly recommended for interior floors and walls, porcelain tiles are more preferable, especially for places that must endure heavy traffic– this includes hallways, kitchen floors, and commercial applications. Porcelain tiles are highly resistant against chipping and scratching.
Benefits of Using Porcelain Floor Tile
There are plenty of reasons why you should consider using porcelain tiles, and here are some of those:
Liquid Resistance
The density of porcelain is what makes it highly resistant to any kinds of liquid penetration, making it better for that purpose as compared to other types of ceramic. This could be improved through the use of a melted glass glaze. This makes the surface completely impervious to water.
Highly Stain Resistant
Another benefit of using porcelain tiles is the fact that it's highly stain resistant. That means it is capable of repelling liquid penetration that other staining agents won't have the chance to penetrate down through the matter. Then, if you'll glaze this, the effects would be more dramatic that it's almost impossible to discolor the surface of your tiles.
Absorption
The international standard for porcelain tile states that in order to be qualified as "Porcelain" tile must have water absorption rate of less than one tenth of 1%.  The water absorption rate of porcelain tile makes it suitable for interior and exterior application in all climates.  The water absorption rate of ceramic tile is usually greater than 3%, which means that it is not suitable for exterior applications.
Durability
Porcelain tiles are considered to be the toughest flooring options available on the market. Using applicable ASTM Tests, regular ceramic tile has a breaking strength of 250. Aside from being solid, porcelain tiles are also hard, dense, and highly resistant to most heavy impact stresses that it's perfect for commercial use. Basically, when choosing porcelain tiles, it's important to look for one that has at least 5 PEI rating to ensure that it can withstand high traffic, as well as heavy equipment use.
The density is pressed under 6000 pounds per square inch.
Fireproof
Porcelain tiles are the type of materials that don't easily burn under normal circumstances and these floors could restrict the movement of flames in case there has been a fire outbreak.

Lifespan
If porcelain tiles are properly installed the way they should be, you don't have to worry about them getting worn out even if they'll be installed in places where there's high traffic, as porcelains have the ability to last for a couple of decades if used properly. With that, the period cost of replacement and removal can be eliminated.
Low Maintenance
The natural stain, as well as the water resistance of porcelain is one of the reasons why it's very easy to maintain. For instance, spills could easily be spot cleaned using a damp rag or conventional mop whenever it's needed and regular sweeping can be done to keep loose dust and debris off the floor. Through this, the glazed surface would be thoroughly maintained and would last for a couple of years. Furthermore, periodic damp mopping using a pH balanced solution is also advisable as it's a wonderful way to disinfect the area.
Repairs
Just like what has been mentioned earlier, this type of material is highly resistant to cracking, as well as breakage caused by physical impacts. Though, damage could still happen on a tile, but this isn't really a problem at all. You can easily replace or remove the damaged tile. Overall, it's highly advisable to keep an extra box or two of this during installation, because this would also make the color matching easier for you.
Check out this article: 7 Creative Subway Tile Backsplash Ideas for Your Kitchen.
Porcelain Disadvantages
Despite its number of benefits, porcelain tiles also have some drawbacks, such as:
Cost to Install Porcelain Tile Flooring
One of the drawbacks of using porcelain tiles is the fact that they can be a little expensive, and most of the time, the materials out pace most of the standard ceramic options. This would increase the cost of installation, which also implies that there would be around 25-50% increase in the total cost depending on where it's going to be installed. However, the good thing about porcelain tiles is that it could last for several decades, making it a good investment overall.
Compare costs, check out styles, and look at the differences of many different tiles at our supplier, VirginiaTile.
Porcelain Floor Tile Weight
Just like with other types of hard tile flooring, even porcelain tiles have the tendency of being a little heavier. This makes the installation process a little more cumbersome. Also, it can be used on second floors of buildings, unless it hasn't been built for this kind of additional weight.
Porcelain Tile Installation Advice
The process of installing porcelain tiles is time consuming, difficult, and could also be quite laborious. Since porcelains are very heavy, but quite sturdy, it can be challenging to get precise cuts needed for architectural buildings.
The Differences Between Porcelain and Ceramic Tile Labeling
Currently, there aren't any regulations that require these products to be labeled as 'porcelain' based on specific characteristics. However, the PTCA and ASTM has a certification process that is voluntary. With that, the retailers have the freedom of describing the tiles they offer any way they like. As for buyers, this makes it a little difficult to decide which tile to purchase and the characteristics it has.
Grout
Although porcelains are almost water proof and resistant to damage, stain, and water penetration, you ought to know that the lines between the tiles are sill a little vulnerable. What does this mean? Since the grout is a type of porous substance, it's important to seal it completely in order to prevent any damage from occurring. Also, even if it's properly cared for, there will be instances where the features of a porcelain tile would be corrupted by moisture and humidity. This would cause discoloration and trigger the formation of mold and mildew.
Ceramic Tiles
A ceramic tiler will tell you ceramic tiles are known to be very versatile in nature and can be used in a wide range of environments without having to worry about it being affected with stains, water, and the like. However, for areas where a hard tile surface mush be covered, there's a risk that it would be not suitable for specific situations as well as certain locations.
Advantages of Using Ceramic Tiles
Unglazed Ceramic
This type of ceramic tile from a ceramic tile company must be sealed as a way to protect the surface against and form of liquids from penetrating. Also, the grout lines in between these tiles should be protected because they become susceptible to moisture and that's why thorough sealing is a must. If done improperly, mold can grow between the tiles and this would lead to bigger problems.
Ceramic Water Resistance
The good thing about glazed ceramic tiles is the fact that they contain a protective layer that rests over the tiles. This makes the ceramic tile impervious against stain, as well as water penetration. Aside from that, ceramic tiles can also withstand high levels of humidity. These are just some of the properties that make ceramic tiles perfect for kitchens and bathrooms.
Ceramic Tile Design Options
Modern manufacturing techniques are one of the benefits that you can enjoy from using ceramic tiles, because you'll have the privilege of printing the material in several ways. For instance, solid tiles could be mixed and matched in patterns that reflect your personality or the theme of your home. Likewise, they can also be printed in a way where it would look fabulous on hardwood and stones. Lastly, ceramic tiles could be cut and shaped into rectangles, triangles, and even planks.
Ceramic
Tile Maintenance
Ceramic tiles are very easy to maintain and take care of. Liquid, dirt, and stains are only on the surface and could be mopped away easily. Also, regular maintenance is usually comprised of vacuuming and sweeping using a soft brush.
Durable Ceramic Tile
These are extremely tough tiles and almost impossible to crack no matter how hard you try, unless you're going to use equipment made specifically for that purpose. A quality installation could last for several decades, especially if it's properly maintained.
Allergen Concerns
Ceramic tiles are best known for its solid, hard surface. That's why it's highly resistant against pollen, dust, and other types of allergens. Once these small particles land on a ceramic floor, they don't penetrate the surface, which means wiping them using a sponge or a mop. This can also help in keeping the air free from any forms of irritants.
Ceramic Tile Flooring Costs
Most ceramic tiles cost between $5-$10 per square foot, the price usually depends on the quality of the tiles you're going to get. That's one of the reasons why ceramic tiles are a little expensive for some people. However, depending on where they are installed, ceramic tiles could add a trmendous value to your property for resale purposes.
Drawbacks of Ceramic Tiles
Difficult to Clean
Since ceramic tiles are very hard, cleaning and maintaining them can be cumbersome. Also, it becomes difficult to stand on ceramic tiles as well. Though, the hardness can easily be resolved by using area rugs and throw rugs, placing them in strategic locations where people must stay on them for longer periods of time, like in front of a kitchen sink.
Weight
Just like porcelain tiles, ceramic tiles can also be quite heavy and that's why they're not ideal for upper story installations as well. In case you have decided to install ceramic tiles on the upper level of the building, perform some professional checks first to ensure that you're not putting a lot of stress on floor joists below.
Whether you want hardwood or just the look of it, check this article out: Tile That Looks Like Wood vs Hardwood Flooring.
Get Prepared Before Going to the Tile Store
So, you are familiar with the basics by now, especially if you have read the previous parts carefully. Upon your visit to the tile store, don't forget to bring a small shard of window glass, pocket knife, copper penny, and tap water in a bottle of drinking water. This would help you test each tile and see if they are really durable or not.
Also, because the tile has been labeled as 'porcelain,' it doesn't mean it's more durable, better, harder, and scratch resistant. Basically, you'll always get what you have paid for. However, if the salesperson would try to lure you to "upgrade" to a more expensive type of porcelain tile, decline the offer. Believe it or not, there aren't any much more practical difference between porcelain and ceramic tiles.
As for ceramic tiles, just like what has been discussed earlier, they are subjected to a lot of tests, such as resistance to heat and cold, chemical damage, slipperiness, breaking strength, stain resistance, and many more. For the water resistance test, it's usually described using PEI and ANSI to see how much moisture is in the tile. Though these distinctions don't usually mean that one tile is better than the other, it's just useful to determine how and where the tile should be used.
Our Final Thoughts
When choosing a tile, it's important to choose one that doesn't only look good and fits your style. It should also be capable of withstanding the test of time. For those who are going to tile their kitchen and have children or dogs around the house, then porcelain tiles would be better because they offer extra durability. On the other hand, if you're going to renovate a bathroom, then you can either use porcelain or ceramic depending on your preference.
Happy tile hunting! We'd be glad to know what works out for you, and don't forget to leave a comment below and share your insights with us.