The great-looking wave tile design is what you can use for your floors and walls for them to have a more visually enhancing texture. Some of these bare spaces end up having awkward or boring designs when not properly designated fine-looking surface covers. Moreover, interior stylists usually try enhancing or balancing the interior of a room by adding definitive textures. Decorators love to make use of ceramics and tiles to serve as great backgrounds to enhance home furniture or even art installations.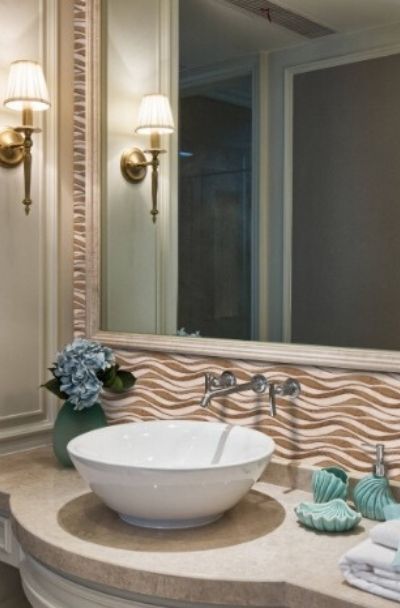 Tile backsplash that will highlight your tap and any little ornaments you put beside the washbasin. It perfectly creates a great ocean wave atmosphere. This ocean-themed interior by Elalux Tile will amuse anyone who loves mermaids.
Dreams do come true; a pink bathroom is truly magical. When decorated like this, every girl will surely take longer baths. The tile color and texture played a huge factor in pulling off the needed softness that the room designed by Susan Jablon requires.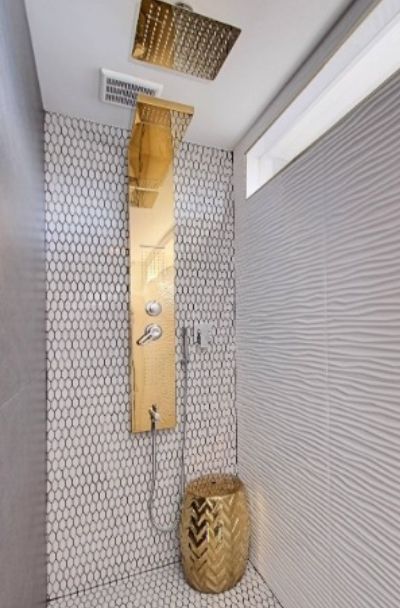 Your wave tile bathroom design does not have to be wavy. Getting the subtle waves to introduce your shower should be done this way. Everything looks so elegant and sleek in this bathroom design by Real Estate Judge.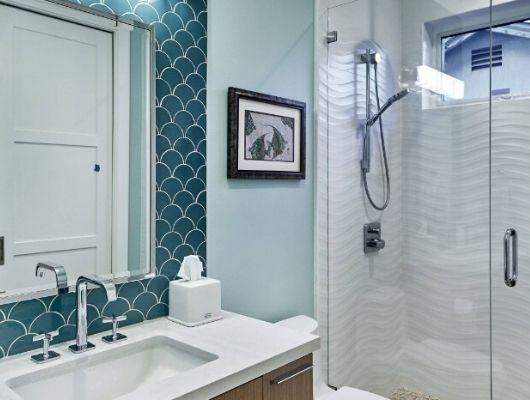 Mermaid scales will make it more charming. Go half and half; use another tile design for the back of your bathroom mirror wall. Come up with an idea and make it happen—such an incredible design by Studio S Squared Architecture, Inc.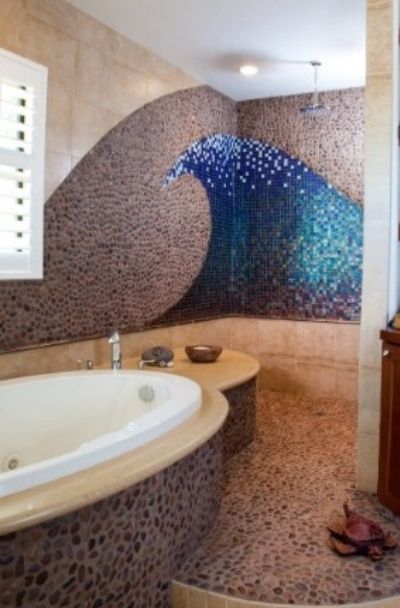 When small waves are not enough. Create an ocean wave tile pattern that will capture attention. Is it the purpose of this unique bathroom interior? This bathroom design by Marrokal Design & Remodeling is gorgeous.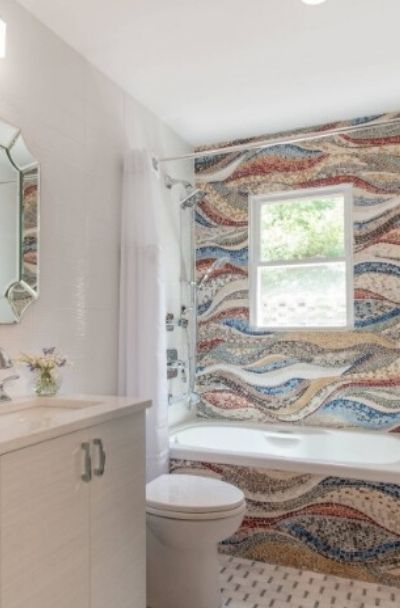 Laying your sight on these charming mosaic waves relaxes your eyes. Your stay in this bathroom will be as comfortable. This RSI Kitchen & Bath-designed bathroom is the epitome of elegant sophistication.
Why Use Wavy Tile Designs for Added Texture?
The most common way of giving a home a definitive feature is by adding a color that will remove the monotonous feeling of your interior. Walls or floors are the usual places used for adding texture if you do not want to take up much surface space. Colors are considered the easiest way but some homeowners do not like the idea of popping colors that is why they resort to picking up the option of adding wave tiles or other pristine-looking materials.
Wavy white tile designs are usually used for bathrooms or kitchen backsplashes because of its captures fluidity. The motion of water connects with the rooms' composition and purpose is obviously the reason why wavy tiles fit these spaces perfectly. Filling the walls with wave effects, these tiles create a fluid atmosphere that gives off a refreshing feel especially to your sense of sight. Working with interior stylists with fresh ideas on how to use great looking patterns will give you sufficient information that you can use when choosing your own wall finishing.
More people have become inclined to nourishing their well-being that they want it extended to the place where their ablutions are usually done. Unlike before, bathrooms nowadays are decorated with spa-like interiors. The technology we see in taps and showers can clearly attest to the attempt of capturing the spa luxury. Wavy white tile walls create a clean backdrop that highlights the bathroom features that otherwise will be unnoticeable. Shower cubicles and feature walls behind the washbasin become more attractive and sophisticated.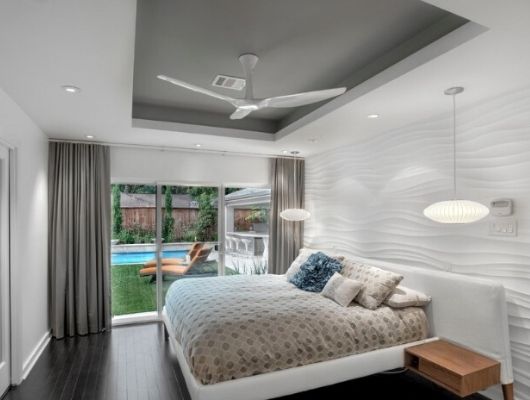 Having a relaxing night in this room will make you need to install a flowy texture in your room too. The outside pool and minimalist interior by RD Architecture, LLC surrounding you will make you feel more at home. 
How To Choose The Perfect Tile
Whether it is the first installation or a renovation, getting additional features to your home's interior is a decision that everyone should carefully think of. Depending on the tile design and your overall interior, the overall aesthetic of a room may be ruined by your tile choice. Most designers agree that keeping your kitchen backsplash simple makes it more elegant. However, the decorative aspect of the tile is not always the reason why we want to incorporate them into our rooms.
Location: Your options will narrow down once you know where you need them. Waterproof materials should be installed in the kitchen and bath while the floors need to have more durable materials. Your choice will follow certain needs that space dictates. Having knowledge about the room's purpose will make it easier for you to finalize your choices.  
Durability: Always bear in mind that space where you will be installing the tile greatly affects its durability. Install something that can withstand wear and tear. The bathroom and the kitchen are areas of your house that are used by the whole family on a daily basis. Natural stone will stain in the long run when exposed to water regularly and other materials might chip off.
Shape and Size: The shape and size of your tile choice impact a room greatly. When choosing a tile for the floor most people will choose the larger ones because it creates an illusion of a bigger space. Less pattern breakage on the tiles even in walls are helpful if you want your room to look wider. Despite its traditional vibe, choosing the wavy subway tile pattern for your kitchen backsplash will make it classy
Tile Texture: Make your choice work for the occasion. Less slippery tiles will be the perfect choice when choosing tiles for the floor of your kitchen and bathroom. Matte or other textured tiles are the most favored options when you want to prevent everyone from falling down when walking on those water and moisture-prone areas. Aside from safety, the texture of the tile can also contribute to the room's overall aesthetic value. The texture of the tile impacts the interior furnishings that you will be adding to your room. Having a wall or floor tiles that do not compete with your furniture will make your room more visually appealing.
Tile Grouts: There are two different ways to go when choosing tile grouts. Getting a color that is close to that of your tile choice will make the grouts unnoticeable and would feel seamless when applied properly. While the other option you have is to get tile grouts that contrast the color of your tiles and will then make stunning patterns. Minimalists usually choose the first option while people who want to create a funky and edgier interior look will choose the latter. 
Clean cupboards and color-popping kitchen cabinets that create a homey vibe compliments the wave pattern tile backsplash. A small kitchen has its appeal, too, right? Such a good design by Hannah Dee Interiors.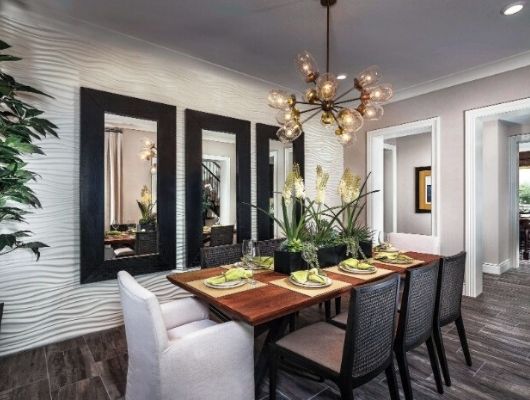 You can easily add character to your panels by using wave patterns. Subtle and continuous wall patterns make a great background for contemporary dining room furniture. Today's cutting-edge look was created by Coronado Stone Products.
Wave Tile For Other Rooms
Wavy tile patterns are not exclusively for your bathroom. There are other rooms in the house that can benefit from these tile patterns. Your wall furnishing options should not be limited to the usual choices you have on hand. Interior designers and other professionals are now more open when it comes to ideas for living spaces.  Creating modern interiors for other rooms using these wavy patterns is an idea that we can always imagine. When added to ceramic, porcelain or other materials for wall finishes, these wave tile patterns will provide a more dramatic effect.
Conclusion:
As you go looking for the perfect tiles for your wall panels, you need to keep in mind that the functionality of your choices is also a priority that needs to be considered. There will be numerous choices and most will be visually pleasing. Choosing tile patterns for your home interior is a choice that needs to be effective for all home dwellers. Creating a great visual aesthetic, may it be contemporary or traditional, will only be achieved if all factors we mentioned earlier will be well-thought-out.  
The fluid motion of the wave pattern is not just for your bathroom. This can also be considered for other high traffic areas of the house to create a more relaxing environment. Wall panels of the hallways, living room and the kitchen are considered to gain the most benefit from this type of tiles. When installed in the hallway, your home will have a more welcoming vibe, the living room will appear cozier and the kitchen will be more stylish and chic. 
You can always opt to become adventurous when decorating or remodelling your living space. Adding tiles with the right color will brighten the environment of any room. Your preference should not be limited to the white wavy subway tile patterns that we often see, having vibrant color options will lift up your room's mood. Adding a splash of red, orange, yellow or blue will add more warmth. Also, this idea will create a contemporary interior when used sparingly with the go-to pieces of minimalists, the white tile patterns. 
Having decorated tile panels even in some unlikely places of your home will not cause chaos on your room interior as long as you are able to create harmonious connections. As mentioned earlier, your walls can serve as a canvass for your furnishings. If you have already picked the furnishings all you need to do is to choose the right tiles that will suit the final pieces of furniture. However, if nothing is finalized yet you can always opt for tile patterns that will accommodate a number of furnishing styles.
Take advantage of the visual appeal that you can get from decorative tile patterns. Make sure that you do not limit your options to ideas that you always see in home interior magazines. You can also carry out refreshing room interiors as long as you sustain functionality with design.
This is an image roundup post, curated to showcase and promote other reputable contracting companies' and their amazing work.  To have any of the images removed, please reach out to us and we would be happy to do so.
Other Great Articles to Read: