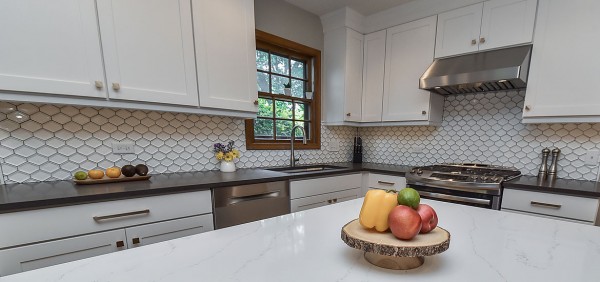 The primary purpose of a kitchen backsplash is to protect the wall from liquids, usually water. But it also serves as the decor focal point after your kitchen renovation. It defines the style of your work area, radiating your personality and reflecting the mood and feel of your cooking space.
From clean minimalist to chic vintage, there are countless design and style options to choose from. What is most important is to choose a style that makes you happy. This is what matters most after all. Do not be afraid to test out unique and even outrageous options. Remember that this is something that will be a central defining aspect to your overall theme.
Also important to remember is that your choice of backsplash has to blend in with the existing décor. You need to create a harmony from the work area, to the countertops, to the walls and even the floor. This collaboration of color and texture is essential to the function and aesthetics of your cooking space.
If choosing the right backsplash seems too difficult a task, worry not, we have some amazing inspirations for you. In this article, we have brought together amazing kitchen tile backsplash ideas to get you started.
How to Choose a Kitchen Backsplash
Choosing the right backsplash involves many decisions. First, you need to decide what types of tiles you want. Then, you still have to find a nice design that fits your needs while also creating the perfect décor for you. Here are some tips that you will find most helpful.
1. Picking the Right Tile
There are several tile materials to choose from; glass, ceramic, porcelain, marble, granite and even metal. One big factor in deciding which tile material to go for is cost. If you are on a budget, the best options include porcelain and ceramic. If you are able and willing to spend a bit more, you might want to consider more expensive options such as marble, granite, and glass.
The issue of style is not as important nowadays when choosing between various tile materials. Thanks to technology, even ceramic tiles can be designed to resemble marble or even a metal surface. This is beneficial when you want a specific look but at a cheaper price.