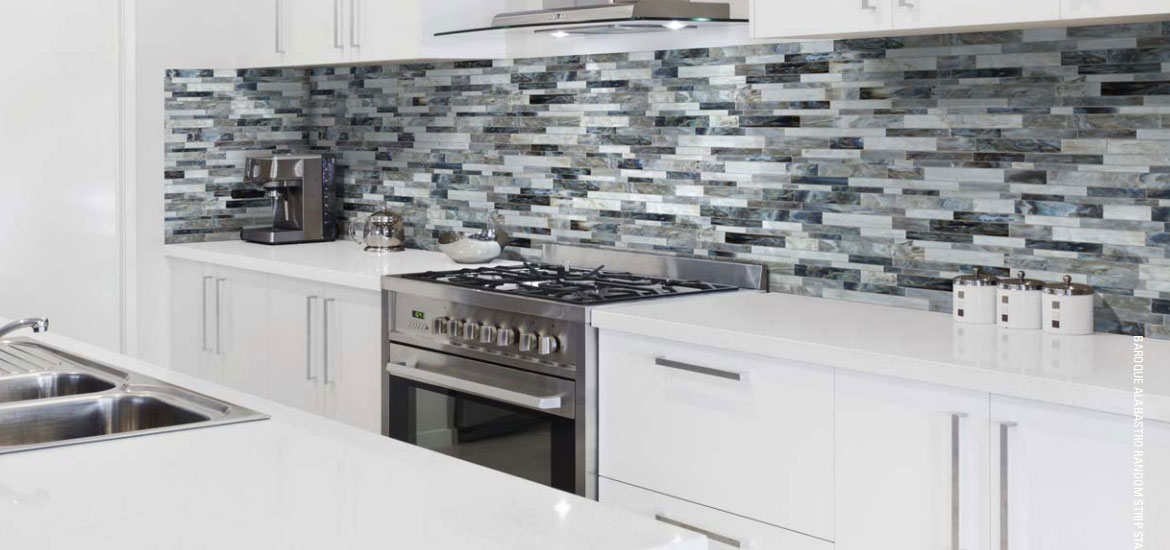 Mosaic tiles have the power to transform a plain surface into an artistic masterpiece popping with boldness and style. Whether it's your kitchen or bathroom suffering from a blah look, mosaic tile is exactly what you need to up your décor. From bright and splashy colors to simple minimalist tiles, there are numerous options available in stores and online.
There are various materials you can choose from when shopping for mosaic tiles. Some common ones include ceramic, porcelain and slate. Glass is also a common option for homeowners and it's what we are going to look at in this home improvement guide. Glass mosaic tiles have several advantages;
They Have High Visual Appeal: Glass mosaic tiles tend to have a shiny luminous style that creates an extra bright and spacious look in a room. When you combine them with well-positioned kitchen lighting, a dramatic lighting effect is the result.
Plenty of Options Available: Home and tile stores stock a large variety of glass mosaic tiles. You can get them in almost every style and color. Some are designed to give of a metallic look while others resemble mirrors.
They Provide a Lot of Flexibility in Design: You can use glass mosaic tiles in numerous applications, not just your kitchen backsplash. They can be combined with metal and stone elements for a dash of pizzazz in your bathroom, they can be used on luxury table tops, and can even be used to design artwork for your home.
They Last a Long Time and Are Easy to Maintain: Because of their smooth non-porous surface, glass mosaic tiles are easy to maintain. They do not stain and any dirty or greasy spots can be quickly wiped with a wet cloth. The glass is also strong and resistant to most chemicals, making the tiles highly durable.
Glass Mosaic Tiles Are Better for the Environment: That is, better than other types of mosaic tiles in comparison. You can choose an even eco friendlier route by using recycled glass mosaic tiles, which we will look at below.
That being said, glass mosaic tiles also have a few drawbacks. For one, they tend to be more expensive than either ceramic or slate tiles. Some types of glass mosaic tile can also be a pain to install and you may have to pay a professional to do it.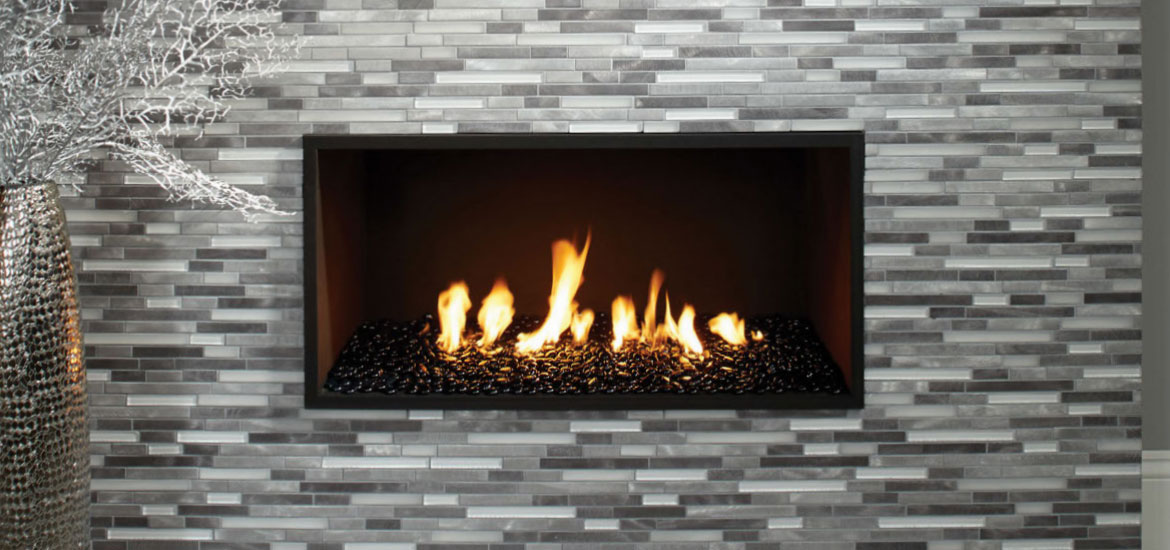 Types of Glass Mosaic Tiles
Mosaic glass tile comes in different variations and styles. Below we list the most common ones, but you can also check out our home remodeling ideas page. Your choice should be influenced by your preferred décor style, your existing décor and your budget. Some of the glass tiles mentioned below, such as Van Gogh, tend to be quite pricey.
1. Recycled Glass Tile
As the name suggests, this type of tile is made from recycled glass. Basically, discarded and broken glass is used to come up with various tile designs. Sometimes, the recycled glass can be mixed with other materials such as broken ceramics for an even more unique look.
Recycled glass tiles are popular for their eco friendliness. Instead of throwing away glass objects, they can be taken to a factory to be molded into beautiful mosaic tiles.
2. Stained Glass Tile
Stained glass is reminiscent of those beautiful glass artworks in churches. You can get the same look in your home using stained mosaic glass tile. The staining is done by adding a dye during the glass formation process.
Depending on the color of dye added, you can get various stain designs. Most mosaic tiles consist of many different stain colors, resulting in a bold, yet quaint look. Because of how good they look, stained glass mosaic tiles can be used to decorate an entire wall, creating a beautiful focal point for the room. The effect is simply breathtaking.
3. Tumbled Glass Tiles
Tumbled glass tiles are usually made from recycled glass, meaning there is a danger of sharp edges hurting you as you install them. Tumbling the glass removes all the sharp edges, making it safer to handle the glass tiles when cutting and installing them.
4. Translucent Glass Mosaic Tile
These types of tiles find their biggest use in the bathroom, where they are used to enclose a shower area. The translucent nature provides adequate privacy while adding a nice style to the bathroom. Translucent glass mosaic tiles can also be used as a backsplash in the kitchen, a semi-private window in a spa bathroom or as a wall element.
5. Van Gogh Glass Tile
This is a unique type of mosaic glass tile that almost resembled stained glass tile. The glass is painted on the back with a metallic pigment, which comes out in a fern-like style on the front of the glass. To make the glass completely opaque, black paint is applied at the back over the metallic pigment. This gives the glass tile depth like that of a mirror. A mosaic tile consists of smaller pieces of glass with different metallic pigments painted on it to produce a stunning overall effect. The effect is even more dramatic when combined with certain types of lighting.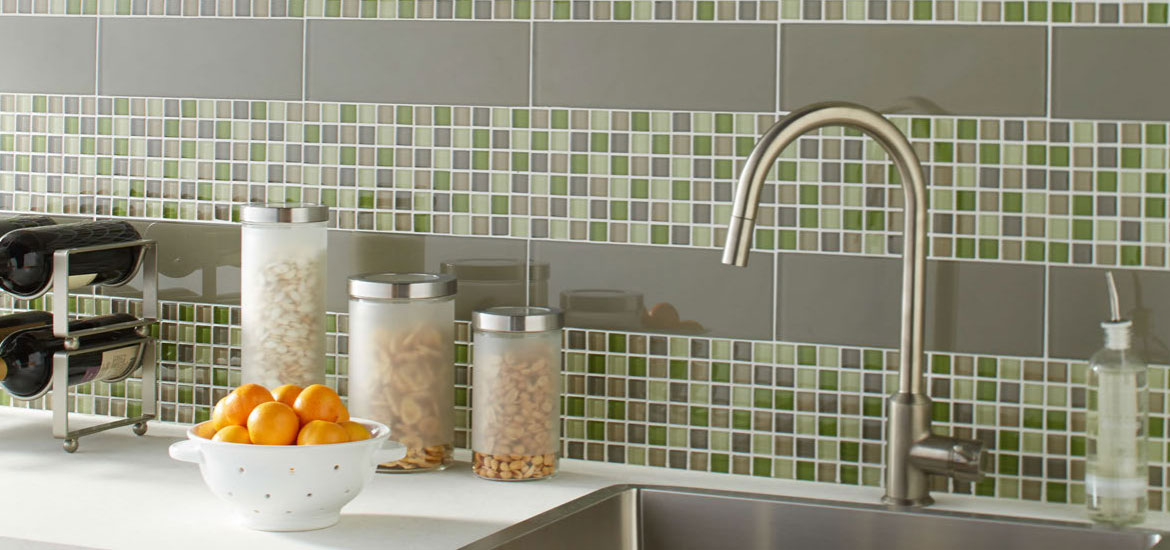 Where to Install Glass Mosaic Tiles
As noted before, mosaic glass tiles provide flexibility in design and application. The first place homeowners think about using them is the backsplash in the kitchen. While glass mosaic tile backsplash is a great idea (in regards to both style and function), it is by far not the only application for these beautiful pieces.
Another popular application of mosaic glass tile is during a bathroom remodel. Glass tiles are non-porous and highly resistant to water, meaning that they will not be damaged by the moisture. The only place we would not recommend you use them is on the floor, where they would pose a safety risk because of their slipperiness. If you have to, use them on a floor area that is unlikely to get wet and give them a textured finish for traction.
You can also install mosaic glass tiles on the walls, especially just above the bathtub, where they provide an interesting focal point to gaze at while in the tub.
Here are some more creative uses of mosaic glass tiles around the home.
Around the Fireplace: Glass tiles are tough enough to be used near the fireplace, and their ease of maintenance makes cleaning easy. Ideally, a subtle styles glass mosaic is best because it complements the fireplace without drawing attention from it. Soft colors such as gray, white and cream are especially great for use around the hearth.
Accent Wall: Instead of limiting the mosaic tiles to just above the sink and below the cabinets, there are many other ways you can use them to style up your walls in any room. Be creative with your decorative patterns. You can install them in a wide band from top to bottom, install a series of mosaic tile bands at half level along the length of a wall or even deck out an entire wall in them.
In Your Backyard: Yes, you can use mosaic glass tiles outdoors. In fact, they withstand the elements far better than ceramic and porcelain tiles. You can use them in your outdoor kitchen, to decorate your porch or create a stunning water feature such as a fountain.
Framing: If you love doing DIY picture or mirror framing, this one is for you. You can enhance the picture or mirror by placing small glass mosaic tile around it in a unique pattern.
Flooring: Glass mosaic tile is considered a high-end flooring material. So before you opt for it, know that it is quite expensive. But when installed properly by a professional, the effect is stunning. But as mentioned above, be careful about installing it in wet areas such as the bathroom as it tends to get quite slippery. Also consider adding a textured finish on the top to reduce the risk of slipping.
This is by no means a comprehensive list of things you can do with mosaic glass tile. The beauty, durability, and ease of maintenance of these tiles make them ideal for a wide range of applications, both inside and outside the house.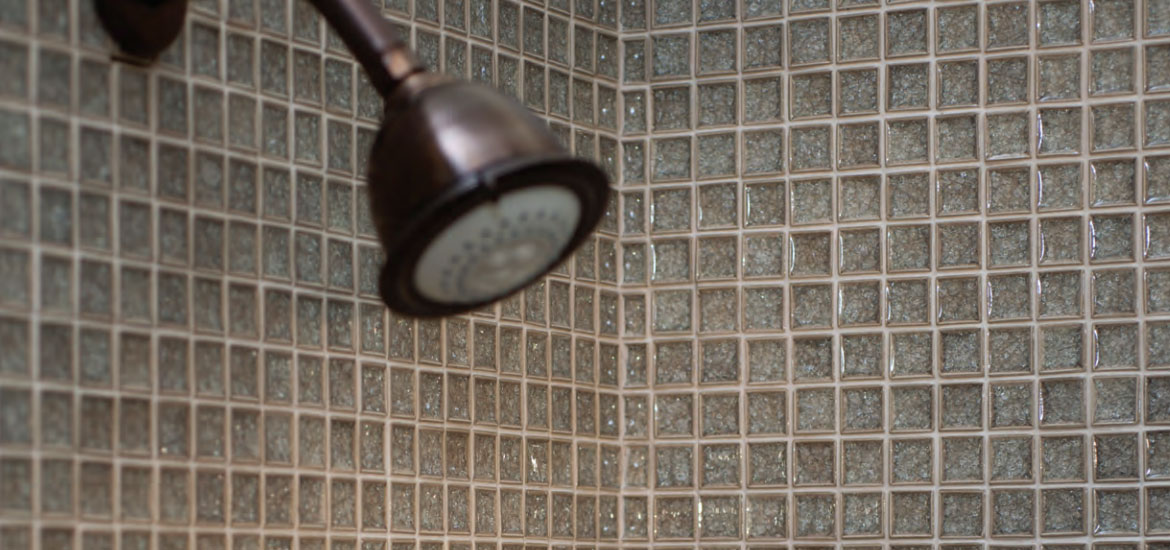 How to Cut Glass Mosaic Tile
If you have the time, and a little bit of skill, you can install a mosaic glass tile backsplash yourself or create a nice bathroom decoration. One of the most challenging parts in the installation process is the cutting. Installing tiles around tight areas such as outlets requires cutting tiles down to size. If your project involves more artistic displays, you may need to do a lot more cutting.
The first thing you should have is the right tool. In tile work, a wet saw is one of the most commonly used tools. When dealing with glass tiles, the wet saw only works if you are cutting large pieces of tile, which is rarely the case especially if you are creating something small-scale such as a backsplash. But if you were creating a whole-wall mosaic, then you might need a wet saw. There are many places you can rent one for a few hours.
Unless you are very skilled, a wet saw is not the ideal tool when you need to cut really small pieces of tile. In these other cases, various other smaller tools are better. You can use glass nippers when you need extreme precision, a double-sided wheel scorer for straight cuts, a handheld pen cutter or a Dremel. It is a good idea to remove each tile from the mesh backing before cutting it. The mesh can really interfere with your cut.
For larger tiles where you cannot remove the backing, use a utility knife to cut through the mesh. Additionally, some homeowners suggest placing small tiles on top of some stiff foam or cardboard for added stability and precision when cutting.
It is very important that you follow all safety requirements when doing the cutting. This is especially true if you are using the wet saw. Small bits of glass can injure you. Wear work gloves and have safety goggles on, as well as protective overalls.
Want more ideas? Head to Pinterest for Kitchen Tile Backsplash Ideas.
How to Install Glass Mosaic Tile
Difficulty in installing glass mosaic tile depends on what kind of project you are doing. A counter or sink backsplash is moderately easy with the biggest challenge being curving out tiles for fitting around outlets. Installing the tiles on a full wall is more challenging and could take a lot of time. It is important you gauge the length and difficulty of the project before you begin. If the weekend is not long enough, find some other time when you have extra days to start and complete the project. If it seems beyond your skill, then consider hiring a professional to do it. Some glass tiles can be especially tough to install in a way that the adhesive underneath does not show.
Take a look at this video of how to install glass mosaic tile on YouTube.
If you decide to go ahead with the installation, here is a basic guide.
Plan your layout and take measurements and plan what pattern you are going to use. By measuring the size of individual tiles, you can determine how many tile rows you need.
Draw a centerline for backsplashes from the bottom of the upper cabinets to the top of the counter. This will help you in installing your tiles in a neat symmetrical manner.
Use either thin set mortar or mastic adhesive when adhering the tiles. Make sure the wall is free of spots and grease markings before applying the adhesive or mortar using a trowel. Thin set mortar is good because it lasts longer after application before drying. With mastic adhesive, you have to be quick to lay the tiles before it dries. In either case however, the best thing is to apply a little at a time, just enough for 2 to 3 tiles.
When you place the tile onto the wall, press it in using a block of wood to make sure it sticks. After this, the next step involves grouting.
Mosaic glass tile is one of the easiest and quickest ways to transform your walls. In just a weekend, you can move from a boring bathroom or kitchen, to one sparkling with beauty and style. This makes it a great choice for your next home improvement project.
Check Out Our Other Great Articles:
Image Sources: