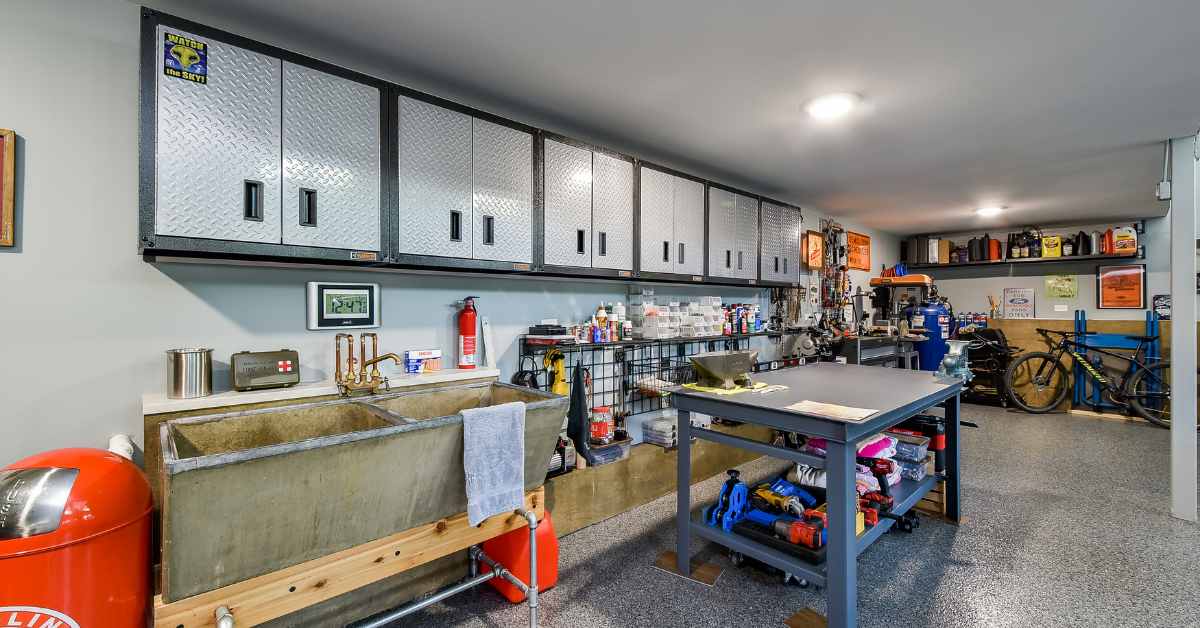 There's generally not much space in the garage for actual cars between the ladders, bikes, and golf equipment. Even then, it's an obstacle course to get out of the garage without striking anything. However, a few clever space-saving methods are all you need to reclaim some more square feet. With these clever garage storage ideas, you can become organized (and locate the weed killer when you need it).
Garages are utilized to store much more than simply cars, bicycles, and equipment. Extra garage space may be used by homeowners for products that aren't ready to be thrown away, seasonal gear, and various storage boxes. Unfortunately, these stacks often turn into mazes or outright disasters. If this describes you, it's time for a garage organizing overhaul. You can check out our garage storage ideas below if you don't know where to start.
To begin, embrace your inner Marie Kondo and go through everything in your garage, then give, recycle, or discard any things you no longer need. Consider hiring a self-storage facility near your house if you want to store more than your garage can handle.
You're ready to add garage storage ideas after you've removed any superfluous clutter. There are several solutions to select from, including shelf units, hangers, garage workbench with storage, tool storage cabinets, and above garage door storage. Consider your budget, garage space, and storage needs before making a design decision. You'll also want to keep track of the types of products you're storing for your garage tool storage ideas.
Look for wall racks or overhead storage for families with many bicycles. Freestanding garage cabinets are ideal solutions for organizing cleaning supplies, tools, and other stuff. If your garage serves as a project workstation, a workbench storage system gives plenty of space for tools, cupboards, and tabletop space. Keep this in mind when you looking for garage storage ideas.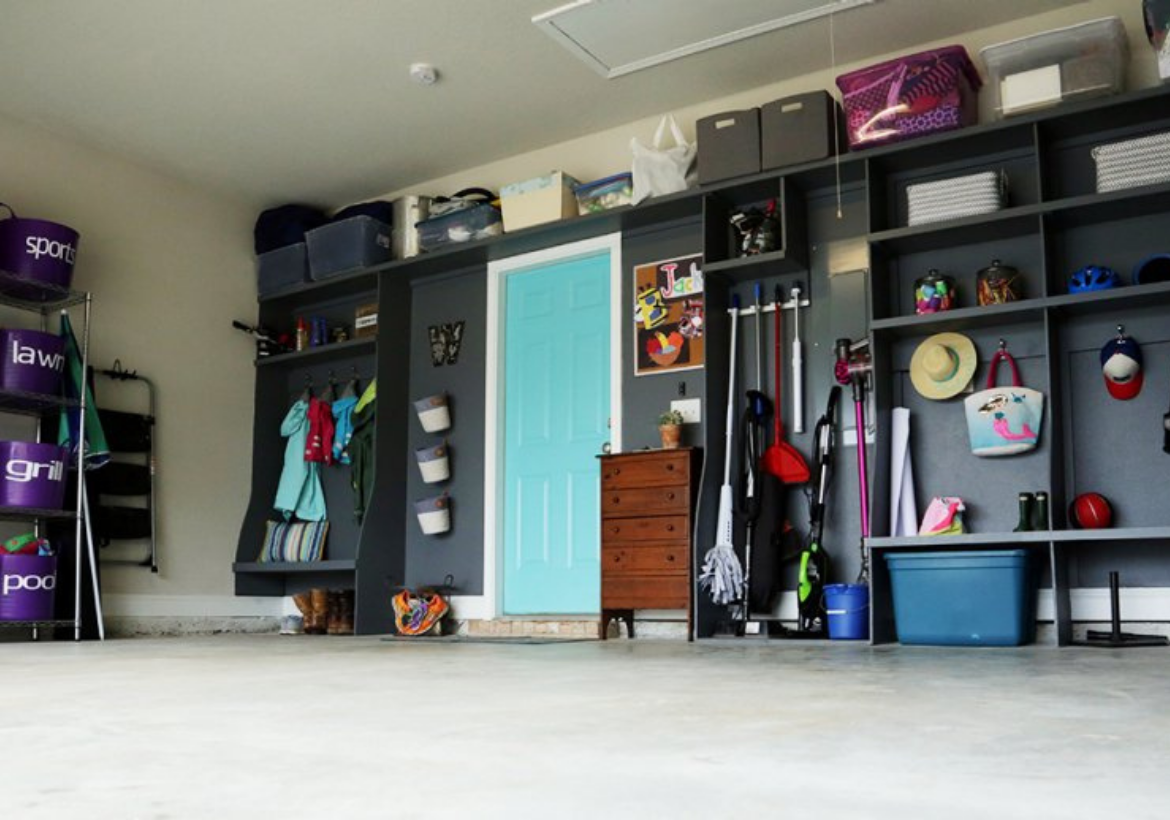 A well-organized garage will help you save time when searching for tools.
What Shouldn't Be Stored In A Garage?
Do not keep the following objects in your garage for safety reasons:
Paint storage: Extreme cold or heat may wreak havoc on it. Cans should be stored in a more temperate environment.
Propane storage: A spark might cause the vapors to ignite. Propane tanks should always be stored outside.
Paper products: They attract roaches and other pests. Place them in your pantry.
Refrigerator: A large energy drain in non-air-conditioned areas.
Pet Food: Possums and other animals will smell it out and consume it. Keep it indoors in a well-sealed container.
Items Should Be Stored Safely
Because most of us keep lawn-mower gas in the garage, be prepared for a fire. Purchase a 5- to 10-pound U.L.-listed extinguisher and place it in an easily accessible location. It should have an ABC rating, indicating that it is effective against flames caused by wood, oil, or electricity.
Though we're sure you're aware that you should open the garage door when your car's engine is running (right?), installing a carbon monoxide detector will provide you with additional peace of mind. Make sure you include this in your garage storage ideas.
Check to see whether your garage door opener has a U.L.–listed motor and an auto-stop mechanism that will keep the door from shutting if a kid or pet attempts to get below.
Garage Storage Ideas On A Budget
Draft A Garage Floor Plan
Many garage-organizing system makers include free space planning, so utilize their services while you check how to put all of your goods. Before you purchase anything, measure your garage and record the size and placement of windows, doors, switches, and receptacles, as well as the amount of space your vehicle takes up. Then, when you give everything a home, keep the following guidelines in mind.
Gardening tools & lawn chemicals, for example, should be placed near to one another.
Place heavy equipment, such as lawnmowers, in corners where it will not be bumped or pushed over by your automobile.
Place commonly used objects, such as bikes, near the garage door.
Store seasonal or seldom-used things in the most difficult-to-reach places.
Keep Products Away From The Garage Floor
When possible, keep stuff off the floor. You'll have considerably more space for your car and won't have to deal with untidy, impossible-to-sort-through mounds. If you acquire ready-made storage units or cabinets, make sure they're elevated on legs so that you can always clean the floor underneath them.
Power Tool Storage Made From PVC Pipe

Let's face it: PVC pipe is the star of this collection. This individual utilized scrap tubing to make holsters for power tools, which they then attached to the bottom of a shelf. Because our power tools are usually dispersed across the home, workshop, and basement, I like the notion of having a single "docking" station for them.
Must-Have Garage Storage Products
Clear plastic stackable boxes with lids.
Clear jars in various sizes for organizing hardware and other goods. Simply keep food jars and properly clean them before utilizing.
A lockable cabinet for keeping lawn products and other items that you don't want your children to access.
A portable label maker so you don't have to decode bad handwriting.
Why Are Open Shelves Preferable To Closed Cabinets?
Shelves are less costly, simpler to reach (no extra clearance is required to swing the doors open), and allow you to simply scan what you've stored.
Metal garage storage cabinets with doors offer a reason to be disorganized since you can conceal evidence, so they may rapidly get cluttered. Use them sparingly, such as when keeping items that need to be protected from airborne dust and filth.
Spray Can Rack
We have a weird spray paint zone in the garage, so you can guarantee I'll be investing in one of these incredible racks. The spray paint holder for the wall can store up to 20 cans and keeps them at an angle to save space. Furthermore, the rack may accommodate other similarly sized cans, such as WD-40.
Install Vertical Organizing Systems
Pegboard:
Pros: It is widely accessible and simple to install; it can be trimmed to size and even painted to modify the appearance; and various manufacturers provide a large range of appropriate hooks, shelves, and organizers.
Cons: While pegboard may support lightweight hand tools and other items, it is not strong enough to support heavier things such as bicycles.
Track-based systems:
Pros: Because shelf standards are suspended from a single track attached to wall studs, these systems can support larger items; standards, hooks, shelves, and organizers may be readily moved.
Cons: You should make sure that the track is level in order for the standards to hang straight; they work best on completed and plumb garage walls.
Panelized Systems:
Pros: The whole wall is manufactured with slotted plastic panels that contain lock-in hooks, shelves, and cabinets, allowing you to use every square inch of wall space.
Cons: Some systems need experienced specialists to install them, which raises the expense; you're restricted to system-compatible organizing goods.
Tool Organizer
One of the most challenging tasks is to find out how to arrange all of the garden tools—we have so many shovels, rakes, hoes, brooms, and so on. I was considering wall-mounted tool hangers, but they're very expensive, and I much like the concept of reusing things we already have. Our tool rack is created from PVC tubing and scrap wood, and I like how you can spread the parts as far apart as you need to accommodate your tools comfortably.
Make Good Use Of Overhead Space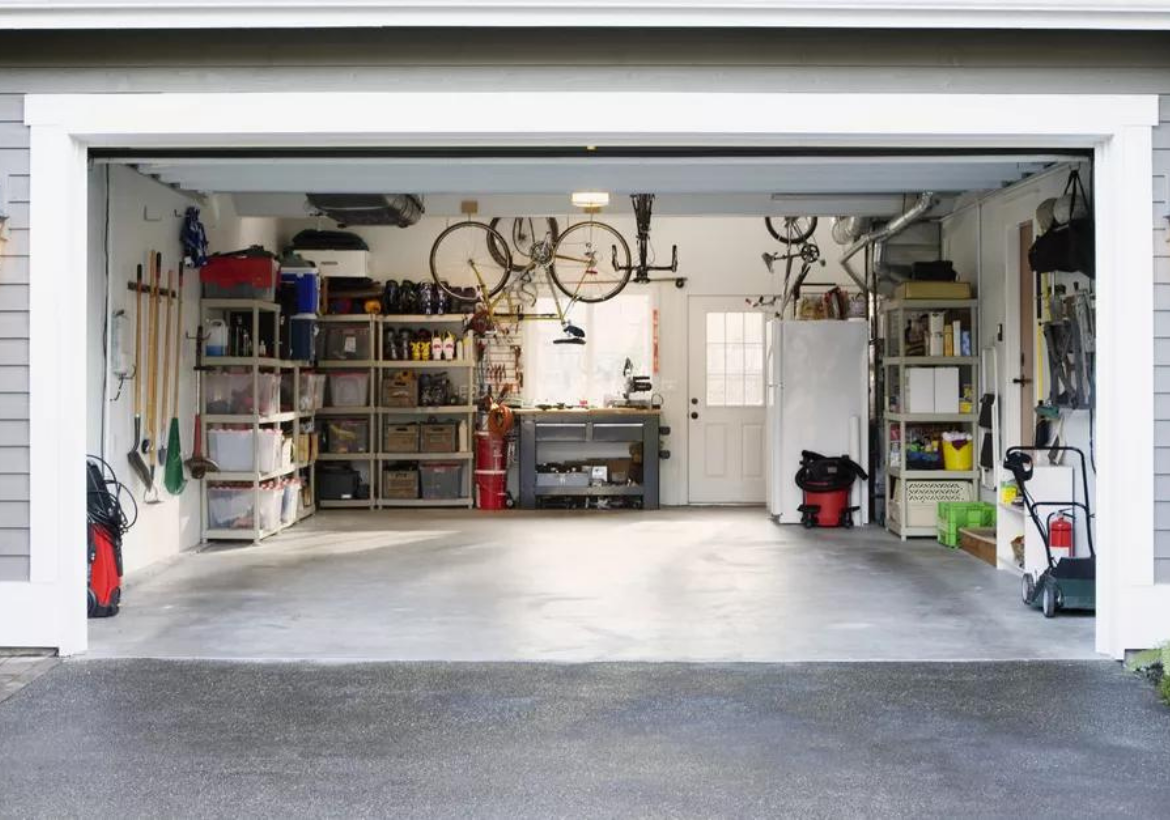 The garage ceiling is an excellent location for storing long, flat items that aren't used every day, such as ladders and seasonal sports equipment. Check that any shelves you hang from the ceiling do not interfere with the functioning of your garage door and that there is adequate space to prevent scratching the top of your vehicle.
Construct A Workbench
One of our tool storage ideas is a wall-mount fold-down type provides a strong surface while tucking out of the way when not in use.
Benches with built-in tool storage organization might be expensive. Instead, use shelves to surround a modest worktable and pegboard above garage door storage to house your gear.
A pair of casters transform any table into a mobile workstation; just make sure they don't make the table too tall.
Finish it off with a comfortable stool that fits under the table for safekeeping. You cannot go wrong with garage workbench and storage.
Stopping Air Leaks Between The Garage & The House
Check for gaps in the wall that connects your garage to your home and in the ceiling if there is a room above the garage before installing organizers. This is where hot or cold air (and the moisture it contains) will leak inside. Small gaps may be filled with caulk, while larger ones can be filled with expanded spray foam.
Purchase Door & Window Locks
Break-ins often occur when the garage door is left open and the front door is unlocked. Always use a deadbolt to protect the entrance door and keep garage windows closed.
Place a garage-door lock that secures the door to the sidewalls and use it while you are gone for a lengthy period of time. And, even if you're mowing the grass out back, always shut the garage door.
Apply An Epoxy Floor Coating
After you've cleaned up, the dirty concrete surface will appear even more dismal. An antiskid floor covering repels oil stains and wipes clean as easy as a kitchen tabletop, and the color chips and paint conceal any flaws.
Purchase an all-inclusive kit and schedule the job for a few days of moderate, 50- to 80-degree weather to allow for enough drying time. The key to success is meticulous preparation, namely a clean, dry slab.
Seal The Threshold
If the bottom of your garage door isn't flush with the floor, rain, windblown leaves, mice, and bugs, will make their way inside. Place a rubberized strip to the floor where the door rests on creating a secure fit—you'll save yourself some cleaning time.
Upgrade The Lighting & Electrical Systems
A single naked bulb above each vehicle bay will not be enough. Select 4-foot fluorescent lights with electronic ballasts for ambient lighting, which offer flicker-free light and function well in cold temperatures. Utilize as many as you need to see properly at night and space them 4 feet apart. Change receptacles with ground-fault circuit interrupters (GFCIs), which shut power when a short occurs in the system.
The Easiest Way To Pull Into The Garage
Here's how to ensure that your vehicles are always a suitable fit:
Skip the motion sensors that tell you how far to bring the vehicle in; instead, suspend a tennis ball from the ceiling on a line so that it touches the windshield when you're in the appropriate location. You must be able to walk between the rear wall of the garage and your car.
Protect the finish of your car by affixing leftover carpeting to the walls in areas where the doors or bumper may collide.
Allow as much space as possible in the middle aisle between two cars so that garbage cans can be rolled to the curb or bulky things may be moved without being obstructed.
Back your minivan into your garage with the sliding doors facing the center, then place your sedan next to it, facing front, to enable easy access to both cars.
Keep It Clean Always
In the summer and spring, use a pesticide made from natural components to keep insects at bay.
Store a bag of cat litter on hand to absorb spilled oil and grease. To clean up after doing projects, have a broom and dustpan or a small vacuum beside your workbench.
Regularly hose down the floor.
Weed through your possessions at least once a year and sell, give, or throw anything you don't need.
What do you think? Let us know if these DIY garage storage ideas helped you in organizing your garage on a budget.
Other Great Articles to Read: