By choosing the right kitchen cabinet colors, you can give back life to your old kitchen without spending a fortune on renovations.
We understand that renovating an entire kitchen could be expensive. That is why we provide you with awesome tricks on how to make your kitchen beautiful again.
It's incredible how lovely a kitchen could be just by focusing on kitchen cabinet paint colors. There are many popular kitchen cabinet colors you can use. You can go from bold colors to more subtle hues, and you can even use kitchen cabinet color schemes. The possibilities are endless, and we bet you will enjoy this project as much as we enjoy providing unique options for you.
Hundreds Of Kitchen Cabinet Colors To Choose From
We know that America adores a white kitchen. We get it. White's clean, straightforward, orderly—and, even aficionados ought to concur. But we're here to inform you that color can be a kitchen's best companion, cleverly highlighting subtle architectural elements or transforming dated cabinetry. It can alter the complete feeling of the room. Even brightening up just one area—an island, let's say—with a refreshing tone can be a genuine mood-uplifter. Mix two colors on your cabinets, and you're on your way to a personal look. So break out typical and let color work for the room. We've pulled together 20 kitchen cabinet color to keep you going.
With hundreds (even thousands) of lovely paint colors to select from, no trip to the hardware store would be complete without a bit of buyer's hesitation. Picking the proper shades for a room in your home can be a strenuous and baffling errand — particularly if you're picking something for your kitchen cabinets. What if you go through all those steps to paint your cabinets and you end up despising the color? What if you wished you had picked a more white than a cream white? They say you can always repaint, but 'that's a lot of work! Save yourself the inconvenience and read this before you go shopping for your next project.
SOFT BLUE
Many interior designers like MMI Deisgn prefer blue when it comes to kitchen cabinet colors. It comes in various shades, and it works well with both white and wood tones. If you want a simple and minimal kitchen, you can never go wrong with soft blue. It's a subtle shade that is safe, yet brings life and freshness to your kitchen cabinets. Breath of Fresh Air by Benjamin Moore is an excellent choice!
YELLOW CABINETS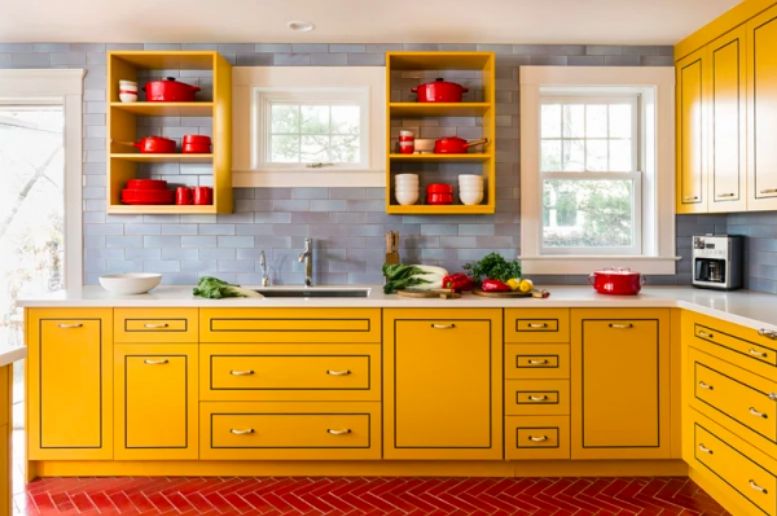 If you need a spark in your kitchen cabinet paint colors, why not go for yellow? We like how Aline Architecture Inc did it. Yellow is a bold color, and it can make your space bright, sunny, and happy. Imagine walking into your kitchen and having a glimpse of the golden sun. There's never a cloudy day at your home!
FARMHOUSE PASTEL GREEN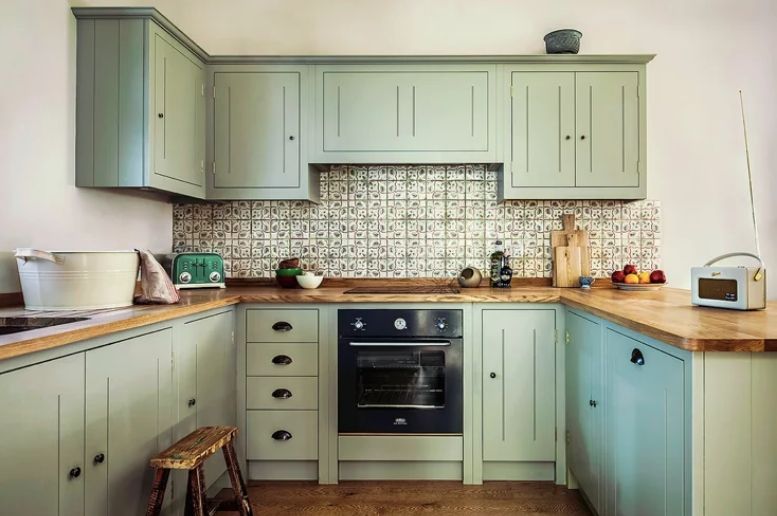 Do you want a rustic theme, but don't want to go with dark wood colors? The farmhouse pastel green is a dreamy version of farm life. It's a good marriage between shabby chic, rustic, and modern feels. British Standard by Plain English did a good job in putting it together.
WHITE AND CHARCOAL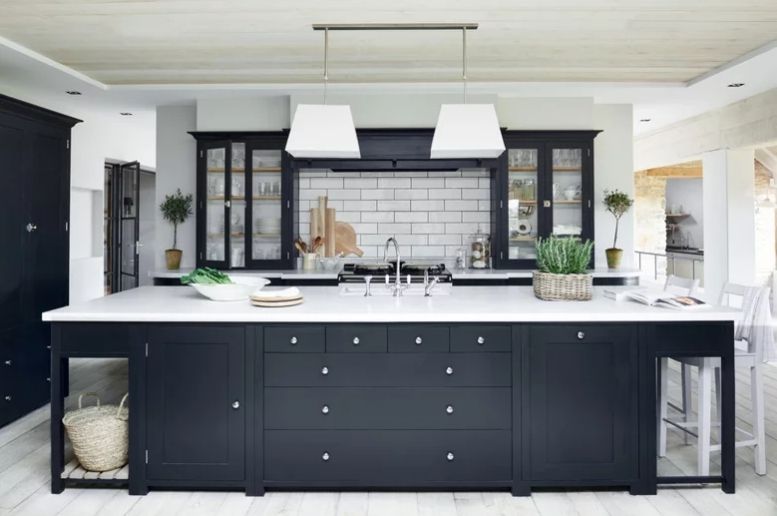 White with charcoal kitchen cabinet paint colors can turn any kitchen into a sophisticated, futuristic, yet classic space in your home. Just look at this kitchen by Neptune! The white-charcoal combination is one of the kitchen cabinet color schemes that exude warmth and sophistication. Meet your house guests in the most charming way with these colors!
PURE WHITE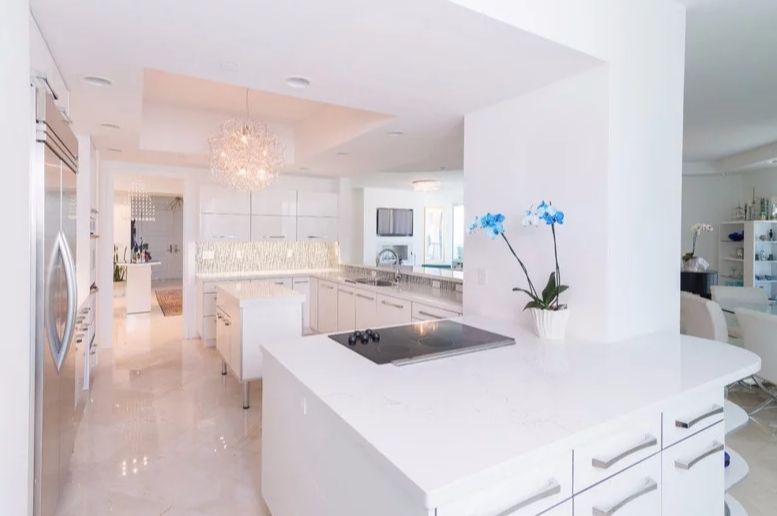 Don't want to play with color combos? Check out what Boss Design Center did. We're taking what we've said earlier because who doesn't love white? You can't go wrong with pure white! White is timeless, and it will give you a lot of freedom in decorating and putting accents to your kitchen.
WHITE AND BLUE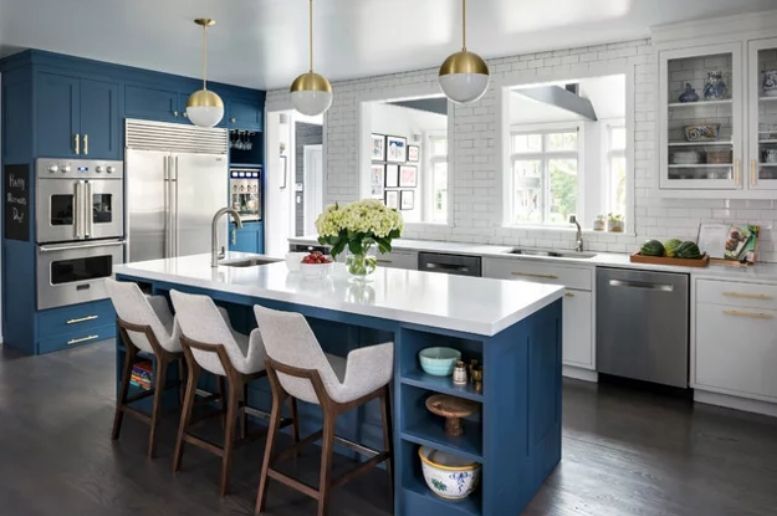 White and blue kitchen cabinet color scheme is innovative, smart, and deeply comforting. This combination will put you in a blue mood but in a great way. Just like this kitchen by Studio Dearborn!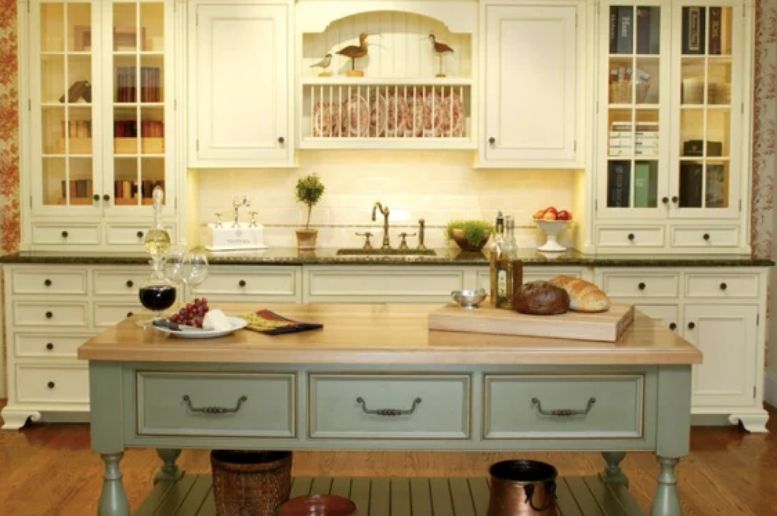 French Country kitchens are warm and casual, just like this kitchen by Kent Kitchen Works. Kitchen cabinet paint colors in French Country incorporate creamy whites, used on both dividers and cabinets and muted blues or grays, on islands or cabinets.
BEACH VIBES
There is something innately tranquil with this shade of blue. The color of the ocean is a natural hue for the heart of the home. When choosing kitchen cabinet colors becomes a daunting task, find your peace by putting some beach vibes at the heart of your home. This is perfectly captured by Chris Warnes.
PASTEL AND SOPHISTICATED GRAYS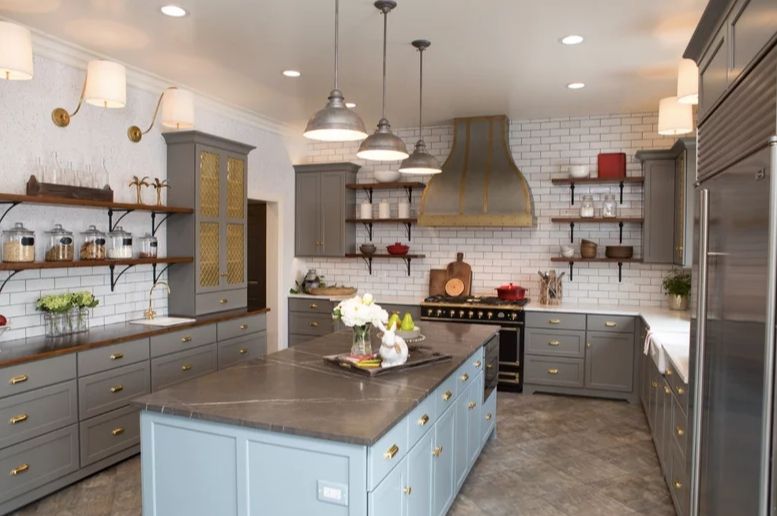 Pastel makes light gray pop! You can find sophisticated gray to fit any taste, and it's one of the easiest and safest ways to style. Add your favorite hue of pastel, and you're good to go! This kitchen cabinet color scheme by Advance Design Studio Ltd. is a favorite for those who want to stay minimal, yet want a pop of color in their kitchen.
ELEGANT BLUE & DEEP INDIGO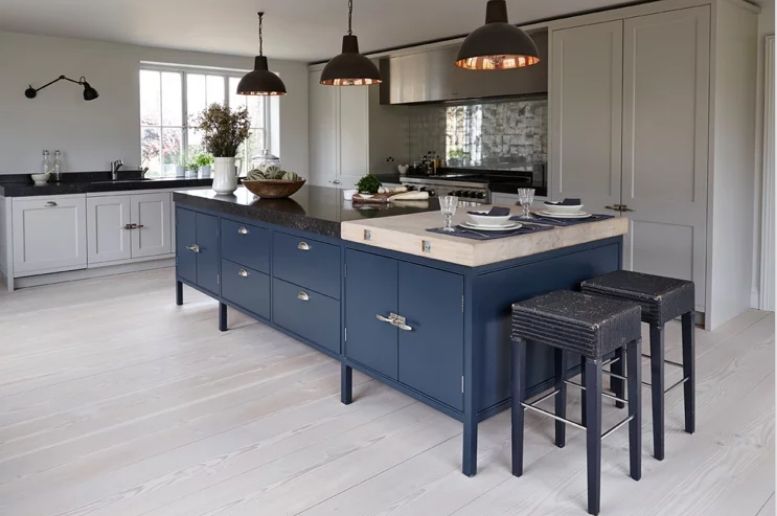 Indigo is a vibrant color between blue and violet. It is mysterious, elegant, and extremely appealing, just like this kitchen by Mowlem & Co. When mixed with classic blue, this kitchen cabinet color scheme is chic, exquisite, and futuristic.
The influence of color on the design perception
Psychological Design Theory Studies show that different colors and shades can change a person's mood, influence their subconscious. Therefore, when creating a design, specialists necessarily take this fact into account.
Color selection is a very important point to consider when creating a website. The designer must clearly understand the purpose of the site, product or interior and discard their own preferences, to choose colors that would harmoniously cause the desired state of the user/customer. The perception of color in one way or another is embedded in the human genes. Therefore, it is important to understand that there are differences between the effect of color on the human subconscious and the conscious perception of colors on the basis of associations to which we are predisposed.
Yellow
The yellow color is well-perceived by absolutely everyone. Yellow is the color of the sun, sunlight. It is considered to be friendly, warm, pleasant. The color of happiness in the human perception is yellow, whether we realize it or not. All life long, the whole world we see around us in the rays of the yellow sun, gives us warm feelings. Yellow color affects the emotional sphere of a person, causes optimism, confidence in oneself. However, too much yellow in the composition can become a bad tone, lead to a decrease in the self-esteem of the viewer. At the same time, it should be remembered that the yellow color in some cases can be associated with insolence, cowardice, irrationality.
Red color
Red is the color of fire. It stimulates the person's physiological needs. Can cause passion, appetite, and is a real call to action. The combination of yellow and red is considered to be the most successful for the design of everything associated with nutrition. Very actively this combination of colors is used in the design of interiors, logos and sites of cafes and restaurants (Mc Donald's, Coffelife, etc.), and it is clear, red color contributes to the appearance of appetite, and yellow gives a sense of happiness.
At the same time, the red color can be perceived as a warning of danger, as a prohibition. After all, fire is not only a hearth that gives life, but in some cases, it destroys a factor. This property of red color must be remembered and used red in the context of the entire composition so that it calls the user feelings we need, and not vice versa.
Blue color
Blue is the color of the sky, the color of the sea. Stimulates human thinking. Remember the state when you look at the sky, or at the sea. More saturated shades of blue will stimulate the thinking of the user of your site/customer, less saturated – will soothe, promote mental concentration. Blue colors along with red and yellow are the most favorite colors in the world. Blue colors are actively used in the development of business sites, associated with business, working with finance.
When developing a composition using blue colors in design, it should be borne in mind that blue color can be associated with coldness, indifference, lack of feelings.
PEACEFUL LIME GREEN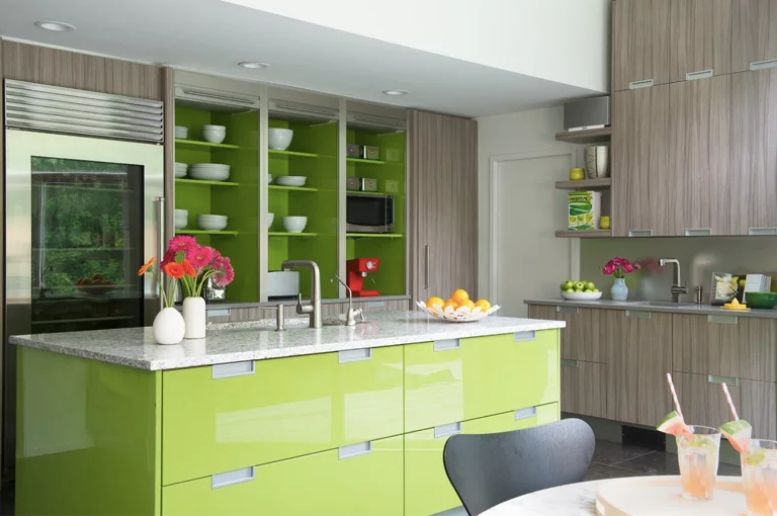 Peaceful lime green kitchen cabinet paint color is considered peaceful and stable. Just look at this kitchen by DEANE Inc, and you'll know why. The balance between the combination of blue and yellow hues gives natural cool and warm tones to the heart of your home.
RED CABINETS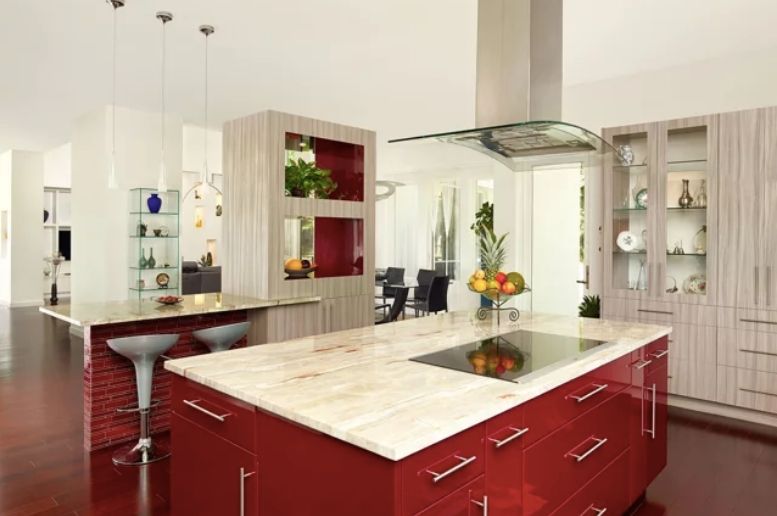 These red kitchen cabinets by DLB Custom Home Design are bold, daring, and fearless. When you have this color in your kitchen, you will feel like nothing can stop you from achieving anything in life. Surprise your guests for a wine and cheese night, and we bet everyone will be talking about how gorgeous your kitchen cabinets are!
DELICIOUS MINT GREEN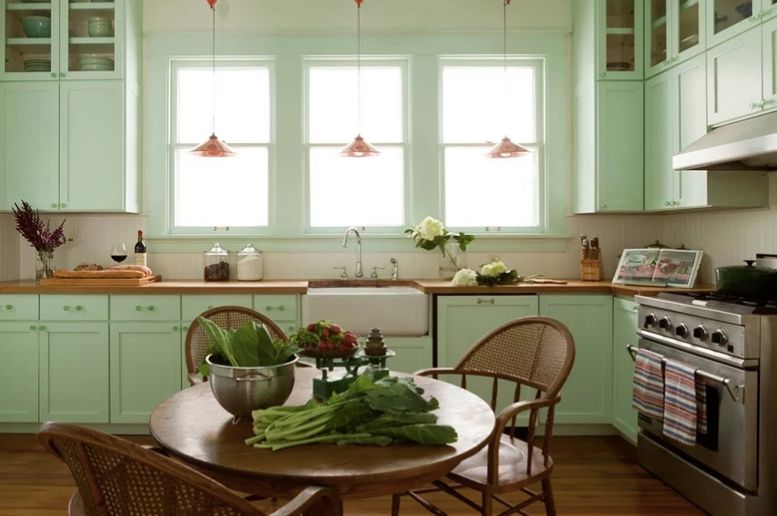 Want to stay sweet and fresh? Delicious mint green as kitchen cabinet paint color will make you want to stay home for as much as you can. This color gives you relaxing vibes and uplifts your soul like no one else does. This kitchen by Meredith Ellis Design is a testament.
PINK BLUSH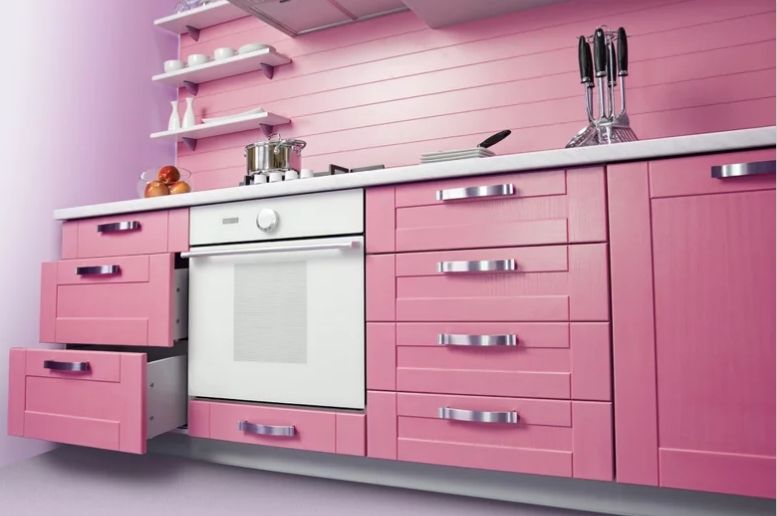 Pink blush is the perfect shade for the girl bosses out there! The color pink represents charm and tenderness. Incorporate this in your kitchen, and it will truly make your kitchen the heart of your home. Don't believe me? Just check this kitchen by Canadian Home Style.
Green color
The green color is the color of nature. It does not tire the eyes, it causes in the subconscious a feeling of unity with nature and accordingly – a sense of rest, restoration of strength, confidence, balance, awakens the ecological consciousness. A good color for sites of business directions related to the environment can add the appropriate notes in any compositions.
It should be borne in mind that in some cases green color can be associated with longing (remember the expression "melancholy green"). Excessive use of green color can indicate in the subconscious for a certain stagnation, lack of progress, innovation.
Violet
Violet color encourages a person to a high contemplation, meditation. It is believed that the reason for such an effect on a person is the wavelength of a violet color that resonates with the corresponding fluctuations in the human brain.
Associated with space, time. Often the violet color is associated with wealth, luxury. At the same time, inappropriate use of purple can tell the viewer that this is not real, "cheap, that wants to seem expensive." Excessive use of violet can cause feelings of inferiority, depression. It is often used when creating spiritual sites/goods.
Orange color
Since orange is a combination of red and yellow – it evokes the corresponding feelings and associations – joy, happiness, warmth, shelter. Physiological stimulation with a sense of completeness of life.
An interesting study was conducted by Yandex in the early 2000s, as a result of which it turned out that at that time orange sites were the most popular among users and caused them the greatest confidence. The publication of these results caused the mass production of orange sites, that at some point was clearly too much in the network. This situation has led to the fact that now most web designers tend to think ten times before creating an orange design for the site. Negative features of orange color can be associated with indifference and the absence of serious intellectual values.
Pink color
Being a shade of red-pink color also affects the physiology of a person. But pink is much less than red is capable of causing excitement, but is more inclined to soothe. The pink color is very powerful in its effect on the psyche, points to the feminine. Associated with the continuation of the family, upbringing. Too much pink can physically hog the spectator.
Grey color
The gray color does not have its direct effect on the human psyche, it is neutral. At the same time, gray color is able and oppressive when used in the appropriate context. Gray color can be perceived as a lack of color and in some cases cause negative emotions.
Neutrality of this color gives wide possibilities for its use in web or interior design. The use of gray as backgrounds and substrates makes it possible to reduce the pressure on the vision apparatus when viewing the site. Look at the design of your browser, you will see that it is also gray.
Too much gray can be associated with insecurity, fear of exposure.
So which color is more suitable for your design? Keep color psychology in mind and you'll attract a lot of new customers for sure.
EMERALD GREEN
Green, by nature, is the most calming color in the color wheel. Emerald green, on the other hand, adds boldness to your kitchen cabinets. See what Bon Atelier did to this kitchen. It encourages reflection, steadfastness, and balance. This kitchen cabinet color will give your home exquisite and precious feels, just like the gem from where it got its name.
BLACK CABINETS
GRAY AND NAVY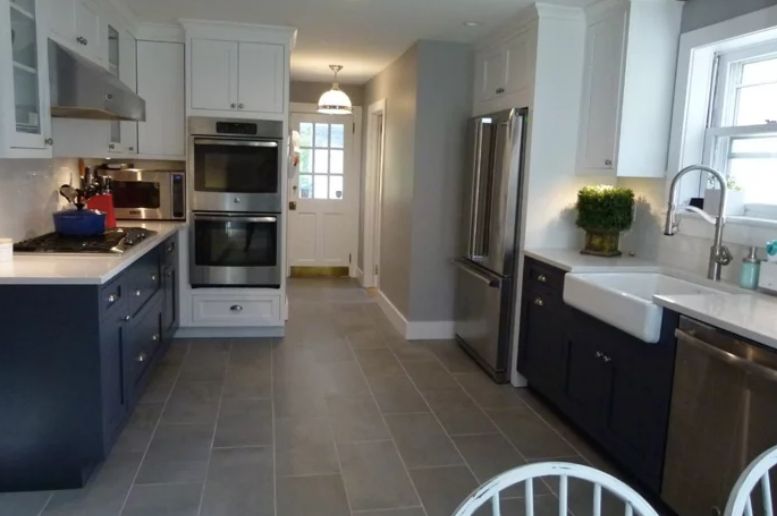 Although gray is usually used to convey gloom and dullness, it can also represent hope and positivity when mixed with hues of blue, as can be seen in this kitchen by F&F Design Center. Navy, in particular, will make a grand kitchen cabinet color scheme, in combination with gray. Gray and navy are perfect for those who don't want to settle for less and want to upgrade their kitchen cabinets to the next level!
TURQUOISE
Turquoise could represent a lot of feelings. When used as a kitchen cabinet color, it could send refreshing, calming, feminine, and serene vibes. Although this would give a rustic feel to any wood material, you could also put a modern touch to your kitchen by investing in smooth and exquisite pieces of furniture, just like what Naked Kitchen did.
LILAC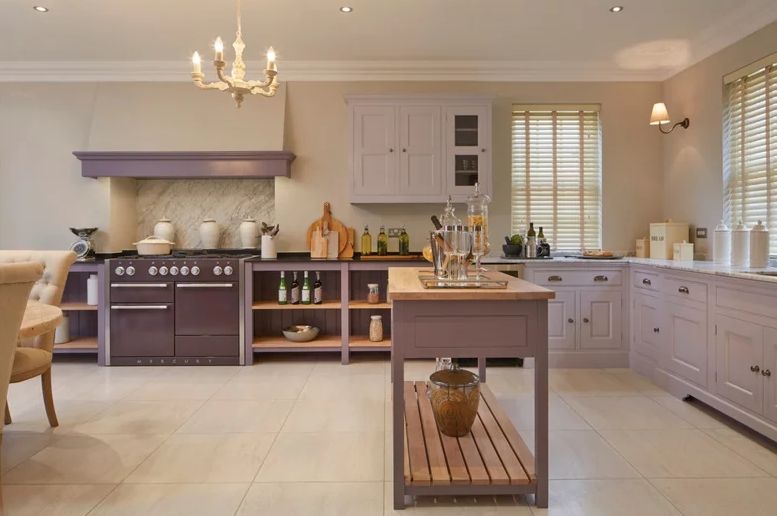 Lilac has a deep-rooted history in Greek mythology. The color symbolizes first love and always associated with love and romance throughout history. If you want your kitchen to be welcoming, exude beauty and innocence, lilac is your kitchen cabinet paint color to go to. Just like this kitchen by Coppice Guild!
DARK BLUE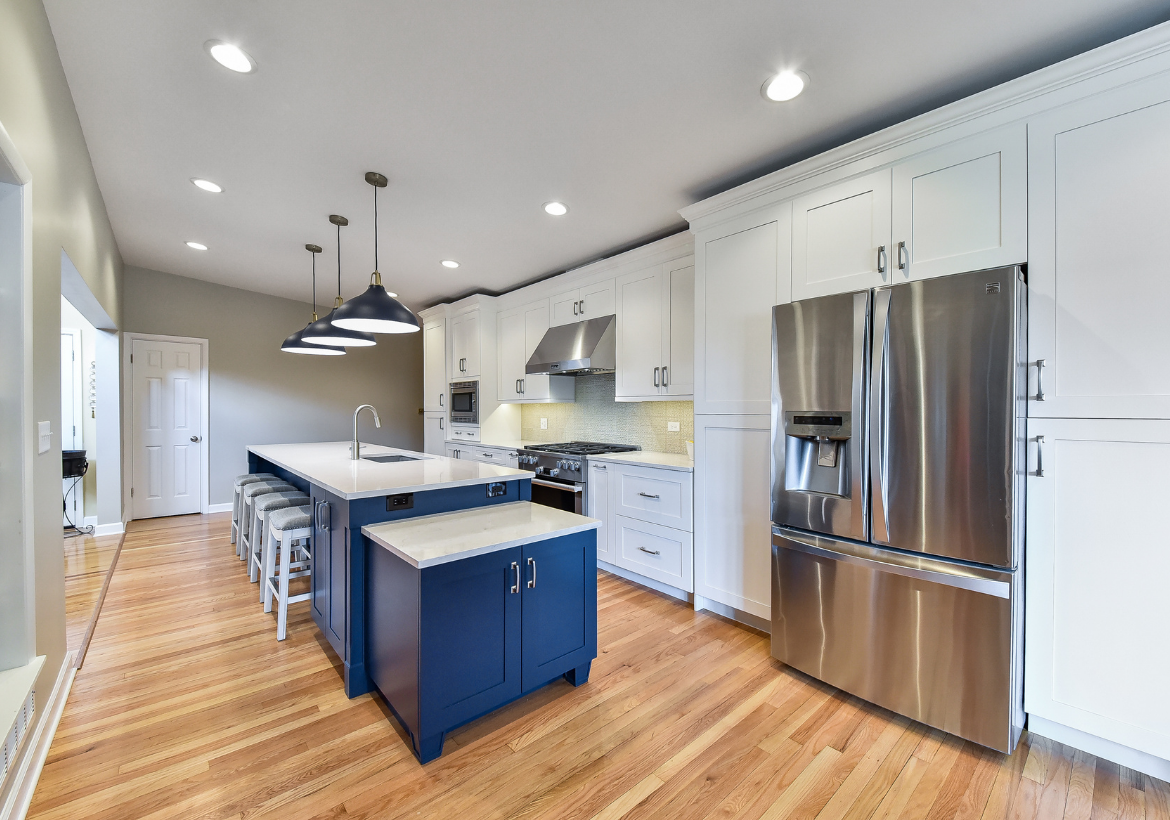 Deep blue will cleanse your mind, allowing you to cut through the clutter and realize what is truly important in your life. It assists you in integrating the big picture with the small picture. Sebring Design Build has done a great job with this kitchen.
DEEP BLACK
A dark color scheme is ideal for creating intimate and romantic environments. However, if you employ too many dark hues or really dark shades, your home will feel confined and claustrophobic. This kitchen by Sebring Design Build is just perfect.
WHITE & WOOD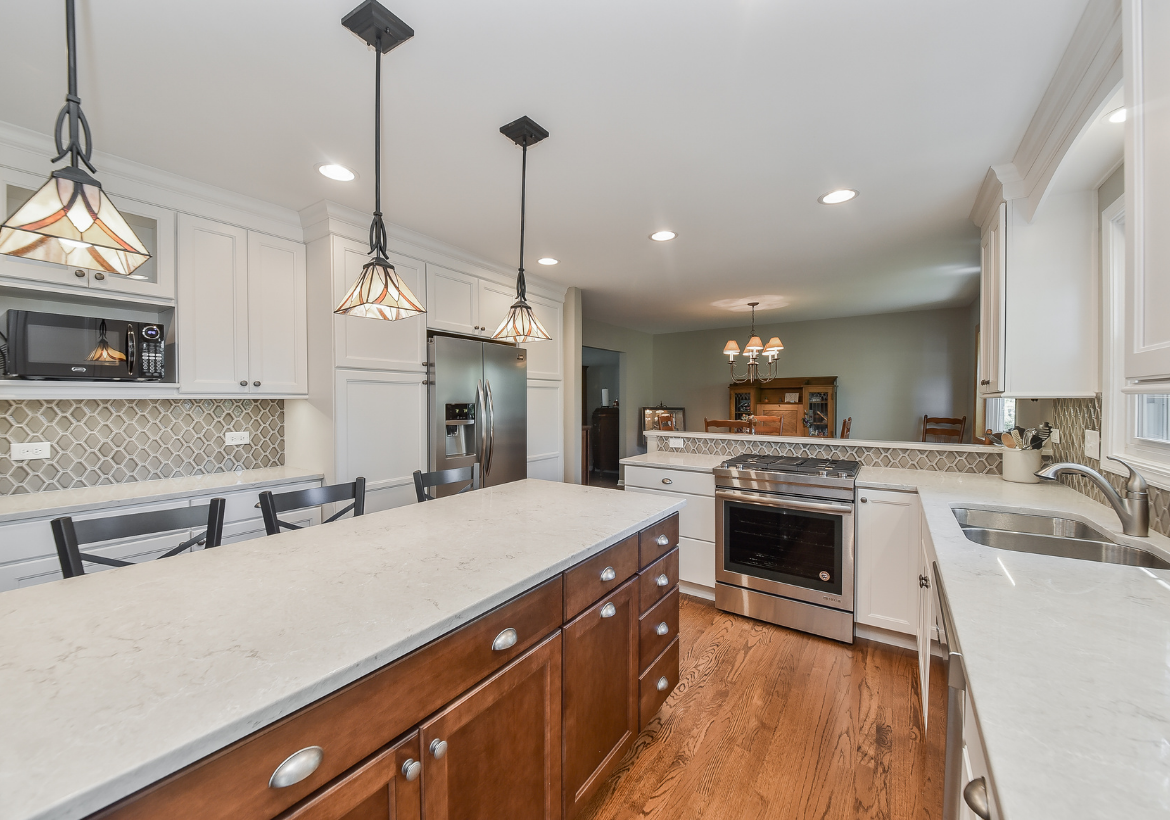 These two-toned kitchen cabinets by Sebring Design Build will surely give a rustic yet modern feel to your kitchen. The setting is enhanced with matching oak floors and kitchen cabinets.
LIGHT BLUE
Blue, the color of the sea & sky, has a relaxing effect. It is a symbol of trust, truth, knowledge, and stability. When used in the kitchen, it sure evokes a happy and calm vibe. This kitchen by Sebring Design Build is proof of that!
Taking care of your kitchen cabinet colors
Keep the new-cabinet luster in a kitchen for a long time with appropriate care and upkeep of kitchen cabinets. Clean and maintain the outside and insides of the cabinets routinely to keep their natural beauty sparkle. With the correct attention, kitchen cabinets will look appealing and function well for generations.
Moisture
Warm water and a gentle cleanser is the favored solution for cleaning kitchen cabinets of all sorts and with all finishes. However, too much dampness can be the adversary of wood and wood finishes. For great results, apply the water/soap solution with a soft cloth or sponge, rinse the cabinet with clear water with a clean cloth, then dry it quickly with a dry, soft cloth. Avoid hanging damp dishcloths or towels over cabinets or cabinet doors, since prolonged exposure to water will harm the finish and may leave stains.

Everyday care for kitchen cabinet colors
To keep kitchen cabinets looking their best, use excellent practices for their primary care. Quickly clean up any spills, splatters, or water spots with a soft cloth on kitchen cabinet paints. The sooner these spots are cleared off, the less chance they have a chance of recoloring or discoloring the cabinetry. Oil and food particles also get harder to expel over time, and removing dried-on buildup may require intense scouring and harsher cleaners that can harm the cabinet finish. Avoid employing a dishcloth or a dish wipe on cabinets. These things may carry buildup from oily food or unforgiving cleaning chemicals on them, which may damage cabinet surfaces.
Polishing
For a buffed shine on wood cabinets, utilize a furniture polish after cleaning. Polishes are often applied using a soft cloth, then buffed to a shiny finish. Polishes contain gentle cleansers and emulsifiers to clean and shine wood cabinets and leave a protective coat of mineral oil. To make a custom made polish, use 1/2 cup of olive oil blended with 1 TB of lemon juice. Blend well and apply to wood cabinets with a cloth.
Repainting Tips For Kitchen Cabinets
Finally, it doesn't matter if you have the best colors in place. If you don't paint your kitchen cabinets the right way, everything will go to waste.
The cabinet surface you're repainting will decide how you approach the work. In case you're dealing with flat wood, you're in luck because this is the least demanding surface to repaint. Wood laminate and metal are also reasonably simple to work with. Plastic laminate may require uncommon paints and procedures, so in case you have got this type of surface, ask for professional help.
First Step
The first step in the project is to remove the cabinet doors and equipment. Number all the doors and name their corresponding areas as you expel them.
Next, you'll have to clean all of the surfaces you would like to repaint. We suggest a solution made from one part of tri-sodium phosphate and four parts water. When you're wrapped up applying the cleaner, rinse but don't soak the cabinets with clean water, then permit them to dry thoroughly.
Next Step
Your next step may be a doozy—you'll need to sand all surfaces you need to repaint. In case the old paint on the cabinets is in excellent condition, you do not have to sand down to bare wood—roughen the surface so the new paint will adhere more effortlessly. Whenever you do sand to bare wood, quill the edges of the sanding zone so the fresh paint will lay level. Clean the sanding dust with a vacuum and wipe all sanded surfaces with a tack rag.

Final Step
Moving forward, apply primer-sealer to all surfaces you need to repaint, permit it to dry, and then apply the paint—you can do this last step with a spray, brush or even a roller if you're working with a level surface. Permit the paint to dry, then re-install all equipment, and hang your brand-new (in appearance!) kitchen cabinets.
This is an image roundup post, curated to showcase and promote other reputable contracting companies' and their amazing work. To have any of the images removed, please reach out to us and we would be happy to do so.
Other Great Articles to Read: