Transitional kitchen designs can help bring your unique ideas to life in an elegant way. This style allows you to blend traditional and contemporary looks without the fear of creating an unsavory contrast. Instead, the designs, colors, and textures come together to inspire earth-colored beauty and uplift your personal style.



Do you ever wish that you could design a kitchen that incorporated a few of your favorite elements, rather than trying to fit your kitchen into a predetermined style? Are you remodeling your kitchen, and you can't decide between a masculine or a feminine touch? Do you want something both practical and creative?  Then these transitional kitchen designs are perfect for you!
There is no doubt how a well-designed kitchen can be truly impactful in comparison to the rest of the home. Our experts want to give you the best information possible to understand the benefits and characteristics of transitional kitchen designs.
Finding Inspiration
If you're stuck in a rut when trying to decide what design direction to go with for your new kitchen, this image-based guide may be able to nudge you in the right direction. You've come to the right place if you're looking for inspiration about how to pull off a successful transitional kitchen design. Follow our simple guide to learn more about the typical elements of a transitional kitchen, as well as some creative transitional kitchen ideas to give your kitchen a practical edge.
While transitional kitchens are meant to spark creativity, keep in mind that not all elements can blend well together. Remodeling a kitchen in a transitional style can be fun, especially considering that no two transitional kitchen designs look alike. However, some of the basic elements that make up a transitional kitchen must be followed to give you the best confidence in pulling it off. Read on to learn about the variety of ways that you can create a new kitchen masterpiece – and don't worry, you won't have to break the bank to achieve the perfect look!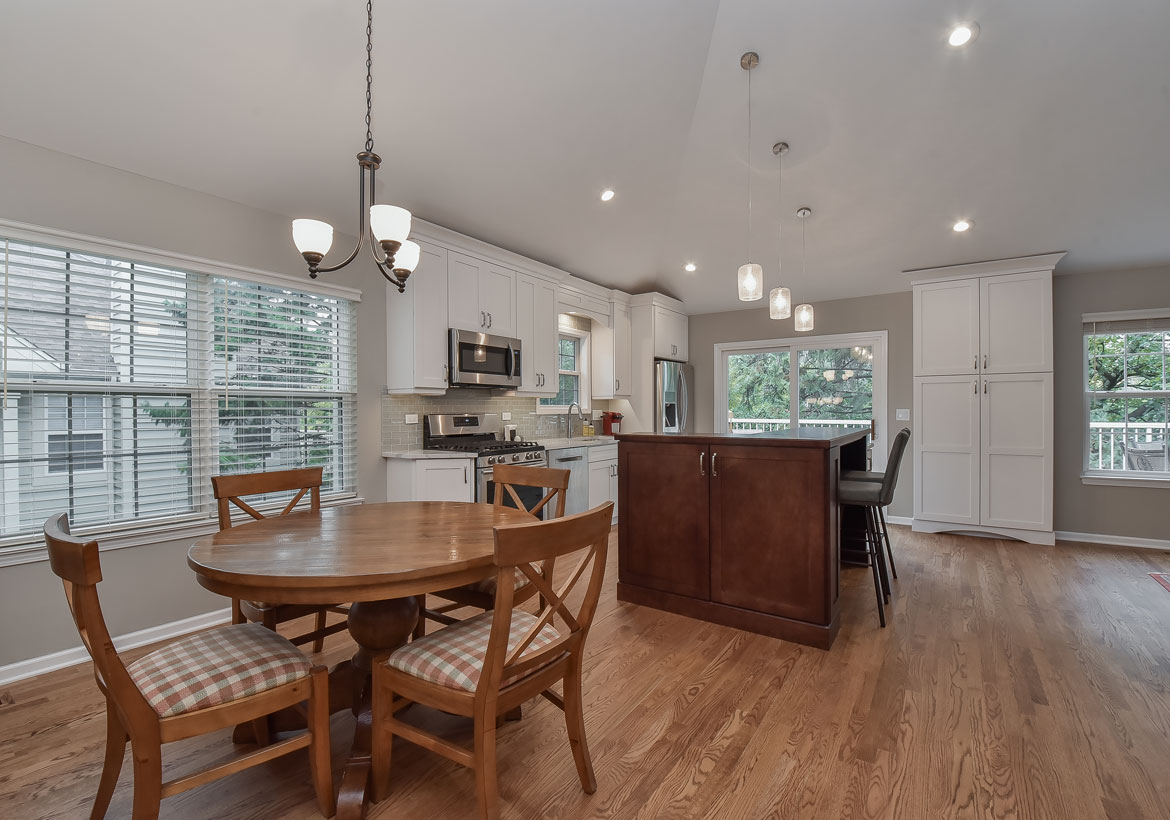 Transitional Kitchen Designs
A transitional kitchen incorporates some elements of modern kitchens and some elements of traditional kitchens. It is not one or the other, but rather a blend of many things.
Another important thing to know is that the entire kitchen does not have to be transitional; instead, you can compromise with transitional cabinets while giving the rest of the kitchen a contemporary feel. That way, you won't have to feel like you are risking your budget on a remodeling project that might fail.



By learning about the basic makeup of transitional kitchen designs, you can get a better idea of what styles and design elements will work well together. There's plenty of room to be creative, so you don't have to decide between practical and stylish!
The Elements of Transitional Kitchen Designs
There are several elements that will typically comprise a transitional kitchen design. While you don't have to include all of these elements, and while you may choose to incorporate designs that are not stated on this list, it's important to remember that these are the basic concepts that typically provide the framework for a sophisticated and beautiful transitional kitchen. Follow the images below for visual inspiration on the transitional kitchen trend.
Elements of transitional kitchens include:
Geometric, clean, and practical lines in countertops, cabinetry, crown molding, and other crafted elements
Industrial lighting throughout
Traditional lighting fixtures on the ceiling or above the countertops
Simple cabinetry styles, such as a Shaker style or a cabinet with a stained or painted finish
A blend of natural and man-made materials, usually in earth tones
Neutral and natural colors, reflecting a bold yet friendly palette
Very little decoration on the walls or moldings themselves
The beauty of transitional kitchen cabinets is that they don't need to make a large visual impact. Instead, you should aim for your cabinets to blend in with the rest of the scenery, resembling a natural, earthy structure. That way, other elements of the kitchen, such as the stone countertops or smooth black tiles, will be the star of the show, creating a blend of elegance and classic appeal.
CLEAN & CLASSIC
Pretty, classic and clean. Love the pendant lighting.
BUBBLY
Such a great island–the doors with the little window detail is so unique.  The "bubble" lighting is so fun.   The aqua/turquoise accessories add pretty pops of color. 
RICH TRANSITIONAL
Cabinetry layout provides so much great storage.  The gray and dark cabinetry choices are so warm, rich and welcoming.
RED ISLAND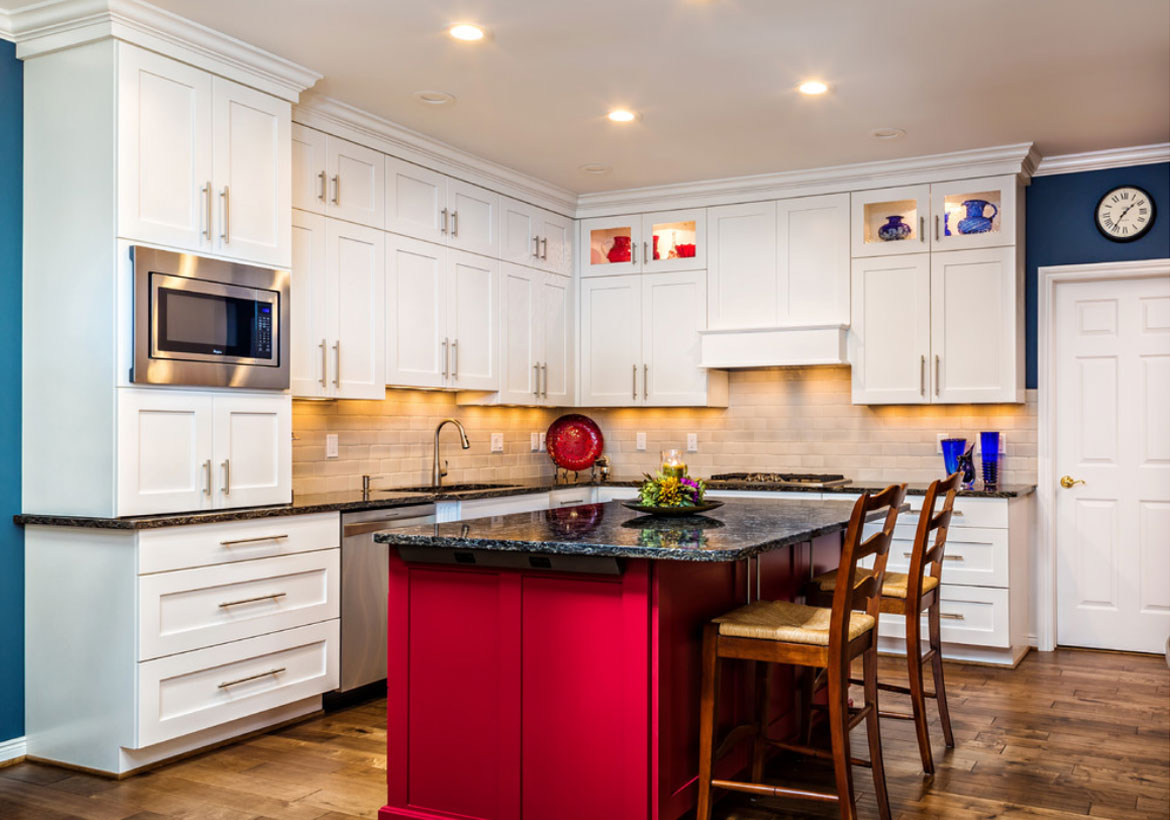 The red island adds an exciting focal point in this transitional kitchen.
FEATURES GALORE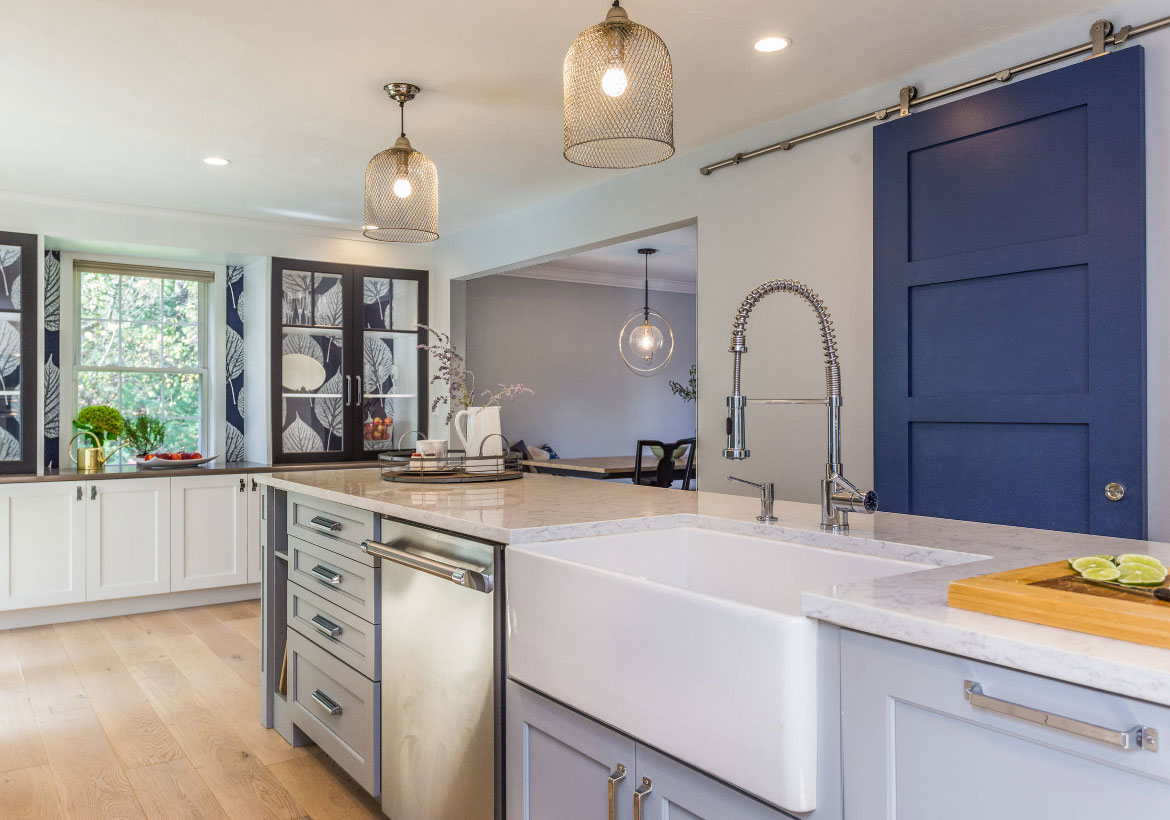 So many great features:  blue barn door, farmhouse sink, faucet, lighting and the detail behind the glass cabinetry.
BLACK LICORICE
Wonderful contrast of white and licorice cabinetry.  The beautiful gray veneer stone wall and hand scraped flooring add warmth to the room.  The pendants bring some great sparkling bling.
GLAMOROUS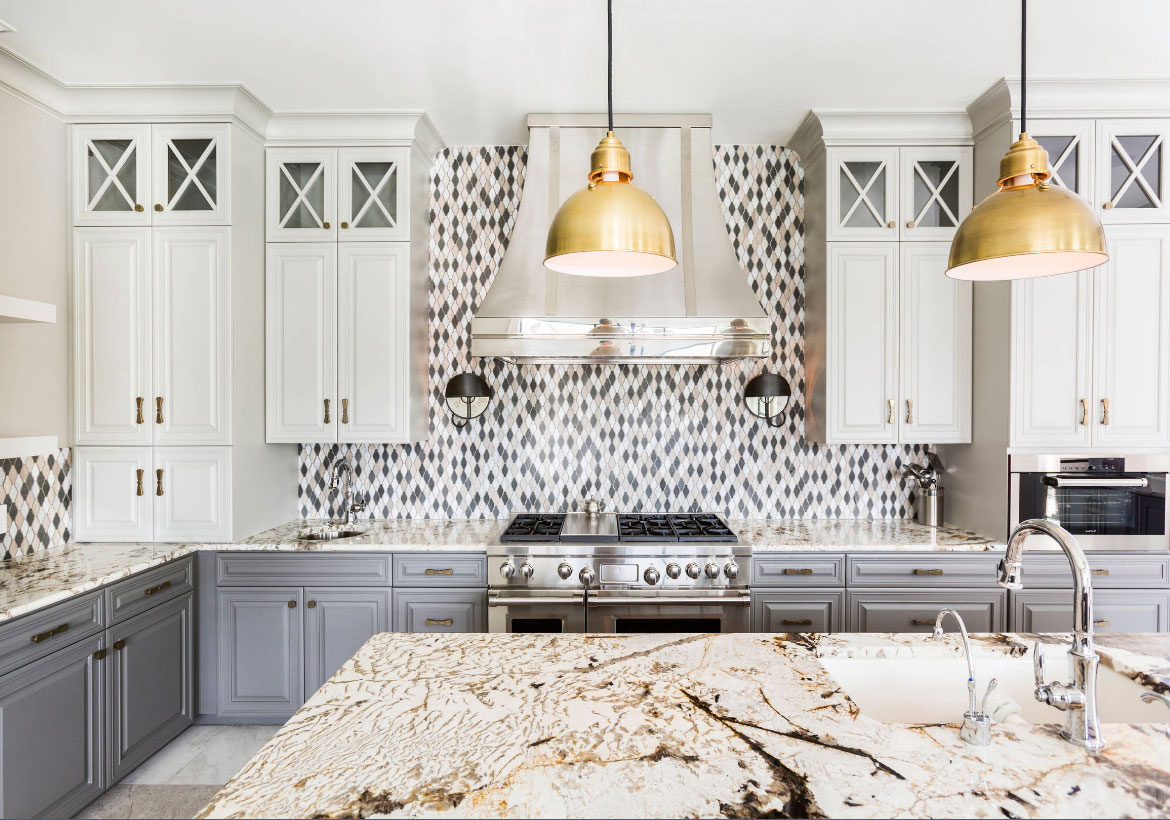 Screams glamorous and is definitely eye-catching.
BOLD & BEAUTIFUL
Naperville transitional kitchen designs.
FLORIDA TRANSITIONAL
Beautiful Florida transitional kitchen.  Light, airy colors and features.
OPEN FLOOR PLAN
Remarkable open floor plan transitional kitchen designs.
NY TRANSITIONAL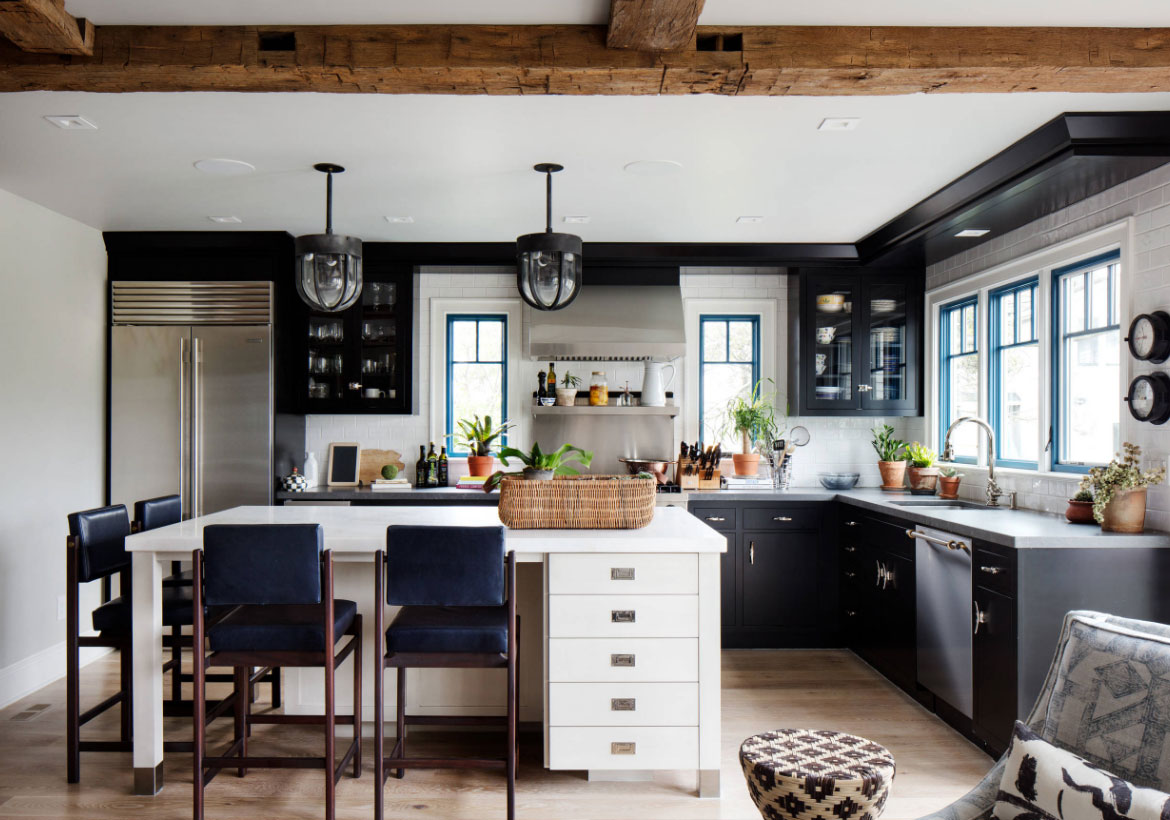 Many unique features make up this transitional kitchen in New York.  The turquoise windows are something you don't see every day but add something fresh to the room.  Substantial light fixtures and cabinet hardware are something to definitely take note of.
COASTAL TRANSITIONAL
A little coastal, a little transitional rolled up in one.  Love the blue/gray island and basket style lighting.  Looks like a great kitchen to prepare meals and entertain.
GRANITE ISLAND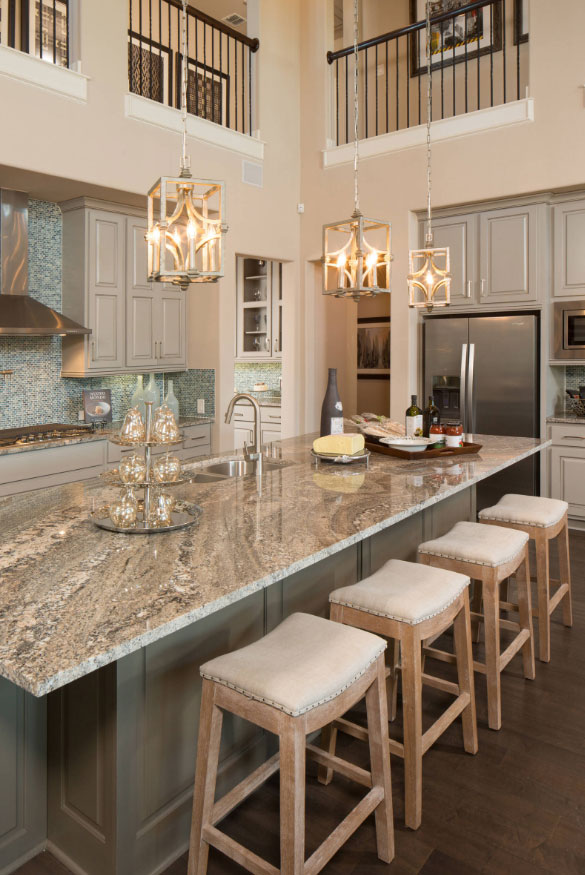 This elegant kitchen features Sucuri granite.
BACKSPLASH BLISS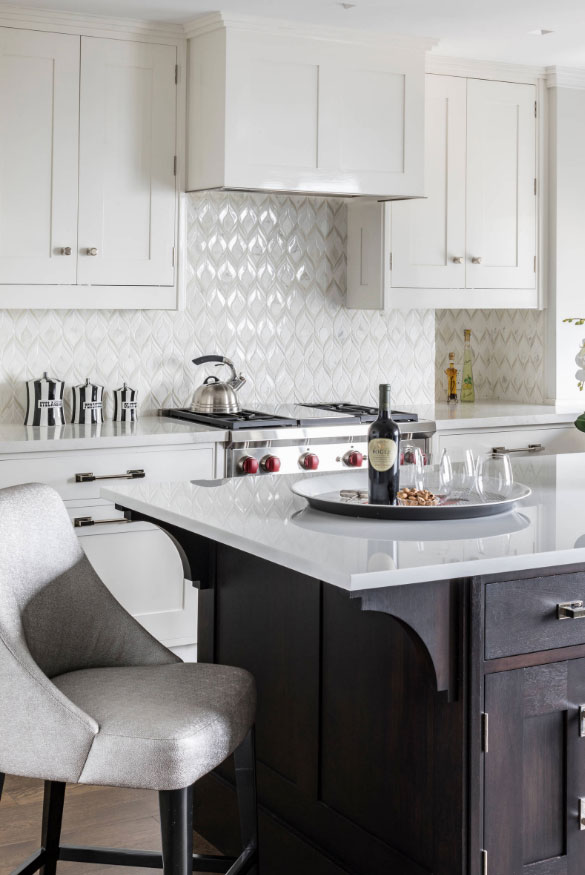 Make sure to take note of the stunning backsplash tile.   The thick profile of the island cabinetry along with solid hardware completes this impressive kitchen.
BLACK LICORICE 2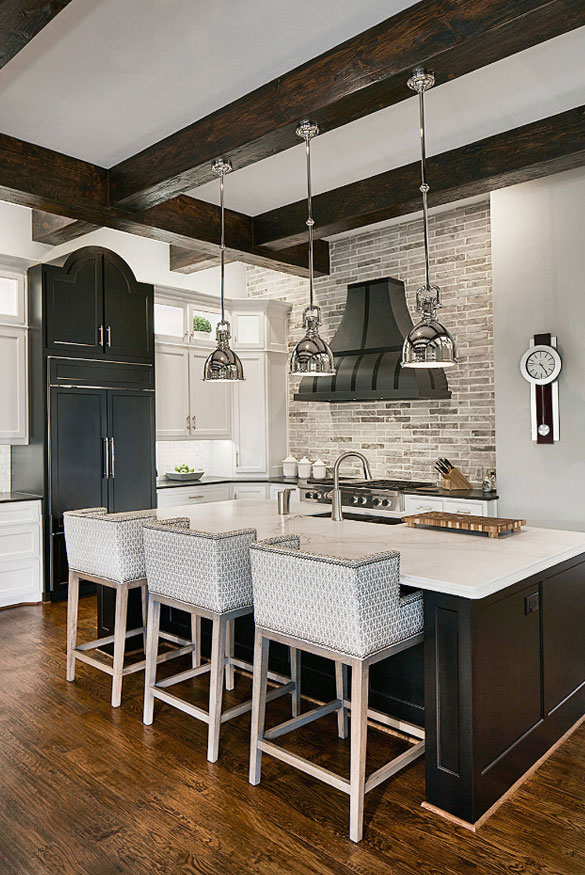 Another view of this impressive kitchen.
AURORA TRANSITIONAL
Aurora contemporary/transitional kitchen remodel.
CEILING IN SEATTLE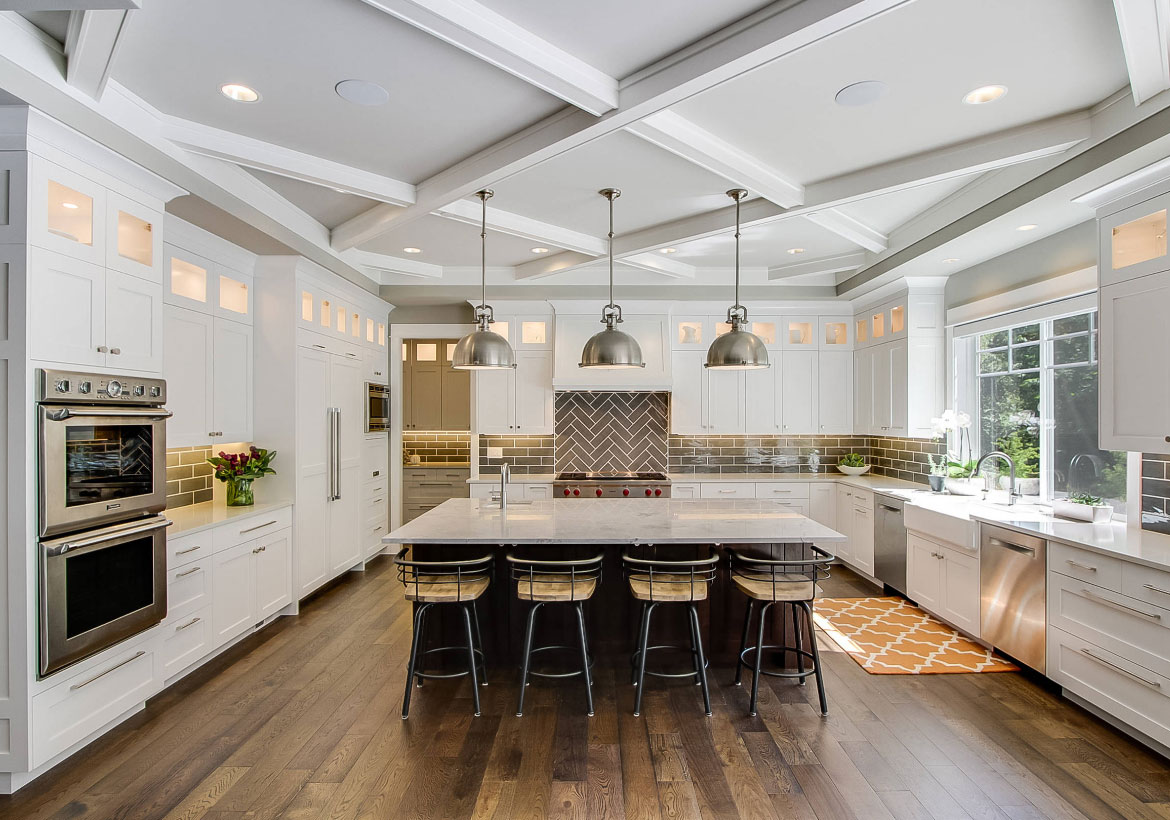 The ceiling in this expansive Seattle kitchen is just remarkable.   Love the lighting and backsplash tile too.  Nice focal tile pattern over the stove.
BRIGHT & OPEN
These homeowners are so lucky that there is so much space in this kitchen to allow them to still have plenty of storage plus have that great wall of windows which brings in so much light.
FRESH & BRIGHT
What a pretty kitchen–so fresh and bright!
NAPERVILLE REMODEL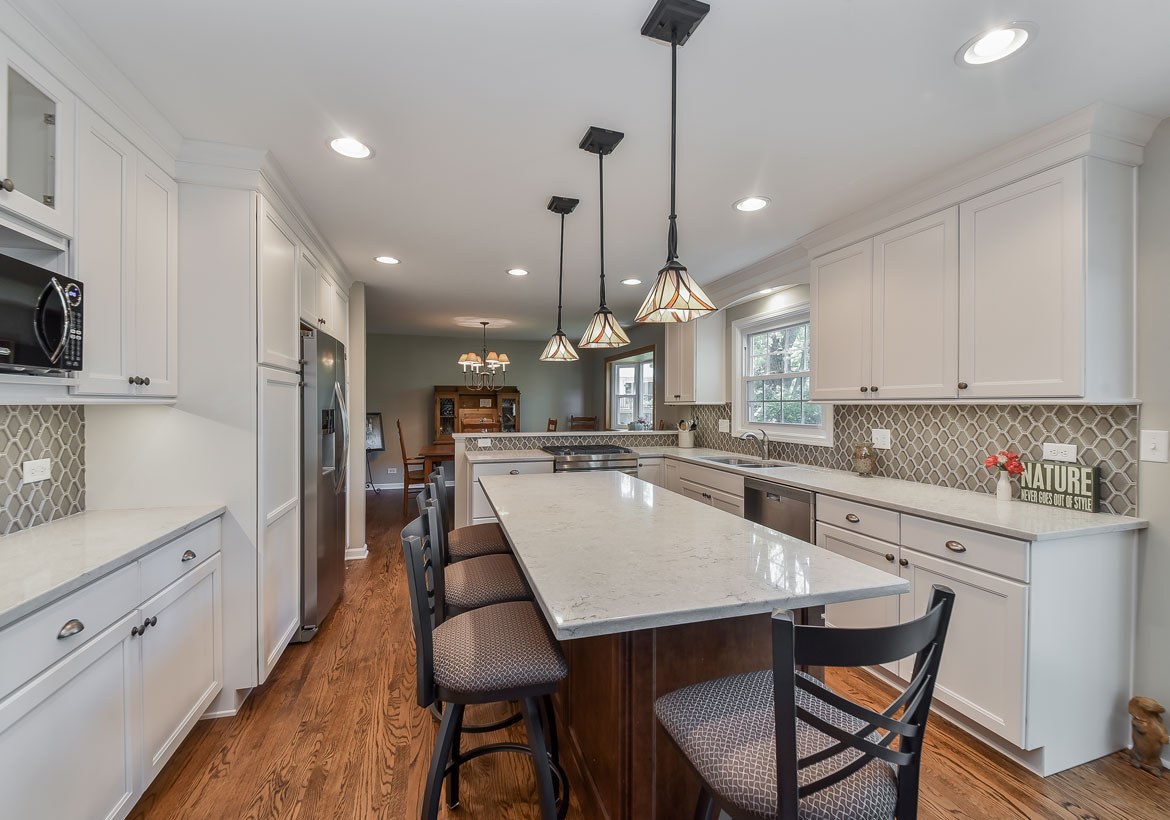 Lots of well-designed storage and beautiful backsplash tile in this welcoming transitional kitchen.
A LITTLE COUNTRY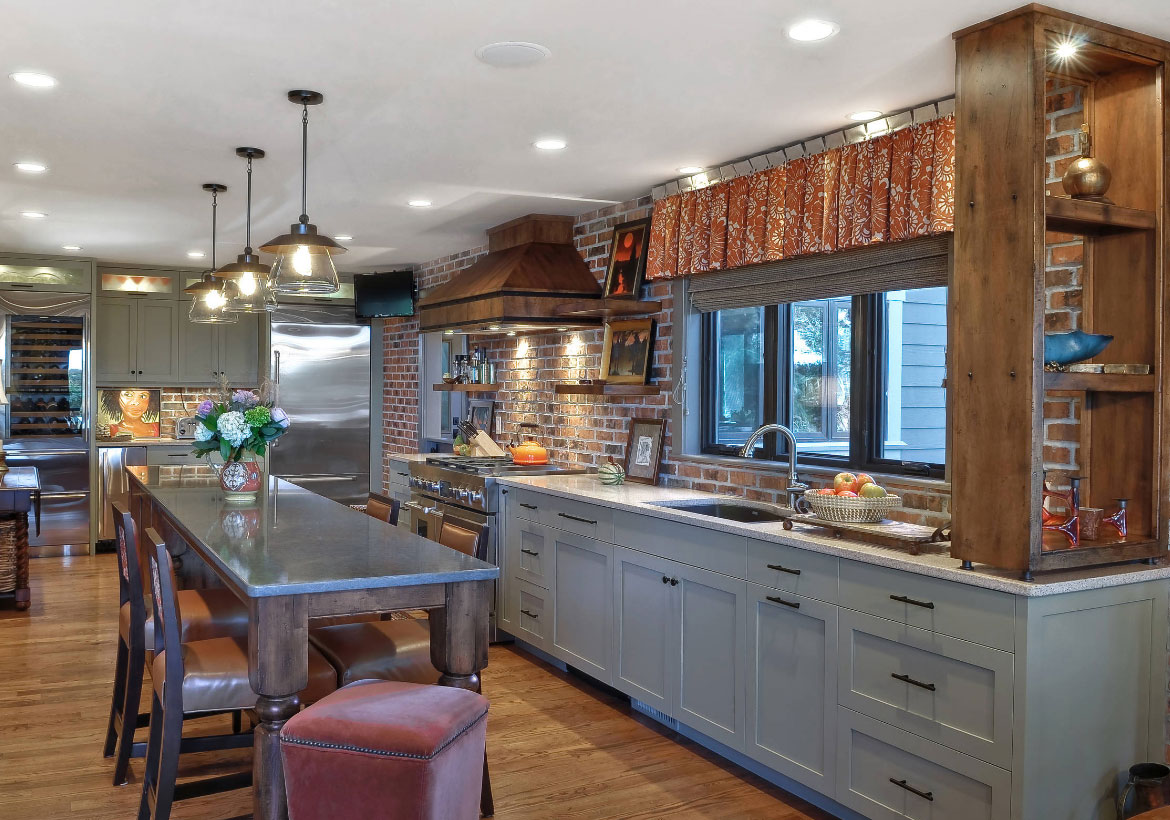 A little bit country, a little bit transitional.  Rich woods and deep warm colors make this the perfect kitchen to share a meal, snack and/or conversation–screams "comfort".
Contemporary Vs. Modern. Vs. Transitional Kitchen Designs
There are a few elements that make transitional kitchens unique when compared to contemporary or modern styled kitchen. Learning how to identify the signs of uniqueness within a new or newly remodeled kitchen can help you understand what kind of style you truly want to aim for.
Contemporary vs. Transitional:
A contemporary kitchen is defined by sleek lines and the dominance of wood or stone. An example of a contemporary kitchen would be a design with wooden floors, wooden cabinetry, and wooden craftsmanship all throughout. There may be a granite or marble countertop with low-hanging lighting to give it a high-end feel.



Transitional kitchens differ in that they will take partial inspiration from contemporary designs, but will not fully see it through. For example, when designing a transitional kitchen you may choose to keep the wooden floors and low-hanging lights, but you may want to have stained cabinets and stone countertops instead, to make a unique sense of creativity really pop.
Modern vs. Transitional:
A modern kitchen is all about size. You will find that most elements of a modern kitchen are large: Large cabinetry doors, large round handles, a large island, large archways over the entry, and so on. Traditional lighting fixtures and almost 100% natural materials are sure signs that you are looking at a modern kitchen.
You are free to incorporate as many of these bold modern designs as you wish with a transitional kitchen, but you are also free to include elements of a contemporary kitchen as well. This is your time to spice it up, using different styles and creative elements to make your kitchen one-of-a-kind.
Transition into the Kitchen of Your Dreams!
Transitional kitchens are an inspiring trend that allows you total creative freedom over your remodeling projects. Your kitchen deserves the best in beauty, elegance, and design, while still retaining all the practicality and functionality that a full kitchen deserves. By understanding the basic elements of a transitional kitchen, and by discovering which designs blend together in harmony, you can create a fantastic kitchen with endearing cabinets and a sprawling, earthy feel. Use your creativity, budget, and favorite materials to bring a royal idea to life!
This is an image roundup post, curated to showcase and promote other reputable contracting companies' and their amazing work.  To have any of the images removed, please reach out to us and we would be happy to do so.