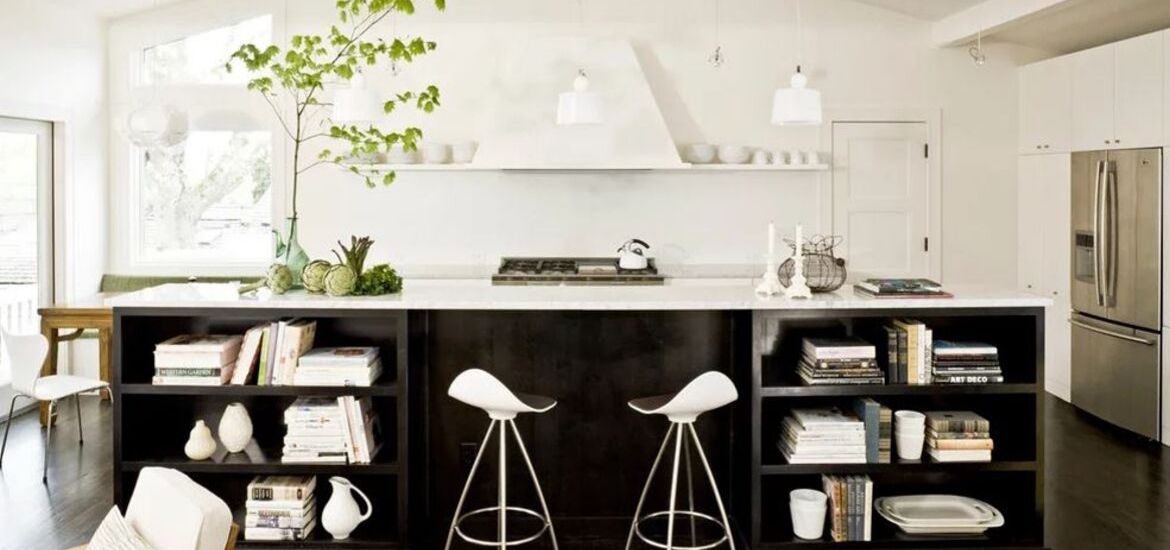 Hearkening back to the 1950s and 60s, mid-century modern kitchen designs incorporate crisp, contemporary features that come together to create a clean, uncluttered space with a welcoming feel. Pale colour palettes bring a fresh, open feel to even the smallest kitchens, while wood tones offer a natural touch and fascinating light fixtures create unique focal points. Take a short trip back in time – and then forward again – as we explore mid century modern kitchen ideas and trends.
Avocado Green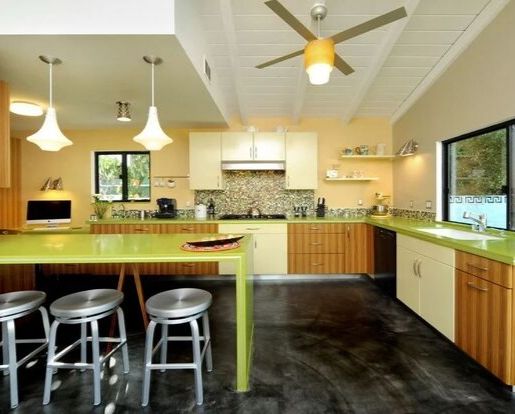 This Avocado-themed kitchen layout is perfect for anybody who has ever considered installing a green-themed kitchen in their home but has been put off by the thought of the room being overly bright. The Green is immediately recognizable and sticks out. The LA DWELLING team did a fantastic job with this kitchen's aesthetic.
Orange Slice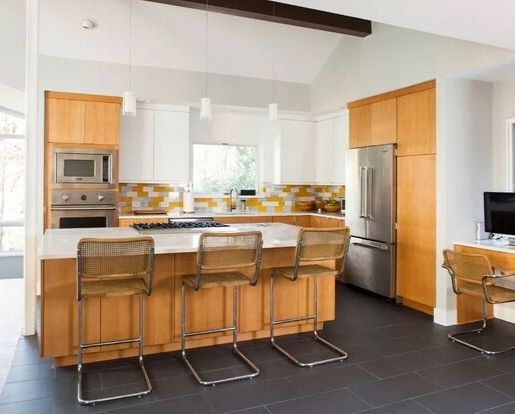 Do you wish you had a kitchen layout worthy of your high-end, multipurpose gadgets that still managed to feel warm and inviting? This kitchen by Alair Homes Decatur is the epitome of modern elegance. Stylish kitchen with beautiful stainless steel built-in appliances.
Dark Accent
Everyone will agree that this modern kitchen and dining room design is cozy and inviting while seeming incredibly clean and basic—beautifully designed open-concept kitchen by Mosaik Design & Remodeling, including gorgeous white cabinetry.
Blue Island
This kitchen design is excellent and resembles one from a fine dining establishment. In this kitchen design by Wiedemann Architects LLC, everything seems to be streamlined and uncluttered. It was a unique touch to include wood pillars in the kitchen in our architectural design.
Wood Grain
Everyone would concur that this kitchen's hardwood textures make everything seem ultra-modern and homey. Such a modern and useful kitchen layout by Moderne Builders. Beautiful open-concept kitchen with the use of wood and stainless steel.
Classic Mid-Century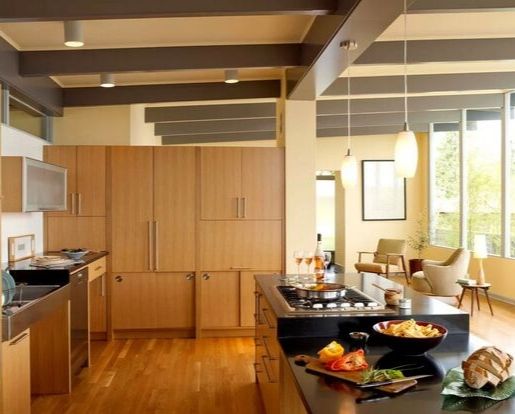 Everyone would concur that this is such a warm and lovely kitchen design that both appears old and modern. This one features gorgeous wood cabinets that give the room a lively appearance. Lucy Johnson Interior Design created the most amazing kitchen.
What Is A Mid Century Modern Kitchen?
A sense of comfortable minimalism defines the typical mid-century modern kitchen; surfaces are practical and easy to maintain, while colours and geometric patterns add visual interest. Floor plans are as open as possible, and in-kitchen dining options are often part of the overall design.
Take one step into a mid century modern kitchen, and you'll notice a few things immediately: The look is uncluttered, with charming retro touches that lend tons of personality. Light splashes of bold colour add just the right amount of intrigue.
Modern stainless steel appliances are right at home, although some homeowners prefer to add a playful vibe with a colourful stove or refrigerator. As coloured appliances are on trend right now, they're easier than ever to find.
The History Of Mid Century Modern Kitchens
While the term "mid century modern" was coined in 1984 by writer and art historian Cara Greenberg, the movement itself took place between the 1940s and the 1960s. Though designs continue to evolve, it's possible to see the influence of top designers including Le Corbusier and Bauhaus reflected in everything from mid century modern kitchen tables to elegant lighting solutions.
Kitchens built during the mid century movement tended to offer far greater convenience than their predecessors. Refrigerators were getting larger, and cooktops and ovens were easier to operate than older models. By the end of the second world war, kitchens had taken on vibrant colours that inspire the mid century modern spaces we enjoy today.
The 1950s witnessed an end to boring, bland kitchen designs; modern pinks, yellows, blues, and greens were favoured for everything from cabinets to appliances. The kitchen's position in the home moved from the back of the house to the front, and open floor plans allowed the entire family to mingle.
As the heart of the home, the 1950s kitchen was brimming with appliances to make living fun and convenient. Hand-held mixers and stand mixers allowed mums to whip up delightful desserts; milkshake makers made it easy to add more options to the after-dinner menu. Fascinating reproductions of vintage appliances are available these days – perfect for spicing up a mid century modern kitchen.
When more women joined the workforce in the 1960s, the mid-century kitchen hit its heyday. Simpler, sleeker designs were easier to clean, and time-savers such as garbage disposals and dishwashers were gaining popularity. Although the bold hues of the 1950s are enjoying a resurgence today, the 60s saw many of these colours replaced with harvest gold and simple cream.
By the end of the 1960s, kitchen designs had mainly gone from streamlined to gaudy – and by the 1980s, homeowners were once again ready to enjoy the convenience and visual appeal of an efficient modern kitchen. Today, the mid-century modern kitchen is among the most coveted designs.
What Are The Design Details?
To understand the design elements that go into a typical mid century kitchen, it's important to have a feel for the movement itself. Designer George Nelson famously separated mid century modern design into three main categories: The machine, the handcrafted, and the bio-morphic.
Machine designs have a space-age look, straight out of The Jetsons. Whimsical geometric forms can make function a near afterthought in this design category; think of playful vintage clocks and ornate metal chandeliers with satellite-inspired details. Both are great examples of the design details that go into many mid century modern fixtures.
Handcrafted designs are minimalistic, useful, and sculpted to display a combination of contrasting curved and linear shapes. The Finn Juhl 45 Chair is a classic example.
Bio-morphic designs feature curved, organic shapes with smooth surfaces. Think of a classic kidney- or boomerang-shaped table, and you've got the idea. Many classic-looking Eames mid century modern kitchen chairs fall into this category thanks to their smooth, curved lines.
The Kitchen Renovators at Houseace explain "Most mid century modern kitchens incorporate bits and pieces of each design category. The look is as uncluttered as it is charismatic, and with an open floor plan, the kitchen flows with the rest of the home."
Long Bar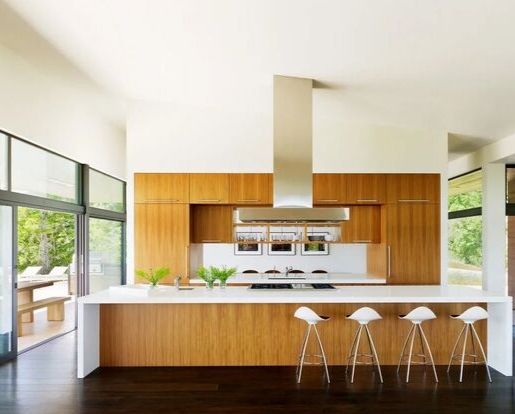 I think this is one of the longest islands I've ever seen. It looks so hip. Everyone would concur that this is a fantastic kitchen design with a unique but contemporary idea. In this TOTAL CONCEPTS kitchen design, everything appears to be quite practical.
Angled Cabinetry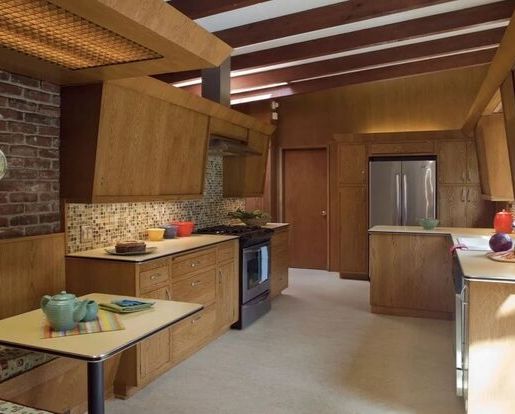 Do you want a cozy, private kitchen design that simultaneously makes you feel at home and peaceful? This Craftsman Design and Renovation kitchen is a place to hang out. A unique way to use wood in the kitchen.
Galley Kitchen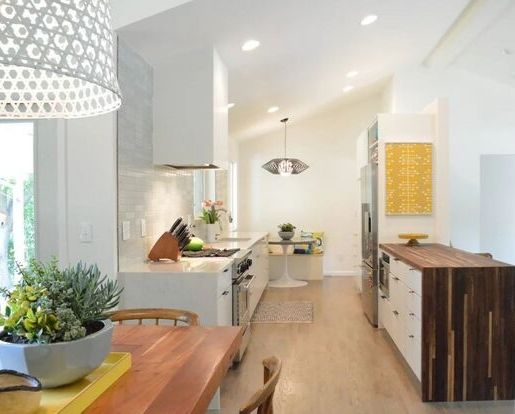 Modern kitchen design is desirable, but you don't want to make it seem not very comforting. Such a traditional kitchen with a white and cheerful color scheme! The kitchen's design and materials are both incredibly nice—what a magnificent creation by interior designer Kate Bendewald (KBID).
Mid Century Modern Design Ideas For Your Kitchen
There are so many mid-century modern ideas to explore when considering how best to proceed and make this trend your own. Updated countertops, cabinets, and lighting are anything but basic and with so many exciting design details to choose from, the process of creating an artfully inspired space is a fun way to unleash your inner designer.
Flexibility is one of the most appealing aspects of mid century modern design. There are no hard and fast rules; instead, it's best to choose elements that appeal to you. An experienced kitchen renovations designer can work alongside you, creating a space that works for your lifestyle while providing the aesthetic experience you crave.
Play With Colour
There are many different ways to use colour. Bold colours are easily incorporated via bright, geometric shaped tile along the backsplash, or by the addition of a single colourful appliance. A vibrant accent wall is another alternative, as are brightly coloured cabinets.
You might want to go for multiple bold tones like those found in Nancy's back to the future pool house if you'd like to create an exciting space that really wakes up the senses. If bright teals, reds, or golds aren't for you, you'll be glad to discover that even a little bit of colour goes a long way toward creating a pleasing focal point in your kitchen.
Pastels including soft blue, mint green, and butter yellow are equally at home in a mid century modern kitchen design. Don't be afraid to mix and match. At the same time, it's perfectly fine to enjoy an understated look.
Add a Pleasing Pattern
Graphic patterns are an essential component of many a mid century modern kitchen design. Classic diamonds, starbursts, and boomerangs are easily incorporated via an accent wall finished with a retro wallpaper. If an entire patterned wall isn't quite your cup of tea, you can add a touch of mid century fun via table linens or dish towels. As with bright colours, a little bit of patterned detail is plenty, particularly if your kitchen is on the smaller side.
Think About Laminate, But Don't Discount Natural Stone
Many a mid century modern kitchen table features a laminate top, and a mid century modern kitchen island topped with sparkly laminate might be exactly the update your space needs. Of course, granite, quartz, and marble are excellent choices for countertops in a mid century kitchen as well, working beautifully alongside wood cabinetry in a complementary or contrasting shade.
Try Clean Whites
White cabinets have been getting the short end of the stick lately but if you're among those who love the look of an all-white kitchen and you appreciate the mid-century modern aesthetic, then this trend is one you'll want to embrace. Sleek, simple lines are the key here, along with mid-century style details. With textured tile, unique lighting, and decorative accents to contrast with the all-white motif, a clean white kitchen takes on a cosy, personalised feel.
If you go for a white working kitchen with mid century modern details, consider treating the space to a dark-coloured floor, which will really accentuate the bright, sparkly nature of the cabinetry.
In case all-white isn't for you, consider allowing white to play a role. White quartz countertops are wonderful workspaces that contrast perfectly with wood or colour. White seating and at least one white wall can help create an open feel even when other hues take on starring roles.
Consider Natural Wood
Beautiful woodgrain shows up throughout mid century modern design and the kitchen is the perfect place to make the most of this natural material. Mid century modern kitchen cabinets in wood can be purely contemporary, or they can offer the perfect mingling of Scandinavian, farmhouse, or beach-inspired fusion.
Pine wood tends to offer a very light, casual presence, while oak is typically a bit darker and can appear more formal. Pair dark wood with colour though, and you'll create a more tropical vibe.
Wood floors and wood-look laminate flooring are a natural match for a mid century modern kitchen, thanks to their ability to add pleasing warmth.
Whatever its colour and wherever it 's used, natural wood pairs beautifully with creamy whites, pale greys, and vibrant hues. So long as the aesthetic is streamlined and the kitchen's elements are cohesive, the finished space will feel naturally inviting.
Checkered Flooring
Everyone would concur that this location is ideal for modest get-togethers with friends and family. This modern kitchen design by MK Properties is energizing. The wood and the checkered pattern send you back to simpler days.
Large Skylight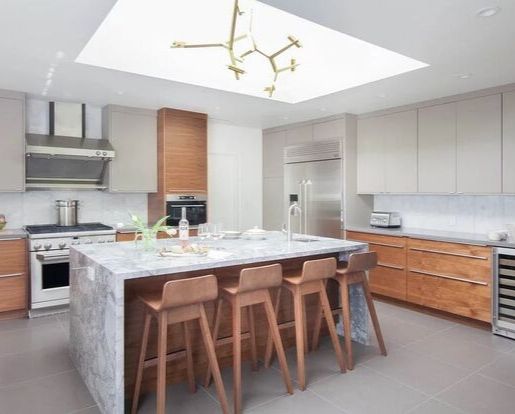 If you believe this kitchen's layout is particularly private, start by looking above! This kitchen design by Destination Eichler, LLC is very crisp and contemporary. This is a terrific kitchen layout with a lovely skylight and eye-catching artwork.
Add a Touch of Metal
Add a single mid century modern kitchen cabinet in metal or use them throughout the space. Whether you opt for classic bright white with chrome pulls or go for splashy colours to bring warmth and personality into your kitchen, you'll find that these cabinets are pleasing to the eye while offering the ultimate in easy care. 
Bring In An Authentic Vintage Piece or Choose An Amazing Lighting Option
Choose at least one retro art print or vintage clock to put on display in your kitchen. In case you're unable to find something that speaks to you, mid century modern kitchen lighting can be a fine stand-in. Halogen can lights are ideal for creating illumination throughout the kitchen, while a mid century modern pendant can add plenty of visual pop.
Select Furnishings With Style and Comfort In Mind
If yours is a dine-in kitchen, you'll want to create a focal point with a mid century modern kitchen table that complements your overall design. Simple seating in a contrasting colour will add instant visual interest. The same wisdom applies to counter height seating; pick stools with lean, tapered legs and minimalistic seats to keep your kitchen looking trim and tidy.
Decorate Carefully
Clutter detracts from the clean, open look of the mid century modern kitchen, so display only a few carefully curated objects that complement the space without overwhelming. Mid mod accents are typically lean and spare; if you prefer something more whimsical, add a touch of personality by putting a vintage cookbook on display, showing off a set of vintage mixing bowls, or even keeping your salt and pepper in a set of vintage shakers.
Embrace Transitions
Transitional mid century modern kitchen designs are among the most popular, as they combine traditional elements with contemporary ones. The clean, minimalistic edge is maintained, but there's less of the actual mid-century era on display and perhaps a little more modern industrialism. In a transitional setting, materials mix and mingle effortlessly.
Elements such as modern acrylic or leather seating, wood or laminate flooring, clean white countertops, and simple, functional cabinetry come together perfectly. Streamlined appliances and a mixture of recessed and pendant lighting create the light, bright ambience that makes mid century modern kitchens such cheerful places to be.
Why Are mid Century Modern Kitchens So Popular?
People enjoy mid century modern kitchens for their clean aesthetics and pleasing lines, as well as for the unique design details that make them so very personal. It's possible to work this design into any space new or old and create a look that suits the home's surroundings. Whether this is accomplished with great lighting or a good view, the bright, open feel of a mid century modern kitchen is always appreciated.
Conclusion
With a mid century modern kitchen, the sky is the limit. This fantastic style works in kitchens of every size and with appliances of every description – even the latest smart appliances can work well in a mid century kitchen. The finished look can be warm and casual, modern and edgy, or posh and polished. Whether you fancy marble countertops and dark wood cabinets or whimsical options like coloured appliances and mica-flecked laminate, it's possible to incorporate them into your personal design.
This is an image roundup post, curated to showcase and promote other reputable contracting companies' and their amazing work.  To have any of the images removed, please reach out to us and we would be happy to do so.
Other Great Articles to Read: