Featured Image Source: CambriaUSA
We are always pleased when our clients tell us how much they love the look of their Cambria countertops; not to mention meeting extra expectations, easy maintenance and adding substantial value to the room.
We've also heard that once you've looked at the delightful Cambria colors, you may find yourself wishing that someone else could make the decision, just so many to choose from!
We think there is a way to help you make a choice that will satisfy you months and years from now. So let's see how we can "keep it simple."
Dividing the colors into several groups will help to eliminate those that would represent a distraction as opposed to a complimentary addition to the space it shares with other luxury features. Focus on how it gets along with other colors.
Cambria: Quartz Colors
Just to familiarize owners who are looking at quartz as a possibility, we share a few facts:
Cambria is pure natural quartz and is the extremely hard mineral that gives Cambria its strength. Granite is only about 40% to 60% quartz (along with other softer minerals and impurities).
It is known for its monolithic strength after a manufacturing process that results in an organic stone product of rare beauty and maximum strength, stronger than quartz.
There are so many colors choices to coordinate with your design and create the comfortable ambiance you have in mind.
Monochromatic Quartz Countertops Colors
With a convergence of these kitchen ideas we come to another possibility for colors that you may want to consider, monochromatic. It's true that monochromatic color scheme becomes a design tool when a light color is used in a small room, it makes it "feel" larger. A dark color scheme in a large room makes the room "feel" smaller. With that in mind, this opens up choices of light, medium and dark colors as we 've considered in the following three examples. These three examples show how the tone of the room is consistent with all of the materials used to result in a monochromatic scheme that certainly has its affect:
White is light and airy, keeps you cool while on a cooking spree.
Medium tones reflect a rather traditional ambiance. This might inspire you to prepare some comfort food, that wonderful home cooking that everyone loves.
A rich, dark and almost club-like environment seems to invite the expert cook in you to create a gourmet's delight. But with the darker colors, consider the number of light sources.
Styles of Quartz Countertop Colors
It's a great problem to have, all these colors, which do I want? It all depends on how you've designed the rest of the space where this countertop will reside. The opportunities for perfection are endless. Quartz seems to have the uncanny ability to achieve the exceptional, and given the level of artistry exhibited in each design, presents the owner with an effect second to none. If you're someone who appreciates how Nature brings beauty into our experience, these are some of the best examples. If you were a photographer you'd be tempted to record these surfaces and play with the patterns as abstract compositions, they're just that interesting. And to think they have been created and engineered to serve as a lifetime countertop, easy to keep and when sealed, an anti-bacterial surface. During your kitchen remodel, they will complement the high-end cabinets you've chosen or update the ones already in place. In the den, you have the makings of a gracious entertaining area with a magnificent bar and cabinet arrangement. In the bath, a long countertop with a matching step-up to the tub. Get your imagination fired up and watch how your decisions can improve the looks and value of your home.
Quartz Countertops Colors for Kitchens
Are you a marble fan? Cambria quartz colors can give you that kind of elegance that performs like a diva in front of a spellbound audience. From the subtlest notation to a strong expression of shade and shadow they definitely make their presence known in the room.
Lending a classical look is one of the benefits derived from these patterns in an integrated historical heritage is that goes back to the days of the great Greek temples. We take our cues from history when combining the materials and you can see how an aura of "heritage" pervades the kitchen.
For example, when a built-in foyer side-cabinet with a curved, beveled-edge counter holds a vase of fresh flowers; it adds so much to a visitor's welcome that they feel they're in a special place when entering this introduction to your home.
Be sure to look at all the colors in the Cambria Marble Collection to see if they achieve the effect you want in the space where you're thinking of bringing about a dramatic change.
Color Blocking Colors of Quartz Countertops
As for the "color-blocking" enthusiast, quartz accommodates this style nicely. Clear, bright, we-mean-it colors that leave no doubt about who they are and who likes them. Use one as the featured contrast, perhaps in a white space or use a combination of colors, or even design a monogram within a complimentary color. It is up to you, use your imagination! It certainly would make an impression in a guest bathroom or what about a low-height counter with drawers that doubles as a desk in an out-of-the-way kitchen corner. You'll get that "down-to-business" feeling every time you sit down to do the bills.
If you have a library you want to upgrade, add a counter over the area that would serve as a desk, these colors offer a distinctive focal point in the space. Then again, the family room may be ready for a fun bar area that wants to be highlighted with bright color accents. What activities does your family share together? Can any of these colors reflect a hobby or activity that the family shares? Plus it doesn't matter if it's in the basement, with it's proper seal, temperature extremes will not damage the quartz.
Need more assistance, then check out Conusmer Report's Countertops Buying Guide.
Cambria Vs. Granite
Assuming you are the discriminating homeowner who does extensive research before making a decision, you already know to look at how something functions first.
Cambria Quartz:
Referring to stability, the density test rates quartz (cambria) at about 2.65(t/m3) the list.
You can judge a material's durability by its warranty and exceptions.
Cambria has a 25 year (life-time) warranty with no exceptions.
Cambria is sealed when it's manufactured as an anti-bacterial surface.
One of the joys of Cambria is their color gallery, with 126 colors to choose from that complement the kitchen of your dreams.
Cambria is engineered to be safe in its environment; in fact it's accepted for the GreenGuard Indoor Air Quality certified as safe low-emitting products.
Granite:
Granite doesn't show up on the list of tonnes per cubic meter (t/m3 at all).
Granite comes with a 10 year warranty and warn against heat and collision damage.
Granite is cut, polished, and sealed after it's shaped.
Granite takes on more natural colorways created by Nature.
Even though granite suppliers do a fine job, a rating has not been bestowed by GreenGuard.

Why You Should Select Cambria Versus Granite Countertops
You are now looking forward to selecting new kitchen counters. You are ready for something a little more sophisticated. As you've done your research online, you've spotted many photos of granite and then you see something else called Cambria. Both are good upgrades, however as countertops go, Cambria is impervious to just about everything (except an earthquake), comes in a number of colors and it can be cut and tailored to do several design tricks that further emphasizes its superior looks.
Who makes Quartz Countertops?
Who Makes Cambria?
In a small town, more like the middle of nowhere, Minnesota, Stan and Mark Davis built their Cambria incubator, manufacturing plant in the late 90's after being approached by a friend with an "idea." Since then, the plant has grown and literally produces all of the nation's supply of Cambria. This is a family business whose founders are interested in pursuing the ALL-AMERICAN LEGACY, with no plans to move the plant offshore. In the site video, the narrator is pointing out the various positives associated with the process, but mainly talks about the people employed there who "know that as long as they continue to create this high-performance product, they'll have a good job." Sounds like a great bottom line for customers to depend on when they make the decision to use Cambria.
Cost of Cambria vs. Granite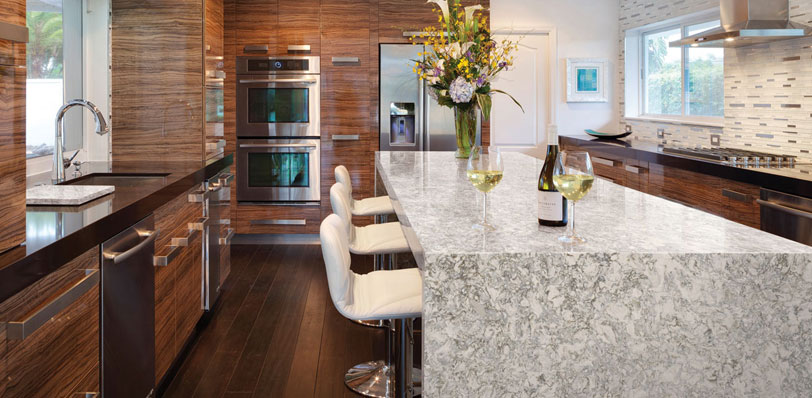 Your research may have turned up some information regarding the different colors of granite having different prices. There's plenty of conversation about colors and pricing regarding Cambria counters and it's best when sourced here, where you can depend on the information being straight from the dealer's playbook. Well, it does happen that other distributors use a tiered pricing schedule but Cambria does not.
Another consideration is how Cambria is priced because it's good to know that the quartz slab contributes about 35% to the cost of the countertop, while the other 65% goes to fabrication, measuring and installing the counter.
Cambria dealers love to boast on a product that's just about, well, perfect.
They know how much effort goes first into just finding a vein of quartz that meets the standards set for Cambria's raw mineral, purity, and color being high on the list. They brag about how carefully the materials are handled as they move through the process toward the engineering phase that mixes approximately 95 percent ground natural quartz with 5 percent polymer resins. This is a critical step, one that seals every quartz panel to become anti-microbial, creates the clean countertop that families deserve to have in their kitchen. All along the way are inspection ports to confirm that Cambria is consistently meeting specifications to ensure their customers that they have a product that performs at the highest level as advertised.
This is all in response to the customer's question: "How much does Cambria cost," with a warm smile and all the confidence in the world, the dealer said, "depending on your choice, between $100 and $200 a square foot, delivered, installed and ready for you to enjoy."
The Value of Cambria Vs. Granite Cost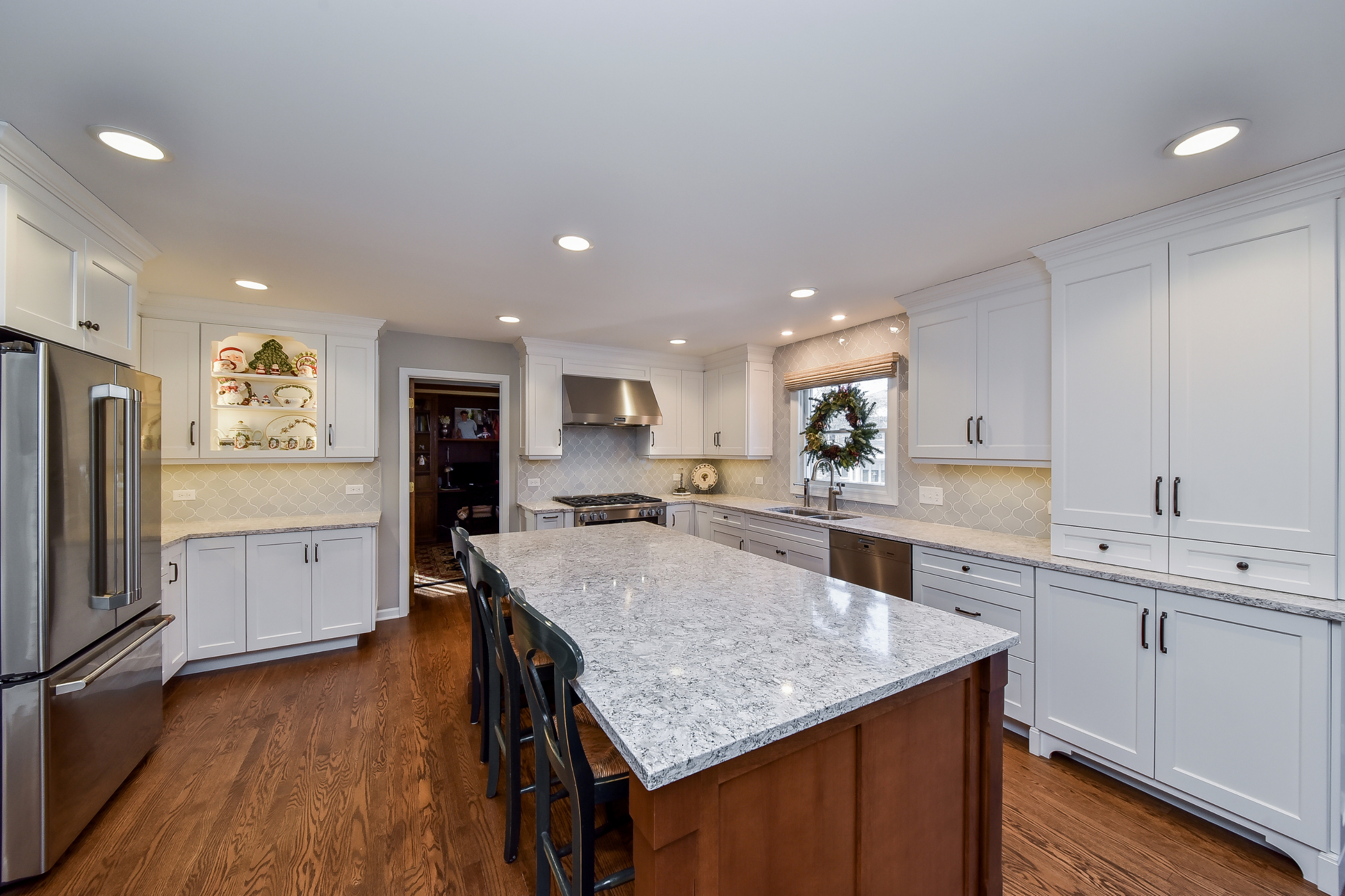 There aren't many materials that can claim to be practically indestructible, easy to keep super clean, no place for bacteria to live, look beautiful, and continue to perform like that for oh, say 25 years or so; but Cambria is one of those rare products that behaves as advertised. So how do we put a value on this amazing surface? Well, it looks like the consensus is about $100 to $200 per square foot, even though it has been decreasing as it has gained in popularity and the price is somewhat equivalent to granite. However, granite does not have the warranty, durability, nor damage resistance, or anti-microbial capability comparable to Cambria.
Granite will chip and crack if colliding with a hard object and won't be anti-microbial for you, nor provide a warranty longer than 15 years; so for the money being equivalent, it works. In addition, the performance doesn't meet Cambria's specs and some premium granites are significantly more expensive than Cambria, putting a little more favor on Cambria. Give it some thought, walk through some samples and then decide.
Cambria Installation Costs
Cambria installation costs need to be carefully considered. Yes, it's that impressive, valuable, and useful. A trip to Houzz.com tells you that Cambria pricing depends on where you are located in this country. However, you can be sure that, regardless of location, value remains high and at an advantage when compared to granite in all the ways we have previously discussed.
Cambria Countertops Cost and Quality
It's good to know that Cambria countertops have a sterling record of performing well for its owners and giving full value for the amount invested. In many cases, this has turned out to be quite substantial. These owners knew that putting Cambria in their homes fully justified the expense. One of the features that contribute to the pricing is Cambria's resilience, brought about by the integration of approximately 7% binding resins in the engineering process. This is what makes this material so strong and durable for owners who are looking for high performance and functional value. It comes about with the sealed surface that creates an anti-bacterial barrier, ensuring a safe, clean surface for food preparation. All in all, Cambria more than merits its price when compared to similar products. We think you'll agree when you've finished your search and welcome Cambria's place in your kitchen.
Check Out Our Other Great Articles:
Image Sources: