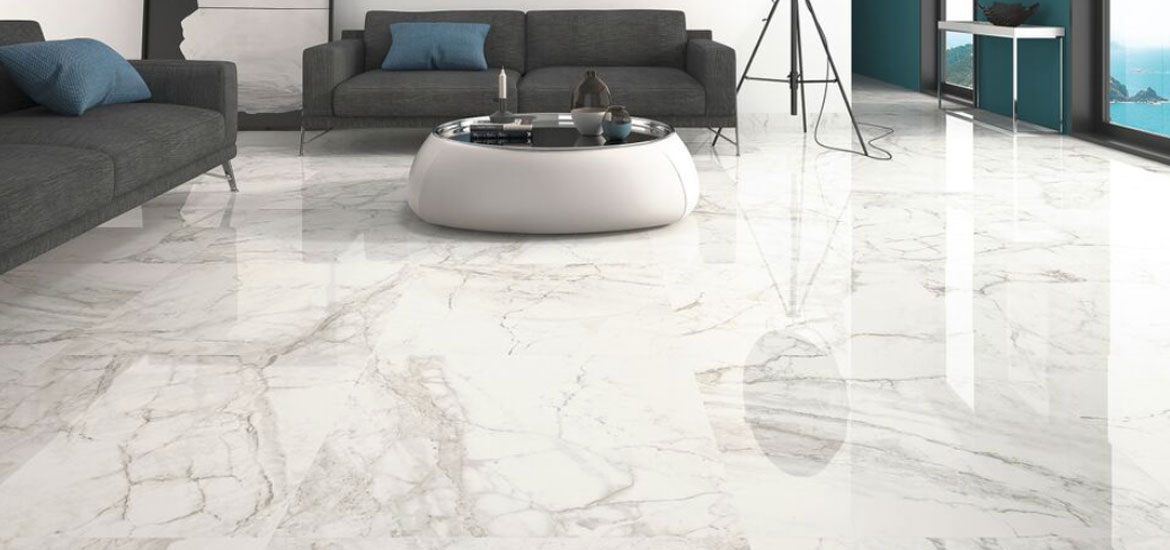 Featured Image Source: Julian Tile – VQL Glazed Rectified Porcelain Tile
Marble is a stunning tile and flooring option that offers peak sophistication to any part of the home. Tile that looks like marble is more affordable and can be found in a variety of specialty and hardware stores, with a wide range of colors and patterns to choose from.
For thousands of years, marble has been sought-after as one of the most popular and most heavily desired materials to build with. From the era of Ancient Greece to modern times, marble is a timeless look that can decorate floors, counter tops, bathrooms, kitchens, stairs, and more. But some marble options can fall outside of the average price range. When marble is too expensive, or if there isn't any available, what can be done to imitate this beautiful and stunning look? Fortunately, there is a way to achieve the smooth marble look with alternative materials like ceramic and porcelain. Porcelain tile can be cut and finished to look as real and as sophisticated as real marble stone.
Make sure to take some time to check out all of the available tile options that look like marble.  Faux tile is flexible, versatile, beautiful, and affordable for all of your home decor or remodeling needs.
POLISHED PORCELAIN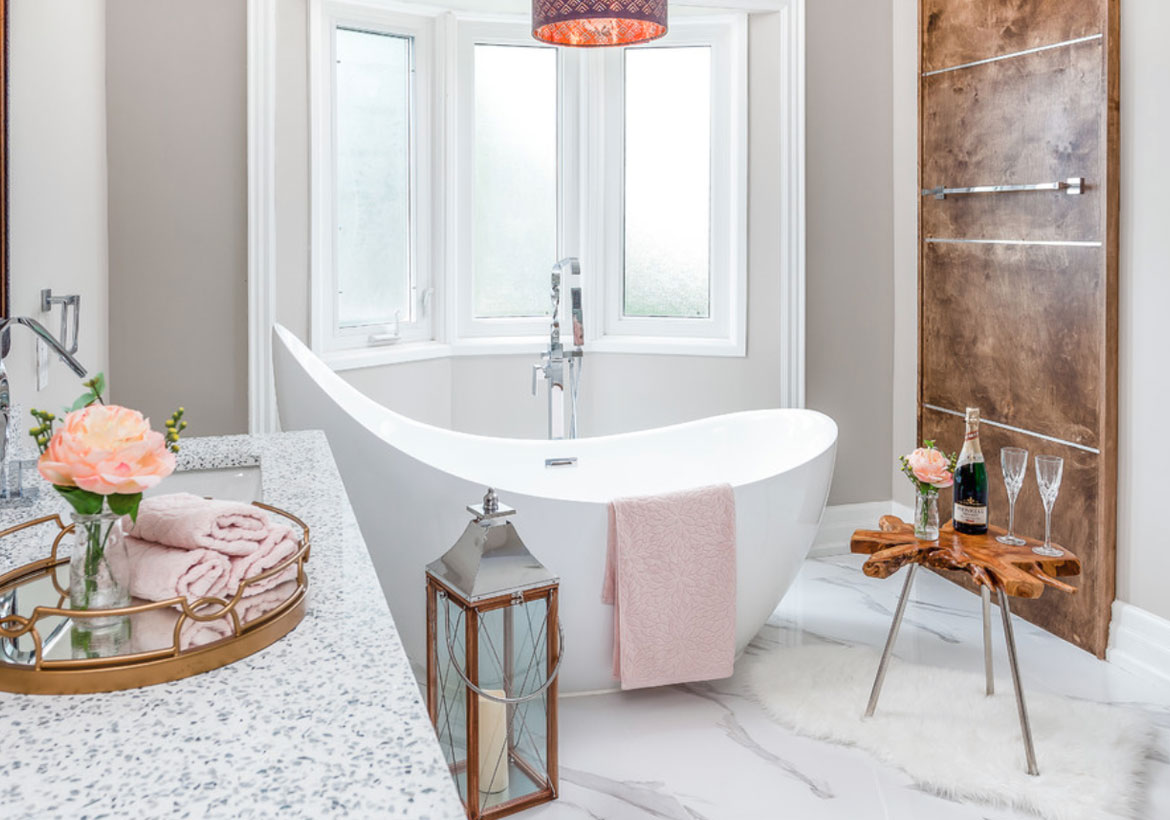 BACKSPLASH BEAUTY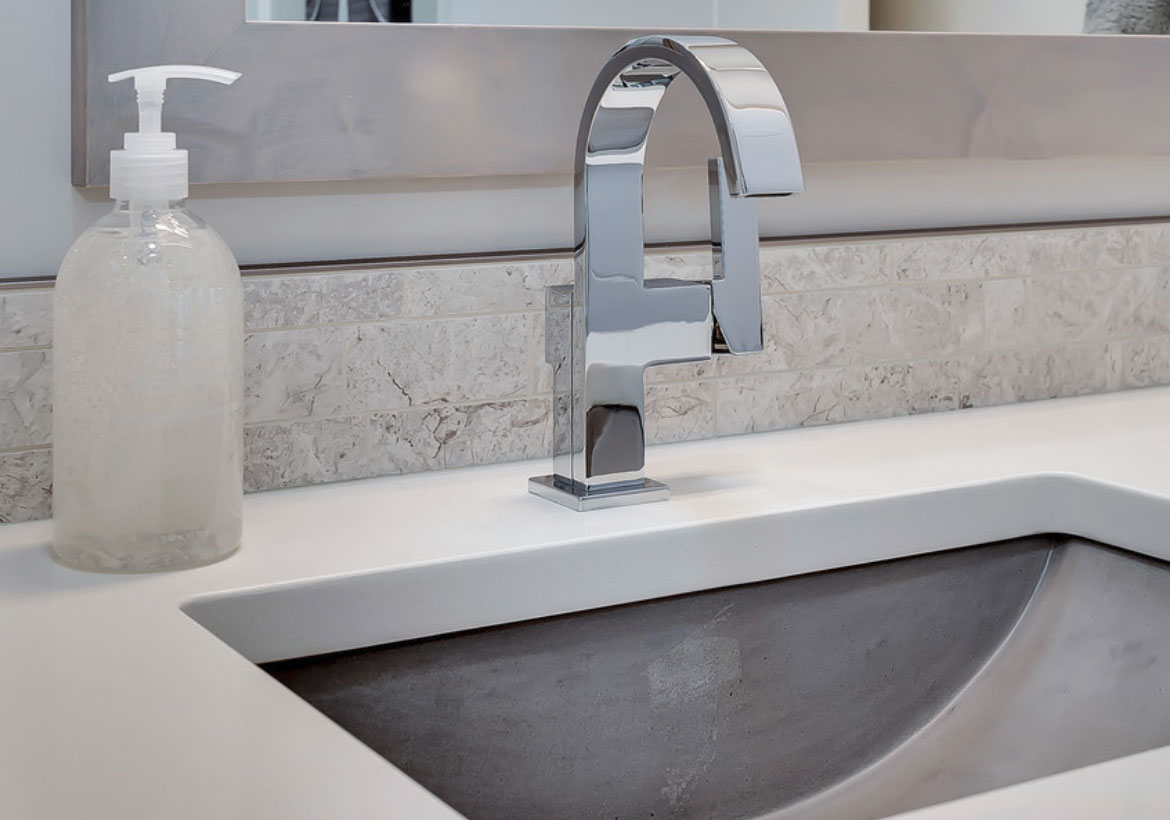 MIRASOL MARBLE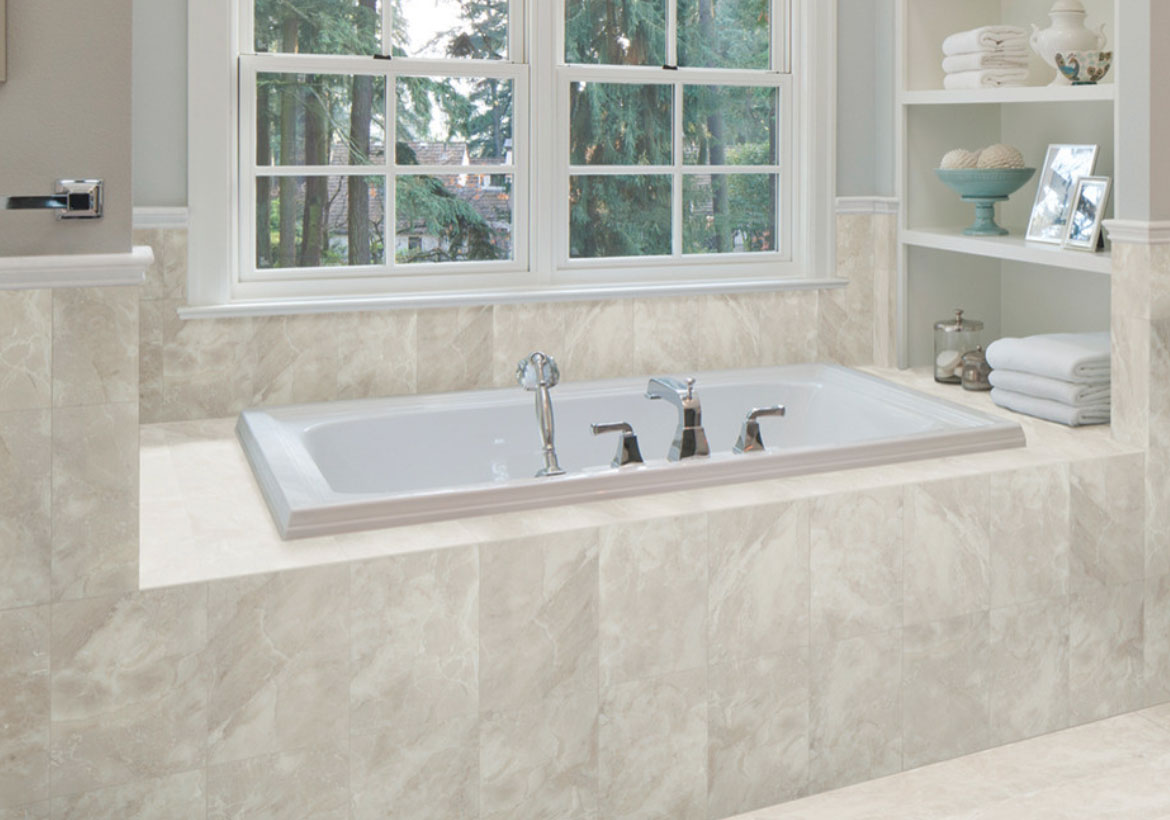 ATTENTION GRABBER
VELVET
The Velvet line of glazed color-body porcelain marble look tile has a wide range of colors to make any space unique.
SPARKLY BATH
The porcelain marble look tile looks so pretty with the sparkly mosaic tile.
ARIA BIANCO
Marble Look Porcelain Tile
There is a big market for porcelain tile that looks like Carrara marble. Carrara look porcelain tile is a popular option because of how good of a job it does resembling the real thing. This is also one of the most highly recommended porcelain marble look tiles by many professional interior designers and decorators, as it encapsulates the smoothness, durability, and natural veining of the familiar Carrara tile.
As with natural marble, there are many different types of porcelain tile that looks like Carrara marble. Depending on the location of the marble, and the kind of impact you want to have, you will find a variety of colors and styles to match the look you prefer for your home.
Some popular Carrara marble-look porcelain tile brands include:
Tierra Sol
Olympia Tile
Ames Roccia Series Bianco Carrara
Julian Tile
Depending on your price range, porcelain Carrara tile can be very affordable as well. Some of these tiles fall under $10 per square foot, although price ranges can vary. Overall, this is an affordable yet stunningly accurate alternative to real marble tile.
Pros of Porcelain Tile
Has an extremely low water absorption rate
Porcelain tile is great in colder weather conditions
Super dense and able to withstand heavy usage
Porcelain tile is durable over the long-term, making it an ideal choice for value in the long run
Cons of Porcelain Tile
Porcelain tile is often more expensive than ceramic tile
Harder tile to cut, and often requires the use of a professional
It is still evident that porcelain is the more popular choice over ceramic. It goes through a certification process by the American National Standards Institute, which qualifies the material as porcelain rather than just ceramic. Since it is a high-rated product in the industry, it sets the standards higher. It has durable qualities, making it a desirable material for consumers.
Ceramic Marble Tile
Ceramic marble tile is another popular and healthy alternative to real marble. It is also an alternative to porcelain, which is the more common material used to make faux marble flooring and tiles.
Ceramic and porcelain marble tiles both have their advantages and disadvantages based on what you are looking for in your home. Some may even try to argue that ceramic and porcelain are essentially the same and that you will get the same look and value out of either, regardless of what you pay for. However, most will argue in favor of porcelain over ceramic. They are both viable options that are worth looking at, though.
Pros of Ceramic Tile
There are several advantages of ceramic marble look tiles, including:
Works for hotter temperatures, making it a good choice for desert homes
Ceramic is more lightweight than porcelain
Often cheaper than porcelain
Ceramic is easier to cut for those who want to make DIY tiles for their homes
Cons of Ceramic Tile
Ceramic is porous and more water-absorbent than porcelain
Cannot withstand heavy use
Ceramic is not recommended for installation outside
Ceramic tile is typically not as sought-after as porcelain tile, although they are both available on the market for a variety of different marble-like tiles. Keep in mind that both porcelain and ceramic count as "ceramic" materials; they are created with clay and fired in similar ways.
Whether you decide to use ceramic or porcelain, you will find a wide variety of faux marble options that might meet your aesthetic and financial preferences.
ELEGANT DINING
MIRASOL FLOOR TILE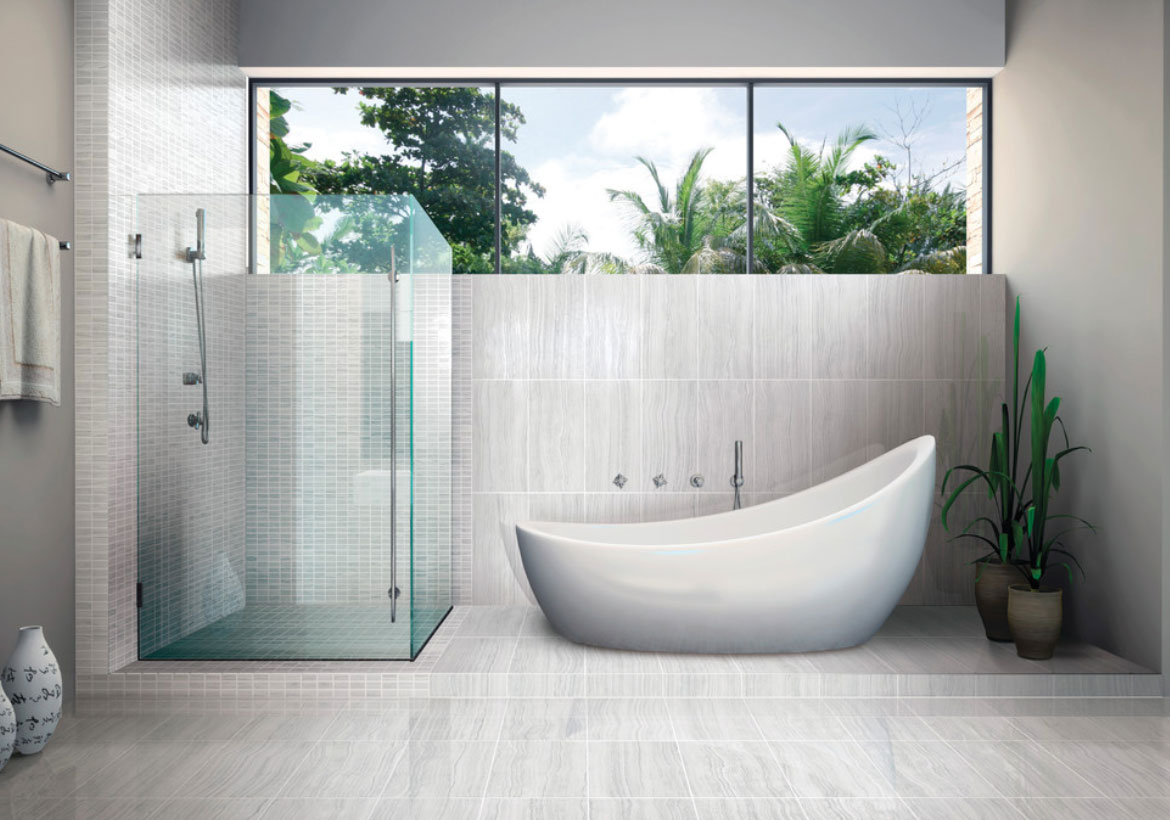 Glazed Colour-Body Porcelain Tile
What Are The Advantages & Disadvantages Of Marble Look Tiles Flooring?
The Advantages Of Marble Effect Tile Flooring
1. It is simple to clean. The surface has a unique coating that makes it extremely thick. Ordinary pollution may be cleansed with clean water, whereas severe pollution can be removed using a neutral detergent.
2. Lightweight. Because the product density is low, it is lighter, which helps to reduce the building load.
3. Excellent water resistance. Because the water absorption is low, the waterproof performance is excellent, and it may be utilized in damp environments.
4. Non-combustible substance.  It is a type of product that may be used as a fire-proof material and is ideal for decorating in areas where fire-proofing is restricted.
5. Chemical resistance. It can effectively resist acid, alkali, and other drugs from corroding, so even if chemicals fall on the tiles, there's no need to worry about the marble tiles corroding.
6. It is long-lasting. Inorganic base material with a long service life may prevent insect, ant, and corrosion.
7. There is no dust. The surface's unique coating is thick, smooth, and dust-free, and dust does not readily adhere to it.
8. Dimensional stability. The coefficient of thermal expansion & contraction is modest and does not vary with temperature.
9. Antibacterial. The surface is smooth and antibacterially coated; germs cannot easily multiply, and antibacterial efficacy is excellent.
10. It is simple to process. The procedure is straightforward, and the ceramic/porcelain marble tile may be worked with standard equipment.
11. Environmental and energy conservation. It can not only preserve nature's finite material energy but also minimize construction energy use.
12. UV resistance. The marble ceramic tile has an inorganic and fluorocarbon coating, which significantly increases the coating's UV resistance.
The Drawbacks of Marble Look Flooring
1. Because of its high radioactivity, it feels chilly and cool when walked on barefoot.
2. It's tough yet not elastic enough. It is not permitted to construct more than a 1-meter tabletop. When something is damaged, it isn't easy to fix.
3. It's easy to stain.
What Is the Difference Between Marble & Marble Look Tiles?
Marble effect floor tiles are less harmful to the environment.
The marble look tile does not have the radioactive contamination of natural stone and does not have the color variation of genuine stone. It does, however, retain the texture of genuine stone. The splicing between each marble effect tile is more natural; natural stone flaws are eliminated, and the pavement is more random.
Marble like tiles are less expensive to buy and maintain.
Natural marble tile is very costly, and the maintenance cost is high, making it more suitable for high-end residential & villa decoration. In contrast, ceramic/porcelain marble tile is an alternative, with artificial stone as the base material, the price and maintenance cost will be much lower. The weight of the marble look tile is lighter compared to natural marble.
The imitation marble tile is resistant to wear and has a high glossiness.
It does not have the color variation problem that natural stone does. Thus, it has significantly greater physical characteristics than natural marble.
Ease of installation.
Marble illusion tile is considerably easier to lay than genuine marble since, due to the weight and radiation of natural marble, most people do not install a significant area at home. However, marble-like tile transcends this barrier since it is easy to cut and useful in art, mosaic, sculpture, ground combination, and other uses.
Invest In Tiles For A Timeless Marble Look
Your porcelain and ceramic tiles deserve to last a long time, and they can be finished with a variety of beautiful finishes that make your flooring and walls look like the real deal. The proper installation of these tiles make it essential for its longevity and can add some real value to your home in the long run.
If you plan on selling your home sometime in the future, you can use a porcelain tile that looks like marble to your advantage. This is especially true if you are planning on investing in new remodeling or repurposing projects. Something as small as building a little nook in your shower for the storage of shampoo and soaps can add a lot of depth and variety to the look of your bathroom. And it can all be achieved using the different types of faux marble tiles.
Marble is a classic and stunning building material that should be celebrated in all of its forms. And now, you don't have to break the bank trying to do so. You can invest in some cheaper and still-durable materials to reflect the classy look of marble for timeless home style.
This is an image roundup post, curated to showcase and promote other reputable contracting companies' and their amazing work. To have any of the images removed, please reach out to us and we would be happy to do so.
Other Great Articles to Read: