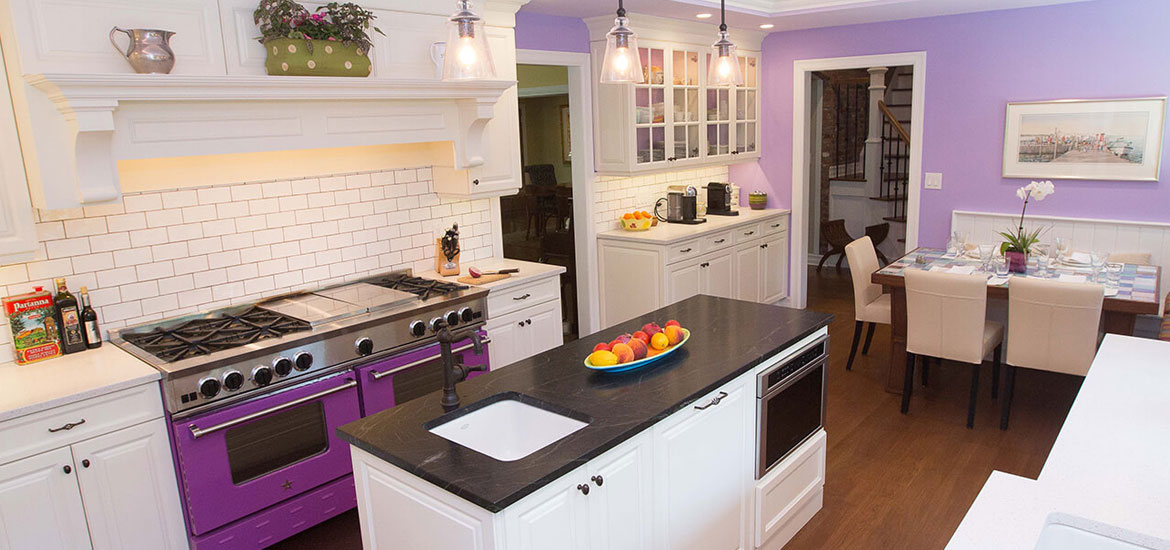 So tired of stainless steel? The industrial finish has been a design mainstay of many American kitchens for the past 20 years. Want to see some exciting new kitchen appliance colors and trends?
For those of us who survived avocado green and harvest gold kitchens of 70's, it's no wonder neutral appliances have anchored kitchens for the past few decades. From bisque and white of the 80's and 90's to modern stainless steel, homeowners have been wary of new appliance colors for a long time. But after a long break from more vibrant appliance colors, trends are shifting back in that direction.



When designing a kitchen or contemplating a color palette, most people's first thoughts go to the cabinets, countertops and backsplashes. And not without good reason, as these elements can dominate the space and will likely stay in it for many years. That's not to say you should ignore your kitchen appliances. Colors in the most unexpected places, like a refrigerator or microwave, can have a major impact.
Of course if a red pepper range isn't your style, don't worry. You don't have to delve that deep into color for your kitchen to be on trend, but you do have more options than stainless steel to consider for your kitchen appliance colors. Let's take a look at some enviable appliances. Kitchen appliance colors highlighted in this blog just might inspire you!
Updated Kitchen Appliance Colors
New Neutrals
If you like the versatility of stainless, but crave something new, check out black stainless steel appliances. Reviews are in for this color, and it's a hit! Black stainless steel provides a richer, warmer feel than traditional stainless steel, but it's just as sleek. To top it off, most brands are smudge proof. So you won't have the hassle of a daily wipe down. Keep in mind, however, that not all black stainless is alike. Actual colors range from gray to almost black, so stick with the same brand to create a seamless look.
Speaking of white, many white appliances have received an update for the 21st century. Brands like Whirlpool, KitchenAid and Samsung have updated this traditional color with stainless steel accents and handles. In fact, many white appliances lend themselves to a minimalist kitchen, providing a sleek, clean look in bright whites.
If the familiar feel of all white appliances is what you're looking for, you can certainly find it. And it doesn't have to mean dated design either.  With its soft gray cabinets, this kitchen is on trend, but the white appliances and warm wood accents keep it cozy. The backsplash pulls in the colors from the appliances and cabinets, bringing it all together, while the wood floor and shelves balance the the otherwise cool color scape.
TRADITIONAL VIKING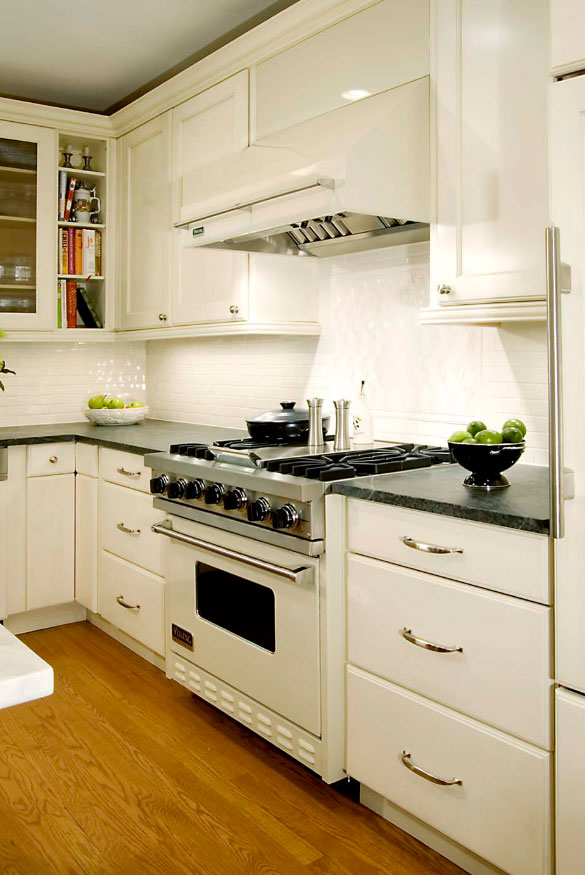 Can't go wrong with Viking appliances.  This is yet another beautiful traditional kitchen and this range is a stellar focal point.
COOL & MODERN
These Los Angeles homeowners utilized every bit of space to make this kitchen a great spot to entertain in.   Love how the fridge has matching handles and blends in nicely with the cabinetry.
ULTRA MODERN
In this ultra modern kitchen, white accentuates the richness of the cabinetry and brings in the brightness from the walls into the space. Here, white provides a stark, visual pop other appliances couldn't provide. These appliances also provide a continuity in the black and white color combination of the design. Any other color, including stainless steel, would disrupt the color flow of the room.