Featured Image Credit: BlueStar
So tired of stainless steel? The industrial finish has been a design mainstay of many American kitchens for the past 20 years. Want to see some exciting new kitchen appliance colors and trends?
For those of us who survived avocado green and harvest gold kitchens of 70's, it's no wonder neutral appliances have anchored kitchens for the past few decades. From bisque and white of the 80's and 90's to modern stainless steel, homeowners have been wary of new appliance colors for a long time. But after a long break from more vibrant appliance colors, trends are shifting back in that direction.
When designing a kitchen or contemplating a color palette, most people's first thoughts go to the cabinets, countertops and backsplashes. And not without good reason, as these elements can dominate the space and will likely stay in it for many years. That's not to say you should ignore your kitchen appliances. Colors in the most unexpected places, like a refrigerator or microwave, can have a major impact.
Of course if a red pepper range isn't your style, don't worry. You don't have to delve that deep into color for your kitchen to be on trend, but you do have more options than stainless steel to consider for your kitchen appliance colors. Let's take a look at some enviable appliances. Kitchen appliance colors highlighted in this blog just might inspire you!
ULTRA MODERN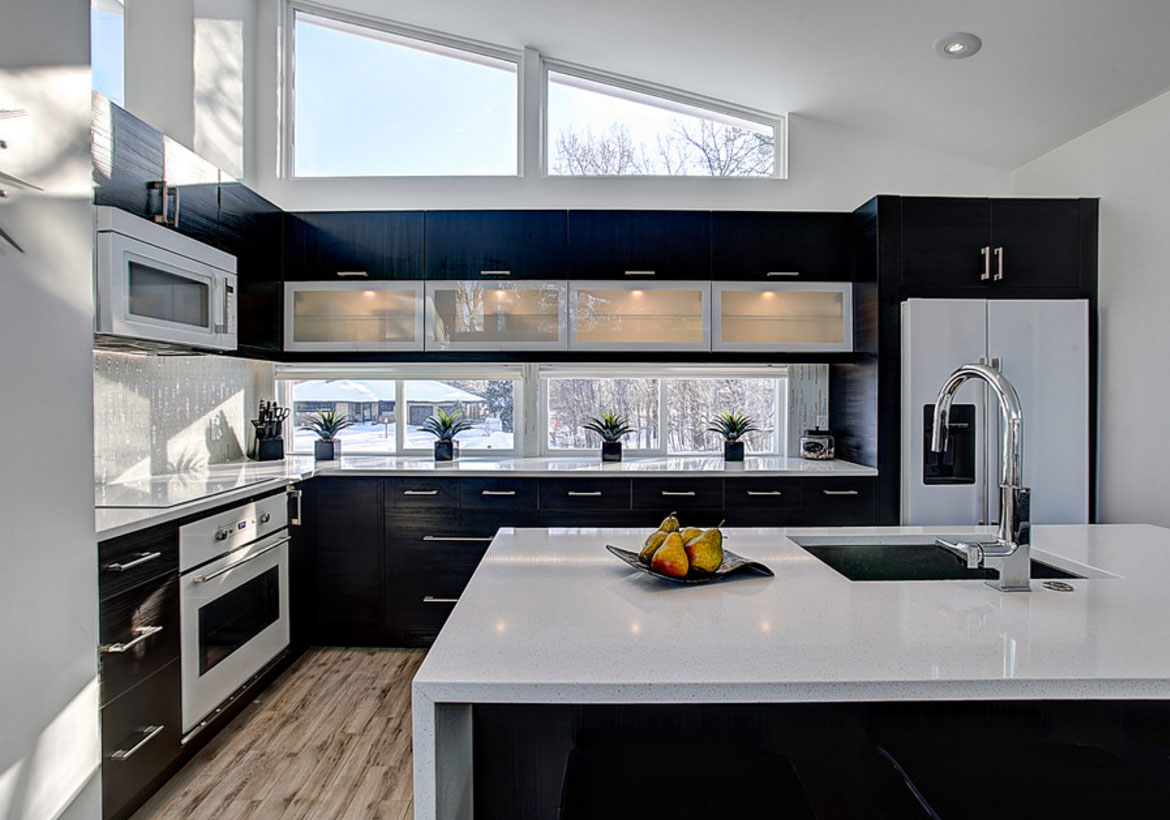 In this ultra-modern kitchen, white accentuates the richness of the cabinetry and brings brightness from the walls into the space. White provides a stark, visual pop other appliances couldn't offer here. These appliances also provide continuity in the black-and-white color combination of the design. Any different color, including stainless steel, would disrupt the color flow of the room design by Berghuis Construction LLC.
RETRO WHITE
Here, white goes retro. The soft lines of these appliances relax the space and make an all-white kitchen feel warm. Notice again that the floor is wood, with wood beams on the ceiling. As with the previous kitchen, the wood balances white. Without wood, white can be stark and sterile; with wood, white is warm and welcoming—such an incredible design by Candelaria Design Associates.
ORANGE CRUSH
Orange is the next color on the kitchen color wheel. The bright orange burst is set against the serene white and green cabinetry. A quiet but energetic environment. The kitchen design by Kitchen Studio: Kansas City is very distinctive and cheerful.
New Neutrals
If you like the versatility of stainless, but crave something new, check out black stainless steel appliances. Reviews are in for this color, and it's a hit! Black stainless steel provides a richer, warmer feel than traditional stainless steel, but it's just as sleek. To top it off, most brands are smudge proof. So you won't have the hassle of a daily wipe down. Keep in mind, however, that not all black stainless is alike. Actual colors range from gray to almost black, so stick with the same brand to create a seamless look.
Speaking of white, many white appliances have received an update for the 21st century. Brands like Whirlpool, KitchenAid and Samsung have updated this traditional color with stainless steel accents and handles. In fact, many white appliances lend themselves to a minimalist kitchen, providing a sleek, clean look in bright whites.
If the familiar feel of all white appliances is what you're looking for, you can certainly find it. And it doesn't have to mean dated design either.  With its soft gray cabinets, this kitchen is on trend, but the white appliances and warm wood accents keep it cozy. The backsplash pulls in the colors from the appliances and cabinets, bringing it all together, while the wood floor and shelves balance the the otherwise cool color scape.
ROYAL BLUE
Fit for a king of cooking, this LaCornue range in French blue is the showpiece of this stately kitchen. The classic brass details pop against this royal color. The marble backsplash and white cabinets further highlight this modern craftsmanship in classical style. Kitchen + Bath Artisans came up with such a great design.
BEACHY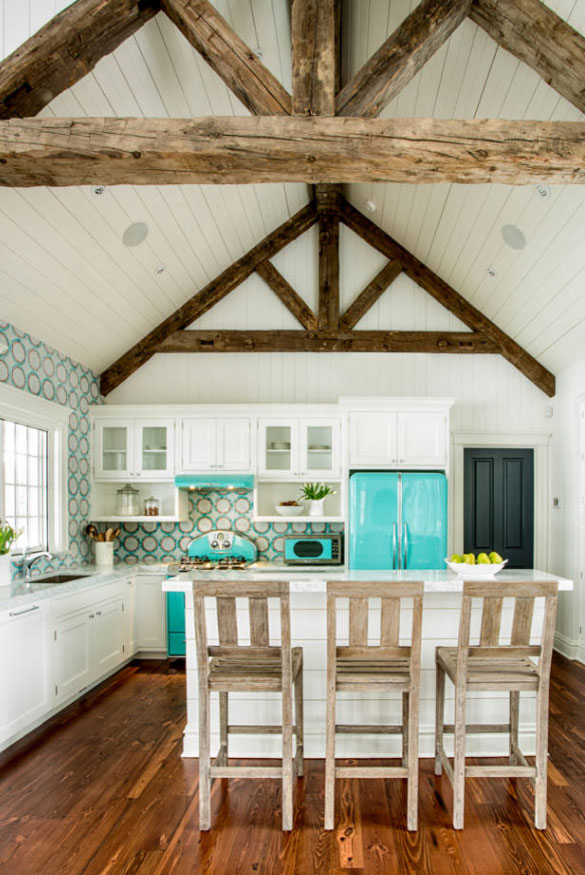 The beachy atmosphere of this kitchen will appeal to everyone. Especially noticeable are the vintage Northstar Robins Egg Blue appliances. Moreover, a colorful and interesting backsplash tile! In this kitchen design by Karr Bick Kitchen and Bath, everything appears energizing and beachy.
SUNSHINE YELLOW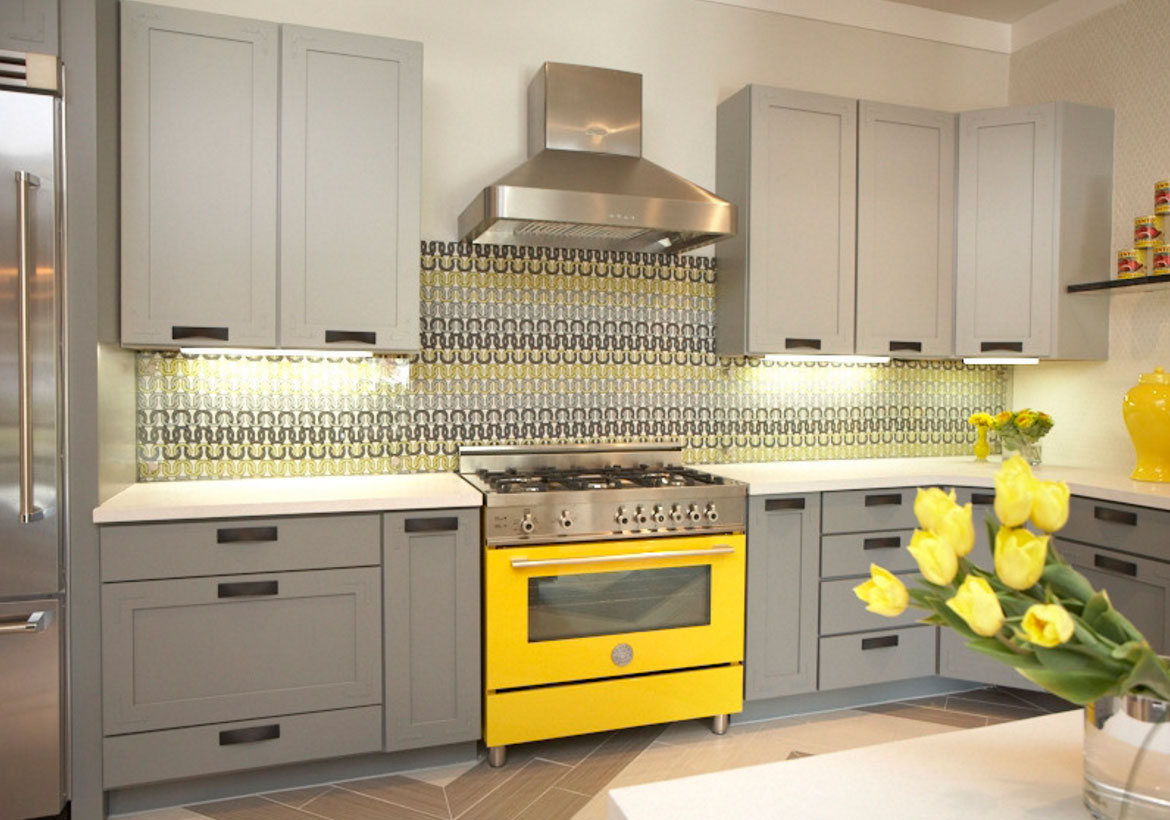 Offering a more modern take on color, this elegant accent piece ties in all other accents, from the backsplash to the vases to decorative tin cans. Yellow adds sunshine to this sleek, modern gray kitchen, keeping the gray from being gloomy. Such an incredible design by the Dallas Renovation Group.
VIOLET BLUE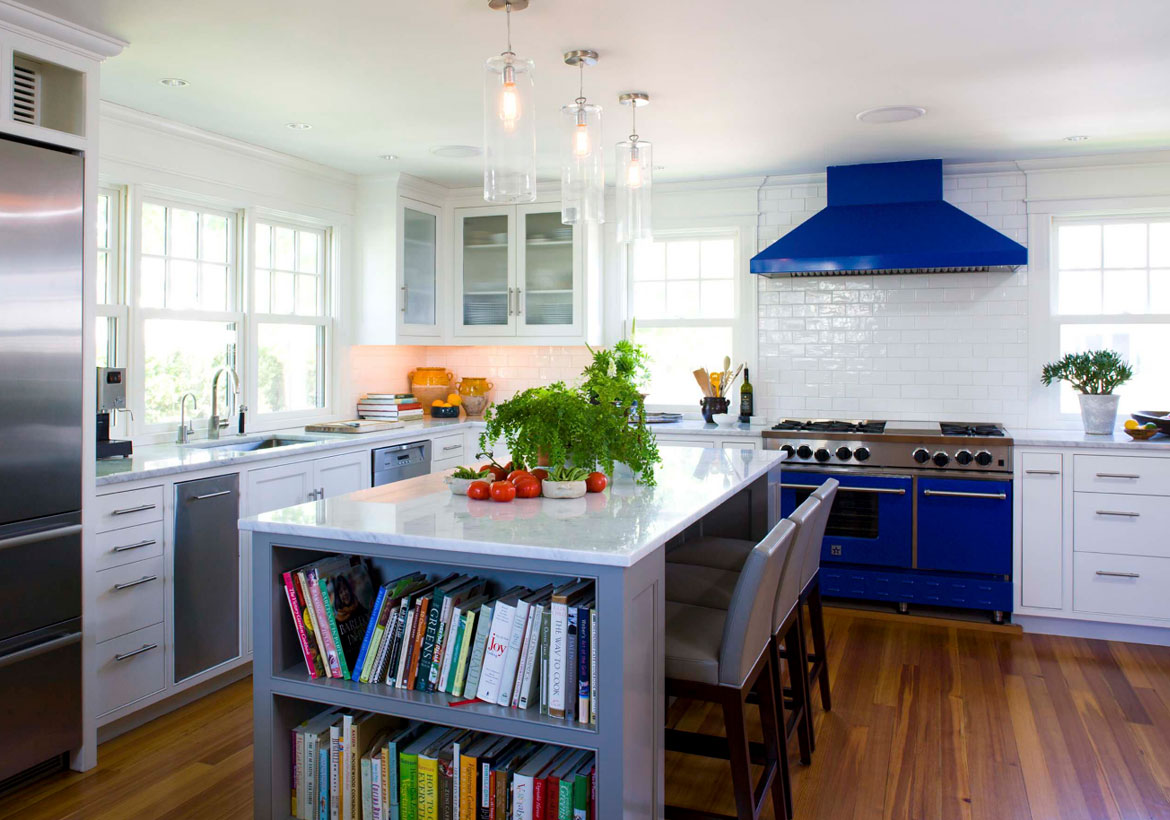 Do you want to have a kitchen design that appears to be so handy while being quite functional? The range, a stunning brilliant blue BlueStar model, and the hood, which complements it, are sure to draw attention to this kitchen. The designers Siemasko + Verbridge have created a great cooking space here.
Bold Statements
For years Viking and Wolf appliances have been known for the bold color knobs on their ranges. Why not take it a step further and incorporate that color on the full range. It's not just a stove anymore, it's a conversation piece. While everyone may gather around the island, all their eyes will be on your show-stopping range.
Does purple pique your interest? Now you can bring your passion for purple to the kitchen. The beautiful BlueStar range in our feature picture is certainly the boldest of the bold colors. You'll never be accused of playing it safe with this color range.
COLORFUL & ECLECTIC
This kitchen layout has a limited amount of space, and it is decorated in a variety of distinct hues throughout. As a result, everything appears quite colorful and diverse. This kitchen features a delightful assortment of shades, decorations, and home appliances. The design was created by Knight Architects, LLC, and it is quite upbeat and welcoming.
BLACK, WHITE & RED
This kitchen is the epitome of boldness and individuality. It's rare to see a kitchen look this contemporary, and carefully coordinated colors elevate the space even more. What is it that's mostly composed of black, white, and red? Incredible, isn't it? How well-equipped is this kitchen? Highland Design Gallery outdid itself with this one.
Color Considerations
When it comes to color in the kitchen, you have to love it. Really love it. If not, just leave it. You should expect to live with an appliance for a while, and you don't want your beautiful eyeful to become an ugly eyesore within just a few weeks or months.
Let's say you have found a color you love. In fact, you want it for every single appliance in your kitchen. You may want to check with the manufacturer that they will continue to produce each particular appliance in your chosen color. If not, you could be stuck with an appliance hodge-podge in a few years, your suite of color gone.
One way to avoid obvious appliance mismatch is to simply coordinate appliances. The most straightforward way to do this is to pick one appliance to showcase color. Generally this appliance would be the range. You can coordinate the accents on the range, let's say stainless steel or black with stainless steel appliances. You could also match white cabinets with a white refrigerator and dishwasher, letting the range be the colorful focal point of the kitchen.
This is an image roundup post, curated to showcase and promote other reputable contracting companies' and their amazing work.  To have any of the images removed, please reach out to us and we would be happy to do so.
Other Great Articles to Read: