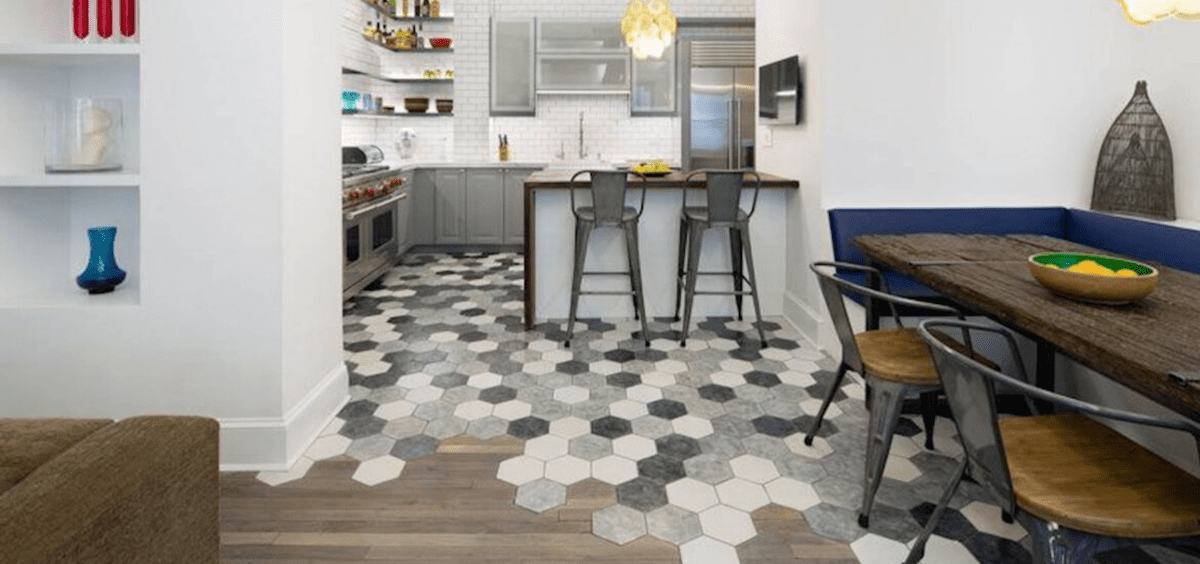 When searching for flooring choices for your home, you don't generally pick only one kind of flooring material. In case you want to introduce different flooring styles on a similar level, it may be somewhat tricky. Thus, we provide you with floor transition ideas. In addition, not only it would be hard to search for two products that go together in perfect concordance, but it also tends to be a challenge to make a smooth transition between them. Nonetheless, you don't have to worry because we provide you below with incredible tile to wood floor transition ideas.



Transitioning from wood to tile flooring surface can look lovely as well as set a normal space apart from the rest. Furthermore, it looks exquisitely finished, and when arranged well can mostly be flawless throughout. In this post, we will help you get this right and give you extra tips and tile floor transition ideas that will help you seamlessly accomplish the ideal living spaces for your home.
A transition among tile and wood is frequently observed from the bedroom to bathroom, in the living room or the dining to the kitchen. Additionally, the structure of your home flooring surface assumes a significant role concerning whether you can pull off a transition floor in a specific room of your home or not.
There are different tiles and flooring choices, and some of the normal ones include carpet, ceramic tiles, hardwood, marble, and concrete tiles, among others. In any case, tile to wood floor ideas may take the assistance of a professional to accomplish flawlessness.
WOOD TO STONE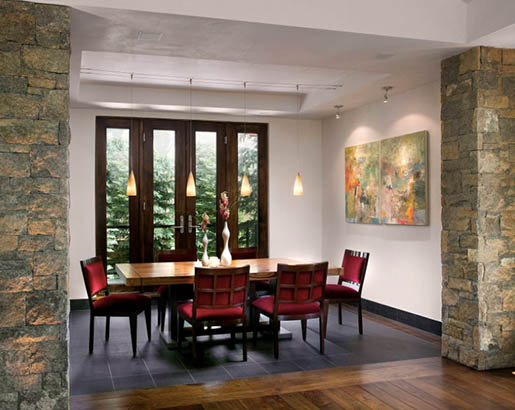 Have a seamless flow from the living room to the kitchen with this walnut to tile transition.
OAK TO TILE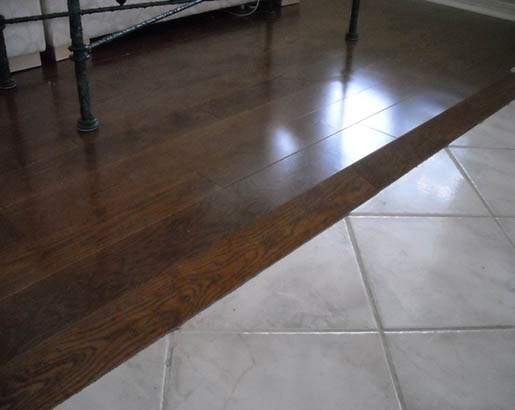 This solid oak floor is custom reduced for the transition to the existing tile floor.
TILE TO HARDWOOD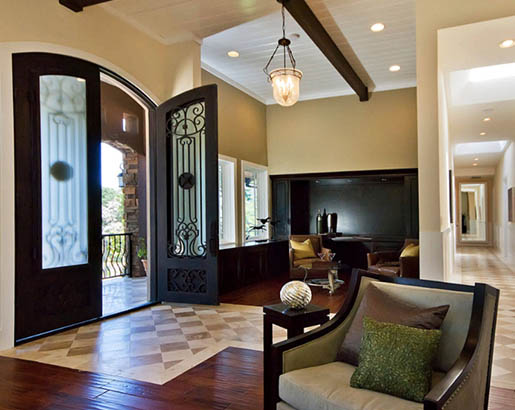 Leave a great first impression when your guests see this wood to tile entrance.
HEXAGON TO WOOD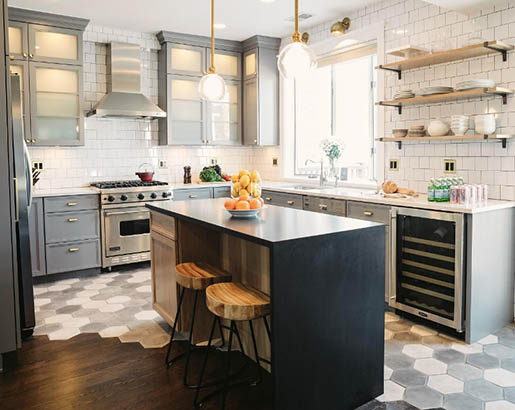 These Mosaicos tiles from Chicago are a breathtaker.
BAMBOO TO TILE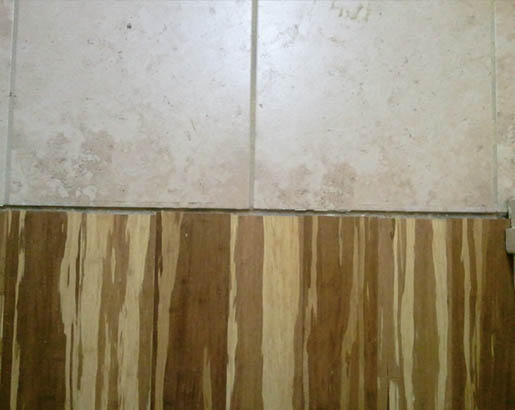 The transition of strand bamboo floor to tile floor makes this flooring very interesting.
OAK TO MARBLE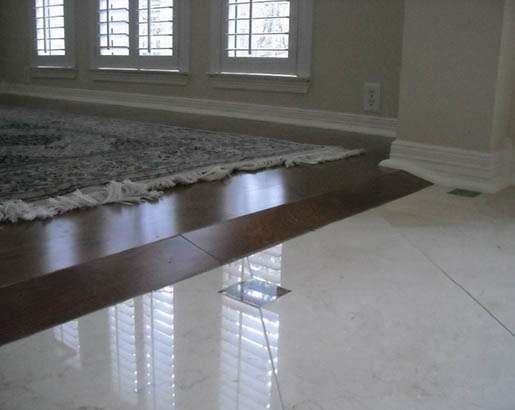 The solid oak floor, which is 5″ wide 3/4″ thick nailed over tar & screeds, is custom reduced to transition to the existing marble tile floor.
WOOD TO PORCELAIN
The transition of natural cherry, 4″ wide plank to tile is impeccable.
HICKORY TO TILES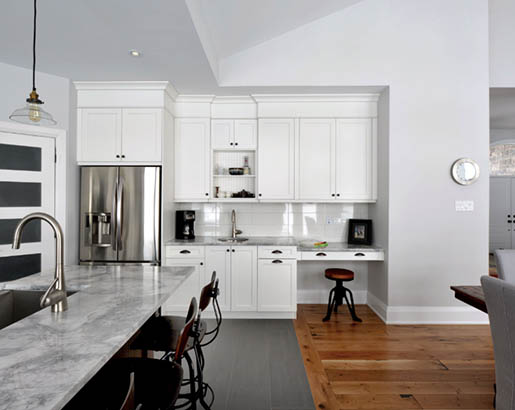 The white oak, extra-wide plank with natural finish floor blends well with the ceramic floor.
DARK WALNUT TO TILE
Solid red oak floor with a dark walnut stain that is custom reduced to transition to the existing fireplace tile floor.
GOLDEN TEAK TO TILE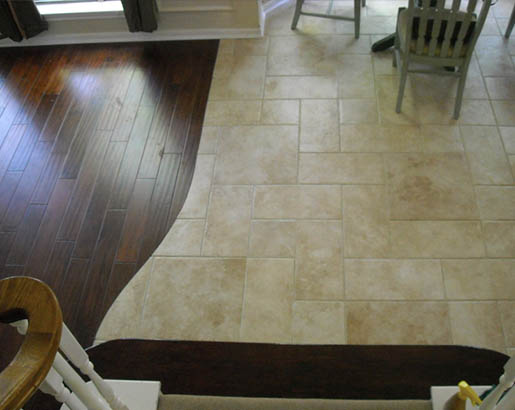 The custom curved transition to the tile floor from golden teak wood is impressive.
BAMBOO TO FIREPLACE TILE
The smooth transition of strand bamboo floor to fireplace tile floor is awe-inspiring.
BELLAWOOD TO CARPET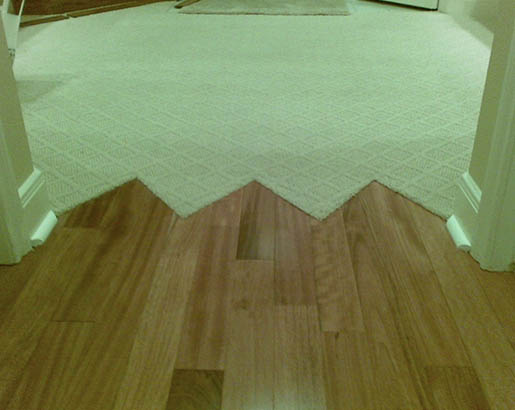 The custom zig-zag transition of bellawood to carpet is stunning.
PLANK WOOD TO TILE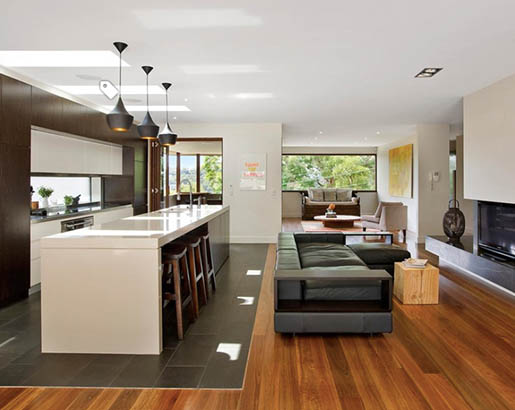 Another seamless transition from wood to tile in this Sydney house.
PORCELAIN TILE TO WOOD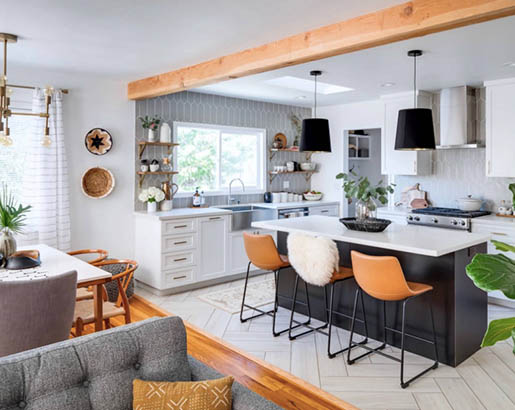 This sav wood bianco porcelain tile by Arizona looks immaculate with the wood floor.
BRAZILIAN KOA TO MARBLE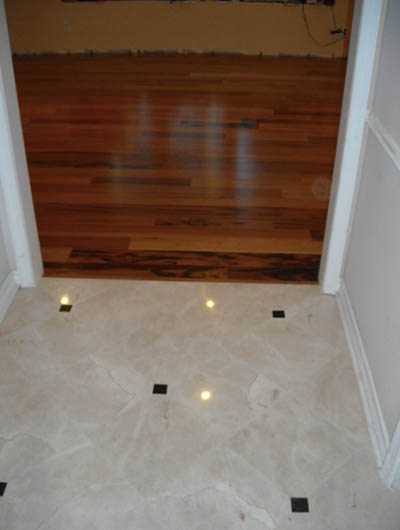 The bella wood Brazilian koa's transition to marble tile floor is picture-perfect.
LAMINATE FLOOR TO TILE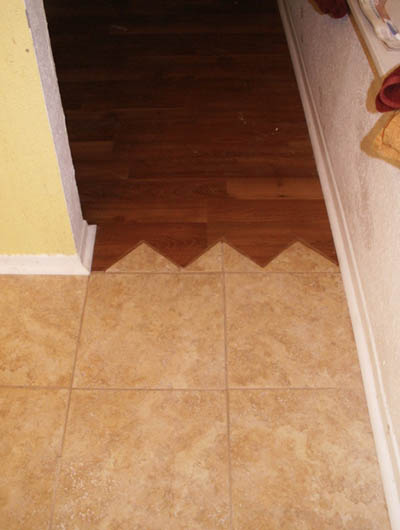 Laminate floor transition to the tile floor with zig-zag design.
WALNUT TO BLACK SLATE
The Brazilian black (montauk black) honed slate transitions seamlessly with the wood floor.
WAVE CUT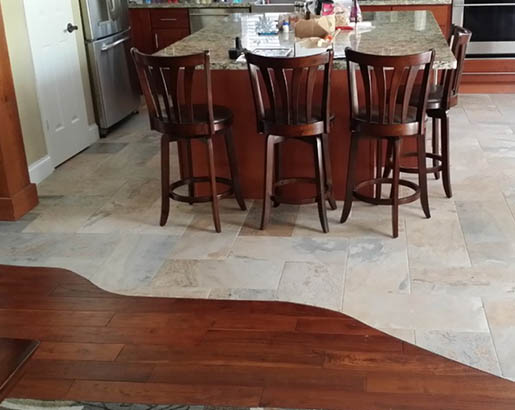 The porcelain tiles are wave-cut for a smooth transition to glued down wood floor.
BLACK WALNUT TO TILE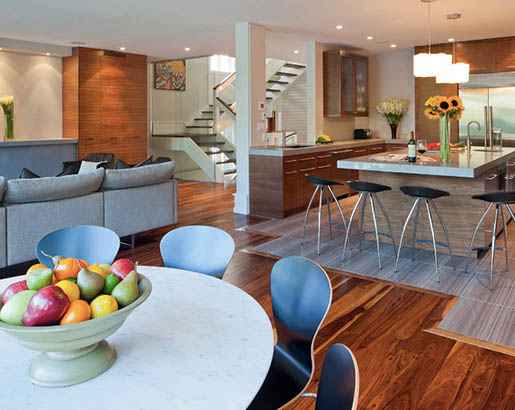 The installers are incredibly talented at making this floor transition as seamless as possible.
OAK FLOOR TO TILES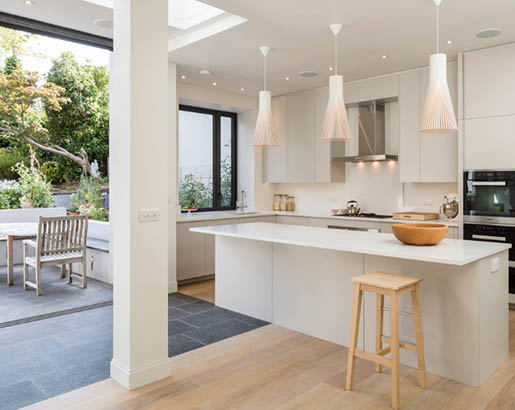 The pre-oiled engineered oak floor from Jordan Andrews flawlessly transitions to the tile floor.
TERRACOTTA TILE TO WOOD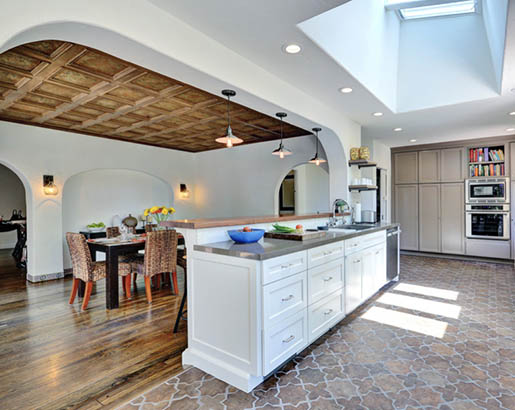 This star and cross pattern terracotta tile transitions perfectly with the wood floor.
WOOD TO TILE TRANSITION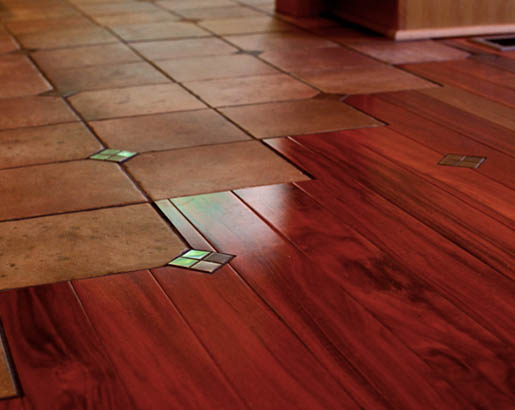 This is a very clever way to transition from wood to tile.
Can You Use Different Flooring In Different Rooms?
While utilizing similar flooring all through your house makes a sense of space, it's not really the best approach to make the most of every individual room. As such, dark wood floors, like Brazilian walnut or mahogany, function well in both south-facing rooms and huge rooms. On the other hand, small rooms take advantage of lighter tones like maple, ash, or white oak. In essence, not only would you be able to consolidate various woods for the flooring in your home, but you can likewise mix and match woods somewhere else like the furnishings and cupboards.
For hardwood floor transition ideas, make sure the various woods in a single area are extremely different, as consolidating woods that are comparable in color can show up as though you have just committed an error. For instance, in the hallway, combine dark wood on the stairs with a lighter color on the hallway floor.



In case you are going to lay a darker wood floor in a room off the hallway, let's say the kitchen—intend to coordinate the color of the floor with the darker wood in the hallway. Similarly, coordinate the color of the kitchen cupboards with the lighter hues of the hallway floor to maintain a feeling of union all through the home.
In a long narrow zone, abstain from laying the flooring, so it runs parallel to the length of the area. In doing so, this will fortify the feeling of length and absence of width, making a bowling alley impact. Laying the floor, so it doesn't run parallel with the length of the area, causes it to seem more extensive and removes the accentuation from the length.
How To Mix Different Types Of Floors
When installing two distinct floors in adjoining rooms without a door in between, keep up with the direction the floor runs all through the two areas. However, in case a door isolates the two adjoining rooms, blend things up considerably more by altering the course the floor runs in.
With this is mind, guarantee that the transition between different flooring in two adjoining rooms occurs in a straight line at the edge of the room. Notably, a piece of T-molding is a fast and straightforward approach to make a slick transition. When seen from the end, this molding makes a T shape, where the lower part spaces in the middle of two floors and the top part make a smooth change. Next, draw a straight line to mark the center of the edge and leave a little space between the two floors to slot the T-shaping.



On the other hand, in a huge room that gets minimal natural light, go for a warm wood for the floor for your wood floor transition ideas. Redwood, Brazilian cherry, and beech are generally reasonable and give warm orange and red tones. In addition, choosing those warm tones and utilizing them in the paint on the walls won't just complement the floor, but it will further make a comfortable environment. Finally, in a little room, use a light wood like maple, hickory, or cypress. In particular, choosing a profoundly polished surface additionally bounds light around the room.
Tips For Seamless Floor Transition Ideas
First, go monochrome. Chiefly, when it's difficult to envision how transitioning the flooring in your house will work out, simply know you're not the only one or that you're out of alternatives. In fact, monochromatic flooring has been famous for many years and you can even pick by the color of the furniture in your room.
Secondly, you can make an area rug effect. In case you have a vast space to fill, you may benefit by creating an area rug impact. Firstly, start by picking one flooring material to go about as the "border" and another to go about as the "rug" part in the middle. Even though this effect looks like an area rug, you don't need to choose a carpet for the center area. By all means, any flooring material that appears differently in relation to the border will do!
On the other hand, in case you're not keen on introducing more than one kind of flooring in your home, yet need to change things up a little, we have good news for you! In fact, you can, without much of a stretch, utilize one flooring material like tile or hardwood, and use various patterns with similar material in each room.
Meanwhile, contingent upon the area, there are particular flooring materials that are not appropriate for installation. For example, in areas like the kitchen or entryway, you will need to avoid introducing materials that are quickly harmed by water or debris like hardwood or carpet. Tile floor transition ideas are perfect for this. In case the spaces are not characterized, introduce durable flooring, similar to tile, in the entryway to stay away from any conceivable harm to more delicate flooring materials.
Do You Need Transition Strips For Laminate Flooring?
Ideally, your flooring should be seamless in all areas. Particularly, your hardwood should seamlessly transition from living room to kitchen, to bedroom to the bathroom.



However, in genuine renovated home scenario, you can't help but start with one flooring type then onto the next, on the grounds that various rooms need various kinds of flooring. For instance, the Brazilian Cherry works incredibly in the lounge room, but you should change to porcelain in the restroom because of moisture issues.
In case that you are changing from one kind of flooring to a similar kind (i.e., porcelain to porcelain), you most likely need not bother with a transition by any means; you might have the option to run one floor into the other.
All things being equal, seams are frequently joined between rooms of the same materials to accommodate development and compression. Accordingly, you would need a transition strip in these cases.
Ultimately, if you are managing two distinct kinds of flooring, a transition strip is required.
On the other hand, most property owners think they need invisible transitions. Be that as it may, visible transitions are more secure because the individual walking toward them can see and foresee the adjustment in elevation better.
Today, transitions are not merely "clacky" aluminum strips anymore. In fact, you can buy real hardwood transitions, regardless of whether the floors you are associating are not wood. For laminate flooring, you can buy transitions that look simply like your laminate.
Uneven Floor Transition Ideas
When you introduce wood or laminate, the maker of the floor ought to have the option to offer you a transition piece that matches the floor.
One kind of transition that you could utilize when a wood or laminate floor is higher is a reducer. Similarly, these are also called a vinyl reducer. A reducer is a flooring transition that is higher on the edge that goes over the side of the wood. Then it continuously slants down to the adjoining floor. Surely, this will furnish you with a pleasant slope that structures somewhat of a ramp-up to the following floor.
Another excellent choice that you have for this circumstance is a rubber transition piece. Various companies offer rubber transition pieces, and they come in a wide range of shapes and sizes. With rubber, you have a lot more choices. For instance, when you need a reducer, you can determine that you need it at a specific height. It might also come in various widths and angles. Hence, you can get a custom solution for the particular height that you require.



Notwithstanding wood and rubber, another choice that you have is to go with a metal transition. Surprisingly, they make various distinctive metal transitions that you can use in this application. In fact, you could probably get one that covers the edge of the higher surface and provides it with a finished look. Moreover, you could likewise get one that ramps down to the other surface. These hard metal transitions are regularly utilized in commercial applications, so you are certain that they will be entirely tough regardless the measure of traffic that goes over them. Besides, you can utilize them on any kind of flooring material.
This is an image roundup post, curated to showcase and promote other reputable contracting companies' and their amazing work.  To have any of the images removed, please reach out to us and we would be happy to do so.