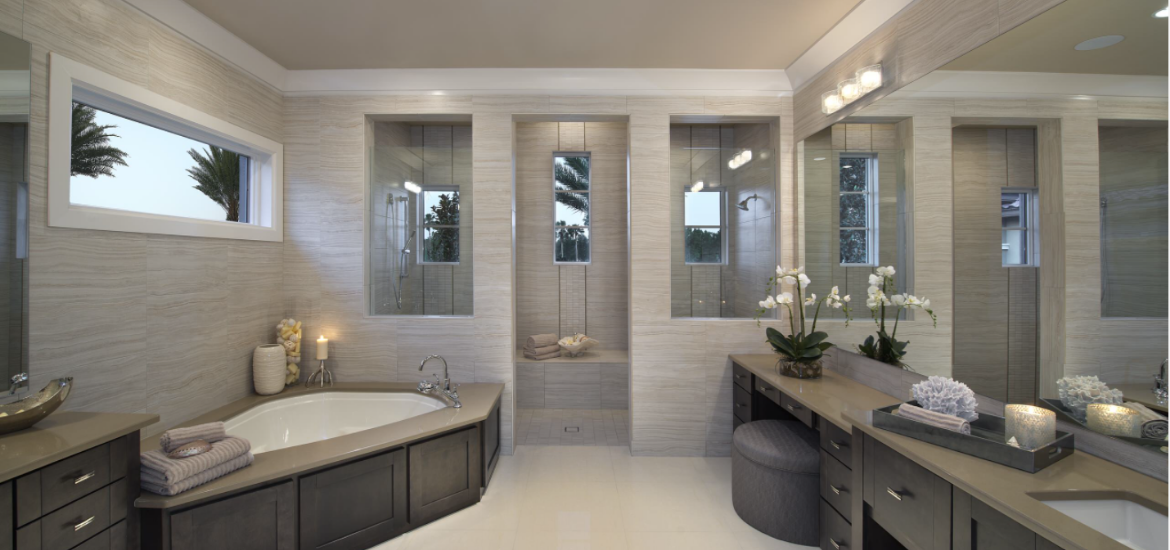 It is hard to find a bathroom that guarantees an excellent experience to that spacious, well-lit bathroom. One thing shower enthusiasts can complain about is the absence of light within the shower. Creating a window in the shower area is as sensible as it is gorgeous. If your bathroom is lacking in natural light, don't worry! We've got shower window design ideas that will surely captivate your heart!
Would you desire a relaxing and luxurious bathroom like the ones you see in hotels and spas? Relax in the shower while taking in the breathtaking scenery at this beach-themed facility. The overall design is a soothing light gray that exudes a sense of cleanliness. Wow, mikeschaapbuilders has created a masterpiece.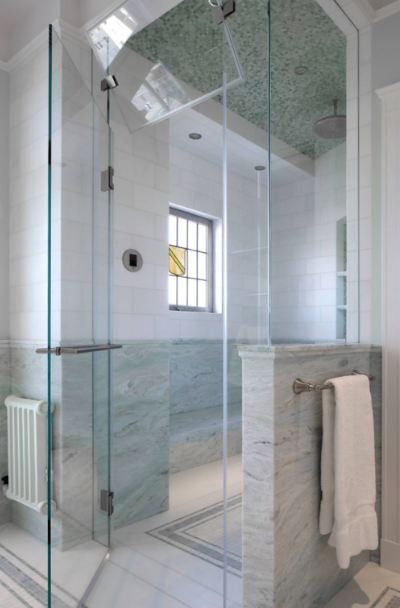 It's safe to say that everyone who uses this enormous bathroom appreciates its pristine appearance. Frosted windows, green and white tiles, and glass doors make up this magnificent bathroom. This luxurious space, photographed by Susan Fisher Photography, is the idea of a good time in the bathroom.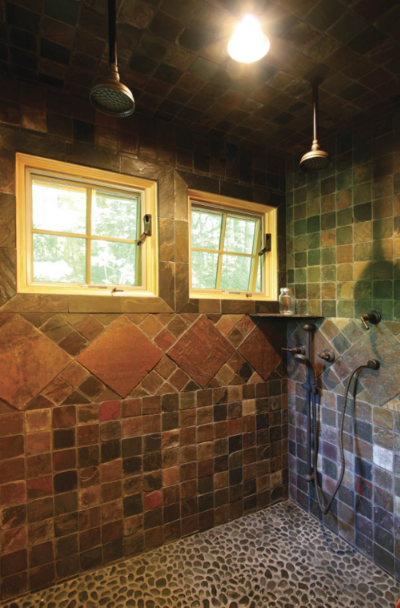 It's possible you'd also like a throwback feel in the bathroom. The rustic style of this bathroom is stunning. Slate tiles up to the ceiling and two big windows to let the steam out. Paul Davis – Design, Build, Remodel, Restoration has created a bathroom design that is sure to please.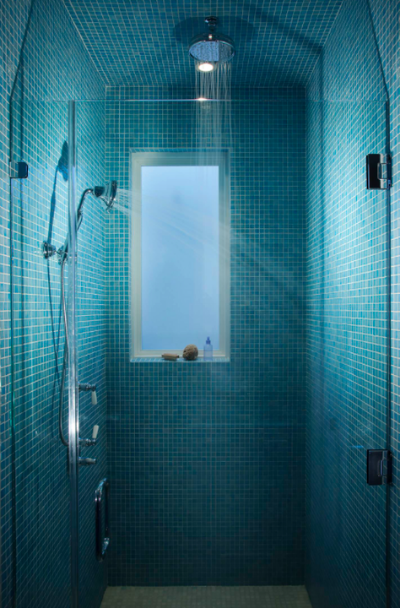 This bathroom layout is perfect for those who adore the color blue. Windows in a shower enclosed by frosted glass provide an extra layer of seclusion. The entire space has a relaxing and rejuvenating atmosphere—stunning work here by Matt Clark Tile & Stone.
Astounding in its beauty and nostalgia, this bathroom layout is sure to wow. Polysatin Plantation Shutters by Hunter Douglas are made to order for humid environments. This L & L Window Fashions-designed bathroom exudes comfort.
ALCOVE
How would you want a bathroom that appears like it was just cleaned? By allowing natural light to enter the space, messes are less likely to accumulate, and the bathroom will always seem fresh and dry. The TOTAL CONCEPTS-designed bathroom in this example incorporates a skylight and an outside window.
COSMOPOLITAN
Wow, that's an impressively clean and energizing bathroom design. This is the type of bathroom you'd see in a glossy magazine. It's a wood window, and it's been stained and sealed, so it's up high so no one can see in. This ODS Architecture-designed bathroom is immaculate in every way.
TRENDY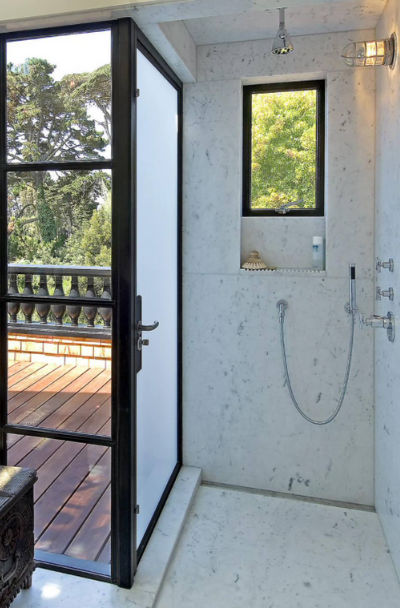 A large, spacious bathroom isn't necessary for a stylish remodel. If your bathroom is short in square footage, don't worry; this layout will still make your room appear chic. The metal and glass windows go from floor to ceiling, allowing plenty of natural light to flood the space. Malcolm Davis Architecture has done an excellent job with this bathroom.
FROSTED GLASS
This bathroom exudes peace and serenity with its minimal decor and soothing colors. The bathroom's frosted window is tinted a subtle blue to match the decor. The bathroom, including the bathroom's shower, is well-lit. Northlight Architects LLC did a fantastic job with the bathroom.
LIVELY SPACE
This bathroom's design is so cutting-edge you'll be blown away when you step inside. This little modern bathroom is packed with style and personality. The bathroom's refined appearance is the result of its many classy details. Arizona Designs Kitchens and Baths have done an excellent job with this bathroom.
Adding A Shower Window To Your Bathroom
The problem of privacy arises when you have to evaluate whether a shower with a window is genuinely a great idea in the first place. The answer is almost often yes, and the other concern is what kind of windows for bathrooms and what ratios to choose. A regular window in shower positioned at a certain height could be an option. You can basically like a pleasantly warm bath while looking out the window without being completely exposed. Preferably, a large shower window or glass wall would open up the bathroom to a private garden. This way, privacy isn't a problem, and you can also control what you find from there, and you can create an incredibly zen and fresh decor.
What if you want natural lighting inside your shower or bathroom, but there is no chance you can generate a full-height window installation? Perhaps a skylight can be an alternative, or you can choose a long, horizontal window just under the ceiling. It is high enough to offer complete privacy and lets you have concrete walls, but it also serves as a natural light source. The thought of an impressive, horizontal window is perfect and pretty excellent for nearly every bathroom or shower regardless of the style. Yet another possibility is to illuminate the shower room indirectly. Rather than working with a window in the shower area, you can have the window placed on the opposite wall. This way, the light enters the shower and the rest of the bathroom. That means a transparent glass door for your shower. 
Window treatments are the quickest and most straightforward way to include privacy. Two main choices are polyester window shade or shutters. Shades can be pulled up or lowered with a lift cord hanging from the top rod to add visibility and light or block it to enhance privacy. Shades also slack slats where heat can escape, making them more insulating and energy-efficient than other options. Shutters, however, provide a greater level of light and privacy control. Whichever option you pick, stay away from bamboo shades or wood shutters in showers. It would be best if you also skipped curtains made of mold-prone organic materials such as cotton. Showers and bathrooms are a room of increased moisture in your house. This is why it's crucial to have at least one small bathroom window that opens.
CLASSIC FEEL
The finished product is a traditional, clean, and refreshing bathroom. The window introduces much-needed natural light into the otherwise clinically white Italian Calcutta marble setting. The pure white color of the window complements the rest of the traditional design of Courtney Blanton Interiors, CID's bathroom.
OPAQUE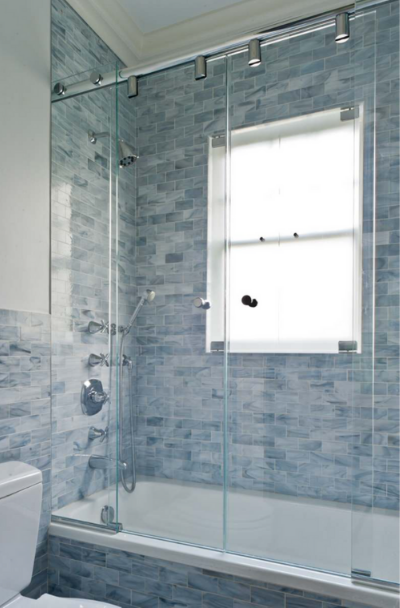 Wow, what a beautiful bathroom! It looks so crisp and new. Covers for the windows may be put up or taken down as needed for privacy. The gray walls are intricately decorated, making the room beautiful and soothing. Fivecat Studio | Architecture did a fantastic job with this bathroom.
RUSTIC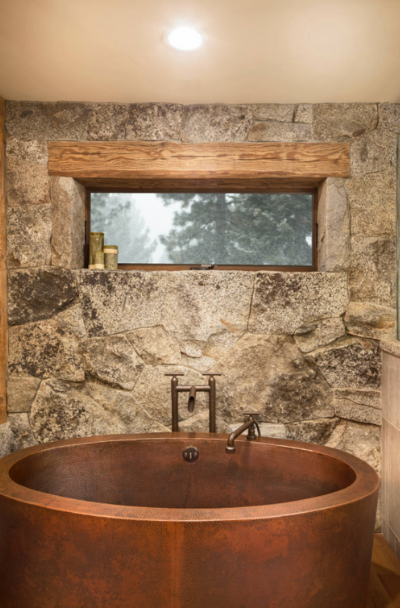 Do you long for a bathroom that reflects your appreciation of rustic and vintage aesthetics? An Aspen tub, stone walls, and a wooden window make this lavatory in every country. Welling Construction did an excellent job with this bathroom, making everything appear extremely traditional.
The Importance Of Installing A Bathroom Window
Installing operable windows will help you rely much less on the fan or extractor. Mold grows in bright, very moist environments. If left untreated, it can spread and, in several cases, result in breathing issues and the destruction of your walls. Properly ventilated areas are better at resisting mold. The increased moisture level also dictates a need to find better windows for bathrooms with showers or bathtubs. That is why you need to choose effective windows that will have the warmest possible glass surface on the room's interior. The colder the glass surface is, the quicker your windows will get condensation. It is a cycle that can have undesirable consequences on your house. These factors decide that your bathrooms' most effective windows need to be operable and offer better energy-efficiency.
A bathroom with no windows could be dreary and dark, and in a tiny bathroom, claustrophobic. A shower with window can make the room feel larger, lighter, and more attractive. The natural light you receive from a window offers the most outstanding lighting for grooming and applying makeup. In those instances where you are stuck inside, any natural light you are exposed to, say during an early morning shower, could help you deal with anxiety and stress much better. A shower window gives outstanding ventilation, but obviously, this would only be the case for windows that open; some small or large shower windows don't. But if yours does, opening the window is usually a more pleasant way to ventilate a bathroom than utilizing an overhead fan.
Among the popular methods for getting a sleek, contemporary bathroom is to consider some open shower ideas. As the name indicates, these showers are usually entirely unrestricted to the rest of the bathroom, and at the very least, just partially covered. Some are only behind glass partitions. This style opens up the bathroom area visually. And the absence of any shower curtain allows the bathroom to be spa-like and more modern. First on the list of many open shower ideas are showers that stay entirely open for the rest of the bathroom. These have a few various benefits. They may be great for those with limited mobility since there is often only a lip to step over into the shower. They can also visually open up the bathroom area, making these great choices for small bathrooms. 
Open style showers have a luxury, contemporary feel to them, like something you would get in an upscale hotel. Suppose you aren't entirely ecstatic about having a shower area open to the rest of the bathroom. In that case, you can choose partially open design showers. These provide the best of both worlds. The majority of the bathtub still opens to the rest of the bathroom. But, part of the bathtub area will remain behind some partition, which offers the goal of visually opening up the bathroom and allowing some privacy. The tub and the shower are often placed close to each other to minimize the amount of water that will spill in the bathroom. And the open showers help keep the room visually unimpaired so that these styles could accommodate each shower and soaker tubs with no anything at all feeling cluttered or even cramped.
TRANSOM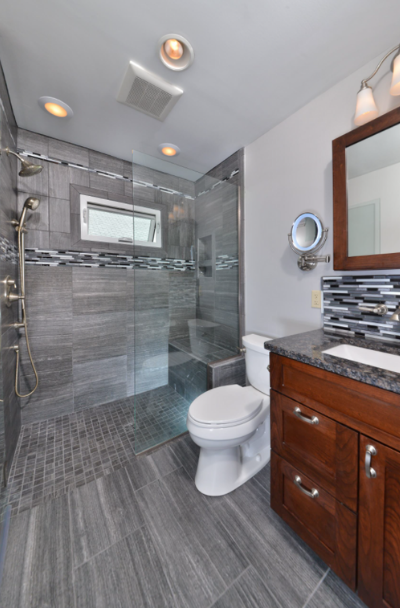 Feeling extremely refined is the least you can expect from this bathroom's design. This bathroom in Cleveland boasts a transom window for air circulation. A calm, opulent, and totally enjoyable vibe is what it produces. Artistic Renovations of Ohio LLC outdid themselves with this one.
SIMPLICITY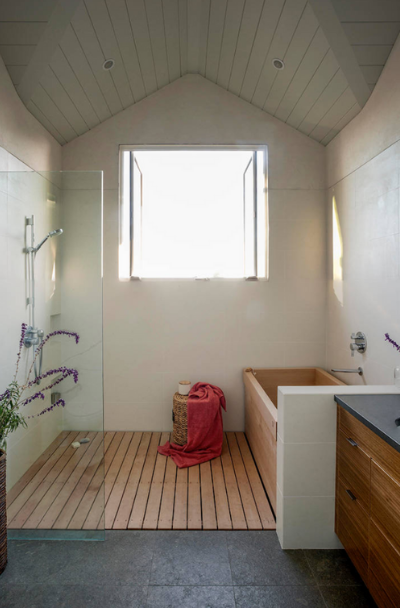 This bathroom layout is so straightforward and practical. It will make you feel relaxed and at ease in no time. Wooden tubs, floors, and windows create a peaceful atmosphere in this farmhouse bathroom. This new bathroom layout by Sogno Design Group is a breath of fresh air.
BALI-INSPIRED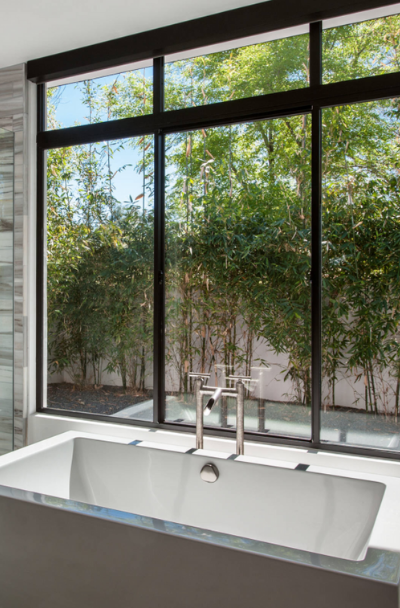 Do you long for a contemporary bathroom with a touch of nature? Large windows in this contemporary bathroom take their design cues from Bali. In this modern bathroom from Western Window Systems, you will feel like a new person.
Clever Shower Window Ideas
Whether you are searching for window ideas for your bathroom because you are redesigning and decorating your room from scratch, or if you want to freshen things up, you are in the right spot. Selecting modern and new bathroom window treatments is an effortless and quick way to inject design into your bathroom area while preserving the privacy, which is crucial to this part of the house. It could be that your bathroom is simple. Maybe it is a little outdated. Or, you need some small bathroom suggestions that will reinvigorate your bathroom layout and design. It can be challenging to squeeze everything you need into a small space, but these small bathroom design ideas can help design your room feel larger, whether you are finishing a complete bathroom remodel or a simple refresh.
Increasing the quantity of light that goes into an area could help make it seem much more spacious. The appropriate small bathroom window increases the amount of light streaming through your small bathroom, much more than synthetic sources can. Furthermore, new or replacement bathroom windows can assist in ventilating your bathroom. Because of the room's dynamics, it is essential to put your bathroom window high enough, so the privacy is not a concern.
 Adding light is one of the easiest ways to make a bathroom bigger, and the simplest way to accomplish this is by letting in natural light. Ideally, you will need to have several windows in your bathroom to allow in as much light as possible. Naturally, with an enormous window comes the issue of privacy, especially if the window is over the first floor or faces the street (or neighboring house). That is why we also have to speak about window transparency. Most windows will be entirely transparent or clear. But in your bathroom, that is not a fantastic idea. Several homeowners tend to choose frosted, stained, seeded, or textured windows to maintain privacy in the bathroom and simultaneously allow plenty of natural light to seep through. Also, the glass comes in various types to suit a bunch of bathroom designs, be it for small or large showers.
Dealing With Privacy In Your Bathroom
You also have the choice to install a privacy film over the window. This film helps make the window much more opaque to add privacy. A window's design is vital for aesthetic reasons and layout, but it is also crucial for the bathroom's functionality. Having an operable window helps keep the bathroom ventilated, reducing excess moisture and all the issues that come with it (mold, odor, rot, etc.). Operable windows include single-hung, casement, double-hung, sliding, and awning. Of those types, awning windows that open at the bottom or top are especially suitable for bathrooms: even when it is open, they keep anyone's privacy within the bathroom. All the windows in your bathroom don't need to be operable. If you would like a big, glass block windowpane, for instance, you can place a transom or awning windowpane above it.
Windows placed much higher on the wall will provide additional privacy than those at head height. You will also need to look at window placement when it involves the style of your bathroom. If you have a fantastic view above the sink or tub, place a window there! The most effective way to start protecting your window from water damage is to prevent, as much as possible, water from being on it in the very first place. That means if your tub has a shower, position the window;  therefore, it is out of the direct path of spray from the showerhead. Keep the bottom part of the window high enough above the tub's edge, where splashes are not very likely to reach the window.
It is also critical you choose to place a window on a wall free from plumbing or electrical runs. It is better to utilize a window with wood jambs that produce an inset window fitting if possible. This reduces the possibility that the window will shatter (or cause severe injury) if you slip and fall against it or bump it while bathing. Any window coverings you use on a bathtub window need to be resistant to the consequences of moisture. Vinyl blinds will probably hold up much better than wood or steel materials, but any blind will require regular cleaning and might not last long. Windows with integral (or between-the-glass) blinds are yet another choice. Vinyl curtains are a much better option than fabrics that are susceptible to mildew. If you want to forgo window coverings altogether, but need privacy, consider a glass block window or a regular window fitted with textured or other privacy glass. A less expensive substitute for privacy glazing is applying a tinted, frosted, and patterned film created for showers.
This is an image roundup post, curated to showcase and promote other reputable contracting companies' and their amazing work.  To have any of the images removed, please reach out to us and we would be happy to do so.
Other Great Articles to Read: