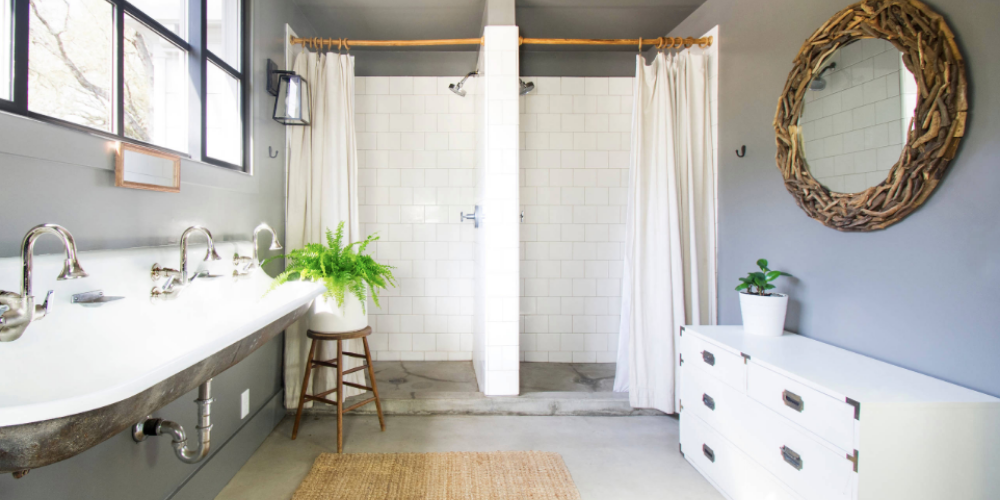 You certainly do not have to live on a farm to rock a farmhouse bathroom design. Rustic and retro, the farmhouse bathroom takes us back to simpler times, when modern advances were not part of our daily lives. Back then, a bath was a luxury enjoyed after a hard day at work, probably with candles, a good read, and a bottle of wine. However, the good news is, you can recreate this bathroom style anywhere you live.
On the other hand, this old-style design doesn't mean that you can't have a bathroom with a modern edge. Moreover, the present hardware, toilets, tubs, and sinks can be modern with a retro design. You can indeed accomplish the look and feel of a farmhouse bathroom with all the modern functionalities.
Out of all the bathroom trends, modern farmhouse is essentially the most comfortable and relaxed. In addition, there's something about the sweet hues and unassuming materials that bring out simpler times and, hence, bring forth solace, peace, and relaxation. Furthermore, it's not just about shiplap and rustic, weathered accessories. In fact, you can load a modern farmhouse bathroom with modern, polished, or industrial designs. So whether you live in a suburban town, remote countryside, or the heart of a city, these 33 modern farmhouse bathroom ideas will inspire you to start that long overdue bathroom remodel.
Finally, below are stunning modern farmhouse bathroom designs that will make you fall in love with this bathroom style.
BLACK TILE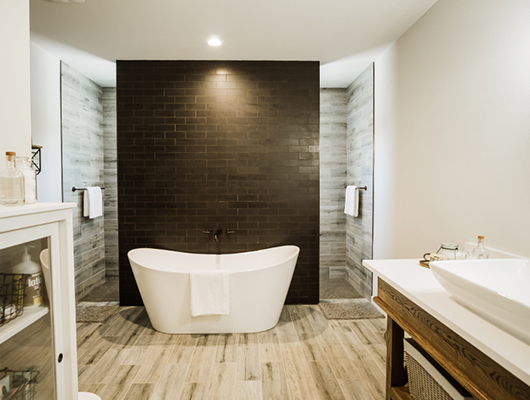 The freestanding tub, black wall tile, and the wood-like floors make this farmhouse bathroom truly modern.
EFFORTLESS CHIC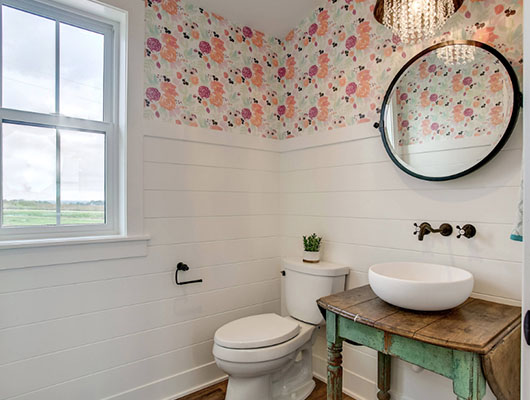 Why spend on expensive decors when you can use and refurbish what you already have?
WOOD LOVE AFFAIR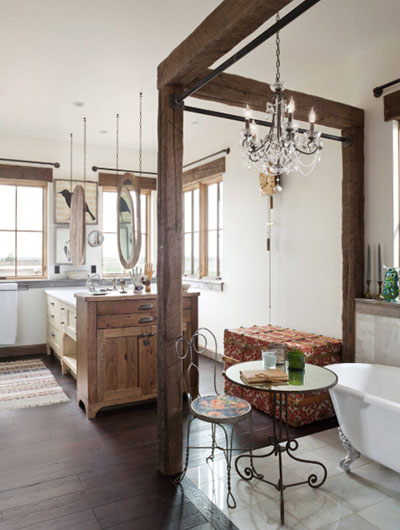 A bathroom, dresser, and a reading nook in one? Why not!
DAINTY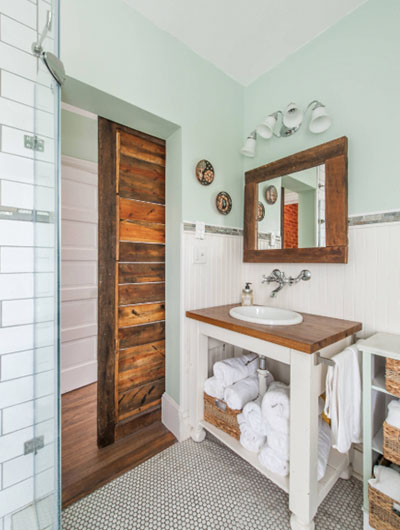 Limited space is not a hindrance to having a refreshing and lovely bathroom.
KEEP IT SIMPLE
Keep your decor minimal, and you're sure to have a relaxing bath retreat.
POPPING RED
The red cabinets in this modern farmhouse bath are sure to captivate hearts.
VINEYARD SHOWER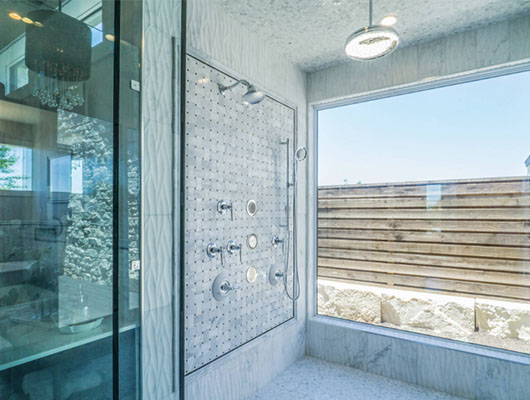 Enjoy a hot shower after a hard day at the field in this modern farmhouse bathroom.
POSH
The white paint, together with the little black accents, make this bathroom truly stunning.
RELAXED
Start your day right by having a refreshing shower in this modern farmhouse bathroom.
PORTAGE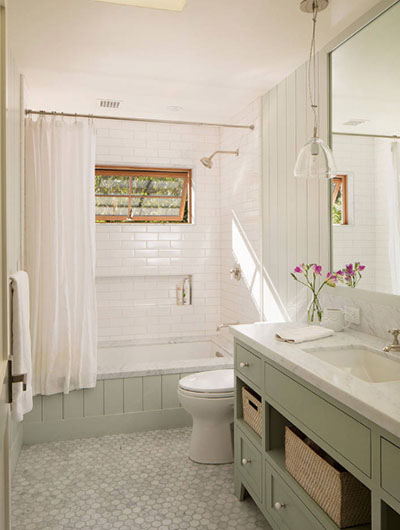 Farmhouse Bathroom With A Modern Twist
Modern farmhouse bathroom combines the smooth, clean lines of contemporary style with the comfortable farmhouse design to make a particularly fresh interpretation of the country living inspired aesthetic.
Modern farmhouse design is additionally popular for its simplicity and warm, due to its natural surfaces and materials such as wood and galvanized steel. While white or cream is still the most used color, you can also combine it with neutrals, vibrant, striking tones.
For instance, you can paint wooden stools with a bold red color, which looks great when paired with whitewashed walls. Moreover, you can also use this color for decor or appliances.
In particular, natural wood decor is an absolute necessity for any farmhouse-style home, be it wood boards on a wall or uncovered bars on the ceiling.
When it comes to furniture, they certainly don't need to have the perfect paintwork. Besides, farmhouse style features well-loved and utilized things. In addition, this style has high regard for chipping paint that reveals a piece's surface.
On the other hand, vintage decor items, or "vintage-inspired" pieces are a must! Indeed, farmhouse design fits the thrift store and flea market finds effortlessly. For example, old fashioned signs or chalkboards blend well with any rustic bathroom.
Lastly, don't forget about the soft pieces. From handmade quilts to window treatments, modern farmhouse also leans toward splash of color over conventional floral or prints. Designers particularly prefer mixing and matching soft items of various textures.