Bathroom layouts can be difficult at times, but a small master bathroom can be specifically challenging. In case your bathroom is lacking in space, and you are looking for some small master bathroom ideas, we are here to help you.



In reality, creating a small master bathroom that is loaded with style is truly possible. Sometimes, all it takes is a smart storage system or a statement wallpaper to make a small master bathroom to feel more open, airy, and inviting.
Are you ready to create a beautiful transition in your small master bathroom? Then check out our 41 small master bathroom design ideas that you're certain to adore. Furthermore, these spaces demonstrate that sometimes, great design comes in small bundles.
Quick Link:
Design Tips For Small Master Bathroom
First, utilize a corner sink. In small master bathrooms, a sink arranged to fit in a corner can certainly be an excellent space-saving alternative. Indeed, even pedestal sinks can be hard to fit in small master bathroom remodel ideas.
Next, you can include a curtain or sliding shower door. In particular, shower doors that work on hinges may not fit small master bathroom ideas shower only. Instead, use a glass shower door or a shower curtain that slides on tracks.
Also, pick a vanity that has rounded corners. In tight areas, vanities with sharp edges can particularly be unsafe. Meanwhile, a vanity that has rounded corners can avoid wounded or bruised hips.
Expand the counter across the toilet. In fact, some additional counter space made when the vanity counter reaches out over the adjacent toilet can be efficient.
Moreover, using large-scale patterns can also work for small master bathroom design ideas. Wide stripes, huge squares, and other big patterns can trick the eye and cause spaces to appear bigger.
On the other hand, you can also mirror the wall. In tight areas, having a mirror along the wall and behind the vanity can have two people use it at the same time.
Meanwhile, one of the small master bathroom ideas is to install the towel bar on the door. Mounting a towel bar on the back of the entry door makes towels easy to reach at a master bathroom with limited space.
Next, go for a trough sink. When you install it on a wall, the low profile of a trough sink opens up floor area for storage.
Also, you can utilize a vanity with open shelves. Open racks or shelves provide storage without swinging doors that can block the way in a small master bathroom.
CUSTOM VANITY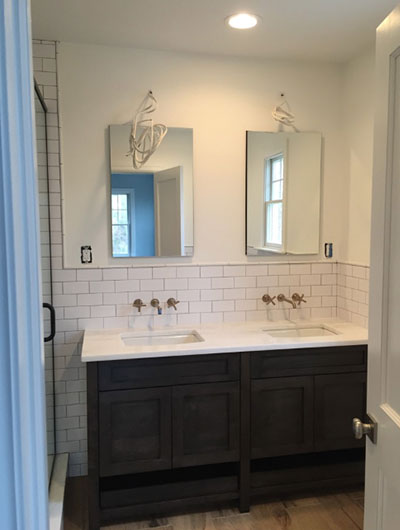 Custom vanity made to fit this small traditional master bathroom.
CONTEMPORARY
This bathroom features many small space tricks, including the floating vanity.
COOL & CLEAN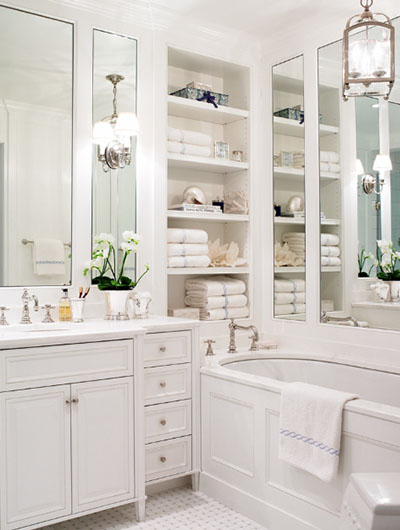 A beautiful, cool, classic, and clean white small master bath.
SHOWER & BATH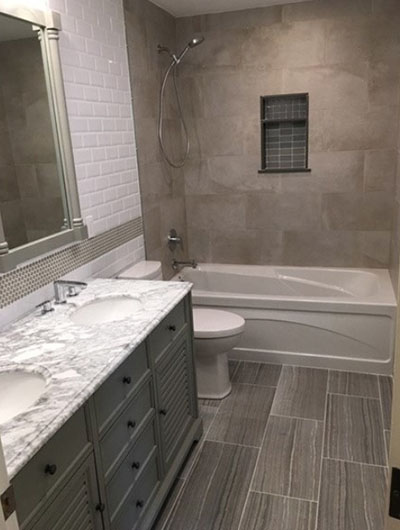 This transitional master bathroom features a shower, bath, toilet, & a double sink.
LOVELY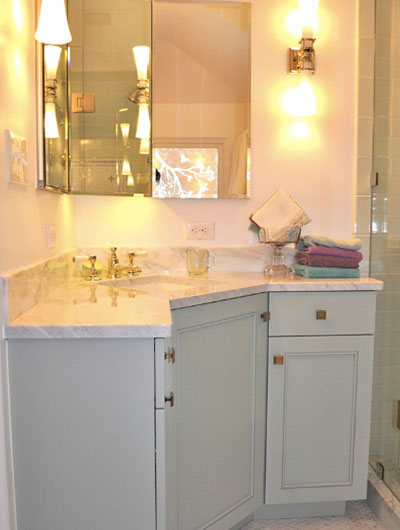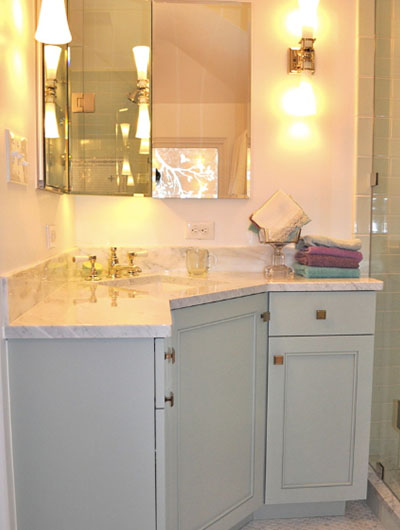 Though short in space, the designer managed to tuck a good deal of storage below the marble countertop.
VICTORIAN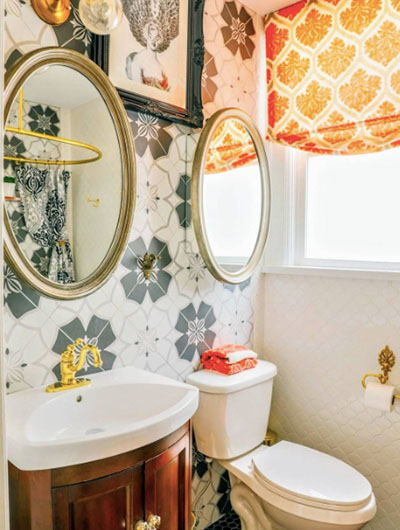 Large and bright elements and patterns for this Victorian-style master bathroom.
FARMHOUSE BATH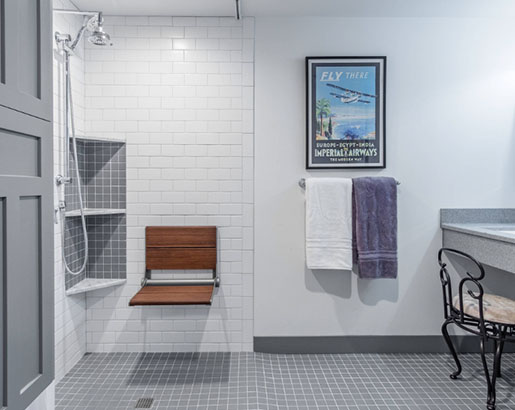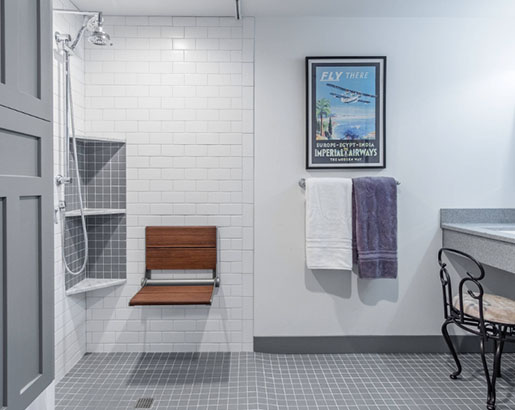 A place where you can easily prepare in the morning because it got everything you need.
ENLARGED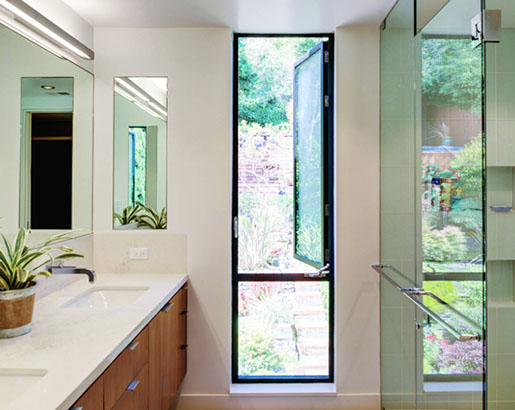 Enlarged and remodeled master bathroom to include a new shower with a steam unit and built-in walnut vanity.
DAINTY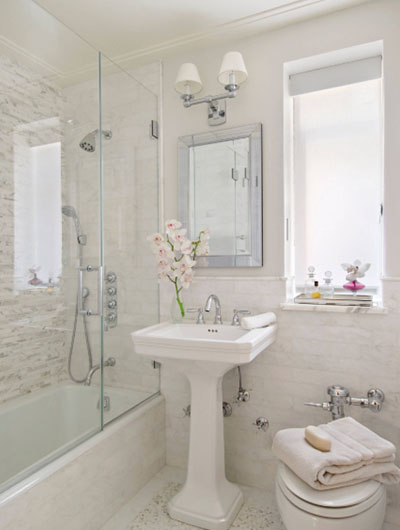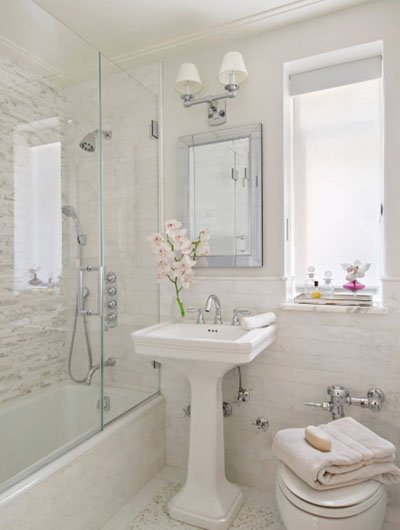 Inspired by fresh-cut blossoms and a crisp palette, this master bathroom speaks elegance in all ways.
MODERN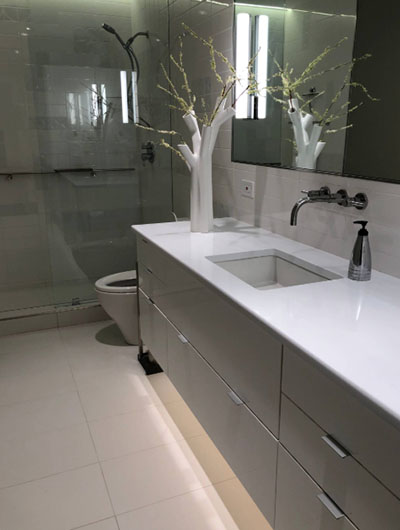 A small master bathroom with a straightforward layout.
POSH
Glass shower wall, Carrera marble floor tiles, and a floating vanity seal the deal for this modern bathroom.