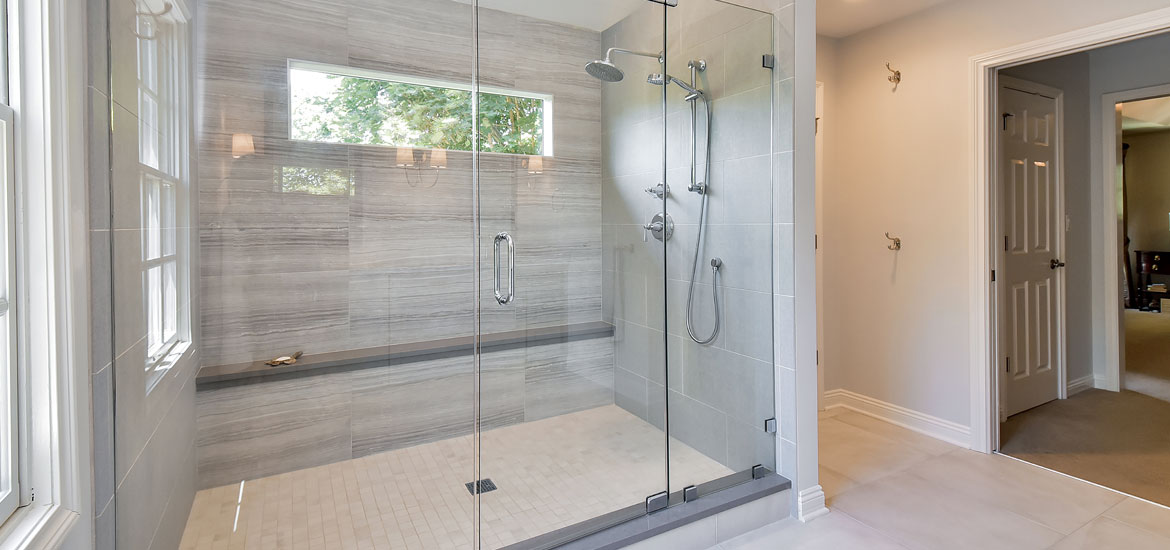 A luxury walk-in shower creates a nice roomy feeling for your bathroom remodeling project. The lack of obstructions provides a seamless transition from the rest of the bathroom into the shower area. Not only is a walk in shower safer, especially for the elderly and children, it also works perfectly for those who desire a relaxing minimalist bathroom style.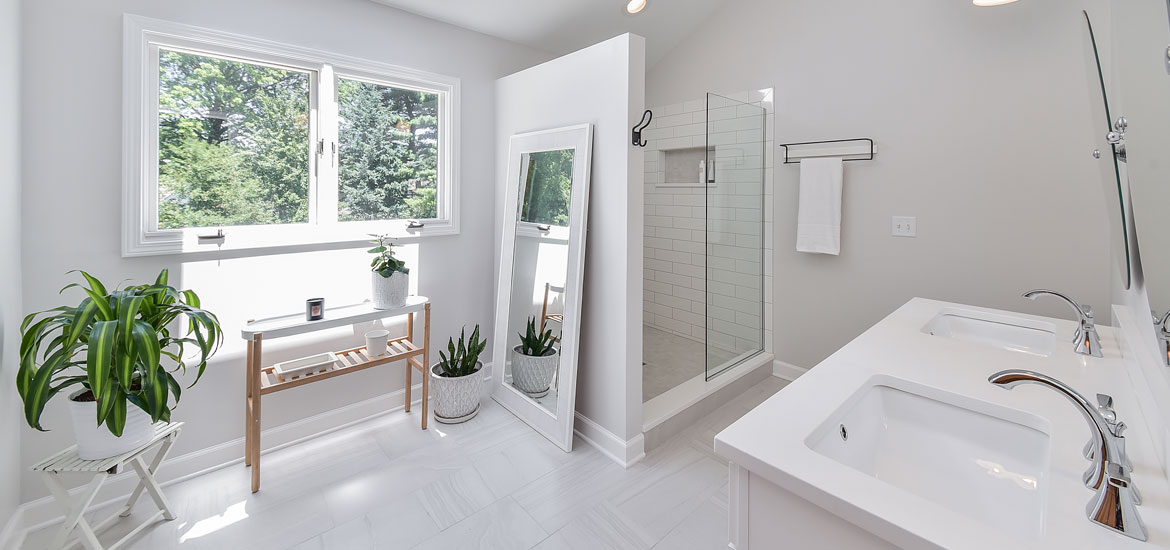 Whether your bathroom is big or small, it can, in all likelihood, accommodate a walk-in shower. Your bathroom can go from blah to beautiful with some careful planning and design, increasing both the value of your home and your enjoyment of the space. The first and possibly most important step before making remodeling your bathroom is to gain insight on what size and style of walk-in shower your space will allow.
Consult with a plumber or contractor you trust about measurements so that there are no costly mistakes further down the road. They will also be able to let you know whether any repairs or renovations will need to be done before installation can begin. Ask your plumber or contractor for a written quote so that you both can reference back to it should questions or issues arise. Also, it's always helpful to have references and someone who's done good work will be happy to provide them!
Check Out the Selection
Once you've determined which size of walk-in shower you can purchase, you'll want to look at as many designs and styles of showers that you can. Take a walk around your home and determine what look and feel you get from other design elements. If you have a historical home, for example, you may want to think about antique fixtures and an aged or patina appearance in your tiles. If your home was built in a certain era, you should lean towards fixtures, tiles and even a shower shape that will further accommodate that era's appeal.
Don't Fall for Fads
If you find yourself falling in love with (for example) teal or red tiles for your shower wall, try to remember that once your shower is installed, you'll want it to stand the test of time. Even though you love those colors today, you may decide that they don't fit in with your next renovation project or they may fall out of favor and make it hard to sell your home someday. If you've decided that you just can't go without your color of choice, think about including it in easier to replace items, like your towels or decor elements. Your shower should definitely reflect the feel of the home and your special touches, but it should also be easy for a potential buyer to move in and make their own mark.
Shower Shape
Of course your walk-in shower shape will be mainly determined by the space in which it has to fit, but it helps to think outside the box. Showers can be curved, rectangular, square, and can tuck into the most unlikely of places. Consider a narrow space or small hallway that could be fitted with a walk in shower that is open on both ends and leads to your closet. The design possibilities are just about as vast as your own imagination.
Doors
If you'd like to give your bathroom the illusion of more space or you'd just like to show off that fabulous shower wall, consider a transparent glass door. This also gives your bathroom a more modern, clean feel. The downside might be that you need to be more on top of shower door cleaning to keep it sparkling but the upside of a transparent glass door will be a timeless appeal that keeps your bathroom looking fresh. Another recent design element is to make your shower doors look as if they're garden doors – achieved by adding frames. You could also add stained glass to your panels with either clear beveled or color pieces.
Like the glass but not sold on that much transparency? Try a frosted effect. This can mean horizontal or vertical lines, an overall frost, or even specific shapes or silhouettes. You can make your doors stand out by framing them around the edges or have them blend into the background by using a seamless style set up. Frames come in a variety of colors to match or blend with the rest of your bathroom fixtures, the most popular being black, brushed nickel, pewter, silver, and gold.
If your design allows for it, consider no doors at all. This certainly means less cleaning and can give your walk-in shower a simpler appearance.
Shower Heads
You can opt for one that blends into the tile color, or one that stands out and makes a statement. Your shower head, especially if visible to the rest of the bathroom, can be the highlight of the room if chosen with care. The market offers a wide variety, whether you're going for something modern, classic, or something that looks as if it were discovered in some tucked away antique store. Consider the other fixtures in the bathroom when selecting your shower head.
Is your bathroom purely functional or are you hoping for a more spa like experience when you step behind the shower doors? The variety of shower heads and their specific uses can be mind boggling once you start exploring. There are hand held heads or the more stationary variety. Shower heads can be mounted from the ceiling (as with the rainfall versions, mimicking a natural effect) or side mounted. Many walk-in showers now feature dual heads, either to accommodate a shower for two, or so that one person can enjoy complete immersion in spray. Whether you prefer a more traditional, round head, large or small, or a more modern rectangular shape, your design won't be limited by your shower head choices. You can incorporate a more spa like experience with massage jets, a waterfall, or even shower heads that accommodate aromatherapy oils!
Lighting
One element that shouldn't be overlooked when designing your walk-in shower is the lighting. This can have an overwhelmingly large effect on the overall look of your bathroom, and on how functional it is for regular, everyday use. A variety of lights is best – some bright, recessed task lighting to wake you up and get you moving in the morning, and some softer mood lighting for evening showering before bed is optimal. You can experiment with how your lighting operates either in the ceiling, in a recessed shelf within the shower walls, or on one of the walls where it acts as one of the design elements.
Shelves and Seating
One of the nice things about the walk in shower is that you can easily incorporate built in shelves and even seating for one or more, depending on how you most enjoy your set up. If you often use a variety of bath products, you might opt for more shelving, or if you're a minimalist, one small shelf might do. Your shelf can be a recessed area (some homeowners even choose to add lighting) in the wall, or it can more traditionally be built out from the wall and be covered in the same complimentary tile or even stand out with a complimentary but highly visible tile.
Seating can be a wonderful option should your walk in shower accommodate it. Even a small shower can offer a shelf-like seat in the wall. Usually covered in the same tile as the rest of the shower enclosure, seating can be a place to take a load off and enjoy the rainfall spray, or it can serve a more functional purpose as a place to sit and scrub to your heart's content.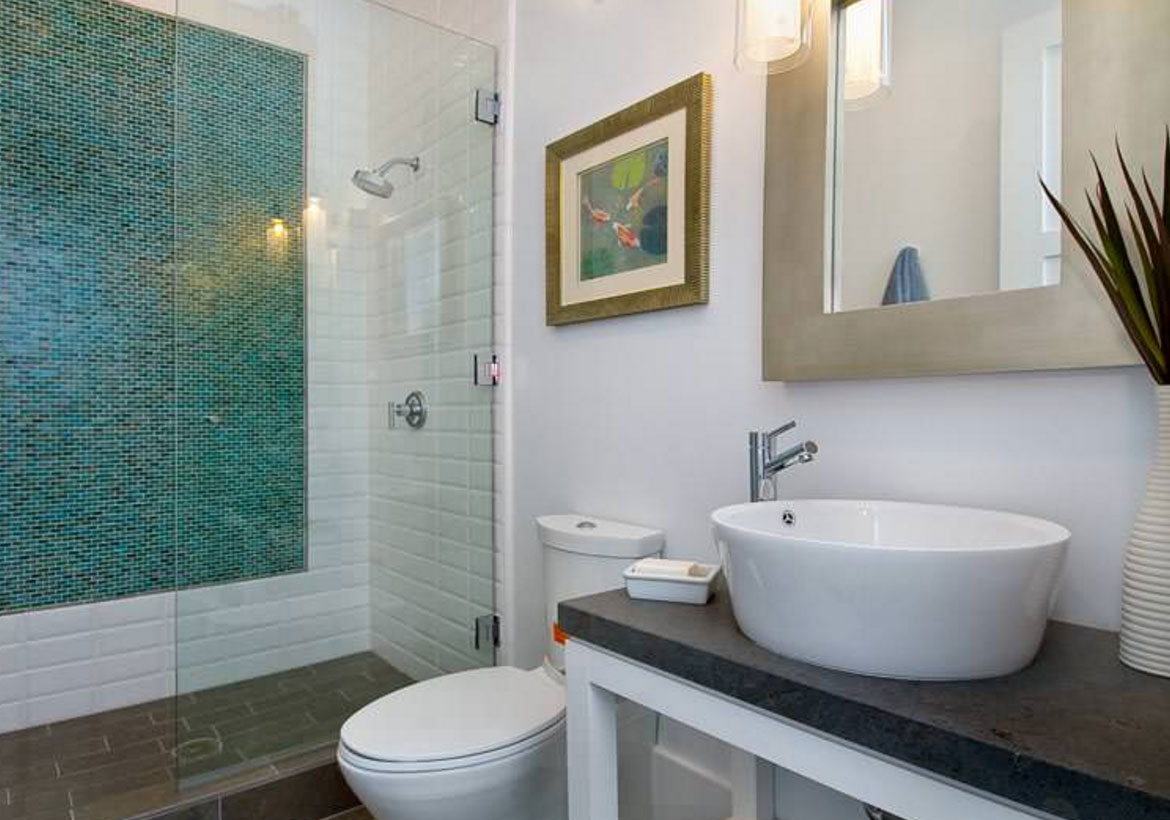 Tiles
The tiles are where your personal style can really shine. The selection can be overwhelming (large, small, a variety of both, simple repetition or create a picture or pattern within the wall, and a whole rainbow of colors) but if you're armed with some idea of what you want the final picture to look like, you'll be able to quickly whittle away at the options. You can have a smooth shower wall, a monochrome unit outfitted with tiny white tiles, gorgeous multi-color slate tiles, or even incorporate framed, tile panels behind your shower heads with a smooth, waterproof wall acting as a backdrop. If you're really stumped, hiring the advice and services of a professional designer can really come in handy at this point.
A walk-in shower is a versatile way to bring a mini-vacation into your home. It can be as simplistic or as complicated a design as you choose to have, and can incorporate all of your favorite shower elements. Make a plan, bring in the help of professional services, and enjoy your special space for years to come.
BARRIER FREE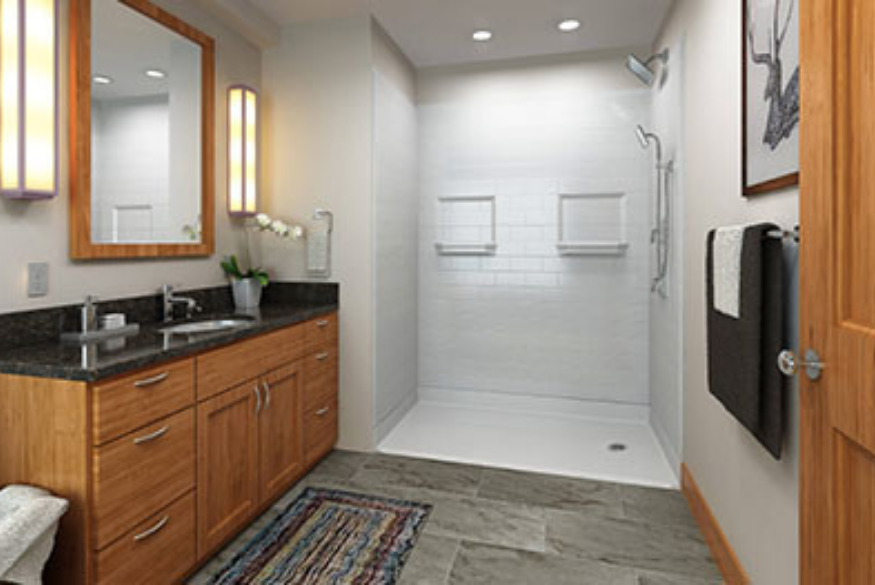 Need a bathroom with a shower that's free of annoying hurdles? This walk-in shower by Bestbath is designed to be completely accessible, allowing you to relax and enjoy your shower without any restrictions. This open shower design will enable you to step right in.
TRANSITIONAL
A shower ought to be a humorous and soothing experience. You can get it with this walk-in shower. The room is spacious, and the colors are relaxing. If you have a walk-in shower built by Steinberg Custom Designs, you will never get bored of it.
FAUX TILE
The fake tiling on the wall is the focal point of this walk-in shower. Enjoy the benefits of a beautiful and functional shower wall by installing this faux tile option. Designed by Bestbath, this walk-in shower is the epitome of contemporary elegance.
CONTEMPORARY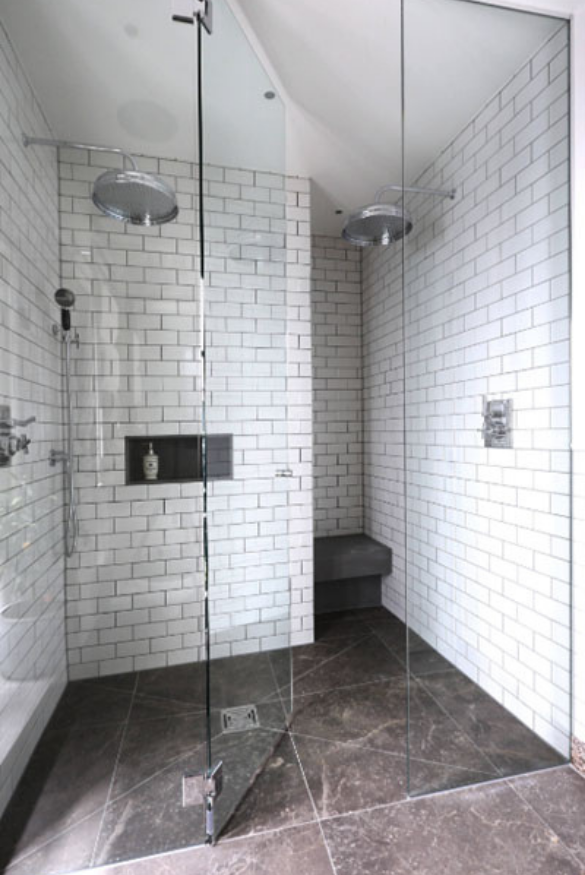 Is a walk-in shower more your style? To achieve a clean and modern look, the bathroom walls are tiled with white subway tiles that have a matte texture. If you have a modern walk-in shower like the one photographed by Alex Maguire Photography, you may want to take an extended soak.
NATURAL STONE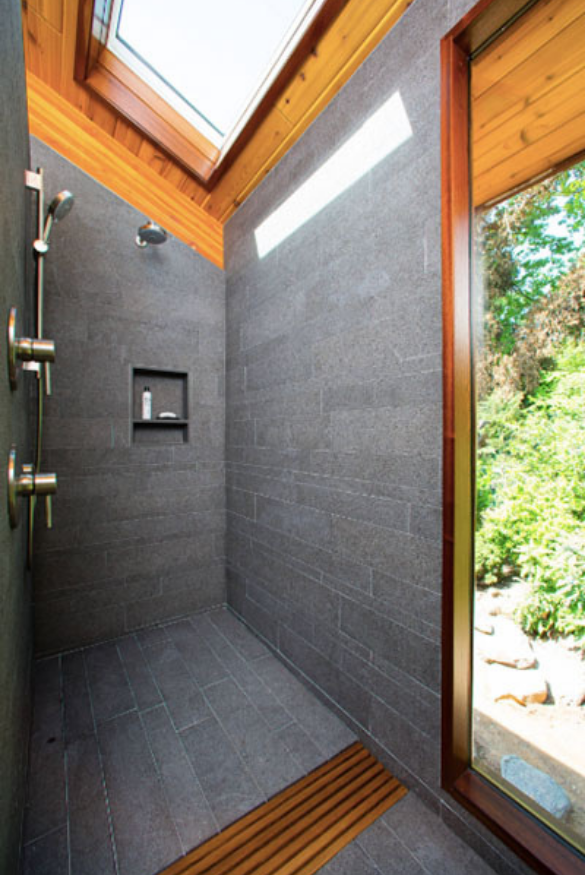 The shower's contemporary look is thanks to a natural stone called Pompeii Scarpeletto. This walk-in shower was designed by Workshop11, and it exudes an air of purity and simplicity. The glass door lets in natural light and views.
VIEWS
So, you want to take a shower in this walk-in shower design by zaher architects, which promises to be the best showering experience of your life? This walk-in shower offers a spectacular panorama, so prepare to be amazed. It's all extremely understatedly sophisticated.
UNIQUE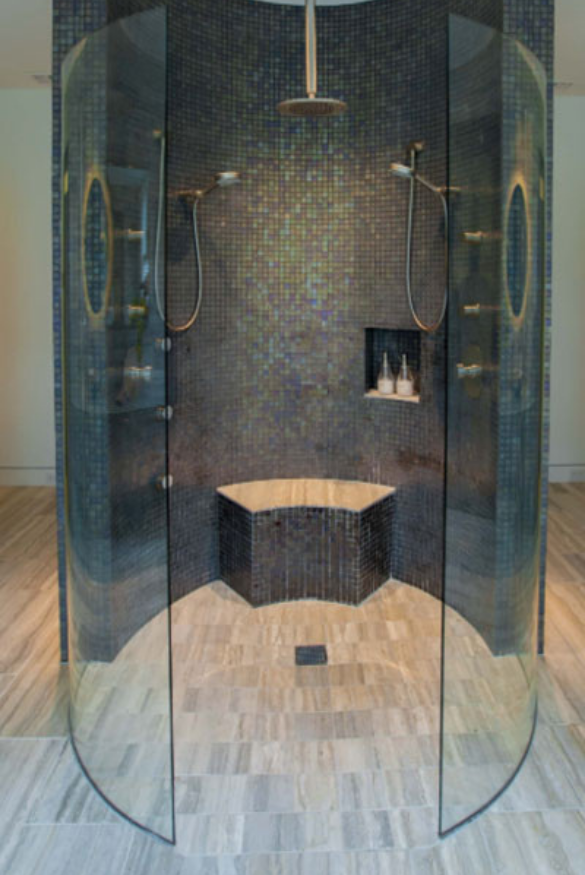 Curious if there will be any leaks with this design? Water will not escape the confines of the shower, thanks to the meticulous planning and construction of this model. Key Residential has created a stunningly contemporary walk-in shower.
SIMPLE & MINIMAL
This large-windowed, modern walk-in shower is very popular due to the growing popularity of minimalism. Outside the bathroom's shower area, the entire space is finished in wood. UP Interiors has done it again with this stunningly basic yet effective design.
SCANDINAVIAN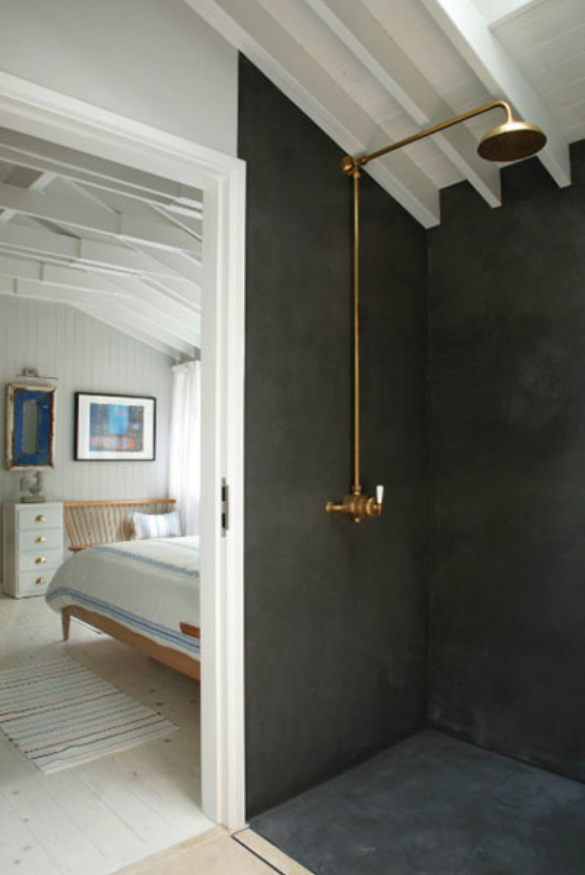 This walk-in shower looks contemporary due to the waterproof plaster finish on the walls and floor. The walk-in shower space designed by Egon Walesch Interior Design is a work of art. Everything is extremely basic yet high-priced.
SOPHISTICATED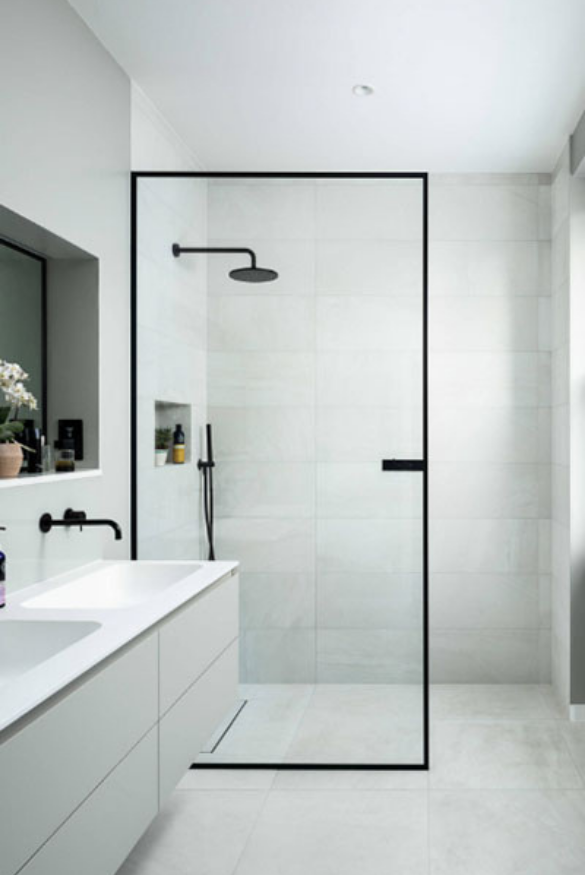 This walk-in shower's lack of elaborate finishings indicates that a simple design may achieve great results. You don't need expensive gadgets to have a stylish look. EMR Architecture is responsible for this highly advanced layout.
Various Luxury Walk in Shower Design Options
There are various design options for your walk in shower. One of the most common variations comes in the form of a glass enclosure, with the glass helping create a bright and airy feeling. For an even lighter effect, consider adding a window to the shower, if it is possible. If not, try a skylight. If neither of these is possible, an all-glass enclosure would be better because it remains bright enough even with artificial lighting only.
You can also opt for walk in shower designs without doors. Take a look at our bathroom remodeling ideas, compiled from our previous projects. You could have the other walls solid, glass-only or a solid base with a glass top half. One thing to note about the doorless walk in shower is that it does not allow for much privacy, and this is generally true for all walk in showers. If privacy is not your priority (or is already provided by other means) then a walk in shower is perfect.
Each design comes with its own logistical and construction headaches on issues such as drainage. So make sure you consider these when choosing what style to go for.
WARM & MODERN
The shower's design is both straightforward and cutting-edge. The abundance of wood creates a cozy atmosphere, while the shower's pale green tiles maintain a soothing, natural vibe. The large gray floor tiles are a hit with guests. Jablonski Associates nailed it with this one.
GRAY SUBWAY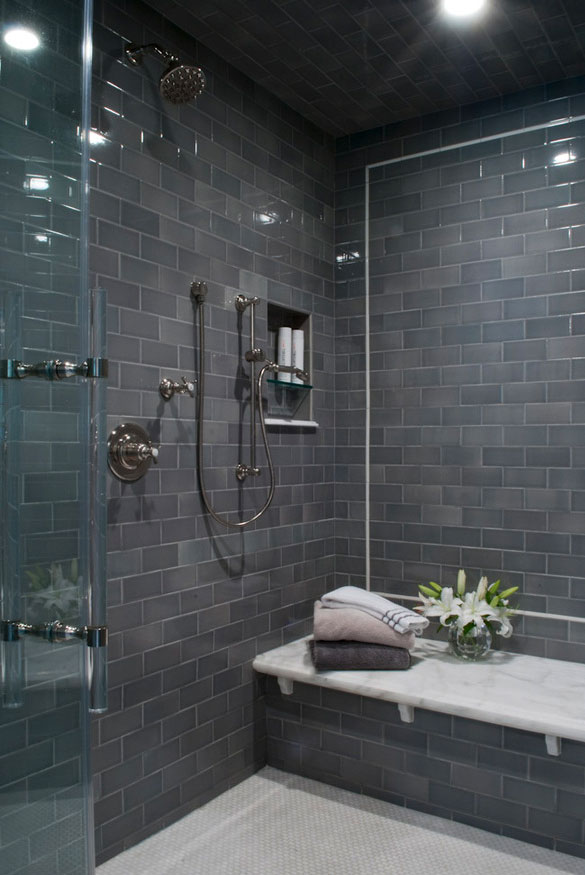 Want a walk-in shower with a simple, sleek gray look? The gray subway tile used in this layout is stunning. There is also an elegant marble seat. The appliances are silver to complement the wall color. BHDM outdid themselves with this one.
BLUE-GREEN TILE
Do you wish you could have all the perks of a trip to the beach without leaving your own home? The seaside shower features a stunning blue and green Walker Zanger tile. Laura Miller Interior Design has created a gorgeous walk-in shower space.
SMALL STONE
Showers are cozier and more inviting with this little stone tile. You should read our review first if you're seriously considering purchasing a Toto Washlet Bidet. This walk-in shower by Amidesign will make you feel like you're in a cave, thanks to the use of little stones in the wall.
Luxury Walk in Shower Floor and Wall Designs
Like any other bathroom, you also have to consider the floor and wall design. If you plan to have a solid wall as part of your walk in shower, use a neutral tile color that maintains the airiness of the bathroom. One area where you can create a unique style is the back wall, which you can use as the focus of your walk in shower and bathroom as a whole. For instance, a nice stone mosaic back wall draws your attention to it immediately you set foot into the shower.
As for the floor, ceramic, stone and glass tiles are popular because they are waterproof. You can either choose a neutral walk in shower tile design that keeps up with the overall minimalist style or go for a unique eye-catching design to complement an equally attention-commanding back wall.
Finally, consider the role accessories play in the overall style and feel of your walk in shower. Circular showerheads create a warm traditional feel while square rainfall showerheads give the bathroom a more futuristic feel. Other accessories to consider include a soap dish, grab bars, a corner seat and a spa-style bench for larger walk in showers.
Ready for your own amazing walk in shower? Here are a few design ideas to get you started.
ELEGANT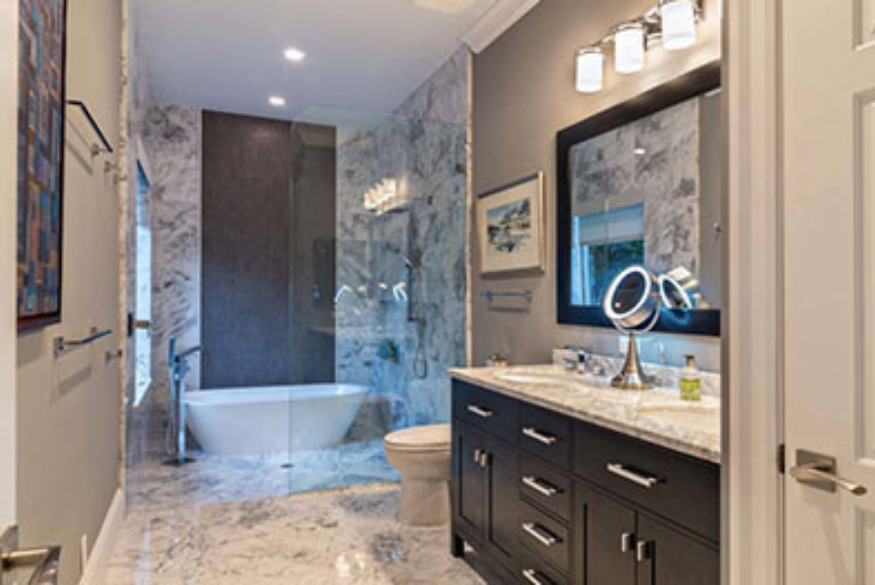 This luxurious walk-in shower was built for a wealthy person. This ultra-convenient and stylish bathroom's combined bathtub and shower are a sight to behold. This exquisite bathroom, built by Affinity Construction Group, is the perfect place to prepare for a major event.
TURQUOISE TILE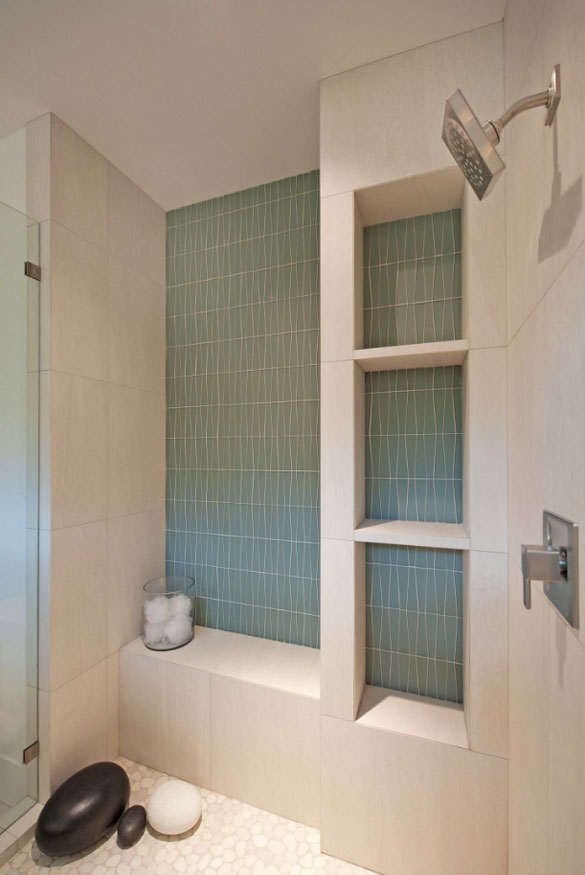 Need a walk-in shower that will make you feel revived? The turquoise tiled niches in this walk-in shower design provide a welcome splash of color. This shower plan, developed by Sticks and Stones Design Group inc., will allow you to have a cleansing soak.
LUXURY SHOWER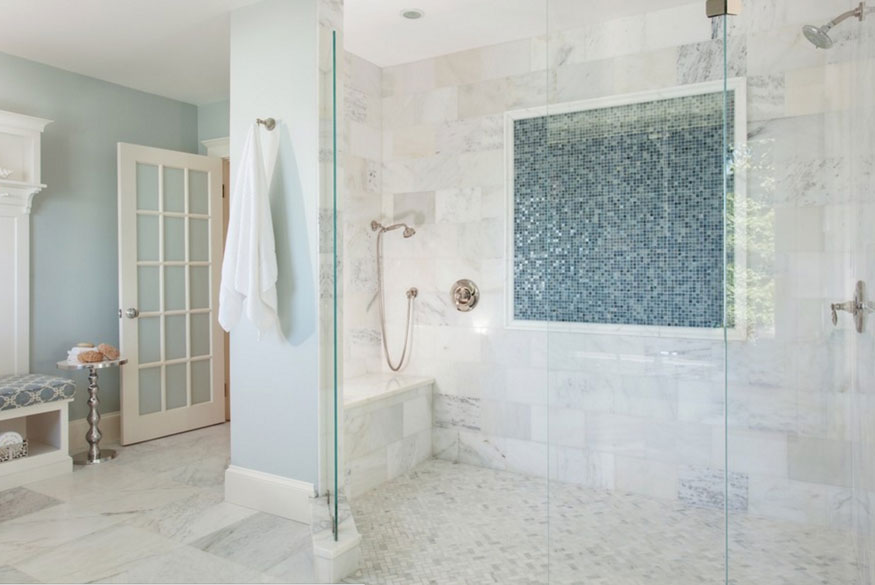 You can't possibly use a regular shower to prepare for all the numerous events in your life, so why not have one? The bathroom is decorated in a beach motif and features a roomy shower and beautiful blue inlay tile. Roomscapes Luxury Design Center has created an exquisite luxury shower design.
DREAMY BATH
Many people daydream about one-day having access to a gorgeous, expansive primary bathroom. Elegant and sophisticated, the walk-in shower in this luxurious primary bathroom was designed by Sebring Design Build. Furthermore, lights are installed in the room's corners to make the area more comfortable to work in.
BRICK WALL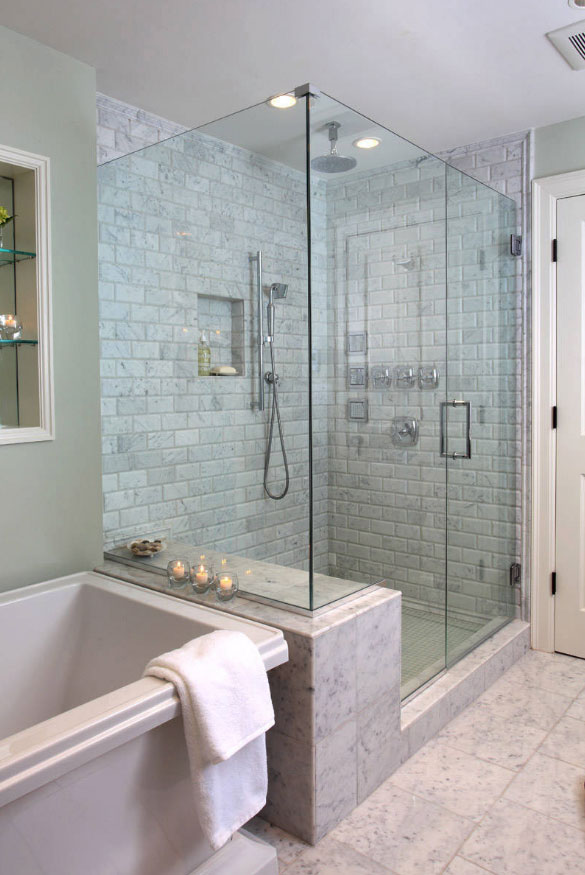 All will appreciate the attractive gray brick wall tile. You'll immediately feel at ease in its warm and welcoming atmosphere. To add to the soothing atmosphere, a tub with candles is placed nearby. The artistry of Justine Sterling Design shines through in this incredible creation.
Things To Consider When Installing A Walk In Shower
We could spend all day looking at walk-in shower designs since they are so lovely! We used to obsess over them, figuring they were just destined for huge baths and fancy homes, but these stunning rooms have proven us wrong. It turns out that a walk-in shower may also function in a tiny bathroom. In fact, they are an excellent alternative for a small area because you eliminate the cumbersome tray and enclosure. They can also be used with any style, and you can currently find some really affordable designs.
Having a walk-in shower has various advantages. You will be able to use a small or awkward space where a bath or regular shower would not fit due to the lack of an appropriate enclosure. You're also future-proofing your home by tanking the room because having waterproof surfaces will come in handy during bath time with little children.
A walk-in shower works nicely in a variety of bathroom designs. It's a terrific alternative for small rooms because a standard shower enclosure can split up the area & make it look smaller than it is. A walk-in shower creates the sense of a larger room by providing a larger feel—primarily if you use a simple, frameless glass panel.
Because of their unobtrusive style, walk-in showers go in well with various bathroom trends. They add to the overall aesthetic and improve the overall design of modern bathrooms. They can lend a subtle contemporary edge to more classic bathrooms. You can design your walk-in bathroom in various colors, ranging from whites to dark blacks, to match any color scheme.
Select The Best Location For A Walk-In Shower
When preparing to install a walk-in shower, one of the first things to consider is the location of the drain. To reduce the chance of water escaping the room, the drain should be placed as far away from the bathroom door as feasible. If you have a hardwood subfloor, the location of your drain is determined by the way your joists run. To avoid any tricky wedging effects, you'll also need to consider how the gradient falls towards the garbage will run.
Include An Elegant Partition In A Walk-In Shower
A walk-in shower divider may not be necessary in larger bathrooms, but to make them work in a compact area, you will most likely need something to keep water from splashing all over the place. Black Crittall-style shower partitions are incredibly trendy right now, and they appear to be in every bathroom on Instagram. They manage to make a statement while being subtle.
Add A Walk-In Shower To A Standard Bathroom
Walk-in showers appear to be associated with more modern bathrooms, although they can also be used in more classic bathrooms. The wall paneling in this bathroom is in keeping with the time, and the basic glass screen doesn't break up the space or add anything too modern.
Take note of the shelves that have been incorporated into this walk-in shower; they are a terrific way to provide storage for your toiletries as well as decoration.
Make A Walk-In Shower Work Even In The Smallest Bathroom
As we mentioned, walk-in showers could be the greatest solution in a small bathroom. A shower enclosure would take up unnecessary space in this cramped space, whereas a walk-in shower offers a seamless look. The partition is a curtain on a sliding rail that can be placed against the wall when the shower isn't in use, which is quite ingenious and looks fantastic.
Use Bold Tiles To Make A Walk-In Shower A Feature
A walk-in shower can be a focal point in your bathroom rather than a minor detail. Bold tiles are a great way to achieve this, and you don't need to tile much of the area to create an impact; try tiling the back of your walk-in shower with a large statement pattern and keeping the rest of the room basic so the shower becomes the focal point.
Work Next To A Window With A Walk-in Shower
A window in a bathroom is a desirable feature, but it can limit where you can place your bathroom furniture. A walk-in shower avoids all of these issues since you can simply install a window in the shower—a functional solution that also looks great!
Make A Walk-In Shower Nearly Invisible
If you have a small bathroom, constructing a walk-in shower that fits seamlessly and nearly invisibly into your space is a smart idea. Match the shower tiles to the wall tiles and keep the surround slim and basic.
How Much Does It Cost To Install A Walk-In Shower
This is determined by the design chosen. For a simple tray & screen design, you can get a pre-fab unit for roughly $1,000, but the prices rise from there if you want something more opulent. You may pay anything from $8,000 and $15,000 for something completely customized.
You must also consider the cost of installation. It depends on how much plumbing work you require, but it might cost between $2,000 and $2,500 if pipes need to be replaced. You should factor in the expense of waterproofing the room, which is likely to be roughly $1,000. The cost of tiles and labor to install them should also be accounted for—obviously, this will vary depending on the tiles you select, but on average, you should spend $2,000.
What Material Is Best For A Walk-In Shower
When selecting a material for your walk-in shower, you have many alternatives. Ceramic tiles or glass are some of the most popular shower wall options since they come in a variety of styles and are easy to maintain. Marble and natural stone also work well, but they can be expensive, so it all depends on your budget.
The ideal material for the walk-in shower flooring depends on your design—if you want a shower tray, you can select between acrylic and ceramic. If you're going to tile the floor to match the rest of your area, you may need to be more selective.
Instead of a shower tray, opt for a walk-in shower or wet room, which enables the floor tiles to run to the shower area, adding visual space to a room. However, not all surfaces are suitable for usage in a wet environment, and it is critical to understand the slip rating of the material. To provide increased traction in damp situations, I recommend utilizing a material with a structured, textured finish. Mosaics are also an excellent choice for damp places since the grout lines between the tiles provide adequate grip.
Glass is usually an excellent choice for a bathroom. Glass, which is both transparent and reflecting, can make a space feel brighter and more expansive. Water-resistant marble appearance tiles may look truly sophisticated in wetrooms, and they also come in a variety of hues ranging from dark to light.
If you love spacey, bright and airy bathrooms, the luxury walk in shower could be just what you need. Despite its minimalist feel, there are numerous design styles to choose from. We have given you a few ideas above to get your creative juices flowing.
If you are ready to get your own walk in shower, we are here to help you in any way possible. Talk to us with any comments and questions.
This is an image roundup post, curated to showcase and promote other reputable contracting companies' and their amazing work. To have any of the images removed, please reach out to us and we would be happy to do so.
Other Great Articles to Read: