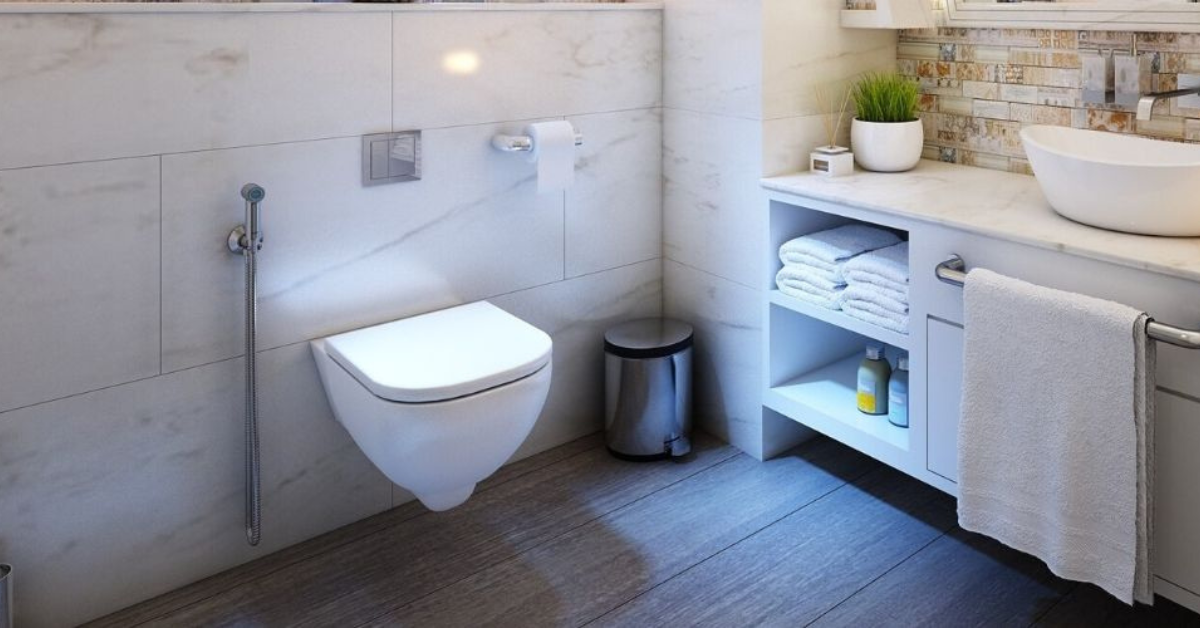 Maybe you're building your first home, and you want everything to be perfect down to the last detail. Your taste in design leans towards minimalist and modern, so you only want the best wall-mounted tankless toilet for your new home.
Or perhaps you are going to have your bathroom remodeled, and you want to replace your old and dirty two-piece toilet with a newer, sleeker, and more aesthetically pleasing toilet.
Whatever the case, we're here to help you find the best wall-hung toilets for your home, office, restaurant, or club. We're going to determine if this kind of toilet is right for your home or business, its pros and cons, and check out some of the best wall-hung toilet brands. We're also going to discuss the different factors you should consider when buying this type of toilet.
When it comes to crafting a modern and efficient bathroom space, even the smallest details can make a significant impact. Among these details, the choice of toilets holds particular importance. In recent years, wall-mounted tankless toilets have gained immense popularity for their space-saving design, sleek aesthetics, and water-saving capabilities. These innovative fixtures not only add a touch of elegance to any bathroom but also offer practical benefits such as easy cleaning and enhanced functionality.
In this in-depth review, we will explore and evaluate the leading contenders in the market for wall-mounted tankless toilets. From reputable brands like Homary, Kohler, Swiss Madison, Duravit, American Standard, and Cerastyle, we will delve into the unique features, performance, and design elements of each model. Whether you prioritize style, functionality, durability, or water efficiency, our review aims to provide the information you need to make an informed decision.
Join us as we navigate through the distinctive features, pros, and cons of the best wall-mounted tankless toilets available, guiding you towards finding the perfect match for your bathroom needs. Get ready to embark on a journey through the world of innovative bathroom fixtures, where we uncover exceptional options that redefine modern toilet design.
Toilets 101: The Different Types of Toilets
Two-Piece Toilets
Chances are you're already familiar with this type of toilet because you might have one at home or at your workplace. As the name suggests, this type of toilet consists of two parts: the bowl and the water tank or cistern. The whole unit is bulky, and it takes up a lot of space in your bathroom.
Because it is bulky, it is not ideal for homes or commercial establishments with smaller bathrooms. Installing a two-piece toilet can be a bit of a challenge because of its weight. Plus, let's face it, you're going to deal with both the tank and the bowl, so that can add up to the challenge.
But the good news is you don't have to spend a lot of money when you choose this type of toilet. Two-piece toilets are relatively inexpensive, and installation is quite affordable for many households and businesses. Plus, it's easier to find and replace parts of two-piece toilets.
One-Piece Toilets
One-piece toilets are a lot less common than two-piece toilets, but the concept is basically the same. It has a water tank and a standard round or elongated bowl. But instead of two separate units, you have one integrated and seamless toilet in one package.
This type of toilet is easy to install and clean. One-piece toilets are known for their durability, and many models take up less space than their two-piece counterparts. Keep in mind, however, that one-piece toilets are more expensive than two-piece ones.
Wall-Mounted or Wall-Hung Toilets
If you fancy something more modern or if you want something that matches the minimalist theme of your home, then a wall-mounted (or wall-hung) tankless toilet might just be perfect for you.
The name pretty much explains it all. Unlike one-piece or two-piece toilets, this toilet's water tank is concealed inside the wall behind it. The only visible parts are the bowl and the flush plate or flush valve.
We're going to talk more about this type of toilet in the succeeding sections. Plus, we have a handy guide on the best tankless toilets and the best wall-hung toilet brands below.
Intelligent or Smart Toilets
If you've ever been to Japan, chances are you've come across intelligent toilets (also known as smart toilets). Japan is the primary market for this type of toilet, but the popularity of smart toilets have been slowly gaining ground in the rest of Asia, North America, and Europe.
This type of toilet has a myriad of features. Standard smart toilets are equipped with a bidet to help you cleanse the genital and anal areas. They have a dual-flush system and heated seats. Others intelligent toilets can blast a gust of warm air to dry your front and rear areas after using the bidet.
Some are equipped with a deodorizer, as well as motion-activated lighting. Some smart toilets can play music to mask the sound of you doing number two in the bathroom. But keep in mind that all these high-tech features come at a hefty price.
Check out this video, and take a look at what a smart toilet can do.

Wall-Mounted Toilets Pros and Cons
Pros:
It's a space-saver
The bowl is the only part of a wall-mounted toilet that is visible (well, apart from the flush plate). The bulky cistern or water tank is concealed inside the wall, making this type of toilet ideal for smaller bathrooms.
Wall-mounted toilets are easy to clean
Because the cistern is hidden in the wall, you only have to make sure that the bowl and the surrounding area are clean. You don't need to deal with cleaning the base or worry about a dirty caulk or grout as the bowl is suspended above the floor.
The best wall-mounted toilets are nice to look at
Toilets are anything but pretty. But that doesn't mean that they can't be nice to look at once in a while. Wall-mounted toilets, it seems, are the only exception because the bulky and often unsightly tank is hidden inside the wall. If you don't like clutter and you want that complete minimalist feel in your bathroom, then the best wall-hung toilets might just be the thing for you.
Cons:
You need a professional plumber to install it
If you've been DIYing projects for many years and you consider yourself a decent plumber, then installing a regular one-piece or two-piece toilet can be a piece of cake. But installing a wall-mount toilet is another beast entirely.
Residential or commercial property owners who wish to remodel their bathrooms have to have a professional install this type of toilet. When installing a wall-hung toilet, you need to open the bathroom wall, assemble the support bars, and adjust the waste pipe and water supply.
Then you have to install the flush mechanism, cover the cistern, install the bowl, and install the actuator panel. Then onto filling it with water and putting some finishing touches.
It's easy to bungle a project like this if you haven't done it before. My advice is to call a professional instead to install your wall-mount toilet.
Planning to have your bathroom remodeled but don't know how to start? Then check out our list of master bathroom design and small bathroom design ideas to jumpstart your creativity.
Conclusion:
If you want a high-quality brand wall-mounted toilet for your bathroom, choose the Swiss Madison Wall Hung Toilet. This is the toilet to get if you want a modern, sleek wall-hung toilet. This is an excellent choice for minimalists looking for something distinctive and different.
This toilet is intended for modern bathrooms, and its soft shut close seat will not make a noise in the middle of the night when everyone is sleeping. One of the nicest features is that it is reasonably priced, so it suits practically any budget. The manufacturer also offers a limited lifetime warranty against some incidentals that may arise.
The height adjustment ranges from 15 to 19 inches, allowing people of all ages to sit on it comfortably. This product's cleanliness is reasonably simple and seamless.
You will also receive a quick-release narrow soft seat. Finally, the Swiss Madison Wall-hung toilet has a significantly more straightforward installation method.
Other Great Articles to Read:
To view our Amazon Associates Disclaimer, please click here.