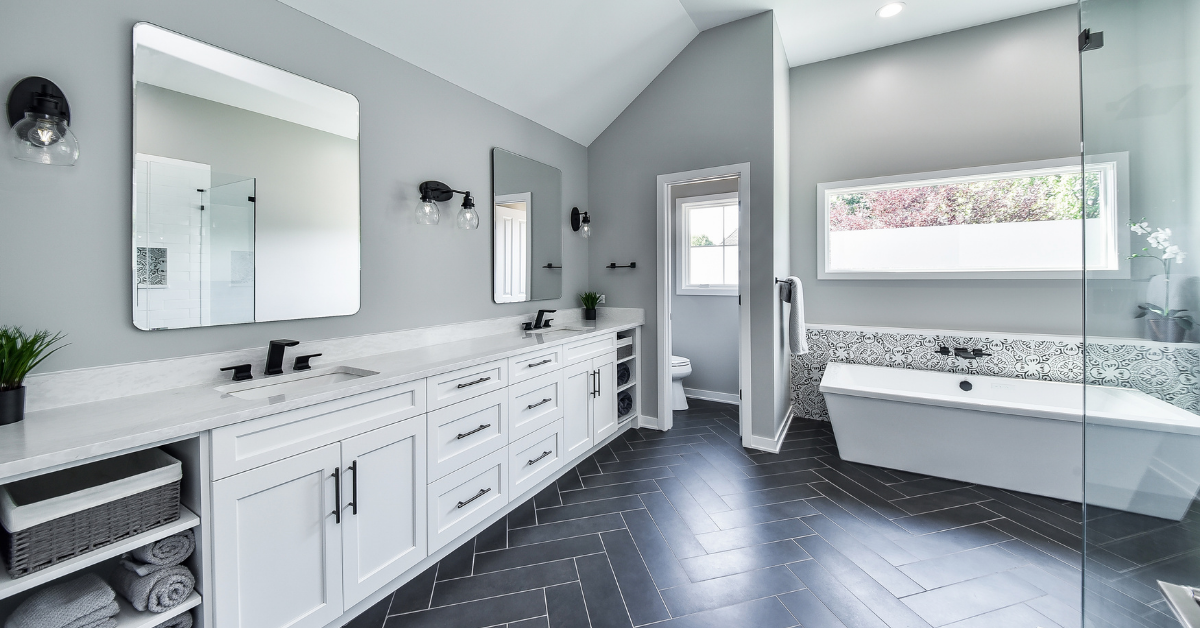 In case you are buying or selling a house or hoping to renovate your own, one of the main rooms we need to improve is the master bathroom. An outdated bathroom can truly communicate a message of uneasiness and even lack of sanitization—an area we do not want to spend most of our time. In particular, who wants to begin their morning in a horrid, not exactly engaging space that only serves to put us in disappointment each day? Probably no one! Even if you're in a budget, there are still many things you can do with our list of master bathroom ideas.
TRANSITIONAL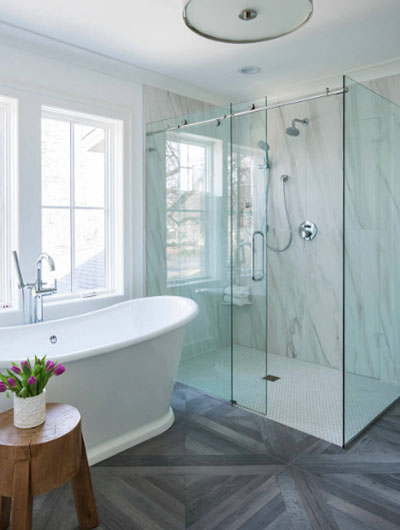 If you didn't know better, you could assume you were in a beach house bathroom thanks to Martha O'Hara Interiors's beachy take on the bathroom design. Sherwin-Williams' High Reflective White was used to paint the luxurious main bathroom. This bathroom's design is the epitome of sophistication and renewal.
SKY LIGHT
Designed by Mantis Design + Build, LLC, this master bathroom features a rain shower head and cloud ceiling accents for a spa-like experience every time you hop in the shower. This hardwood bathroom has a glass skylight, creating a natural and restful environment.
REFRESHING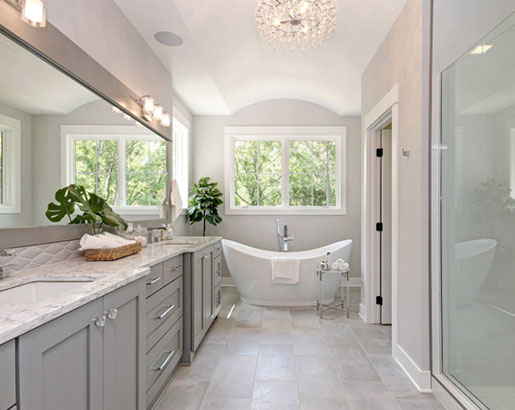 Do you want a luxurious, roomy bathroom? The bathroom already seems like a castle, but adding the chandelier takes it to the next level. Benjamin Moore's Shoreline is an excellent choice for a calming atmosphere in the master bathroom. Epique Homes certainly outdid itself with this revitalizing and stylish bathroom.
TRADITIONAL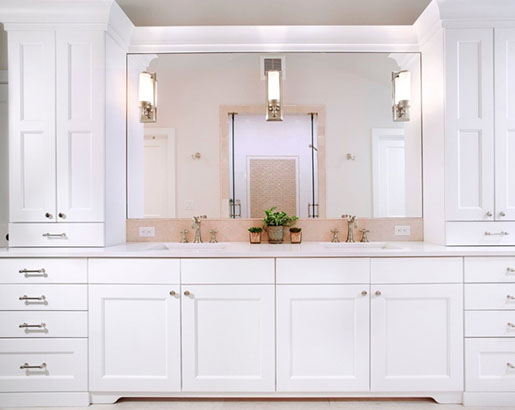 White walls and cabinets with rose gold hardware are the epitomai of understated chic. The master bathroom is spacious without sacrificing the classic elegance that defines it. Timberline Kitchen & Bath, Inc. outdid itself with this gorgeous master bathroom.
ALL-WHITE
The bathroom's owner probably only wants to relax and unwind there. From Paris Ceramics comes this stunning White Machael polished marble. Sliding glass doors can be used to partition off the shower space. Architect's Guild LLC created this luxurious white bathroom for a master suite.
COOL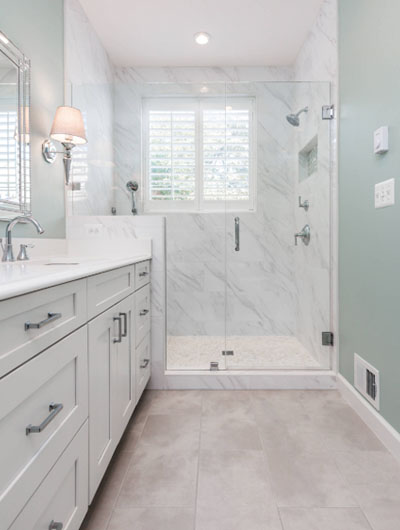 When you view this master bathroom, you will be completely blown away. The bathroom is aesthetically pleasing because of its simplicity and elegance. When combined with 'yam hamelach' colored shower floor tile, the Preeminent Porcelain shower wall creates a stunning effect. This is indeed an outstanding work of art by KBF by Audi Contractors.
Whether you're making little improvements, going for a full renovation, or merely dreaming of having one, a bathroom remodel can have a significant effect on the overall vibe of your home. So it's no surprise that alongside the kitchen, this functional space frequently takes major priority when it comes to remodeling. Be that as it may, picking a pristine look isn't always simple, so we've curated a variety of master bathroom shower ideas—each loaded up with great ideas for your own remodel—including gorgeous vanities, relaxing bathtubs, and sophisticated showers. From fresh and receptive to lavish and luxurious, see beautiful spaces that will truly take your bath experience to a whole new level.
After all, people call it the master bathroom suite for a reason—it has all the right to be a showstopper. All things considered, in case you will soak in that tub, you better love your environment. Finally, take a look at our master bathroom layout ideas and be inspired to apply them on your next project.
FARMHOUSE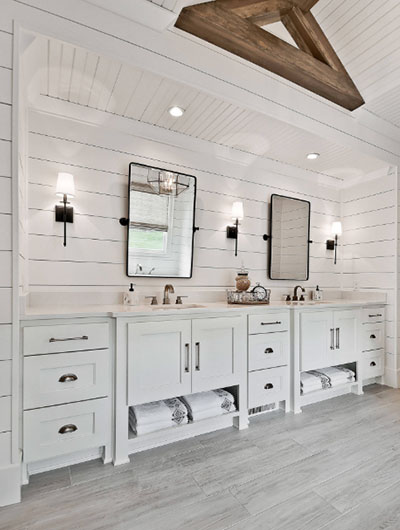 The beautiful custom cabinetry by Verser Cabinet Shop in Rogers, AR, gives the impression of ample storage and efficient design. A farmhouse aesthetic is achieved by the mix of white and brown in this bathroom design by Celtic Custom Homes. I also think the lighting is great.
BLACK & WHITE
This contemporary farm home features black and white paint and decorative touches; however, the former is significantly more prevalent. Glo European Windows & Doors is responsible for this sleek black and modern white farmhouse.
STYLISH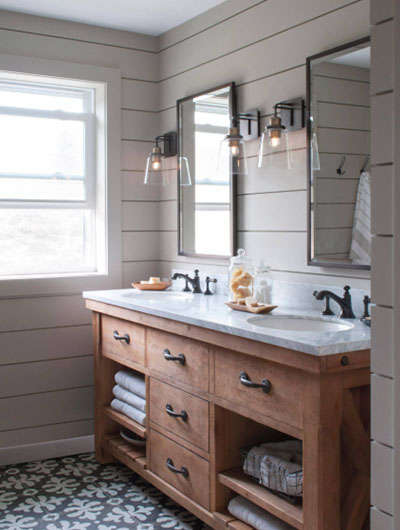 This farmhouse bathroom has a double vanity and a linen closet built right in. Although there is not much room, it is well put together and fashionable. The designers at HAVEN design+building llc did a fantastic job with this farmhouse bathroom.
TIMELESS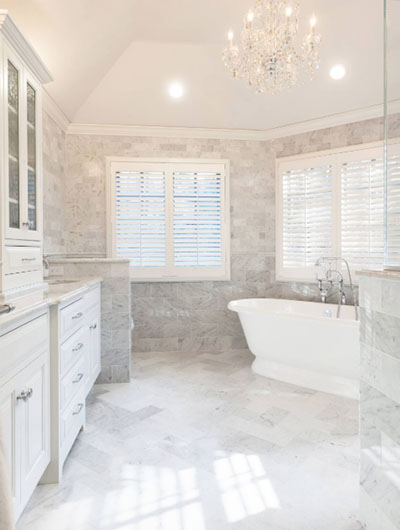 The centerpiece of this design is a freestanding Victoria Albert tub atop a marble pedestal illuminated by a magnificent chandelier. You'll think you've entered the home of a royal family because of how refined everything seems. KraftMaster Renovations is responsible for this classic bathroom design.
How To Decorate Master Bedroom Double Doors Going To Bathroom Ideas
We spend a great deal of energy and time in the bathroom, so giving your space the remodel it deserves is a smart decision. Colorful rugs, fresh houseplants, and smart storage systems will indeed revive a master bathroom in minutes, or invest in a complete makeover for significantly greater effect. Moreover, include additional zen to your evenings with a bathtub or make your morning routine a lot simpler by including his-and-hers sinks. Installing bold tiles and beautiful wallpaper, as well as replacing hardware, can make a substantial visual transformation.
When you are planning to redesign your bathroom, think about how to make the space work for you—regardless of whether you want to conceal mess in storage baskets or feature most loved items and carefully folded linens on shelves. Splendid white walls will certainly look crisp and clean, but don't shut the idea of including bold tile, carpet, or towels for a bit of color and contrast. In fact, they can warm up the bathroom and transform it into a cozier retreat. In any event, painting the trim a saturated tone can make a more welcoming vibe.
Are you searching for more inspiration for bathroom redesign? Check out our Mediterranean bathroom designs and Houzz master bathroom ideas for refreshing your space. Regardless of whether you're working with a small powder room or remodeling the whole master bathroom, these transitional master bathroom ideas will make the most of your bathroom.
DREAMY
The wood-style flooring and other neutral hues give this otherwise unremarkable bathroom an air of peace and tranquility. The hardwood flooring and beige walls create a warm and inviting atmosphere—incredible work by Sebring Design Build.
ELEGANT
Despite its spare appearance, this bathroom is anything from the plain. The chandelier and lighting fixtures give off an opulent air, while the gray and white color scheme contributes to the minimalist atmosphere. Sebring Design Build outdid themselves with this one.
What To Keep Master Bathroom Ideas
Your senses frequently identify the decorative components that bring relaxation. For instance, it's a color palette that you appreciate for your sight—regardless of whether it's warm neutrals or brilliant tropical tones—as well as splatter-free mirror and clutter-free vanity.
Meanwhile, it may be a sweet-smelling flame or the faint whiff of bleach that signals a spotless shower for your sense of smell. For sound, a tabletop fountain that bubbles continuously or a speaker dock to play your favorite music will certainly seal the deal. For touch, you can then pick soft and delicate towels and warm rugs underneath. Finally, there is taste. In case you like to wake up with a cup of coffee or float away with calming chamomile tea, you can include that equipment that you require. For instance, it can be as intricate as a single-cup espresso shot, or as straightforward as a heating coaster to keep your cup warm.
Next, you can go for a refined look. Most importantly, a master bathroom should resemble an adult space. Regardless of whether it's a hall bathroom you share with your family or a separated area you can have as your own, transitional master bathroom ideas need not be a room governed by colorful toys, dirty socks, or neon nail polish splatters.
To truly make the most of your master bathroom, you should incorporate your interests and character in master bathroom layout ideas. Do you frequently visit the spa? Then replicate the hues and design layout of your preferred spot. Next, does fashion motivate you? You can also introduce a full-body mirror on the door so you can try on different outfits. Or do you love to travel? Then put travel photos or destinations on the wall.
Clever Small Master Bathroom Design Ideas That Will Surprise You
Introduce A Sliding Door
A door on a hinge usually takes up significant room space when opened. One of our most preferred small master bathroom ideas is a pocket door or a sliding door on a rail. In general, these doors are parallel with the wall, whether you close or open them, enabling you to use the extra space that an open door with a hinge would take. These master bathroom remodel ideas will also help you spend your hard-earned cash wisely.
Get A Floating Vanity
Also, one of the greatest small master bathroom ideas is a floating vanity. Moreover, it will visually help the small bathroom seem larger because it does not cut off the floor plan. Besides, installing the vanity over the floor additionally opens up space that you can utilize for storing smaller items.
Utilize A Large-Scale Pattern
While keeping the area untouched, utilizing a large-scale pattern for small master bathroom ideas can fool the eye into seeing a larger space. Also, consider a huge flower-designed wallpaper or large bathroom tiles.
Introduce A Skylight
The more light you have in an area, the more it will feel open. If you want to make your master bathroom appear larger, then install a skylight. In fact, this is specifically one of the most clever small master bathroom ideas since it will present dispersed natural light rather than direct artificial light.
Consider A Long Sink
Another element to incorporate into your small master bathroom ideas is a long sink. It's particularly an incredible alternative to a double-sink vanity since the countertop and sink come in one piece to save space and suit two individuals. In addition, a single long sink offers the illusion of greater space.
How To Create A Spa Like Master Bath
Do you want to build a quiet retreat in your home? Then maybe you want to consider a cozy spa like master bath. When you have this quiet space at home, you can certainly get rid of the hassle of heading to the spa after work or on weekends.
Luckily, a lot of similar amenities of an elegant spa are presently accessible for your home. Let us help you craft your ideal main bathroom ideas, incorporating a few of the following components:
First, a freestanding soaking tub provides a peaceful bath that may alleviate your aching nerves better than a loud whirlpool. Also, introduce a bright light installation overhead to make a focal point in your bathroom. In effect, this is a rich visual that radiates luxury, style, and sophistication.
Secondly, an open doorless shower or a walk-in shower with a frameless glass enclosure both give an inviting feeling of expansiveness. On the other hand, a rain head apparatus imitates the delicate touch of warm summer rain, while a handheld shower and body sprays direct an increasingly commanding flow of water to particular areas of your body.
Next, a steam shower calms strain or tension by means of moist heat. In addition, you can also disperse essential oils utilized for aromatherapy through the steam outlet. Moreover, you can install an LED Chromatherapy lighting system for added comfort.
Finally, double vanities or double sinks provide the ease of customized grooming stations. Also, extra storage space intended to accommodate your specific needs can carry a more positive beginning to your morning. Furthermore, please your senses with one of a kind sinks that may incorporate cascading water features.
Master Bathroom Remodeling Tips
Prepare Yourself For Inconvenience
When you start master bathroom remodel ideas, remember that you likely won't have the option to utilize all or a few features of your bathroom for quite some time. Also, you need to be patient and anticipate sharing bathrooms with other family members or find another bathroom outside your home in the event that you only have one bathroom.
Avoid Water Damage
In general, your master bathroom shower ideas see the most water use, placing it and its basic features at more serious water damage. While remodeling your master bathroom, avoid framework damage and mold issues by ensuring it's waterproof. In particular, this can mean guaranteeing your contractor utilizes tile-backing waterproof drywall or green board whenever possible, totally seals the floor and shower surround, and puts adequate waterproof caulk around tubs, shower fixtures, and shower pans. Since grout is porous, ensure the contractor seals that as well.
Consider A Heating Flooring System
In case your bathroom remodel includes getting rid of the old floor and introducing another one, grab the chance to consider installing a brilliant heating flooring framework. Moreover, it will not only keep your feet warm and comfortable, but it can also be an incredible element to distinguish your home from others if and when you choose to sell it.
Concentrate On What's Significant
For fixtures that you'll utilize each day, such as sink, cabinets, shower head, faucet, and toilet, consider spending more to get quality and more value for money. In addition, search for good deals on decor that you can easily replace like drawer pulls, knobs, or lighting.
This is an image roundup post, curated to showcase and promote other reputable contracting companies' and their amazing work. To have any of the images removed, please reach out to us and we would be happy to do so.
Other Great Articles to Read: