Going for an Art Deco bathroom may seem like an expensive endeavor, but you might not know that plenty of traditional bathroom features are grounded in Deco style. And on the house styling front, Art Deco items included unique luxury products and mass-produced homewares that used fine craftsmanship and exquisite materials. If you like to incorporate this style into your bathroom, now is a perfect time. If you need guidance on how to do this, read on and check out our 21 Art Deco bathroom design ideas to get going.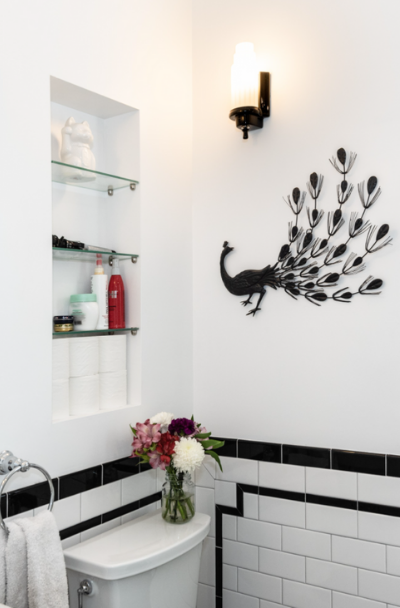 The peacock wall feature and the wall sconce stand out in this 1960s bathroom.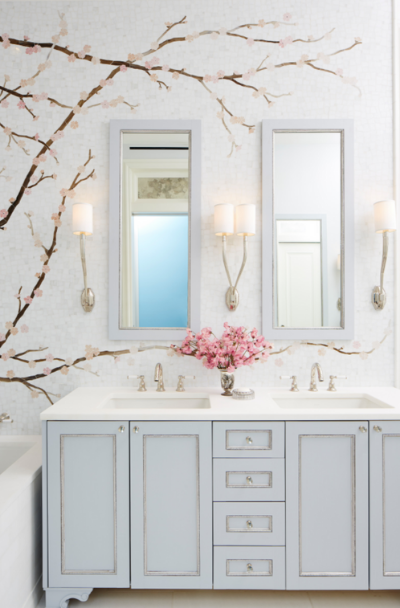 Sweet and dainty bathroom with painted cherry blossoms on the wall.
This bathroom features a unique white sink and black windows and counter.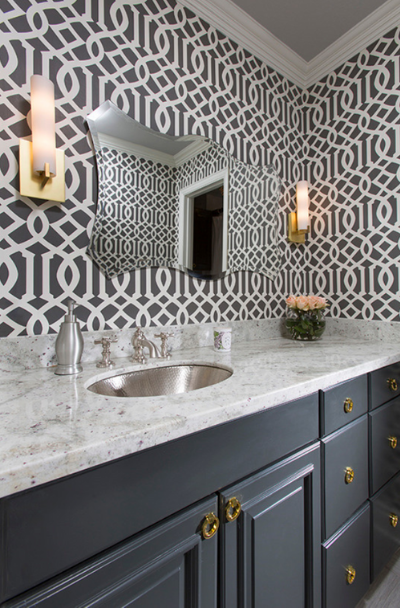 Art Deco-styled bathroom with a hammered sink and intricate walls.
The vanity cabinet looks very special with custom handpainted design.
MARBLE WORK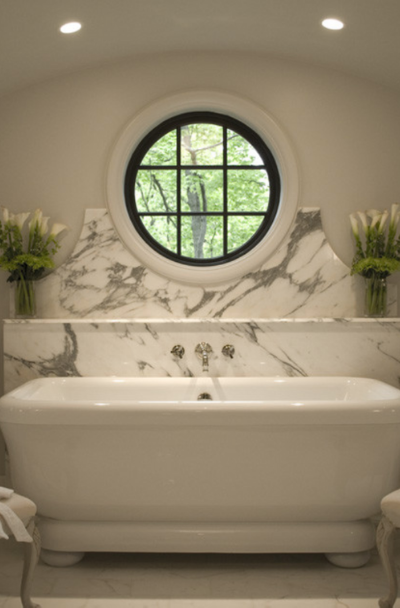 Art Deco master bathroom with elegant Carrara slab marble work.
CUSTOM BASIS
A Corian vanity with medicine cabinet and radius inlaid doors.
GLAMOROUS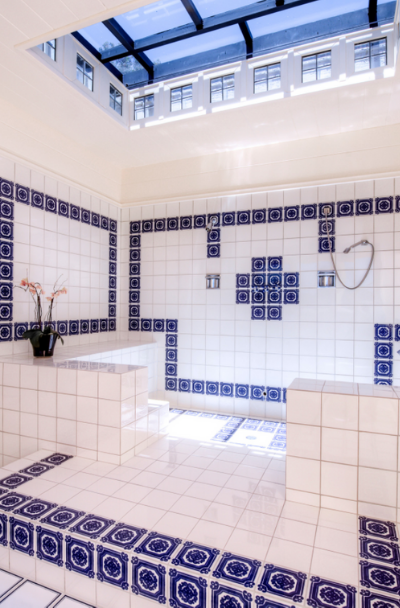 Glamorous Art Deco architecture jewel designed by Hervey Clark.
BLACK & WHITE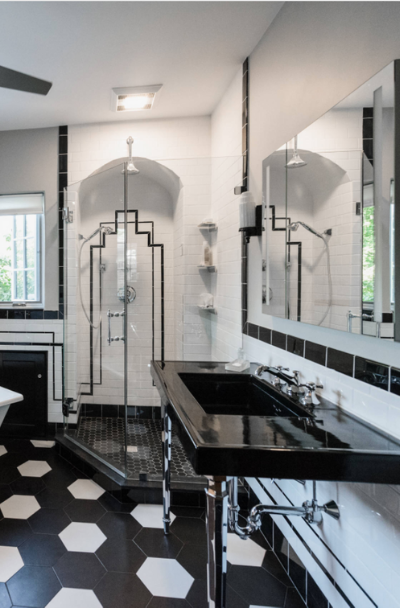 Black and white hexagon floor tiles and elegant glossy black sink.
ATOMIC
White hexagon tiles and "Chandler" sconce by Restoration Hardware.
What Is Art Deco?
The following factors are some of the recognizable styling characteristics of Art Deco: symmetry, aerodynamic curves, layered shapes, intricate line art, rectilinear geometry, and metallic colors, such as gold and chrome. One can say that the list, by itself, can apply to numerous art styles. The essential attributes that decide whether a style is Art Deco are a lot more abstract. Think excessiveness and theatricality, an ambitious optimism for the modern world and its future. Art Deco design is very much broader in the present age and day, which may be fused with contemporary home design components to make a dynamic interior that contains a hint of glamour, providing you with all the feelings of yesteryear without appearing dated.
Get your bathroom design back in time with a traditional vanity. After installing this, you should consider the other components, making your bathroom feel like an Art Deco bathroom, such as a classic mirror, big soaking bathtub, marble bin, and weave bathroom floors. While a mirror is a useful necessity in each bathroom, there is no reason why you cannot make it fantastic. And you do not only need to go for a simple round or rectangular mirror; there are many excellent choices around! Probably the most noticeable area to look at is at homeware retailers, but you can scour your secondhand shops as well. And somehow spice things up by considering something entertaining such as a geometric retro mirror! Among the main hallmarks of Art Deco style is its symmetrical design. We can absolutely all admit that there's nothing more relaxing in design than a small amount of symmetry! This forms the ideal foundation for the rest of the space. Also, if you can fit a double vanity with two basins, mirrors, and lighting, then you will build a lovely finish.
Along with geometric motifs and linear decors, Art Deco designs frequently used exotic materials, often with polished, decadent, high-shine finishes. Wood was incredibly polished, provided a luxurious lacquer surface, and was frequently finished with metallic touches in chrome or brass. Each piece within an Art Deco interior features a strong presence and an impactful design; it is a bold and robust overall look. Deco style comes with no hint of romance or softness, so stay away from a plaid or floral patterns in profound favor of geometric patterns or block colors. If one trend can transform a space, it is none other than one of the decade's most iconic and recognizable interior design styles, Art Deco. Short for the French phrase, Arts Decoratifs, the style is characterized by geometric patterns, decadent detailing, metallic finishes, symmetrical designs, bold color, and tons of visual drama.
DIRECTOR'S LOFT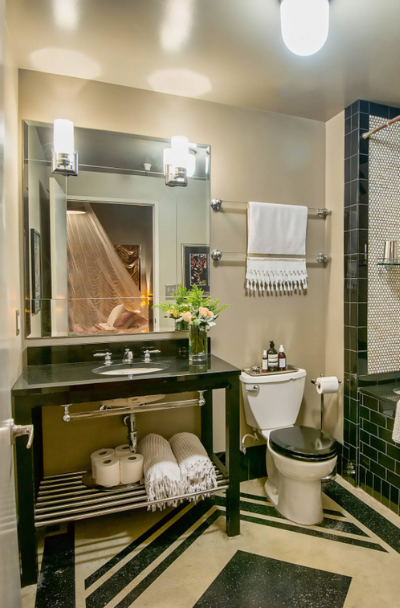 Custom paint color for the walls and epoxy finish on the floor.
FRENCH ART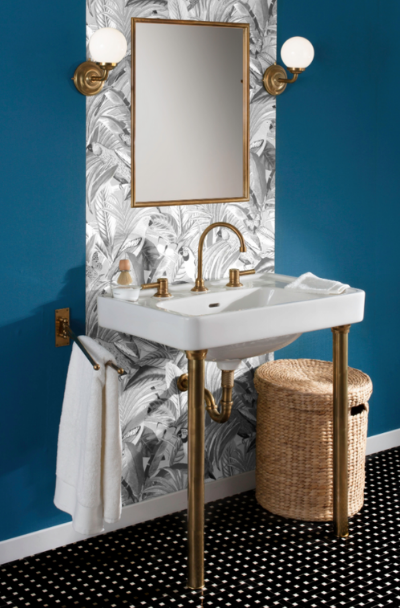 French bathroom with 'Art Deco' washstand and 'Lille' faucet.
CLASSIC STUNNER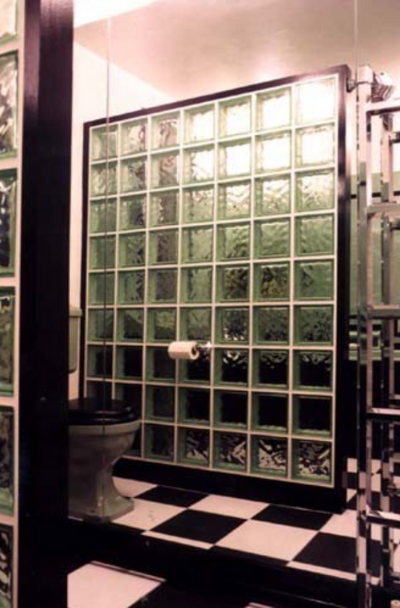 Stunning and gorgeous bathroom in apple green, black, and white.
NEOCLASSIC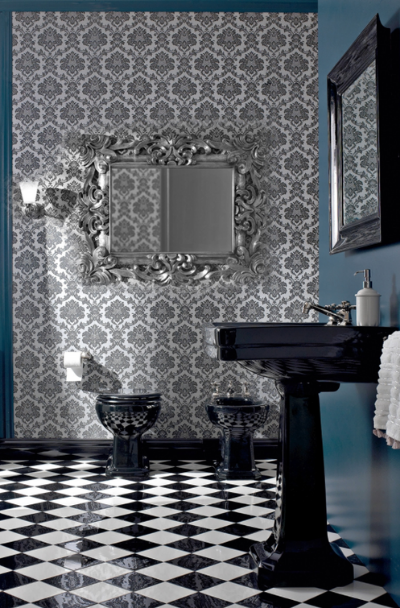 Checkered-patterned black and white floor tiles and floral walls.
Art Deco For The Living Room
If you are blessed enough to dwell in a house with original tiling and pristine condition, don't try to change it and keep it. The most straightforward and most eye-catching way to expose animal prints is by incorporating carpets and rugs in your living room floor as the animal skin print blends perfectly with any color, furniture, and accessories. Limit yourself to one accessory pillow or two, and go all the way with carved wooden wall and doors designs. The Art Deco living room is executed in calm and warm colors. For instance, the color camel is coupled with dark contrasting colors. These colors will make the interior of the room elegant and luxurious. However, don't think that the Art Deco style is only limited to two colors. It is multi-component and complex. This style suggests the presence of many marked nuances, transitions, and contrasts. It will enable you to develop an extraordinary atmosphere within the living room with juicy, bright colors, and deep dark shades. The standard colors of the Art Deco living room used in the interiors' decorations are black, white, grey, metallic, and brown. These primary colors are generally diluted in shades of green, gold, red, and blue in strictly limited levels.
Some other colors might also appear, but they shouldn't be dominant. If the living room wall space is decorated in bright colors,  the most effective wallpaper colors will be beige and white, light and discreet grey, pale olive, and cafe au lait color. It is essential not to go crazy with decorative patterns on the wall space and furniture. If the wall space is decorated in the same color, the furnishings must have a far more expressive color. Chandeliers should be expensive and beautiful, furnished with bright lamps. There aren't any restrictions on the kind of lighting fixtures. The only condition is that they should have a symmetrical and regular shape. Lighting must be as close to daylight as possible, intense, and bright. Energy conserving lamps with diffuse but intensive light are great for this style. Additionally, they can be refined crystal or solid material, with or without nuances.
The Art Deco style is recognized by the prevalent use of textiles. In the living room, traditional fabric curtains, a bunch of drapery, and sophisticated upholstery should undoubtedly be present. Some of the typical patterns applied to textiles are geometric patterns, peacock feathers, and stylized floral patterns. Luxurious and pompous Art Deco style furniture should be made with a natural and expensive material, like an unusual variety of wood or leather. Probably the most valuable are handicrafts inlaid with precious and semi-precious stones. And for the furniture's shape, it should also be unusual. For instance, they can be trapezoidal or mixtures of the most incompatible styles. A mahogany table will go perfectly in the living room, contrasting perfectly with the interior's light shades. It is essential to remember that furniture within the Art Deco design must be tasteful, massive, and, at the same time, elegant.
WONDER
A small toilet with wood floors and green & yellow floral walls.
INFLUENCED
Modern Art Deco-influenced bathroom with black & white tiles.
CRITALL STYLING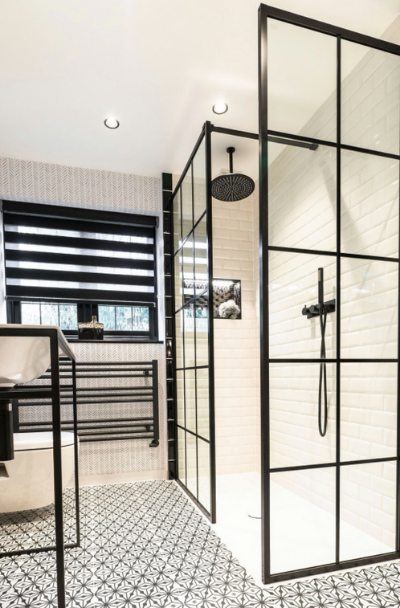 The complementary lighting offers mood & good task lighting.
METRO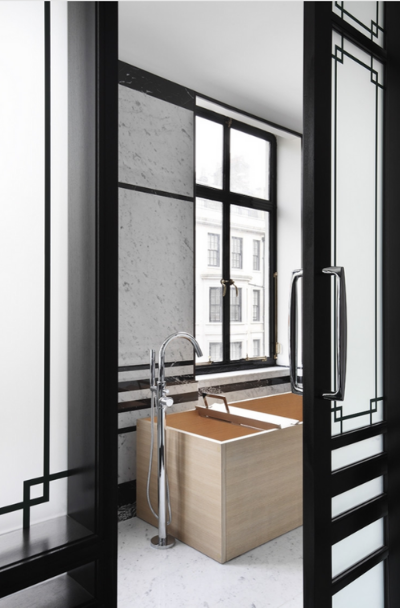 Sleek and sophisticated Art Deco black and white marble bathroom.
MINIMALIST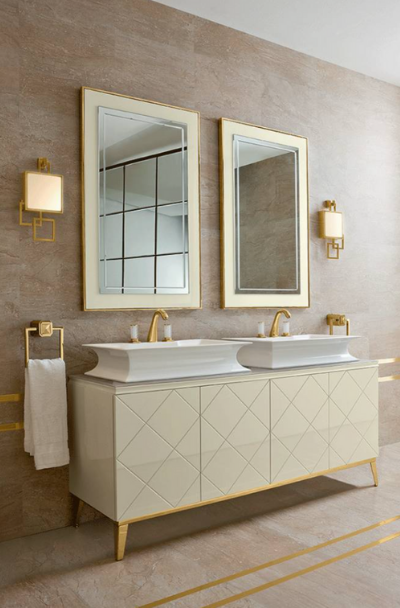 Beautiful and elegant Italian design with gold accents and hardware.
1930'S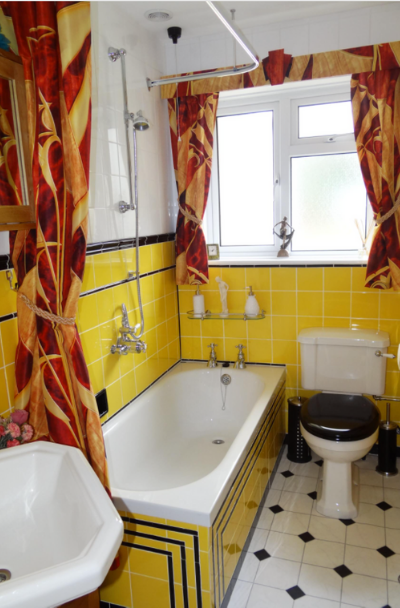 Distinctive Features Of Art Deco Bathroom
The Art Deco design allows the usage of oriental and female figurines, sculptures, and Egyptian ornaments. Nevertheless, decorating with such components is important not to go crazy, because the design should stay light and elegant. Art Deco colors are striking and daring with plenty of contrasts. Reds, blues, greens, bright and deep yellows, and pinks mix well with black, silver, and chrome. You can also try creams and beiges, which were often used in living areas, dining rooms, and bedrooms. How much Art Deco color you want in your rooms relies on your approach to this distinctive decorating style. Pair uniquely beautiful patterns in creamy neutrals. An almost monochromatic approach like beige and gray help contrasting forms from getting too visually jarring.
Choose oversaturated shades, such as deep, dark walls, out-of-the-box furniture, heavy fabrics in fiery hues. Work with metallics. Choose the similar metallic color of your centerpiece element, and apply it on accents in some other pieces like hardware and furniture legs. If you're fortunate enough to spot an apartment with an Art Deco vibe, do not fight it! Furnishings unmistakably connected with different times will overpower its period appeal, so do not plop your overstuffed shabby chic couch into the living room. Instead, look for real Art Deco decor pieces at local antique stores and online sources, and buy quality reproductions at better furniture stores. Do not like to overdose on the Art Deco? Select neutral, contemporary furnishings and let the architecture speak for itself.
The colors kept coming: baby blue, lavender, butter yellow, candy pink, and black. Shapes and decorations influenced by Native American artwork had been of all the archetypes on the Art Deco lexicon. The Art Deco design was utilized more often for business buildings than for private homes; therefore, you are not likely to find an Art Deco home with a garage and a yard in most geographic areas. Is your heart established on Deco living? Skip suburbia and look closer to large city centers. You will find Art Deco apartment structures in New York City and Chicago. Art Deco style condos are created (or converted from former business spaces) in Phoenix, Atlanta, and numerous other major cities across the U.S.
Art Deco Bathroom Tiles
An Art Deco tile with bold color schemes and an eclectic mix of floral, cosmic, and geometric patterns can be found in British homes, New York lofts, Parisian apartments, and Soho cafes. Geometric patterns are frequently utilized as decorative borders for floors and tiled walls. The vast array of color schemes available means that Art Deco tiles can be integrated into almost any room in the house and retro-trendy commercial spaces, seamlessly and beautifully in either urban or rural settings. They are just as charming as floor or wall tiles, bestowing a distinctive postmodern character that will vary from exciting to sophistication. Not a single Art Deco home is complete without a lovely set of white and black Art Deco tiles; these would look spectacular in a hallway, bathroom, or an Art Deco kitchen.
Dynamic, vibrant Art Deco patterns, whether in geometric contours, astral silhouettes, floral bursts, can genuinely dominate a space and become the focal point of a room. Hence, it is essential to place considerable thought into the assembly of such tiles. Many designers opt to adorn central areas of floors and walls with vibrant tiles and surround this area with much more sober, monochrome tiles. When you can't turn the flooring into the Art Deco design, deal with your floor with oversized rugs in geometric patterns to spruce it up a bit. By now, you understand that shapes play a massive role in an Art Deco decor.  However, it is just as vital to look at composition when designing rooms. From the headboard design to the nightstand decoration, a place can scream Art Deco with excellent symmetry, a significant element in Art Deco design.
A 1920s bathroom probably looked like a bathroom from 1907; utilitarian and sanitary with white tile and paint, a pedestal or wall-hung sink and clawfoot tub, exposed plumbing, and nickel finishes. A few years later, colored tiles and around 1927, colored fixtures were unveiled, and everything changed. In the '30s, white or pastel colors were often used with black bullnose and accent tiles, lending Art Deco some sophistication. Color is the keyword for bathrooms created and remodeled between the World Wars. Pastel and ivory toilets and sinks came first; fixtures in mauve and orchid, mint green, and peach were utilized in the 1930s bathroom.
This is an image roundup post, curated to showcase and promote other reputable contracting companies' and their amazing work.  To have any of the images removed, please reach out to us and we would be happy to do so.
Other Great Articles to Read: