Bathroom mirrors have been a centerpiece of elegance and beauty in household bathrooms dating all the way back to the 19th Century. Homeowners and designers from all fashions and backgrounds consider the bathroom vanity mirror as one of the most important design elements for a bathroom of any size.
Despite this, however, the bathroom mirror is still often overlooked. People who use the bathroom will tend to notice their own reflections before noticing the mirror itself, in terms of its design and style. But once the idea of choosing the perfect bathroom mirror starts to form in one's head, it can often bring about a slew of questions and concerns over making the right choice.
Choosing a mirror for bathrooms of all types can be a fun and important challenge. This quick guide will help you decide which type of mirror works best for the size, shape, and style of your bathroom. Be sure to consider your aesthetic preferences as well as your budget.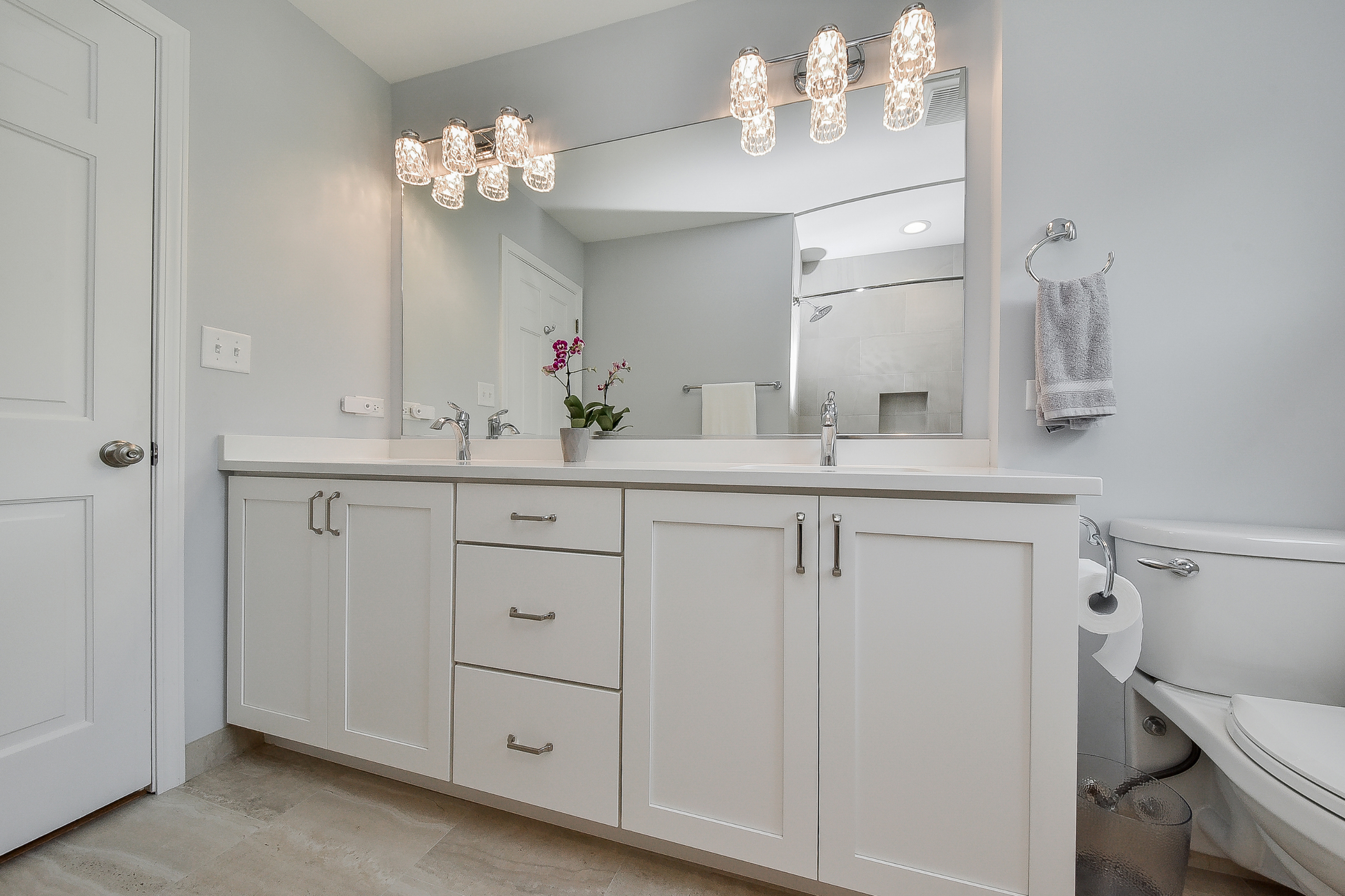 The small light accents above the mirror add tons of character to the overall look.
One or Two Bathroom Mirrors?
We'll start off with one of the most common questions our customers ask us – is it better to have one or two bathroom mirrors? In truth, it all depends on the size of your bathroom. Different bathroom vanity sizes can provide different answers to the same question.
If your vanity is wide enough, you have the option of supporting two bathroom mirrors, or a single mirror that is wide enough to fit over both sinks. Think about the look you are going for. You can consider the following guidelines:
If you want your bathroom to have a vertical look, you should invest in two vertically-long mirrors, rather than one large one. This is a great option for bathrooms with high ceilings.
If you want to emphasize the spaciousness of your bathroom, it may be better to have a single wide-reaching mirror. That way, you and your guests will truly be able to tell how big and wide your bathroom is.
You can, in some cases, use multiple mirrors in a bathroom even when there is only one vanity or sink. You can offer a balance of symmetry and functional spatial design with the addition of a second mirror, as long as it is parallel to the first one. Adding decorative touches, such as a sconce or a light fixture in between the two mirrors, adds another layer of depth and variety as well. You can create an artistic and elegant composition with the addition of a decoration underneath the second mirror so that the vanity looks nice and full.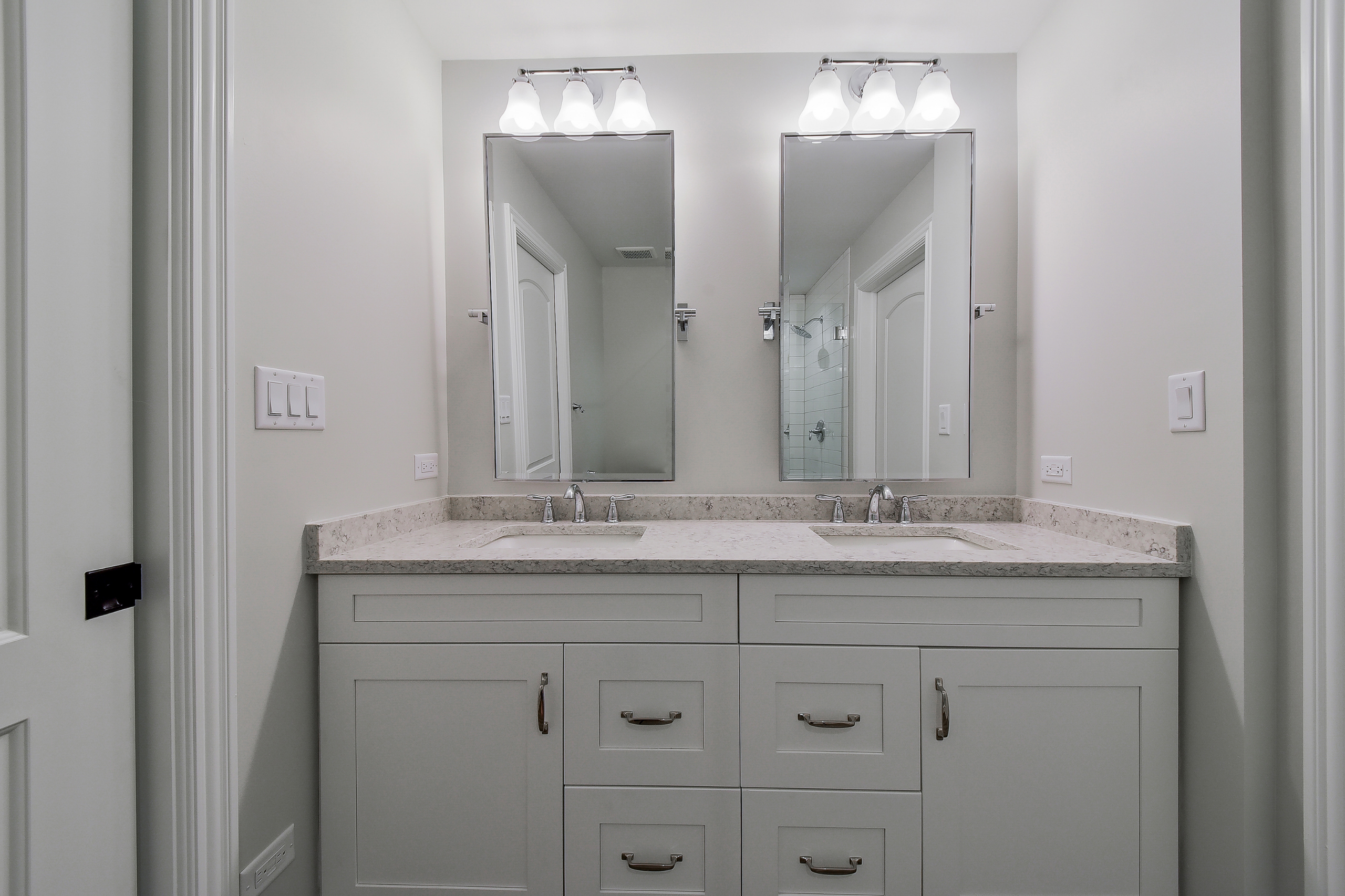 Two mirrors for his and her sinks.
Choosing the Right Size for Your Bathroom Mirrors
Size is one of the most important factors to consider for your bathroom mirror(s). If the mirror isn't sized right, it may throw off the entire look of the bathroom. Instead, you may want to consult our style guide to see how you can match your mirror to the perfect fit.
Consider the following unofficial rules of designing bathroom mirrors:
Bathroom vanity mirrors should be the same width as the vanity itself. This is a common approach taken by many interior designers, as it helps to perfectly match the mirror to the vanity. This is a modern take on some of the older vanity design styles, which came with their own mirrors attached to the top of the furniture.
Vanity mirrors are never wider than the vanity. Although there are some exceptions to this rule, it is typically understood that a vanity mirror should not exceed the width of the vanity. This may create a sense of awkwardness that does not match most design tactics.
You can work with a mirror that is shorter in width than the vanity. Many creative ideas were born out of the problem of a mismatched mirror and vanity combination. Not everyone has access to custom-made mirrors, and some have to make do with the sizes they are given. There are plenty of ways to make a beautiful, elegant, and fashion-forward bathroom vanity mirror out of a different size. By adding a frame, you can make the mirror appear wider than it actually is, which will give the effect of a matching mirror and vanity.
There are also frameless bathroom mirrors available. While standard frame sizes can help your mirror reach at least 70% – 80% of the width of your vanity, frameless bathroom mirrors may be able to enhance the look of your bathroom even further. This gives your guests the ability to see more angles at once, getting a more functional use out of the mirror.
You should also remember to keep the bathroom mirror a foot above and below the average eyeline. This typically lays somewhere between 4 and 6 feet above the floor, depending on the average height of you and your family. But the general rule is that the bigger the mirror is, the more functional it will be. Try to allow yourself as much space as possible.
A mirror with delicate details and unique shape will always be a statement.
What about Full-Length Mirror Sizes?
A full-length mirror can be a grand focal piece in your bathroom. If you have the luxury of living in a home with a large master bathroom, you can utilize your extra space with a full-length mirror. They are typically custom-made designs, as the dimensions and style requirements of your vanity can be difficult to match with a pre-made mirror.
Also known as wall-to-wall mirrors, full-length mirrors can add a nice touch above a vanity as well. You can utilize the entire wall to create a framed (or frameless) mirror, which acts like a grand piece of art that your guests will be drawn into. With a mirror of this size, you won't have to worry about not seeing yourself at the right angles. You will be able to get the perfect eyeline view of your reflection from every angle.
Full-length mirrors don't need to just sit over the vanity either; they can extend the entire length of the wall. For example, the first half of the mirror can sit over the vanity, while the second half stretches to hover above the toilet. This will complete the look of your bathroom, bringing all of your individual pieces together in a modern and contemporary frame.
Wood-bordered wide mirror for that classic yet modern look!
Open-Mindedness is Key!
When it comes to choosing the perfect bathroom mirror, you really have a wide variety of options. While there are some standard guidelines to support an elegant design, there is no right or wrong way to choose a bathroom vanity mirror. Whether you decide to go with one or two mirrors, or you are looking to install a full-length mirror to complete the look of your bathroom, there are custom designs available at any time. You can even find or design an ornate or vintage-styled mirror to match the look of your home. A bathroom mirror allows you to witness beautiful views and angles of your entire bathroom that you have never seen before.