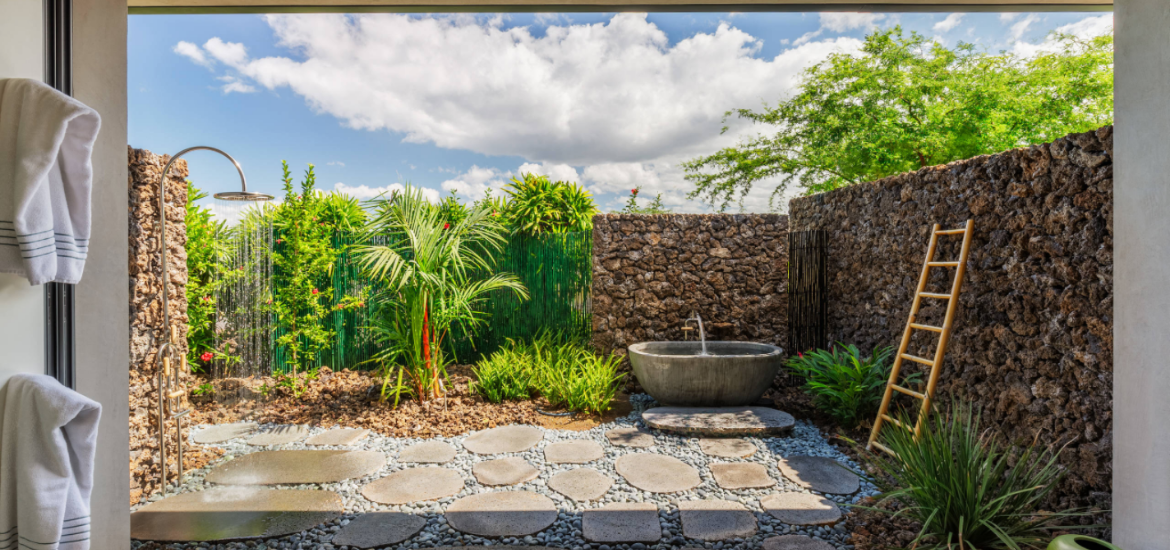 There is nothing more luxurious compared to a house with a backyard shower. And what greater way to clean off and wash your worries away than under the shining sun or maybe the twinkling stars? From a Bali-inspired haven to clean up and straightforward minimalism, submerge yourself in nature with the best backyard oasis. Check out our gallery of awesome outdoor shower ideas to help you build your very own in your backyard.
Outside showers remind us of being on the beach or even on vacation. But why don't you take the relaxation of the seashore or even holiday to your own personal backyard? You can use an outside shower to clean off after the swimming pool, an extended day on the beach, or perhaps a cheeky bath in the great outdoors underneath the stars. And also, the magnificence of outdoor showers is they are quite simple to DIY and an extremely functional backyard addition. From rustic to extravagant and luxurious to easy, there are a lot of diverse options with regards to outdoor showers. Make sure to check out our round-up for inspiring and gorgeous outdoor shower ideas!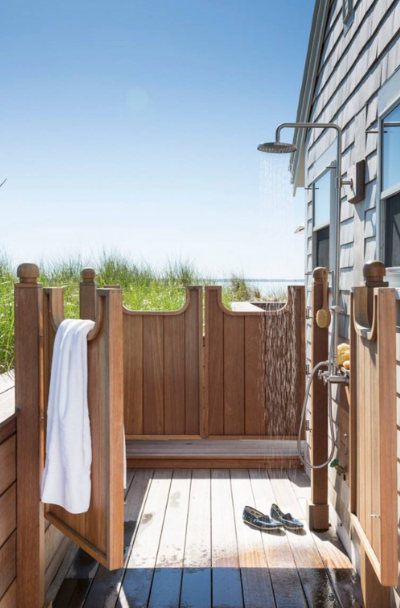 Do you want to simulate the experience of being in a rural setting where you may unquestionably enjoy a revitalizing soak in the tub? Before entering the house, you may clear the sand off your feet with the help of this beach-themed shower deck. The design of this outdoor shower by Shor Home is just breathtaking.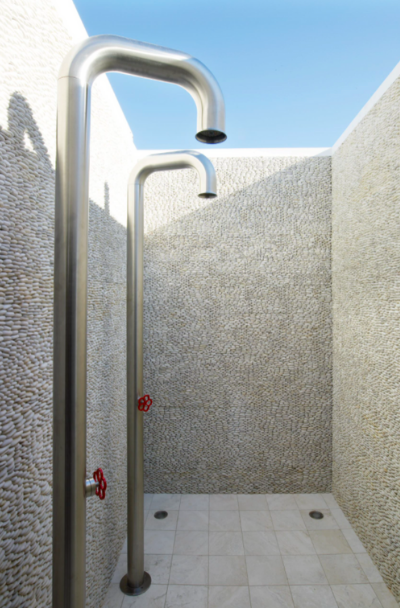 Would you like to feel safe and rejuvenated after using an outdoor bathroom? There is no roof above your head, although the wall is rather high. The white pebble tiles are piled to create a whole shower enclosure. West Chin Architects & Interior Designers have done an excellent job.
TROPICAL PATIO
This patio has a wonderful tropical feel, and I think you'll all agree that it looks great. This low patio layout will make you feel like you've stepped into a luxurious resort. This one features a large stone slab and an above shower made of tile. The architecture by Sunnland Architects is stunning.
HARDSCAPE
The consensus is unanimous: this outdoor toilet layout is beautiful and calming. With the help of the Creeping Jasmine plant, you may take a more private shower. The effect of the hanging plants is ethereal and hypnotic. Chateau Construction Company outdid itself with this one.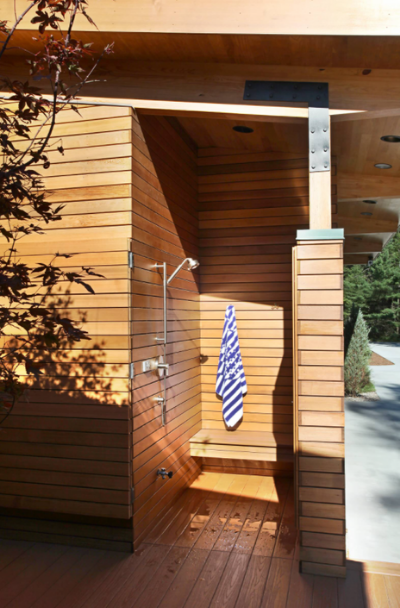 This balcony in the lakehouse's bathroom serves as a bathroom, although it might easily be mistaken for any other outside element of the home. What a beautiful shower deck with Western Red Cedar slat cladding. Incredible bathroom by Jeff Jordan Architects LLC.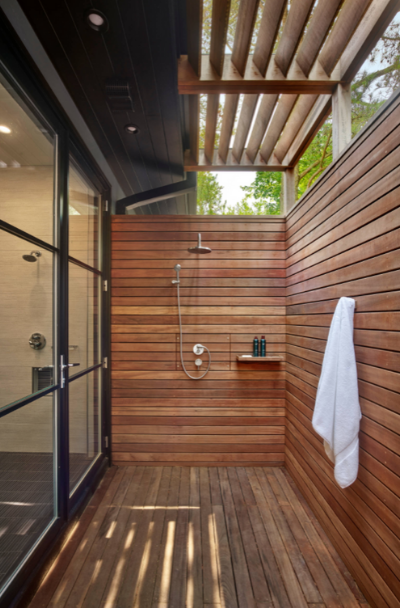 Do you yearn for a doorless, minimalist shower? It all appears to be well-guarded, which gives off a refreshing vibe. The outdoor shower built by Dewson Construction Company is excellent. High barriers ensure your privacy while you shower outside.
CUSTOM
This minimalist outdoor bathroom plan is ideal if you're not a fan of magnificent structures for your outdoor bathroom. Having simply a post for the sink and the shower is sufficient. Coyle & Caron Landscape Architecture has created such a lovely, spare design.
How To Build A Shower
Practically nothing feels much better on a warm summer morning after hitting it hard outdoors, compared to showering outside. Even in case you cannot have a swimming pool or maybe spa on your home, an outdoor shower is an inexpensive luxury, regardless of your finances or style. With summer in full swing, we are finding ourselves yearning for the great outdoors—even when it's time to shower. While you might go almost all out there with a dazzling expert job, you will find loads of DIY choices that could have you showering in your backyard this weekend. Allow us to share several of our fave homemade installations.
Try using some metal works. Corrugated metal provides a bit of sheen to the backyard while offering you an area to rinse after a day working in the garden or even lounging by the swimming pool. Include a third wall for better privacy or even—for an ambitious undertaking—add a hinged door to enclose the shower completely. You can also use surfboards. Channel your inner beach bum with an inventive surfboard shower. The trimmed advantage of a salvaged board gets the perfect upright for a bath fitting, & a stone base will divert runoff on the surrounding plant life—a twofer, provided you make use of plant-safe and mild detergents.
For a transportable or low commitment outdoor shower, buy an outdoor shower kit that could be hooked up to a typical garden hose. Include a decorative curtain, then voilà! Your summer weekends simply got slightly better. When you are not very modest, an easy stacked slat construction is a modern choice for a backyard shower. We like the clever inclusion of stone ledges wedged in between the slats to provide a house for shampoo and soap. You can also explore arbors. Arbors are intended to be walked under, so why don't you shower under one also? Your outdoor shower will not just look inviting but offers only the correct amount of color and bathing privacy. When you are able to deal with the plumbing, you are able to quickly install an arbor. If you want a far more exotic appearance, you can develop a setup with framing lumber & bamboo blinds.
ISLAND VIBE
Do you wish you were on a tranquil island where everything was new and beautiful? The shower enclosure is painted white, and the floor is red oak. The Barker Kappelle Construction, LLC bathroom with an outside island feel is stunning.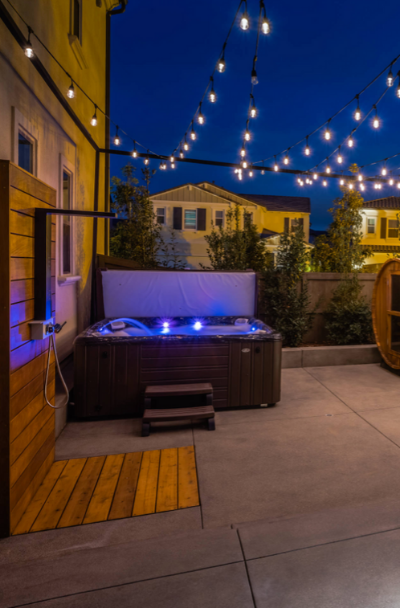 Want to update your outdoor space with a modern look? Look at this hip and stylish outdoor tub, which is excellent for entertaining guests and hanging out with family and friends. Summertime is the best time to spend out here on the patio. Habitar Landscape created this ultra-chic and contemporary outdoor bathroom.
MODEST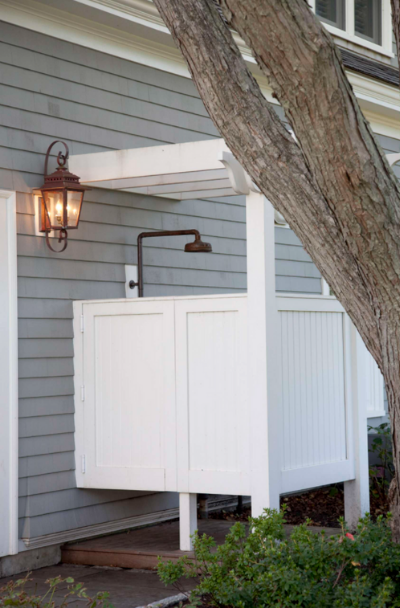 You'll be impressed by how cozy and streamlined this outside restroom is. This outdoor lavatory layout will make everything seem comfortable and easy. Nimbus Gray and white, as used by Benjamin Moore, are a visual delight. A very stunning creation by SV Design.
Unleash Your DIY Prowess
Imagine having your own backyard shower. After a visit to the beach, everybody can simply rinse off so that they do not track sand all around the house. Before a dip in the swimming pool, the shower is there to obtain some grime from dogs & children. And after a swim, it is not hard to clean lake or maybe chlorine water from skin and hair right outside. Are you looking at a DIY shower? It is significantly less difficult as some people might believe building your own, and it is an excellent backyard idea. But to start, you are likely to need to determine what kind of outside shower meets your requirements and desires. Do you want to have a shower connected to the exterior of your property or settle for stand up shower ideas? Would you like a lasting structure or maybe a portable outdoor shower that you remove in the summertime or even on camping trips? And would you like an outdoor shower enclosure for total privacy or simply an easy place to rinse while wearing swimsuits?
Homes with great pools & backyards must also include an outdoor shower to finish the look. An outdoor shower complements a swimming pool, and it is priceless during pool parties and also weekend gatherings. It is going to enliven the holidays & summer holidays for family homes with animals and children. Here, we provide a few remarkable and also amazing backyard shower design ideas to steal! Camping amenities and also beach rinse offs are not the only things that can have an outdoor shower experience. For all those people that savor the earthy liberation of the open but choose a little more privacy, an outdoor shower will be the best yard luxury. At last, you are able to clean under starlit and sunny skies alike without risking the prying eyes of friends.
Outside showers have experienced a rich comeback in recent decades, having the type of great editorial makeover which places the bygone days of inconvenient plumbing arrangements and campgrounds to shame. From modern inspiration to Mediterranean spa sensibilities, the outdoor shower is equally an enclave & haven, an area to unwind and enjoy the advantages of air that is fresh coupled with much needed time alone. Anywhere you live, your very own paradise awaits: Tahitian waterfall, Bali getaway, or maybe Hawaiian beach bungalow, there is simply no limit to what awaits you only outside of the rear door. For all their ambiance, outdoor showers also boast an equally appealing sale price. With countless styles and also requirements to fit most qualities and budgets, an outdoor shower is as accessible as it's appealing. With warmer weather only a couple of weeks out, why don't you treat yourself to an experience well worth the wintertime wait?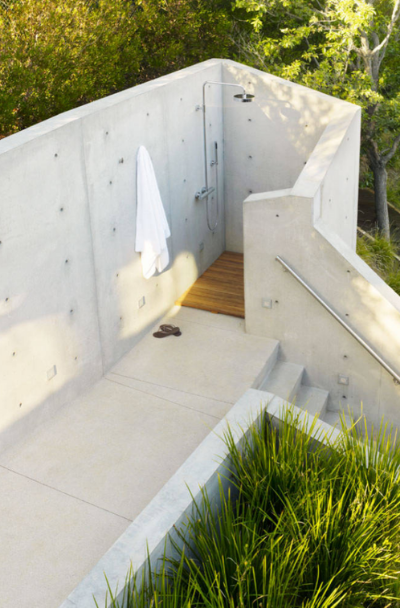 Need a plan for an outdoor toilet that makes use of cast-in-place concrete? Cast-in-place concrete with a smooth surface is very contemporary and chic. Even the fixtures appear out of the ordinary in this unusually styled restroom. Rockefeller Kempel Architects outdid itself with this one.
RED BALAU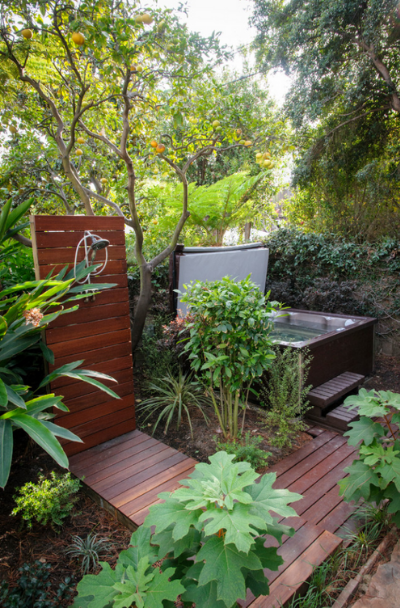 Do you dream of having a bathroom outside your home that blends seamlessly into its natural surroundings while still being thoroughly contemporary? Red Balau, oiled with Penofin, serves as the shower floor in this chic modern patio bathroom. BE Landscape Design created a stunning layout.
WATERFRONT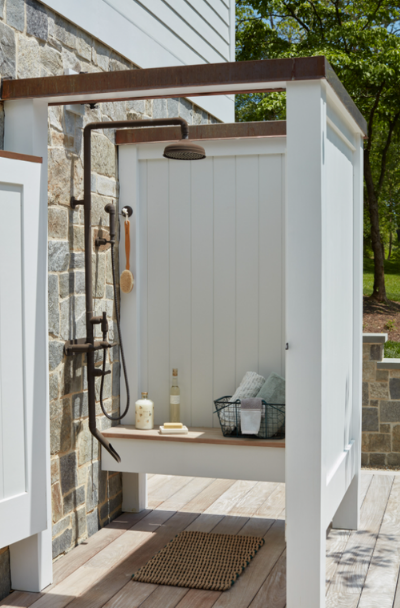 Looking for a way to bring the comfort of your indoor bathroom outside while maintaining a modest footprint? There are windows that let natural light in. There is a built-in seat for your convenience on the outdoor shower deck. Melissa McLay Interiors did a wonderful job with this bright and airy bathroom.
FARMHOUSE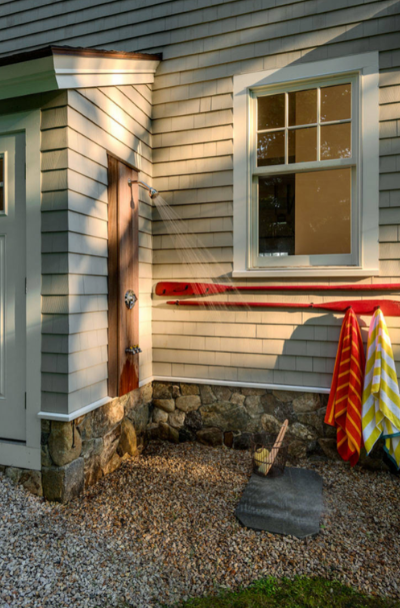 To install an outdoor shower, you need not have a private area. Just putting up a partition may drastically improve the functionality of a washroom. What a lovely farmhouse-style outdoor bathroom design! Howell Custom Building Group did an excellent job with this warm and inviting bathroom remodel.
WALNUT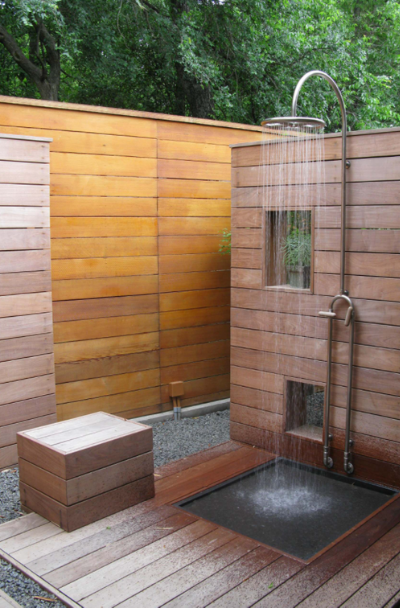 Look no further if you're looking for a clean and contemporary outdoor bathroom design. This walnut wall pattern is perfect for the loo. The modern patio's wood planks are made of Ipe, often Brazilian Walnut. David Rolston Landscape Architects outdid itself with this one.
Perfecting Your Outdoor Shower Ideas
Outdoor shower fixtures are typical in the backyards & pool decks of warmer countries and cities all around the globe. Once the weather is hot all day long, and through the night, it is not hard to need multiple showers during the day. What a greater way to have one of those showers than to do this outside in the open air? Whether these showers are designed entirely for the objective of cleaning off or maybe they are carefully designed withan eye-appealing look in mind, an outdoor shower is a function most homeowners can gain from. Though lots of people mainly invest in these open-air showers to be able to cultivate a spa-like and luxurious atmosphere outside of their houses, you will find a lot of practical reasons to have a shower this way.
Bathhouse style showers are able to function as saunas which allow it to be painless to rest and loosen up after an extended day at the office or even exercising in the gym, while a standard bath makes it simple to clean off after getting a plunge in the swimming pool or perhaps after a journey out of the seaside. Several of the much more extensively designed showers function as an additional 1/2 bath for any guests that could be staying over. Because there are a lot of distinct types of shower designs and reasons to create one, homeowners need to take one which will best suit their needs, as well as the visual of their backyards and homes.
When you are considering putting in your personal outdoor shower, do not hesitate to start trying to find inspiration. Numerous homeowners never realize that together with the assistance of a plumber, a small amount of research, and a number of boards of wood, they could build their own outdoor showers. For many bath models, almost all that's needed is a fundamental knowledge of plumbing, a platform to stand on, a handle, along with a showerhead. Even though the more elaborate shower designs include things like other features, walls, doors, and towel holders, many homeowners think it is amazingly gratifying to establish their very own DIY outdoor shower themselves. If you've some free time to have a brand new home renovation project, start creating your outside shower. With all the outdoor shower ideas, you will determine a shower design that actually works well together with the rest of your landscape and home. Make sure to check our awesome outdoor shower ideas to gain inspiration for your new backyard shower.
Materials For Outdoor Shower Ideas
When designing your outside shower, try to add budget-friendly, readily obtainable materials. There is something gloriously indulgent about bathing alfresco. While many outside showers are connected with summer holidays spent at rambling beach cottages, their wood panels littered with sand & decorated with drying swimsuits, the design could be much more flexible than you believe.
From backyard showers to luxury hotels providing bathing alfresco, these open-air bathrooms provide an exciting experience that will tantalize your senses. There's something spectacular about showering outside, in case you've previously tried it, you are going to know what we're discussing. With lush all around, the sounds of birds chirping, & natural light streaming on your face, it is marvelous! While you may connect outside showers with summer holidays in the cottage, showering off after a dip in the beach or maybe a lake, one is much more flexible than you might picture.
Outdoor showers will be created as much as your innovative limitations are going to take you, from stone to wood to much more special styles like a surfboard shower. A number of showers may be created for indoor-outdoor use, with doors that disappear to open the area to the outdoors. This particular design style will be ideal for the ones that don't reside in a tropical climate and would love using their shower throughout the year. Throughout the winter season, glass will continue to enable you to really feel as if you're outdoors, all of the while guarding you against the elements. From outside showers fashioned with corrugated metal to rustic stone, these spectacular water features will help make you want one of your own.
This is an image roundup post, curated to showcase and promote other reputable contracting companies' and their amazing work.  To have any of the images removed, please reach out to us and we would be happy to do so.
Other Great Articles to Read: