Did you know that your bedroom paint colors can have an influence on your mood? It's true; the psychology of colors is a powerful thing, and the shade and hue of colors can have a huge impact on the way you feel every day.
That's why in 2020 many homeowners are starting to look for different ways to paint their bedroom walls, and find inspiration in different color schemes that can help bring a lot more positivity, ambiance, or calmness to the home.
Below, we'll go over 11 of the most popular paint colors and the psychology behind them. This can help you decide which colors you want to consider for your next bedroom remodel project – and which ones to avoid.
More About Colors And Psychology
What's your favorite color? While everyone has a certain color they like the most, there are some colors that are just overall more popular than others. For example, the most common favorite color in the world is blue. There are many reasons why people tend to respond positively to shades of blue. One reason is because we live on a blue planet, and blue is associated with pure water and clear skies.
 Another reason is that the brain actually emits certain hormones when responding to different colors. This can affect the mind, emotions, and even your energy levels in a number of ways. 
Below, we're going to talk about some of the psychological ways that these different bedroom paint colors can influence your mood, mind, and energy. The bedroom is the most important room for your mind as it is the first one you see when you wake up and the last one you look at when you fall asleep every day. You need a color that's going to help you feel good each and every day.
Blue Bedroom Paint
We're starting off this list with the most popular color of all. Blue is surprisingly warm, although it is a cool-toned color. It gives off a tone of compassion, spirituality, peace, and flexibility. Blue colors are significant in our everyday lives, and there are a wide range of shades to choose from, from the darkest royal blue to a light grey-blue that can put you in a pleasing mood.
Here are some of our favorites:
Marine Blue
Marine blue, almost like navy blue, is a very dark blue that can add a sense of depth to the room. It contrasts well with really bright colors like white, or neutral colors like beige and light brown.
Ice Blue
Ice blue is very faint in its bluish qualities, almost making it look more like gray. However, its blue tinge makes it a really refreshing look to see when you walk into your bedroom after a long day of work. It's not too gray, but not bright and bold either!
Sky Blue
Sky blue is light blue, like the color of a nice sunny day. It is very definitively blue, but it does not overpower the rest of the bedroom. Plus, it can go well with a lot of different colors, including darker shades of blue or light and fluffy colors to make the room look like a dream.
Check out our Article:  29 Blue Bedroom Decor Ideas!
STABILITY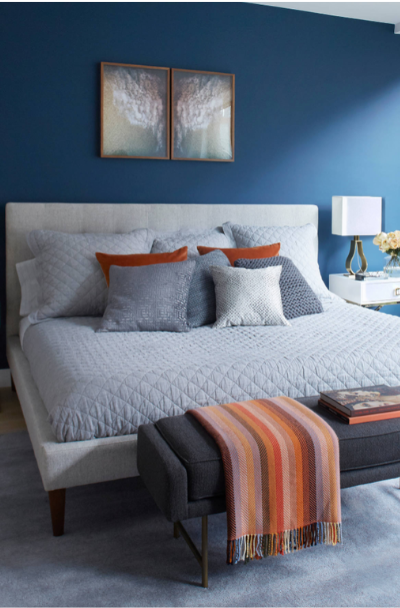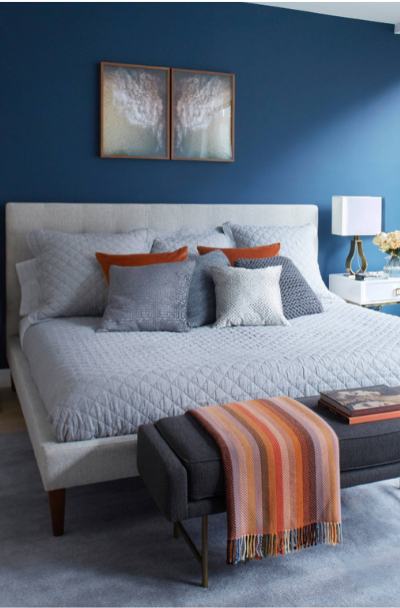 Experience tranquilty when you have a lavish blue bedroom like this.
LIGHT BLUE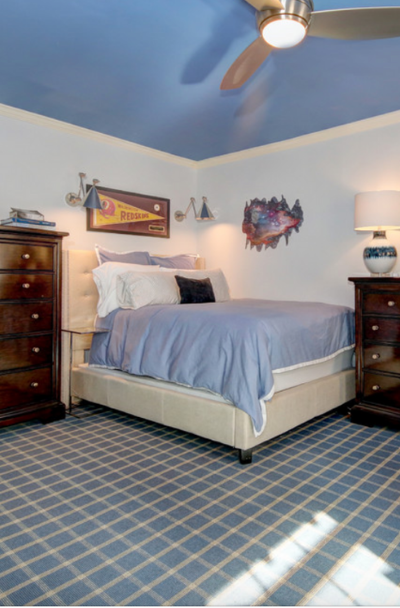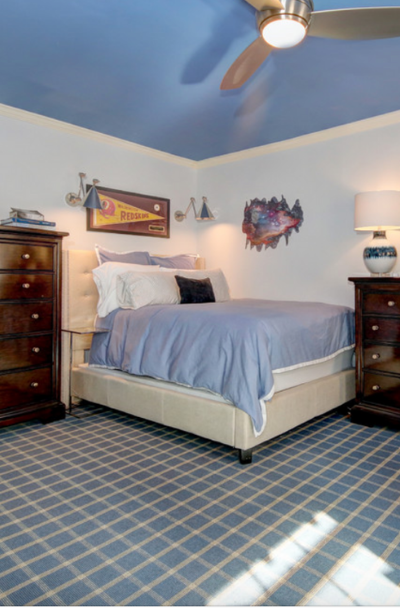 WALL PANELS
These wall panels immediately get attention and become the focal point of this room.
MID-CENTURY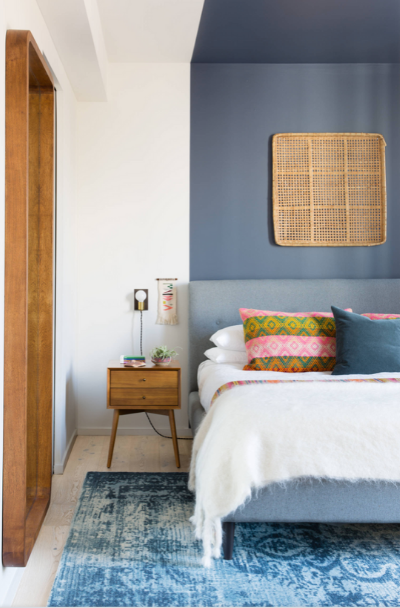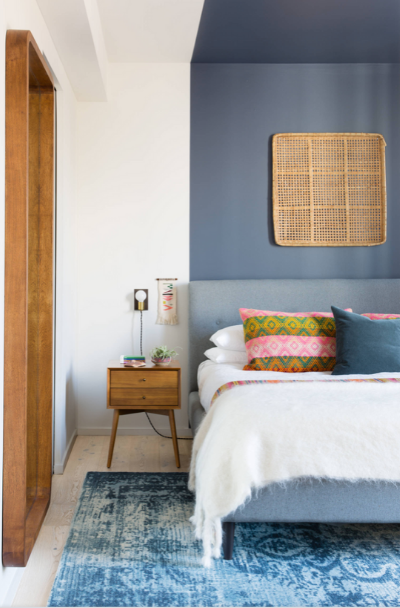 The wood decor elements make this room warm and inviting.
Red Bedroom Paint
Red is arguably the most controversial color of all, especially when it comes to choosing bedroom paint colors. Red is usually established as one of the strongest and most "dominant" colors, capturing moods of passion, energy, love, and even danger. Physiologically, seeing a lot of red can actually raise your blood pressure or speed up your metabolism to help burn calories.
It is obviously very easy to make red overpower a room. So, we can offer the following suggestions:
Bright Red As The Main Color
If you really want to go red all the way, make it the main color of the room and use a glossy paint for a shiny effect. In addition, you'll want to keep the room to just two colors. White usually contrasts well with red.
Red As The Accent Color
Perhaps the most suitable place for the color red, in most cases, is as an accent to another color that shines as the star in the room. Red is good at drawing attention, so maybe you want some fun red pillows or a red rug in an otherwise neutral-toned room.
Check out our Article: 29 Red Bedroom Decor Ideas!