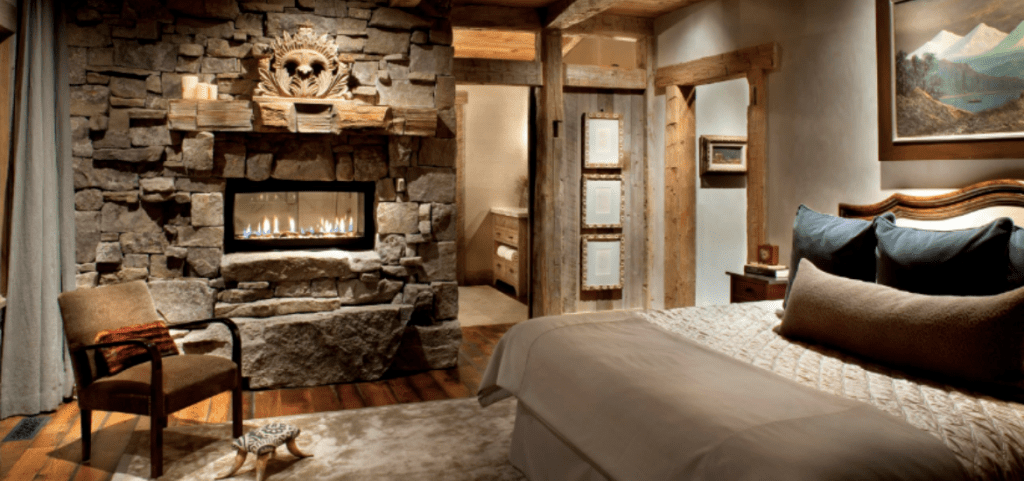 Brown is one of the trendiest colors to use in the bedroom. Homeowners and designers particularly utilize the color in different rooms because of the warmth and comfort brown brings to any room. Regardless of what shade of brown you use, it is truly simple to work with since it functions well with different hues. In fact, you can pick delicate creams and light brown shades or go for dark, rich chocolate tones for decorating. Also, you can have as little brown or as much as you want based on the mood you want to create for your brown bedroom.
Moreover, your bedroom is one room that you need to feel warm, relaxed, and comfortable. In particular, brown is probably one of the best colors you can use to transform your personal space into a cozy and stylish haven. When you go to your room at night, isn't it nice to quickly feel the warmth around you? In case you have been contemplating about decorating your room in brown but don't know where to begin, here are brown bedroom ideas to check out.
Brown is an exemplary color utilized in a wide range of decorative styles. Besides, the first color that probably comes to your mind when you think about a rustic style is brown. For traditional room styles, brown bedroom furniture can be the main spotlight, as well as brown accents and beddings. Brown is additionally a typical color decision for modern design, and combined with white, brown functions well with Scandinavian styles too. Or maybe you are eyeing a Mediterranean or beach theme? People also usually use brown in both of these styles.
DESERT RETREAT
This bedroom's aesthetic manages to seem both timelessly classic and thoroughly contemporary. Amazing work by Friedman & Shields, the designers behind the decor in this modern Phoenix bedroom with medium-tone wood floors and chocolate bedding.
MEDITERRANEAN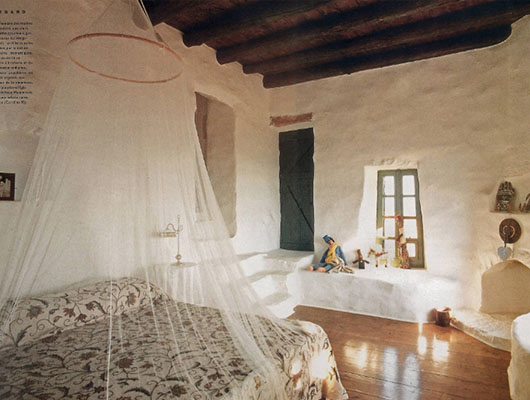 This bedroom with a Mediterranean motif is the epitome of vintage and relaxation. The mild browns and gentle textures create a lovely Mediterranean bedroom. This stunning design by Deborah French Designs lets in plenty of natural light.
STYLISH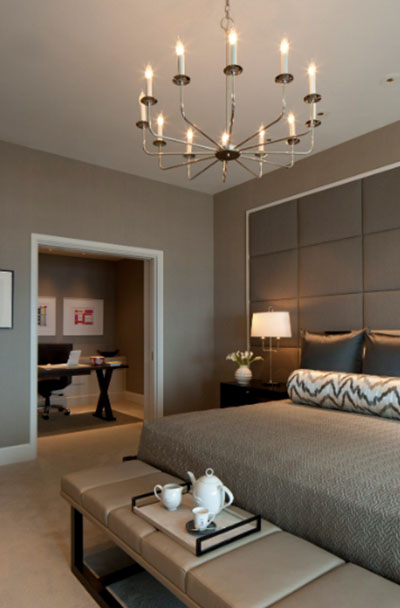 This chic bedroom layout is quite pricey and trendy. Grey walls and brown bedding in a bedroom from Designer's Luxury Linens in Chicago. Michael Abrams Interiors did a fantastic job designing this expensive-looking bedroom.
FARMHOUSE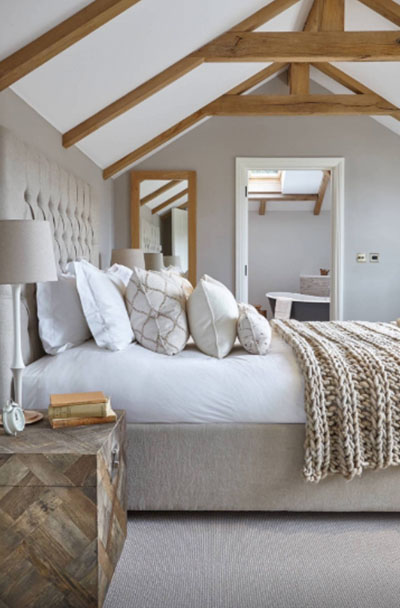 This bedroom decor's brown, white, and grey color scheme looks cozy and welcoming. This country-carpeted bedroom looks calming and refreshing—wonderful bedroom layout by Saviano Builders.
CONTEMPORARY
With this enormous bedroom design, everything is quite modern. The area is quite large and simultaneously open-looping. Wood floors, a stone fireplace, and a large main bedroom are all features. Starr Homes created a bedroom with such a high price tag.
RUSTIC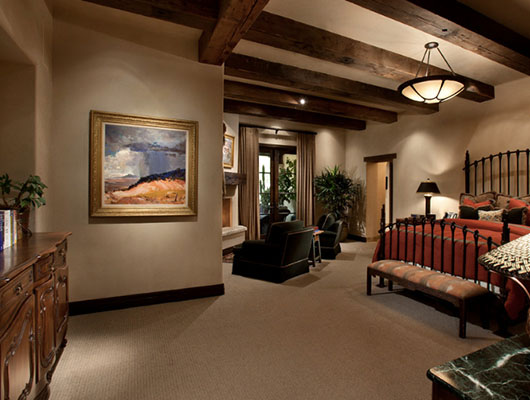 This bedroom appears to be taken straight out of a museum. The wooden ceiling and furnishings give this brown bedroom a timeless appeal—amazing work by La Casa Construction Inc.
SIMPLE & CHIC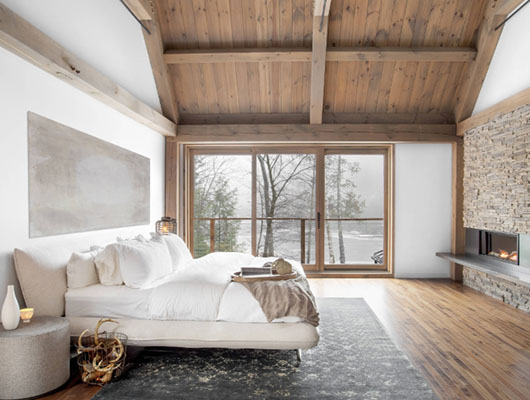 Everyone would concur that Eldorado Stone's bedroom design is the ideal space for the winter. A lovely stone fireplace can be found in this minimalist and stylish log bedroom. Everything appears to be simultaneously warm and comforting.
GORGEOUS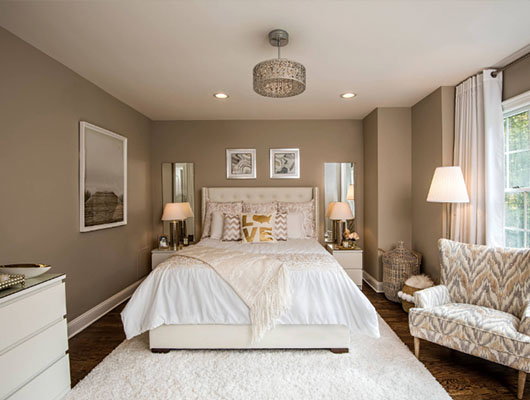 Such a lovely bedroom layout that looks quite feminine! Everything appears very cozy, thanks to the brown and grey accents! Bedroom in a transitional style with light brown walls and dark wood floors. This design by M Design Studio is amazing.
MOUNTAIN STYLE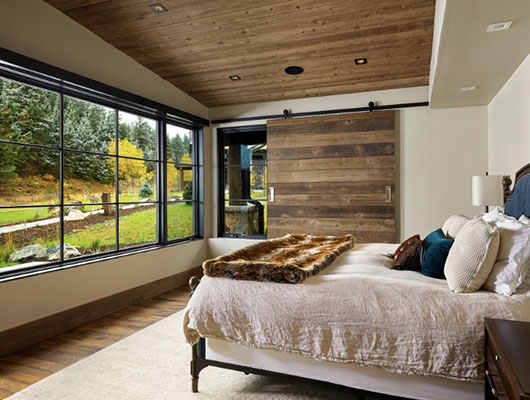 Seeking a great sleeping space for your retirement home? Everything in this bedroom design by Ejay Interiors appears to be extremely pricey but refreshing—a main bedroom with a mountain theme and enormous glass windows for the best view.
Ideas On How To Decorate Your Bedroom Brown Wall
Brown walls offer a neutral backdrop for a lot of decorating styles. Look at your current decorations to identify the style and hues you like to put on your brown wall. The decor in a brown wall should match with the remainder of the space to make a cohesive design. There are a ton of approaches to decorate a brown bedroom wall, providing it a captivating look, tranquility, or luxurious feel. Based on your preferences and budget, you can then narrow down your designing choices.
First, you can level up your wall with patterned wallpaper, chair rail, crown molding, or painted stripes. Having 12-inch level stripe paint on a brown wall can include visual interest while causing the space to look wider. On the other hand, 6-inch vertical stripes can make the ceiling look higher. Pick a complementary for your stripes to improve the room's current color palette. Installing chair rail on a brown wall around 3 feet from the floor includes an alluring feature to any room. Then have the chair rail in a similar color as your baseboards to bind together the look. Put a decorative wallpaper over the chair rail to increase your wall's textural impact. Affix decorative crown molding on the upper part of your wall for a timeless and elegant look.
Jazz up your wall with some light and sparkle. Wall sconces, for instance, provide decorative illumination to light up a dark wall. Track lighting or recessed ceiling lights shine downward to help perk up a dull wall. Eyeball ceiling lights can offer targeted light to your favorite artwork. Install a set of various framed mirrors to your wall to introduce instant shine and sparkle. Hanging silver or glass wall shelving offers a shiny modern touch to a neutral brown room wall.
How Much Brown Is Ideal
Your room is your retreat away from the remainder of your home and the world. Make your bedroom warm and peaceful with as much brown or as little as you like. In case you like to experience the warmth of brown surrounding you, painting all the walls with your preferred brown shade can truly immerse you into the color. Huge rooms can feel more comfortable and warm with all walls painted in brown, and smaller rooms, significantly cozier. To truly make the brown color pop, keep the trim white and include white or light cream colored decors all through the room.
Curtains, bedding, and different textures are acceptable approaches to bring some airiness and light to the bedroom with white. In case you don't like your room overwhelmed by brown, keep the entirety of your walls a lighter shading, or make a darker feature wall. You may likewise decide to fuse some brown into your bedroom using decor pieces and fabrics. Brown color in your bedding, curtain, area rug, lamps, seat pads, and decorative pieces can include a similar sentiment of warmth without having too much brown in your room.
Many colors work with brown that it is practically difficult to turn out badly here. The most widely recognized hues combined with the various shades of brown, such as reds, yellows, blues, golds, greens, golds, and even black. In a room brimming with brown, throw an additional color in the mix by including an all-red seat that truly stands out and attracts the eye. A black and white wall, for instance, can truly make a brown wall pop. Vibrant yellow flowers above the dresser against a brown wall provide the dresser a different look.
REFRESHING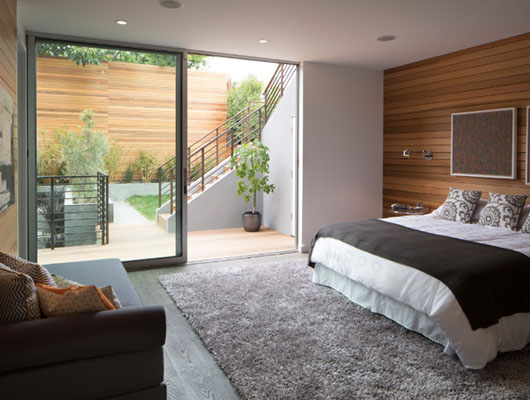 The bedroom's wood wall continues to the balcony and garden, harmonizing the entire area. The design of this bedroom by Kathleen Bost Architecture + Design is extremely energizing and contemporary.
RELAXED
Color Combinations For Brown Bedroom
Brown is indeed an extraordinary neutral color for rooms. In fact, it comes in numerous hues and tones that function well with cool shades like violet, green, and light blue, along with warmer colors like orange, yellow, and red. As the most famous neutral color utilized in rooms, brown will certainly offer you a few color choices and will never get disappointed.
Brown And White
Meanwhile, brown and white is a gorgeous color combination that makes a comfortable and sentimental room. Regardless of whether you choose to paint your wall a deep shade of brown with white accents or vice versa, you will certainly end up with a satisfying and dynamic color combo.
Brown And Blue
Moreover, brown and blue is a superb color blend to use in a bedroom. Also, there are a wide range of alternatives on the best way to join blue and brown together; for instance, pastel blues with deep and delicate dark brown tones make an unpretentious and famous color mix, while dark blues with brown will, in general, be more striking and energetic as found in rooms for kids and teenagers.
Brown And Green
Next, brown with green is another brilliant color combination for rooms. This mix is bold, but whenever done appropriately, it very well may be a stunning room color idea. For instance, use vibrant green wallpaper combined with dark wood furniture and accents such as white bedding, headboard, and metallic furnishings.
Brown And Yellow
On the other hand, consolidating brown and yellow together is somewhat tricky since these two colors ordinarily don't work well together. In case you wish to add yellow to your brown bedroom, the best arrangement is to include subtle accents to a great extent.
STUNNING VIEW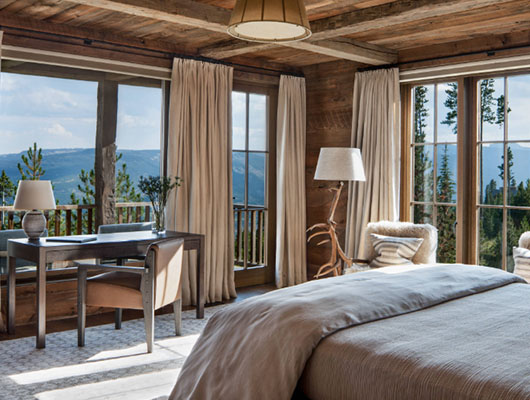 Miller-Roodell Architects Ltd. designed this mountain-style bedroom with wood walls, ceilings, and windows for that gorgeous view, and it will make you feel like you're sleeping in an expensive castle.
Other Creative Ways To Maximize Brown Bedroom
Contemporary
Although we frequently find black and grey on the contemporary room's palette, brown is also an astounding option, especially in a room with midcentury style. For instance, a fascinating headboard, textured area rug, chair, and art painting create a brilliantly retro, yet totally contemporary room. Even though there is actually no color in your neutral area, the different textures and intriguing lines can keep it crisp and welcoming.
Metallic Accents
On the other hand, do you wish to add some solid zest to your brown room? Why not go metallic? Since brown is quiet and earthy in nature, it's the ideal foil for a sensational accent like the metallic gold, for instance. Indeed, too much metal against another color may look reckless or tasteless, but brown shields your dazzling room from going over the edge. Also, you can complement the warmth of the color brown by similarly warm bronze, gold, or copper.
Vibrant Accents
In the event that you like to provide your brown bedroom a fun-loving side, you can just include a couple of touches of your preferred vibrant color. In fact, you don't have to include a great deal of hues—a playful blanket, a throw pillow or two, and maybe a vase of lovely flowers are all it takes to give your room a major burst of style.
Animal Prints
Nature certainly adores brown, so in case you love nature, why not bring a sample of the wild into your room with a bit of animal print? Regardless of whether you pick tiger, leopard, zebra, cow skin, or giraffe, a couple of animal accents are simply enough to perk up a traditional room.
You see, interior designers and homeowners alike frequently overlook the color brown. But if you like to go with brown, there is no need to fear! Aside from it is a neutral color; its warmth and versatility mean it can provide totally awesome outcomes once you decide to welcome brown in your home. Let us know what you think and tell us how these brown bedroom decor ideas helped you in your project! Best of luck!
This is an image roundup post, curated to showcase and promote other reputable contracting companies' and their amazing work. To have any of the images removed, please reach out to us and we would be happy to do so.
Other Great Articles to Read: