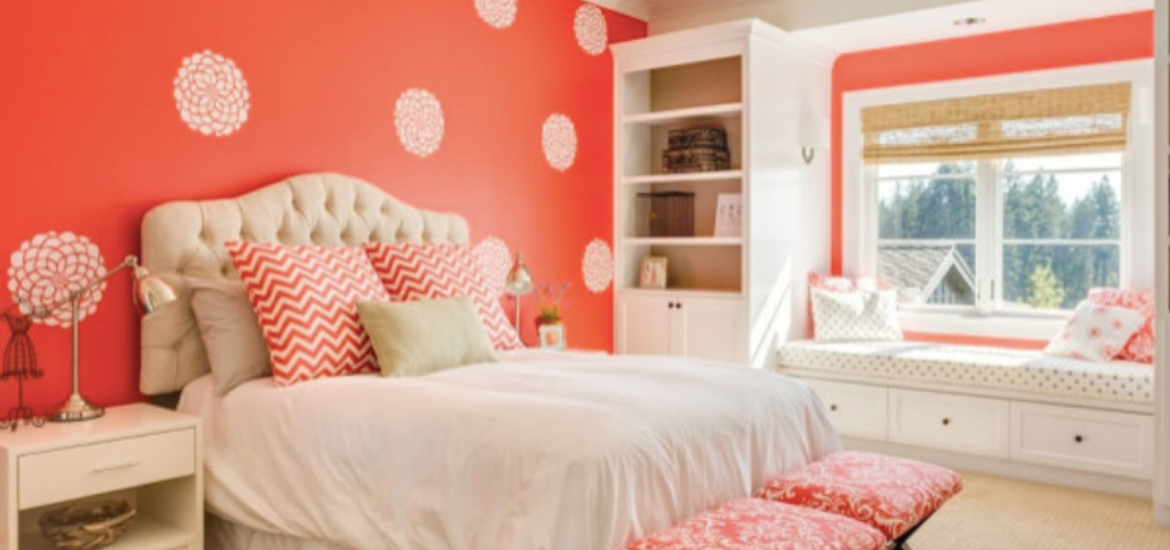 Orange is definitely one of the most trending colors for bedrooms today. You can utilize it in a room as a primary color decision or as an accent color. Regardless of what shade you pick—from pumpkin to apricot to melon—it will certainly make an impact.
Moreover, people regard orange as a color of creativity and playfulness. Since it is the beautiful mix of the warm yet fiery red and fun and upbeat yellow, it is surely a color of bliss, warmth, and enthusiasm. It is refreshing and energizing yet can be calming and charming as well. On the other hand, the color orange is also bold, which makes individuals reluctant to pick it for their interior. That is the reason we have gathered orange bedroom decor ideas. This is for those who like to utilize this exciting tone yet are afraid to do so. See with your own eyes and tell us what you think.
RUSTIC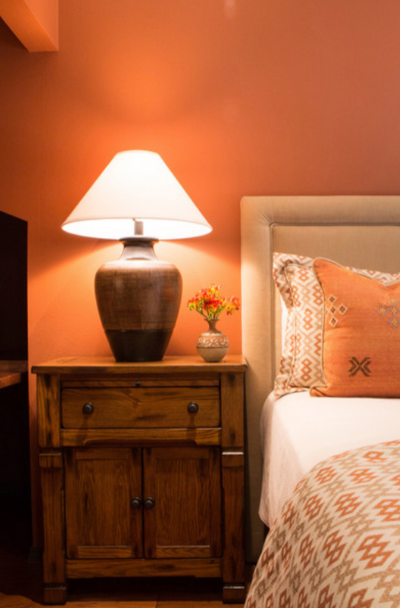 You'll adore Charmean Neithart Interiors' rustic orange bedroom decor. The traditional-looking lamp gave the room an antique vibe. Bedroom walls are painted orange, and wood furnishings go great together!
SENSE OF LIFE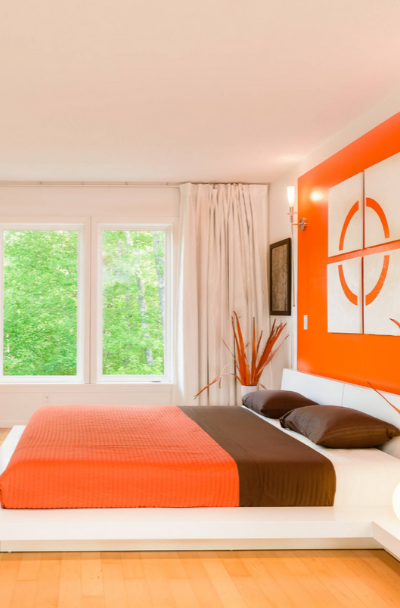 Everyone would concur that this bedroom design is excellent and has a vibrant atmosphere. This one can serve as a guest room. This design captured by Greg Moine Photography is fantastic. In this stunning orange room, the lines are smooth and modern.
ERGONOMIC
The bedroom design is really well thought out and ergonomically designed. Thanks to the soft carpet and bed linens, this bedroom is exceptionally cozy and fashionable. Virtual Studio Innovations has beautifully captured this opulent orange bedroom.
HARMONY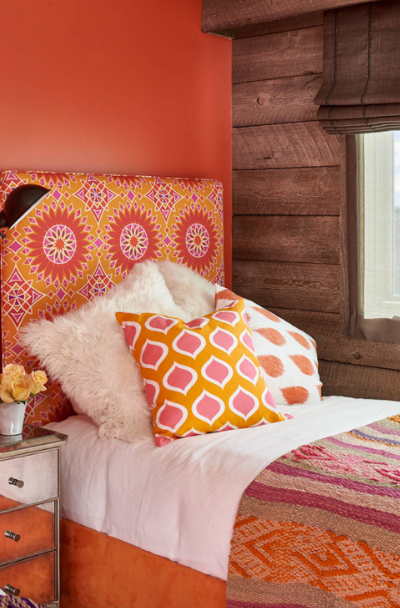 Everything about this bedroom's space-saving design is beautiful. This bedroom is harmonious because of the consistent color choices despite the varied patterning. This Greenauer Design Group orange bedroom is amazing.
MID-CENTURY MODERN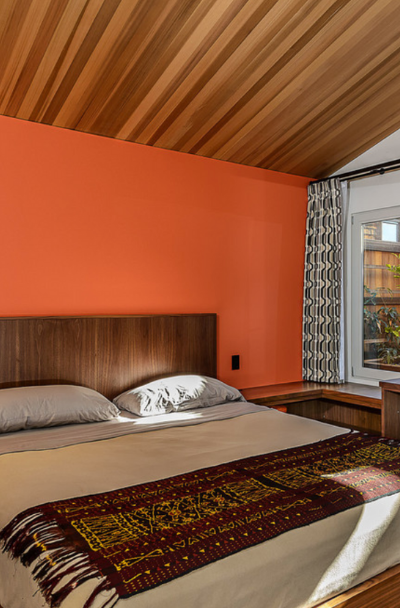 Feel free to have visitors here! This gorgeous bedroom, designed by Hudson Street Design, is a study in midcentury modern elegance. Just take a look at that magnificent wood ceiling! It's the perfect complement to my orange bedroom wall.
MEDITERRANEAN STYLE
This bedroom's Mediterranean-style decor appears both natural and revitalizing. I've emphasized the view! This design by RYAN ASSOCIATES GENERAL CONTRACTORS is fantastic. This room is timeless with its bright orange walls and traditional furnishings.
TRANSITIONAL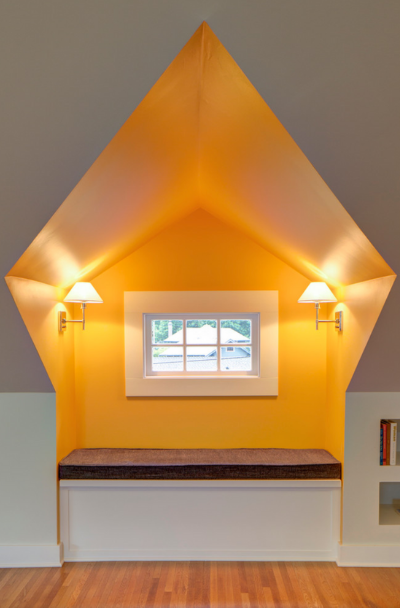 Everything in this bedroom decor is very transitional. Everything appeared to be warm and lovely because of the lighting. Fantastic lighting, subtle orange accents, and streamlined lines. Wow, just wow! Such a tremendous work of architecture by Buckenmeyer Architecture.
REINVENT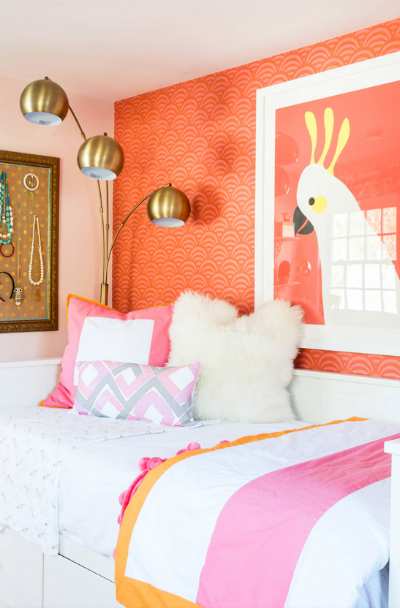 Everything in this fun and adorable bedroom decor looks great. Play around with colors and designs while incorporating your sense of style. A bedroom décor, this vibrant and brilliant was photographed by Jessica Delaney Photography.
How To Decorate An Orange Bedroom
Mandarin, sunset, warm persimmon, and pumpkin spice are some of the paint color names for orange. Although orange is a modern, friendly, and fun color, it can also be very challenging to decorate. But fret not because we have curated exciting decorating ideas to keep you going! Soon, you will surely be an expert in decorating an orange bedroom, adding contemporary energy and warmth to it.
Now, how to begin decorating with color orange? Most importantly, you don't need to spend a fortune or remodel your home to include orange. The color orange particularly works with earth tones and neutrals like beiges, taupes, and grays. It's indeed an eye-catching and vibrant tone that a little can go far. Thus, this means you don't need to fully commit on an entirely orange room. Instead, you can pick a couple of elements similar to the pictures underneath.
Probably one of the most straightforward approaches to include a bit (pumpkin) spice into your bedroom is by having some orange to the room. Begin with some pillows and a bed cover, or a seat or orange stool. Also, decorating with orange by including these little components isn't costly. As a result, you can definitely warm up your room on a budget.
Because orange makes a bold impact, you can assemble a wallpaper on only one wall. By doing this, you can make an intimate focal point, then add more subtle touches of orange throughout the room.
TRADITIONAL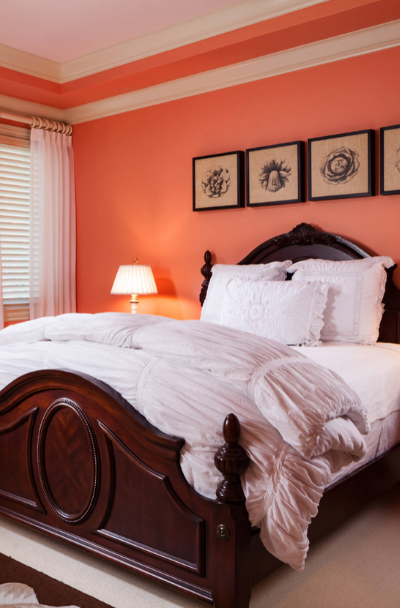 This bedroom decor has a classic and cozy feel to it. Enjoy a restful night's sleep with this chic orange bedroom design. This GIL WALSH, INTERIORS bedroom design will make you feel comfy.
Creating An Orange Accent Wall
Sometimes, an accent wall is all you require to make a bold impact. First, choose a shade and paint only one wall, preferably a solid wall not separated by windows. The wall behind the bed is frequently an excellent choice for an accent wall.
Next, pick a contrasting color that you will use for the other walls in the room. In general, this can be one of the numerous hues of beige or taupe. Moreover, different contrast hues include gold, green, or white.
On the other hand, below are other approaches to decorate an accent wall:
Make symmetry with coordinating table lamps and nightstands.
Utilize a complementary color scheme for your room with an orange accent wall.
Choose a headboard that uses the shade of the other room walls.
Use mirrored nightstands to expand a room by reflecting light.
Include a comforter or bedspread that additionally incorporates purple, blue, and gold.
Proceed with one of the accent hues like gold with pillows, accessories, and accessories.
Repeat the hues with bold and pattern textures.
Include artwork that features taupe and darker rust tones.
You can use orange for a wide range of range styles, from modern to masculine.
Furthermore, utilize a blend of orange and white to make a striking room style that includes a remarkable ceiling design.
Also, you can include a few accessories to provide your room design more depth and appeal. While choosing accessories, remember the size, style, color, and proportion, so all that you include fits in with the overall bedroom decor.
CONTEMPORARY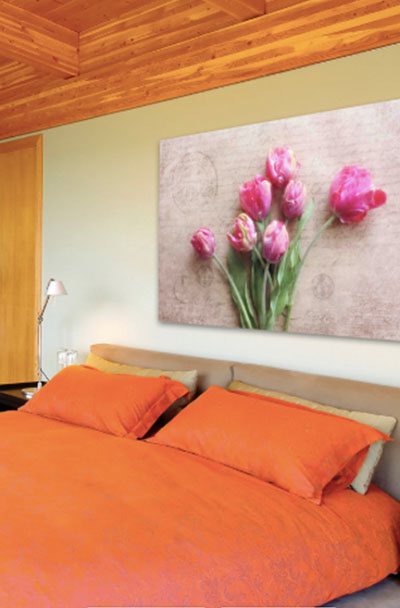 The picture frame hung over the bed adds a touch of elegance to the space. What a cool, modern bedroom by Marmont Hill. It is stunning, with a pink tulip painting adorning the wall and a wooden ceiling.
Using Orange Décor For Your Bedroom
In the event that you like the color orange, there are countless creative approaches to include the color in your room style. Also, orange decor is accessible in several shades, and there are endless ways to incorporate the pleasant tone with different shades. Moreover, this post will provide you a couple of various methods to begin your orange-themed decor venture!
Decorating with orange is indeed one of the simplest methods to bring another vibe to your bedroom. With its flexibility in shades, you can certainly have a dark autumn-inspired bedroom or a bold fiery space. From murals to curtains to the wall color, there is a perfect orange decor for you. Below are a couple of decoration tips to remember.
Since orange works so well with an assortment of both warm and cool shades, it's an ideal decision for utilizing multi-hued pattern decor that presents it as an orange wall accent.
Furthermore, perhaps the best property of orange is that it can light up a space like the orange-tinted sunbeams sparkle down on a radiant day. In addition, decor that presents orange at its best looks astonishing when matched with other vibrant hues.
BASIC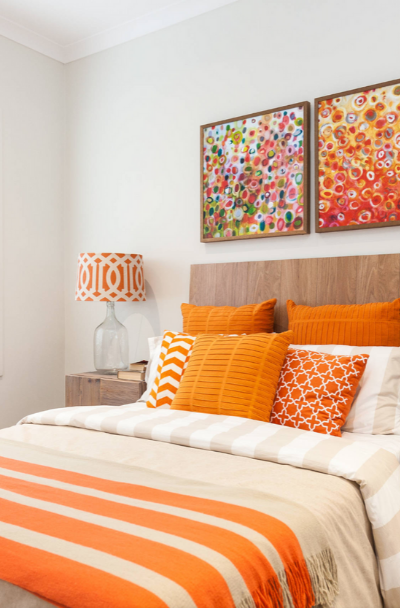 Everything in this orange bedroom decor seems so simple. This space is lively and fascinating due to the patterns on the artwork, throw cushions and lampshades. zoe wighton photography beautifully caught the brightness of this bedroom décor.
An Orange Bedroom For All Seasons
The fact that orange is not only a color but also a fruit makes it more interesting. But aside from the famous fruit, you can actually find orange in numerous areas. In particular, you can use many of these areas as inspirations for making dazzling orange rooms.
One thing most individuals specifically recognize with orange in nature is the fall season. The enchantment of autumn transforms the leaves into yellow, red, and brilliant orange shades. Indeed, even the popular pumpkin fix is a field of vibrant orange! In any case, you might need to mull over keeping your wreaths for just the Thanksgiving months. With a nature-inspired bedroom, the orange accents truly appear to burst out of the decor. Regardless of whether the actual climate outside is pleasant or not, being in an orange-themed fall bedroom will make you yearning for a cup of tea, a book, and a blanket every time.
Like the leaves in fall, numerous delightful flowers also show the orange color when they blossom the next spring. Orange flower rugs and window curtains are wonderful in a vibrant but feminine room. Indeed, even a vase of crisp orange flowers on the side of your bed are a work of art and a beautiful part of home decor.
The breathtaking bursting orange sunset may be the most well known, but it isn't the only spot in the skies where orange is a major fascination. All through the universe, you can find orange whirling through the galaxies as strongly as it illuminates the clouds in great dawn. An orange bedroom with inter-galactic decorations will take your breath away.
Color Combination Ideas For An Orange Room
Orange bedroom hues are indeed the warmest on the color wheel. Also, orange is yummy, lively, and the ideal color to brighten up a north-facing room!
In particular, the most preferred room hues to go with the color orange are "citrus" themes, aqua-pistachio-orange combinations, and blue-orange complementary color schemes.
In case that you want orange accents, these color schemes show how delightful, crisp, and contemporary the browns, greens, gray, and blue color tones look with warm tones. Moreover, bedrooms painted and entirely decorated in warm hues look sensational, but romantic pinks, muted greens, tranquil blues, yellowish-brown color shades, and rich gray tones add style and sophistication to modern bedroom design and freshen up orange hues.
The warm and cool color schemes particularly cause the room decor to feel relaxing, harmonious, and natural. In addition, a burst of deep red, purple, red wine, or burgundy hues are incredible too. Besides, all gray tones, yellowish-brown, bluish-green, brown, and pastel green shades function well with orange tones.
Furthermore, muted tones of browns, greens, and gray tones, lovely peach, bright yellow, and dark reds are what you need to make astounding color mixes. On the other hand, these are sophisticated color schemes to utilize orange hues effectively in modern style bedroom.
Also, combining white and orange results in peach tones. Utilizing peach, orange, and yellow makes a vibrant, warm interior design. Light, warm interior hues, and white accents are perfect for tiny rooms, particularly bedrooms and children interiors.
Orange Color For All Ages
A bedroom painted in a delicate peach or a muted shade of orange functions well as a nursery with delicate white decorations, and it can age alongside the baby. At the point when your kid moves on from his baby decorations, simply include dark wood furniture and a bit of color with two or three vibrant shades like turquoise or red.
For a teenage boy, pair his preferred orange shade with black bed materials and window blinds, or attempt multicolored textures in a geometric pattern. In the event that you need to be creative, think about a wall painting or stripes in complementary hues.
For a teenage girl's bedroom, mix orange with kelly green or white in fabric options or wall stripes, for a new and ladylike look that is not frilly.
In case you love orange but are worried about going over the edge, think about painting only one wall. A vibrant shade of orange can breathe life into a wall, and it's an incredible backdrop for art painting or a huge headboard with only hints of the vibrant color looking through.
This is an image roundup post, curated to showcase and promote other reputable contracting companies' and their amazing work. To have any of the images removed, please reach out to us and we would be happy to do so.
Other Great Articles to Read: