Featured Image: Bartelt. The Remodeling Resource
Looking for a way to increase the value of your home while on a budget? You may be surprised to learn about the different types of wood flooring that are quite inexpensive when compared with some of the higher-end materials.
Today, we're going to focus on all things pine flooring, letting you in on an important industry secret: many different types of pine flooring are not as expensive as they look, and they can create plenty of beauty and value in the home. We will assess these different types of pine flooring to determine where it can best be used in your home.
Let's compare the pros and cons of pine flooring so you can figure out whether this is the right wood for your renovation project.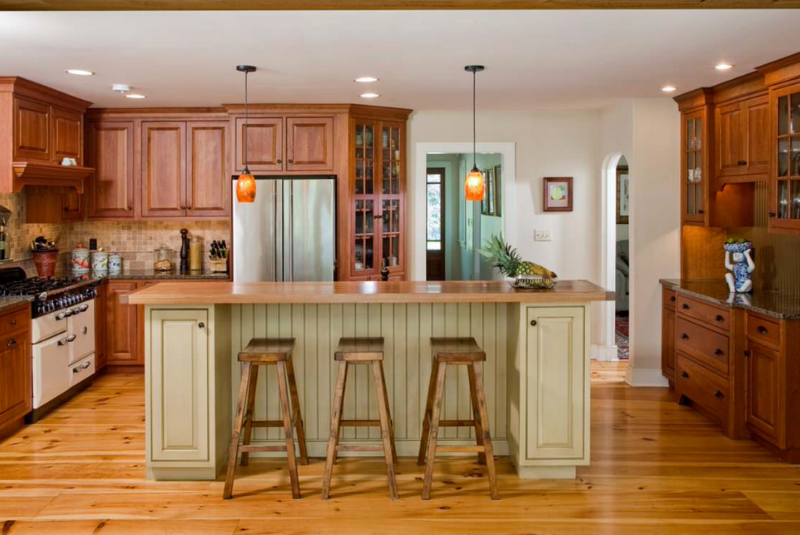 Going all out on wood? You can have texture and color by combining different kinds of wood.
Pine Flooring: What Is It, Where Does It Come From, And How Many Types Are There?
The first thing you need to consider when you're ready to pick out some new flooring for your home is exactly what type of wood you're looking for. With a seemingly endless variety of hard and softwood options, it can be difficult to narrow down some of the best choices. Pine is usually one of the most sought-after types of wood for hardwood flooring because there are many different types and qualities of pine that make it easily accessible.c
Take a look at the various types of pine that each come with different qualities and price tags.
Types of Pine Wood
There are two major styles of pine: Heart Pine and Eastern White Pine. Depending on the length, width, and texture of the floor you want, you can choose between these two varieties, which subsequently come in a number of different grades.
Heart Pine
Heart Pine is an authentic type of flooring that comes from many different species of pine. The biggest reason why homeowners would choose Heart Pine is not only for its durability but also for its visual beauty. You can find different colors of this pine that range from dark brown to yellowish amber, with shades of gold in between. With a strong grain and unmistakable knot pattern, this is a solid choice for those interested in quality flooring.
Eastern White Pine
Eastern White Pine is typically the most common choice of pine for homeowners all throughout the country. It also is available in wider planks, as it has much more versatility and range than Heart Pine. You can also choose how many knots you'd like to have as part of the grain pattern. Essentially, Eastern White Pine has everything from "casual" to "fancy".
Yellow Pine
Yellow Pine flooring is another common option in the United States. Yellow Pine represents a group of pine species that are native to the continental United States, particularly the southeastern regions. It is similar to most species of Heart Pine, although it is typically the cheapest and most original type of pine flooring.
Choosing the Right Pine for Your Project
Since there are so many varieties of pine wood and many pine flooring options available to you, it can be hard to narrow down your options. Although each species of pine brings something different to the table (or floor, in this case), they share many of the same characteristics and provide the same advantages and disadvantages to your home flooring project.
Understanding the essential pros and cons of pine flooring in your home can help you define your own flooring options more clearly.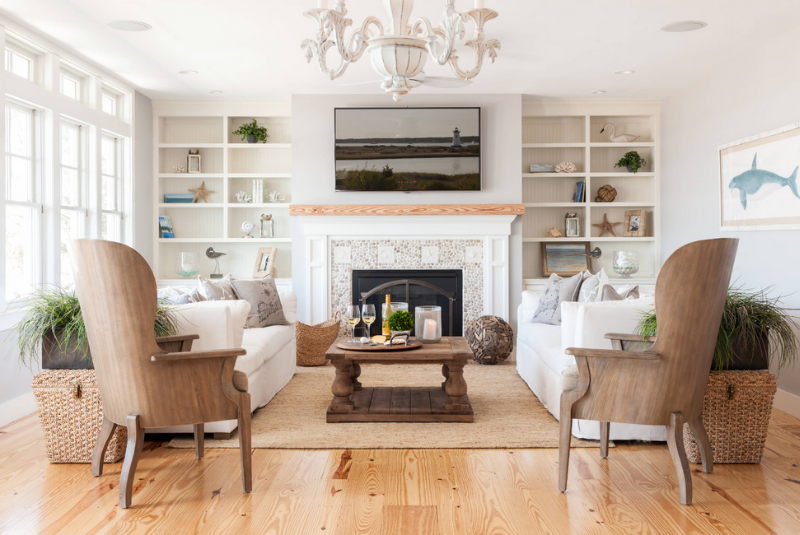 Get cozy in this warm and inviting living room with white sofa and walls.
Pine Flooring: The Pros
Pine is one of the most common and one of the most sought-after types of flooring for a reason. With such a wide range of affordability, quality, and maintenance requirements, it seems that almost any kind of homeowner would find pine to their liking. Let's look at some of the biggest reasons for pine's timeless popularity.
Environmental Sustainability
Pine is a softwood, meaning that it naturally grows faster and in higher abundance than any species of hardwood tree. Pine is an excellent flooring choice for those homeowners who are concerned about having a negative environmental impact. It rank's high on Independent's "good wood guide" for eco-friendly flooring options. Since pine trees grow faster than lumber manufacturers can cut them down, you never have to worry about hurting the planet with your flooring.
Long-Lasting Beauty
Pine is chosen not only because it is eco-friendly, but also because it has so much beauty in its variety of colors. You have the option of decorating your floors with a rich, natural tone of brown, gold, yellow, or red. And it's not just the color, but the grain, too, that you can customize. The grain is just as big of an appeal as the color is, since you can find planks with those characteristic knots that truly tell a story.
Durability
Just because pine is a softwood doesn't mean you will have to replace it after years of wear and tear. Pine flooring can last more than a century and still be in great condition as the home is passed down through the generations. You can always choose from a variety of finishes to seal it with, but even on its own, it rarely succumbs to too much damage. It doesn't swell or shrink because it doesn't retain too much water, nor does it easily scuff against abrasive textures. You still want to think about protecting it as much as you can, though!
Pleasing Patina
Some homeowners are initially upset with their pine floor installation because the coloring is too bright, and it doesn't look as natural as it should. But fortunately, over time, the wooden floors develop a patina that gives it a beautiful, deep color. This is a pleasing effect that goes well with pretty much any room in the house.
Affordability
Pine is one of the least expensive natural wood flooring options you can find on the market. It only costs half of what hardwoods cost, and its durable qualities can stand up to any oak or maple. In some cases, pine is even cheaper than some vinyl flooring options that are made to mimic hardwood. If you are renovating on a budget and you don't want to give up your dream of having nice hardwood floors, pine may be something right in your ballpark.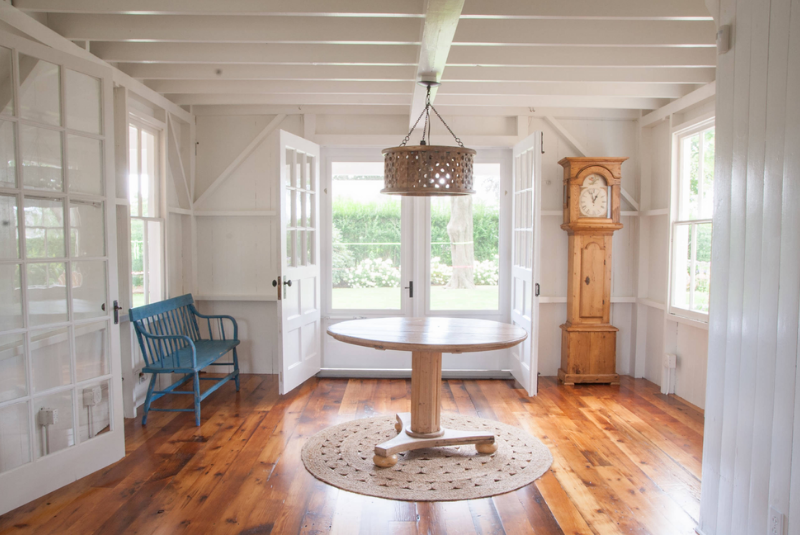 The combination of medium wood tone floor and white walls give a bright and airy feeling.
Pine Flooring: The Cons
As a softwood, pine does carry a couple of pitfalls that you should be aware of. While the cons may not deter you from choosing it as your preferred flooring option, it is still good to know what disadvantages you should be on the lookout for.
No Big Box Availability
Most pine wood flooring needs to be ordered from a sawmill or through your general contractor. If you are thinking of investing in a DIY project, you'd be hard-pressed to find pine planks available at your local big-box hardware store. This doesn't mean that it is difficult to find pine flooring, but it does mean that you may have to do more specialty searching.
Maintenance Requirements
Most wood floors require a lot of regular maintenance so they stay clean and pristine. Pine flooring is no different. You need to be sure to give yours a good dusting, sweeping, and vacuuming at least once per week, if not more. Dirt and debris that stays on the surface of the floor can eventually scratch away at the surface. Ultimately, this may cause you to have to refinish the floor altogether, which is a costly mistake.
Signs of Wear are Evident
Although pine can certainly take a beating, it will show its scars and bruises. It can withstand a lot and still remain of good quality, but it will reveal scratches and dents wherever the damage occurs. If you are moving something heavy on this flooring, take extra caution so you don't scuff up your brand-new pine planks.
Finishing is Required
You can't get away with leaving pine flooring unfinished for too long; it's just too susceptible to damage. Another thing about pine flooring is that it usually is unfinished when it's installed, meaning you have to carry the burden of finishing it yourself. And while there is plenty of beautiful finish and varnish options available at your local market, it is still a drag to have to do it on your own. Just think about your style and color preferences and consult with a professional before you do any heavy labor.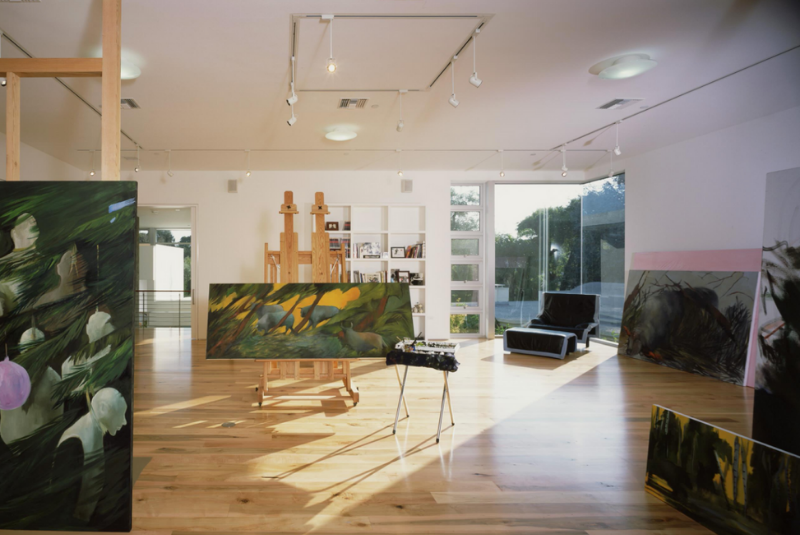 Amazing artwork deserves excellent and clean "canvas" or space.
Cut Costs with Wide Plank Pine Flooring
Pine boards are convenient, easy to install, and super cheap. If you are on a restricted budget and you are still keen on having beautiful wood floors in your home (who wouldn't want that?), you can look to wide-plank pine flooring options to solve all of your problems.
While working with a professional design consultant, make sure to ask about pine plank flooring. You can order your pine plank boards to be delivered directly to your home, or to the construction site. This is one of the cheapest options available to you if you want real wood floors that can remain durable for longer than a lifetime.
Pine Flooring Finishing Tips
If you are still trying to decide what kind of finish to use on your pine planks, here are a couple of tips to help you out:
Never use water-based polyurethane.

This may be a no-brainer to some of you, but it's important enough to mention it again. Water-based polyurethane can damage the surface of the pine.
Know your lighting before choosing a finish.

It's easy to see a picture of a certain wax and decide that is exactly what your home will look like. Consider what kind of lighting you have in the room where your new pine is going to be installed, as this can change the entire tone of the room.
Be patient.

The finishing process is a slow one, especially when it comes to pine. It's better to be safe and careful than quick and sorry.
Choosing the type of pine you want is just the start of the process. You'll also have to think about whether you want to stain your flooring to achieve the color you want, as well as what kind of finisher would work best in your home. Keep in mind that working with a professional remodeling consultant can make your options clearer and your decisions easier, as flooring installation is often too costly to reverse.
How to Clean Pine Wood Floors
Did you know that most homeowners believe pine to be a hardwood floor? This is because it shares many qualities and characteristics with hardwood, but it is truly a softwood tree. You should take care when cleaning it during your regular maintenance chores.
Since it is so similar to hardwood, you can use a hardwood cleaning process on your pine floor. This means you need to regularly sweep and dust your floor to get rid of dirt particles. If something spills on the floor, wipe it up right away. If parts of the finish become worn and dull, invest in a professional who can refinish the floors for you. If you try to clean it up with a soap or wax product, it may worsen the problem.
If you are going to mop the floors, make sure you do so along the grain, rather than against it. Not only does this make it easier for the floor to take to your cleaning, but it also makes it easier to prevent your floors from soaking up water.
In Conclusion
Pine is an incredibly useful and popular type of softwood that resembles hardwood flooring in many ways. If you are trying to invest in a renovation project on a tight budget, this is a good option for you as it comes in many styles, varieties, and colors without breaking the bank.
As with most projects, you'll want to speak with a professional contractor before finalizing your flooring decision. Everything from choosing the type of pine itself, to settling on a stain and a finish requires a lot of care and consideration. This floor is going to be with you and your descendants for generations, so it's important to get it right!
Other Great Articles to Read: