Whether you prefer natural stone, hardwoods, or ceramic tile, there is no lack of stylish options for today's kitchen flooring. While surface appeal, design, and color, are important considerations, you will also want kitchen flooring which can live up to your lifestyle and provide the durability and comfort you require.
However, as much as we would like every type of floor to have superior longevity, exceptional durability, sky-high resale value and a low price-tag, it just is not realistic. If you are planning to renovate your kitchen floor, knowing the weaknesses and strengths of travertine, hardwood, tile, vinyl and laminate is paramount. We compare the advantages and disadvantages of these 5 common types of flooring to help you choose the best kitchen floor option that fits your lifestyle.
Hardwood
Adding warm, classic, and natural looking wood floors are a beautiful addition to you kitchen during your home renovation. Due to the fact that kitchens are high-traffic areas, though, hardwoods such as mahogany, poplar, ash, walnut and oak and are recommended over softwoods such as cedar and pine. In addition to that, darker woods are more likely than the lighter woods to show scratches and dirt. Bamboo floors have become quite popular recently. These are durable and hard, and because bamboo grows fast, it is considered more environmentally friendly than another wood flooring. Buyers can select either engineered hardwood or solid hardwood, that's constructed with several wood layers that are known as plies. The supplier we use is Urban Floor, you can take a look at their site for samples to get an idea of what you may want.
Pros: Just about everybody wants hardwood floors, this includes home buyers. The resale value is quite high. Other kinds of flooring products come close but they can never completely replicate their pure natural beauty. They can be refinished and are able to last for many centuries too.
Cons: Hardwood floors aren't always practical for the homeowners who would like to have low maintenance kitchens. Hardwoods are more difficult to clean and can be scratched more easily than the other kinds of materials. When they are exposed to water or moisture over the long-term, they can crown, warp or buckle. And then there is the price tag. Because high-quality hardwood flooring run from $ 4 – $12 a sqft, expect to spend more money.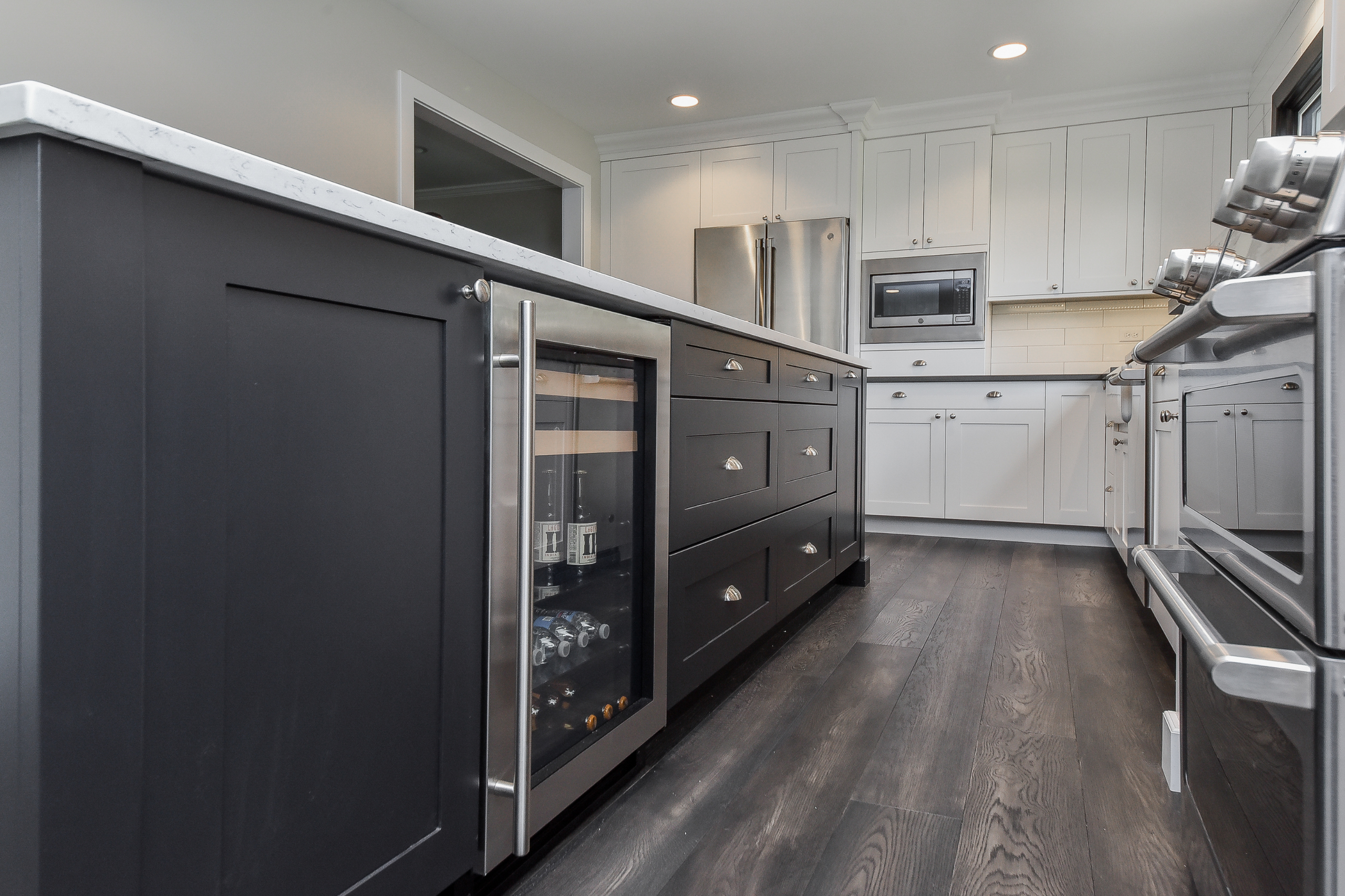 Travertine
Travertine comes in a wide variety of colors from beige to ivory, to reddish brown, and even gold, which depends on the amount of iron that is present. Travertine also comes in different finishes like tumbled, polished, matte, or brushed. Polished Travertine resembles marble and tumbled or brushed Travertine has a more antiqued look.
Pros: Travertine has a broad appeal to most home buyers. It is highly durable, it's more difficult to chip and scratch natural stone than, hardwood or tile. Tumbled travertine provides good slip resistance due to the grooved texture. When it's cared for properly, travertine can last for many years.
Cons: Travertine doesn't scratch, but it can stain. You should be careful with your red wine and juice. Natural stone needs more upkeep than the other kinds of flooring. You should use a mild detergent or stone cleaner to clean it. You should also seal it every 1 to 2 years so that you can protect its porous surface (some of the sealers last for a longer time). Perhaps astonishingly, a high-quality travertine floor might cost as much as the hardwood floor. Budget accordingly.
Laminate
Your kitchen encounters frequent spills of food and the pitter patter of pets or kids, laminate flooring might be the solution. It mimics the look of tile or hardwood and has a lower price tag. The surface resists scratches and stains, and cleanup is a snap. It is a practicable alternative to the hardwood floors, offering homeowners realistic wood finishes in a wide variety of styles. We also have a more in-depth article called Flooring Face-Off, which explains more on engineered versus hardwood flooring.
Pros: If you would like to save cash, laminate might be the best choice for you. Apart from being less expensive than tile and hardwood, laminate also has a click-and-lock floating installation system, that's primed for Do It Yourself installation. Unlike wood, it does not gain character and cannot be sanded.
Cons: Laminate does not the ability of vinyl and tile of handling moisture (when it's exposed to water it can warp), hence if you install it in the kitchen, the maintenance will be more challenging and If you do, you should use a proper moisture barrier. You will require a mop and special cleaner to clean it. They also do not have the shelf-life that vinyl, hardwood, and tile floors do. Unlike hardwood floors that can be refinished even up to eight times and essentially you get a new floor; laminate floors are more difficult to repair even when it comes to simple patch jobs
Tile
Tile is a fantastic flooring choice for the kitchen. It not only looks elegant and clean, it's also very easy to maintain and durable. There are a wide variety of tile options to choose from —including ceramic, marble, porcelain and quarry. Additionally, modern printing technology can generate porcelain and ceramic tile surfaces which mimic natural stone (marble and travertine), concrete and wood, and clean monotone styles. The versatility offered by tiles almost guarantees that you will find a style that suits your kitchen floor ideas.
Pros: Since porcelain tile has a very low moisture absorption rate that is lower than that of ceramic tiles, it's the perfect solution for kitchens. Tile flooring has a tough surface that's uber-durable, particularly color body porcelain (the color of the tile runs through it instead of just being on its surface). It will not scratch easily and if the tile used has been glazed, its beauty will last for many years with very little extra maintenance. In fact, other than routine dusting and vacuuming, a tile floor needs very little cleaning unless something is spilled on it. It's able to withstand most types of detergents, even though all you truly require is a mop and water. Tile flooring is also well priced; it is possible to get a quality porcelain tile for $4 per sqft. or less.
Cons: Glazed tiles, while easy to maintain, can get slick if they get wet. This is mostly evident with the older tiles as new innovations have led to the production of tiles that have an anti-slip surface that reduces this problem. Although tiles are able to withstand heavy foot traffic, they can be easily cracked or chipped if something heavy is dropped on them and the repair isn't that simple for the average homeowner. Although standard tiles are more affordable, marble tiles and plank tiles can cost nearly as much as stone and wood. Old homeowners and those that suffer from knee or foot problems might have some difficulty standing on the rock hard surface of tiles.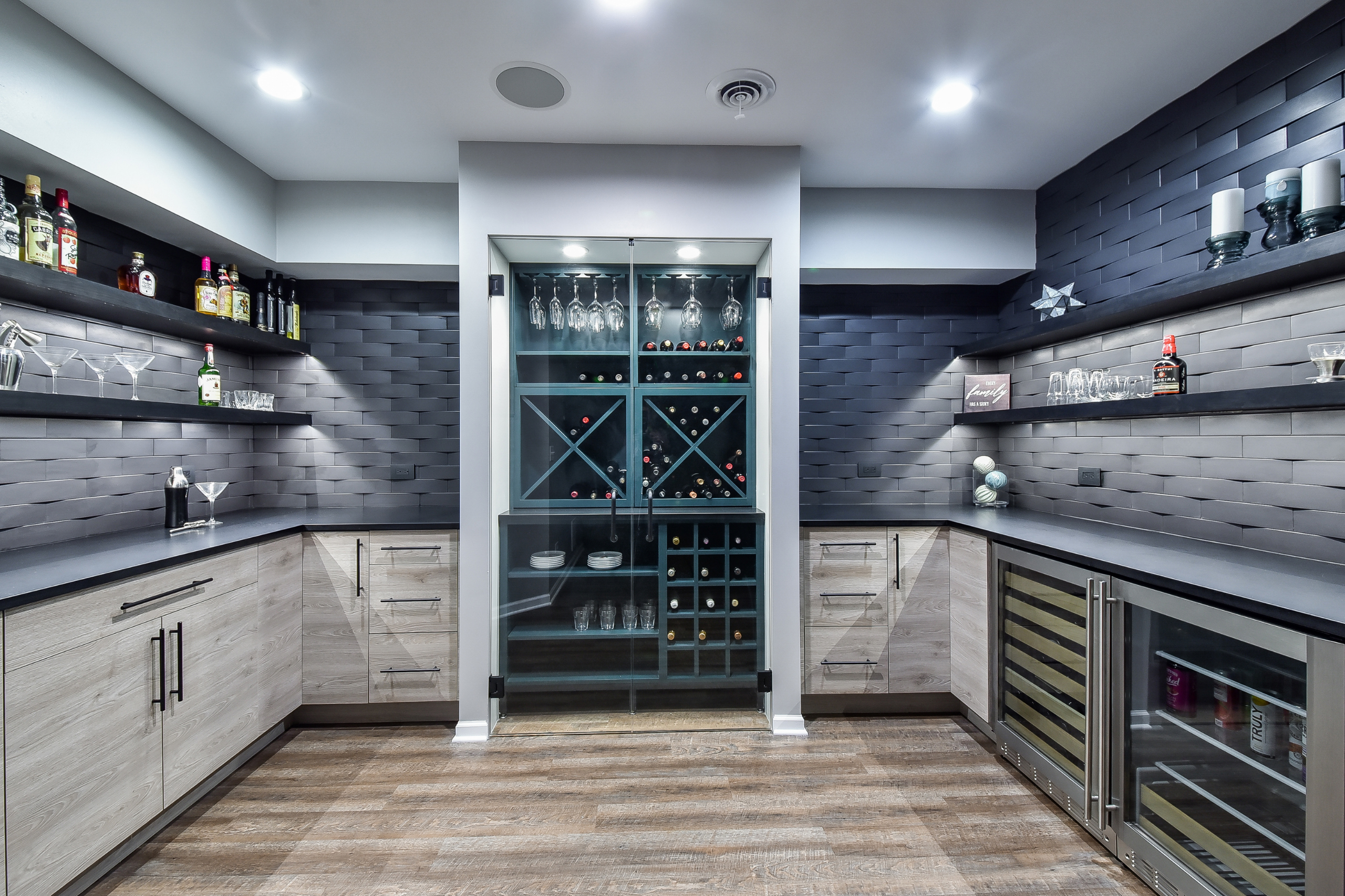 Looking for home remodeling ideas? Take a look at our design gallery.
Vinyl
Vinyl flooring comes in 3 primary forms: sheet vinyl, vinyl tile, and vinyl plank. Available in a wide range of styles, colors, and designs, vinyl flooring has several installation techniques that include click and lock, peel and stick and glue down.
Pros: Unlike tiles, vinyl does not chip, and also unlike laminate vinyl is able to handle moisture. It has a durable surface that does not succumb to scuffs and scratches easily. It is also soft on the feet, a perk for old home owners and those that suffer from knee or foot problems. A reasonable prize tag and the DIY friendly installation techniques will help to ensure that your account intact. It is not uncommon to get vinyl flooring under $ 3 a square foot.
Cons: Although it varies by the market, most home buyers prefer tile and hardwood to vinyl. Heavy furniture that is left in place for a long period of time will cause permanent indentations on the soft surface of the vinyl flooring. Vinyl with high gloss shiny finishes is slippy when wet and some kinds of vinyl flooring have to be waxed on a regular basis to maintain their high gloss shine. Foot traffic patterns can appear over time. High-quality vinyl planks can cost more than $ 4 per square foot.
We hope this guide helps you figure out what you need for your kitchen remodeling project, please reach out to us with any questions you may have. Sebring Services is a Design/Build company that specializes in kitchen remodeling.
Check Out Our Other Great Articles: