Your Complete Guide: Tile that Looks Like Wood vs Hardwood Flooring
We put a porcelain wood tile next to a hardwood flooring sample in our showroom and were unable to see the difference side by side.
Can you tell the difference between the two samples in the picture? We asked our readers to take a vote and the results are in:
44% – Left side
56% – Right Side
We posted the answer at the bottom of this article, take a look!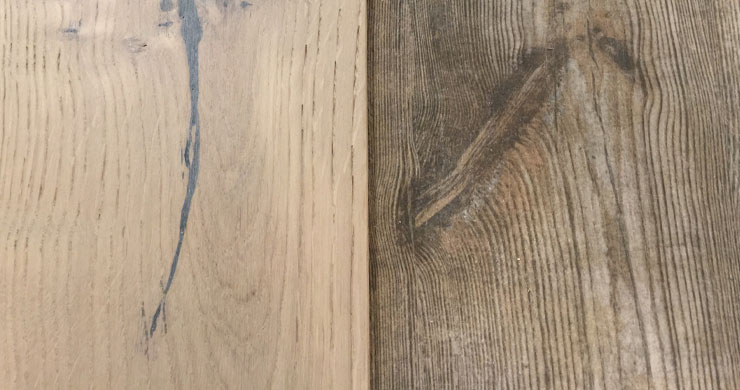 What is Tile That Looks Like Wood?
The hot trend right now is tile flooring that looks like wood. With so many flooring options on the market, something you may never have thought about is actually the hot trend: faux wood tile flooring. If you've never seen a faux wood tile floor, then you are missing out. These types of floors not only give you the look of wood, but also the durability of tile.
Well, it's exactly what you would imagine: porcelain or ceramic tile that looks like wood. These types of flooring are very versatile, and come in a variety of patterns and styles, including a wood grain tile texture. Having the faux wood tiles mean that you get the beauty of hardwood floors without all the hassle and maintenance that comes with it.
Customizable Porcelain Tile That Looks Like Wood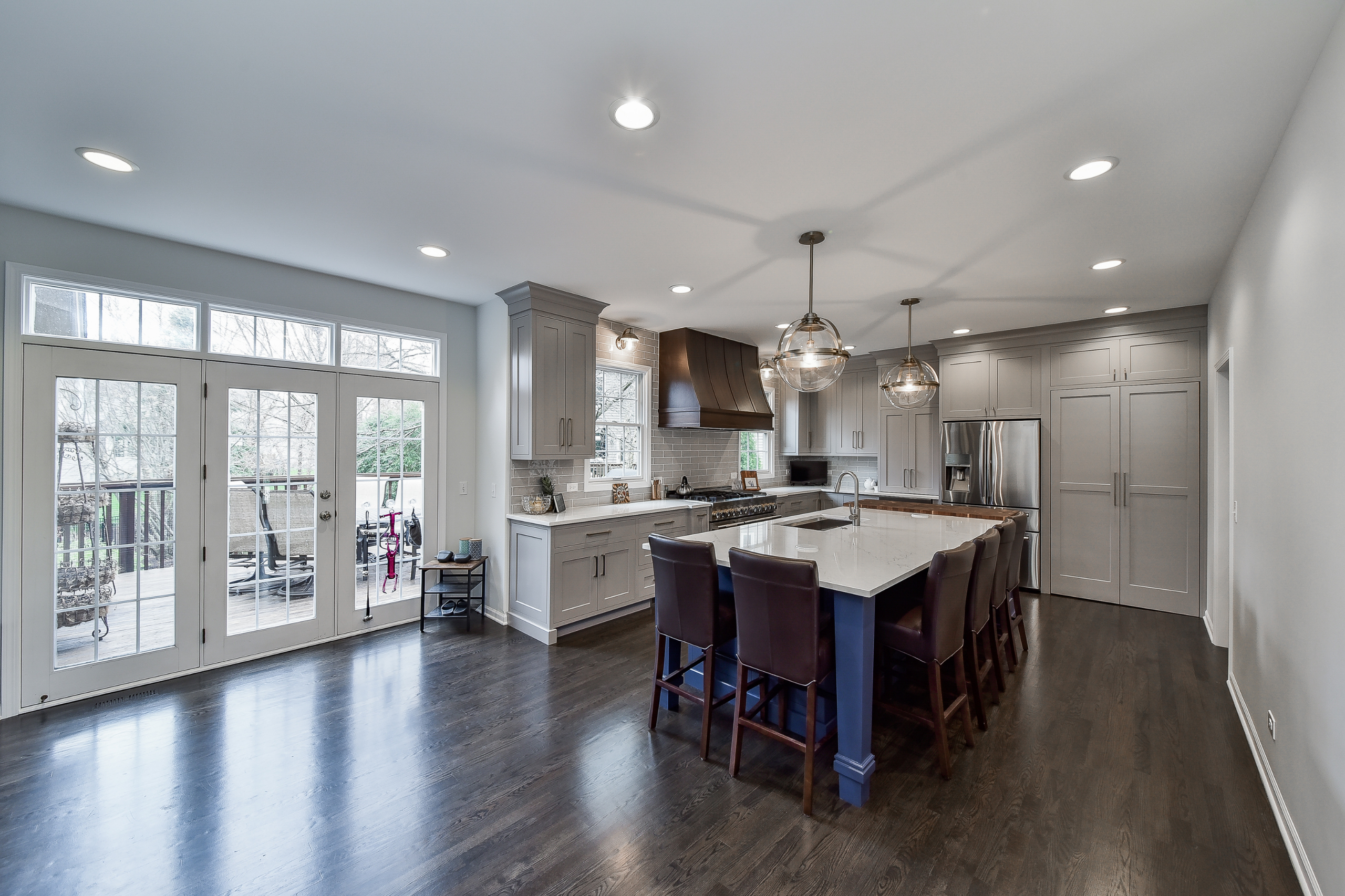 Something you can do very easily with faux wood tiles is customizing the look. When you have a variety of styles, colors, grains, and sizes at your disposal, you can truly create the floor of your dreams. Using these tiles, you can make all sorts of variegated patterns or just go with something more simple, but the choice is all yours.
Durable Wood Tile
When you are replacing your floor, you always need to make sure that you make a wise investment. Even though hardwood floors are beautiful they can damage easily in high traffic areas like a kitchen, which can turn into an even more costly endeavor for your kitchen remodeling project. Actual wooden floors can scratch, dent, warp, crack, and chip under the stress from traffic, pets, and messes.
Additionally, a traditional hardwood floor needs to be refinished and resealed every couple of years. The beauty of faux wood tiles is that they remove those concerns, providing durability whether your pet runs across your floor or a child drops a pitcher of red juice; your tiles will still look good. But if part of your floor were to sustain damage, it's much easier to pull up a tile or multiple tiles and replace them when compared to actual hardwood.
Faux wood tiles are also a great option in places with high moisture, such as a bathroom. Normally we would never advise you to put hardwood flooring in a bathroom, because the moisture can easily warp and damage the floor. But with faux wood tile, that's not an issue. Depending on your design aesthetics, if you choose to have a simple and white bathroom, it may be looking for the warmth provided from the look of wood, and these tiles will give you just that.
Eco-friendly Ceramic Wood Tile
When you choose to get faux wood tile flooring, you are not only making a great decision for your home, but also for the environment. By using wood looking tiles, you are helping to reduce the number of trees harvested every year to be used in flooring.
At the same time, you can still get the unique beauty and elegance of hardwood in these types of tiles. With faux wood tile floors, you get all the benefits of hardwood without the negatives attached to it.
Affordable Tile Wood Floor
In this side by side comparison, you can notice the slight variation of texture that shows that the left side is in fact tile, and the right is hardwood.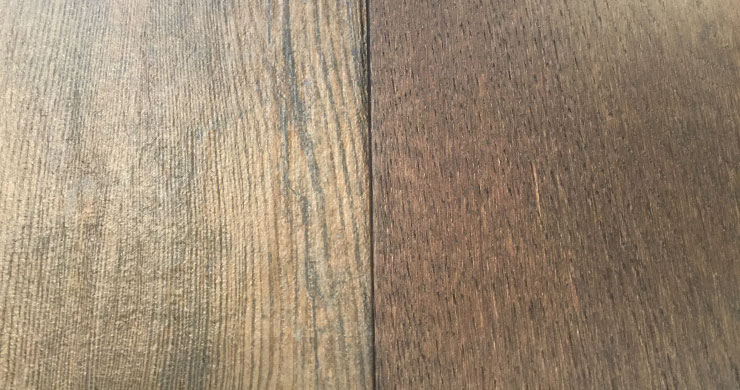 Finally, faux wood tiles can be an affordable option for you. These tiles are typically more cost effective than traditional hardwood flooring. Since they are easier on your wallet, you should give this flooring option some serious consideration.
Especially if your space really needs the hardwood accent and look, because it would be the finishing touch and you simply don't have the budget, these tiles are a great solution. Obviously depending on your exact wants, the tiles may get more expensive. But overall, they tend to be less expensive than traditional hardwood.
THE ANSWER
The answer to our question above is the LEFT SIDE, which was fine European hardwood by Urban Floors. It is the Villa Caprisi Line, in the Romagna.
The RIGHT SIDE is from Virginia Tile and is a Ceramica Sant' Agostino, in Aspen color.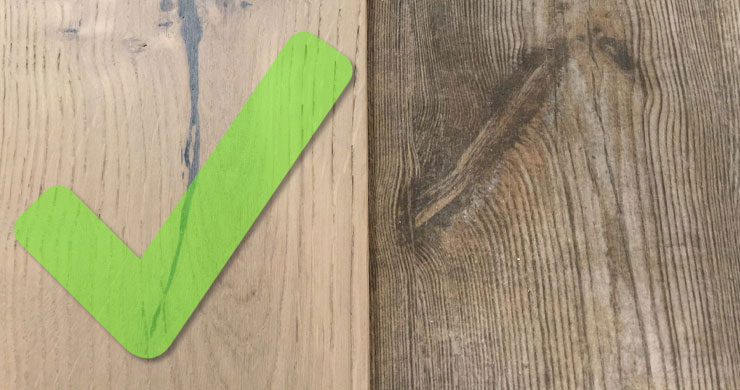 Waterproofing
Hardwood flooring is a naturally porous material that absorbs moisture or spilled liquids, which can lead to long-term water damage. Because wood-look tile is water-resistant and non-porous, it is an excellent choice for wet areas such as kitchens and bathrooms.
Design Alternatives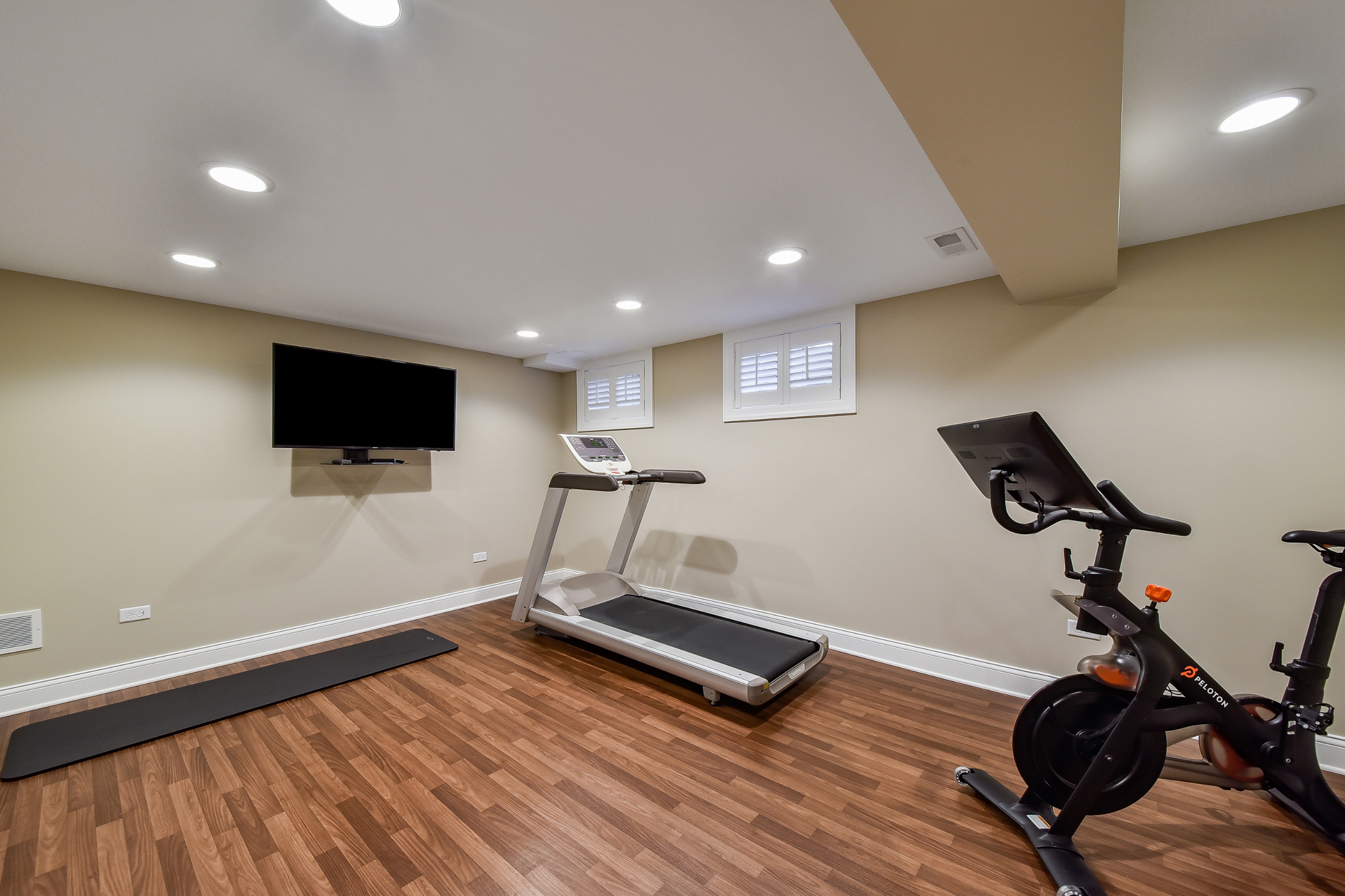 Hardwood flooring is accessible in a wide range of colors and styles, but because it is natural, the options do ultimately run out. Wood-look tile alternatives, on the other hand, are virtually limitless. As it grows in popularity, designers continue to create new styles, colors, and textures.
Style
Unless your heart is fixed on the look of real hardwood, there isn't much of a visual difference. Tile is made to look like hardwood and has the same colors, textures, and attractiveness. Thanks to developments in production technologies, tile may now be created in rectangular sizes mimicking planks.
Maintenance
Dents and scrapes are always a risk with hardwood. Real wood flooring can be quickly damaged by pet claws, high heels, and other factors. Porcelain is a considerably tougher substance, making wood look tile more durable and resistant to scratches and dents. Tile is notably easier to clean and maintain than actual wood, and it is strong enough to last for many years.
If you've never heard of faux wood tiles, you are missing out on an opportunity to add style, functionality, and beauty to your space. These floors are stunning and not only will give you the appearance of wood, but will let you live your life on your floors without the fear of easily damaging them. Is it really a wonder that they're the current hot trend in flooring? To learn more about what faux wood would look best in the room of your choice, please contact us.