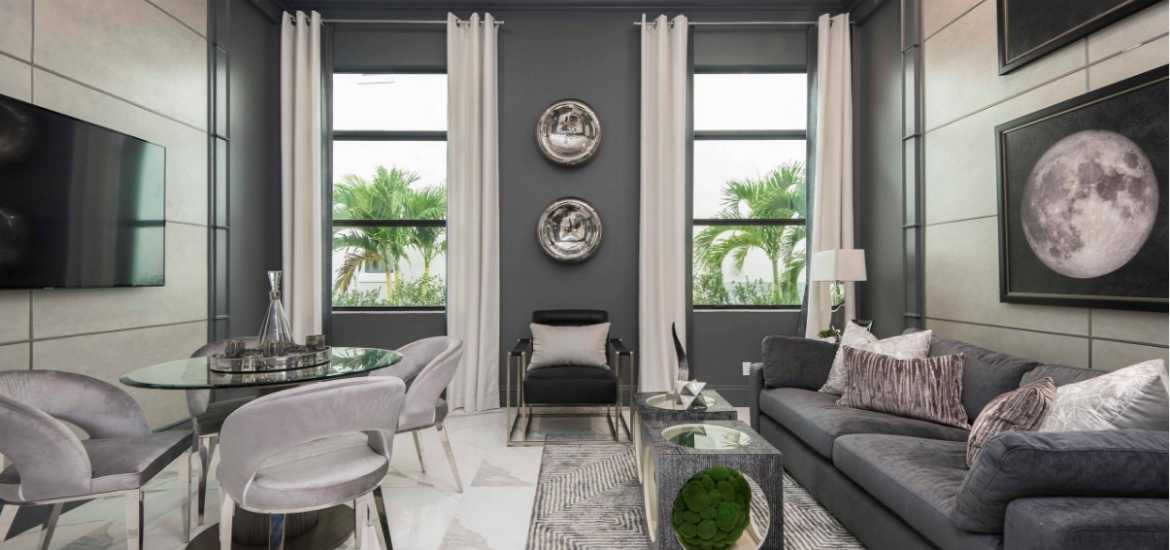 The living room is where you usually spend a great deal of your spare time at home. Whether you're watching TV, reading your favorite book, or perhaps entertaining guests, selecting the proper color scheme in your living room is vitally important. Gray is among the most preferred shades since it really works well with various other colors—even black and white. Thus, we have put together 17 gray living room decor ideas to enable you to decorate the most widely used room in the home. Make sure you'll be able to get personalized decor pieces to have the finishing touches on your living room.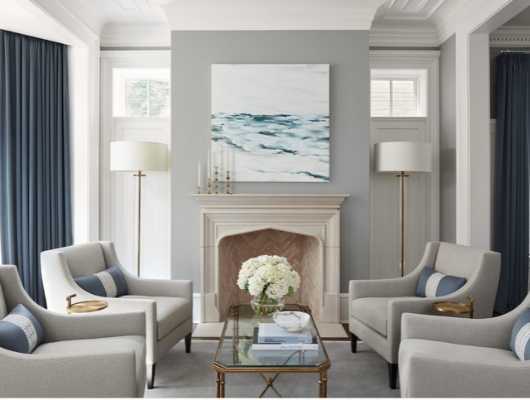 This gray living room by Gemma Parker Design, LLC is stunning. The concrete casting of the fireplace's classic form is a welcome modernization. What a sleek and simple layout for a living space.
This is a fantastic example of a Hollywood-style living room with film-themed decor. Allure transcends time thanks to its eclectic blend of alluring periods, seductive styles, and clean drama. Wadia Associates outdid themselves with this one.
Want to add a touch of refinement to your living area but need help knowing where to start? Jaime Blomquist Interiors has done a fantastic job with this design. The room's subtle design touches offer a level of sophistication that belies its apparent ease.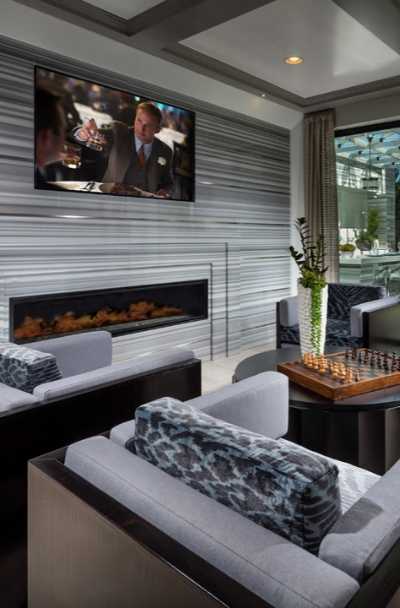 This beautiful living room design will ensure a relaxing and enjoyable stay. The unique linear veins of Marmara White Marble make it ideal for use in mantelpieces. Bita Interior Design did a fantastic job on this family room.
Looking to update your home with a modern living room? Jodie Rosen Design has created a stunningly simple and contemporary living space. The built-in shelves provide a sleek look accentuated by the inset cabinet doors.
This living area is so rich in earthy tones, and textures that just looking at it makes you feel calm and refreshed. Lambakis Interior Design outdid themselves with this one. Relax with some coffee in bed and be energized for the day.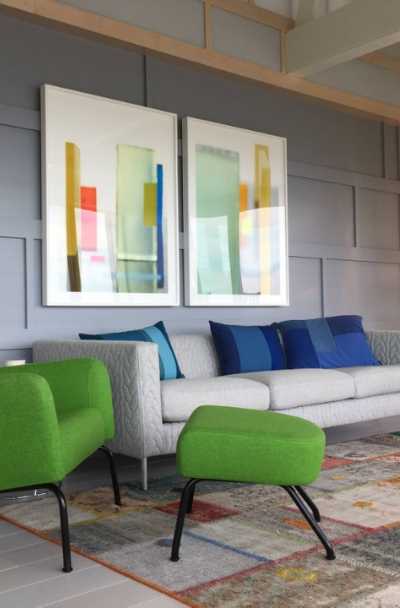 Do you long for a living room that resembles something from the 1950s or 1960s? Feel revitalized with RUHL STUDIO Architects' energizing layout. The form is purposeful, drawing attention to the vibrant color palette and the materials' quality.
You may as well be dreaming while relaxing in this living room—the hardwood floor grounds the space, so the walls and ceiling may be kept white. DSDG Architects has done a fantastic job with this family room.
This living room's decor's minimalist style is calming and invigorating. Wow, Diana Bastone Designs nailed it with this one. The built-in millwork and ornamental moldings in this weekend getaway have been a facelift.
Fancy Gray Living Room Designs
A mix between white and black, gray is, by definition a neutral. Grey living room ideas can have unique versions. This particular color could be cool or warm, dramatic and dark, or beautiful and bright. And may possibly be utilized in gray furniture or even gray living room walls, as a component of the home. We are extremely into gray, but just if the trim is perfect. When you do not wish to try painting your living room white, but wish to maintain the area great and bright, a pale gray is a good option. Thus, in case you like gray, these gray living rooms ideas will sweep you off your feet!
The ideal result, however, comes when in conjunction with accent colors for gray! Now the question is, what color complements gray? A gray and blue living room is one example! Gray could be a dull, boring color, so pick your tone with care, together with the sprinkles of the various other shades! Or perhaps, why don't you make a light grey room?
Gray areas are a good way to begin refreshing your home decor, particularly the living room, which is among the most crucial rooms in your house. The majority of people seem to spend most of their time there. Thus, in case you like gray color, having some gray areas will be perfect for you! It's a basic color that is available in many shades. Consequently, being a premier choice for individuals who like something minimal, classic, but trendy, and different.
Below are several ideas you are able to take a look at in order to determine what gray rooms are like! They may be in color, in furniture or even in little details, which make the real difference. The truth is, the list is limitless!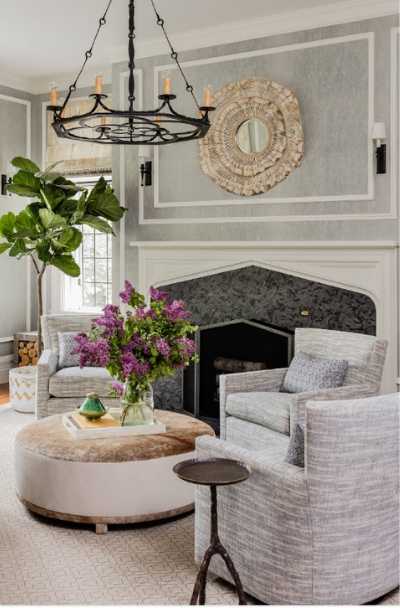 This living area has so many traditional touches that it will wow anybody who sees it. LeBlanc Design has created such a sophisticated look. This wonderful living area is adorned with a careful balancing act of forms, textures, and ornaments.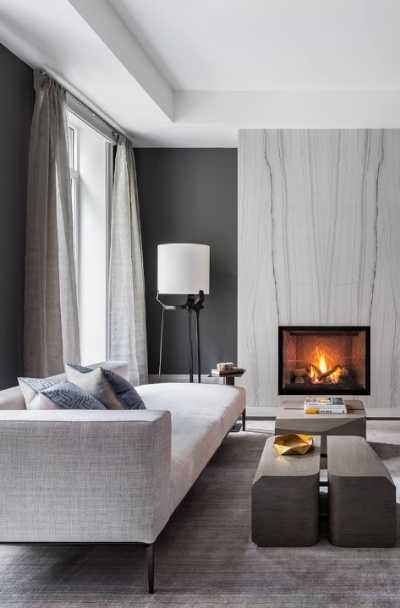 You'll notice that this luxurious living room also has a welcoming appearance. The living room design by Apex Custom Fabrication is very refined and gorgeous. Perfect restraint is shown by the vertically arranged and matched marble on the fireplace facade without a mantle.
White And Gray Living Room
What color goes with gray? Gray is one color that looks gorgeous when coupled with various other colors. We're not sure if you've seen it paired with colors that are bold, but it can look good with it. They're additionally ideal with pastels too. But of course, what better looks good with gray than its nearest neighbor, black and white.
The majority of modern homes are created using colors that are neutral or perhaps earth colors, even though some can also be colorful. Though we believe that beautiful living rooms stand out in white and gray, you will probably agree with us when you see the list we have below. However, we're not saying that contemporary living rooms should simply be white and gray.
Need to revamp your living room, but uncertain where to begin? Pick gray to color it. No longer connected with dark dungeons, dull office blocks, or maybe unpainted walls, gray is a hue wonderfully understated. It makes your furniture look fashionable, sans huge risks in living room interior design.
You will feel comfortable in this industrial living room design: flowers, a long soft couch, and natural fiber wall art warm an industrial setting. FOUR POINT DESIGN BUILD INC. did such an excellent job with this design.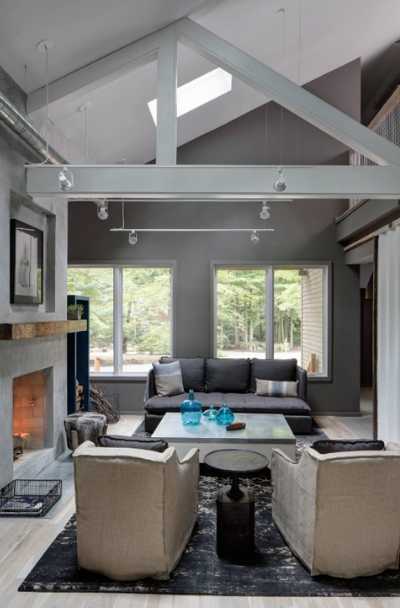 This living room design by Fredman Design Group will make you fall in love. Everything looks so clean and simple at the same time. Exposed trusses, ductwork, and lighting highlight the soaring sloped ceiling in all its beauty.
Designing A Modern Gray Living Room
Modern living room ideas are comfortable, stylish, and sleek. Gray is a basic color that can add subtle sophistication and calm to almost any area. Incorporate a range of gray tones, along with other various colors, to add visual interest to the place. Professional decorating ideas are able to help you design a contemporary gray couch living room you will love.
Create a monochromatic color pattern with an assortment of gray tones. Go to a home improvement store and also get sample paint color cards with several gray tones that you are drawn to. A color card, which has 4 to 6 shades of gray on one card, creates a great monochromatic color palette in your living room. A very simple color scheme made up of black, gray, and white imparts an edgy, contemporary feel. You are able to likewise combine charcoal grays with bright citrus and whites yellows, oranges, and greens to add pops of vivid color to the space.
Apply a light gray color on the wall space in a tiny living room, making it seem to be much more spacious. Conversely, cozy up a big living space by using a deep shade of gray to the walls. White crown molding and trim present a sharp, fresh, appearance that is contemporary against gray walls. Hang natural woven, gray shades over the windows to inject an earthy, contemporary element into the space. Roman fabric shades in a geometric design or maybe stripe include a designer savvy flair for your windows. Smooth white and gray drapes, which pool on the floor convey a touch of contemporary sophistication.
Hardwood floors are stained in a dark gray or maybe black work nicely in a gray living room. Thin wooden planks, along with a glossy topcoat, have a tendency to modernize wood flooring. Place a white-colored shag area rug with the floor to help you refine and also define the room while offering cozy comfort. Shiny chrome lamps add a modern-day sparkle on the gray decor while offering task lighting for reading. Hang a glitzy chrome chandelier in the center of the home to supply general background lighting, in addition to a contemporary focal point.
A dazzling leather sofa and also sectional adds style and comfort to decor that is contemporary. Go for white, black, or gray leather upholstery to improve your gray color scheme. Add visual interest with fabric chairs upholstered in white and gray pages. Glowing glass accent tables with shiny chrome legs enhance the contemporary gray decor. Hang an arrangement of preferred black-and-white photographs in black frames on the wall or even put in a splash of color with an oversize piece of artwork—position toss pillows in various fabrics, colors, sizes, and shapes atop the couch. Add a sense of the outdoors to your gray living room with potted greenery or maybe vases full of fresh flowers.
How To Create A Warm And Cozy Gray Living Room
Accent with muted pinks or even metallics and purples. Soft pinks & purples, like dusty rose and blush pink, pair beautifully with gray. The muted tones include a touch of femininity without overpowering the style. Metallics usually complete this particular color palette, including a chic touch of glamour to the complete appearance.
Pick a comfortable area rug. Do not underestimate the power associated with a comfortable area rug. Occasionally a bit of fluff underfoot is the big difference between a brilliant design that is welcoming and lived-in and an almost brilliant design that is lifeless and cold. Rugs in soft, neutral tones, including cream and white, work nicely with gray sectionals.
Mix patterns. In case you are a fan of pattern play, then go of it! Gray is a super friendly and neutral, all things considered. High-contrast patterns, such as black-and-white wallpaper, will make it possible to draw out the light and dark tones in your sofa's shade of gray. Simply, you'll want to follow a broad color palette when mixing patterns so your appearance does not look quite chaotic.
Embrace warm wood tones. The warmth of wood helps you to balance the cool tones frequently present in gray, so embrace wood in your area. If you have wood paneling or maybe wood beams overhead, get an eye-catching light fixture to draw the eye up. If you have wood built-ins, approach them with colorful, curated add-ons to make sure they are a focal point.
Add brilliant splashes of color. As I pointed out earlier, gray is an all-star neutral. It can serve as the best backdrop for bold, brilliant color. Simply, you'll want to balance loud color with understated pieces.
Get a houseplant. Nothing is going to bring your gray sectional to life like a leafy houseplant. A potted tree, just like the ever-popular fiddle leaf fig, is an excellent approach to bring texture and height to a vacant corner.
A smooth, low profile sectional calls for a striking backdrop. Scan your living room before putting your clean-lined stunner, and choose according to background options. An intriguing accent wall or even exposed brick does the trick, as does a sweeping view.
How To Choose The Perfect Shade Of Gray
Selecting your paint is not just a matter of selecting a single color. Gray is versatile since it is available in a wide variety of tones and shades. From dark charcoal to pale smoke, the concentration of black in the color mix is able to have a huge effect on the color. Plus, gray can blend in with colors like green or blue to make subtle mossy or maybe watery tones much more accessible without being overly on-the-nose.
Blue and green are among the most popular color hints in gray—it is generally regarded as a cool-toned color. Cool gray is not the sole option, however. There is a huge difference between gray (cool) and beige (warm). And greige, a mix of beige and gray, sits in between cool and warm. The shade of gray paint you select will help establish the perfect color choices for your larger living room furniture pieces. Brown and taupe furniture go best with grays toward the greige end of the spectrum. Furniture in white or blue looks great against a cooler gray.
Gray does not need to begin in the walls. In reality, gray really works very well as a color for furniture, many types of drapes and rugs. This is particularly true in a living room with walls in colors that are vibrant or wallpaper prints. In this particular circumstance, basic gray acts as a refining influence holding a living room space, which could be visually loud in case you add several colors or even patterns. Solid grays or perhaps skillful gray patterns, like monochrome stripes, work best with high impact walls. This could additionally be considered a very good style option for a living room with windows overlooking a great view. It goes just as well near many bookshelves or maybe artwork that deserves to have center stage.
This is an image roundup post, curated to showcase and promote other reputable contracting companies' and their amazing work. To have any of the images removed, please reach out to us and we would be happy to do so.
Other Great Articles to Read: