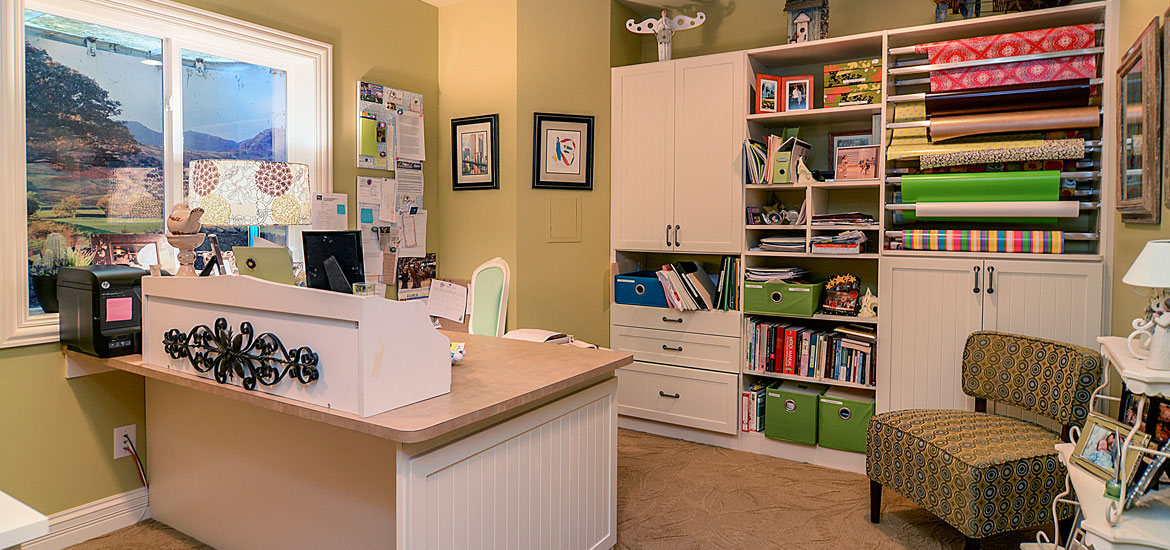 If you enjoy creating projects and crafts as a hobby, or if you need a creative workspace to make the most out of your crafting career; you might be thinking of adding a craft room to your home. Do you have a spare guest room you don't use? Are you thinking of converting a closet or an area in your basement into a functional and fabulously designed craft room?



When it comes to setting aside some space for your most creative works, there are several ways that you can get it done. Whether you need an organized and spacious space for your projects, or you're looking to give your kids a fun space to get their hands wet with paint; there are several ideas that can spark your creativity and help you develop the best craft rooms.
From tables and furniture to organization and craft room storage ideas, here's how to make your craft room the best and most useful crafting room around.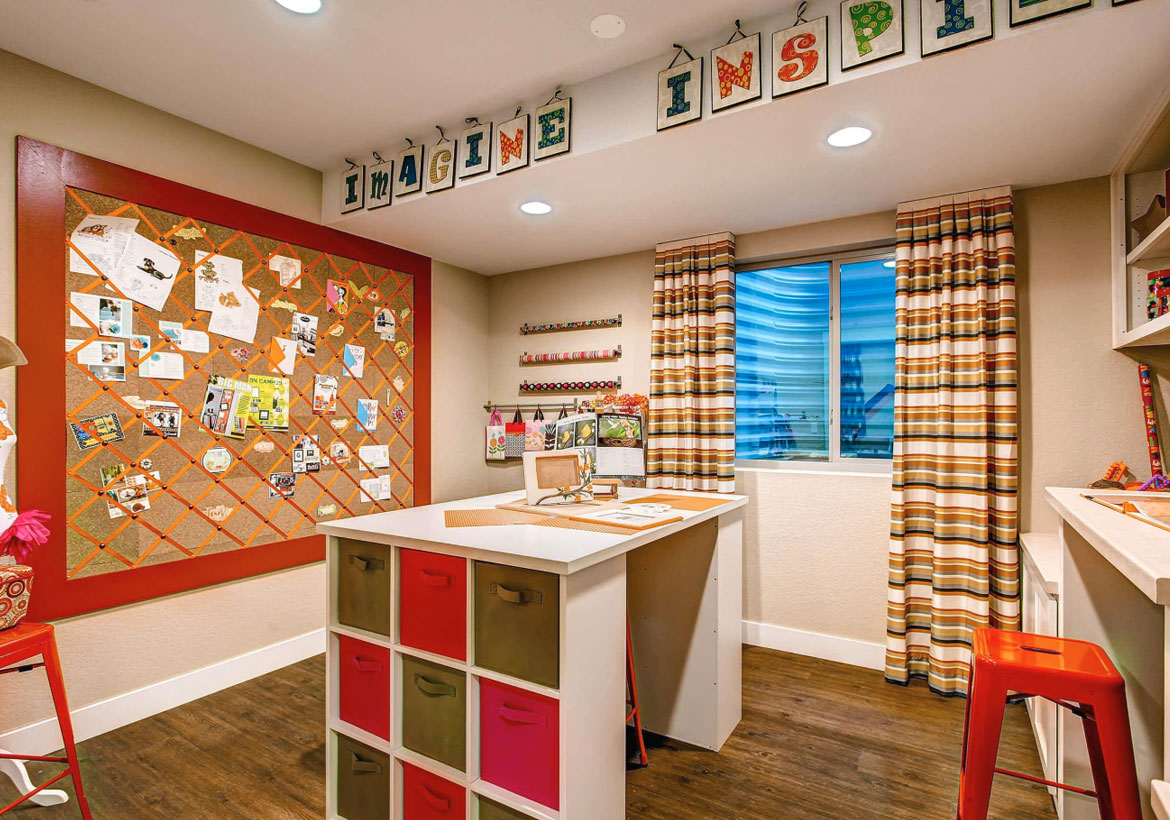 Craft Room Table Ideas
Want to make the most of an ultra-efficient and super functional crafting table? Add cabinets to your table for a transformative workbench! Some of the most popular craft room table ideas have emerged from turning a cabinet cubby space into a tabletop wonder.
You can add a solid wooden counter to an already existing row of cubbies to turn it into a table. Make sure the table is at the height you need, so that you can be sure to add some chairs underneath the counter to make the space truly your own.
Other ideas for a craft room table include:
A long and wide desk with plenty of cubby space on each side
Table on sturdy rollers, so that you can take your desk with you while you work in different areas of the room
Collapsible wood table with leaflets that can be expanded or reduced on each side, giving yourself the flexibility of having more or less space to work with
Take advantage of a table or a desk space that you aren't using and transform it into a table to accommodate all of your crafts.
Craft Room Furniture Ideas
There are plenty of ways you can use different types of furniture to your advantage in a crafting room. You can make the most out of a smaller space by installing shelving units on the walls, or pieces of PVC pipe attached to the wall to hold your pencils, paint brushes, and more.
Having a nice set of cabinets flush against a wall of your room is always a great idea for your craft room, as the odds are you are probably looking to invest in storage. Wooden cabinets or cubbies can go a long way, especially if you have bins and boxes that are able to fit into those spaces. You can improvise by upcycling certain items – like a spice rack, for example – to transform it into a piece of furniture that can store items and also serve as a trendy decorative piece for your room.
FARMHOUSE CRAFTS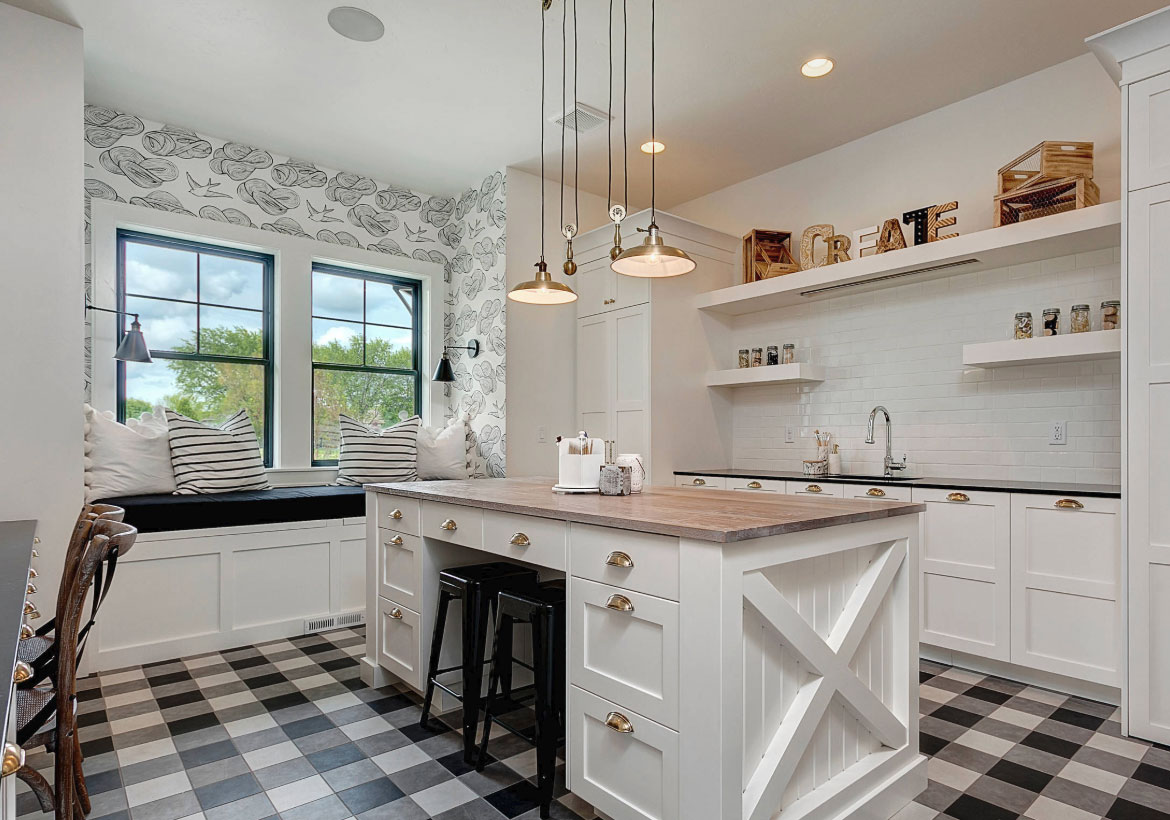 Fresh & inviting.   Tons of great storage cabinetry.  Love the unique flooring choice and lighting.
BURST OF COLORS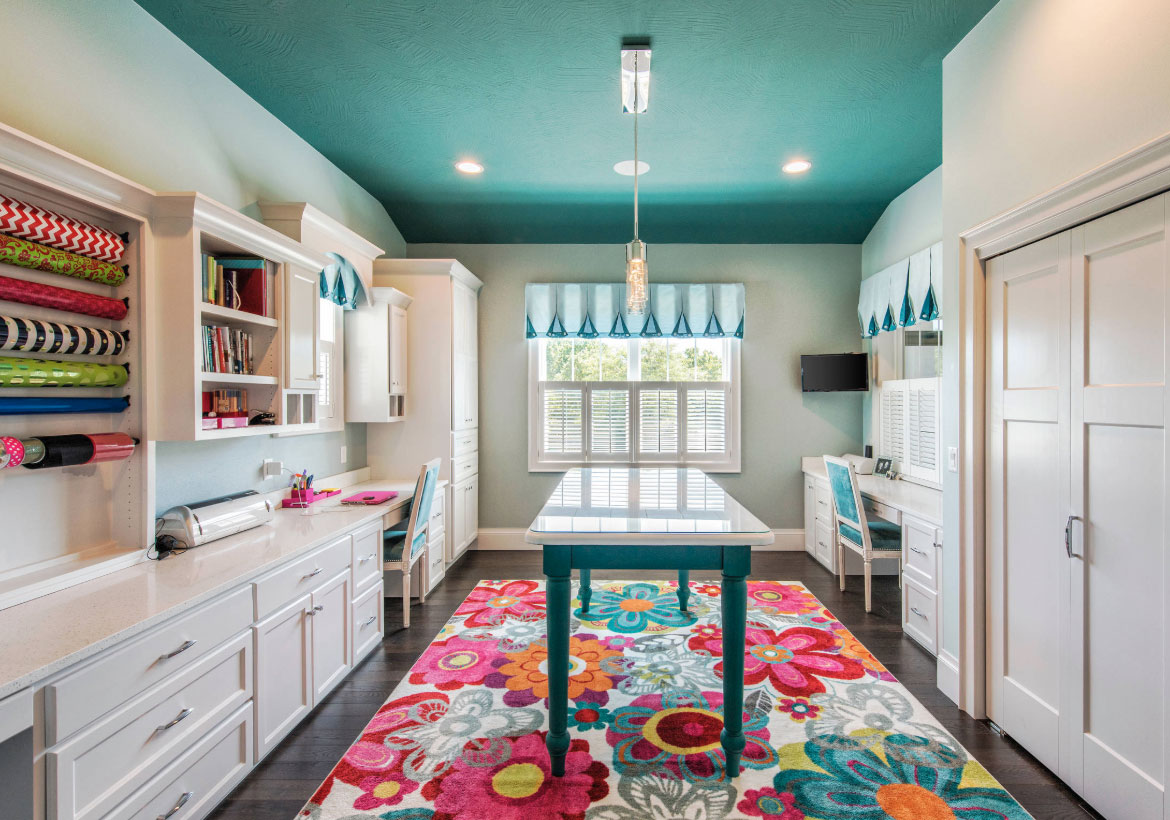 The use of color and amount of space in this craft room is spectacular!   Love how they painted the ceiling teal to coordinate with the other accessories.  
INDUSTRIAL CRAFTS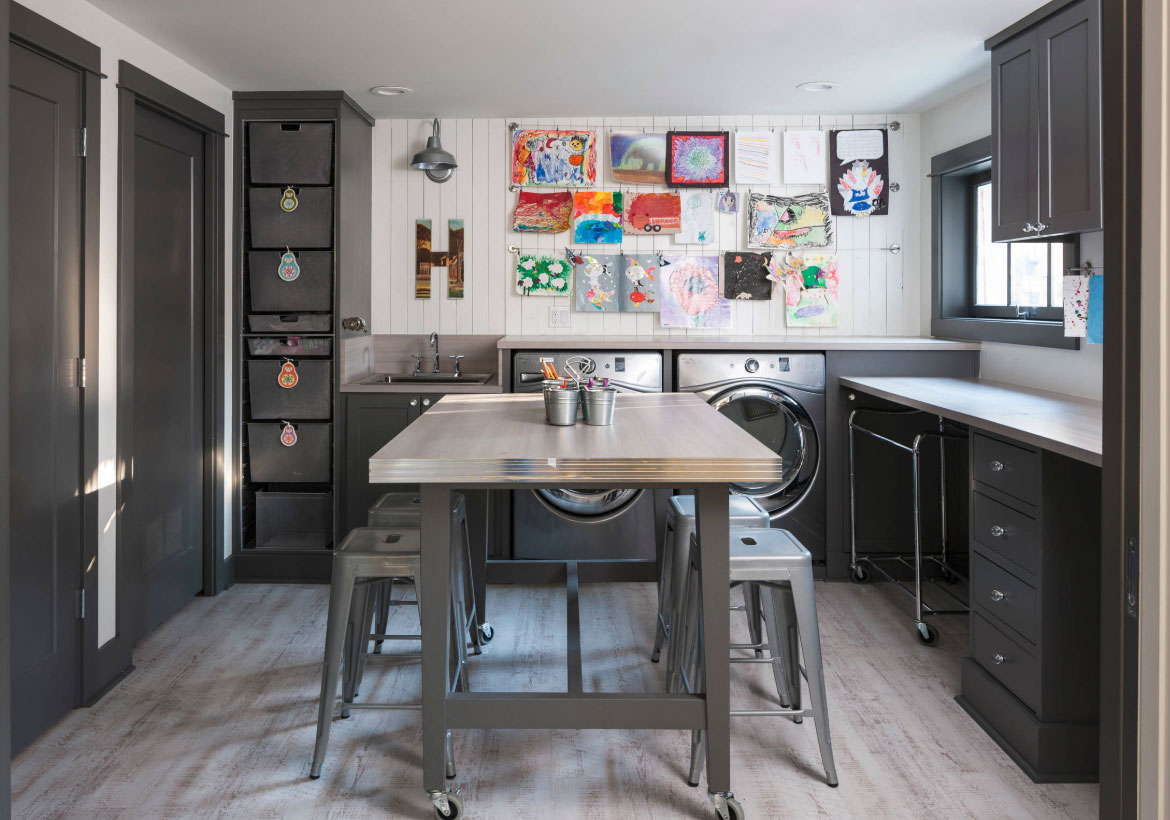 Very sleek industrial feel to this multi-purpose laundry/craft room.
CONTEMPORARY CRAFTS
This colorful contemporary condo makes great use of the space for it's featured sewing/craft room.
LARGE TRADITIONAL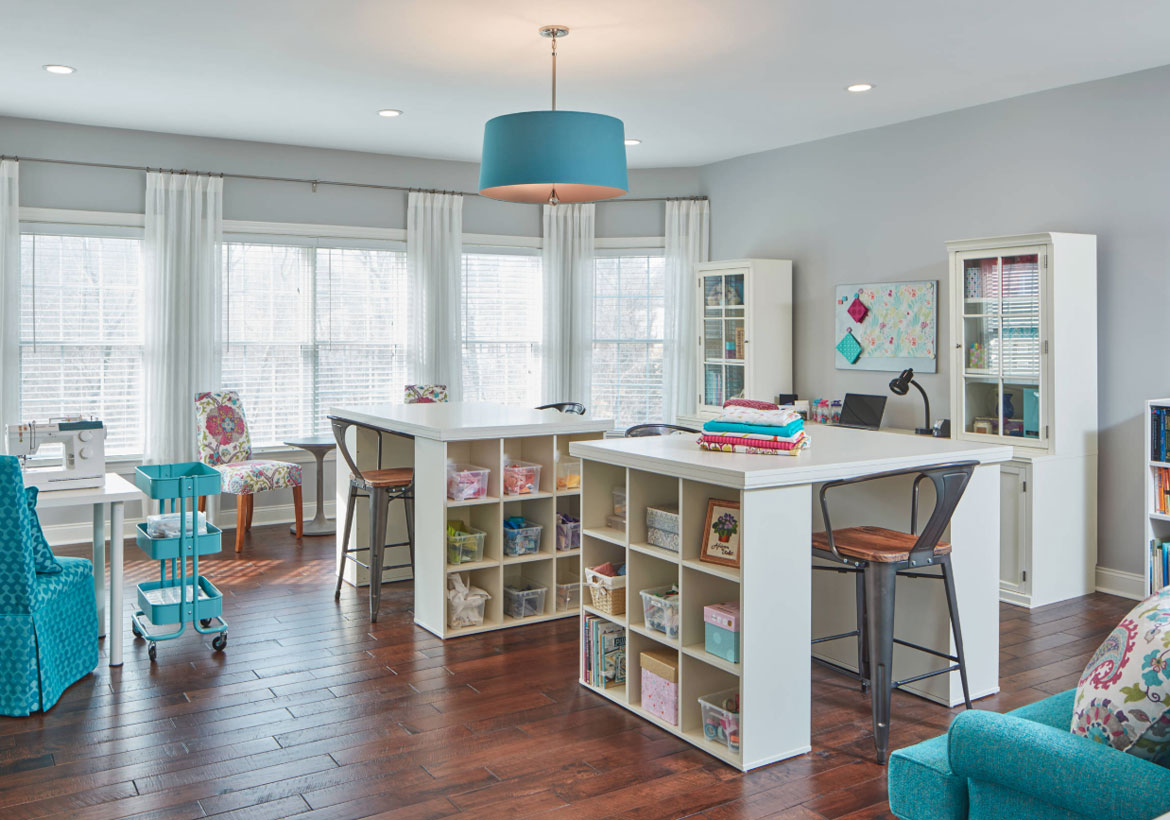 More traditional in style, this large craft room has some wonderfully designed craft room tables.  
COLOR EXPLOSION
What a cheerful & fun space to create in!
Craft Room Storage Ideas
Storage is the number one factor that goes into what you should be holding in your craft room, and how much of it you can hold. Storage can make or break the entire room, so be sure to use your space wisely as you come up with some creative ways to store your items in a beautiful and easy-to-find way. Here are some ideas below to get you started.
Craft Room Storage Furniture and Cabinets
Who says furniture can't be functional? You can take advantage of several pieces of furniture in your crafting room so that they aren't just big chunks of wood or fabric taking up space.
The best type of storage furniture you can use tends to be cabinetry and cubby spaces. You can even build craft room storage cabinets underneath your work table or work desk, giving you room to store extra items that are out of the way but not inaccessible. Even chairs and stools can come equipped with secret storage space underneath the seat for you to hide great items. If you're building a kid's crafting room, you can install a safe chest or a piece of furniture that also stores all of their toys and supplies.