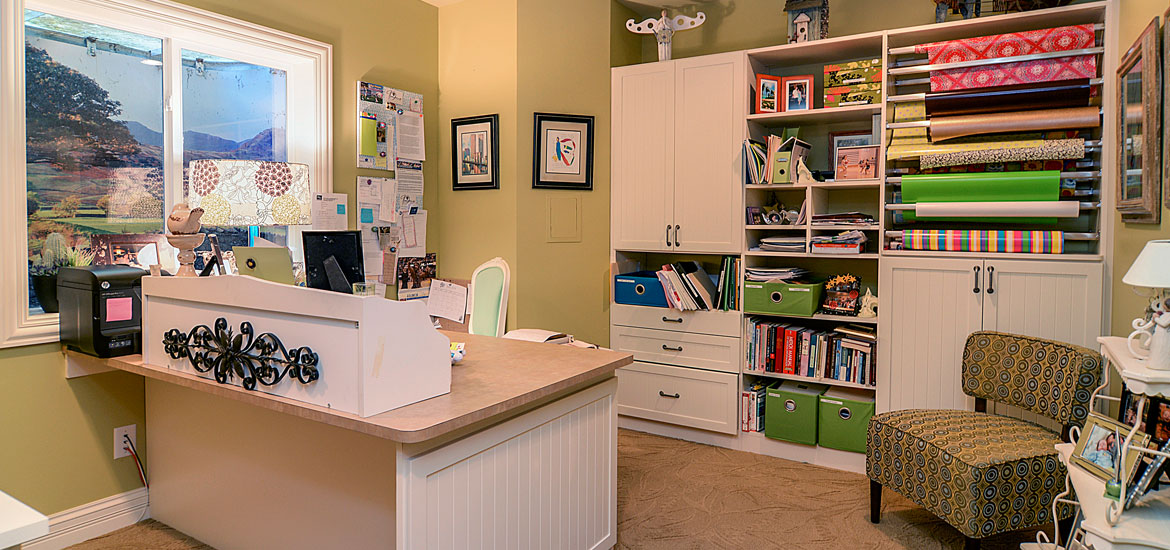 If you enjoy creating projects and crafts as a hobby, or if you need a creative workspace to make the most out of your crafting career; you might be thinking of adding a craft room to your home. Do you have a spare guest room you don't use? Are you thinking of converting a closet or an area in your basement into a functional and fabulously designed craft room?
When it comes to setting aside some space for your most creative works, there are several ways that you can get it done. Whether you need an organized and spacious space for your projects, or you're looking to give your kids a fun space to get their hands wet with paint; there are several ideas that can spark your creativity and help you develop the best craft rooms. From tables and furniture to organization and craft room storage ideas, here's how to make your craft room the best and most useful crafting room around.
CLASSROOM CRAFTS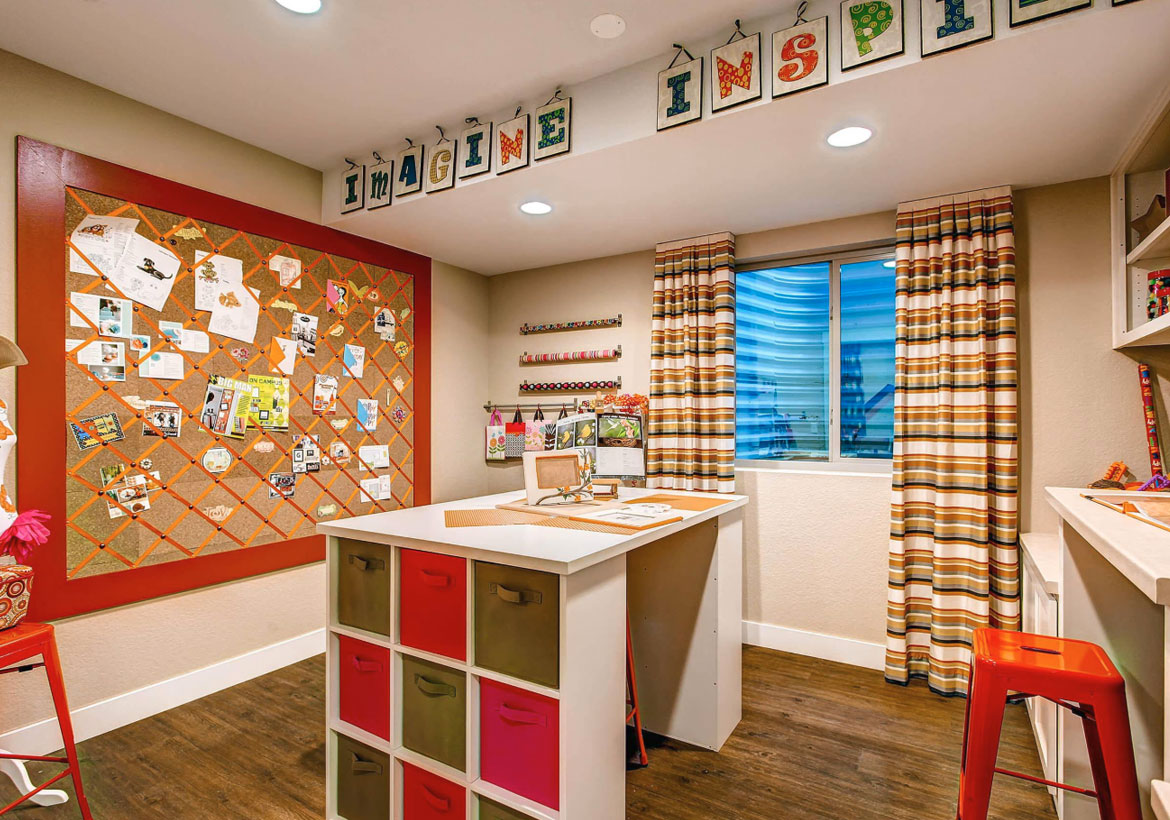 Seeking a place to work on your ideas and craft projects? Everything appears so artistic and vibrant in this imaginative craft room by Wonderland Homes. Great touch and feel to enhance the classroom environment.
SOPHISTICATED CRAFTS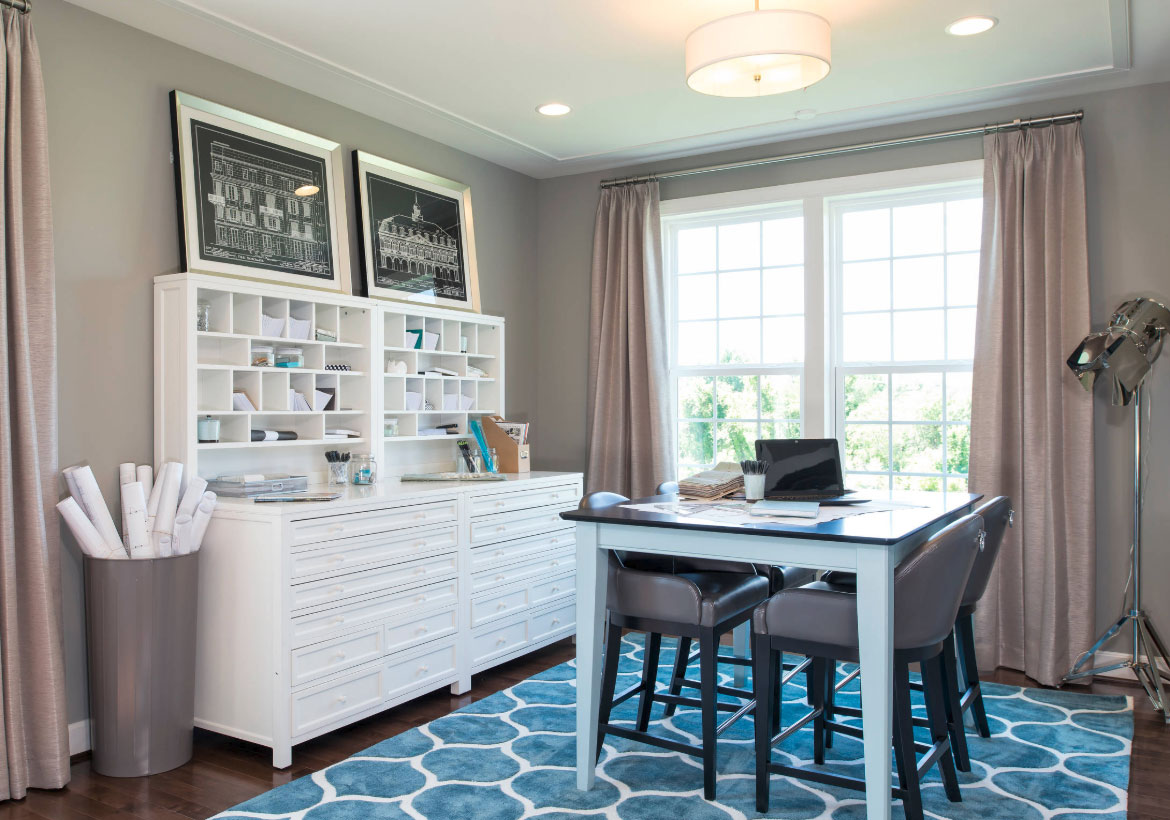 If you want to look professional and elegant, you should have a well-designed room. This craft room by Stanley Martin Homes is just incredibly contemporary. Love the warm feeling this craft room gives off!
ORGANIZATIONAL WONDER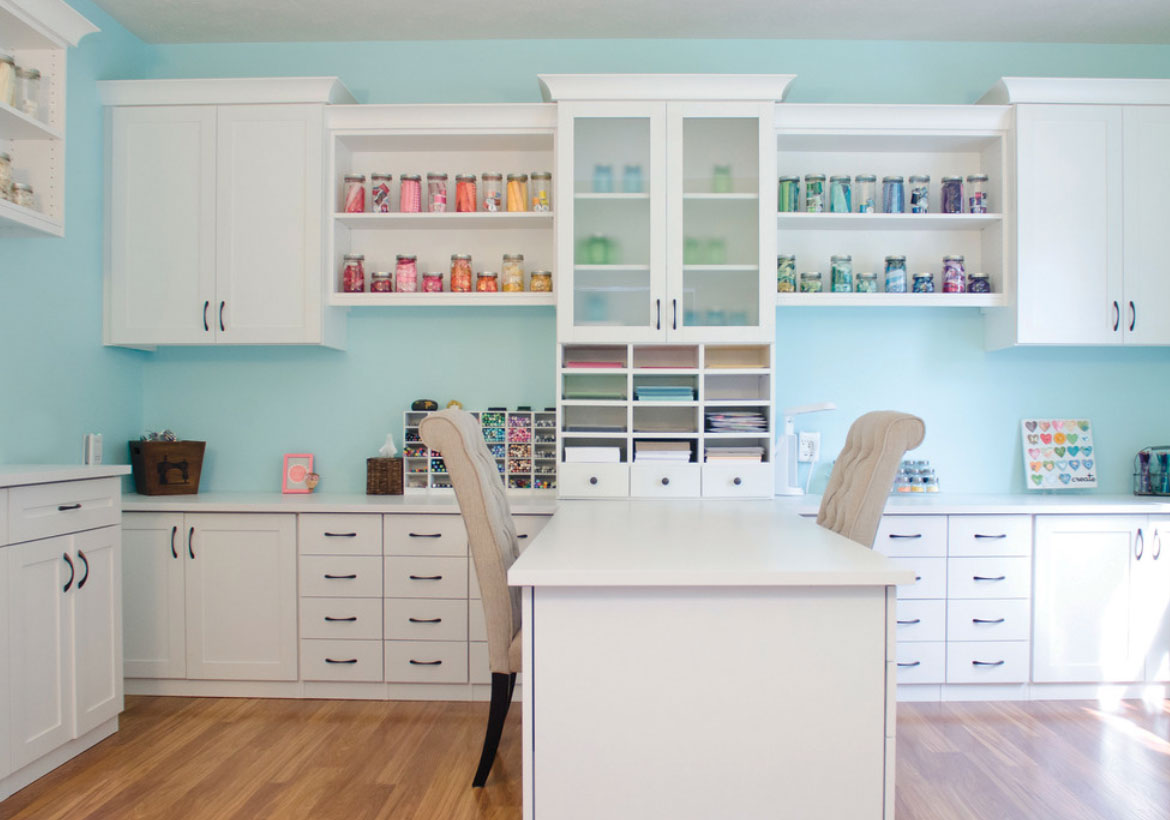 Everyone would prefer a tidy craft space over one that is disorganized. This neat, organized craft area from California Closets HQ appears peaceful and light. Here, one of the best craft rooms! A genuine masterpiece.
EVERYTHING HAS A PLACE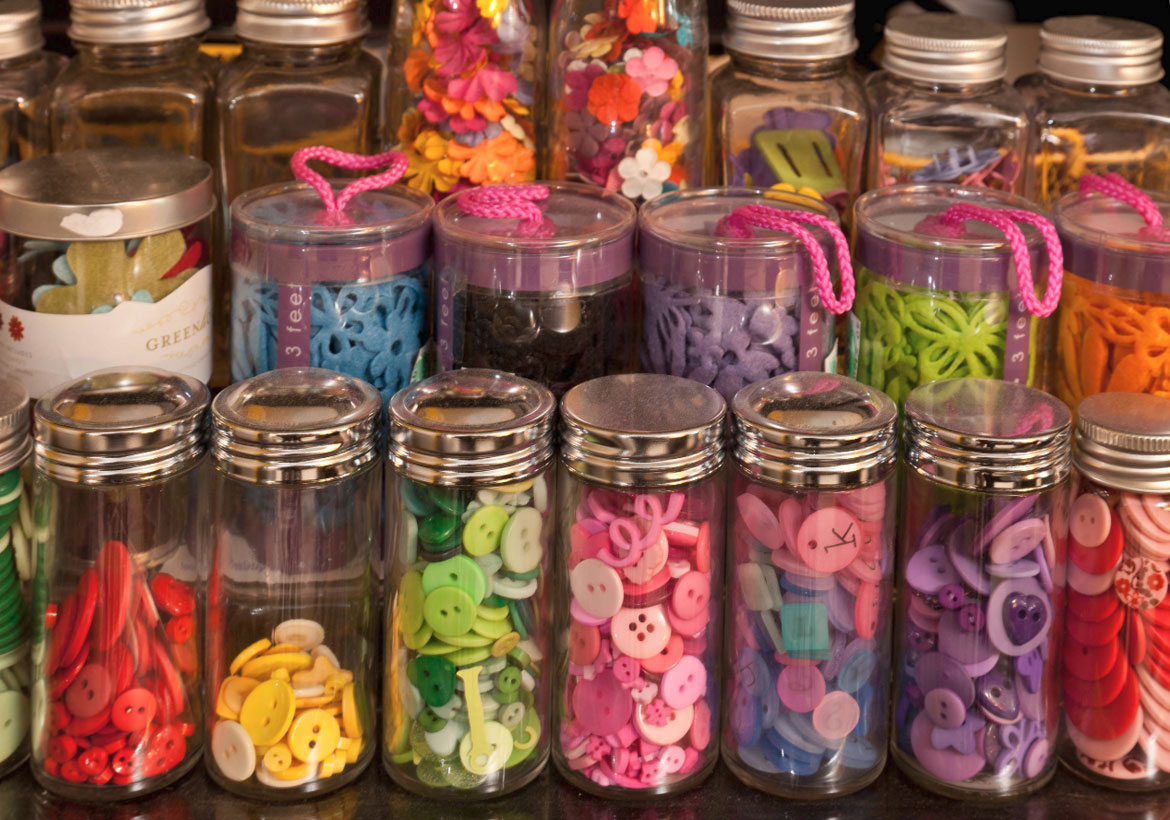 People would be fascinated to see how tidy your craft room is. There are numerous jars and bottles in this craft area designed by Classically Yours Interiors (CYInteriors) for each button color. Organization is crucial, especially when dealing with crafts.
MORE STORAGE THE BETTER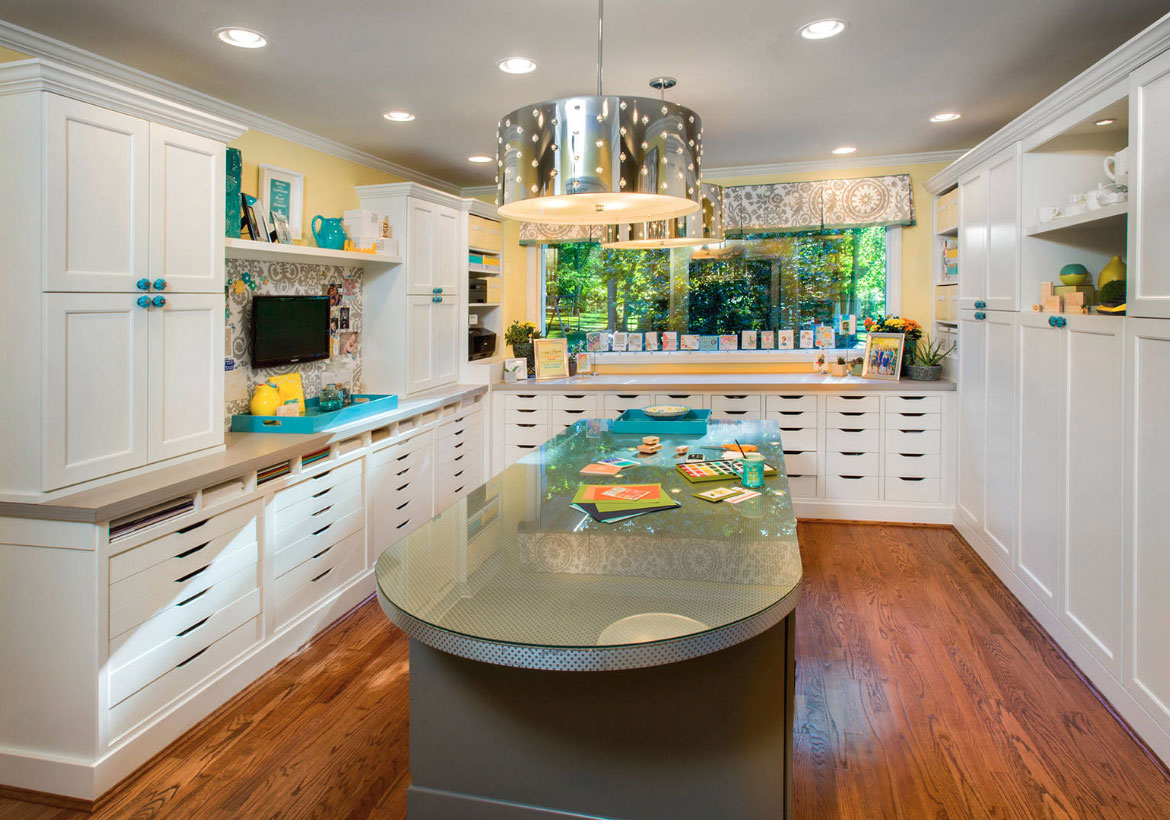 The clever interior design of Neal's Design Remodel makes the space appear plentiful and light. Thought to be a kitchen, it is a craft room—a stunning master craft room with storage and compartments for all of your projects.
CLASSIC CRAFTS
When you feel like creating crafts and artwork, creating them in a peaceful, natural setting is fantastic. This craft area has a great layout and a timeless design thanks to Legacy Custom Homes, Inc. This craft area makes simple and eclectic use of its space.
Craft Room Table Ideas
Want to make the most of an ultra-efficient and super functional crafting table? Add cabinets to your table for a transformative workbench! Some of the most popular craft room table ideas have emerged from turning a cabinet cubby space into a tabletop wonder.
You can add a solid wooden counter to an already existing row of cubbies to turn it into a table. Make sure the table is at the height you need, so that you can be sure to add some chairs underneath the counter to make the space truly your own.
Other ideas for a craft room table include:
A long and wide desk with plenty of cubby space on each side
Table on sturdy rollers, so that you can take your desk with you while you work in different areas of the room
Collapsible wood table with leaflets that can be expanded or reduced on each side, giving yourself the flexibility of having more or less space to work with
Take advantage of a table or a desk space that you aren't using and transform it into a table to accommodate all of your crafts.
Craft Room Furniture Ideas
There are plenty of ways you can use different types of furniture to your advantage in a crafting room. You can make the most out of a smaller space by installing shelving units on the walls, or pieces of PVC pipe attached to the wall to hold your pencils, paint brushes, and more.
Having a nice set of cabinets flush against a wall of your room is always a great idea for your craft room, as the odds are you are probably looking to invest in storage. Wooden cabinets or cubbies can go a long way, especially if you have bins and boxes that are able to fit into those spaces. You can improvise by upcycling certain items – like a spice rack, for example – to transform it into a piece of furniture that can store items and also serve as a trendy decorative piece for your room.
Craft Room Storage Ideas
Storage is the number one factor that goes into what you should be holding in your craft room, and how much of it you can hold. Storage can make or break the entire room, so be sure to use your space wisely as you come up with some creative ways to store your items in a beautiful and easy-to-find way. Here are some ideas below to get you started.
Craft Room Storage Furniture and Cabinets
Who says furniture can't be functional? You can take advantage of several pieces of furniture in your crafting room so that they aren't just big chunks of wood or fabric taking up space.
The best type of storage furniture you can use tends to be cabinetry and cubby spaces. You can even build craft room storage cabinets underneath your work table or work desk, giving you room to store extra items that are out of the way but not inaccessible. Even chairs and stools can come equipped with secret storage space underneath the seat for you to hide great items. If you're building a kid's crafting room, you can install a safe chest or a piece of furniture that also stores all of their toys and supplies.
Craft Room Organization Ideas
Organization is one of the strongest keywords to be thinking about when creating your perfect craft room space. When it comes to storing and finding your favorite items, it's always about organization!
And since it's a craft room, this is the perfect opportunity to get creative! Some of the most popular organization ideas include:
Organizing your supplies by color. Do you have a lot of storage space dedicated to ribbons, scrapbook paper, paints, or similar items? Odds are, you are likely working with a lot of color palettes. Try organizing everything by color so you know exactly where to start looking for the item you want to use next.
Make a beautiful display of your items. Your items shouldn't just be there to be used, but they should be there to look nice, too! If you have a modest rubber stamp or button collection, put them on display by making them part of your room's decor. But be sure that they are still in an easy-to-reach spot so you can temporarily take them down when you are using them.
Store paper on the back of the door. Finding a place for wrapping paper and tissue paper can be annoying, especially when the paper comes in big rolls like at the store. You can install some hanging racks on the back of your door to cleverly store your wrapping paper, so it's out of the way and yet it is always right there when you need it!
The best craft rooms have plenty of thought put into organization and item placement. Ultimately, you should learn how to organize your items in a way that best suits you and your needs. If you are an artist, think of the best place to store your brushes and paints that will make them easy to find and access each time you look. Try out a few different storage possibilities too to see how you can make the most out of the room you have!
Craft Room Design Layout Ideas
The layout of your crafting room might largely depend on the architecture of your home. Think about the ways in which it can be modified to your advantage. Many people love to transform kitchen nooks or walk-in closets into crafting rooms that serve the perfect layout for their purposes.
Even an office space can become a partial craft room. Think about what you have available to you. Do you have closet space with sliding doors? You can transform this part of the office into your crafting station; with a pull-down desk on an accordion hinge that you can stand and work at while you aren't performing financial duties in your office. Building cubbies that sink into the natural nooks and corners of your walls can add extra storage space for your supplies, tools, or even your televisions and monitors.
If you want to add more drawer and cabinet spaces, make sure you do it in a place that makes the most sense for you. Don't worry about having too much or too little – you can always change it around.
Small Craft Room Ideas
Homeowners sometimes find it more difficult to come up with craft room ideas for small spaces. If you're in a studio apartment, or you need to work out of a smaller shed while improvising your workspace, worry not – for there's still plenty that can be done. In today's day and age, small is extremely thrifty!
If all you have is a crafting table and a little bit of wall space in the foyer, that is still the perfect opportunity to build a craft room. Use hollow frames or build improvised shelving to hang on the walls, which can serve as your storage space for all of your necessary tools and supplies. Stack cubbies or bins on one side of the table so everything you need is in one convenient spot. You can even add leaflets to your table so you can give yourself more room when you know there isn't going to be a lot of traffic around the house.
If you're working out of a walk-in closet space, you can even try to organize the area to store as much as you'd like. Odds are you have an overhead shelf space, which can store plenty of bins and boxes. You can fit a desk chair or a mobile work table to get all your tasks done, too.
Kid's Craft Room Ideas
Your kids deserve an incredible space to call their own, too! A kid's craft room can be super fun for them, and you can even get them involved in the setup and organization process before the room is complete.
Think about your child's favorite activities. Do they love to use colored pencils and crayons? You can come up with a creative storage area such as a see-through plastic cubby rack that hangs from the back of a door; or a shelf area where they can easily reach and put back their favorite items.
Make sure to exclude anything dangerous–don't let your young kids handle any electrical appliances or equipment like a hot glue gun! You can invest in safe storage bins and shorter tables that encourage creativity and inspire playtime. Above all, a kid's crafting room should be accessible and colorful, and it should help them inspire their vision of creativity, not just yours. It's their space – help them make it come to life!
Get Started on the Crafting Room of your Dreams!
Messy or organized, big or small, there are plenty of ways to enjoy a craft room in the comfortable space of your own home. You might have an entire room dedicated to laying out a great number of shelves and storage spaces for your crafts – or, you could be working out of the kitchen! Either way, there are a great number of opportunities to let your creativity spark! Invest in some functional furniture, have fun with storage, and let your imagination take hold.
This is an image roundup post, curated to showcase and promote other reputable contracting companies' and their amazing work. To have any of the images removed, please reach out to us and we would be happy to do so.