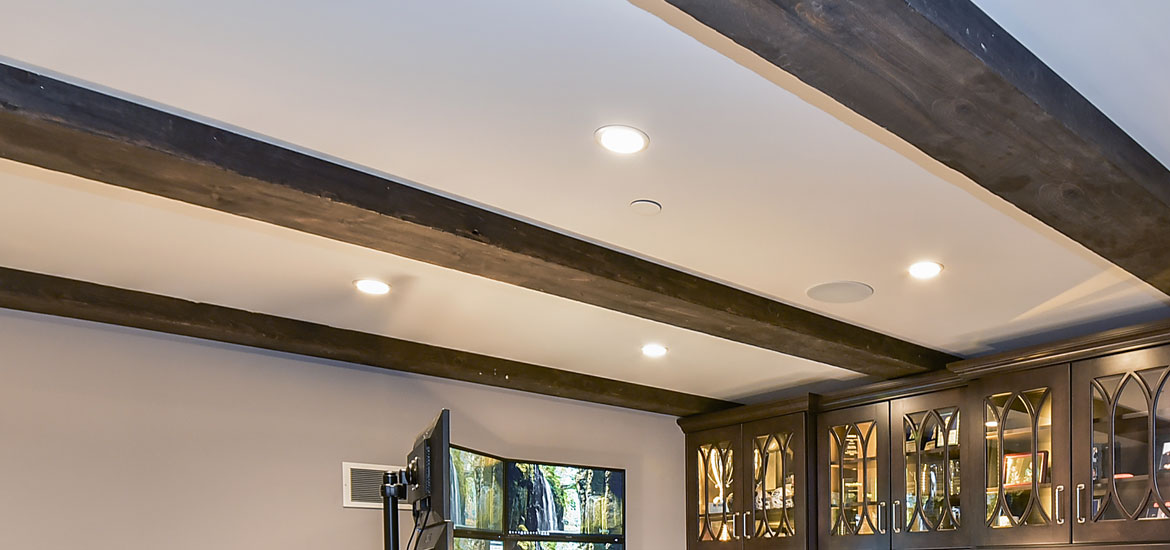 Wood has always had a certain rustic charm that is hard to resist. Its warm and welcoming aesthetics is being enjoyed beyond country homes. Modern and urban decors are now seeking creative ways of incorporating the wood look into contemporary spaces. One way this is being done is through faux wood beams. Faux beams are designed to resemble real wood in look, size, and texture. Thanks to technology, manufacturers can make use of different materials to create an accurate mimicking look of wooden beams including the color, pattern, and grain.
They may look heavy, but faux beams are actually quite light (compared to real wood beams), thanks to the materials used in making them. In fact, most have a hollowed-core design, which helps reduce price and weight. This makes transport and installation easy and less costly.
RUSTIC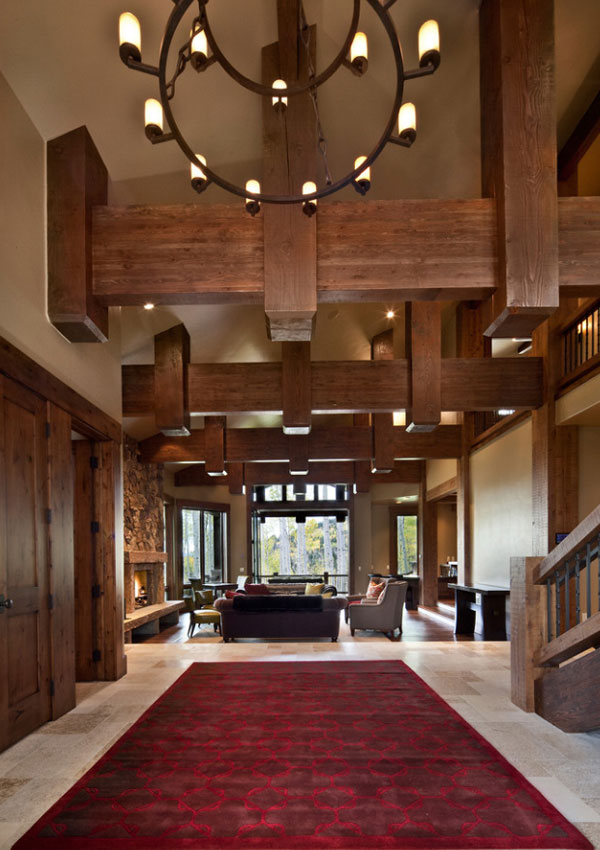 POP OF BLUE
What a fun splash of color on these beams in this beach style kids' room.
SKYLIGHTS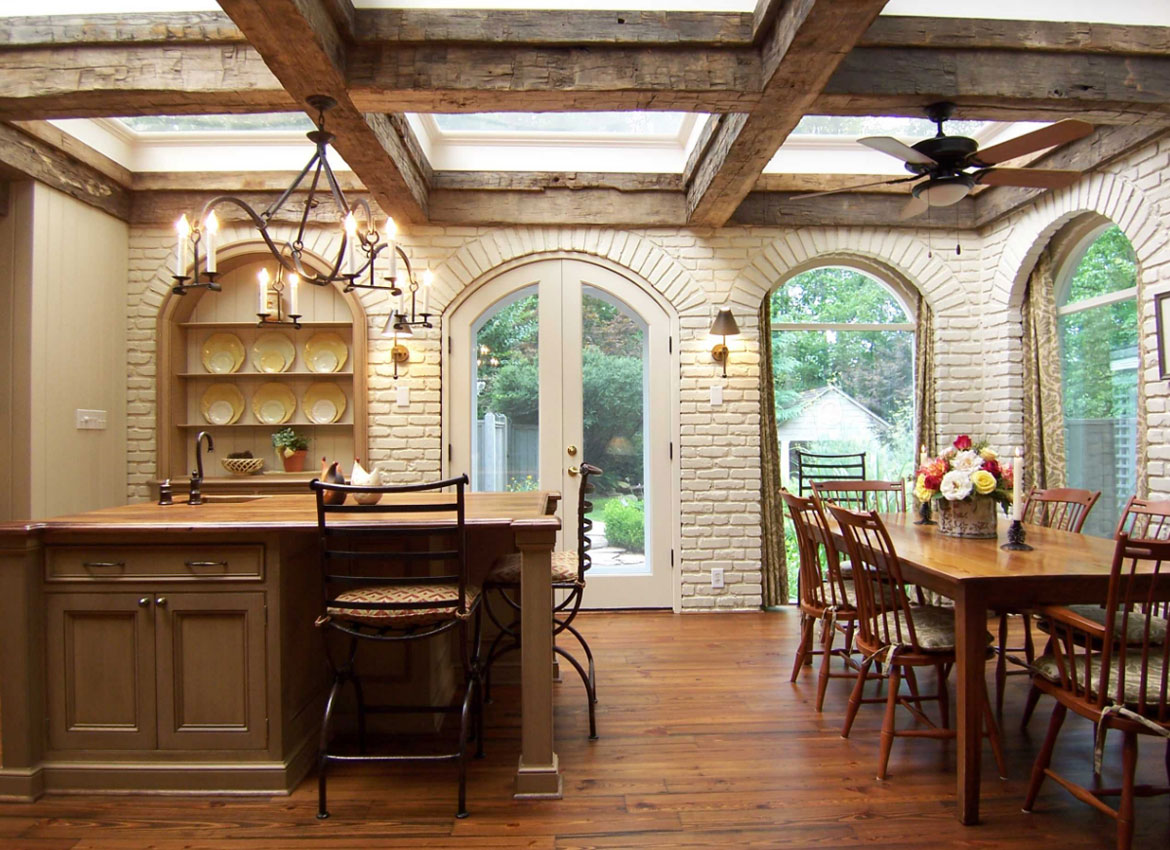 Love the integration of the windows/skylights within the beams.
CRAFTSMAN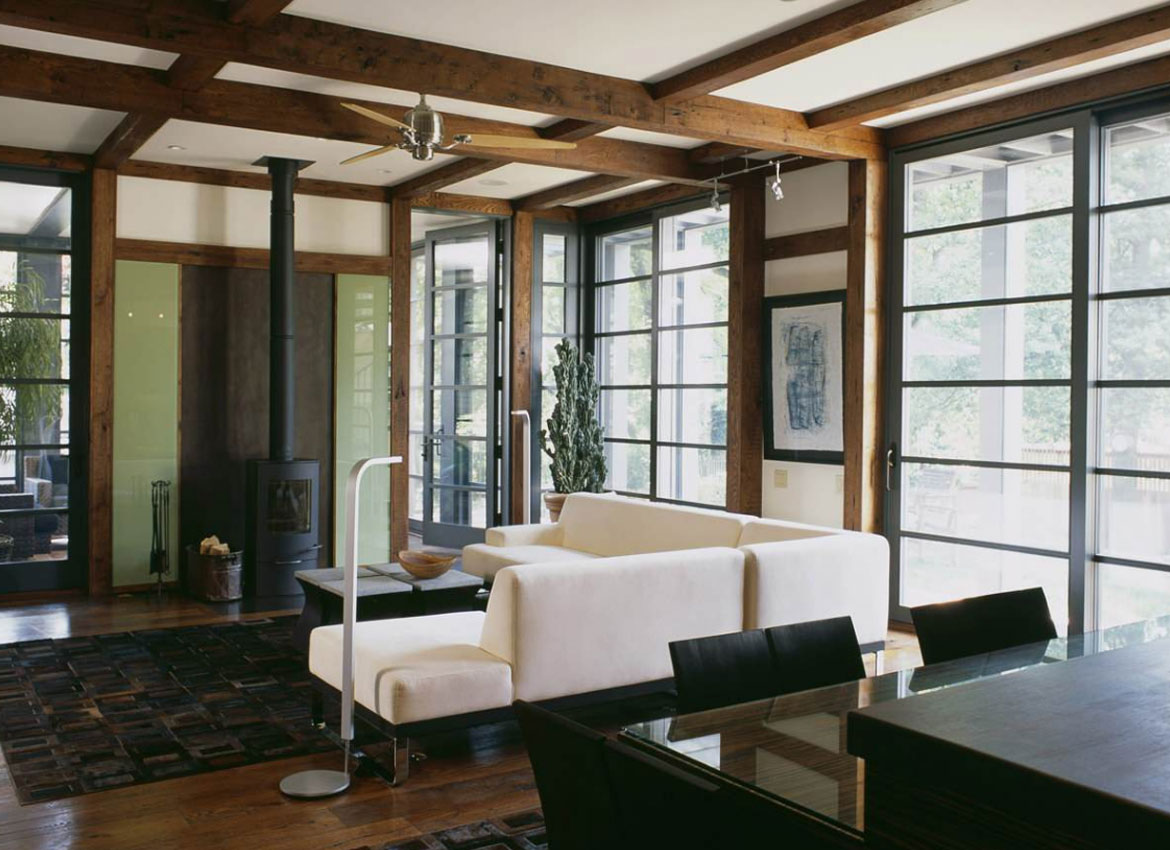 Beautiful beams in this 1920's era Craftsman Teahouse.
MID GRAY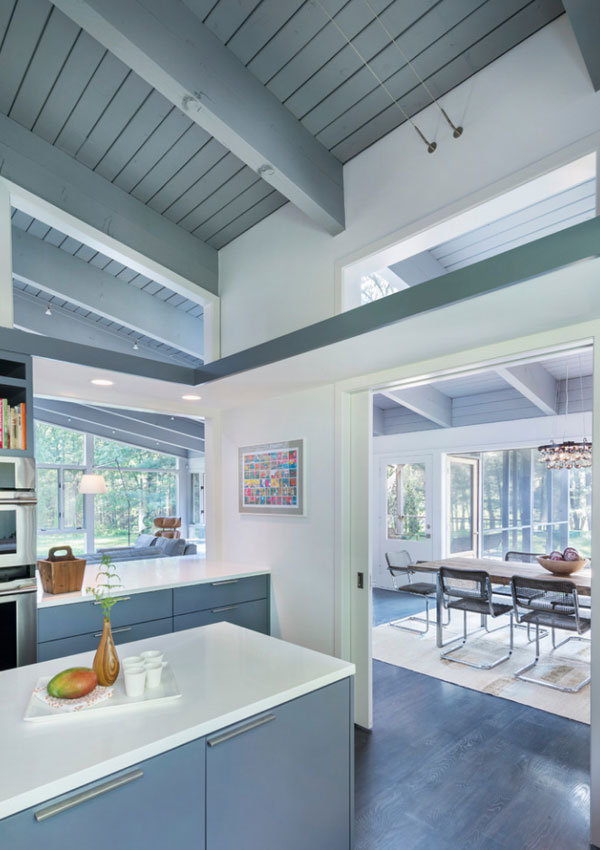 What a great space to prepare meals and entertain in. So nice that kitchen is open to the living space and dining space. The gray beams and ceiling balances well with the cabinetry.
BLACKOUT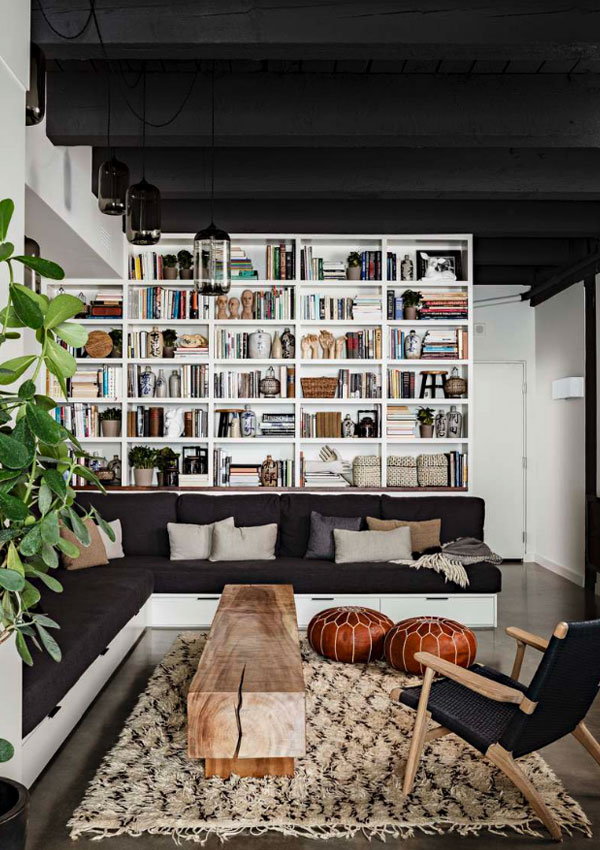 Industrial and sophisticated without being to stuffy!
TEXTURE & CURVE
Awesome texture in this space– especially furniture & rug. Colors are deep and gorgeous and works well with all the white. Nice curved detail on the clean white painted beams. Those chairs!
COMFY BEDROOM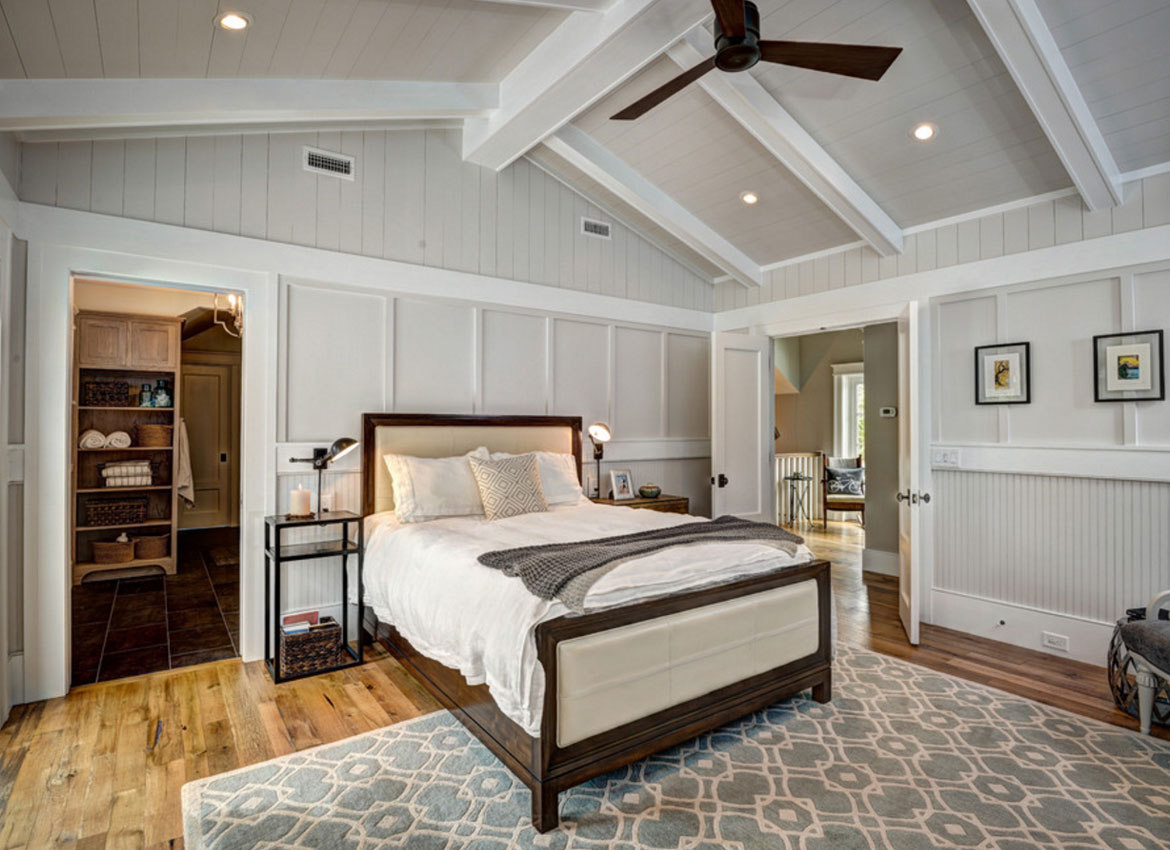 Seriously, I would love to move into this house. The white painted beams are so fresh!
ATTIC RETREAT
Fresh and practical–great use of extra space.
TRUSS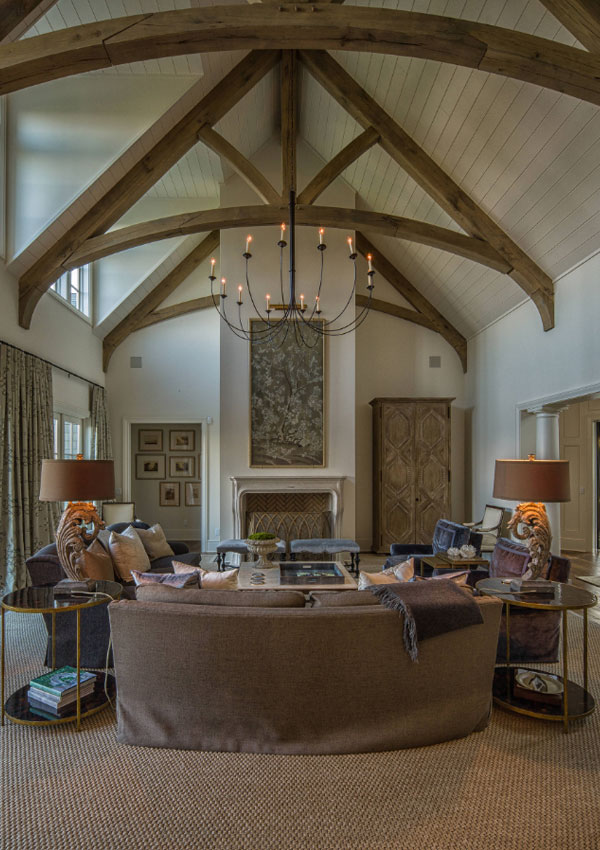 This truss is beautiful–love the curve at the bottom.
Who Are Faux Wood Beams For?
Do you keep envying the exposed wood beams decors you see in magazines and on home improvement websites? A lot of homeowners would love the same look, but are held back by cost and installation complexity. Real wood beams are not cheap and considering their weight, they are not easy to install either. If you are in a similar situation, these beams are perfect for you. They will not break your bank like real wood and installation is fairly easy with the help of a skilled contractor. Additionally, you do not have to worry that the beams will rot, crack, or warp, which is the case with normal wood.
What Are Faux Wood Beams Made From?
A vast majority of faux wood beams are made from high density polyurethane. You will also come across others made from Styrofoam. Foam beams are not as strong or durable as polyurethane-based faux beams.
Decoration Ideas
Because they are light, faux beams can be used in a myriad of ways and styles. You can use them horizontally or vertically. Some can be used outside as well as inside and so on. Be creative and aim for a style that makes you happy. Here are 9 ideas to get you started.
1. Ceiling Beams
The most popular place to install faux wood beams is on the ceiling. Faux ceiling beams create a certain elegant, yet warm character. They can be used in the bedroom, living room or the kitchen. With so many finishing options available, you have endless ways to style your ceiling. Many homeowners go with the aged look, where faux wood beams are designed to look like old and weathered wood.
You can also opt for dark finishes, especially if you want to create contrast against a bright white ceiling and walls. Check what a certain dealer has in stock and compare them among available finishing styles to find the one perfect for your home.
Beyond color, you can also choose the shape of the beams. Most fake ceiling beams stretch straight across the ceiling. If you want a bit more character, use curved ceiling beams. For an even more ornate design, go for a combination of curved, angled, and straight beams.
TRANSITIONAL
Love the color choices in this room–fresh. Not only are there beams on the ceiling, but there are also beams between room areas.
OPEN FLOOR PLAN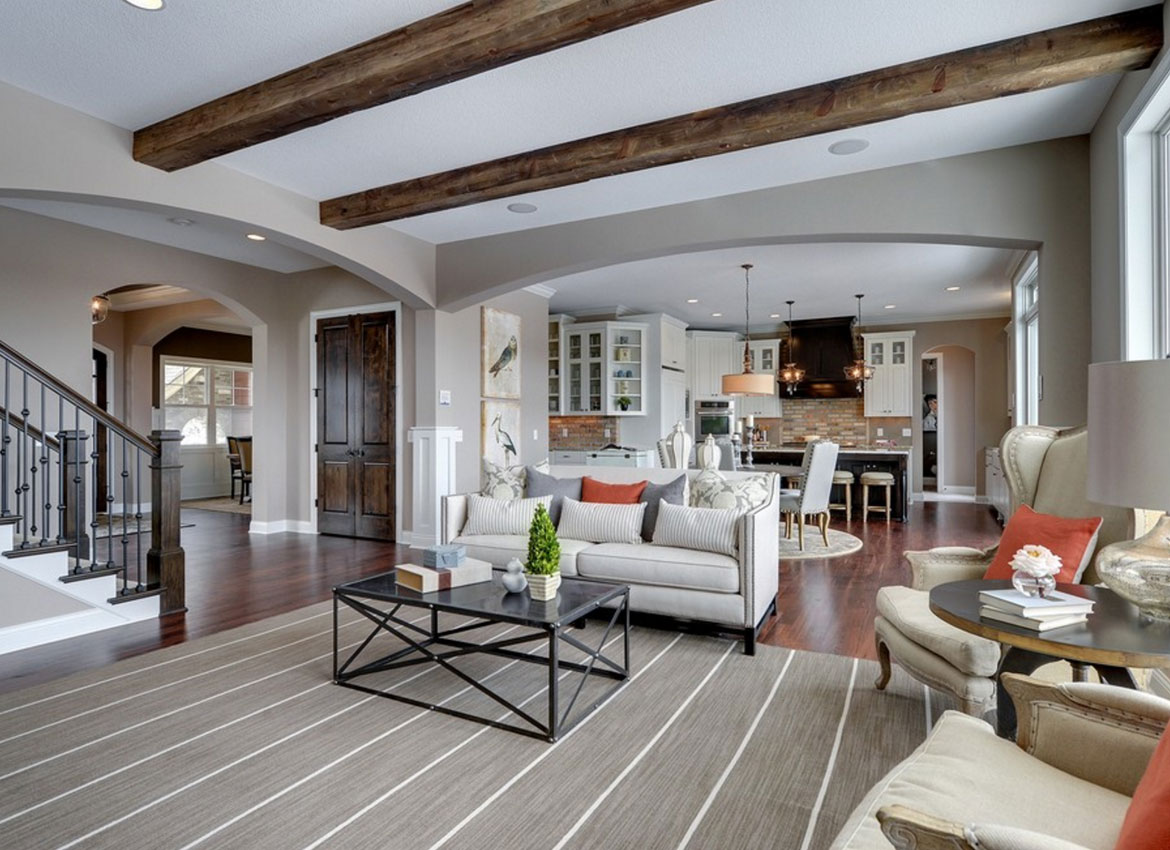 Exposed wood beam ceiling adds warmth. Inviting open plan living area.
SPECTACULAR
Breathtaking vaulted ceiling in this farmhouse addition.
SHIPLAP & BEAMS
Absolutely gorgeous dining area in this Sullivan Island Beach House. Love the extended pattern of the beams on the ceiling mixed with the shiplap walls.
2. Transitional Decor
Modern homes have increasingly taken on an open design with transitional decor and seamless movement from one space to another. But it is still important to have a visual separation between two or more different spaces, such as the kitchen and the living room, the dining area, and the sitting area. Faux wood beams can be used to create this demarcation. For example, you can use faux ceiling beams in the living area only, leaving the kitchen ceiling bare. You can also use different styles of ceiling beams in both spaces. Another trick is to frame the wide entryway between the kitchen and living area using faux beams. It creates the effect of open yet clear separation. Another idea is to use vertical beams to partially cut off the dining area from the sitting area.
3. Wall Decor
Faux wood beams can be used horizontally as well as vertically. For instance, you can create an accent wall using thick beams of faux wood. They can even be a smooth continuation of ceiling beams, in effect creating an unbroken flow from the ceiling to the wall. Talk with your contractor on how you can make your walls pop using faux wood beams.
4. Cloak Support Beams
Support beams can be an eyesore and a distraction from the decor of a space. This is an especially common problem in the basement. One genius idea is to cover up the support beams with faux wood beams. Suddenly the space looks ornate, warm and even luxurious. Make sure you choose a finishing that blends or contrasts well with existing decor.
CONTEMPORARY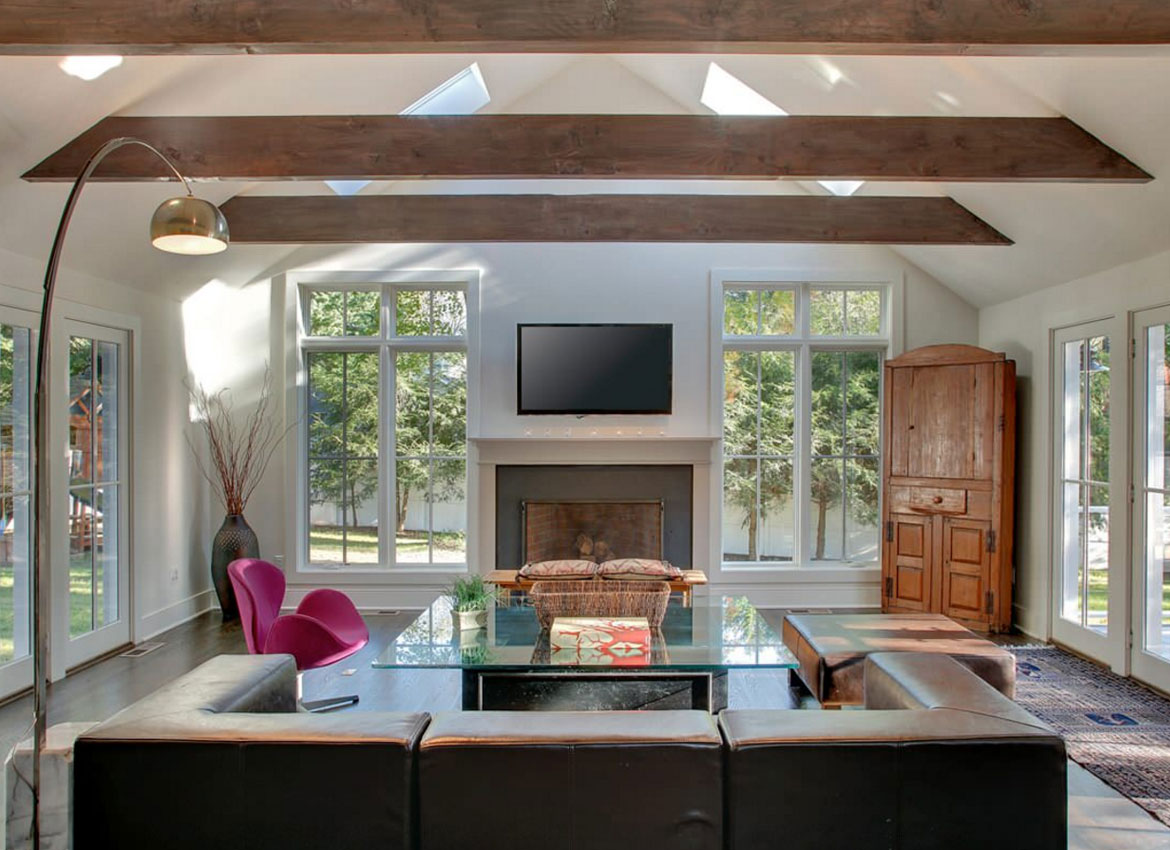 A more contemporary look.
SUPER COZY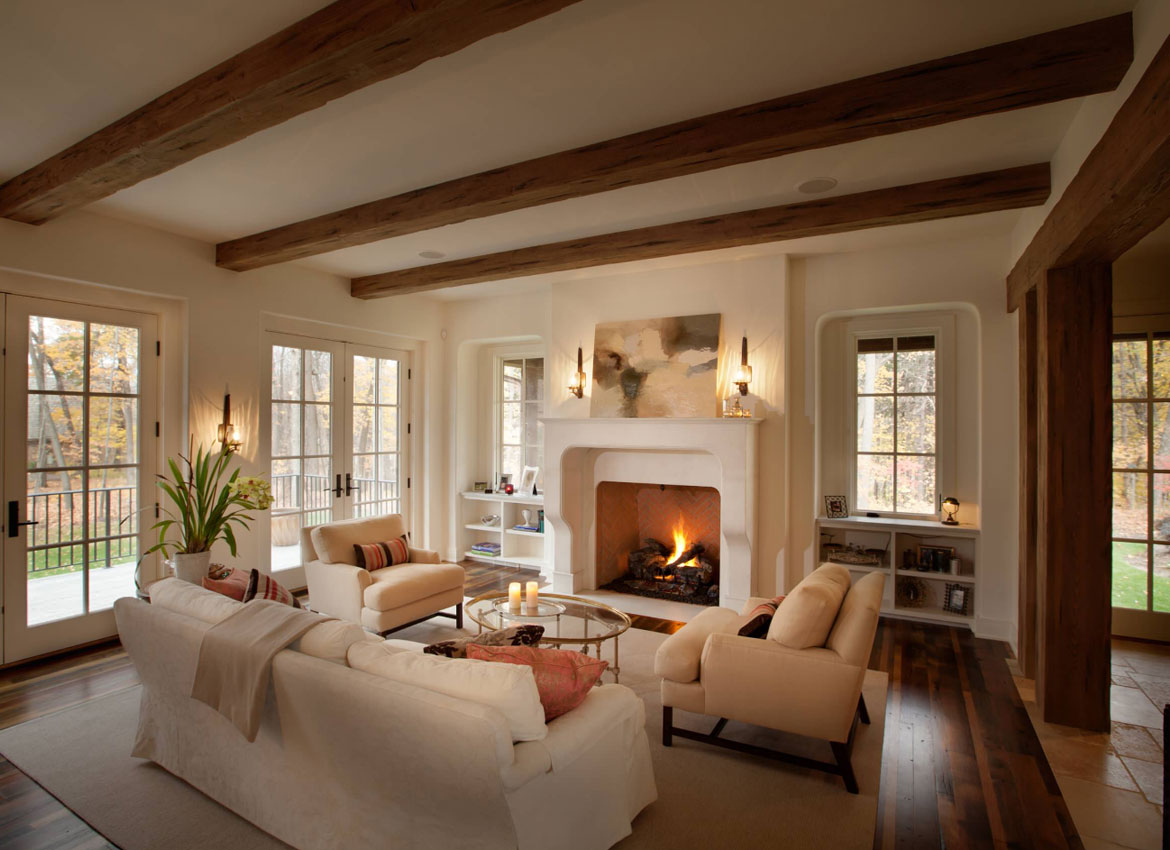 Such a cozy space–I just want to curl up on the sofa with a book!
BARN RENEWAL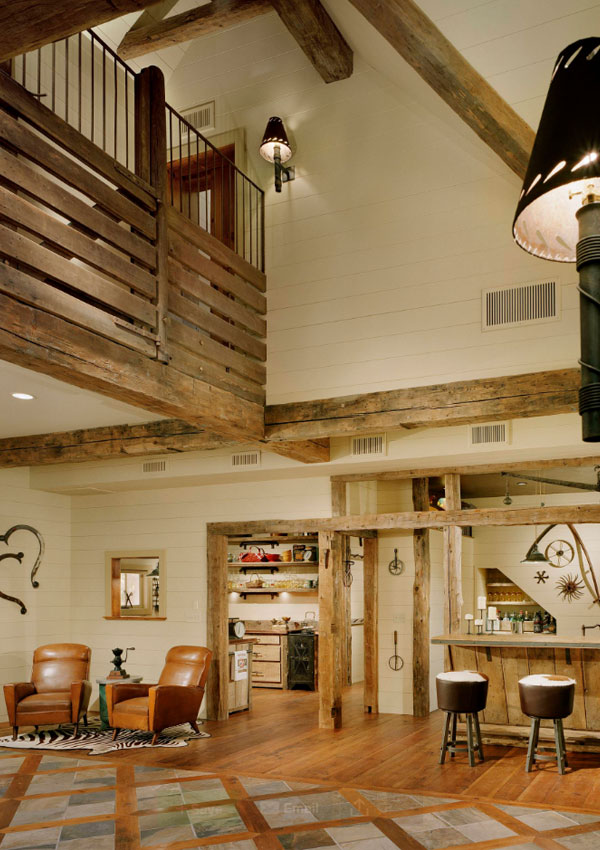 Great job on this barn restoration.
TILED
Love how the tile is worked within the beams in the ceiling.
5. Exterior Decor
Faux wood beams are not just for use inside the house. Most of the polyurethane beams used can also be put on the exterior, but make sure to check specifications before exposing the beams to the elements. You can use faux wood beams on your porch, outdoor kitchen, or to create a unique style on your exterior walls.
6. Framed Doorways
If you have a large door-less entryway (such as from the kitchen to the living area), give it more character by framing it with faux wood beams.
7. Decorative Non-Support Pillars
If you love the look of wooden support pillars right in the middle of your living space, you can achieve the same style using faux wood beams. The only difference is that the beams will be purely decorative with no load bearing responsibilities at all.
SOUTHWESTERN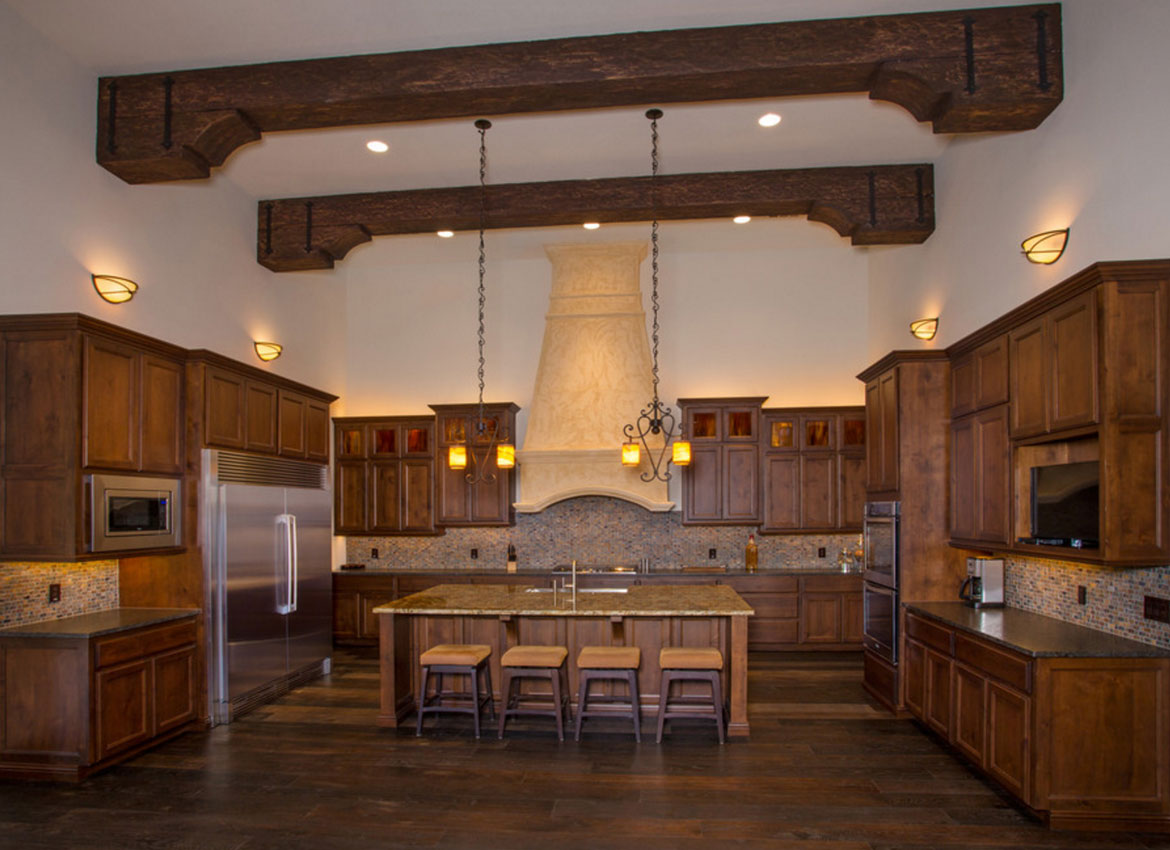 Nice southwestern detail. Very prominent in this space–perfect!
BEDROOM BLISS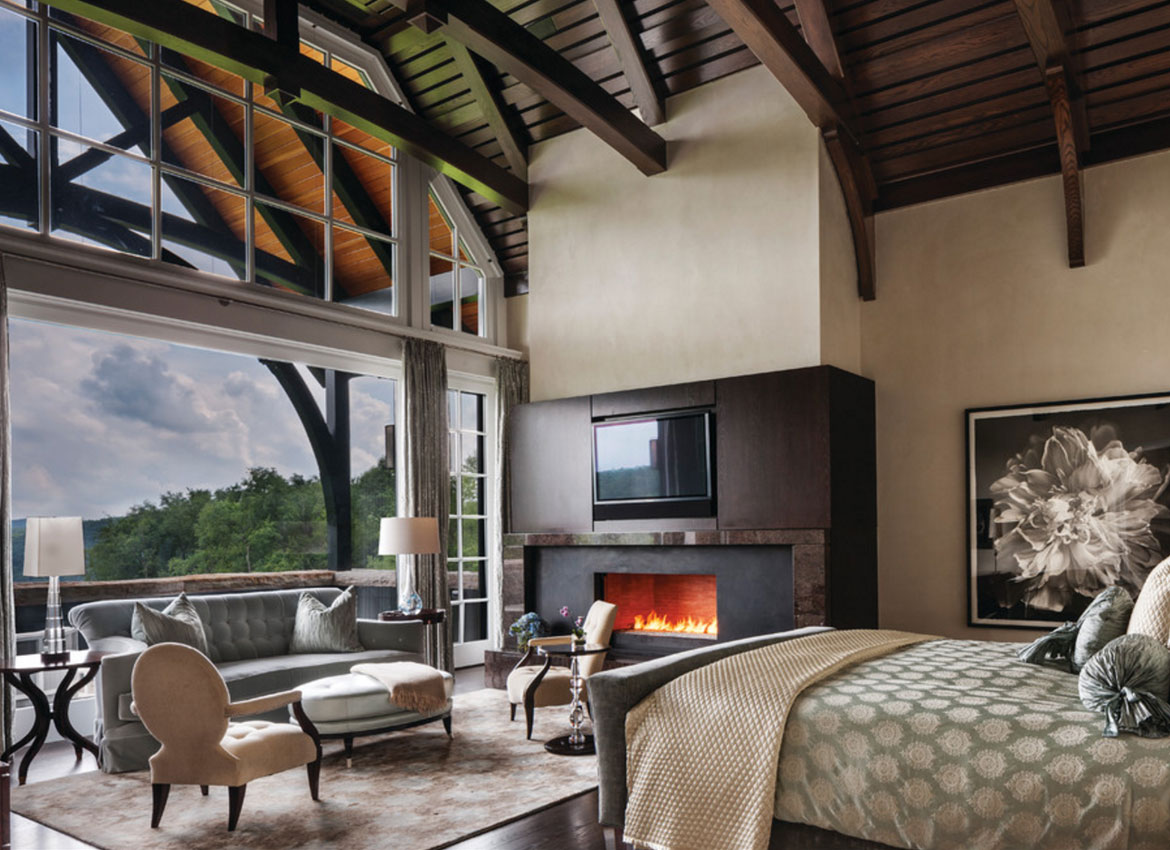 A wonderful view and beautiful dark beams inside and out.
MEDITERRANEAN
The beams demonstrate beautiful rich color and a more detailed pattern in this Spanish Mediterranean home.
RECLAIMED BEACH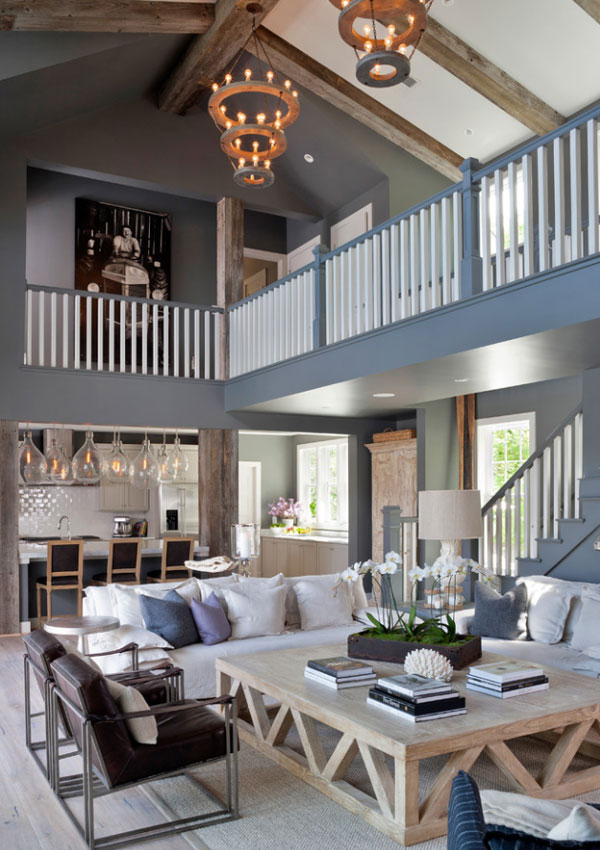 The reclaimed beams add to the feel of this beach house.
BURST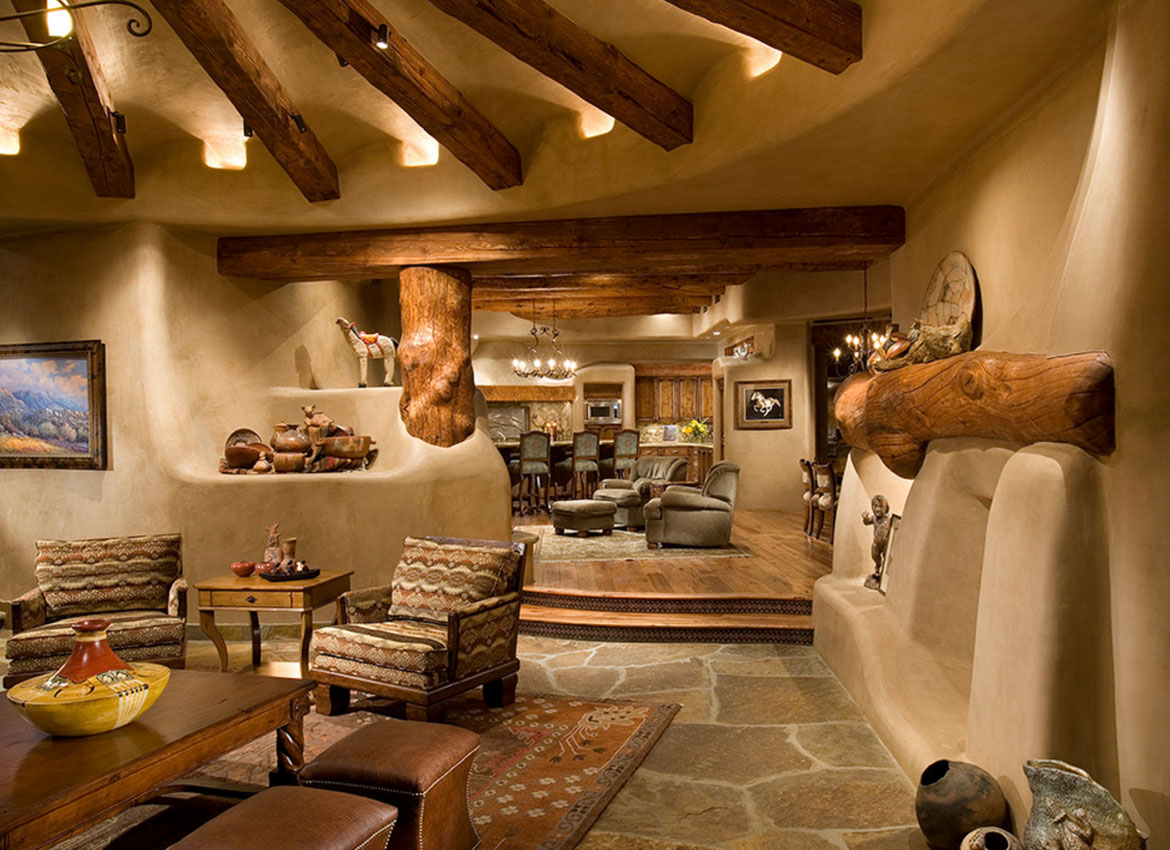 The "burst" design is so striking.
HAWAII LIVING
The gray/taupe color in this Hawaii retreat is nice departure from wood and white.
8. Add Lighting to Your Beams
Instead of hanging your lighting from the ceiling, install them on a faux wood beam. You can use this trick above your kitchen working area or above the dining table.
Related: Top Trends in Interior Lighting Design.
9. Make Your Hallways More Interesting
Faux wood beams do not have to be confined inside main spaces, such as the living room or bedroom. If you have a boring hallway that could use some decorating, faux wood beams are a safe and low cost option. You can choose to have a series of ceiling beams run along the length of the hallway ceiling or to find a way to position them on the walls.
What Exactly Are Faux Wood Beams?
Faux beams are often composed of high-density polyurethane and are designed to seem exactly like the genuine thing. They are widely available and come in hundreds of different styles and textures. They are also lighter than traditional wood beams, making them easier to install. 
Decorative ceiling beams, which were once part of a room's structure, can now be found in any home. Beams, whether real or faux wood, can bring interest to an otherwise unnoticed region. A decorated ceiling is a powerful design element that can change a whole room by providing warmth and depth.
Faux Wood Beams As A Decorating Tool
Traditional ceiling beams are essentially exposed wooden joists that are not boxed up or disguised above a ceiling. Non-structural decorative ceiling beams composed of wood, plastic, foam, and resin can be added. They are lightweight & come in different textures, including those that resemble wood beams. Some false beams also allow for the addition of recessed lighting. Textured beams give interest to the décor by breaking up a flat ceiling.
Why Do Homeowners Install Faux Wood Beams?
Decorative beams are an excellent way to add visual appeal to your home. You can use them in any of the following situations:
Extremely high ceilings: Decorative beams reduce the scope of the area while adding interest.
Rustic home ideas: From farmhouse to Tuscan, ornate beams added to the ceiling can quietly enhance a variety of home designs. To complete the design, choose a textured beam that complements the room's decor.
Balance: Adding a same-colored faux wood species to a home with dark wood trim or dark wood floors benefits it. The repetition of the wood treatment will aid in the creation of a unified design.
The Faux Trend
The 'faux' trend is quickly catching on in home decor. From faux tiles to faux wood beams, technology has been a real lifesaver, allowing homeowners to enjoy high-end styles at affordable costs.
This is an image roundup post, curated to showcase and promote other reputable contracting companies' and their amazing work.  To have any of the images removed, please reach out to us and we would be happy to do so.
Other Great Articles to Read: